The most perfect gluten-free chocolate chip cookie, with buttery edges, gooey middles, and chocolate shards in every bite. This recipe uses the pan-banging cookie baking method made famous by Sarah Kieffer, and is super easy to make. No overnight chilling of the dough!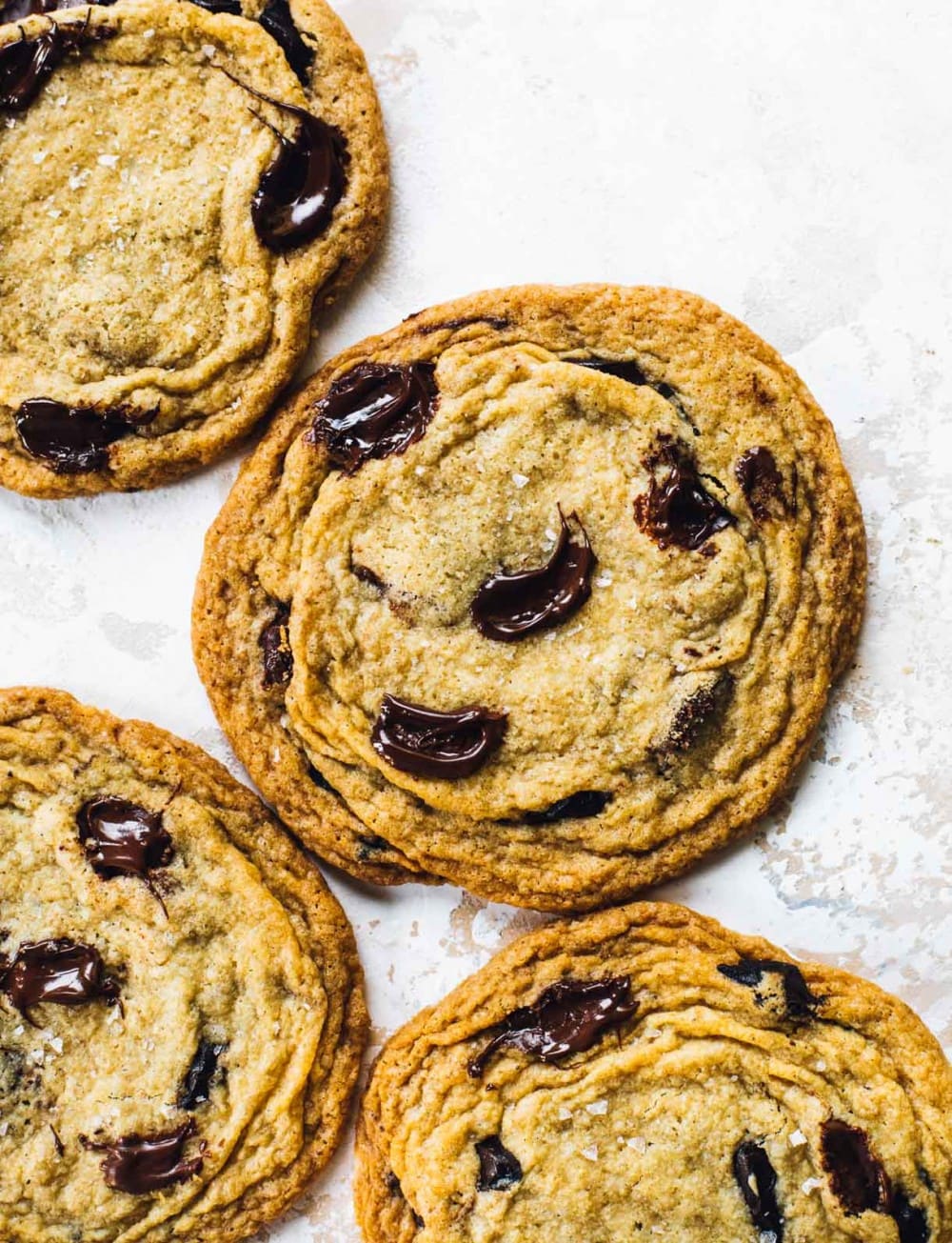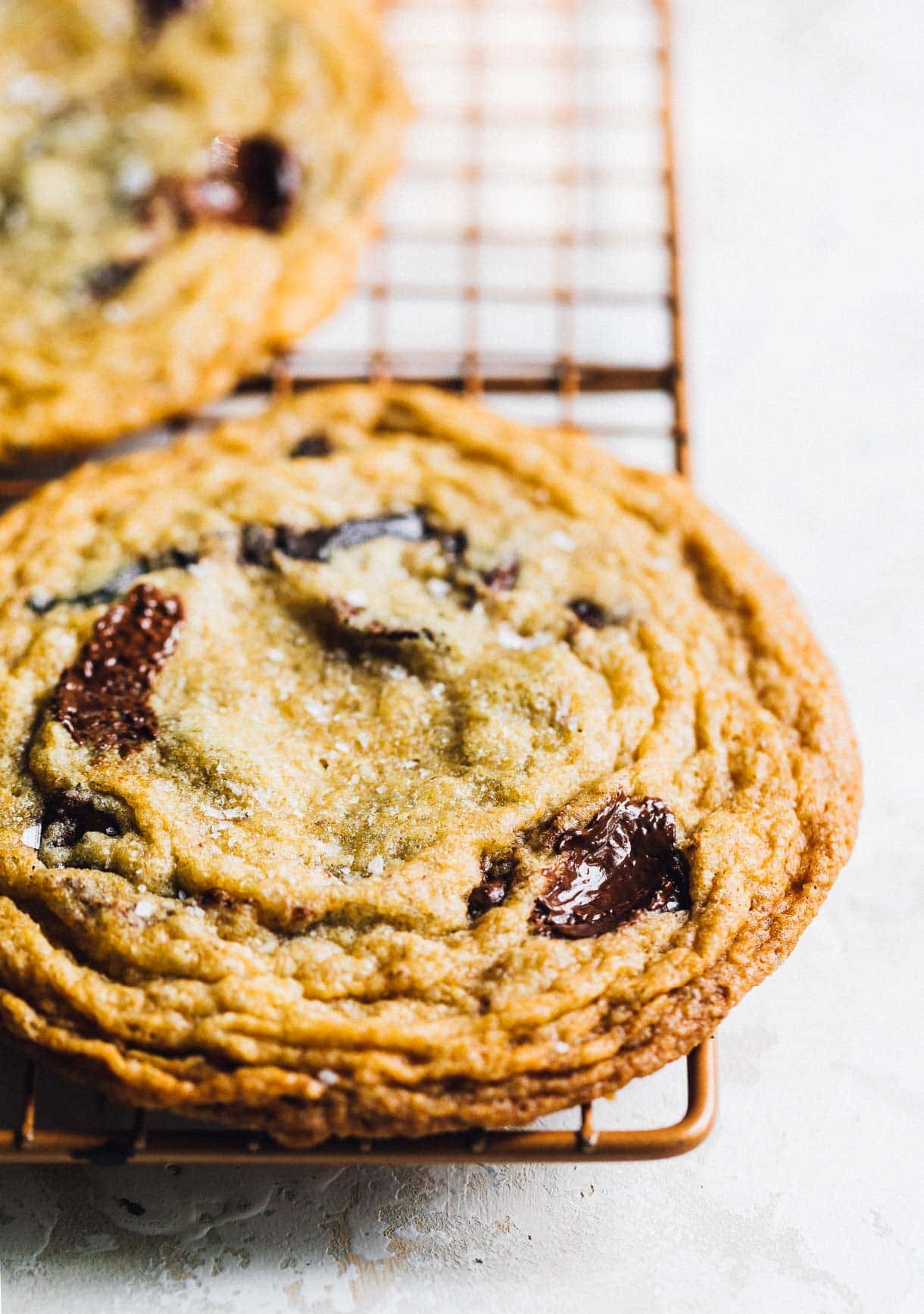 You're looking at the ultimate crinkly, chewy gluten-free chocolate chip cookie that will win your heart and tastebuds. Rippled edges that shatter in your mouth, a center that is soft and full of chocolate. This is my dream cookie!
During the month of September, I restarted my virtual cookbook club, where I make 4 recipes from a cookbook that's on my shelf. 100 Cookies by Sarah Kieffer had just arrived in the mail and was begging to be baked from, making for a sweet and delicious month!
Sarah is a gem of a human, and the creator of the famous "bang the pan" technique for cookie making that yields an utterly perfect wrinkly, chewy cookie. The best you'll ever eat, truly.
Okay, but first – what even is pan-banging?
Pan-banging is a technique in which you tap the baking pan on the rack while your cookies are baking, to settle their "puff" and give them wrinkles. Sarah's technique is even more unique in that the pan is tapped in the oven every few minutes after they've baked for 8 minutes, creating ripples on the edge of the cookie. If you're looking for a more traditional recipe, try my Favorite Chewy Gluten-Free Chocolate Chip Cookies.
This creates two textures in the cookie: a crisp outer edge, and a soft, gooey center.
In this cookbook, there's a whole chapter of pan-banging cookie recipes! I also made a gluten-free version of the Ginger Molasses Pan-Banging cookies, and they were everything you could ever want in a chewy, spiced cookie.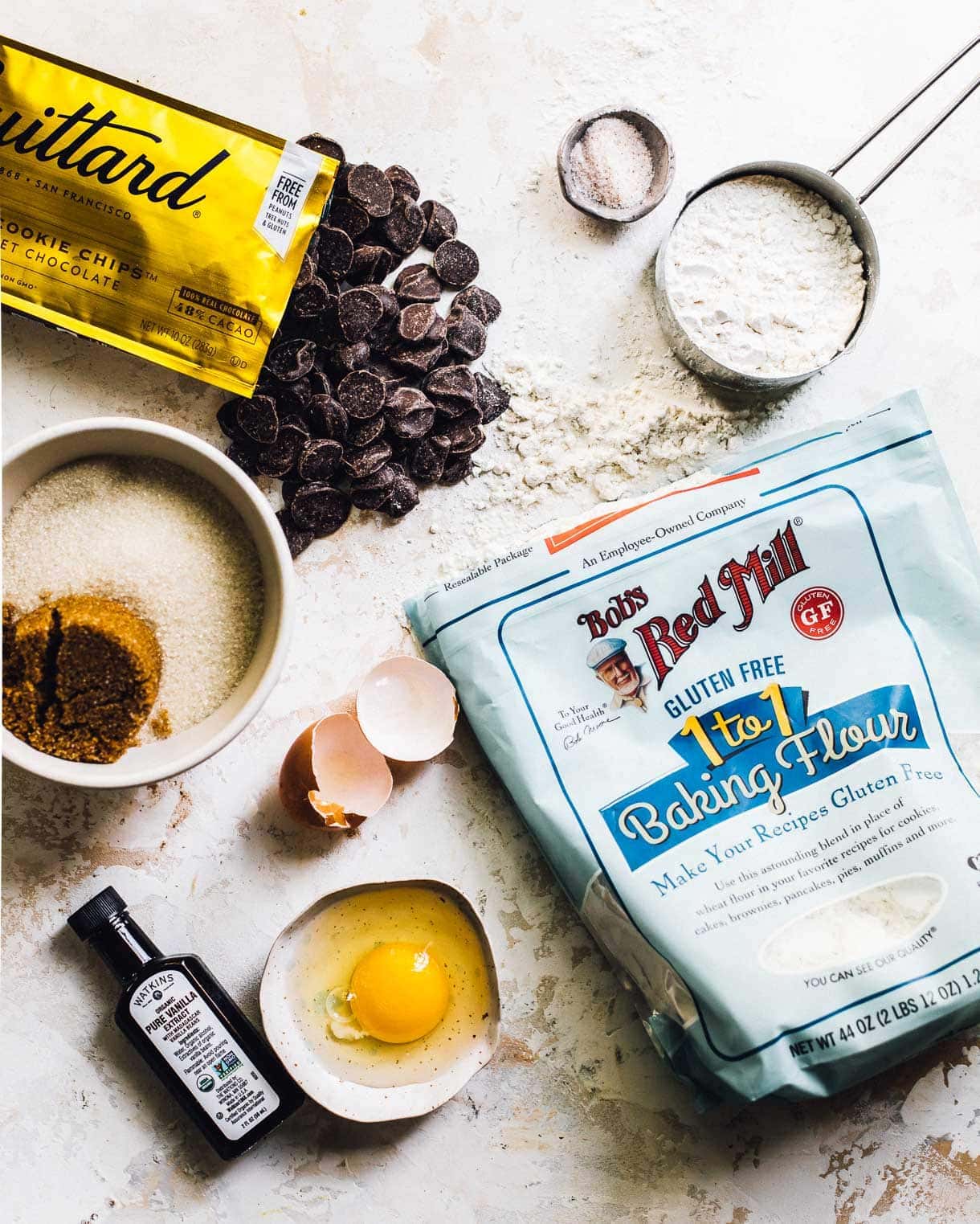 This Gluten Free Pan-Banging Chocolate Chip Cookie recipe is my lightly adapted version of the original, with a few simple changes. I tested different variations of the gluten-free flour mix, amount of sugar, mixing time, and resting time.
Here's what I learned while testing gluten free pan-banging chocolate chip cookies:
To make things easier, I used Bob's Red Mill Gluten-Free 1 to 1 Baking Flour in place of the all-purpose flour called for in the recipe. It's the most accessible, affordable, and produces consistently great results. It has a high quality ingredient list of: sweet rice and brown rice flour, potato starch, sorghum flour, tapioca flour and xanthan gum. Although I don't normally use xanthan gum in gluten-free baking recipes I create, it does take the guesswork out of making sure the ingredients emulsify and bind together to achieve a texture that resembles gluten-ful goods.
Xanthan gum needs aggressive mixing to activate its binding power. For that reason, I mixed the dough on speed 4 of my KitchenAid stand mixer for 30 seconds when all ingredients except chocolate were added, rather than mixing on low speed until combined like recipe instructs.
Because whole grain gluten free flours tend to have a naturally sweeter taste (there isn't any actual sugar in them), I reduced the total sugar by 25 grams.
Whole grain gluten free flours don't absorb fats and liquid as quickly as all-purpose flour. For this reason, I let the batter rest in the refrigerator for 30 minute before scooping and baking.
And finally, I added a bit more chocolate, because CHOCOLATE.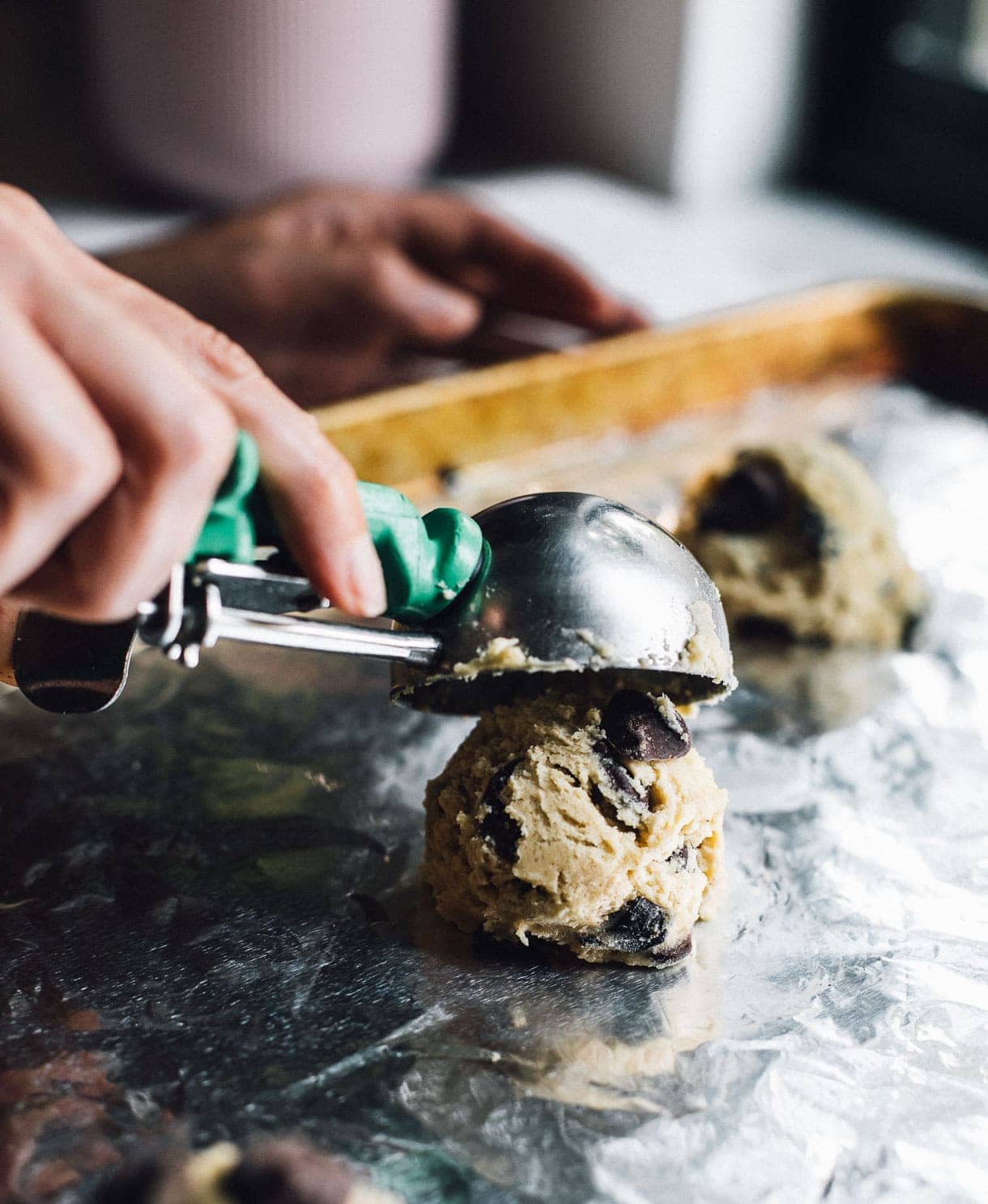 Which chocolate is best to use in these cookies?
I used a combination of Guittard's semi-sweet cookie chips (a flatter, more distinct shape specifically for cookies), and a chopped Trader Joe's Pound Plus bar, which i 72% Belgian chocolate.
Do I have to bake the cookies on aluminum foil?
Yes! Otherwise they won't spread as well, nor produce the awesome crinkles. Kieffer recommends lining your sheet trays with aluminum foil, with the dull side facing up.
Other tips for pan-banging chocolate chip cookies:
Don't be dainty with your pan-banging. Lift the pan about 4 inches from the rack and let it drop! This results in the epic wrinkles.
These cookies are BIG. For a reason! Don't let the size of the cookie dough balls scare you.
Only bake 4-5 cookies on a baking sheet. I know you'll think you're wasting space, but trust me, they spread a lot.
Don't try to remove the cookies from the baking sheet until they've cooled for at least five minutes. Otherwise they won't set and will fall apart.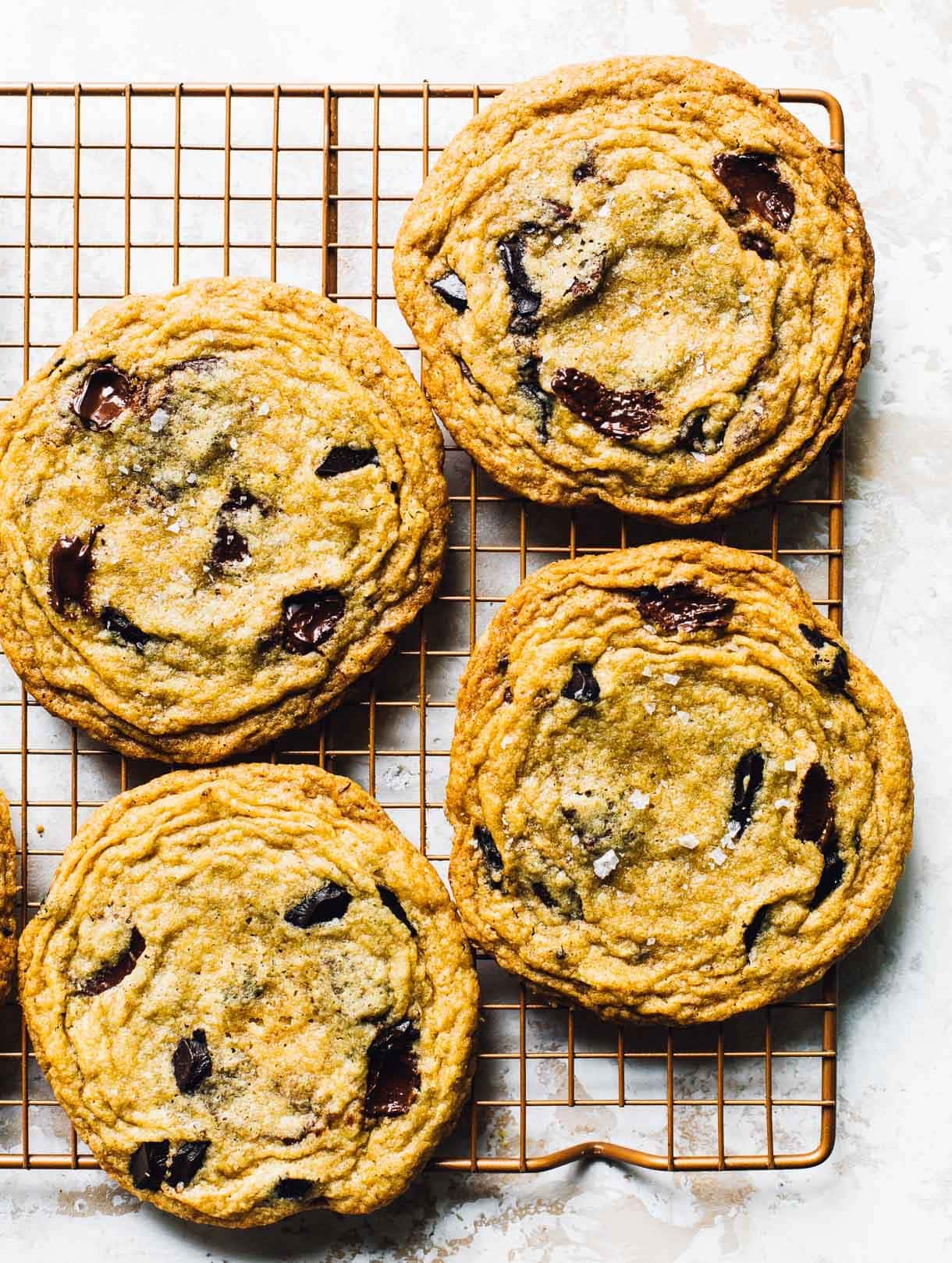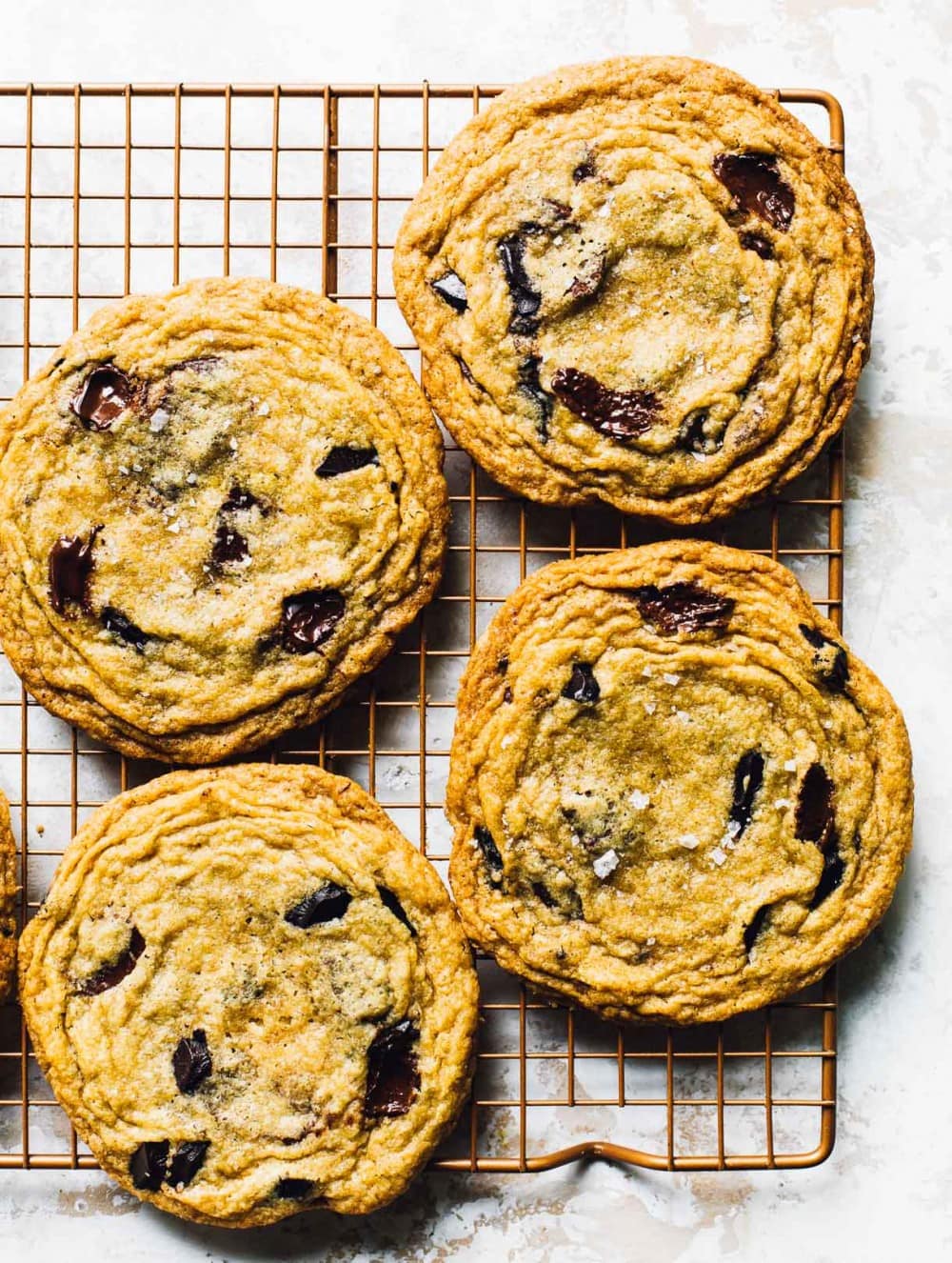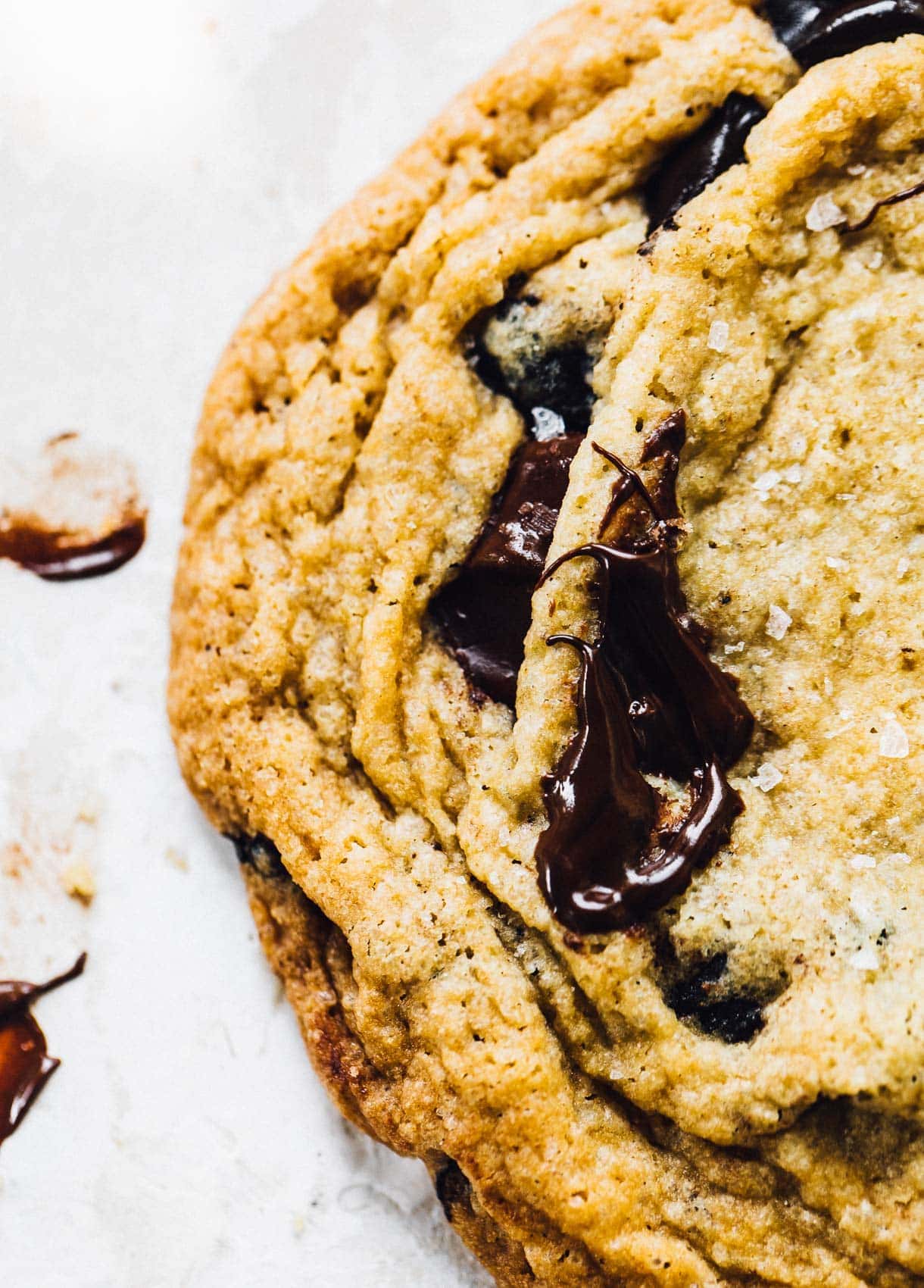 More Gluten-Free Cookie Recipes: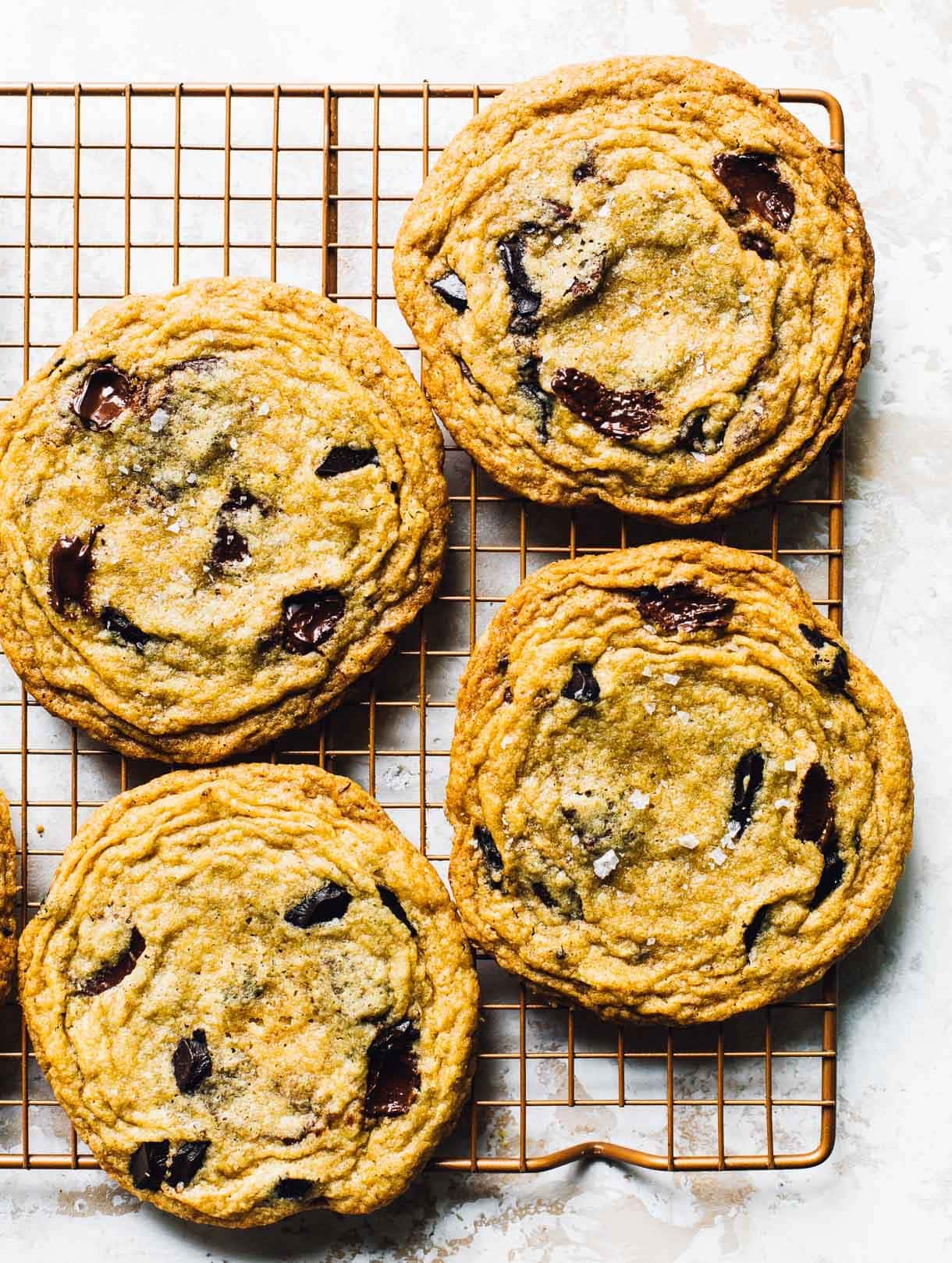 284

grams

Bob's Red Mill 1-1 Gluten Free Baking Flour

(please use a scale to measure the flour to the exact amount of grams.)

½

teaspoon

baking soda

¾

teaspoon

fine sea salt

2

sticks

(227 grams) unsalted butter, room temperature

275

grams

granulated sugar

50

grams

brown sugar

1

large egg

1

tablespoon

pure vanilla extract

2

tablespoons

water
In a small bowl, whisk the flour, baking soda, and salt.

In the bowl of a stand mixer fitted with a paddle, beat the butter on medium until creamy, about one minute. Add the granulated and brown sugars and beat on medium until light and fluffy, 2 to 3 minutes.

Add the egg, vanilla, and water and mix on low to combine. Add the flour mixture and mix on low until combined. Then turn speed on mixer up to medium (a 3 or 4 on a KitchenAid Stand Mixer), and beat for 30 seconds to activate the xanthan gum that is in the gf baking flour mix.

Stir in 6 ounces of the chocolate, reserving 1 ounce to push into the top of the dough balls.

Refrigerate dough, covered, for 30 minutes. Meanwhile, preheat the oven to 350 degrees F and line two baking sheets with aluminum foil.

Form the dough into 75 gram balls (about 1/4 cup) and place 4 or 5 dough balls onto your aluminum foil lined baking sheet.

Bake for 8 minutes, until the cookies are puffed slightly in the center. Lift the side of the baking sheet up about 4 inches and gently let it drop down against the oven rack, so the edges of the cookies set and the inside falls back down. After the cookies puff up again in 2 minutes, repeat lifting and dropping the pan. Repeat a few more times to create ridges around the edge of the cookie. Bake 14-15 minutes total, until the cookies have spread out and the edges are golden brown but the centers are much lighter and not fully cooked.

Transfer the baking sheet to a wire rack; let cool completely before removing the cookies from the pan and onto another cooling rack.

Store cookies in a bag to keep fresh, up to three days.
This recipe is barely adapted from Sarah Kieffer's Pan-Banging Chocolate Chip Cookie recipe in the 100 Cookies cookbook.