If you're craving a gluten-free pumpkin cookie with the soft, chewy texture of a chocolate chip cookie, this recipe is for you. These cookies have buttery edges and a dense middle, made with almond and oat flour. The secret is an egg yolk and real pumpkin!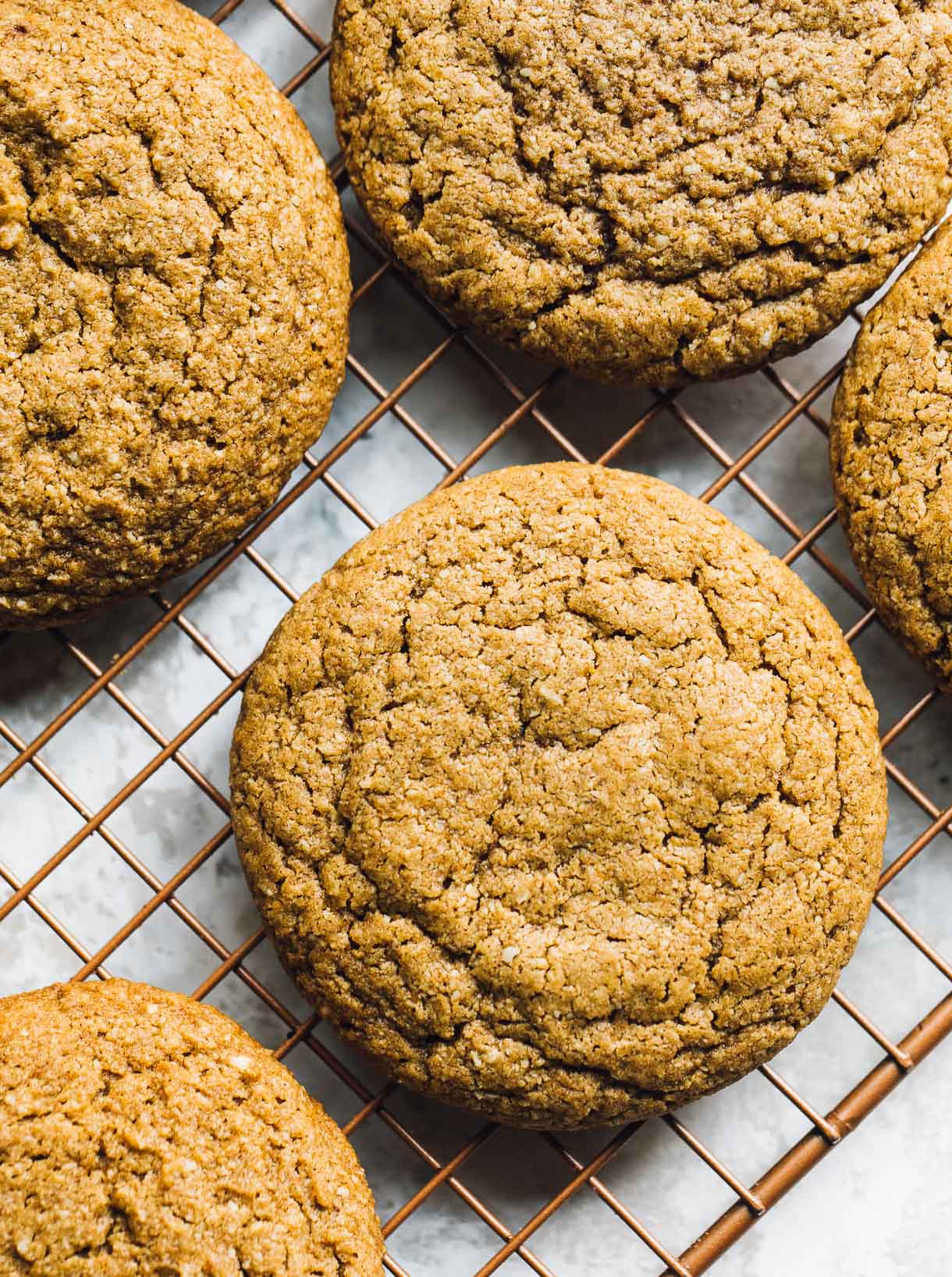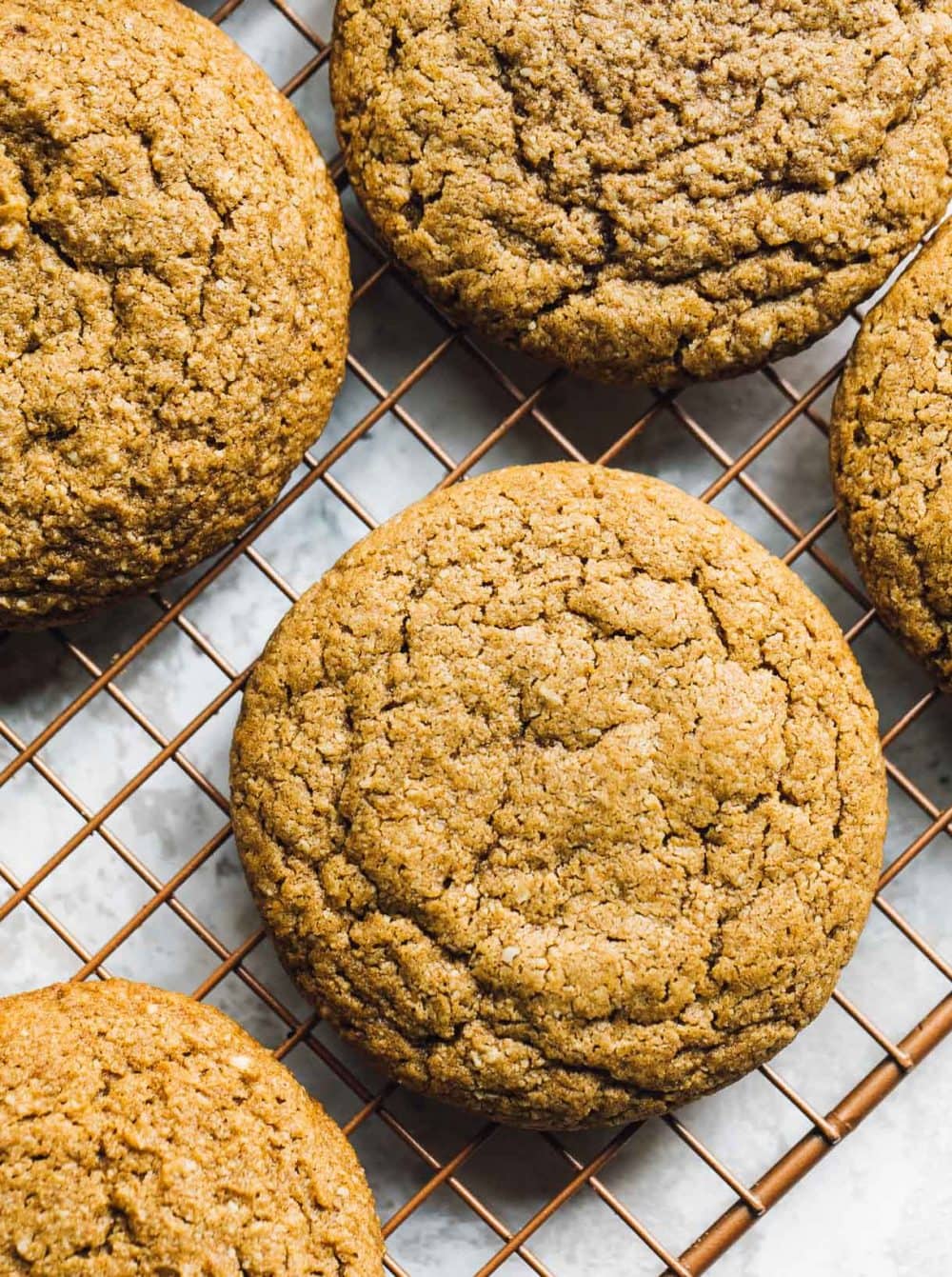 Much of my inspiration when developing gluten-free dessert recipes comes from you! When asked which fall treats you wanted a recipe for, several of you mentioned soft gluten-free pumpkin cookies that were chewy, not cakey.
Pumpkin is a tricky ingredient to add to cookies because it adds moisture. Moisture is great for making soft cookies, but can also result in a plush, cakey texture. Pumpkin is nearly 90% water, which is wonderful for making super moist pumpkin bread, but not so welcomed in cookie baking.
And when it comes to cookies, we're after irresistibly chewy. Like your favorite chocolate chip cookie. Am I right?
I researched a lot of cookie and pumpkin puree recipes, and found two things to be particularly important for making a dense, chewy cookie. Then the testing began. Six batches of gluten-free pumpkin cookies later, and here we are with the best pumpkin cookie I've eaten.
They're perfectly spiced with cinnamon and nutmeg, giving them a quintessential fall flavor.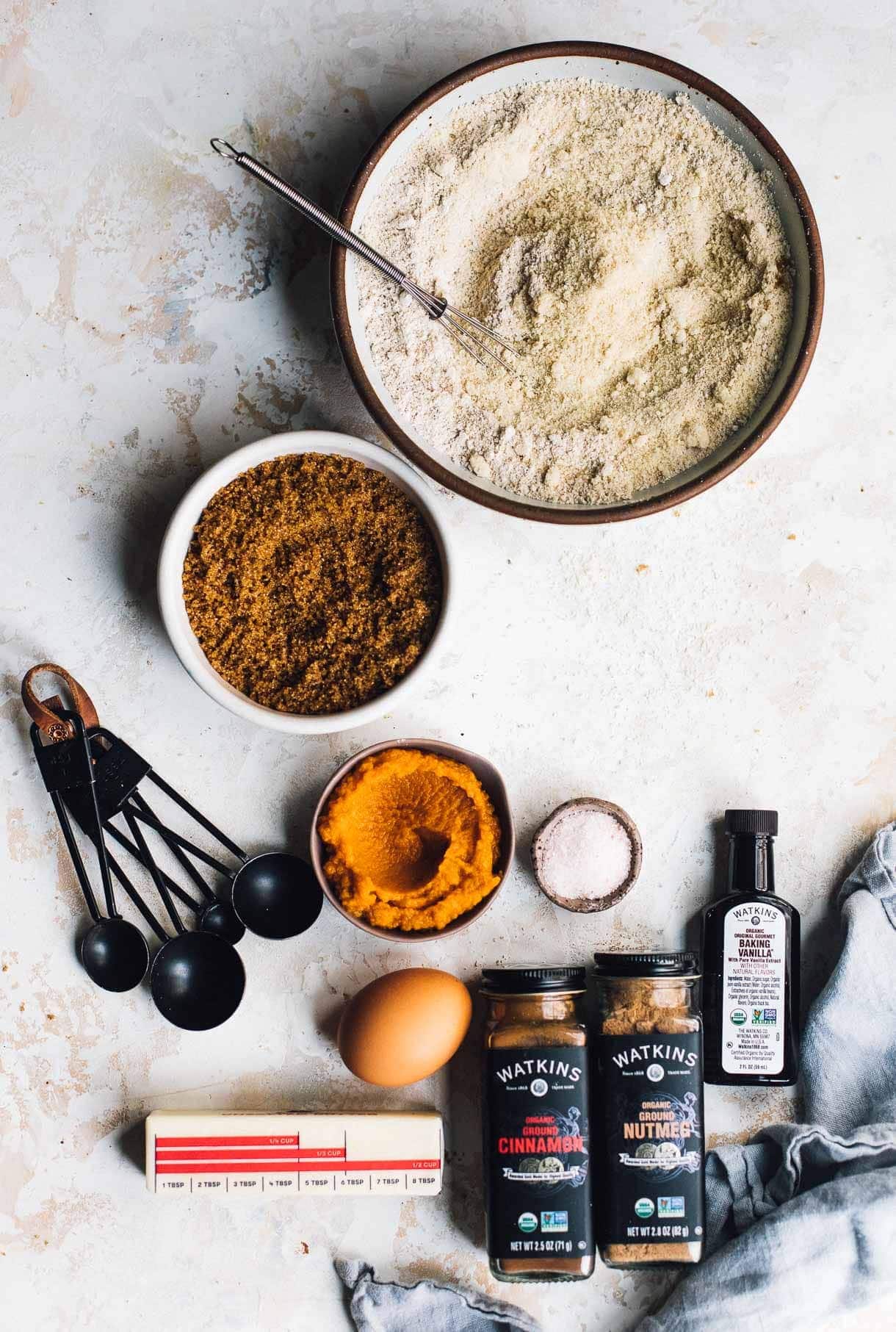 How to Make Chewy Gluten-Free Pumpkin Cookies
Melted Butter Helps Cookies Spread
Creaming butter and sugar is the traditional first step in making cookies, which whips air into these ingredients, helping the cookies to puff and rise. We're using melted butter instead, which helps the cookie spread as they bake rather than grow tall, resulting in more chew and density.
Butter is also what keeps cookies tender. In simplest terms, melted butter = denser cookies, creamed butter = cakier cookies.
We start with browned butter – a delicious addition to any cookie, and a great flavor to complement the warm pumpkin and spices. This short and simple process transforms the color and flavor of the butter from pale and mild, to dark and nutty.
Use an Egg Yolk Rather Than A Whole Egg
A whole egg is made up of three things: water, protein, and fat. These three components work together to perform different functions in baking.
With pumpkin puree in the dough, we're already adding a significant amount of moisture, reducing the need for the whole egg. Egg whites contain a great deal of water and no fat, and tend to have a drying effect on baked goods. Egg yolks are the protein, which adds chewiness to a cookie and helps increase spread, so we're using the yolk without the white!
Which flours are used to make gluten-free pumpkin cookies?
Almond flour, oat flour, and sweet rice flour were the perfect combination for creating a lovely flavor and a plush, moist texture that binds together well.
Tips for Making the Best Gluten-Free Pumpkin Cookies:
Brown sugar builds a slightly denser cookie with chew, helping weigh the cookies down to prevent them from puffing up drastically. Brown sugar rather than granulated sugar brings out great depth and almost caramel-like flavor while creating those beautiful cracks on the tops of the cookies.
Salt is essential to balance the flavor of caramelized sugars, and a good amount of vanilla extract is lovely.
Resting: I like to chill my dough for about 30 minutes to let the gluten-free flours absorb the fats, and make it easier to scoop. You can also scoop the dough balls and freeze them, which is a nice way to always have warm cookies at the ready in under 15 minutes with no prep!
And finally, a light drizzle of maple icing. Once cookies are completely cooled, you can whisk together powdered sugar, maple syrup and a tiny bit of milk to make a really pretty pattern on top of the cookies.
More Gluten-Free Pumpkin Recipes: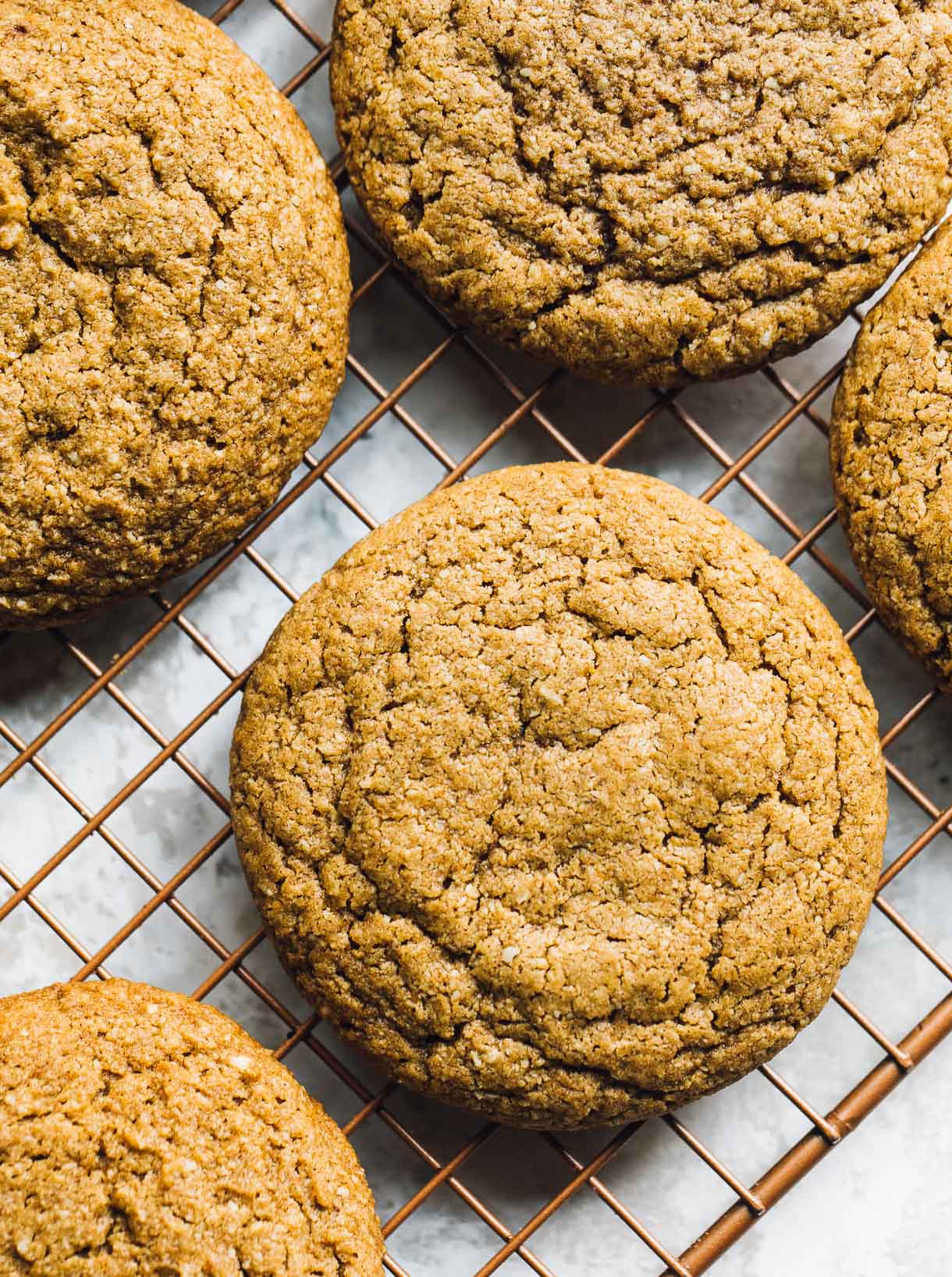 8

tablespoons

unsalted butter

130

grams

brown sugar

65

grams

pumpkin puree

1

large egg yolk

1

teaspoon

molasses

1 1/4

teaspoons

pure vanilla extract

115

grams

blanched almond flour

100

grams

oat flour

55

grams

sweet rice flour

scant 3/4

teaspoon

baking soda

1/4

teaspoon

baking powder

1/2

teaspoon

fine sea salt

2

teaspoons

ground cinnamon

pinch

ground nutmeg
Icing
1/2

cup

powdered sugar

1 to 2

tablespoons

milk

1

tablespoon

maple syrup
Start by melting and lightly browning butter on stovetop. To do this, add butter to a saucepan and turn on to medium heat. It will begin melting, then turn to a simmer and sputter. It will then turn to a foaming, continue stirring. You will then start to smell a nuttiness and see little bits of brown specks accumulating on the bottom of the pan. Remove from heat and pour into a large glass bowl. Whisk in brown sugar and pumpkin puree.

Wait 3 minutes to make sure it's a bit cool, then whisk in egg yolk, molasses, and vanilla.

In a separate bowl, whisk together almond flour, oat flour, sweet rice flour, baking soda, baking powder, salt, cinnamon, and nutmeg. Fold dry ingredients into wet, and once no flour streaks remain, make 20 aggressive stirs.

Refrigerate dough for 30 minutes.

Meanwhile, preheat oven to 350 degrees F.

Scoop dough into 50 gram dough balls, about 2 tablespoons. The dough will be sticky, and that's okay. Put 8 cookies onto a parchment lined baking sheet.

Bake for 13 minutes, until cookies are just set and light brown on edges. Do not overbake. Take cookies out and lightly smoosh the tops down with a flat spatula. (This increases the chew factor!)Let cool on pan for 5 minutes, then move to a wire rack to finish cooling.

Once cookies are cool, whisk icing ingredients together until smooth. Drizzle onto cookies.

Cookies will keep well in a closed container for up to five days.