I first heard about making cheesecake in an Instant Pot last year when this recipe seemed to be popping up all over the place. I was skeptical. A delicate dessert made in a pressure cooker?
I waited until this fall to give it a try, after several months of cooking with the Instant Pot under my belt. (If you're like me, and waited to open the Instant Pot you'd bought while it's on sale, this guide is very helpful.) What I thought would just be another kitchen gadget that made its way in and out of my world, I have to say – I rely on it weekly. Beans, rice, oatmeal, sweet potatoes, soup… they turn out perfect every time.
And now I have cheesecake to add to that list. It's not a fluke ya'll.
Not only is it creamy, fluffy, and delicious — it doesn't crack! Those smooth surfaces you see in the case at the Cheesecake Factory? Yep, you can achieve that with the Instant Pot. Words I never thought I'd be saying.
Plain cheesecake is lovely, but during the holiday season I love warm spices and seasonal ingredients like pumpkin. With nudges of cinnamon and cardamom in the filling, and ginger in the gluten-free crust (made from oat cereal and almond flour!), this pumpkin cheesecake is flavorful and comfort driven. I actually prefer it over pumpkin pie.
Let's talk through making this tall, fluffy, luscious pumpkin dessert!
1. What type of pan should I use when making an Instant Pot cheesecake?
You'll want to be sure that your pan is 7 inches or smaller so that it fits inside the instant pot. I tried using a springform pan first, and some of the filling did leak. And it generally collected more moisture. The edges didn't stay as pristine either, when removing the cheesecake. This 6 inch push pan was the clear winner. So easy to use, and no way for the filling to escape during cooking. Once cool, I ran a knife around the inside, set the pan on top of a glass, and gently pushed down on the pan. The cheesecake came out beautifully!
2. I've seen people use foil slings to put things into their instant pot, but that seems tricky and unreliable. Is there another solution?
OXO has come out with a Silicone Pressure Cooker Sling for bakeware that is GENIUS. It's designed to keep bakeware, like the cheesecake pan, above water while cooking. The handles help you lower the bakeware into the pressure cooker and interlock to fit under the lid while staying above the cheesecake. You can use it for creme brulee, lasagna, mini frittatas and more.
3. How do I make sure my cheesecake doesn't crack?
For a smooth and creamy texture, be sure to allow your cream cheese and eggs to come to room temperature before making.
Don't overmix. You'll want to mix the cream cheese and sugar until smooth and combined, but that's it. If you continue mixing until super fluffy, the cheesecake will bake up like a souffle and bake up and over the pan.
When you add the eggs, combine just until you don't see them anymore. If you overmix at this stage, the cheesecake will crack.
4. Anything I should know about the crust?
I made a gluten-free crust with oat cereal (like Cheerios) and almond flour, and a little bit of honey. If you want to make a regular graham cracker crust, I recommend this one, and then add the ginger as my recipe has.
You'll want to press the crust into the pan with the back of small measuring cup.
Don't go too far up the sides of the pan, I make it about 1/2 to 3/4 inch high.
Butter is your friend, it will make sure the crust doesn't stick to the sides when you're removing the pan so don't skimp on it.
5. Other tools I love for making this recipe:
OXO 2.5 quart Glass Bowl: This is my go-to bowl for mixing cake and dessert batters. The wide rim provides easy handling while mixing, pouring and cleaning. Plus it's oven, freezer, and microwave safe.
OXO Silicone Spatulas: Mixing and folding is a breeze with these spatulas. They are heat resistant, and don't stain either. Comfortable to use, easy to clean.
To decorate this cheesecake, I made a quick homemade whipped cream with maple and a touch of salt. To pipe those fun edges, I simply put the whipped cream into a plastic bag, snipped off one of the corners and let my hand flow back and forth. To be honest, I didn't really have a plan for how I wanted it to look because I'm not great at decorating cakes. But I like the frill and fluff!
And it leaves the pretty orange hue of the pumpkin in the middle for everyone to see.
Then I filled a Dusting Wand with cinnamon, and dusted it over half of the cheesecake. I love the texture and color it adds.
This cheesecake is best made at least one day before you're planning to serve it, which allows the spices to really infuse the filling, and achieve optimal texture. Remember, it's a tall, 6 inch dessert, so it will look small, but it will still serve 6-8 people, as you should cut the slices thinner.
More Instant Pot Recipes: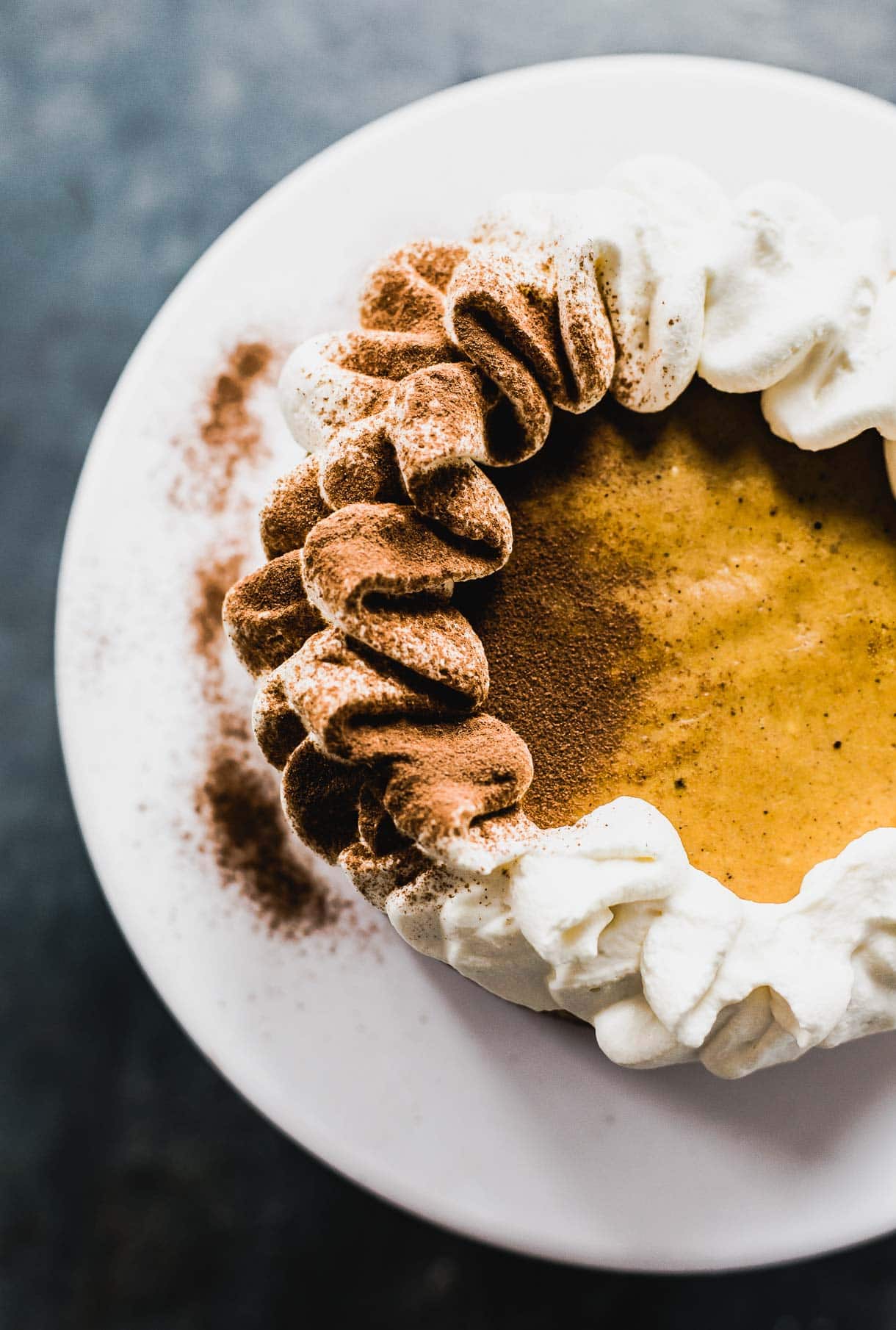 Cheesecake
2

8 ounces packages full fat cream cheese, softened and room temperature

1/2

cup

packed light brown sugar

1

cup

pumpkin puree

1

tablespoon

tapioca starch

1/4

teaspoon

kosher salt

2

large eggs

room temperature, lightly whisked

1 1/2

teaspoons

vanilla

1

teaspoon

cinnamon

1/2

teaspoon

cardamom
Add finely crushed cheerios to a bowl and add rest of crust ingredients. Stir together until combined. Press firmly into the bottom and about 1/2 inch up the sides of a

6 inch push pan

. Freeze until filling is ready.

To make filling, you can whisk by hand or with a food processor. Add cream cheese and brown sugar to a bowl. Whisk until smooth and combined. Add pumpkin puree, tapioca starch, and salt, and stir until just combined and no streaks of pumpkin remain. Add eggs, vanilla, cinnamon, and cardamom, and stir until just combined.

Take pan out of freezer and pour filling in. Tap on counter firmly to move any air bubbles out. Set in OXO sling.

Pour 1 cup water into your Instant Pot and add trivet. Then set pan via sling onto the trivet. Fasten the sling and close lid. Set to manual, high pressure. Cook for 35 minutes. Let Instant Pot naturally release, which will take about 20 minutes. Take lid off as soon as it is naturally released.

Remove cheesecake from Instant Pot and let cool. Cover and refrigerate until ready to serve.

Top with homemade whipped cream and serve.