This mid century modern living room post is sponsored by the design team at Modsy, a partner of Heartbeet Kitchen. All furniture and room pieces were/are purchased by me.
Today, our home in St. Paul went on the market (here's the listing if you want to see the space we have loved so much over the years). If I'm being honest, it's been a stressful month, finishing the kitchen renovation and all the selling preparation, while moving half of our things (we need to keep much of it here for staging, including beds) to our new home, this 1908 abode in Hudson, Wisconsin.
But we are excited, and grateful for the chapter that is about to begin. We've been working on design plans for the new space, particularly the living room, which has been so much so fun! And I wanted to share the inspiration with you today, and as we go forward, in what I'm calling, "Heartbeet Home".
Although we've been together for over 8 years, Brian and I have not acquired a lot of "things". Most of our furniture is what we had before living together, and our walls stayed mostly bare. Styling food and creatively seeing people or places through my lens is something I can do, but envisioning how a room should look? Not my strength.
And even when I knew what we needed, for example a lamp, was overwhelming.
This is where Modsy has SAVED me. Actually, saved us. Modsy is a digital design company, that uses photos of your space (bare or with all your clutter, doesn't matter what shape it's in!) and turns them into 3D renderings of two different design plans (with different layouts and furniture), according to:
a. the style quiz you fill out
b. and your budget
— More details below, but just so you know, you can use code Heartbeet20 to get 20% off any design package of your own room, which is quite affordable even at regular price of $59! —
Here are a few photos that we sent to them, of our (empty!) new living room. We measured the walls as well, so they'd have the best information to recreate our space.
Once they have your room in hand, the design team works on creating the two different plans and gets them to you within 5-7 days. Could not believe the turn around time!
Your designs are delivered to your "studio", where you can take a look around in 3D space. And if there are revisions you'd like, jot them in the notes and send to the design team who will adjust to your liking.
Revisions are unlimited. And within the designs, you can easily swap out different pieces of furniture if you'd like to see what other options look like.
So if you don't like the sofa, try another! Love everything but aren't crazy about the art work? Swap in your favorites. The cost of the media console a little too high for budget? Filter by price and chose one that's right for you. THEN YOU CAN BUY EVERYTHING RIGHT IN THE SITE, as they work with all the great brands like West Elm, Wayfair, World Market, Crate and Barrel, Anthropologie, the list goes on. AND they'll match any lower price you find.
It's like the dressing room of furniture shopping. Not only was it much simpler and efficient, but with the help of the designer, we created a minimalist, mid century modern living room that is so us. Something we never could have done on our own.
We really wanted to focus on blue and gray hues with pops of color.
With mid-century modern style that was unique, while still being functional.
We also wanted it to be calm and inviting, since this is the first room you see upon entering the house.
And have room for a mounted wall TV.
When we received our two designs back, we really liked them both. It blew my mind how realistic and to scale their images were! Each had a slightly different layout option, but both had the sofa facing the TV to optimize TV viewing and comfort.
In Design 1, you'll notice a higher contrast between the warm neutrals in the space and pops of vibrant blue.
While in Design 2 they utilized shades of earth tones layered in with various textures for a lighter color palette with some added depth.
The following images are the final design plans for our Mid Century Modern Living Room!
Brian and I made some personal revisions and tweaking, to bring in a little more color and softer lines. We ended up building mostly off of Design 1, with a few elements from 2, as we could feel our vision coming together.
Our statement piece is the Joybird Roller Sofa we purchased, in Aqua Essence, which is what we gave our designers to really build around. Joybird's style of furniture was in line with the mid century modern vibe, and their expansive color line was limitless! So we also went with the Soto Apartment Chair they make, in Taylor Golden yellow. You actually helped us decided on that color via my Instagram stories. :)
To contrast the original hardwood floors, we added some marble and soft lines with this coffee table, and lighter colors with the rugs. The designer had originally picked out a sheepskin accent rug for the little nook, but it didn't quite fit our style. I found this playful "Sprinkles" rug with dots and stripes that added fun color and style. We are looking for a 8×10 white/natural rug, and hoping to find one locally.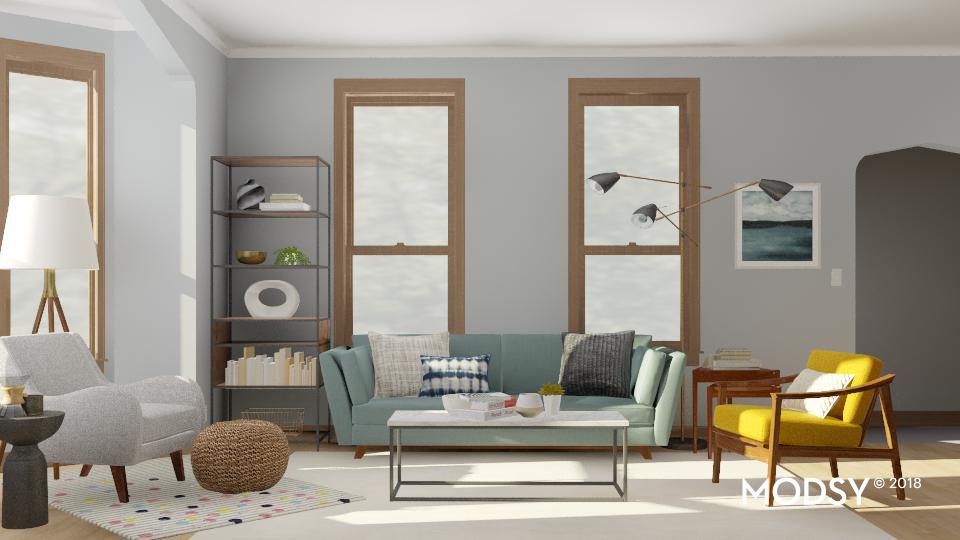 We loved the idea of turning the staircase wall into a place where you could walk in and take off your shoes, or get ready to leave the house, with the mirror just to the left as well. The Danish teak bench felt simple and non-intrusive to this high traffic area, yet provides another touch of functionality. I'm thinking of having someone hand make that for us.
This media console is one we are saving up for, also from Joybird. The the charm of Mid-century era really comes through into one modern piece of furniture. The thoughtfully designed cutouts that keep wires and cords neatly out of sight are key!
A cozy reading nook, which I have a feeling the cats just might take over with the clear view of squirrels running around in the trees outside. :) We still haven't decided on the accent table that will go there, but the grey comfy chair and lamp have already arrived!
One thing I've learned throughout this process is furniture takes a long time to be delivered. So, we'll be making do with very few things in the beginning. :) But once it all comes together, I'll share photos of the actual finished space, as I'm sure their will be little changes and personal touches. And then you can compare to these amazing 3D renderings that Modsy did.
I couldn't recommend Modsy more, and really think you'd love it to if you're struggling with the thoughts designing a room whether you've just moved or you've been in the same space, but need a change. They're giving you as readers 20% off any design package, with code Heartbeet20, so be sure to take advantage! Click here to get started.
xo,
Amanda
——————————–
Affiliate links are included in this post, which I may make a commission from should you decide to purchase.