Using great northern beans from Nebraska, this instant pot white bean soup recipe is creamy, full of flavor, and easy to prepare. Prep time is just 10 minutes! Also, if in the past you've struggled to cook the perfect bean from scratch, I share helpful instructions for how to cook beans perfectly, each time, in an instant pot.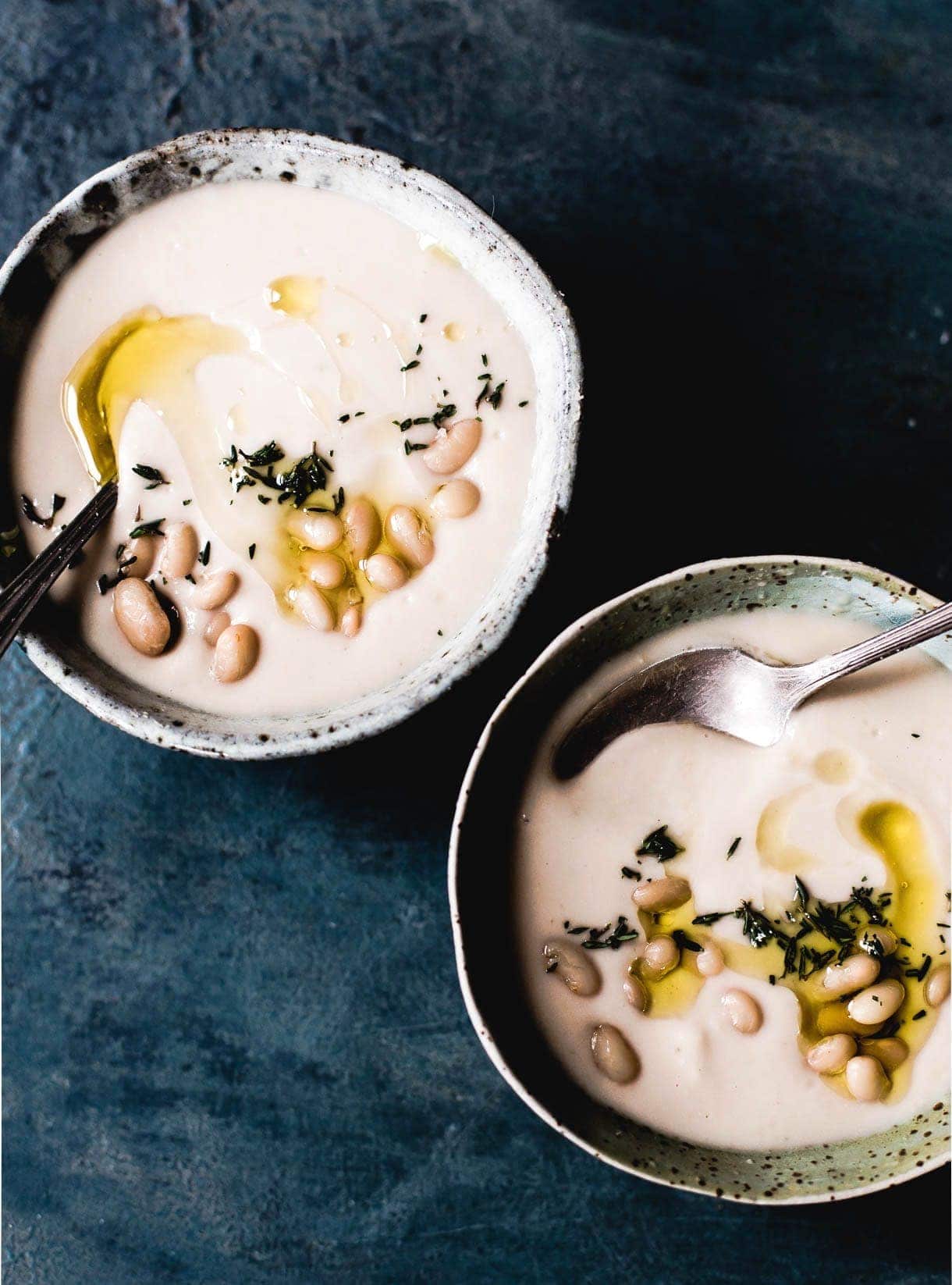 This Simple Instant Pot White Bean soup recipe, and my visit to Nebraska was sponsored by the Nebraska Dry Bean Commission. Post contains amazon affiliate links.
Nebraska. A blank space in my mind, except for visions of corn fields and cattle spread across the flat landscape. And yet I found myself booking a plane ticket for the state at the end of September, on assignment for the state's Dry Bean Commission.
I arrived in Scotts Bluff county on the western edge of Nebraska, to find something completely different and beautiful, with an overwhelming sense of solitude. The wide-open landscape, the enormity of the sky, the incredible rock formations… the magnificent sunsets and sunrises. And "salt of the earth" people.
I was there to capture the bean harvest, and the passionate farmers who grow more than 85% of the country's great northern beans (small white) and the second leading state in pinto bean production. Chances are if you've eaten either of these varieties they've come from the hands of Jim, or Burdette. Jeff. Dean. Or another family farm just down the road.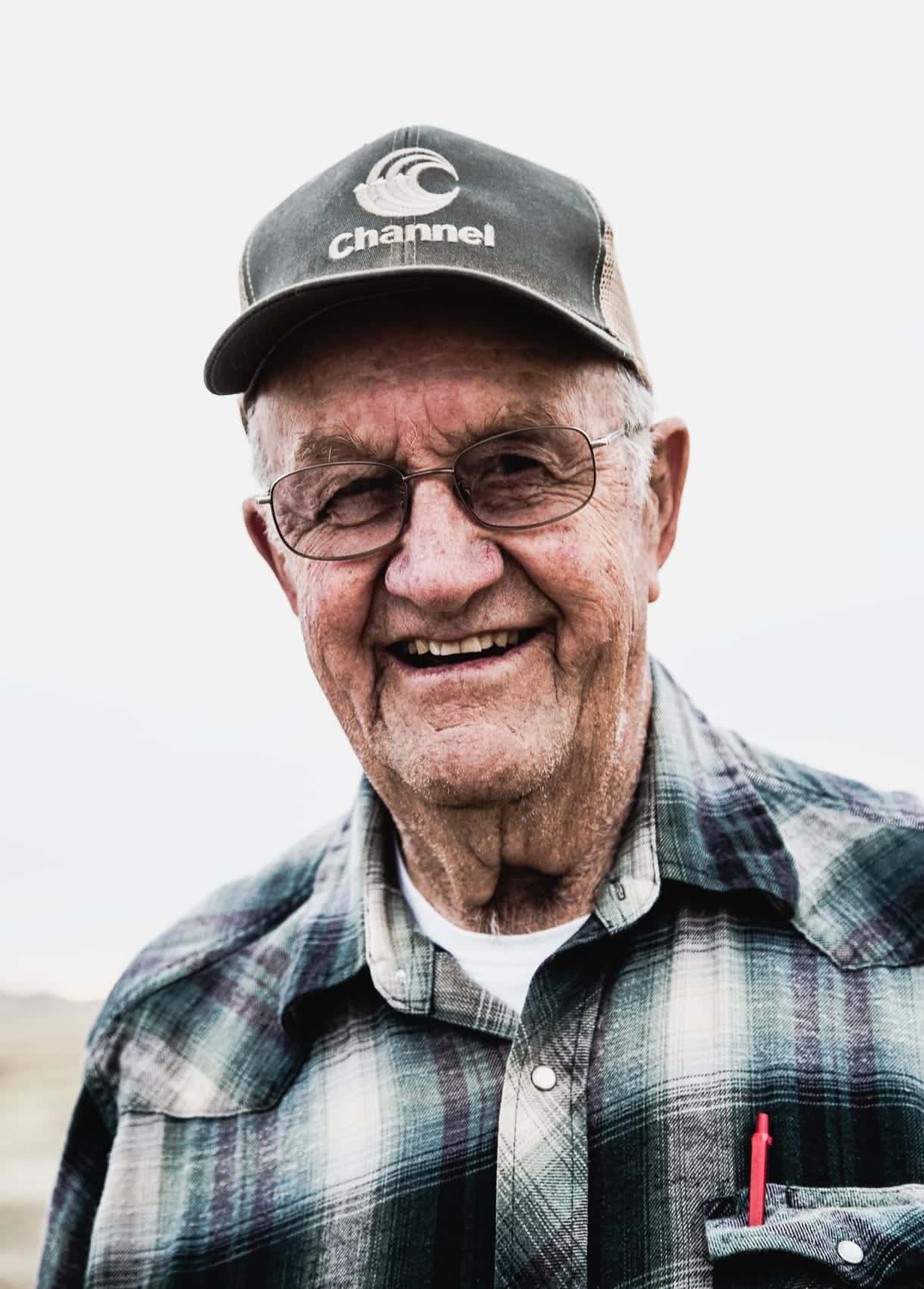 Their hands tell the story.
Of long nights and early mornings.
Of the good years and the bad.
Of the love they have for such a humble, nourishing crop.
I walked the fields with them over the course of the next two days, and climbed into their combines for a birds eye view of harvesting. We talked about the technical things involved with the soil, and how techniques for harvesting have evolved over the years.
But one thing has always stayed the same. The risk, the uncertainty. Whether it's the weather, the fluctuations of government pricing, consumer demand….. their success rides on so many factors that are completely out of their control. And that takes a special person, one whom has passion, dedication, and care engrained in their way of life, providing for their family and ultimately, all of us.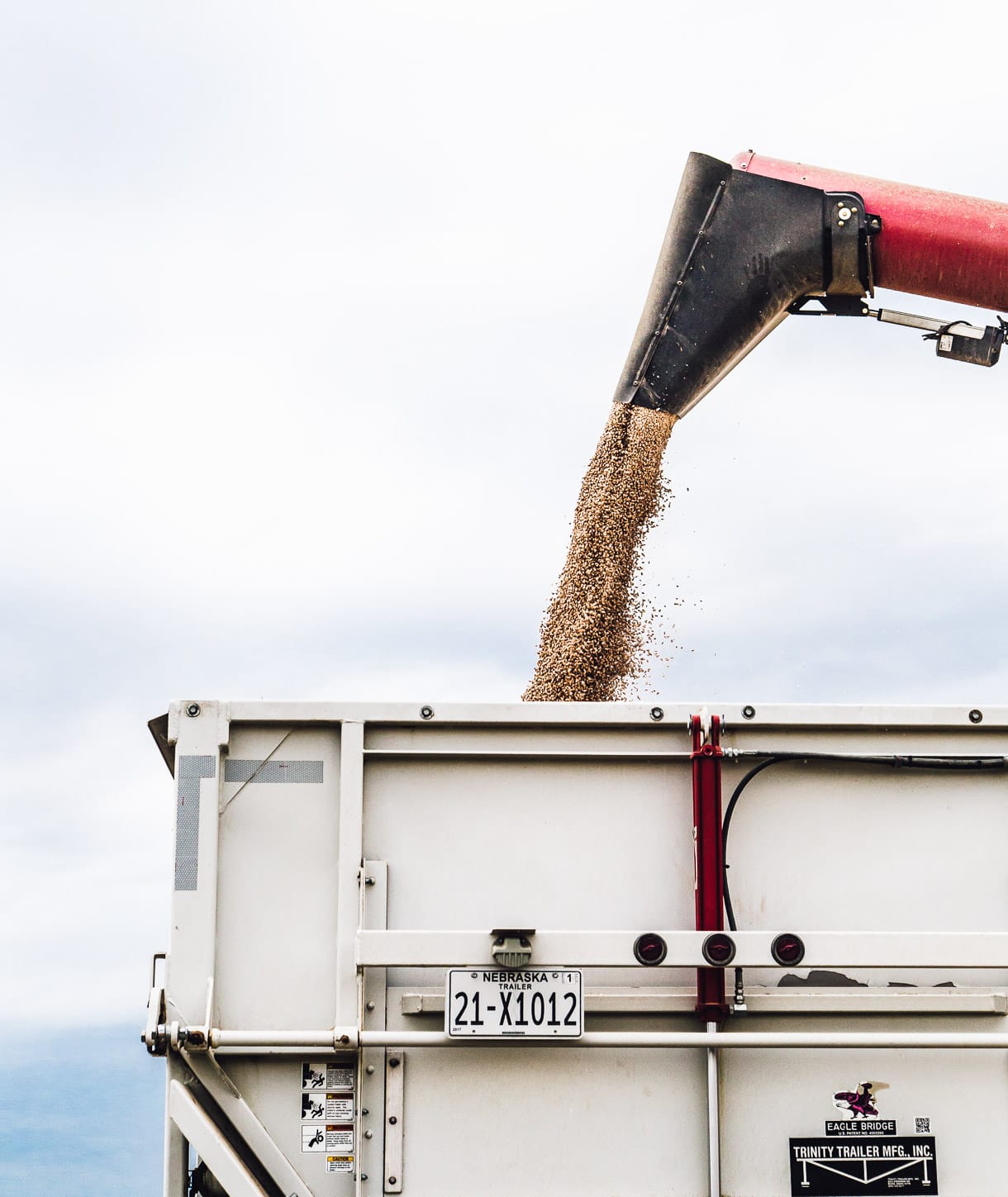 Dry beans are quite unique in the fact that they are food that flourishes as a living plant, dries in the field, and are harvested for the seed within their pods. They'll stay that way until rehydrated by way of cooking, turning into a delicious, healthy, protein rich part of our meals. They're highly economical, and versatile. I use them in everything from soups to desserts, and main dishes to appetizers.
But maybe like you, cooking beans from scratch has been my nemesis. I never knew whether to soak them at room temperature or in the refrigerator, let alone remember to soak them. And then salt, when do I add it? And why aren't these getting soft, or the opposite, these have no texture left and all are split. Sound familiar?
Basically I'd never cooked perfect beans. Until the Instant Pot did THIS for me. Tender and creamy, not falling apart, and flavorful.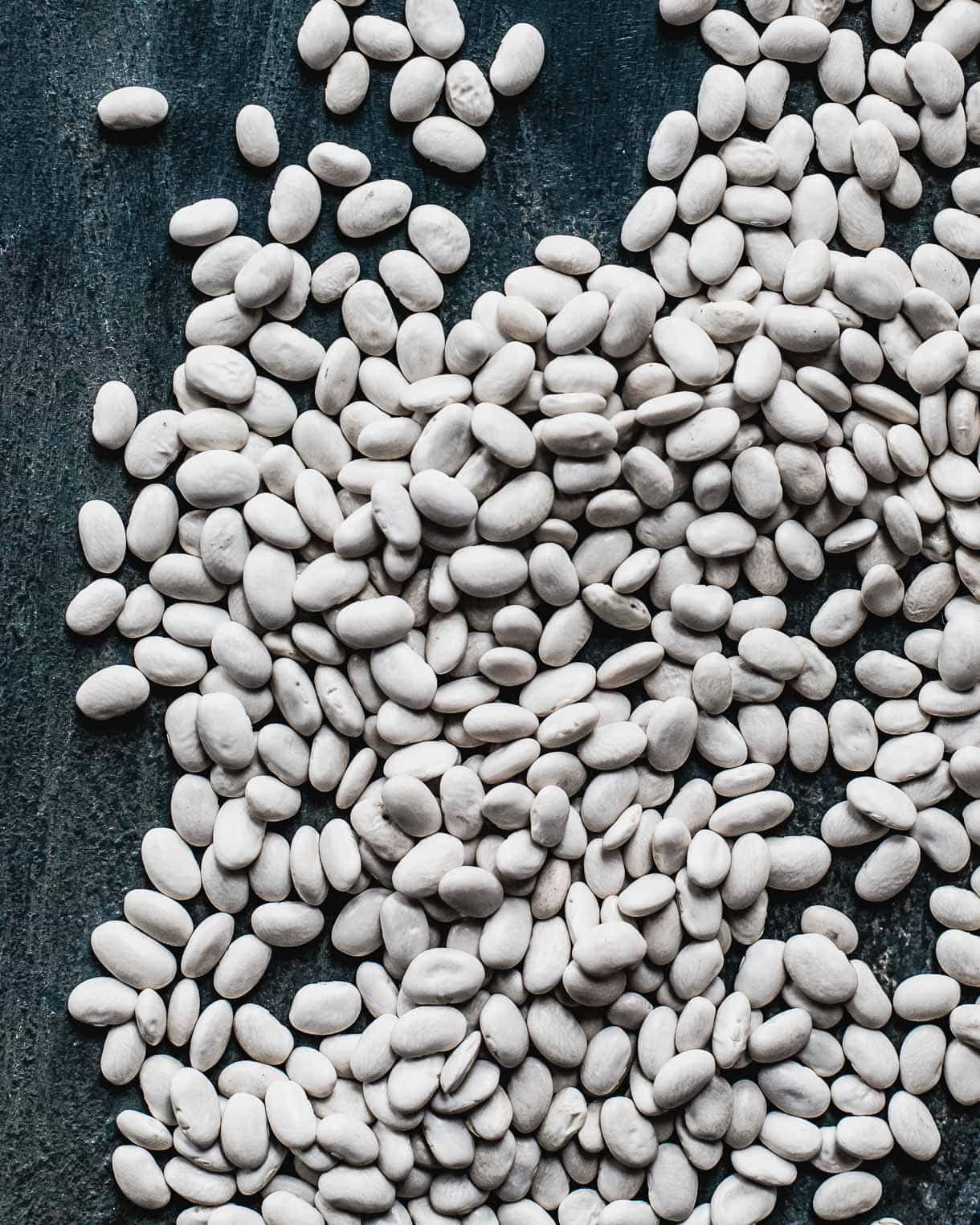 All the thought and debate is taken out thanks to this cooking device taking the world by storm, which is basically pressure cooker combined with other functions that you'd normally have to do on the stovetop separately, like sauté. It's smart.
I'm convinced it makes the perfect pot of great northern beans every time.
How to cook beans in the Instant Pot
First things first!
You can soak or not soak. The beans will be tender and creamy regardless. Cooking time will be a little longer if you don't soak, but still only takes 28 minutes. (Just 8 minutes when you soak!) The only difference besides this was when I didn't soak, the appearance wasn't quite as pristine. Meaning there were a few more beans that didn't stay together. The decision rests in how I'm going to use them. If I'm going to be using the beans whole in a recipe, I don't soak if I'm going to be pureeing them. Like soup!
Salt before cooking. Yes! This doesn't inhibit the tenderness, it infuses them with flavor and helps to create a delicious broth that you can use in other recipes.
A teaspoon of oil in the pot is necessary so that the foam created when you cook beans at a high pressure does not overflow.
Extra herbs and onion in the pot is also key for infusing the beans with subtle flavor.
The fresher your beans, the better result. Buy from farmers directly, or from the bulk bins in your coop/grocery store, where the turn over is high.
How long do I set the timer for?

8 minutes if you've soaked the beans, 30 minutes if they're unsoaked
This simple instant pot white bean soup has quickly become our favorite. Super creamy… and it's simple to make, with simple ingredients. Once the beans are cooked, you sauté shallots in the bottom of the instant pot, then add back the beans, some of their broth, tahini, and olive oil.
You can use an immersion blender to puree right in the pot and serve! I like to reserve a 1/2 cup of beans to add to the top of each bowl, with a little more fresh thyme. It gives a nice contrast in texture and I love how the beautiful white beans look to the eye.
More Instant Pot Recipes To Try:
Gluten-Free Instant Pot Pumpkin Cheesecake
Vegetarian Instant Pot Pinto Beans
Tuscan White Beans with Fried Sage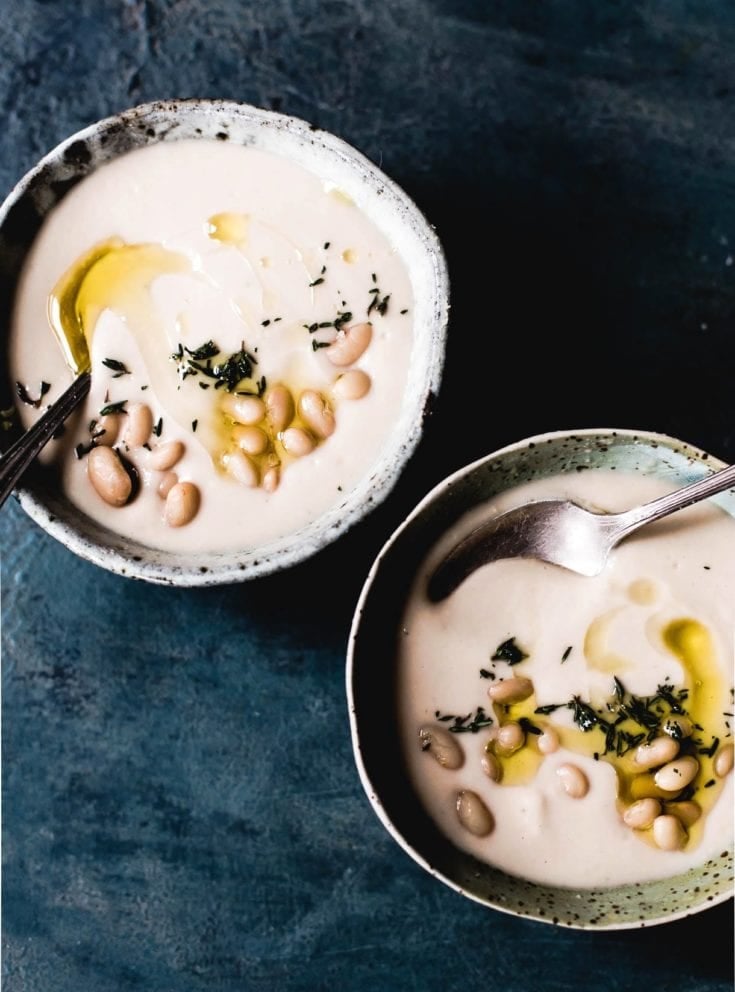 1

cup

dried Great Northern beans

2 1/2

teaspoons

kosher salt

divided

3

dried bay leaves

5

sprigs fresh thyme

divided

1/2

of a medium sized onion

1/4

cup

+ 1 tablespoon high quality olive oil

divided

2

cloves

garlic

minced

3

shallots

minced

2 1/2 to 3

cups

chicken stock

2

tablespoons

tahini

juice and zest of one lemon

2

tablespoons

white miso
*You can soak or not soak your beans. I usually prefer to soak overnight in the refrigerator, covering with 4 cups of water. If you don't, that's okay too, cooking time will just be different.

Add beans (soaked or unsoaked) to instant pot. Cover with 4 1/2 cups of water. Add 1 teaspoon kosher salt, 3 bay leaves (fresh or dried), 4 sprigs fresh thyme, onion, and 1 teaspoon olive oil. Attach cover to instant pot. Make sure vent is turned to sealing. Press on, and then hit manual. Make sure you are on high pressure.

For soaked beans, set timer to 9 minutes. For unsoaked beans, set timer to 31 minutes, and cook on high pressure.

When done cooking, let pot naturally release. If you are in a hurry, you can release the valve after 10 minutes, just know that your beans will lose some of their texture.

Pour beans and broth into a separate bowl. Reserve 1/2 cup beans, for topping at the end.

Return the empty instant pot bowl back to the machine. Add 2 tablespoons olive oil, and set machine to saute. Add minced shallots and cook 5 minutes, until tender, stirring. Add garlic, and saute for 1 minute.

Turn instant pot off, and add beans + 2 1/2 cups chicken broth to pot. Then add 1 teaspoon kosher salt, 3 tablespoons olive oil, tahini, lemon juice and zest, and miso. For ultra creaminess, add everything to a high powered blender. Or use an immersion blender to puree until smooth. Add more chicken stock or leftover bean broth to reach desired thickness, if needed. Then taste, and season with extra salt or lemon juice if desired.

To serve, top with reserved whole beans and a drizzle of good quality olive oil (this is a must, as it adds a lot of flavor!), remaining sprig of fresh thyme.