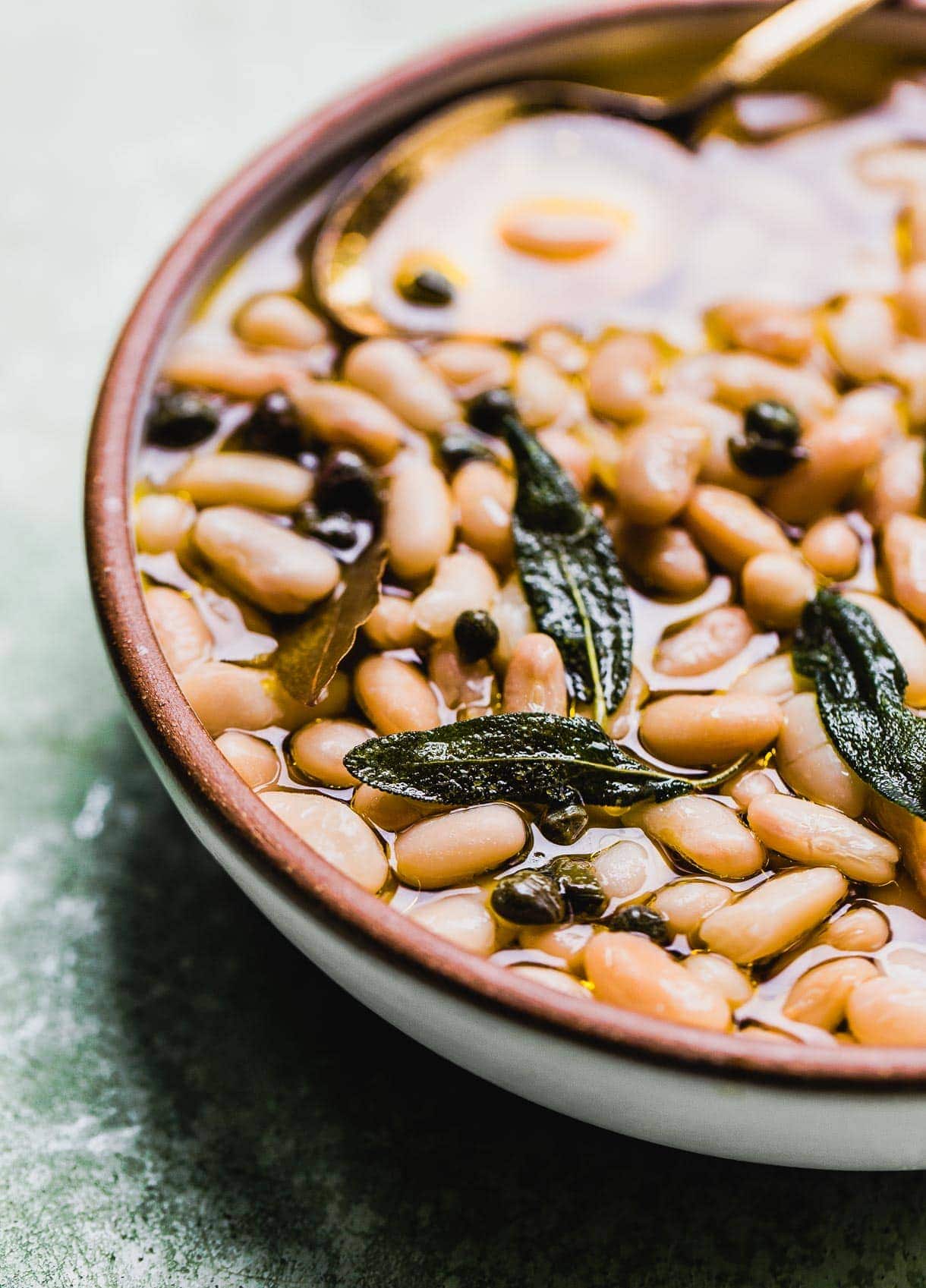 I was certain it was June, just last week. Our garden had just been planted, and the ruby red rhubarb that we inherited with the house was flourishing. It lead itself to a rhubarb simple syrup that made great gin and tonics for our usual night cap.
But it's suddenly October, the tomatoes running on borrowed time to convert from grassy green to burnished red. And I'm just begging for one more caprese salad.
While at the same time, planning our first Friendsgiving, with our new pals we've come to know in our neighborhood. Something I'm very grateful for, because as you know, you don't get to pick your neighbors when you move.
I'll be making a this spice rubbed bone-in turkey breast with mojo sauce. It's our favorite! If you're looking for something rather than turkey to serve, this Healthy Tuscan Chicken sounds great.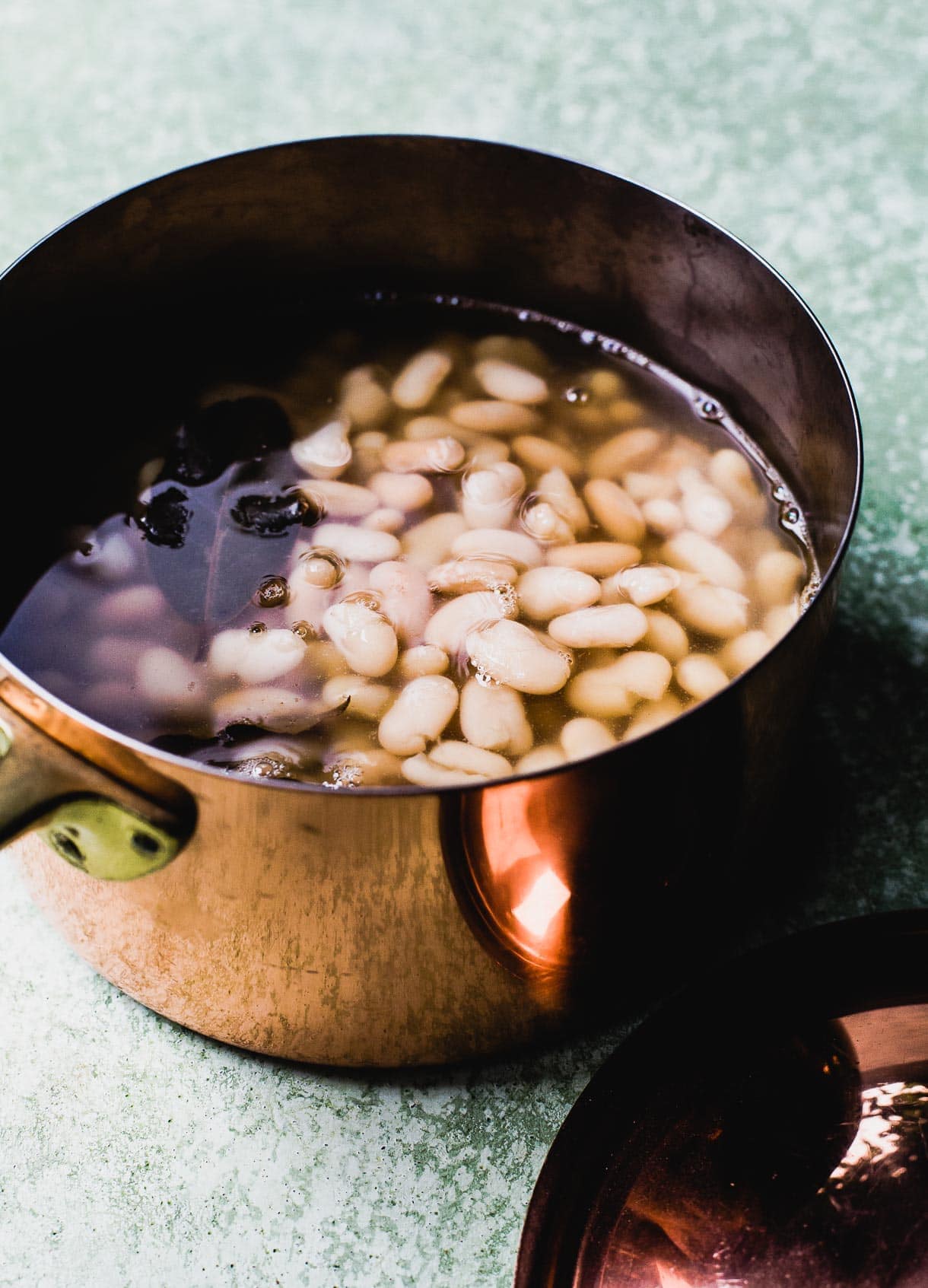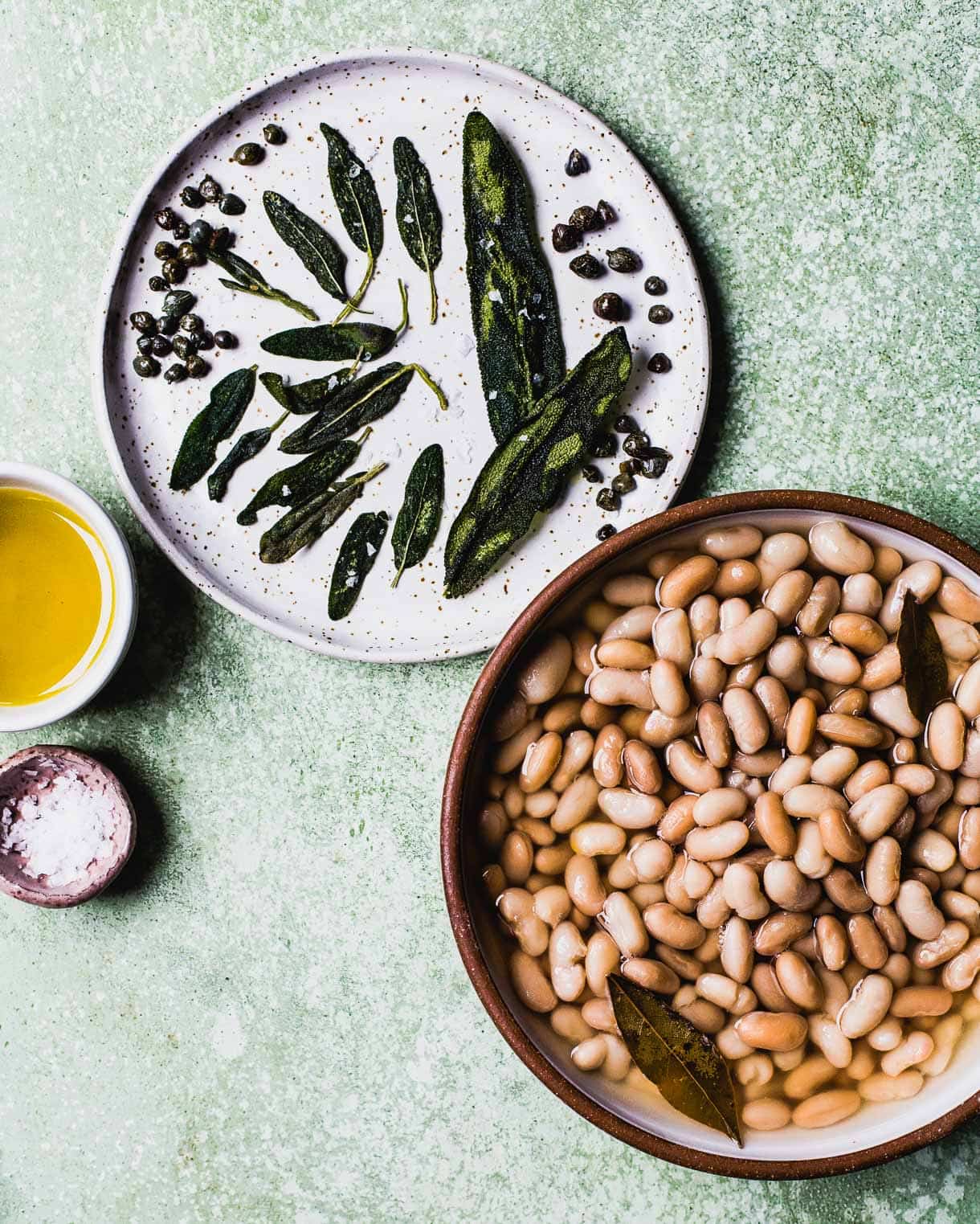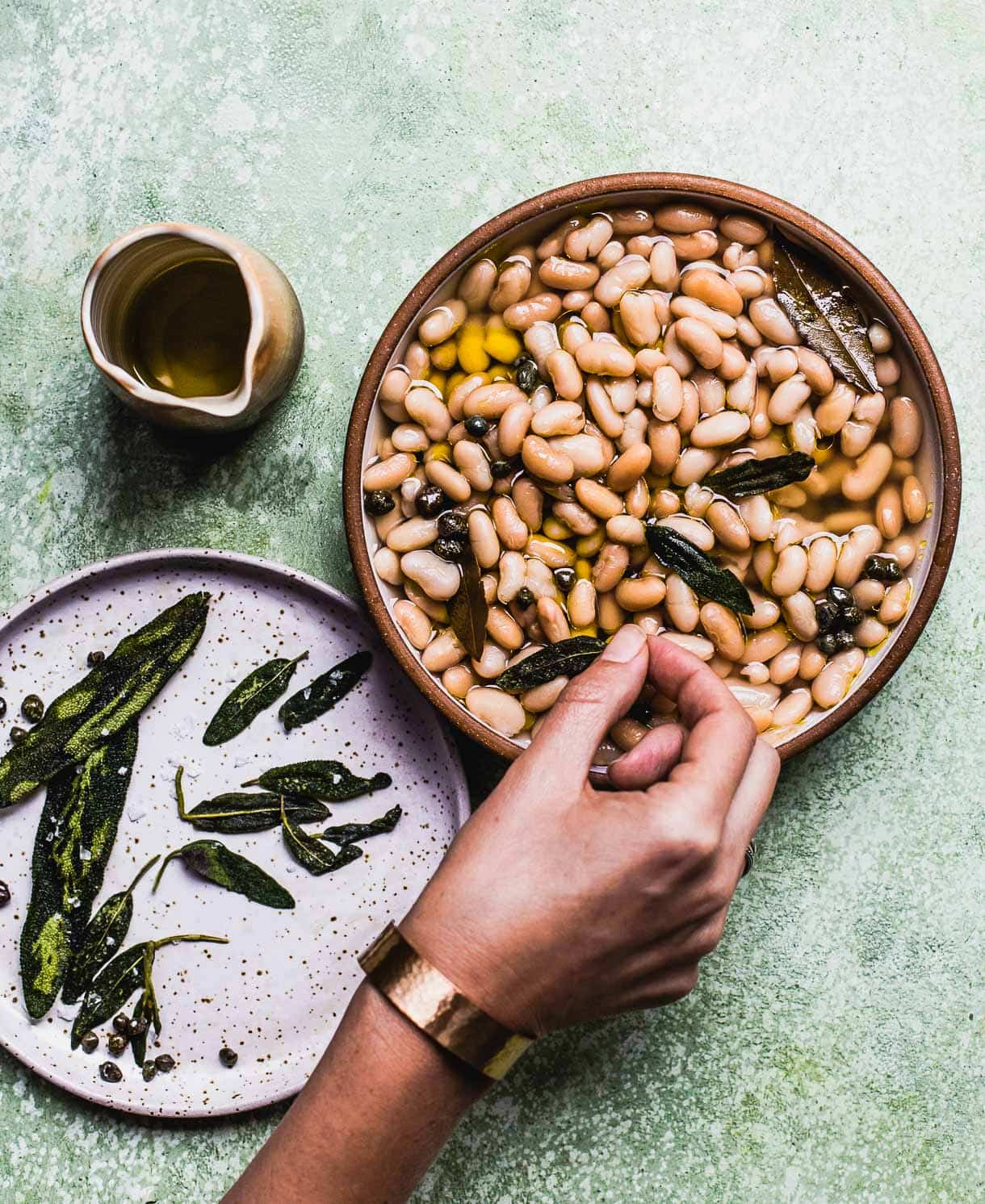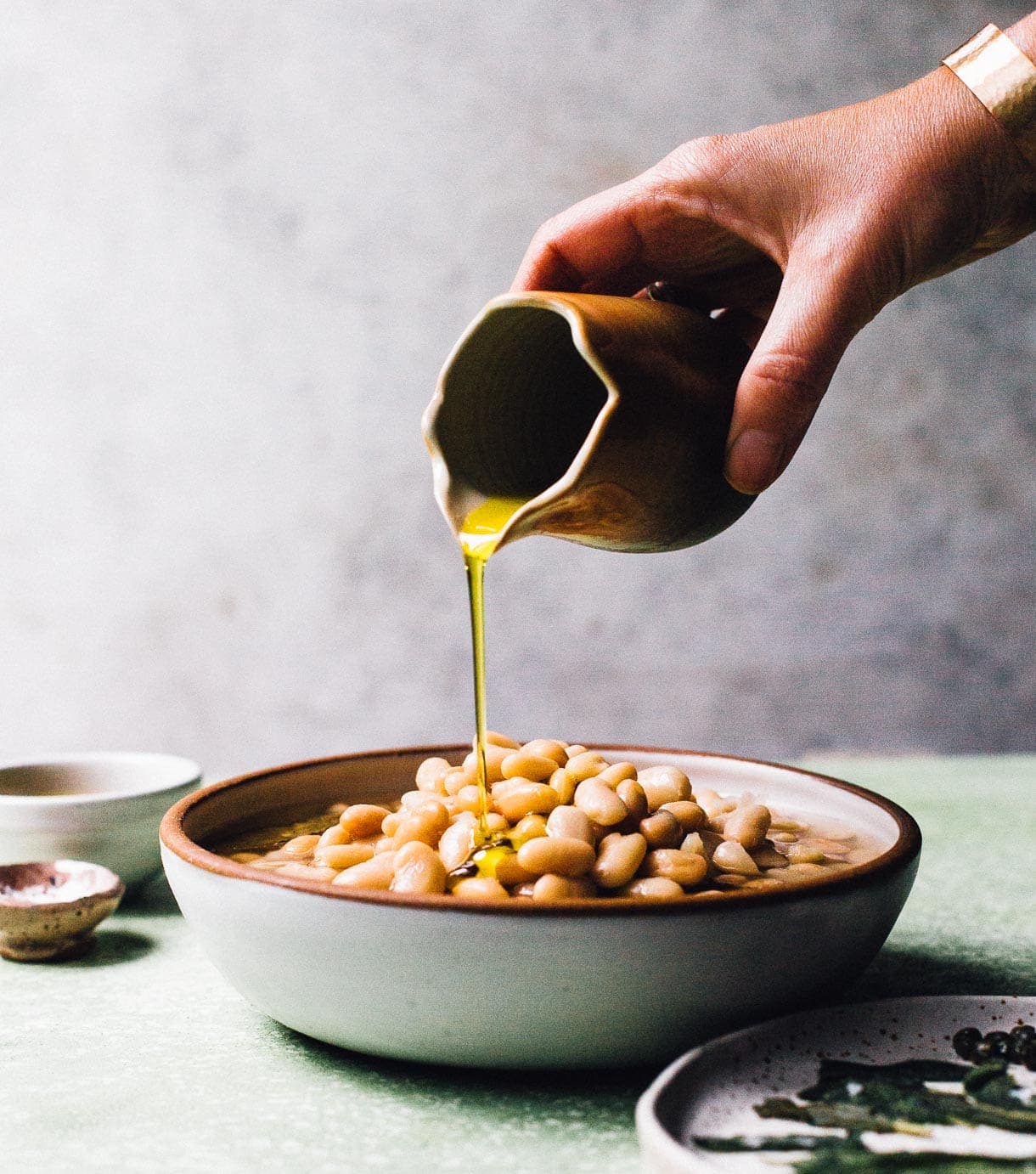 These Orange Butter Glazed Brussels and Butternut Squash always have a place on the table too. And these Tuscan White Beans are a new side dish recipe that seem too simple to be amazing, but truly, they are!
You can make these tender white beans in the Instant Pot, my preferred method, or on the stovetop if you don't have one. (This instant pot white bean soup is one of my favorites too.)
Why is the IP my preferred method? Because NO SOAKING! And they acquire the absolute perfect, creamy texture that I struggle to achieve on the stovetop.
Here are a few of my other notes:
What type of dried white beans should I buy?
Cannellini beans (used often in Italian cooking) or Great Northern Beans are great choices. They're silky smooth when cooked properly, and have a slightly nutty flavor. I love them in this Slow Cooker Vegetable Bean Soup, too.
What makes the beans "Tuscan"?
Beans make up a large part of Italian culture, particularly Tuscany, home of the mangiafagioli, or bean eaters. You'll find them at nearly every meal, made very simply, like this recipe, with herbs and lots of very fresh olive oil.
I elevated my version this dish by frying fresh sage into crunchy, delicate bliss, and capers – for a complementary salty, earthiness. YUM.
What kind of olive oil should I use?
The best extra-virgin olive oil your wallet can afford! The olive oil is an essential part of this dish, and you'll really taste it's rich, luxurious, fruitiness. So make sure you enjoy the taste of the oil you're using.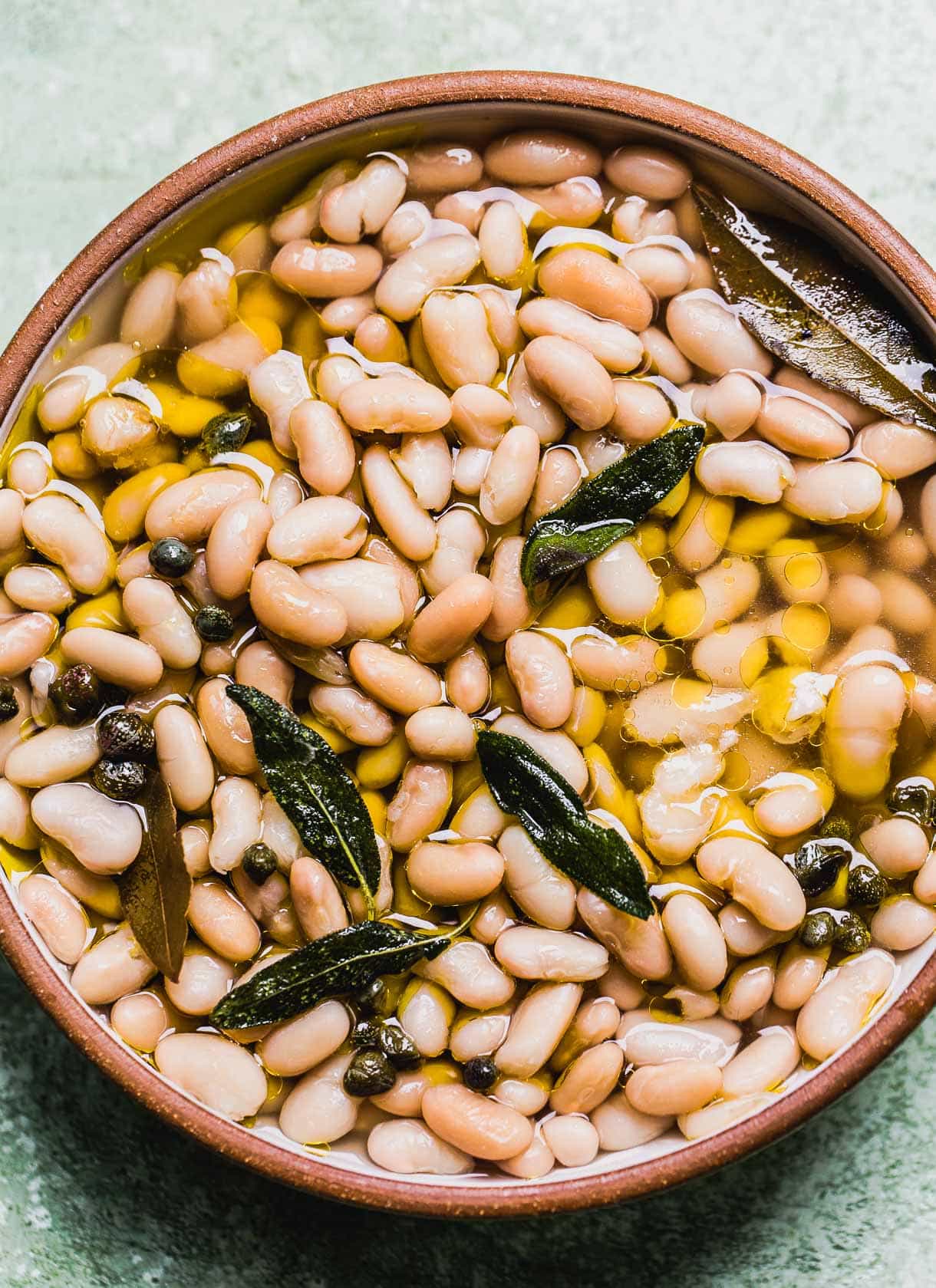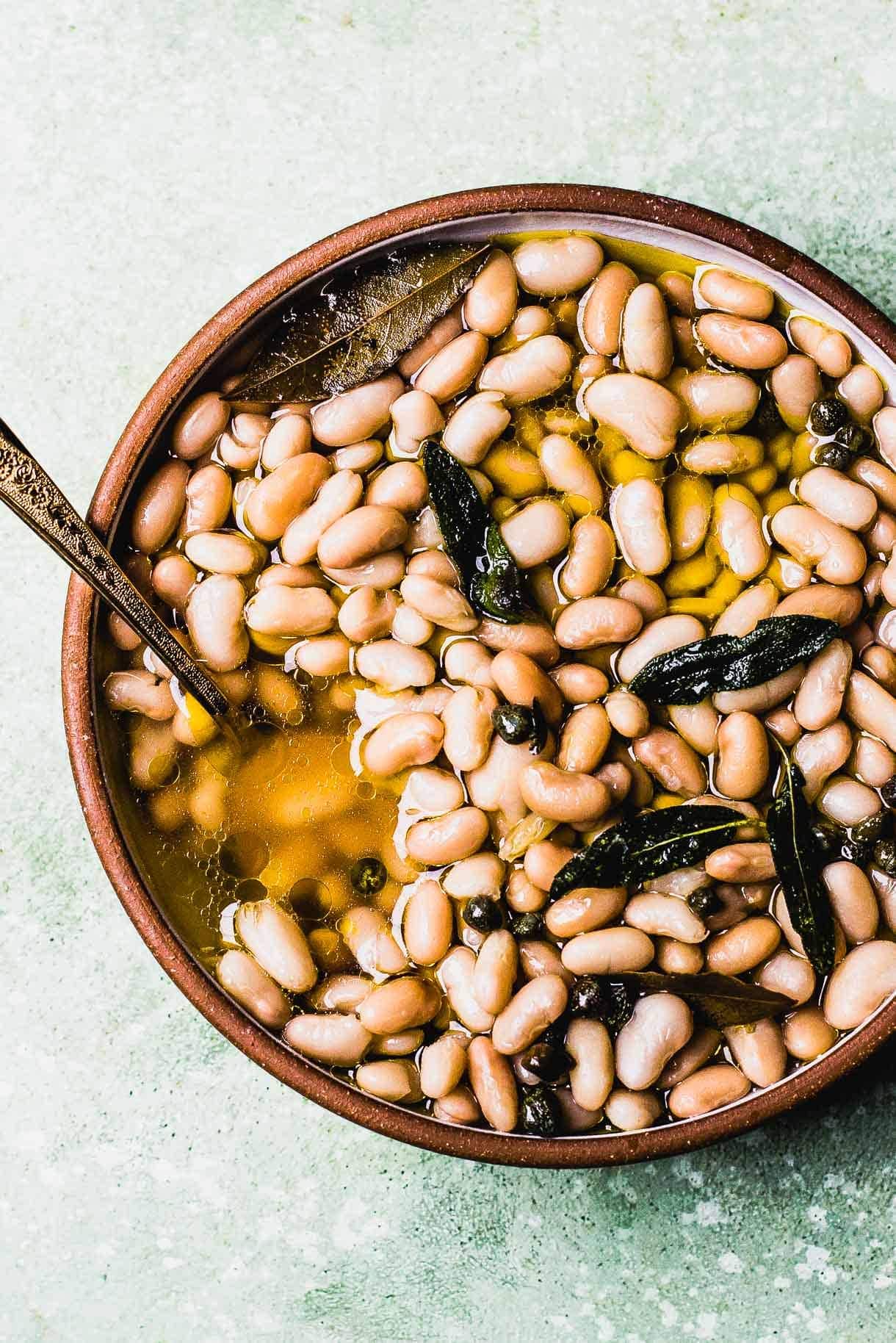 If you make these Tuscan White Beans, be sure to tag me on Instagram with hashtag #heartbeetkitchen or @heartbeetkitchen!
2

cups

dried great northern or cannellini beans

7

cups

water

3/4

tablespoon

coarse kosher salt

4

cloves

garlic

unpeeled

3

dried bay leaves

bundle of fresh sage leaves

1/4

cup

extra virgin olive oil

divided

2

tablespoons

capers

black pepper
This recipe can be made with your instant pot (pressure cooker) or on the stovetop. For instant pot, add beans (unsoaked), water, salt, garlic, bay leaves, and 3 sprigs fresh sage to the cooking pot.

Set to manual high pressure for 30 minutes. Let come to pressure and cook. When finished, let pot natural release for 20 minutes, then finish releasing steam manually.

If you are cooking the beans on the stovetop, plan on soaking beans overnight in refrigerator. When ready to make, add beans, water, salt, garlic, bay leaves, and 3 sprigs fresh sage to the cooking pot. On a low simmer, cook until beans are plump and tender, but not mushy.

Meanwhile, add 1 tablespoon olive oil to a small skillet and turn to medium heat. Once hot, add sage leaves, individually, and capers. Let cook for a few minutes on each side, turning over as they cook until crispy. Place sage and capers on a napkin.

Drain beans, reserving 1 cup broth. Add beans and broth to a serving bowl, and pour olive oil over the top, and adorn with fried sage leaves and capers. Finish with flaky salt and cracked black pepper.