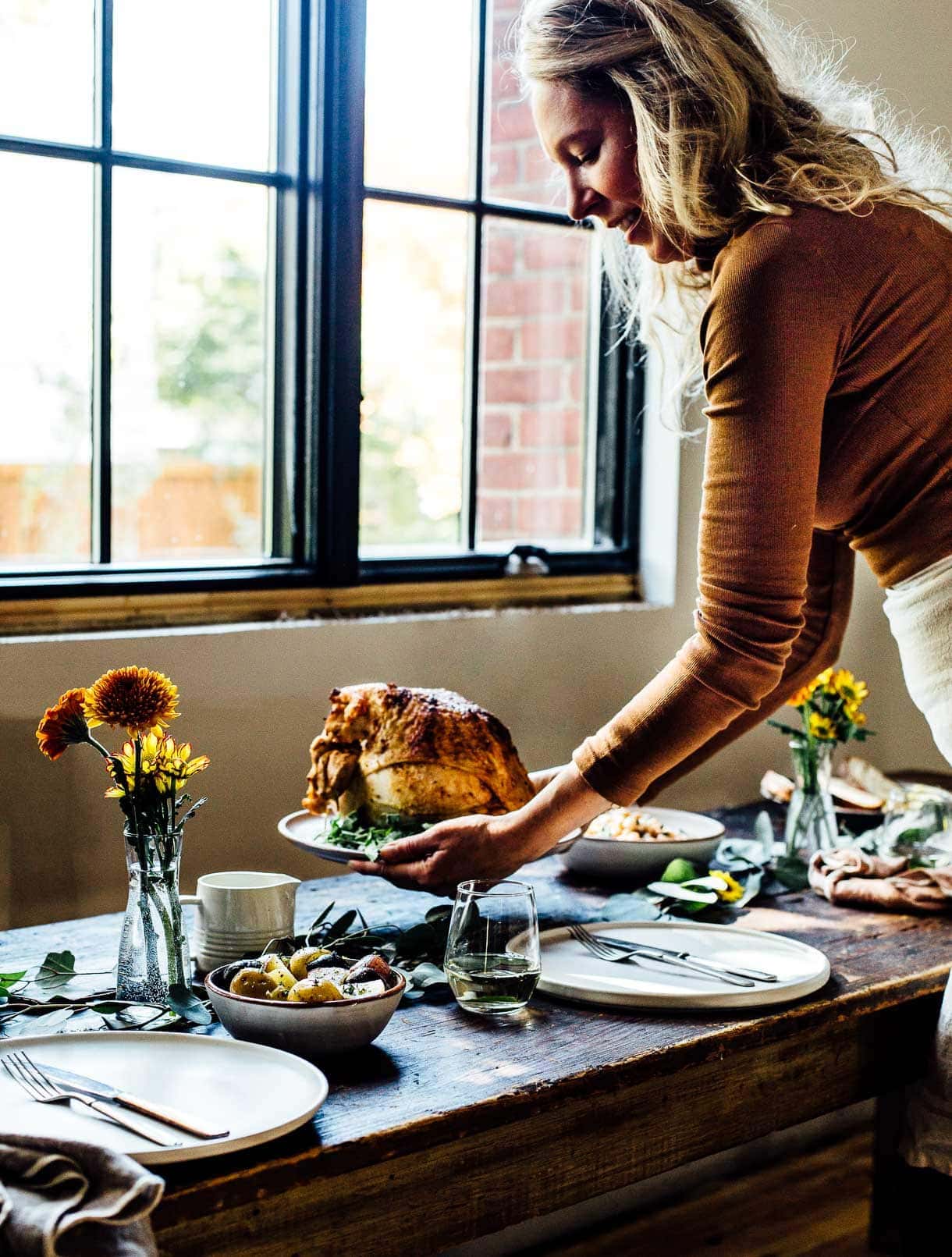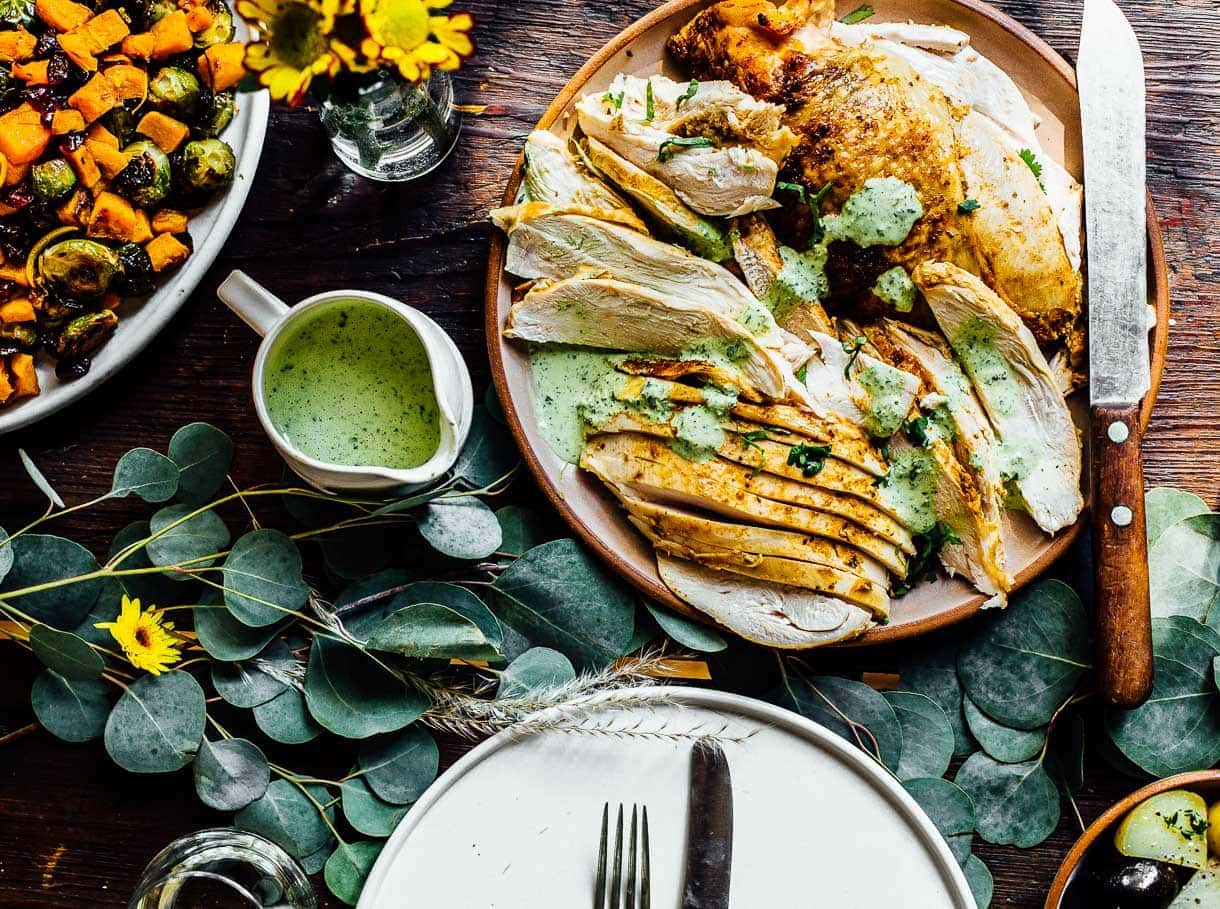 Are we in a new era of holiday traditions? I kind of think so, and have a lot of thoughts around this topic (I'll spare you most of them). Though split families weren't typical for many generations, they certainly are now. Brian and I have four families alone, as we come from divorced parents. Which certainly means double the love, but also double the juggle. Whereas most people were married before age 25, that age is much later, or maybe even not at all. And while those married couples had at least two children in their first few years, that number is more like 1, or zero, now.
Maybe you can relate. And maybe this means your holidays are full of new traditions too, including gatherings centered around friends that have become family. Like Friendsgiving! And while there will always be the classic dishes served, you and your friends are probably cooking things up that fit your preferences, modern ingredients, and dietary needs. Am I right?
Don't get me wrong – a glorious whole turkey and gravy is as classic as it gets.
But I am 100% sold on making a bone-in turkey breast – great for smaller gatherings, as it easily serves 6-8 people, especially when you have delicious sides to enjoy too. Brushed and rubbed with fragrant and flavorful spices like cumin, paprika, and garlic, and completing it all with a herbaceous green sauce, makes for the best turkey I've ever eaten. And if need be, you can make this tasty Leftover Turkey Soup the next day.
Crispy, salty skin and juicy meat….. I mean, what could be better? And did I mention lemon? Both the juice and the zest brighten the turkey, mingling perfectly with the spices.
I was inspired by the caribbean style roasted meats served at Brasa, one of our favorite spots to dine out, their meats served with a citrus mojo sauce that's so good it's drinkable.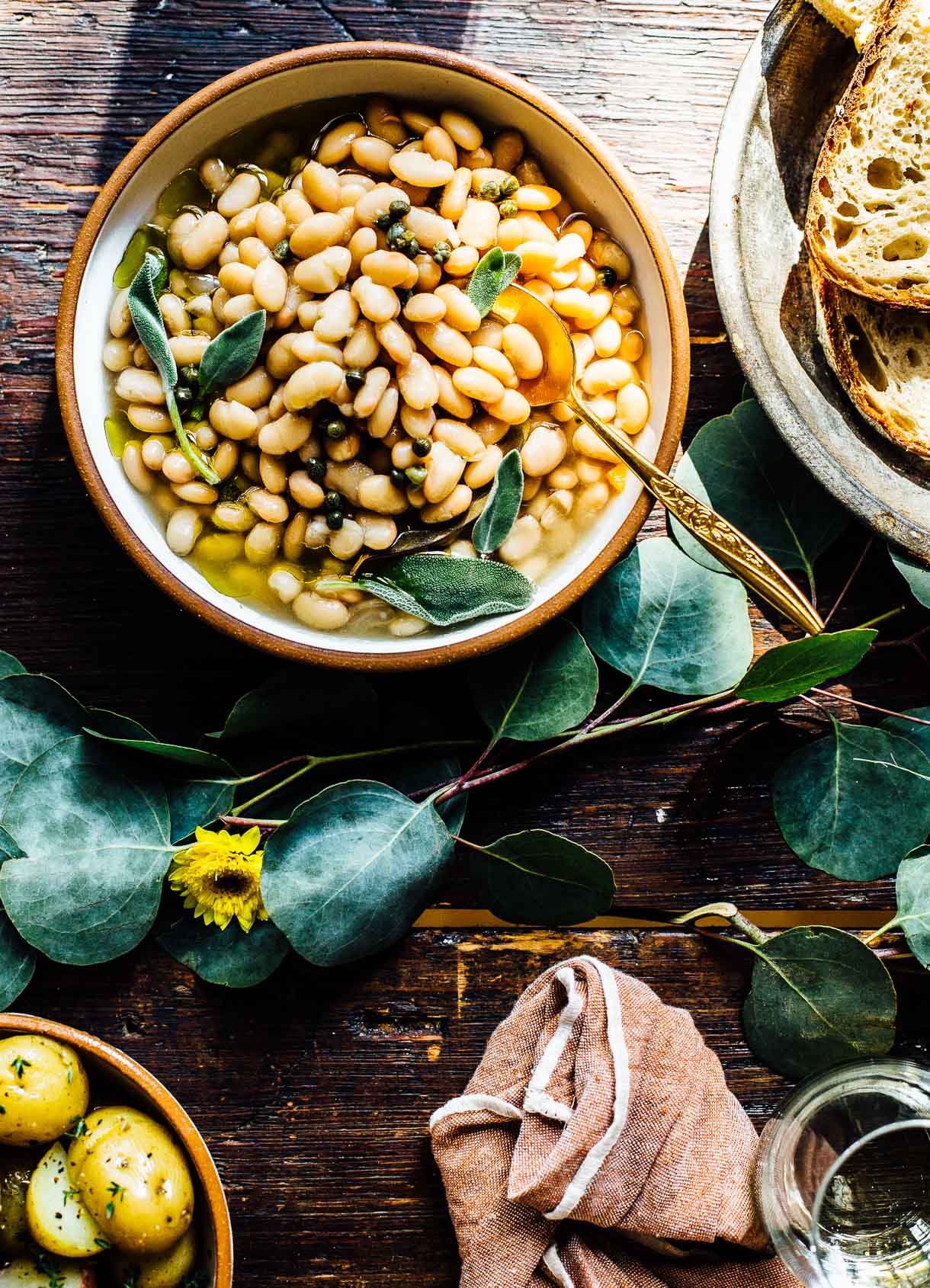 Here are some of my tips and tricks to make hosting Friendsgiving fun, instead of stressful.
Even if this is your first time in charge, don't worry, you've got this! Here's the key: that bone-in turkey breast instead of a whole turkey is going to save you. You'll have perfectly juicy, tender meat every time. And it's much easier to manage, both physically and the time it takes to roast.
Then take the lead on a side dish, and an appetizer, and have your guests fill in the rest. Invite friends through a free online invitation service, and have them note any allergy or dietary preferences.
Assignments
Friendsgiving was made for potluck style, but it's always the host's obligation to make the turkey (let's be real, nobody wants to transport 20-odd pounds of piping-hot poultry anywhere).
I know, potluck style is low-key, but because you'll have friends with varying levels of cooking expertise, budget, and timeliness, the event can be sort of a mess without some organization. So go with specific assignments, which I can tell you, will make guests happy because they don't have to stress about what they're bringing. If you want your coworker to bring her famous garlic green beans, tell her as much. If you need your best friend to handle the vegetarian stuffing, she's got you!
Don't leave it up to people to bring whatever they want because you run the risk of ending up with five kinds of potatoes. If you aren't able to come up with a specific wish list, give people a category, like appetizers.
Beverages
As for drinks, grab easy drinking red and white wine (ask your wine shop for suggestions), and you'll be set. Bonus points for a bottle of bubbly to greet guests when they arrive.
And so you don't need to be filling water glasses continuously, buy a few inexpensive pitchers to set around the table for self-serve ease.
Setting the Scene
I love a rustic, minimal table setting. My go to for decorating is the inexpensive spread of florals at Trader Joe's. I always grab eucalyptus and miscellaneous flowers that can be clipped and set on each place setting. Tea light candles scattered throughout the middle of the table create a beautiful glow too, addition to the setting. Easy peasy!
More Turkey Recipes: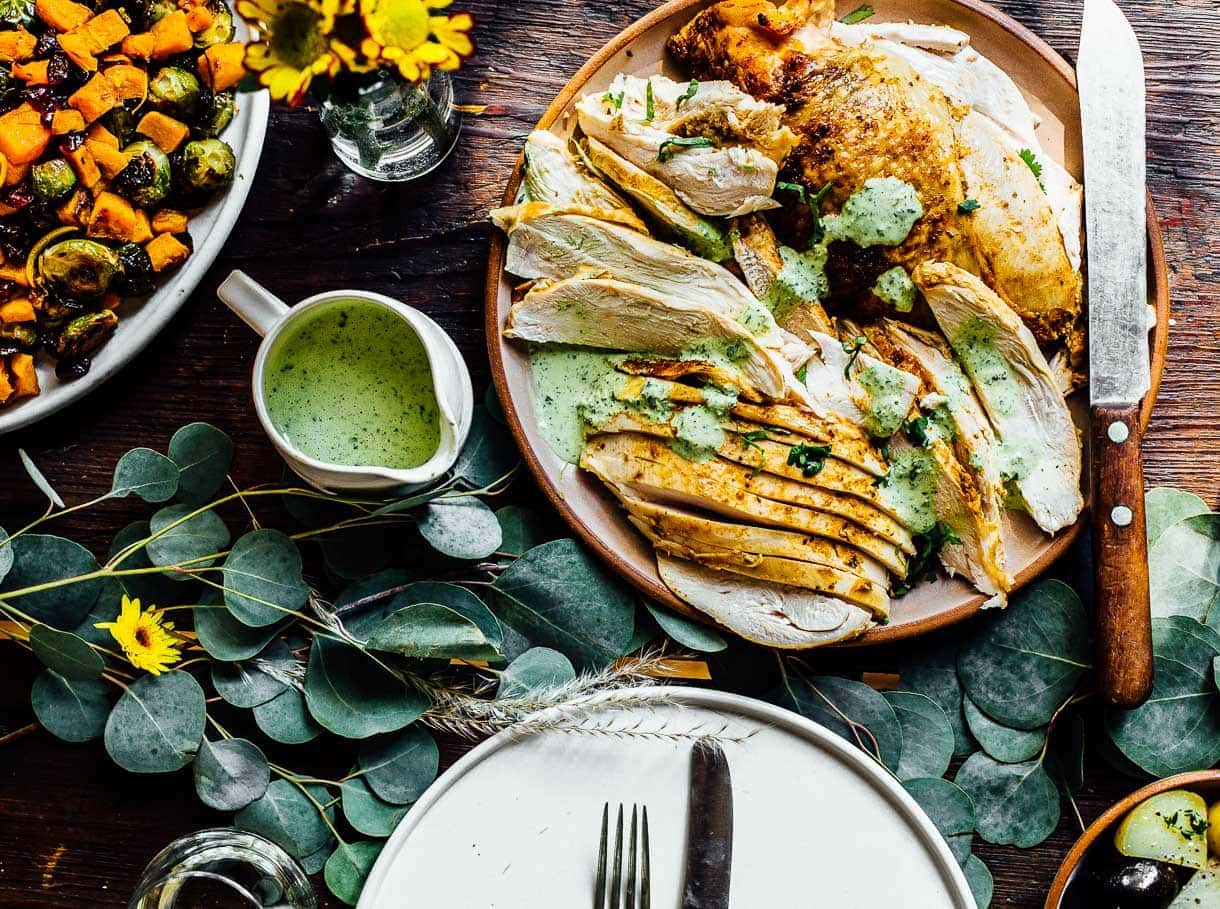 For the turkey:

3

garlic cloves

finely chopped

1

tablespoon

ground cumin

1

tablespoon

olive oil

1/2

tablespoon

sweet

regular paprika

1/2

teaspoon

freshly ground black pepper

1

teaspoon

dried oregano

3

teaspoons

kosher salt

divided

1

large lemon

1

6 pound bone-in turkey breast

For the sauce:

1

cup

packed cilantro leaves with tender stems

1

medium jalapeño

seeds removed, coarsely chopped

3

garlic cloves

finely chopped

1

tablespoon

extra-virgin olive oil

2

tablespoons

fresh lime juice

1/2

teaspoon

kosher salt

1/3

cup

mayonnaise
Roast the turkey:
Arrange rack in middle of oven; preheat to 425° F. Mix garlic, cumin, oil, paprika, pepper, oregano, 2 teaspoons salt, and finely grated zest from lemon in a medium bowl.


Cut lemon in half and squeeze out juice into spice mixture. Rub the cut lemons all over the turkey, and any remaining juice. Place lemons in cavity of turkey.


Place turkey in a roasting pan, or aluminum sheet pan with parchment underneath, breast side facing up. From both edges of cavity, loosen skin from breasts, being careful not to tear skin. Using your fingers, gently spread 3/4 of spice mixture under skin (reserve remaining spice mixture), then season turkey skin all over with remaining 1 teaspoon salt.


Roast turkey 20 minutes, then turn heat down to 375 degrees F. Continue roasting, basting with remaining spice mixture and pan juices every 20 minutes, until thickest part of breast is pierced with instant-read thermometer and reads 150-155 degrees F.


Transfer turkey to a cutting board and let rest 15 minutes, where its temperature will continue to rise to 165 degrees F.


Make the green sauce:
Purée cilantro, jalapeños, garlic, oil, lime juice, and salt in a blender until combined. Add mayonnaise and purée until well blended. Transfer to a small bowl, cover, and chill until ready to use.