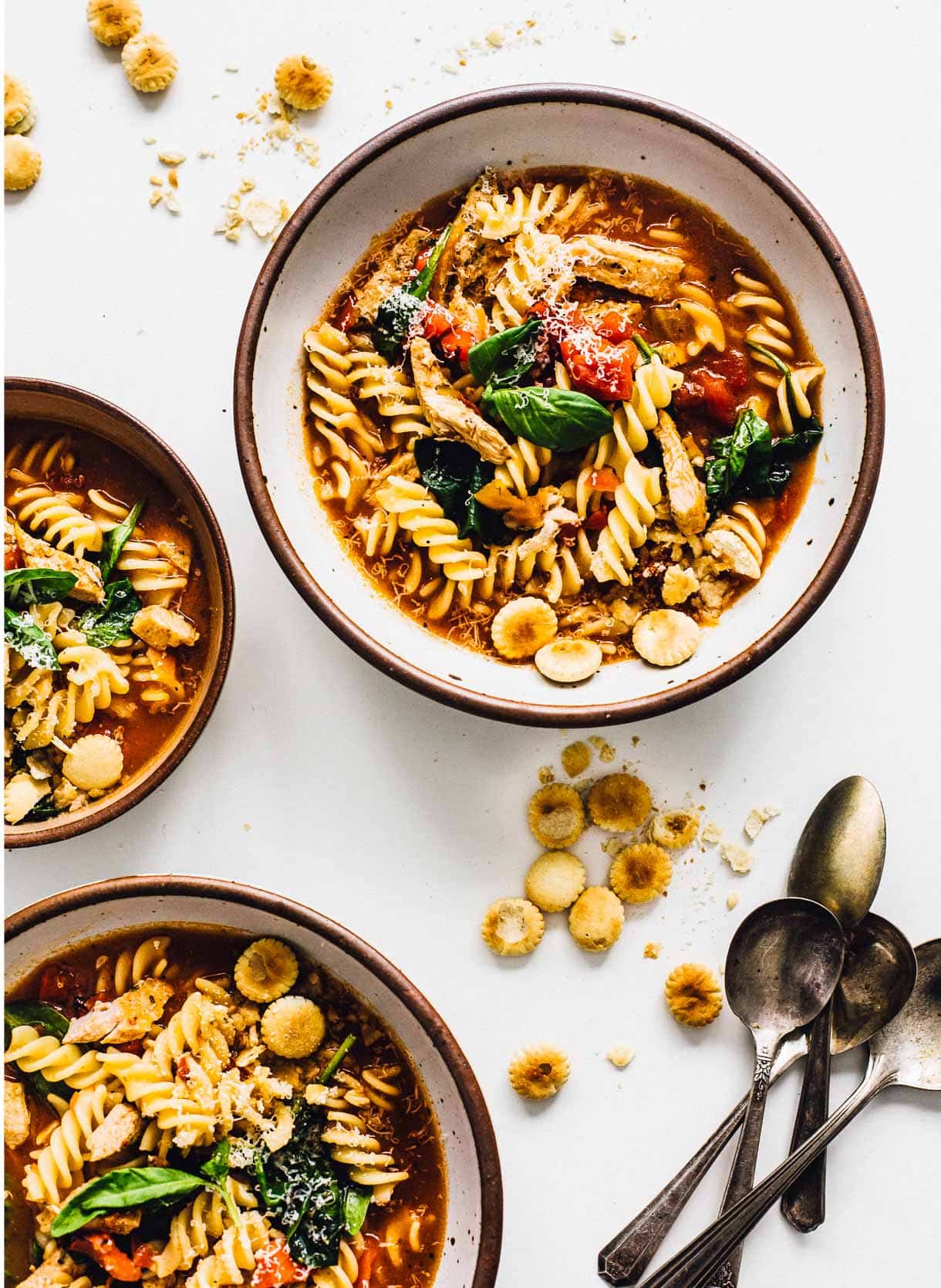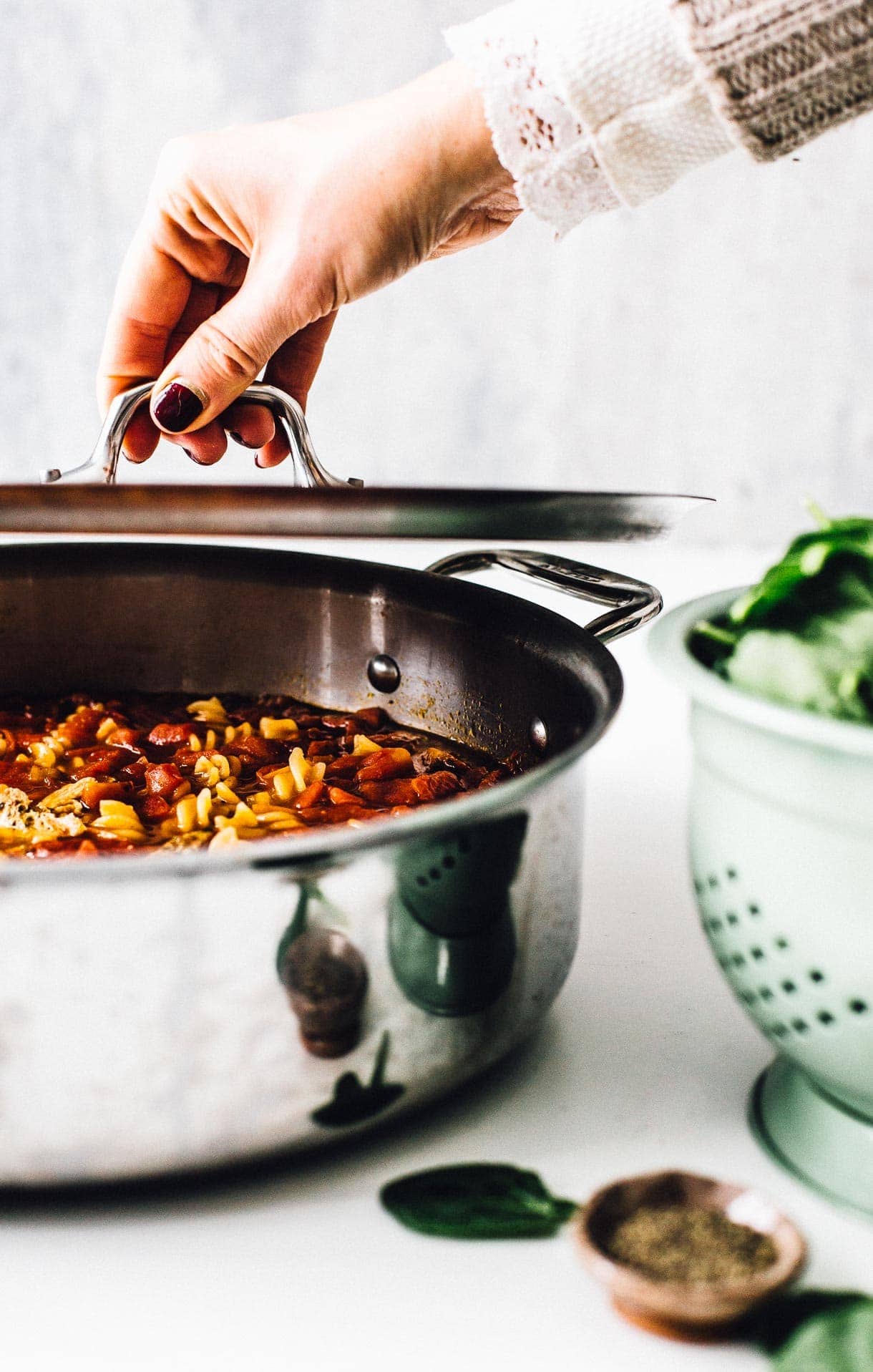 Hello, beginning of the year. And constant chatter about eating healthy. Sigh. Reminders are good, but that doesn't mean it has to be over complicated.
Healthy to me means real food, full of flavor, satisfying, and energizing. It means listening to what my body needs that day. And eating several times throughout the day.
It doesn't have to be classified as keto, low carb, vegetarian – although a recipe could naturally be that! Healthy includes a lot of things, that are different for everyone, and shouldn't feel restricting.
And it's how I eat whether it be January, or July.
That means that a few pasta noodles and dusting of Parmesan cheese in this Turkey Tuscan Soup are A-OK. Fire-roasted tomatoes bring extra flavor too. The comfort we all crave, especially in the middle of winter.
I like to use turkey cutlets in this recipe because they cook even faster than chicken, making this one pot, 30-minute soup a reality. Shady Brook Farms has new Turkey Skillet Kits that make meal time a breeze. Each kit includes four turkey breast cutlets, hand-seasoned, along with a gourmet sauce sauté packet.
I used the Tuscan-Style Tomato Garlic Basil Turkey Skillet Kit for this recipe, which leads to its Italian inspired flavors, along with gluten free rotini noodles, fresh spinach, and the fire-roasted tomatoes. And we loved it! The perfect balance of fresh and hearty. Served with a side of grilled aparagus, it was a delicious meal.
Made in just one-pot, I'm calling it a miracle meal.
A few notes about this turkey soup:
Do you really only use one-pot to make it?
Yes! You'll sauté the turkey first, then add all the other ingredients, including the pasta. Everything simmers in broth, cooking the pasta, while the flavors of the soup evolve. mingling the flavors of the soup. SO EASY.
What are turkey cutlets?
They are pounded or thinly sliced cuts of turkey breast. The fact that the thin pieces of meat cook quickly is one of the biggest advantages. You could also make this Peruvian Turkey Stew with cutlets!
Can I freeze this Tuscan soup?
If you make it with gluten-free noodles like I did here, I wouldn't recommend freezing it. With the thawing and reheating, their structure will change. If you make it with regular pasta noodles, you can freeze it.
Is this soup like the Zuppa Toscana at Olive Garden?
Nope, it's a different style of Tuscan soup. The Olive Garden Zuppa Toscana is made with sausage, kale, potatoes, and cream.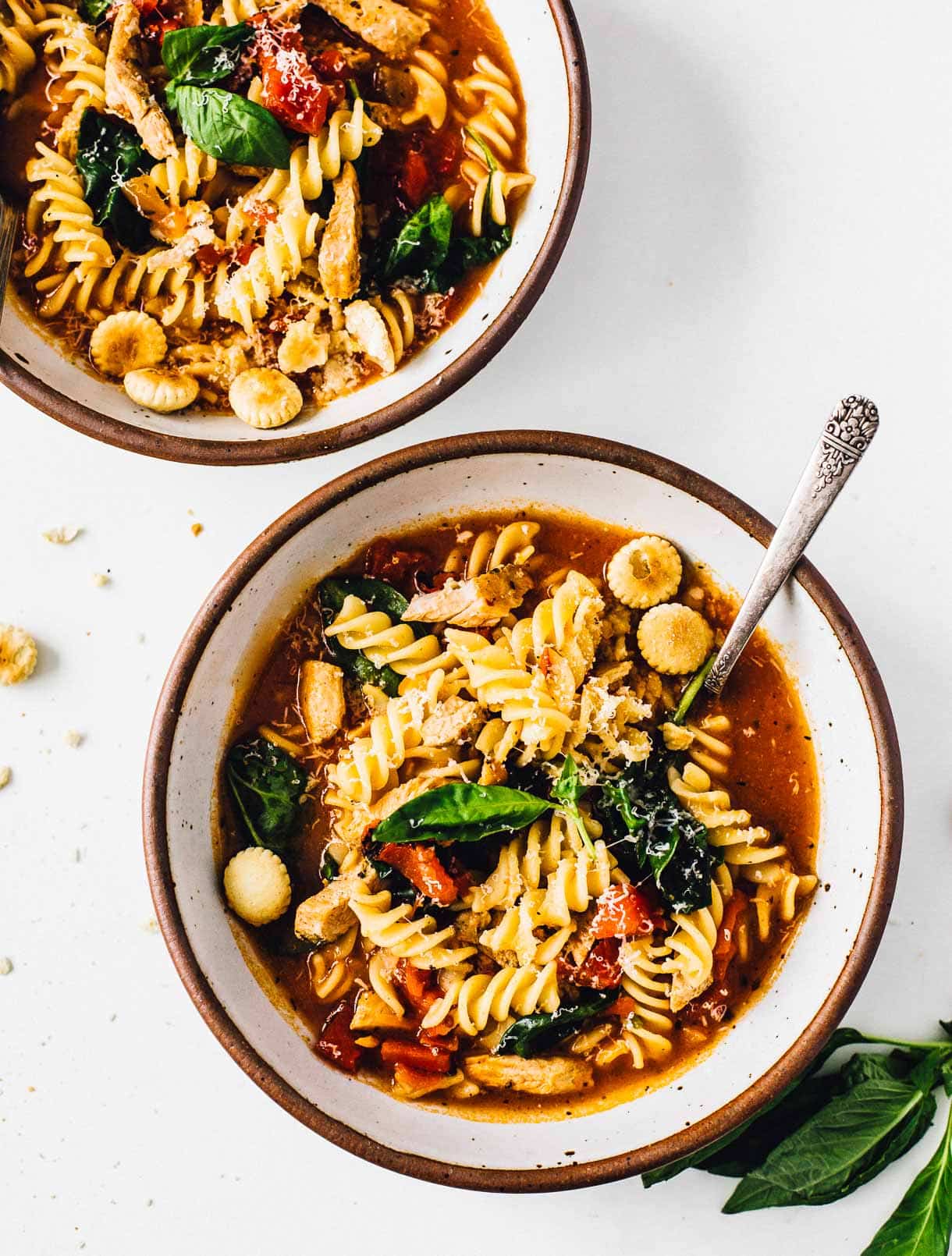 More Turkey Recipes: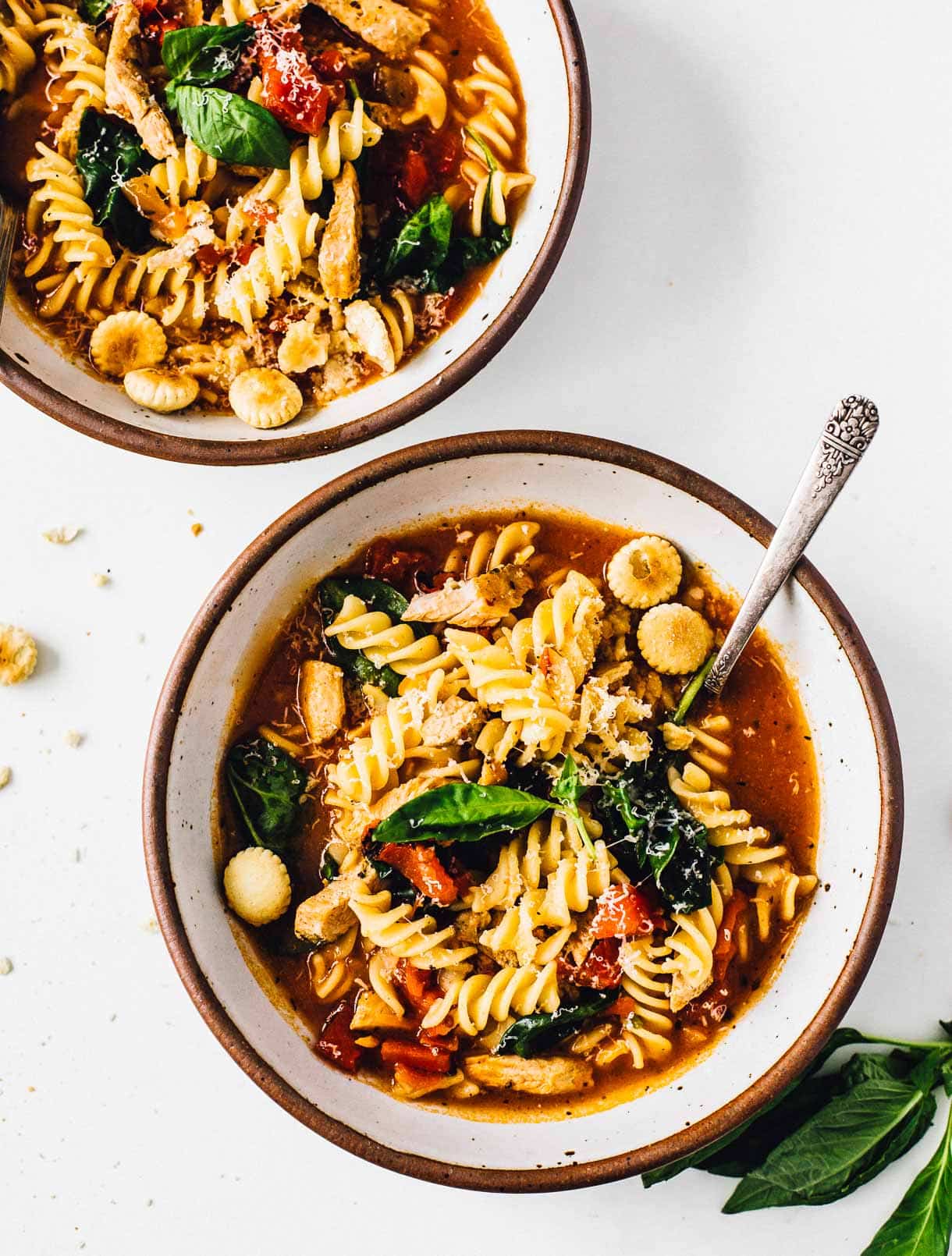 2

tablespoons

olive oil

1

Shady Brook Farms Tuscan-Style Tomato Garlic Basil Turkey Skillet Kit

1

14.5 ounce can fire-roasted diced tomatoes

2

cups

rotini pasta

I use gluten-free

1

32 ounce box chicken broth

1/2

teaspoon

ground black pepper

2

cups

baby spinach

2

tablespoons

balsamic vinegar

1/3

cup

shredded parmesan cheese

plus more finishing

salt to taste

fresh basil for finishing
Heat olive oil in large sauce pan, with deep sides, to medium high heat. When hot, add turkey cutlets. Cook for 3-4 minutes on each side. Remove from pan and let rest for 5 minutes on cutting board.

Slice turkey into thin strips, and cut in half. Add back to skillet, along with skillet sauce packet, fire roasted tomatoes, and pasta. Stir to combine, then add box of chicken broth and black pepper.

Cover and cook for 8-10 minutes, until pasta is al dente.

Remove from heat, and stir in spinach, vinegar, and cheese. Let sit for 5 minutes so spinach wilts. Taste, and add salt as needed. This will depend on the amount of sodium in your broth.

Scoop into bowls and finish with extra cheese and fresh basil. The fresh basil adds so much freshness, don't leave it out!