If you're looking for a healthy and flavorful appetizer, these grilled shrimp kabobs are just the ticket! Thread fresh shrimp, pineapple, and avocado onto wooden skewers, and fire up the grill. They'll be ready to eat in just 10 minutes.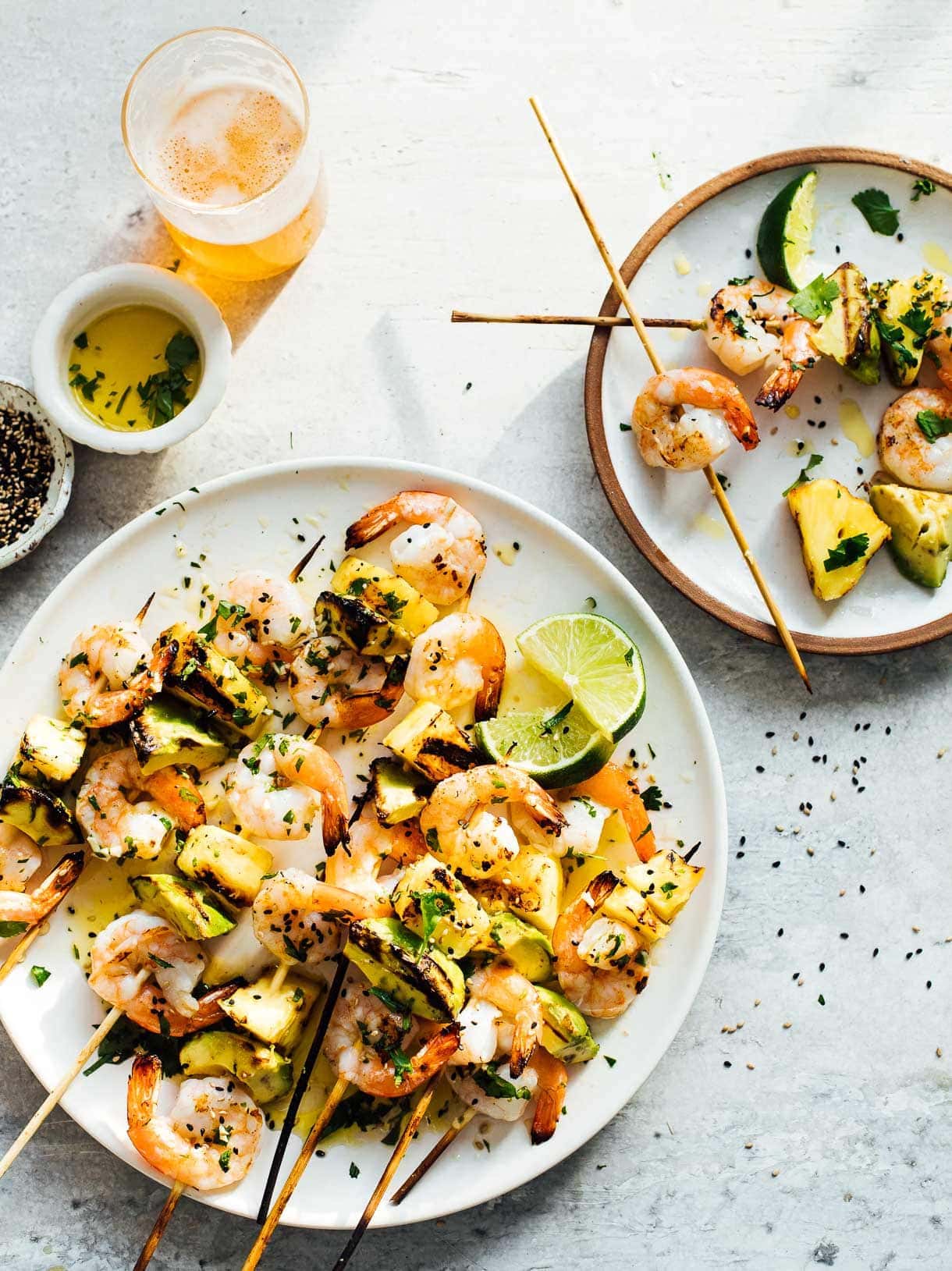 We celebrated winter this weekend… On Saturday, with a Nordic Cookie Party hosted by the Faux Martha, where we decorated ginger treats, made origami stars, and listened to Wit and Delight speak about SAD – seasonal affective disorder.
And on Sunday, we grilled shrimp kabobs because it was 35 degrees F, and it felt like a heat wave!
We celebrated winter this weekend because it can be hard on our emotions, and our brain. It's cold, and dark – for long periods of time. During winter months, fewer hours of sunlight can disrupt your circadian rhythm and can significantly affect mood and energy levels. The circadian rhythm is our internal biological clock that regulates our sleep/wake cycle and metabolism, which is regulated by light and darkness.
Your body wants to quiet. And it's difficult to muster the energy to be around people.
I try to counter the fleeting, seasonal blues by going to yoga, doing one social activity a week, and cooking. Those are things I know that I need in order to feel connected to myself and others, rather than isolating.
And if nothing else, eating something tropical like these grilled shrimp skewers, and easy strawberry mousse for dessert takes my mind and tastebuds to a beach scene. (If chicken is more your style, I love these Thai Chicken Kabobs, too.
Kabobs are incredibly easy to make, by threading your ingredients onto wooden or metal skewers, then grilling. This particular recipe takes a short amount of time to prepare because shrimp are very quick cooking. And you're simply looking for a sear on the pineapple and avocado.
Yes, avocado! We're grilling avocado. And I think you're going to LOVE it. The flavor of an avocado deepens when it hits heat, and the char adds smokiness. Paired with the caramelized pineapple, it's an amazing combination.
My friend Holly came over to help me with this photoshoot, and took the photos you see of me. She's amazing! Here's her portfolio.
Grilling outdoors in winter is totally possible, contrary to what you may be thinking. I use my Twin Eagle Grill, which they gave to me, all year round. In fact, it's very common in the northern parts of the country like I live in. And with the Super Bowl approaching this weekend, I'd be willing to bet that many people hosting a party will be making something on their grill.
I have this Twin Eagles 36 inch Outdoor Gas Grill, which I love for its 25,000 BTU burners that heat up incredibly fast. You can basically erase grill preheating time from your cooking schedule. Total bonus.
The hexagonal grates allow for maximum food-to-surface contact, which especially helps when you're cooking something a little peculiar in shape like shrimp, avocado, and pineapple. The Grill Hood Assist System makes it easy to open and close the hood by reducing the weight load with hidden heavy-duty extension springs, too.
Important Tips for Grilled Shrimp Kabobs:
Should I use metal or wooden skewers?
I prefer these 10 inch wooden skewers, because you can serve them as is without worrying about someone burning themselves on the hot metal. You will need to soak the wooden skewers in water prior to putting on grill, to make sure they don't catch on fire.
What size shrimp do I need to buy?
You'll want to buy jumbo, raw shrimp, as they'll shrink quite a bit when they cook. By the end of cooking, they'll be close to the same size as the pineapple and avocado.
How do I keep shrimp from sticking to the grill?
Because shrimp are delicate, you'll want to make sure they can release from the grill easily. To do this, first oil your grates with a high temperature oil, like grapeseed. Then make sure your grill is fully heated before putting the shrimp on the grates. There is olive oil in the quick marinade, which will also help prevent sticking.
How ripe should the avocado be?
This is one time where you will actually want your avocado to be just under ripe. If the avocado is too ripe, it won't be sturdy enough to hold up when being threaded onto the skewer.
The Marinade
You'll notice there's a quick and simple marinade of lime juice and olive oil, but the real flavor comes from the citrus sesame vinaigrette that gets drizzled onto the hot kabobs.
I learned from Bon Appetit that you should add the flavor punch to protein after grilling, rather than before. Because most marinades have herbs and garlic, these will easily burn while on the grill, therefore giving your meal an overall burnt flavor. Adding it after grilling also allows the protein to absorb the flavors better.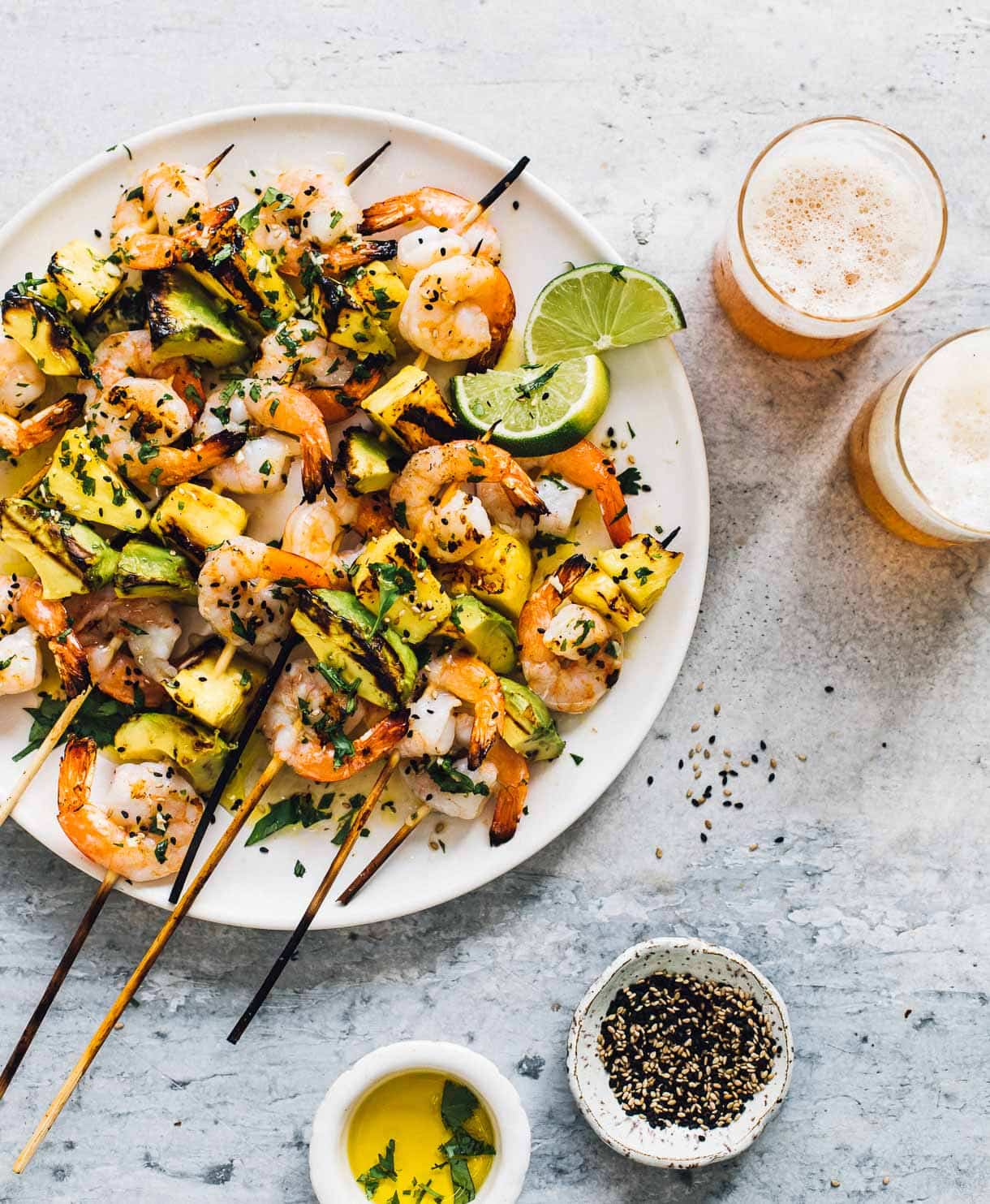 If you make these grilled shrimp kabobs, tag me on instagram with hashtag #heartbeetkitchen or @heartbeetkitchen!
2

tablespoons

olive oil

2

tablespoons

fresh squeezed lime juice

1

teaspoon

kosher salt

12

ounces

of tail on

peeled and deveined jumbo raw shrimp

2

cups

fresh pineapple cubes

cut into 1/2 inch pieces

2

slightly under ripe avocados

cut into 1/2 inch pieces

Vinaigrette:

2

tablespoons

olive oil

2

cloves

garlic

minced

2

teaspoons

sesame oil

2

tablespoons

fresh lime juice

2

teaspoons

runny honey

flaky sea salt

minced fresh cilantro, and toasted sesame seeds for garnish
Soak wooden skewers in water for 30 minutes, prior to making skewers.

Mix olive oil, lime juice, and salt together in a small bowl. Pour over shrimp and toss to coat. Let sit while you are cutting the pineapple and avocado, about 10 minutes.

Thread 2 pieces shrimp, 2 pieces pineapple, and 2 pieces avocado onto each skewer.

Lightly oil grill grates with high heat oil, like grapesseed oil. Heat grill to medium heat, about 400 degrees.

When ready, add skewers with space in between each, and cook for 3-4 minute each side. Shrimp should be pink and char marks should be on avocado and pineapple.

Remove from grill.

Whisk together vinaigrette ingredients and pour over warm skewers.

Top with generous amount of flaky sea salt (important!), cilantro, and toasted sesame seeds.