A before-and-after reveal of our contemporary u-shaped kitchen, with design ideas. Features include original hardwood floors, open shelving, an industrial style window, and custom backsplash. Color palette mixes white walls and sage green shaker style cabinets.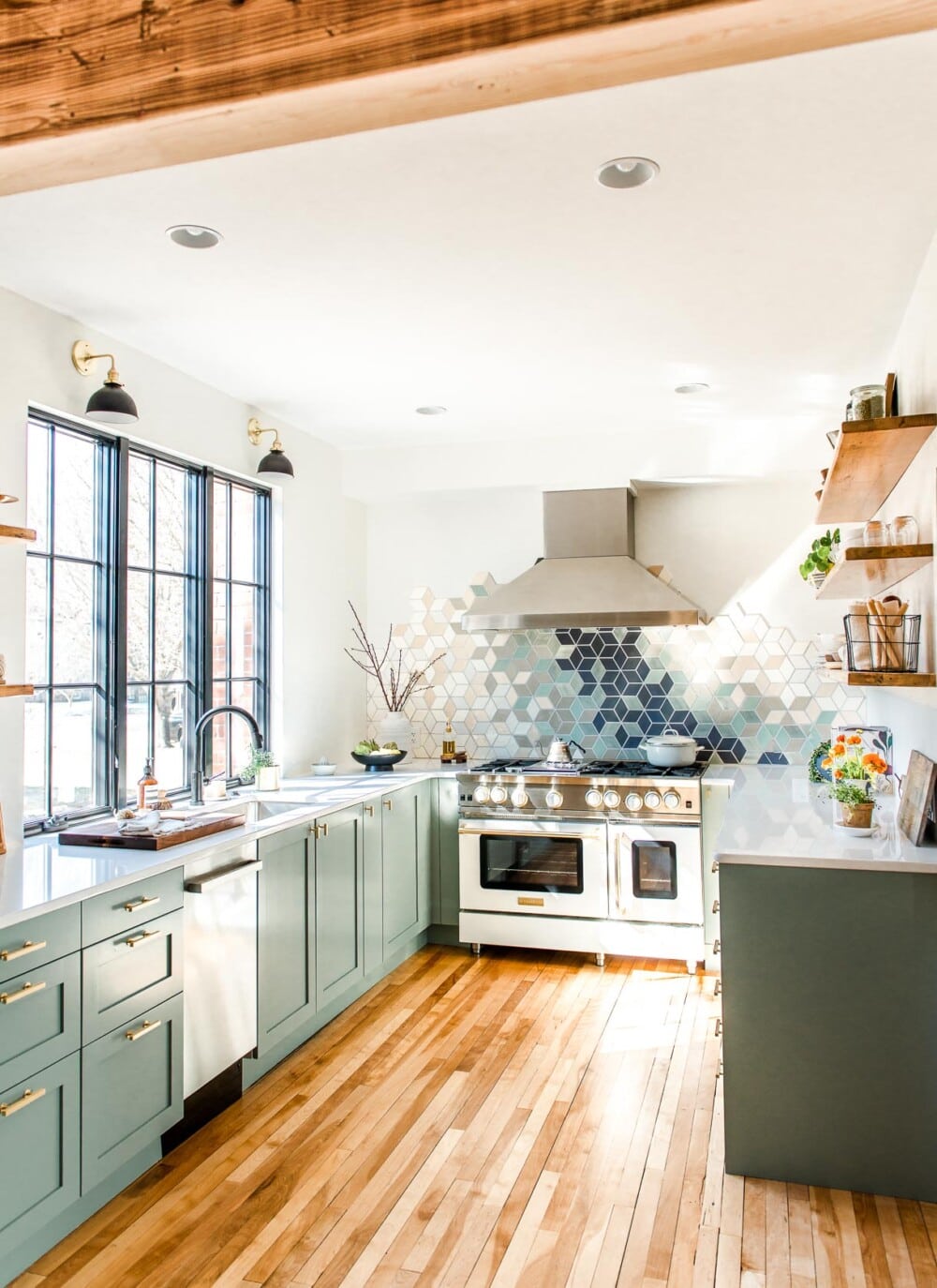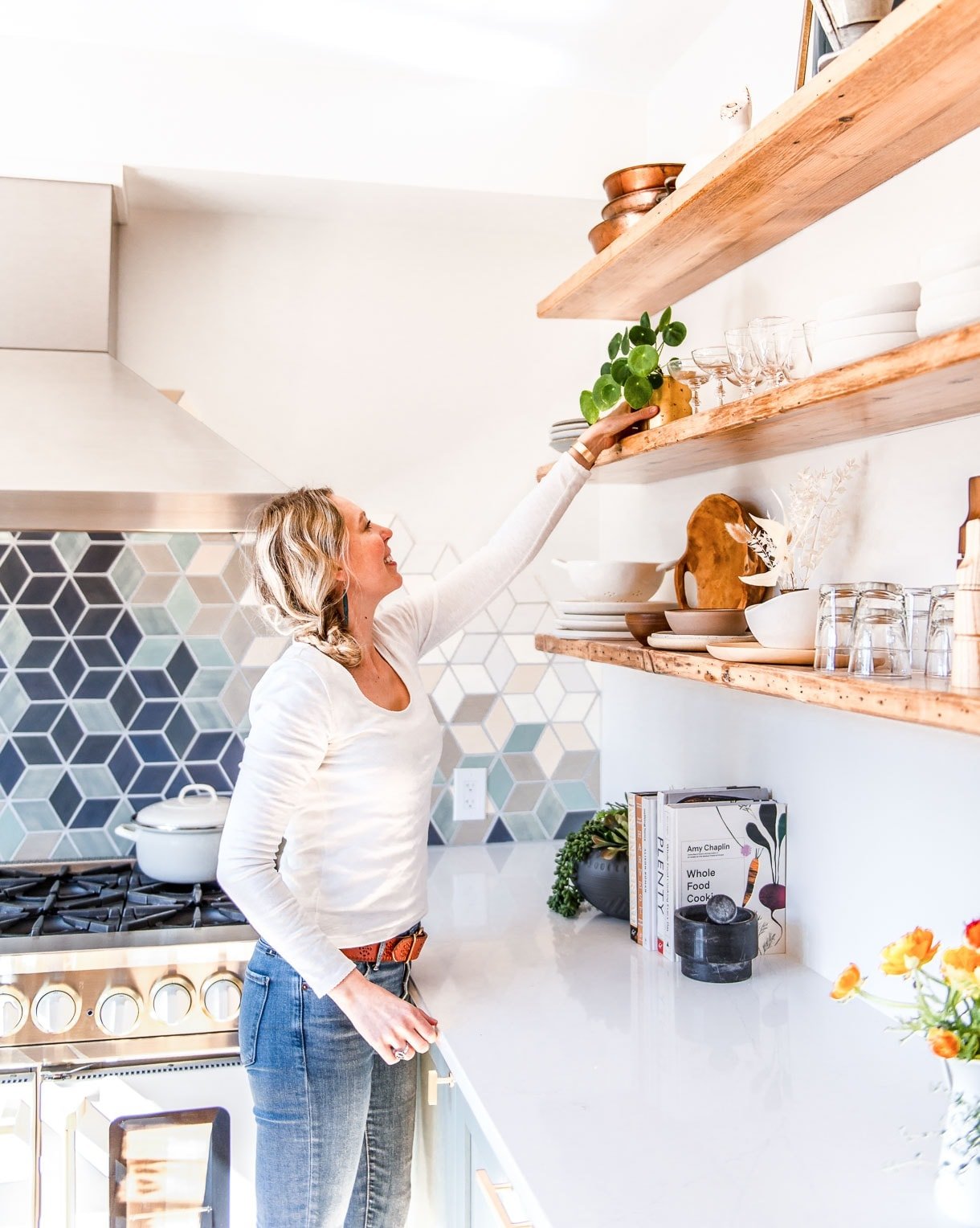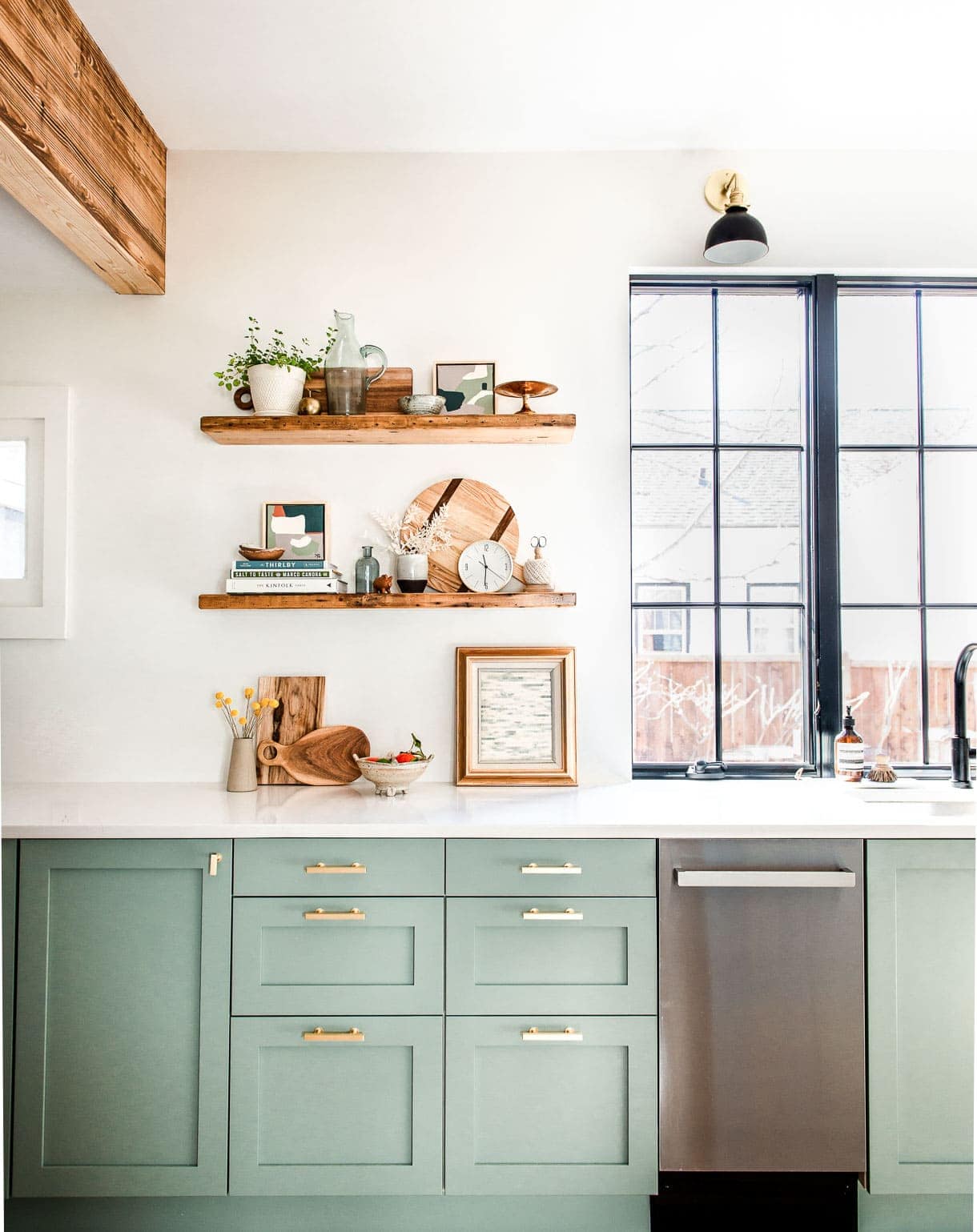 Photos by Sage Imagery, styling by Francois Et Moi and Creekwood Hill!
We moved into our 1908 clapboard style home in November 2018, spontaneously buying it in the middle of a kitchen renovation in our last home, which Brian had taken on before knowing what was in the cards.
And god bless him. He started this kitchen renovation project in our new home shortly after, in May 2019. When we looked at the home, we knew the small kitchen had potential, but it would take a lot to reveal the bare bones and create what we were envisioning.
I don't have any layout renderings or drawings, as we took on the design ourselves, and clearly, neither of us are interior designers (myself in food photography and styling, Brian a software engineer). But with two kitchen renovations in two years, we've learned how to design things by sifting through inspiration and really balancing style, configuration, and utility.
For our u-shaped kitchen, these were some of the design features we wanted:
lots of natural light, that would come from adaptions of the main window
preservation (and restoration) of some original features
shaker style lower cabinets
no upper cabinets, because they can close off a space and make it feel smaller
a matte white, professional range
use of wood to create warmth
white walls, to evoke a fresh feeling
Before sharing where our inspiration came from, let's take a quick BEFORE look at our kitchen!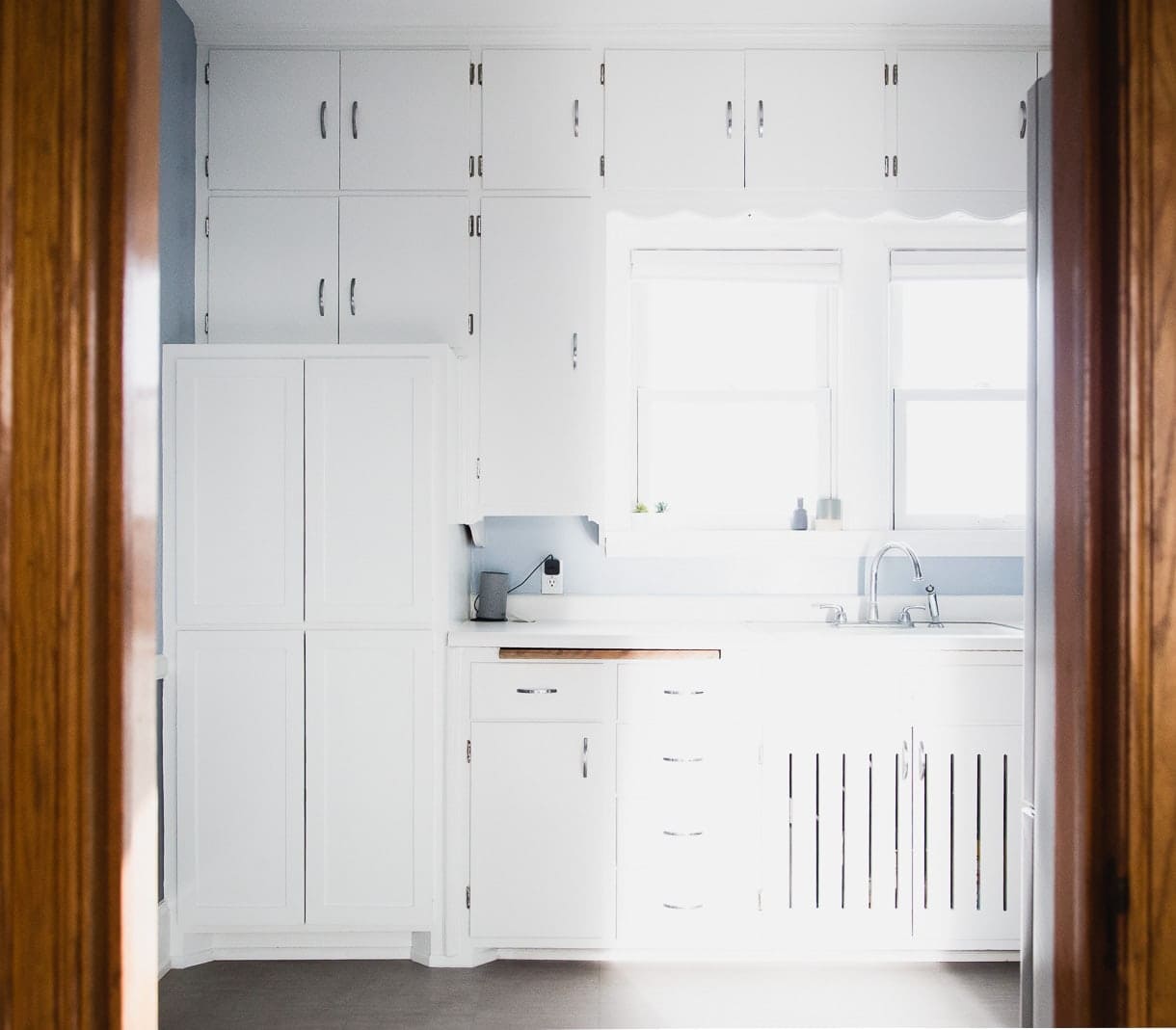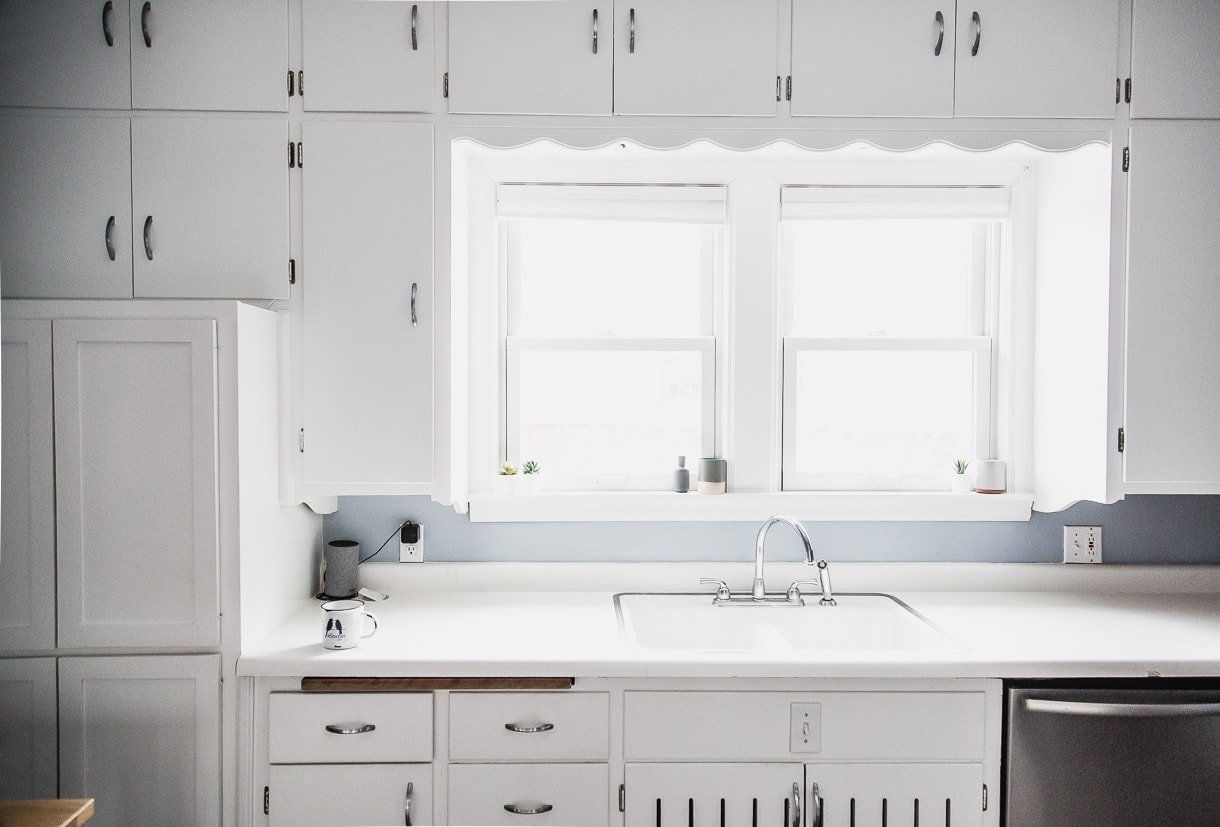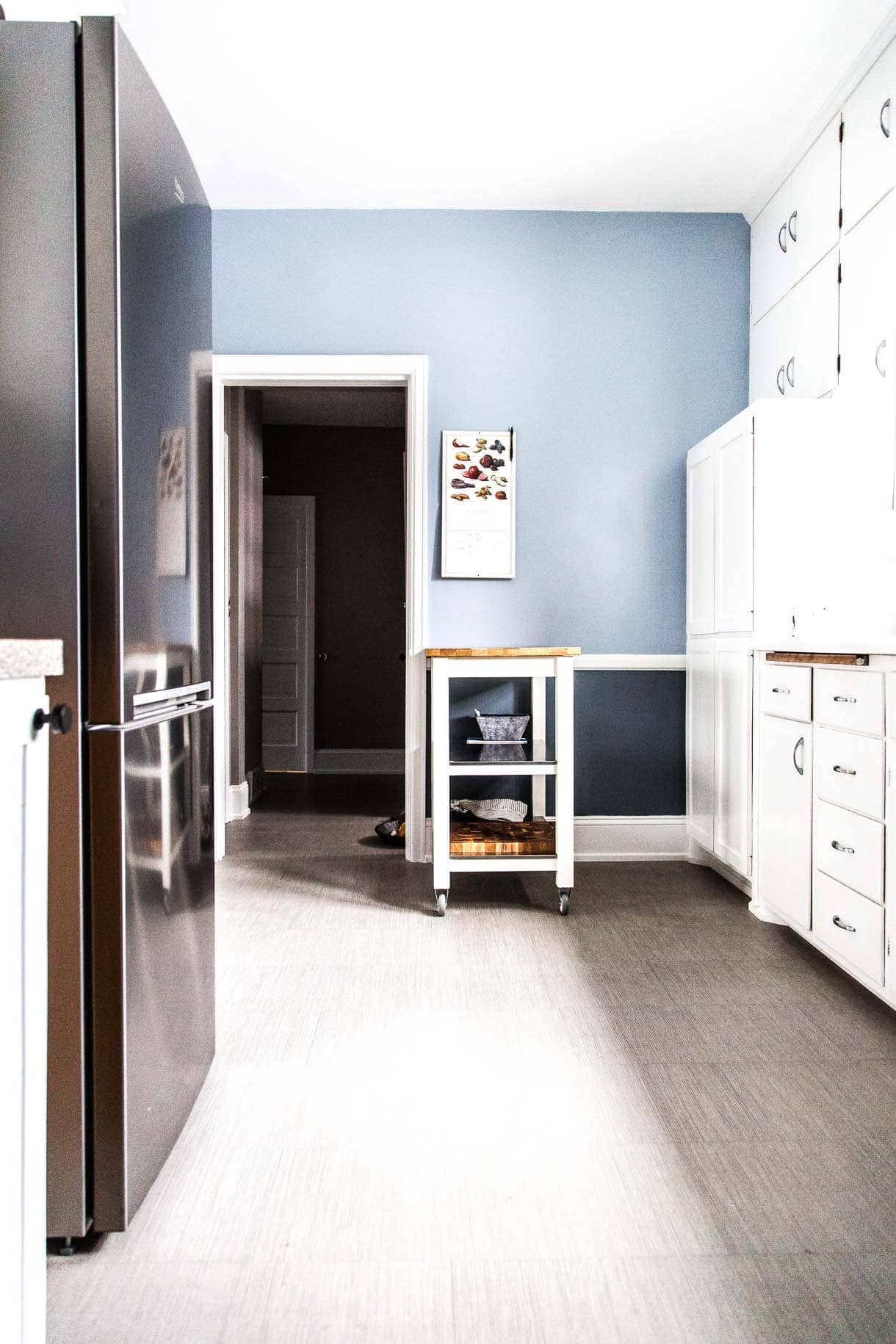 Inspiration for our Small U Shaped Kitchen: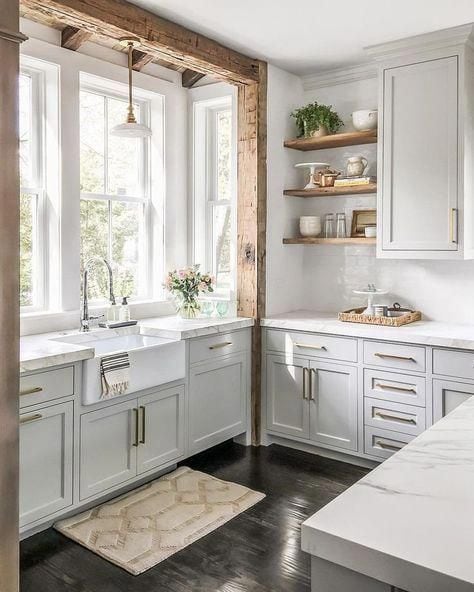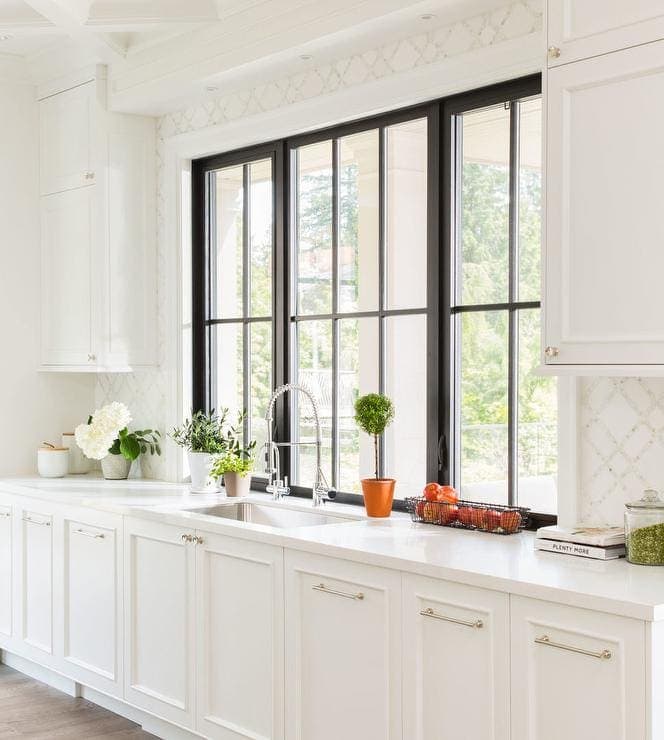 It all started with the above photos we found on Pinterest, via the talented folks at Cutting Edge Design and Kelly Deck Design. We really loved the warmth from the wood beams, but especially the counter to ceiling window. And we loved the idea of bumping out the wall that the main window would be on. But after learning that the original chimney would need to be removed in order to do this, we decided against it, and went another route.
Admittedly I was a bit nervous as Brian began ripping out all of the cabinets, with no concrete design plans. And then the plaster.
And then a small wall came down, that bordered the East side of the kitchen. It wasn't functional, and we knew gaining just a few extra feet would help open up the kitchen, without completely changing the original layout.
The Beam
We hired Mark Arneson, of Nordic Builders here in Hudson, Wisconsin, to help with the structural part of the project, as we wanted to make sure that after removing the wall, we could place a supporting header into the space.
Mark mentioned that he had a beam from an old church in Hudson that was torn down, and it might just fit the space. And it did – perfectly.
We've kept the beam exposed and unpainted/unstained, to add warmth to the room. We were also able to restore the original floor, under 4 layers of tile from years of previous owners.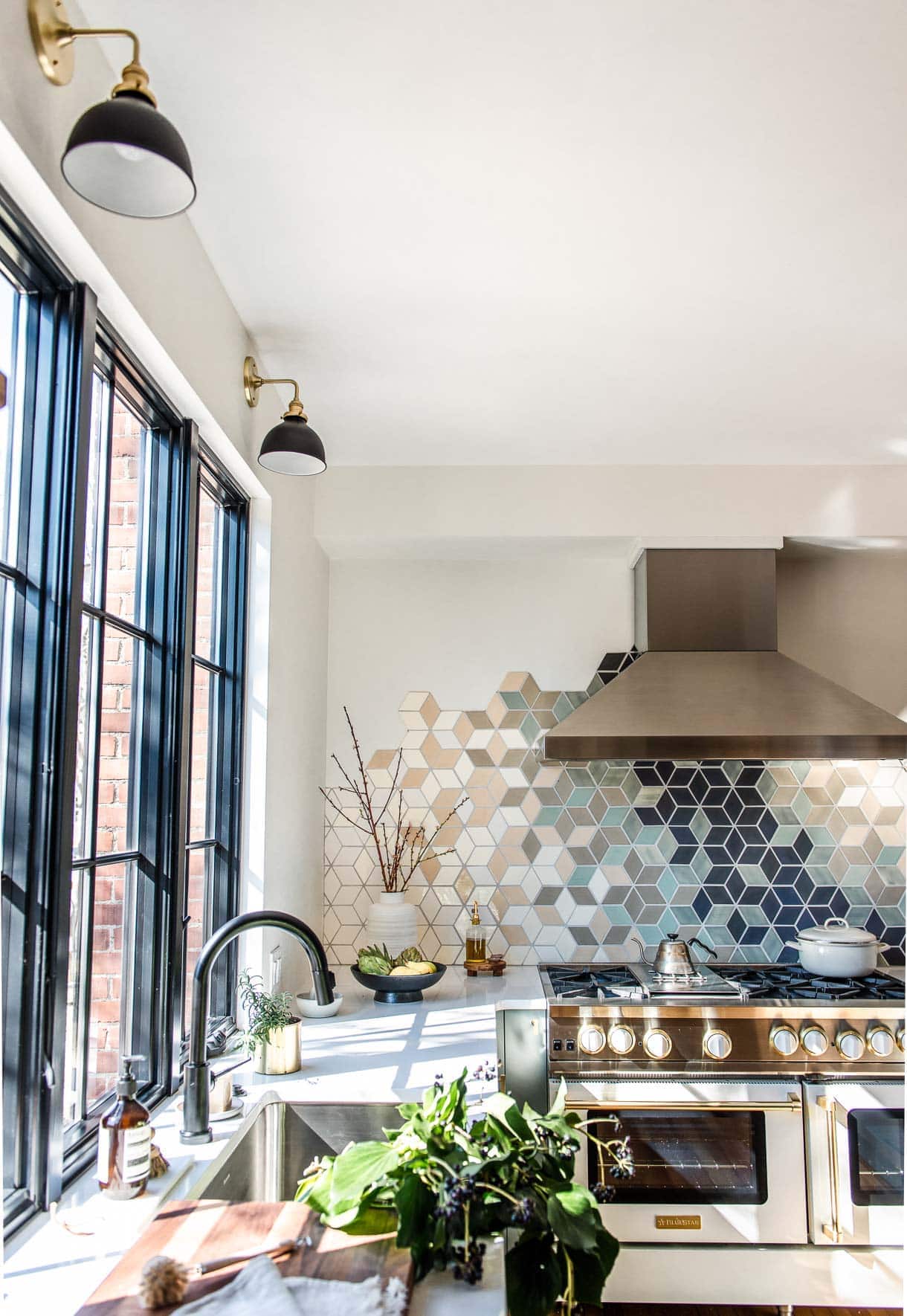 The Windows
Since we weren't able to extend the South facing wall of the u-shaped kitchen, we searched for other ways to make the space feel bigger. The original window had so much framing around and through it, that much of the natural light was being blocked. Our plan was to replace that with a brand new window, with much less trim.
But then we went down another road….again. Brian found photos above that inspired us to install a large industrial style frameless black window as a statement piece, drawing your eyes from the counter to the ceiling, and letting in an enormous amount of natural light.
A photographer's dream.
We knew this would be difficult, as we'd need some help structurally to cut out a larger hole in the house to make room. Nordic Builders also assisted with this structural change, and we ordered the large black framed window from our local Andersen Windows.
I'm absolutely in love with it. Every morning, making coffee with the light streaming in, creates a serene calm that I can't explain.
We also kept a small window that was original to the house, and made it a little nook of its own.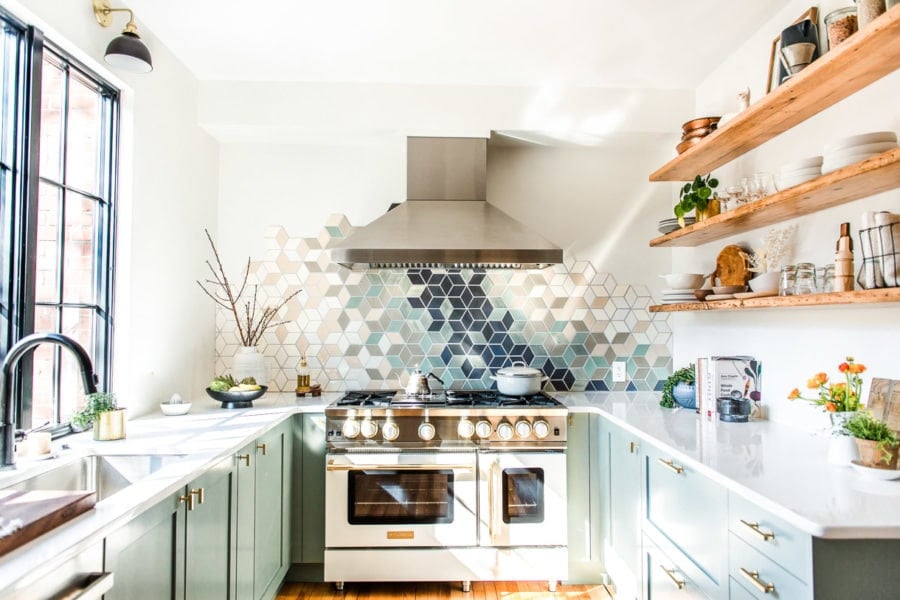 The Cabinets
First off, we nixed all upper cabinets.
When I pictured my kitchen, I saw white walls with open shelving, evoking a light an airy feeling, with some color sprinkled in. And this would start with the cabinets.
Spending a good amount of time at The LynHall in Minneapolis, I grew fond of the cabinet colors throughout the space. Their designer was kind enough to share the paint color with me, which is Raindance, by Benjamin Moore.
It's a medium-light sage green, with hints of teal, that changes slightly depending on the sunlight and time of day.
Brian installed the IKEA base cabinets, which would then be completed with DIY Shaker Style wood fronts from Semihandmade. We had them painted the Raindance color by a local painter, as cabinet painting is a skilled task.
Nestled in between the cabinets are a 18 inch Beko dishwasher, and 24 inch Beko refrigerator, from local Warners Stellian. Yes, those sizes are small! Which is what I wanted. More on that in a later post.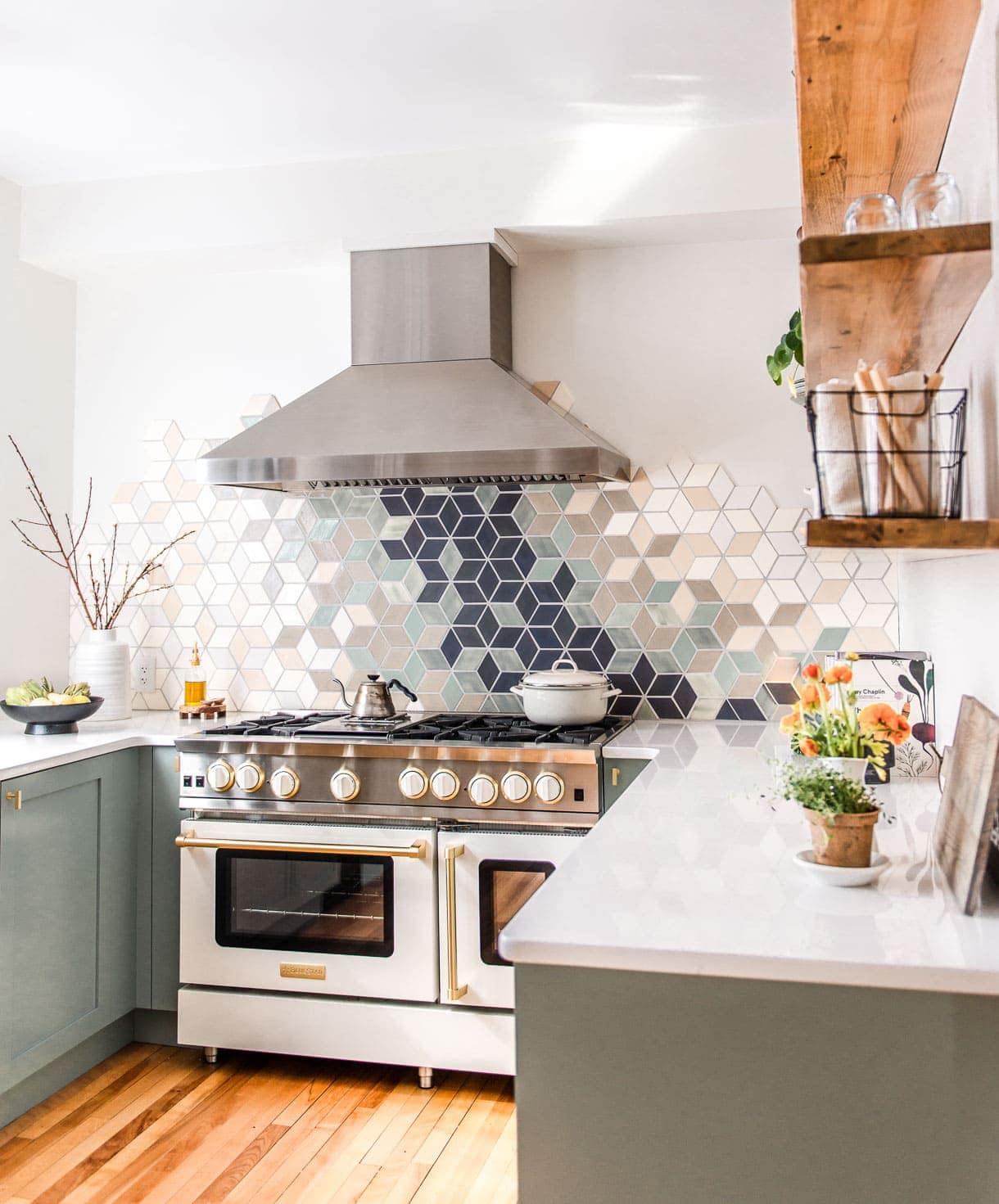 The Backsplash
Oh, the backsplash. It gives me LIFE. About a year ago I saw Construction 2 Style install this type of backsplash design from Mercury Mosaics (a local Minneapolis company) in their kitchen, on a much larger scale.
I was incredibly drawn to it as a piece of art, not just a backsplash. Along with the white Blue Star Range, I was inspired to make this wall the focal point. Even though it would be a large expense for the project, I knew it was essential in creating the kitchen of my dreams.
Knowing the cabinet color, I went to the MM showroom and starting working on a color palette. They have around 75 tiles colors that they fire, and make all the tiles by hand. It's incredible. With samples in hand, I spent a few days playing tetris with the blue, green, and white hues to come up with a palette that we liked. From there, a MM designer created the layout, and within a month, we had our tiles. Brian installed the piece over a day and a half, and that's when the kitchen really starting taking shape.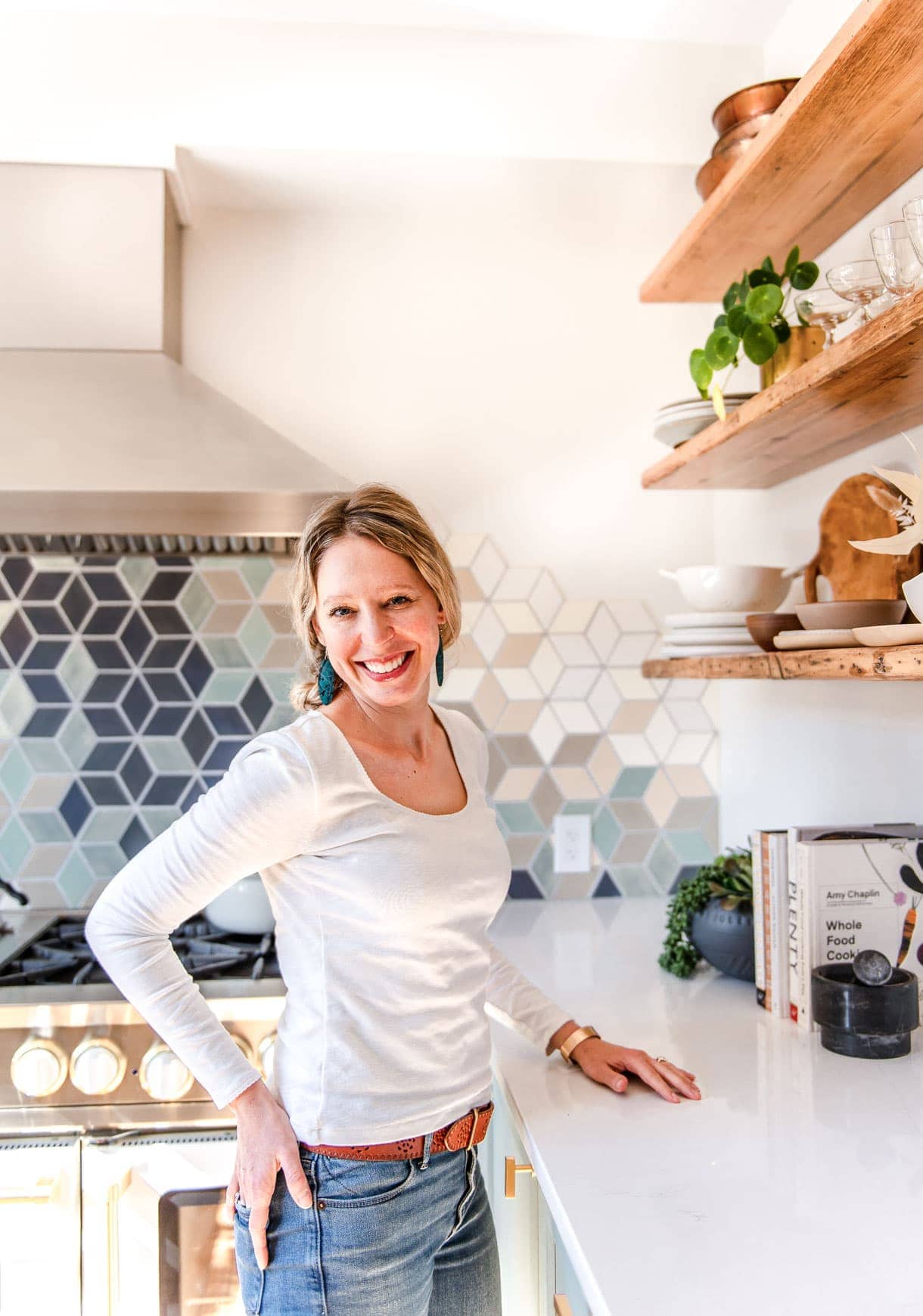 The Countertops
In our last kitchen, we installed butcher block countertops, which were so pretty, and affordable. But to keep this kitchen light and bright, I wanted white countertops, that were easier to maintain. With the majority of my day being in the kitchen, and using it quite hard compared to the average person, I felt the quality was worth paying for.
Although it is the most expensive countertop material, I had my heart set on quartz because of the durability and classic look. We choose El Statuario from Silestone, which has very faint, light veining to keep it timeless.
One thing to note: it's very important to find a trusted installer with quartz, because it has to be cut perfectly. You only get ONE shot. We hired St Croix Granite and Quartz for this, and couldn't have been more impressed by the technology they used to make sure the fit was perfect, everything was level, as well as their expertise in fabricating.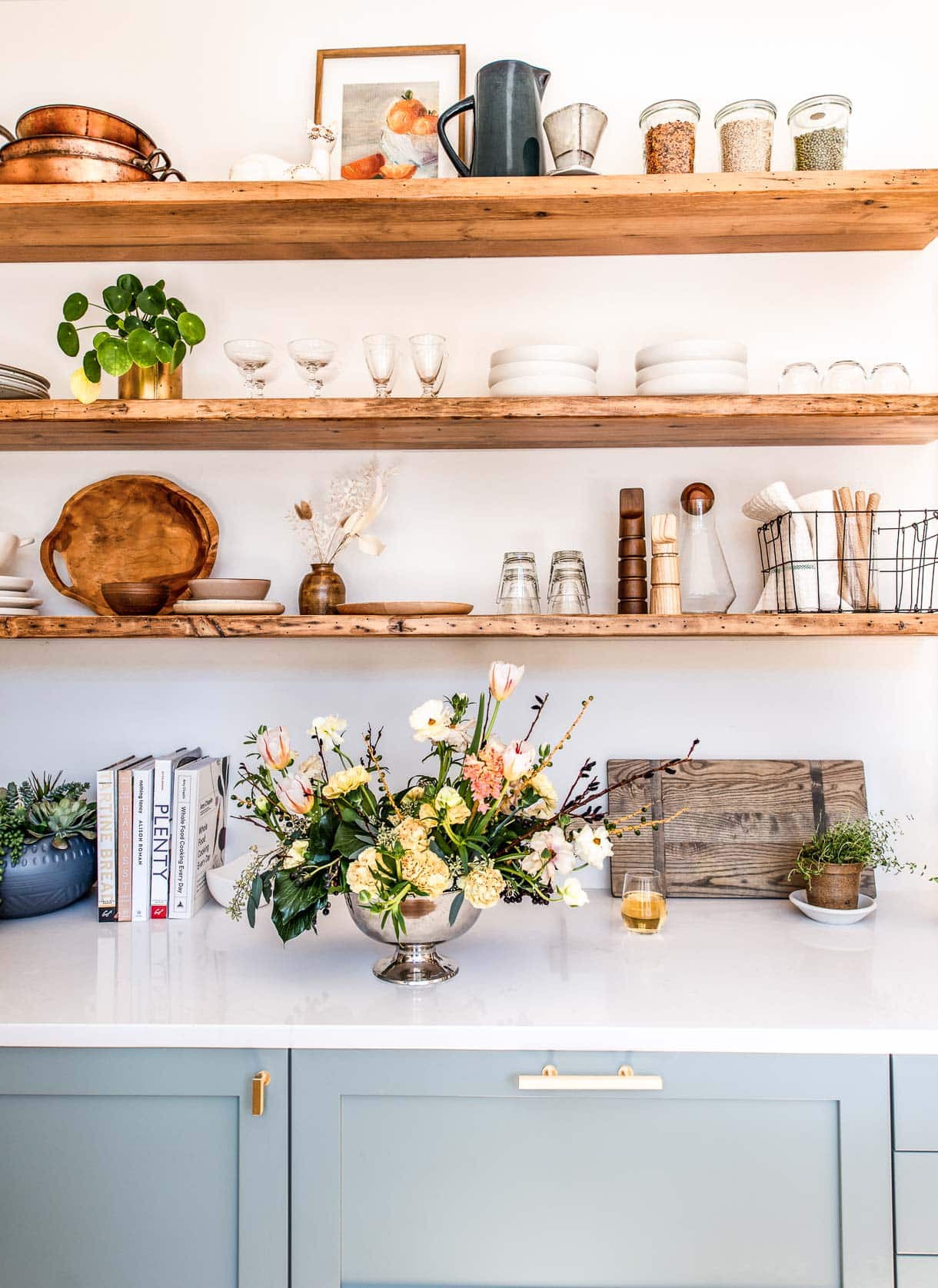 I'll be back later this week, with another blog post that includes a lot of the details like sink, shelving, lighting, and sourcing.
There's so much to share with you! You can also check out another story that was written about the renovation, in the Minneapolis Star Tribune. It gives more insight into our design process, and all that Brian did to create my dream kitchen.
xo!