I moved in with Brian nine years ago, and was not only smitten with him, but the unique 1901 brownstone he lived in as well. The high ceilings and incredible woodwork, with built-in credenza's and mantles. A claw foot tub, intricate door handles, and a second european bathroom. The views of the Cathedral off our back patio. I never actually dreamed I'd live in something with so much character.
As my passion with cooking and food turned into a career, we knew the kitchen was lacking in ability to harness that. It was very small, with basically no storage. Tired white cabinets and a black countertop that I admittedly despised. There was a small room attached to it that was underutilized, and we knew it could be so much more, particularly a pantry.
So for 2018, it was our goal to renovate the kitchen into something that fit our modern, minimalist style, but still kept a classic feel that carried throughout the entire condo.
Here are the before photos, this first one so you can see the black backsplash as well, before we started tearing everything out. This video will show you the black countertop.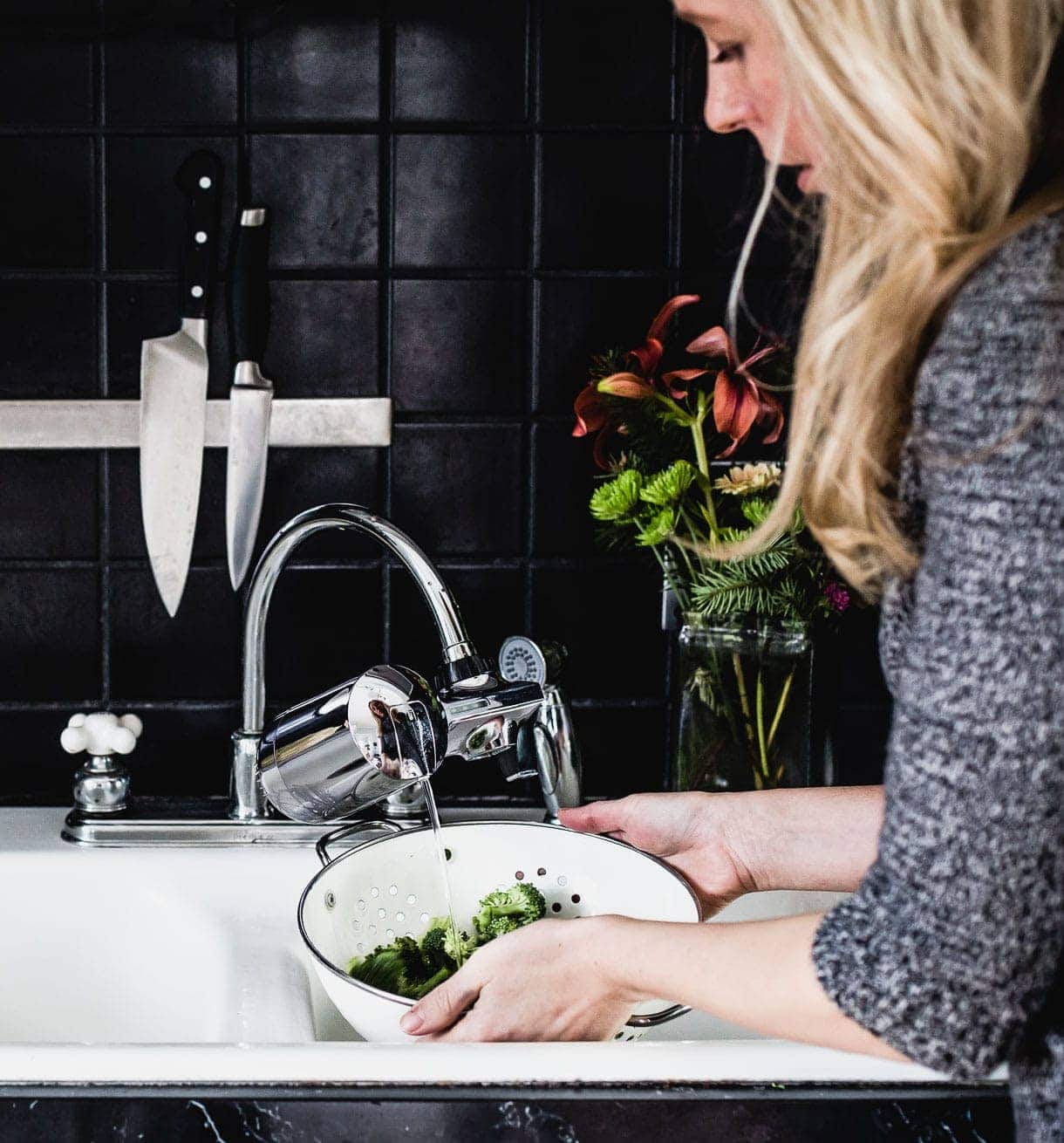 Brian volunteered to learn and execute the renovation work himself, something I will forever be grateful for.
And on the cusp of 2019, we completed the project.
A Minimalist Kitchen Design For Small Space
We would never have not been able to do it without the amazing design help of my friend Melissa, whom many of you know as The FauxMartha. Early on in the project, after many days of Brian and I frustrated with formulating the layout, I knew we needed a designer's expertise. And Melissa's expertise in beautiful, functional, minimalist design was just what we needed. Just one look at her Instagram account and you'll know what I'm talking about.
With her, we decided on a modern style, with minimalist characteristics, and classic touches. We wanted more open shelving, storage, and updated cabinets with shaker style fronts.
This mood board and the detail options she picked out depicted exactly what we were going for, after she had gathered a feel for the space and the dimensions we had to work with.
The pantry would be built from combining different cabinet options from IKEA to make one large unit, that would cover up the washer/dryer.
We also set out to gain storage space, so Melissa had an amazing idea to install built-in cabinets surrounding the window in that room, with a little pull out sitting area for our cats.
We fell in love with Semihandmade custom cabinet fronts, in the shaker style, and lighting + hardware from Rejuvenation. We had made our orders, decided on smaller BEKO appliances, and demolition of some kind was taking place nearly every day.
And then we found the house we'd been dreaming of forever. We just couldn't let it pass by. So we made it ours, and had some big decisions to make with this kitchen that was currently gutted. Bittersweet in every way, as I really thought I'd finally have my dream kitchen, but at the time so grateful and excited about our a new chapter in our life.
It was October 1st. And time started ticking, FAST, as we knew we needed to get the house on the market, before winter blew in. Budget became more of a focus as well.
That meant:
forgoing the pantry,
installing IKEA bases and Bodbyn doors for cabinetry (instead of custom),
making and staining our own shelf to go above the sink,
and sourcing lighting + hardware from a few different spots.
All in the name of achieving the look we imagined, without spending quite as much.
The main elements stayed nearly the same, except for putting in a 30 inch refrigerator instead of 24 inch that we had planned on, which changed that cabinet bank slightly.
We continued installing butcher block countertops throughout, and white subway tile as the backsplash.
We refinished the hardwood floors.
And found beautiful industrial style white stools from Rejuvenation.
We reinvented our coffee nook.
In the end, we loved everything about how the kitchen renovation turned out. And learned soooooo much along the way. Including everything takes longer than you think, and when you're working on an older home, there is no such thing as a straight line or 90 degree angle. 😅
The house sold in just five days, even in a tough winter market, and I truly believe a main factor in that was the kitchen. We close in a week, and will say goodbye to this special place.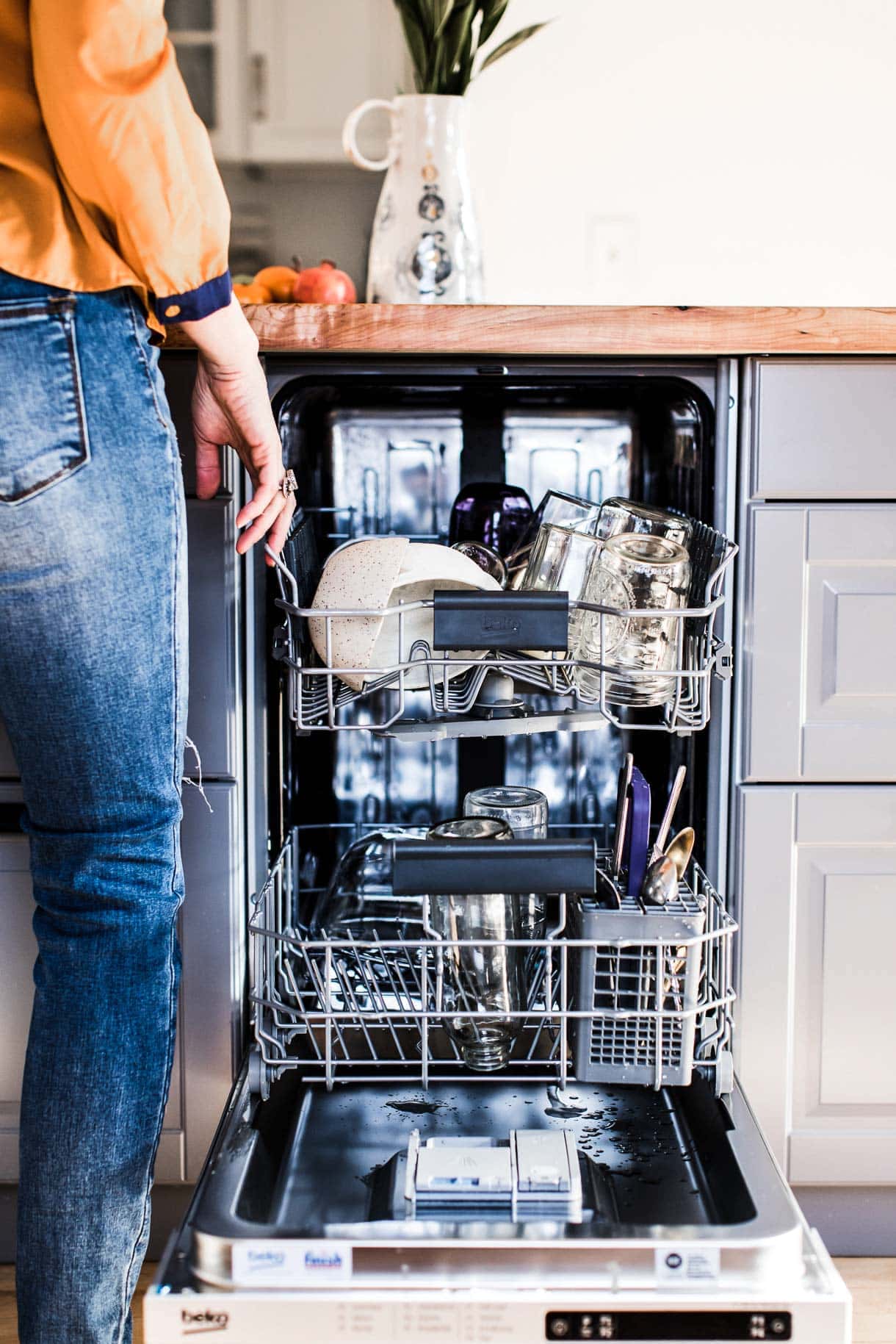 In the meantime, I've already had a lot of questions on where we bought things from to complete the renovation. So HERE is a separate page for all the individual components we sourced, from lighting to hardware, cabinets to the sink.
Let me know if you have any questions about this project! And if you have any questions on the actual process for doing any of the installs, I'll happily send those to Brian and have him answer below.
xo,
Amanda