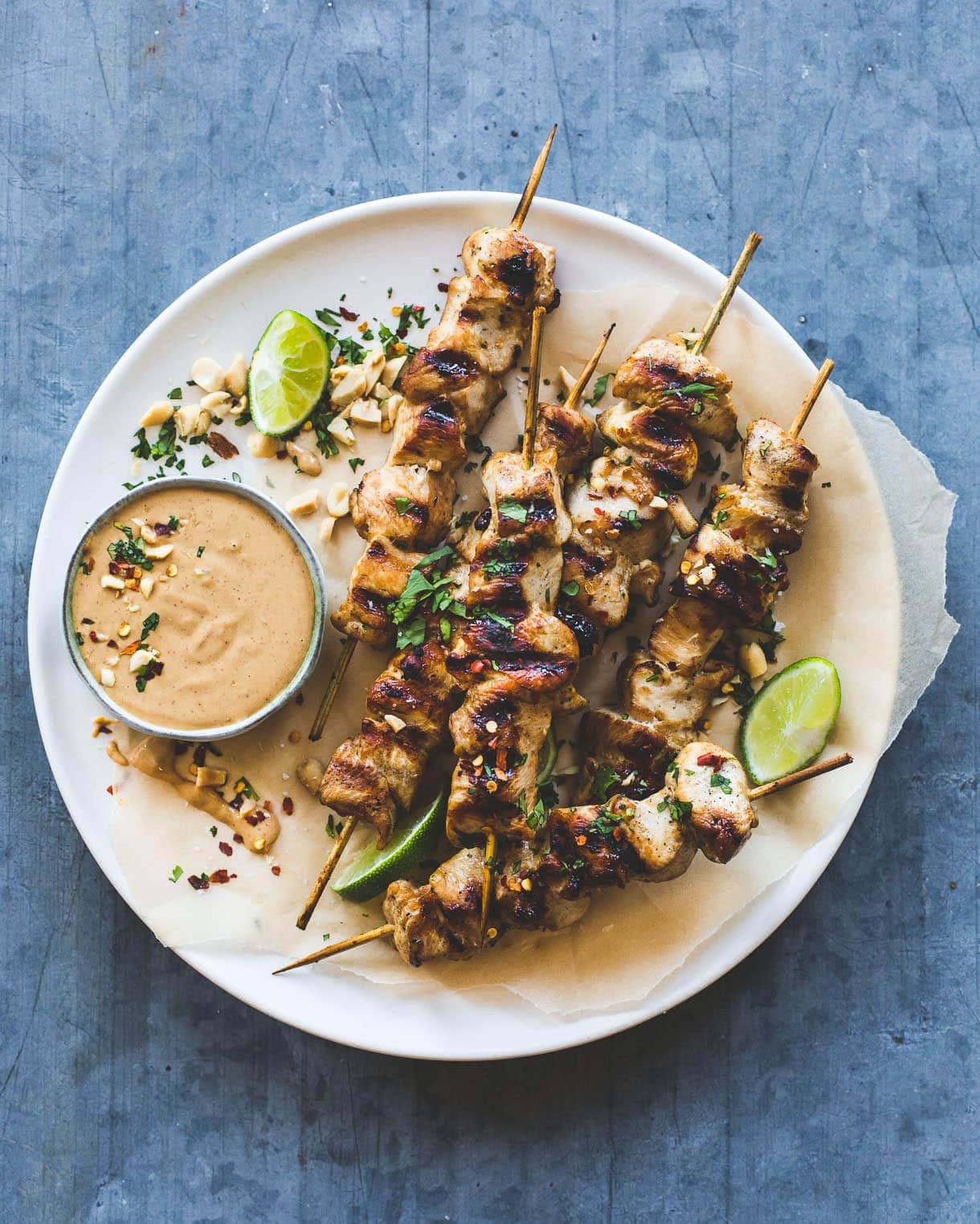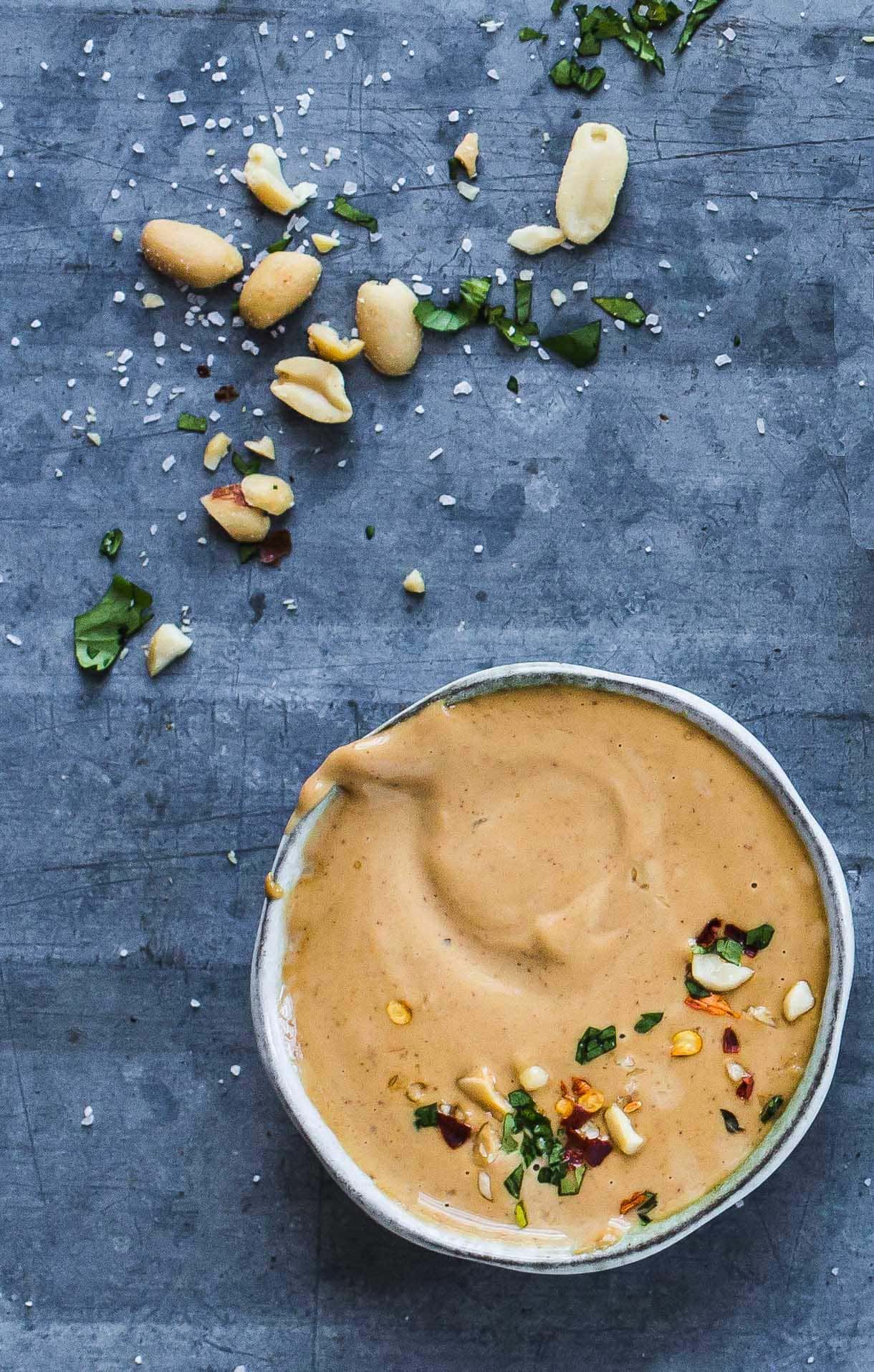 The cold, harsh winters don't deter Minnesotans from doing anything. They bike to work in parkas and snow tires. They drill holes in lakes, drop their bobbers, and fish for hours. And even when temperatures plunge to -10 degrees Fahrenheit, they'll grill outdoors. I vividly remember my mom doing so at least once a week, dressed like an abominable snowman, only her eyes peaking through a face mask, tongs in hand, tending to our dinner.
I don't have that in me.
Although it's not exactly the same, I use a cast-iron grill pan (this one) when I'm craving something I typically put over the open flame during summer, like these Thai Chicken Skewers. Slippers on, glass of wine in hand — I'd say that's a great substitute, without giving up blackened char marks or great flavor.
Similar to the marriage of brisket and barbecue, I feel like chicken and peanut sauce were destined for the same kind of love. In fact, peanut sauce has replaced ketchup as my condiment of choice, elevating just about anything whether dipped or drizzled.
Sweet potato fries, golden beet noodles, veggie burgers, you name it. I can't get enough.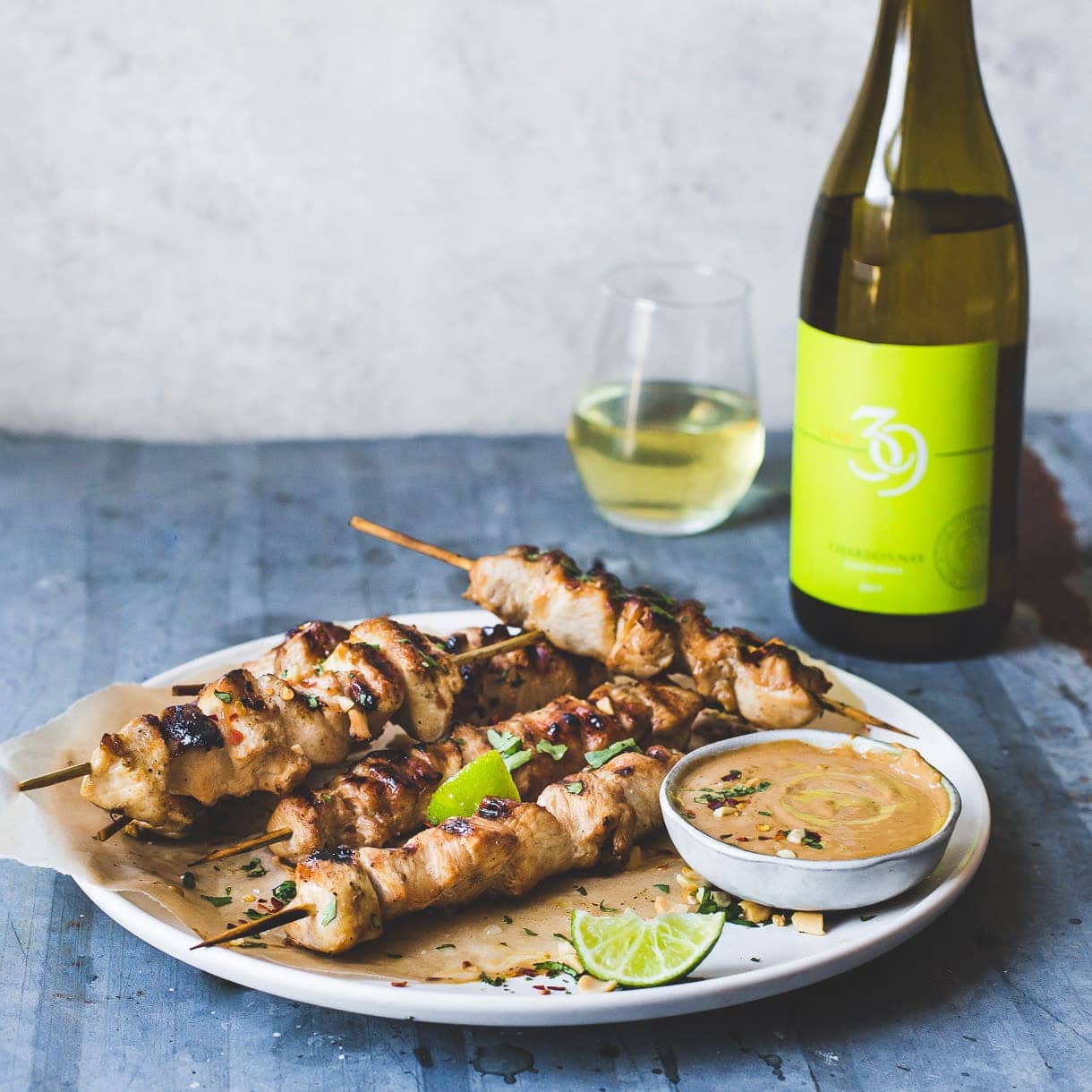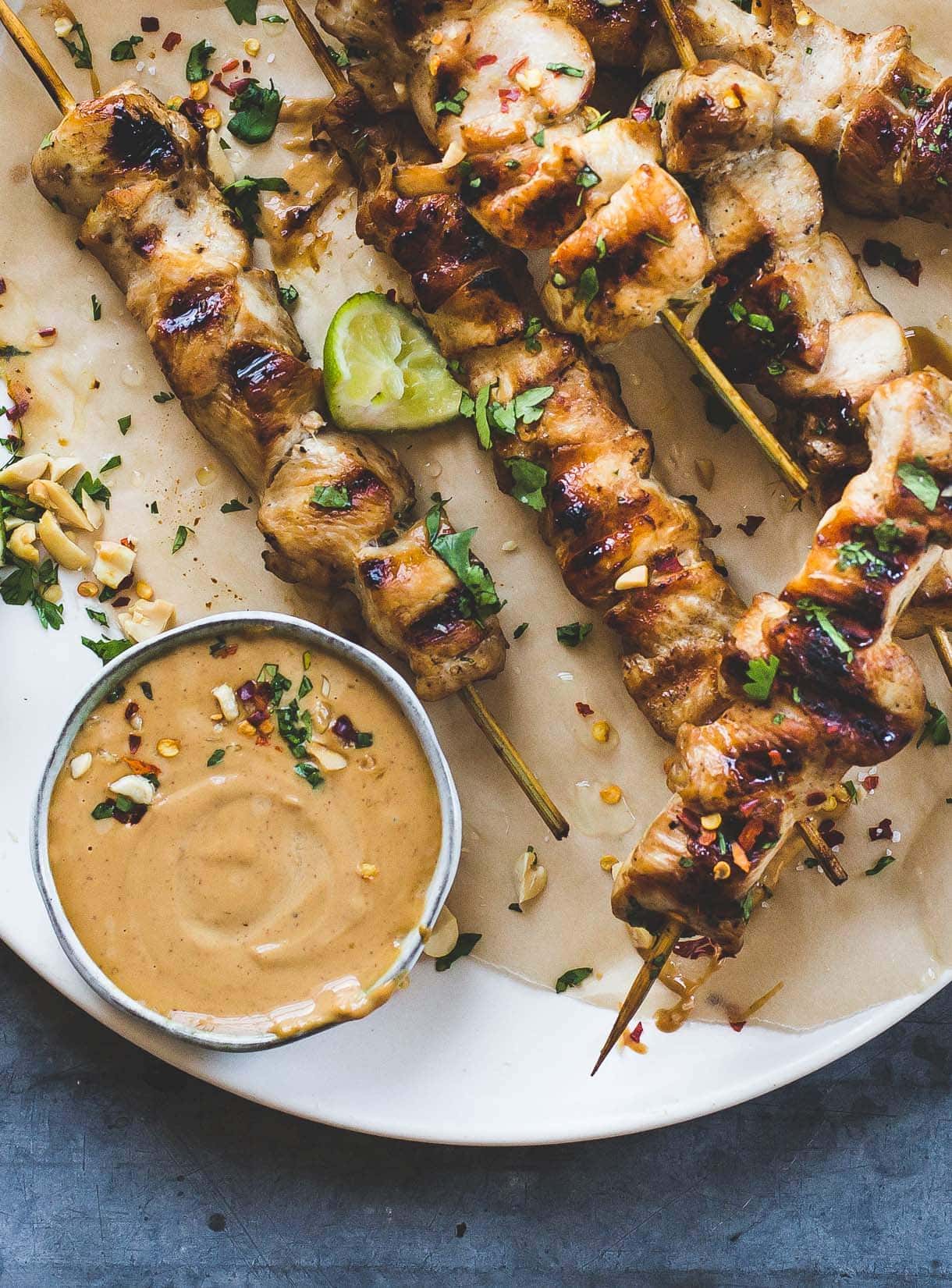 This recipe works well on a weeknight, as it comes together in less than 45 minutes, or you could use shorter skewers and serve these as an appetizer that most everyone will love. The chicken is flavored throughout with an uncomplicated marinade, then showered with chili flakes, lime juice, and cilantro before serving.
Tips for Indoor Grilling:
Foods that cook quickly over direct-heat, and those that aren't too thick are best. Think steaks, chicken, burgers, and veggies. Things that need indirect grilling, like ribs, roasts, and thick cuts should be saved for outdoors.
Since you won't be getting the same smoky flavor from charcoal or gas, you'll need to replace that with something. Marinades are great, like I've done with these skewers, finish your dish with liquid smoke or a pinch of smoked salt.
Be sure that your pan is well-seasoned (greased), and even your food has a thin coat of oil.
Resist the urge to flip your food early. Letting it cook is what sears and releases it from the pan. In other words, it won't stick.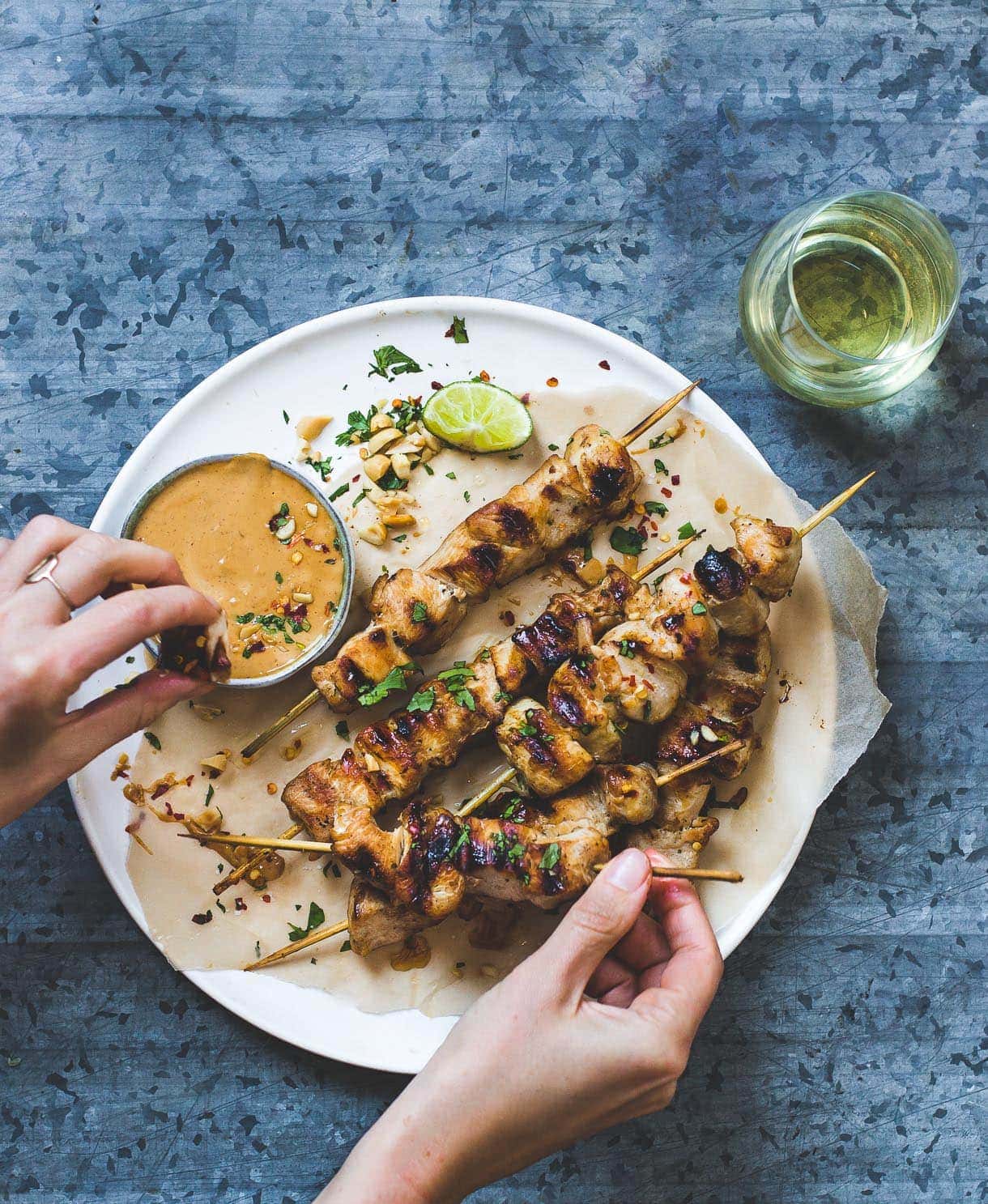 More Chicken Recipes: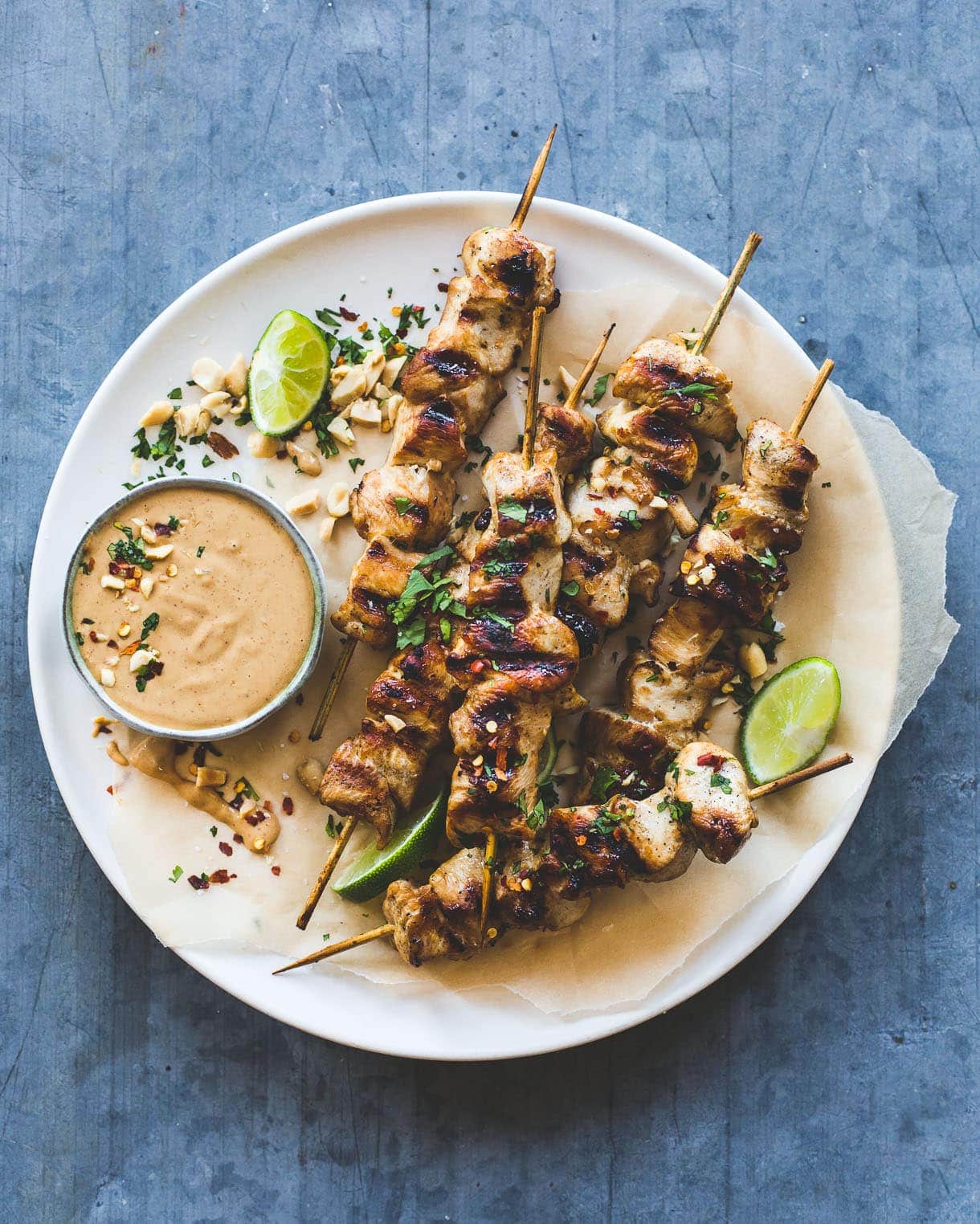 for chicken:

1 1/2

pounds

boneless

skinless chicken cut into 3/4 inch cubes

3/4

teaspoon

kosher salt

1/2

tablespoon

tamari (which is gluten-free),

or soy sauce

2

tablespoons

olive oil

metal or wooden skewers

cilantro for serving

for peanut sauce:

1/2

cup

natural peanut butter,

no sugar added

6

tablespoons

warm water

1 1/2

tablespoons

tamari (which is gluten-free),

or soy sauce

2

teaspoons

rice vinegar

3

tablespoons

fresh lime juice

1 1/2

teaspoons

sesame oil
To make peanut sauce, whisk all ingredients together in a large bowl until completely smooth. (Mixture will seize up at first, but keep whisking, it will even out.) Set aside.

Before making chicken, if you are using wooden skewers, be sure to soak them in water for 20 minutes to prevent burning. To make chicken, toss chicken cubes with salt. Then mix together olive oil and tamari, and pour over top of chicken. Mix with hands to coat, and let sit for 20 minutes in the refrigerator.

Then thread chicken cubes, about 6-7, on each skewer. Turn grill (or indoor grill pan) to medium-high heat. Grill for 10-12 minutes, turning every 4 minutes so that all sides get a nice char. Test one piece of chicken to see if it is cooked all the way through. Then serve with peanut sauce drizzled and lightly brushed over the top. Sprinkle chicken with minced cilantro, and put extra peanut sauce on the side for dipping.
I use this cast-iron grill pan (affiliate link), which heats evenly, and holds heat well.