snowfall silently nurtures
each flake randomly takes its place
to build a blanket and keep her warm
til' her spring children reach up to the sun
to paint the colors of life.
– Tom Krutila
Looking back on my childhood, memories of playing in the snow during long Minnesota winters are much more vivid for me than those of summer days. Perhaps because I remember being chilled to the bone more than being unbearably hot, but most likely because the snow has a mystical and magical way that no other form of precipitation can match.
Sledding down the big hill at our local golf course gave me the biggest thrill. As did packing a snowball tightly in my little hands, launching it in the air. And building a real igloo with my dad in 1989, baffled that that was how Eskimos actually lived. Regardless of the activity, mom would have a mug of hot cocoa with mini marshmallows and a sweet treat ready for me when I'd slosh through the door, shivering and smiling at the same time.
These No-Bake Coconut Macaroon Snowcaps are an ode to the essence of winter, whimsical and white. The kind of subtly sweet I like to nibble on when I come in from the cold as an adult, and a cup of coffee replacing the hot cocoa.
Made with coconut flakes, almond flour, coconut oil, maple syrup, and vanilla bean they're simple to make, just blended in a food processor with an extra boost from Burt's Bees Protein Shakes. Sneaking in added nutrients is always a plus, and I love that this powder is made with vitamin extracts from real fruits and vegetables, all plant protein sources. No soy either, which is hard to find when it comes to protein shakes.
They're soft and moist from the healthy fats used, and coconut + floralness of the vanilla bean are quite the match. I kept them all white with coconut butter-glazed tops, and I have to say, I absolutely love how they look so innocently beautiful. A lot like a winter snowfall.
xo,
Amanda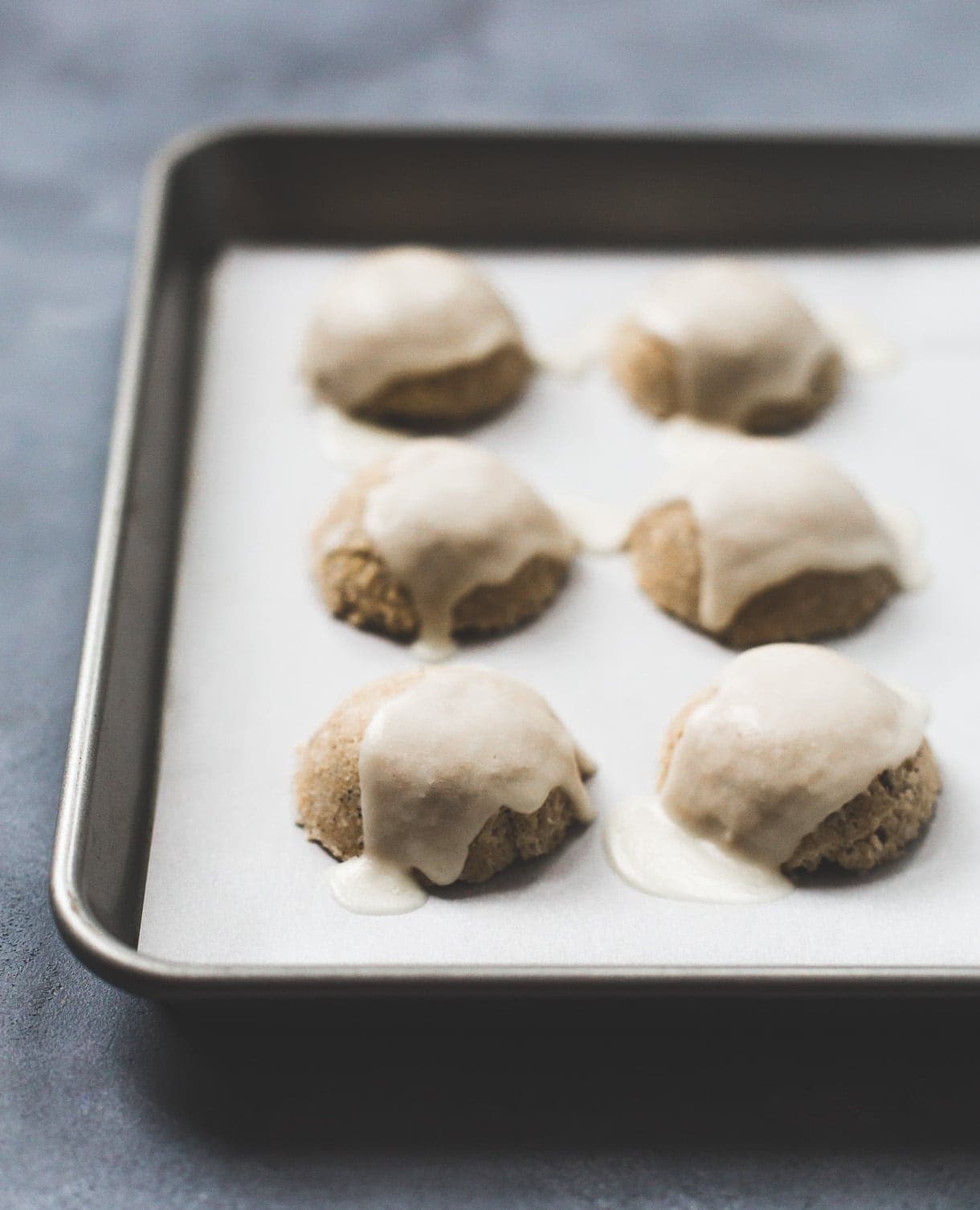 Blend coconut, almond flour and coconut oil in a blender for 45 seconds, scraping down the sides halfway through. Then add maple syrup, non-dairy milk (your choice), Burt's BeesTM Protein Shake powder, vanilla bean seeds, and a pinch of salt.

Blend for 30 seconds, scrape down, and blend again for 30 seconds. Doing so will help release the natural oils of the ingredients so they stick together when formed into the balls. The mixture will look crumbly at this stage, but squeeze it, and you'll see it holds together.

Using a large cookie scoop, pack mixture into it firmly with your thumb, like quite hard, and release gently into your hand. It will not come out perfect, like cookie dough. You'll need to form and press with your hands. This is a pack and press type of mixture. Do not roll. It won't work.

Then drizzle melted coconut butter over tops, and it will set in a few minutes. Store in a covered container, in the refrigerator.