Using roasted butternut squash puree rather than pumpkin gives this pie a deep, delicious flavor when it's paired with brown sugar and warm spices. The filling is baked in an easy oat crust, which also makes it gluten-free and much less labor intensive than making a traditional pie crust. It's the perfect Thanksgiving dessert!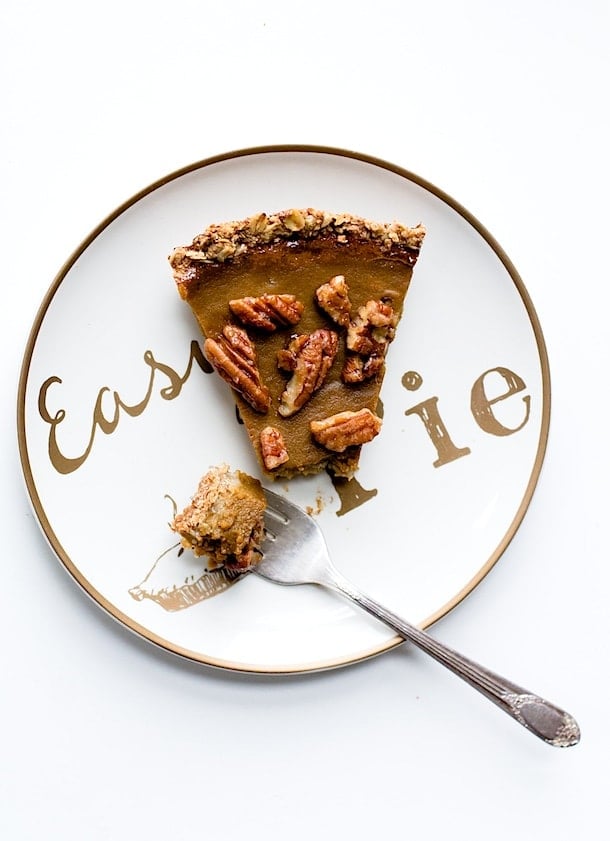 Making Pie with Squash instead of Pumpkin
Although pumpkin is lovely, I'm glad to see more people of replacing it with squash in autumn treats like pie.
Not only do I think the taste is richer and less vegetal, but because squash has a lower water content, the texture is creamier.
Adapted from the Delicata Pie in my cookbook, my favorite baking recipe of them all, this butternut squash pie is absolutely delicious. Delicata squash has a flavor like sweet potatoes and macadamia nuts, buttery and rich, so that's my first choice to use. But in case you can't find delicata squash, roasted butternut squash works great in this pie too!
As the pie bakes, it takes on a deep caramel color, rich and creamy, with brown sugar notes that make merry with warm spices. It's one of my favorite gluten-free dessert recipes.
Easy Gluten-Free Pie Crust
The salty-sweet oat crust is foolproof, and naturally gluten-free to boat. It's easy to make and everyone loves it! If you prefer a traditional pie crust, you can use the crust recipe in this Gluten-Free Cherry Pie.
You'll simply pulse together oats, almond flour, and some oat flour, then bind it together with coconut oil (or butter.)
Using Coconut Oil in Pie Crust
Coconut oil can do magical things, and I found out that "cutting it into" the oat mixture just like I did with butter worked perfectly. You start with it at soft, scoopable stage and use your hands to massage it into ingredients.
You don't notice the coconut flavor, and it holds together so well. You can even pick up a slice and eat it on the go without it falling apart – trust me, I tried it. It's how this gluten free apple tart is made, too.
Butternut Squash Pie Making Tips:
Making the filling dairy-free was relatively easy, swapping almond milk for regular, but decreased the amount originally called for because it is more water-based.
And although I prefer roasting delicata squash to make the puree, I realize we're all human. There are days when we just don't have time, the energy, or maybe even the access to delicata squash as called for in my original recipe.
With that in mind, I experimented with using organic, canned butternut squash puree, and the result was a win. The flavor is a little lighter than the deepness you get from roasted squash puree, but truly the difference was minimal. I've made it using kabocha squash too with much success.
So from my oven to yours, I'm wishing you a happy winter squash season, and hoping that maybe this Winter Squash Pie makes into your harvest party, or perhaps Thanksgiving table.
You won't miss the pumpkin, dairy, or gluten – I'm sure of it. ☺
More Pie Recipes:
Oat Crust
3/4

cup

quick-cooking oats

(70 grams)

1/3

cup

oat flour

(60 grams)

1/4

cup

blanched almond flour

(28 grams)

2

packed tablespoons brown sugar

5

tablespoons

soft

coconut oil (scoopable stage)
Winter Squash Pie Filling
1 3/4

cups

roasted butternut squash puree

(or my favorite to use is delicata squash. you could also use a 15 ounce can of butternut squash puree)

1 1/2

teaspoons

pumpkin pie spice

1/2

teaspoon

cinnamon

1

teaspoon

pure vanilla extract

1/2

cup

whole milk

3/4

cup

packed brown sugar

1/4

teaspoon

salt

2

large eggs,

room temperature
Candied Pecans
1

tablespoon

soft coconut oil

1

tablespoon

maple syrup

1 1/2

tablespoons

dark brown sugar

1/2

cup

raw

coarsely chopped pecans

big pinch of salt
for pecans: Line a baking sheet with wax paper. Place small saucepan on stove and turn to medium heat. Add coconut oil to melt, then stir in salt and brown sugar. Cook for 2 minutes to slightly dissolve, then add pecans and maple syrup. Cook for 6-7 minutes on medium heat, letting it bubble slowly and thicken, creating a sticky mixture. Remove from heat and spoon onto wax paper, spreading out slightly. Let cool, then break nuts apart and distribute on top of pie.

Preheat oven to 350 degrees F. Add oats, oat flour, almond flour, and brown sugar to a large bowl. Stir together, then use your fingers and hands to work the coconut oil into the dry mixture. This will bring the crust together, and when you squeeze it, it should hold together, the oats, getting moisture from the oil.

Grease your hands lightly and pat the mixture into a 9 inch pie pan, working the crust all the way up the sides of the pan. Bake for 15 minutes, until crust is lightly brown and smells nutty. Remove from oven and let cool on a cooling rack for 25 minutes.

While crust is baking, add squash, pie spice, cinnamon, vanilla, almond milk, brown sugar and salt to a food processor. Puree until smooth, then add eggs. Pulse 6-7 times to incorporate, but do not puree. When crust has cooled, pour filling into crust (you may have a little extra, which you can pour into a small, greased ramekin and bake for a single, crust-less pie). Bake for 43-45 minutes, removing from oven when the filling is set but still a little loose in the middle. It will set up as it cools.

Cool pie on a wire wrack, then place in refrigerator for at least 4 hours (overnight is best). Top with glazed pecans (recipe below), and slice for serving.