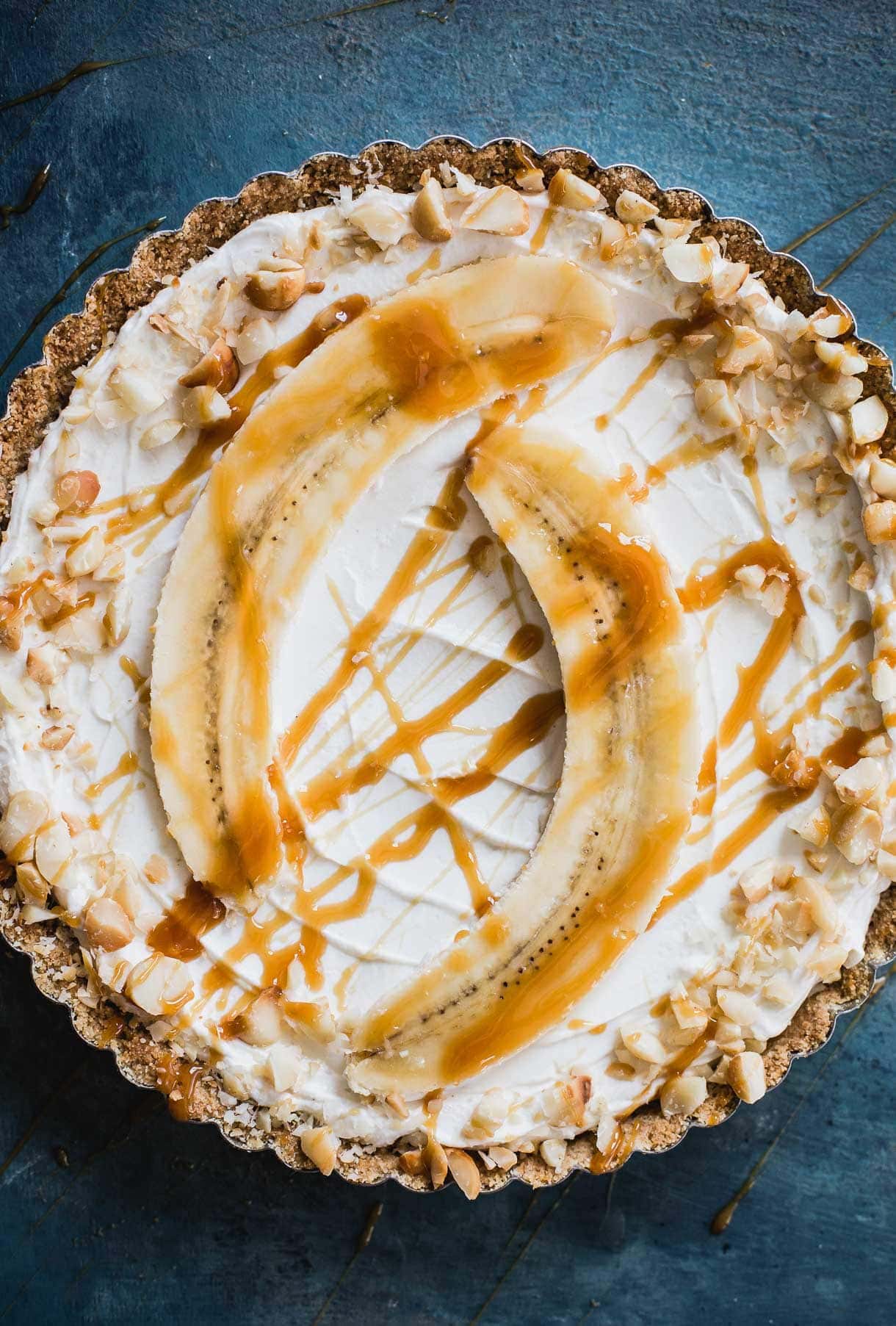 This post is sponsored by Cheerios, whom I've partnered with to create an inspired recipe introducing limited-edition Banana Nut Cheerios, which will be in stores nationwide mid-November.
About this Greek Yogurt Pie:
Are you on board with eating dessert for breakfast? I hope so… Because hiding behind its indulgent look, there's a combination of things you probably eat in the morning anyways, like greek yogurt, bananas, honey, macadamia nuts, and Cheerios. Layering the ingredients into a tart not only makes it feel more fancy, it causes the flavors to dance in a different way.
I'd heard that straining greek yogurt overnight brings it to a cream cheese consistency, but I'd never attempted. Well it worked, brilliantly. And became the cool and creamy, honey sweetened filling to this "healthyish" yogurt pie. With a crust made from crushed Banana Nut Cheerios (new! made with whole grain oats, real banana puree, and cinnamon), it couldn't get much more breakfast approved.
I'm more drawn to a base that tastes more sweet than doughy, which is why I choose this style of crust. Sorry, not sorry. Graham crackers are the most common "press-in" ingredient, but I rarely have them on hand (especially because gluten-free are hard to find). So after this go round with crushed Banana Nut Cheerios, I'm sold. Blitzed in a food processor, their fine texture makes a mighty fine crust for the yogurt pie, combined with just a bit of almond flour and butter. And the nutty, toasty flavor is irreplaceable.
To complete its look and taste, I adorned the outer edges with roasted macadamia nuts, and drizzled caramel over the top. Just a little for depth, but not take away from its feel good vibes. I tried both store-bought, or this date caramel when testing, it's up to you. It lasts for several days in the fridge, a major bonus if you make and you're household of two, like Brian and I. But I also count on it most when I'm looking to serve a lighter dessert.
Life Updates:
I'm home, for an extended period of time, and it feels good. I have a story to tell you next month about my visit in Western Nebraska, documenting the bread and butter of their agriculture, bean farmers. And if you follow me on Instagram, you probably know that I was in Vermont and New Hampshire for the first half of October, fall foliage bliss. Fifteen days to be exact, the longest I've been away. In other news, here's what else I've been doing, thinking, enjoying.
I returned from New Hampshire on a Friday night, and the next day got word that 3 kittens were rescued from a hoarding situation and needed a foster home, to get them healthy and socialized. So they're here (@heartbeetkittens), and settled, until they find their forever home. I named them Luke (snuggly tabby), Han (curious black and white mister), and Leia (sleek, grey princess) after Star Wars characters because they all fit the parts so well. They're ready for adoption if you're in the Twin Cities area, more info here!
It's squash season, hooray! I stocked up on a bunch of varieties last weekend and have made this butternut dish twice already, and a Delicata Pie with Candied Pecans is pegged to be on our Thanksgiving table.
I bought the new iPhone 8plus (moving up from the 6plus). As someone who's business is based heavily on photography, let me tell you that the camera is unbelievable. Especially portrait mode, which also now has the capability to switch between lighting while you taking the photo. The colors and detail it picks up have wowed me. I think it's nearly as good as my DSLR.
Have you been at Target lately and seen their new clothes collection, A New Day? So cozy, chic, and affordable. I bought this black and white striped elbow turtleneck, that I've been wearing religiously.
If you travel even a modest amount, do yourself a favor and get TSA Precheck. It's painless. You fill out an application, then go to your nearest service center and they take your fingerprints. Done and done, no more standing in hour long lines for security. It's made travel days so much less stressful for me.
Sending love,
Amanda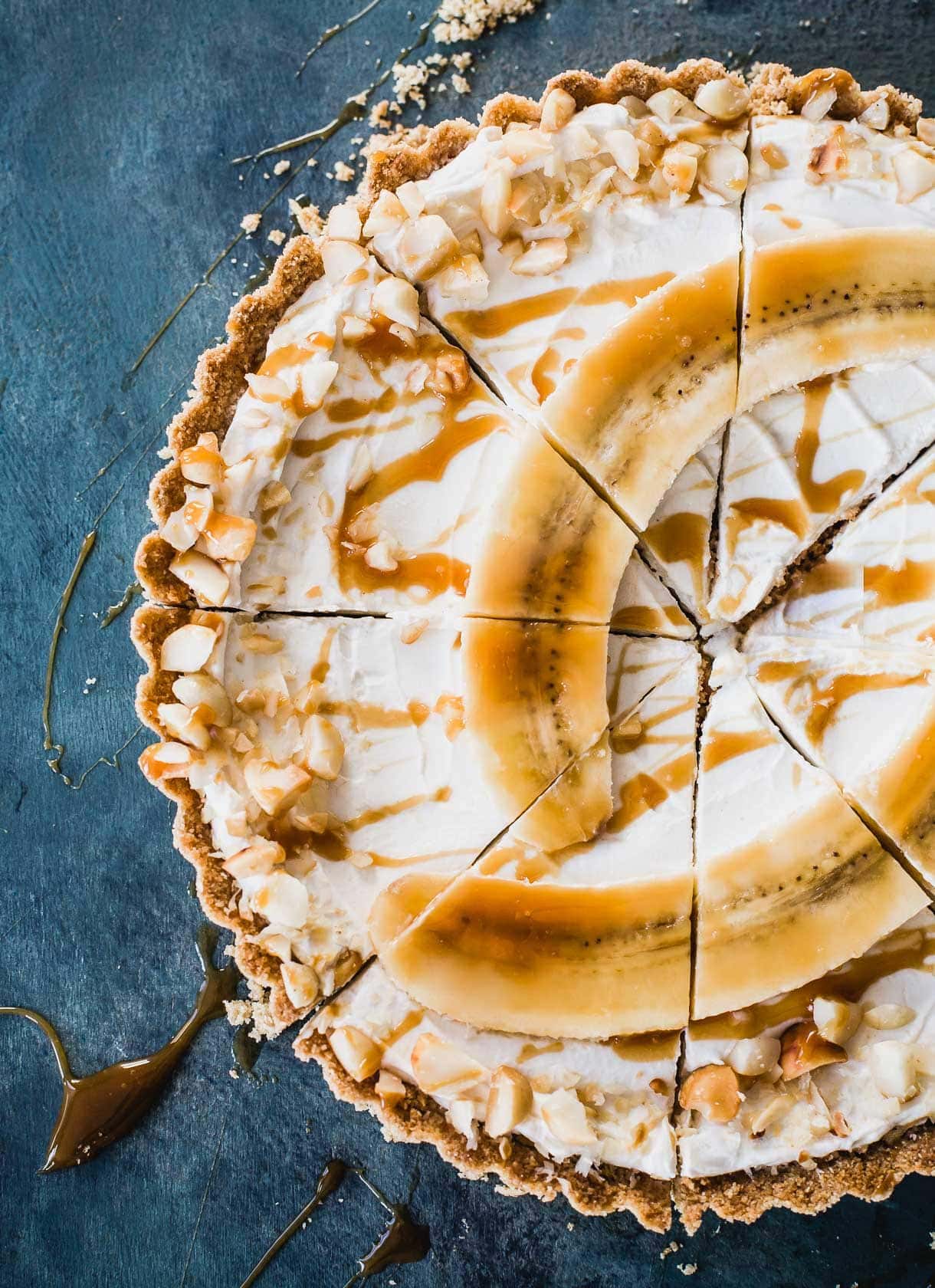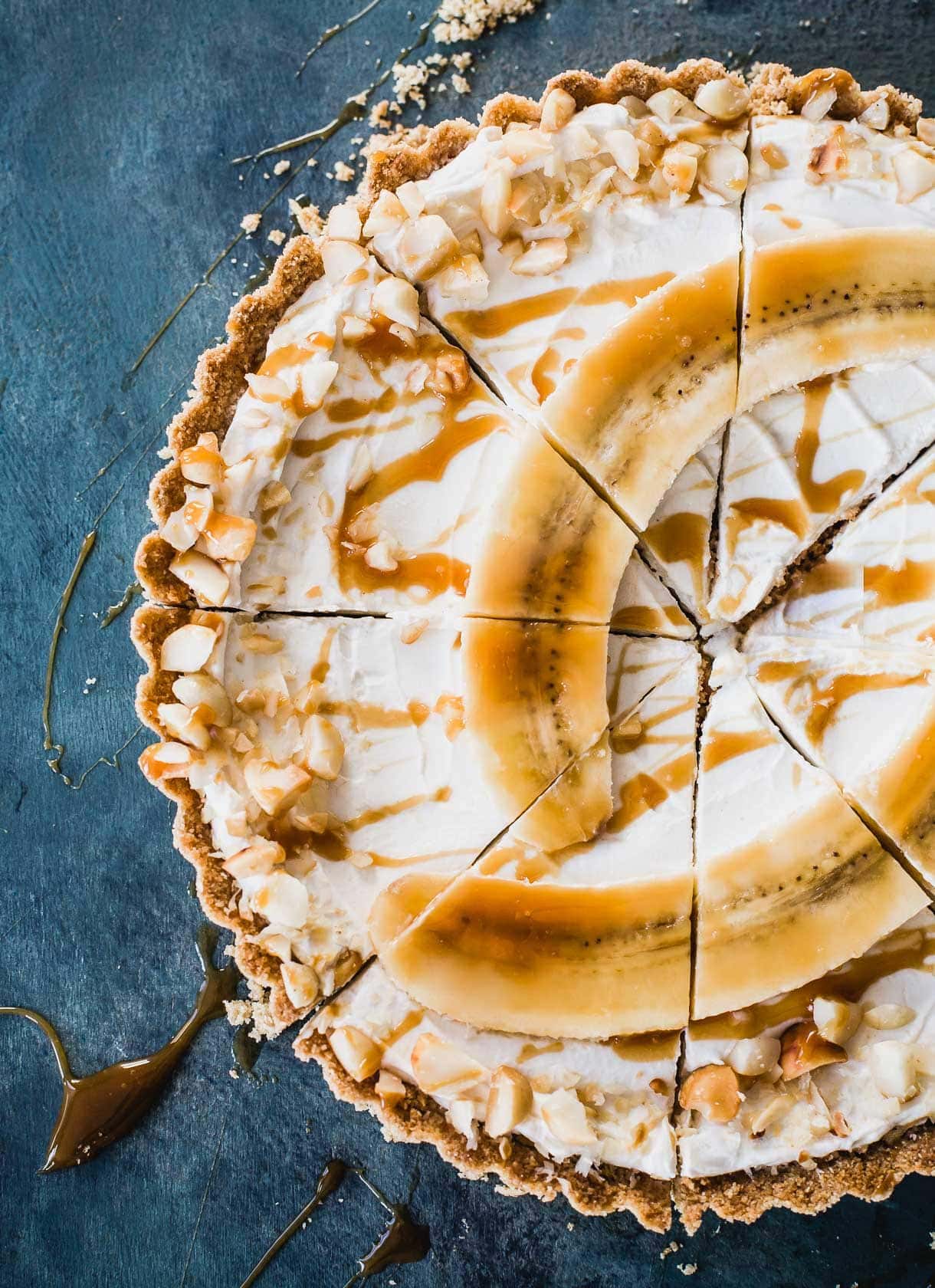 Crust
2 3/4

cup

Banana Nut Cheerios

3/4

cup

blanched almond flour

5

tablespoons

melted butter

1/4

teaspoon

salt
Preheat oven to 350 degrees F. In a food processor, grind cheerios until they are a fine powder. Add to bowl and mix with almond flour, melted butter, and salt. Press into an 8 or 9 inch tart pan, going up the sides and bottom equally.

Bake for 8 minutes, until just lightly browned. Remove from oven and let cool.

In a large bowl, mix together strained yogurt, honey, cinnamon, and vanilla. Spread on cooled tart, and refrigerate for at least one hour.

Top with banana. Sprinkle macadamia nuts around the edge of tart filling, and drizzle with caramel. Serve.
*I used my nut milk bag to strain the yogurt.