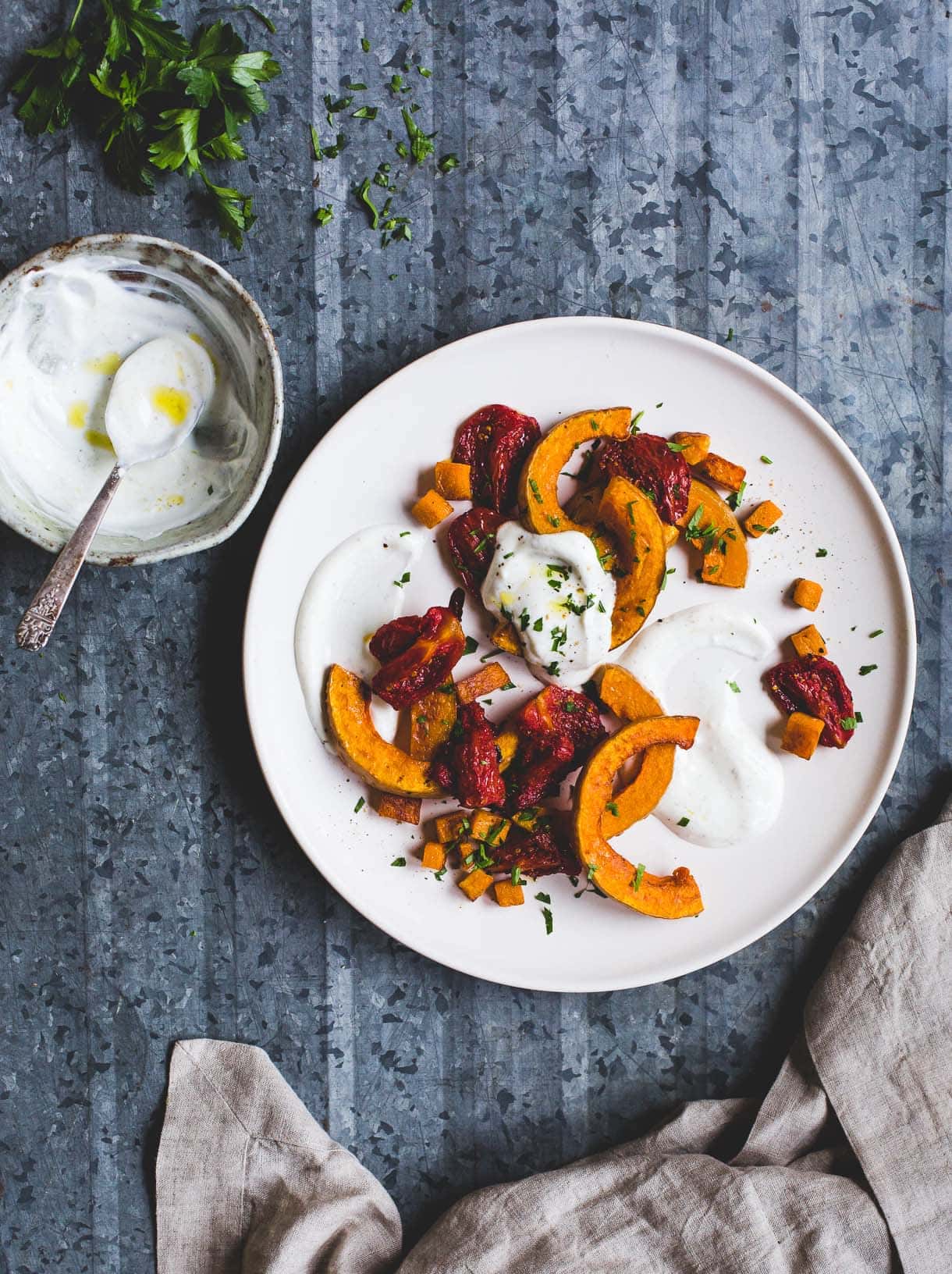 Oven roasted butternut squash and tomatoes are at the heart of this unique side dish.
3 years ago this time, I was writing a book all about squash. Every single page; 141 of them and 80 recipes. Bound into paperback, with a stock photo of butternut squash on the front. The twenty some photos inside are black and white, taken with my first DSLR camera.
Many of you who read Heartbeet Kitchen now probably didn't even know I had a space on the internet in 2013. I was very green, but very passionate. I knew I wanted to share food, and life thoughts with others, and discovery, at a time when I didn't really know who I was or who I wanted to be. Then the book came as a surprise, approached by a small Minnesota publisher to write a manuscript on a Midwestern fruit or vegetable, that had history in the homes and farms of this part of the country. From there, Smitten with Squash was born, a labor of love and learning, writing and developing.
I look at my cookbook sitting on my shelf with all the others that have inspired my days in the kitchen. And there are new, beautiful cookbooks that land on my doorstep nearly every week, from one of my talented peers, which nothing makes me more excited than spending a day reading and cooking from.
But then there's this weird feeling I get it, embarrassment and shame …. that comes from the place of the girl who's always been hard on herself, a natural inner critic since a young age.
My book…. It doesn't have thick paper with big, beautiful, glossy photos. It hasn't been noticed by Food 52, or Bon Appetit. There was no book tour. There weren't 1,000 copies sold on pre-order.
Comparison. The thief of joy. We all do it. But dang…. it's not worth it.
Because underneath that embarrassment is a heart bursting proud of what I did. The words I wrote, the recipes I developed, the heart and soul I poured into Smitten with Squash. And how grateful I am for the doors it opened. How it shaped yet another part of me.
Even more so, the joy I get in hearing from people who tell me their favorite from the book, share a picture of what they've made from it, or say they carry it with them every fall when they're at the market, trying to figure out which squash to try next. Or that such and such recipe turned their husband into a squash lover. My passion has spilled into another kitchen, around a family dinner table, into a market bag. And that's more than enough.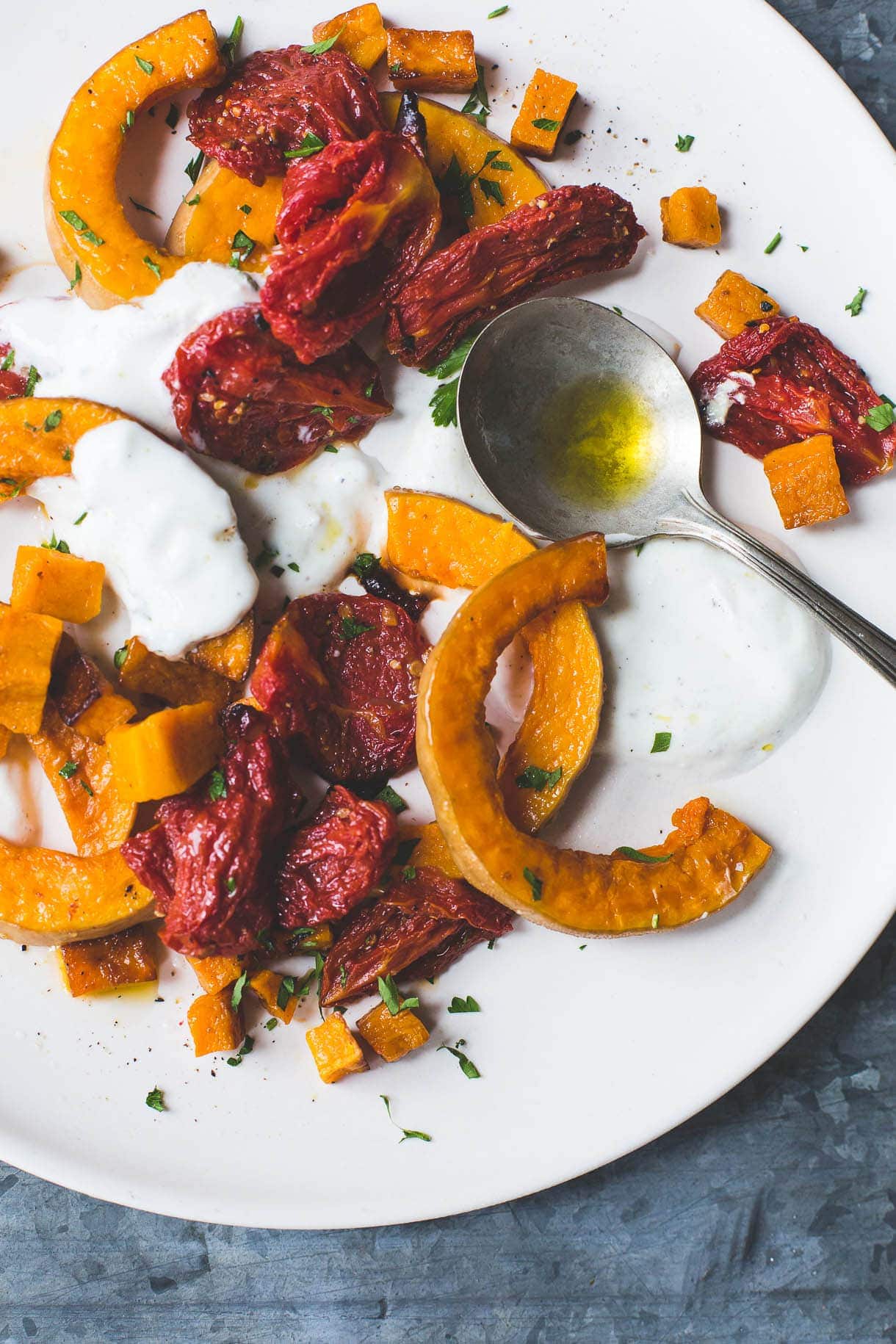 About this unexpectedly, amazing fall dish:
Tomatoes and butternut squash are not the typical combination. I usually turn to more fall-ish things to pair squash with, like brussels sprouts, hearty greens, parsnips, oven baked okra, and apples. But in an attempt to use the whole, canned Muir Glen Organic tomatoes waiting patiently in my pantry, I wondered if they could work with the butternut sitting on my counter.
So I went searching for some inspiration and turned to the vegetable master himself, Ottolenghi. I found this recipe of his, which sounded amazing, but also time and ingredient intensive. But I loved the idea of the idea of sweet, oven roasted butternut squash, tomatoes (which would be the acidic component), and tangy, savory yogurt together.
I went with things I typically have on hand, and focused on the technique, to bring out the best in each part of the recipe. That meant roasting the squash and tomatoes on separate pans, at different temperatures, to ensure that the tomatoes wouldn't burn at the higher heat that is key to caramelizing squash. Yet not slow roasting to the point that they became "sun-dried tomatoes", losing all their juices.
Cardamom tends to be used in things like chai, or sweet baking application, but I find it works really well in savory applications too. I used it to make a simple yogurt sauce, grinding the cardamom seeds straight from the pods for optimal flavor, adding a little olive oil for richness. And to finish, a burst of fresh from minced parsley.
Taking the perfect bite, a little tomato, a little squash, a swipe of yogurt…. and I'm smitten, once again. Working together in the most delicious, unexpecting way. The textures and flavors, a vegetarian bombshell. And I have a new use for canned, whole tomatoes! (I typically only use them for making sauce, so it was great to find a new use for them!).
I particularly love using Muir Glen organic because all of their tomatoes go from field to can in just 8 hours. Which means they literally taste that fresh when you open the can. Roasting them in this manner lets their bright, bold flavor sing. For ease of finding, know that you can stock up on them at any Whole Foods around the country.
If you make this oven roasted butternut squash recipe, be sure to tag me on instagram with hashtag #heartbeetkitchen or @heartbeetkitchen!
1

two pound butternut squash

1

23 ounce can Muir Glen whole tomatoes, sliced in half vertically

3 1/2

tablespoons

olive oil

divided

salt and pepper

for sauce:

1/2

cup

plain greek yogurt or skry

1

tablespoon

olive oil

seeds of two cardamom pods

removed and ground with a spice grinder or mortar and pestle

1/4

teaspoon

salt

2

teaspoons

fresh lemon juice

2

tablespoons

minced fresh parsley
Preheat oven to 385 degrees F.

Cut the squash horizontally at the neck, where the bulb starts. Take the bulb, cut in half vertically through the middle and remove seeds. Cut into 1/2 inch half moons, leaving the skin attached. The long neck you now, have, take and peel. Then dice into 1/2 inch cubes. Toss and rub all squash with 2 tablespoons olive oil, 1/2 teaspoon salt, and few pinches of pepper. Roast for about 25 minutes, turning once, until brown and tender. Set aside.

Reduce heat to 300 degrees. Brush halved tomatoes on all sides with 1 1/2 tablespoons olive oil. Sprinkle with 1/2 teaspoon salt and pepper. Roast for about 35 minutes, until tomatoes have brown roasted edges, are soft, and have shrunk a bit in size, as shown in the picture above.

Season finished squash and tomatoes with a little more salt and pepper if needed once out of oven. Mix yogurt with olive oil, cardamom, salt, and lemon juice. Spread 1/2 on the bottom of the serving plate, top with squash and tomatoes, and finish with rest of yogurt and parsley.