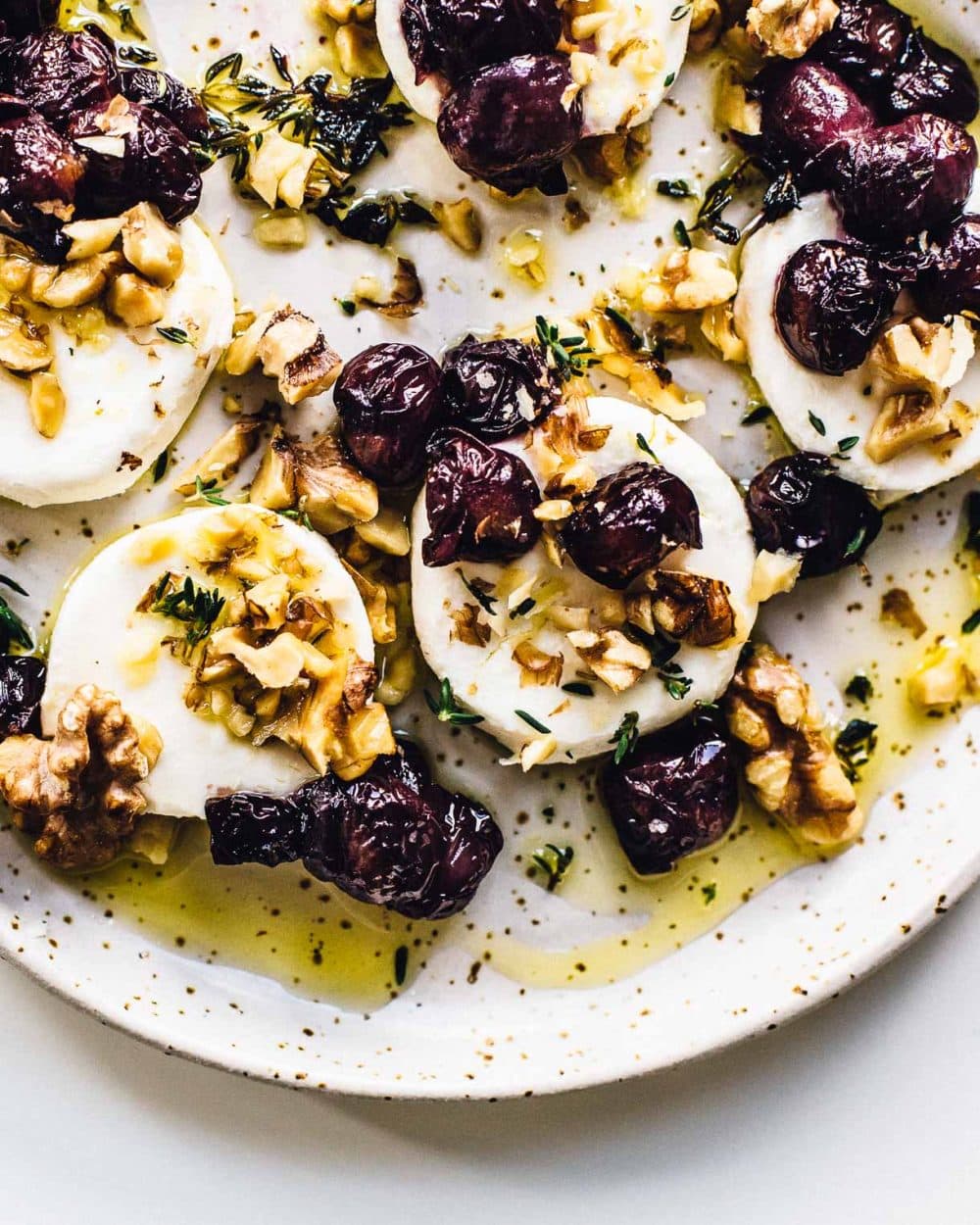 An amazing goat cheese appetizer:
Roasted grapes have so much mojo. They turn an average fruit into something spectacular, and bring major flavor oomph to whatever you decide to pair them, like cauliflower steaks, or today's recipe, marinated goat cheese with walnuts and thyme. I also love this fig jam & baked goat cheese recipe, if you're looking for another yummy option.
When roasted, a grape's internal sugars caramelize, the skin softens and wrinkles, and the flavor matures into an intense version of its former self….. kind of like a fine wine.
The juices that emerge during roasting thicken on the baking sheet, yield a nearly jam-like result when mixed with the finished grapes.
All together, with the creamy tang of fresh goat cheese and nuttiness of toasted walnuts, it's a real good situation. Why walnuts? Their savory, buttery toasted flavor was a great balance with the sweetness of the grapes.
Toasting the nuts improves their texture in staying crisp even amongst the olive oil. Bonus points for their health benefits, as they're 15 percent protein and 64 percent good fat too!
To serve this goat cheese appetizer, I sliced a long, french baguette on the diagonal, brushed them with olive oil, and set in the oven for about 6-8 minutes. They crisp up to be sturdy enough for spreading the goat cheese, but soft enough to still have some chew.
About getting skin/moles checked:
I'd met my deductible this year for health care, so I looked into all the preventative kind of checks we "should be doing" but often skip when we're paying 100% of the cost. A full body skin and mole check by a dermatologist is one of them, so I made the appointment. You can either tell them what parts of your body you want checked, or go with a full scan, including non sun-exposed areas, which I went with since I have fair skin and I'd never had a check like this before.
I wasn't nervous about the appointment, as I've always been very good about wearing high SPF sunscreen and long sleeves as much as possible, and avoiding the tanning bed (except for before my senior prom). She went over my body, and made some notations about moles that were a bit large, but not concerning, just to keep an eye on them if they continue to grow. She was almost finished when she got to my stomach, and saw something that didn't look right – a relatively large mole that was much darker than any other on my body. "The black sheep", she called it, and wanted to remove and send to a pathologist for a biopsy. Moles that are asymmetric or have unusual or uneven color, jagged borders, or a large size (wider than the diameter of a pencil eraser), could signal melanoma.
I'd hear back in one to two weeks. A letter in the mail would mean it was benign, a phone call would mean something else.
Today I got the phone call, telling me that the mole was pre-cancerous. It's a scary thing to hear, and a major gut check. The good news is they fully excised it when they took the biopsy (hence the large chunk out of my stomach that is trying to heal). I'll need to do a skin check every year, and keep tabs on anything that appears that might look different.
And I feel like it's also my due diligence to tell you to go and get a skin cancer screening, whether you've met your deductible or not, or your age or sun history. I know I shouldn't have waited. And I'm lucky to have caught this before it progressed.
All the love,
Amanda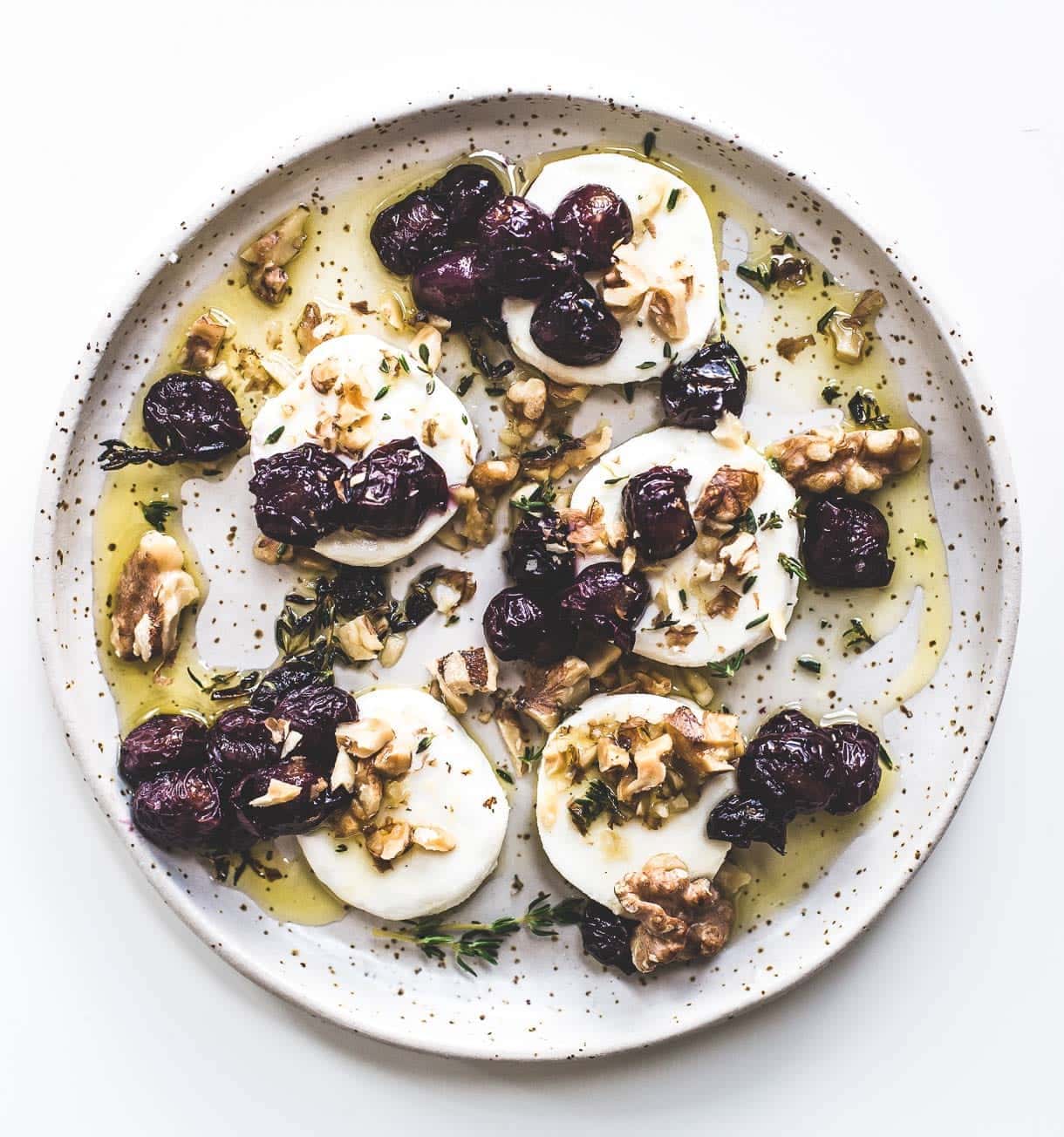 2

cups

red grapes

1/2

cup

olive oil

divided

4

sprigs fresh thyme

1/2

teaspoon

sea salt

divided

8

ounces

fresh goat cheese

1/2

cup

toasted walnuts*

coarsely chopped

bread for serving
Preheat oven to 350 degrees F. Toss grapes with 2 tablespoons olive oil, thyme, and 1/4 teaspoon salt. Roast for 45-50 minutes, until skins are bursting and wrinkled.

Meanwhile, slice goat cheese into 1/4 inch thick round, and place in a container. Pour remaining olive oil on top and let sit while grapes roast.

When grapes are finished roasting, let cool for at least 10 minutes.

Then arrange cheese plate by placing goat cheese down, then grapes and thyme sprigs, chopped walnuts, and remaining salt. Pour some of the olive oil remaining in dish where the goat cheese was marinating on top of all ingredients. Serve with toasted bread.
To toast walnuts, spread them on a sheet pan and bake for 6-7 minutes, at 350 degrees F, until just fragrant. Remove them, and let cool – they'll continue to cook as they cool.
If you make this goat cheese and roasted grapes appetizer, be sure to tag me on instagram with hashtag #heartbeetkitchen or @heartbeetkitchen!