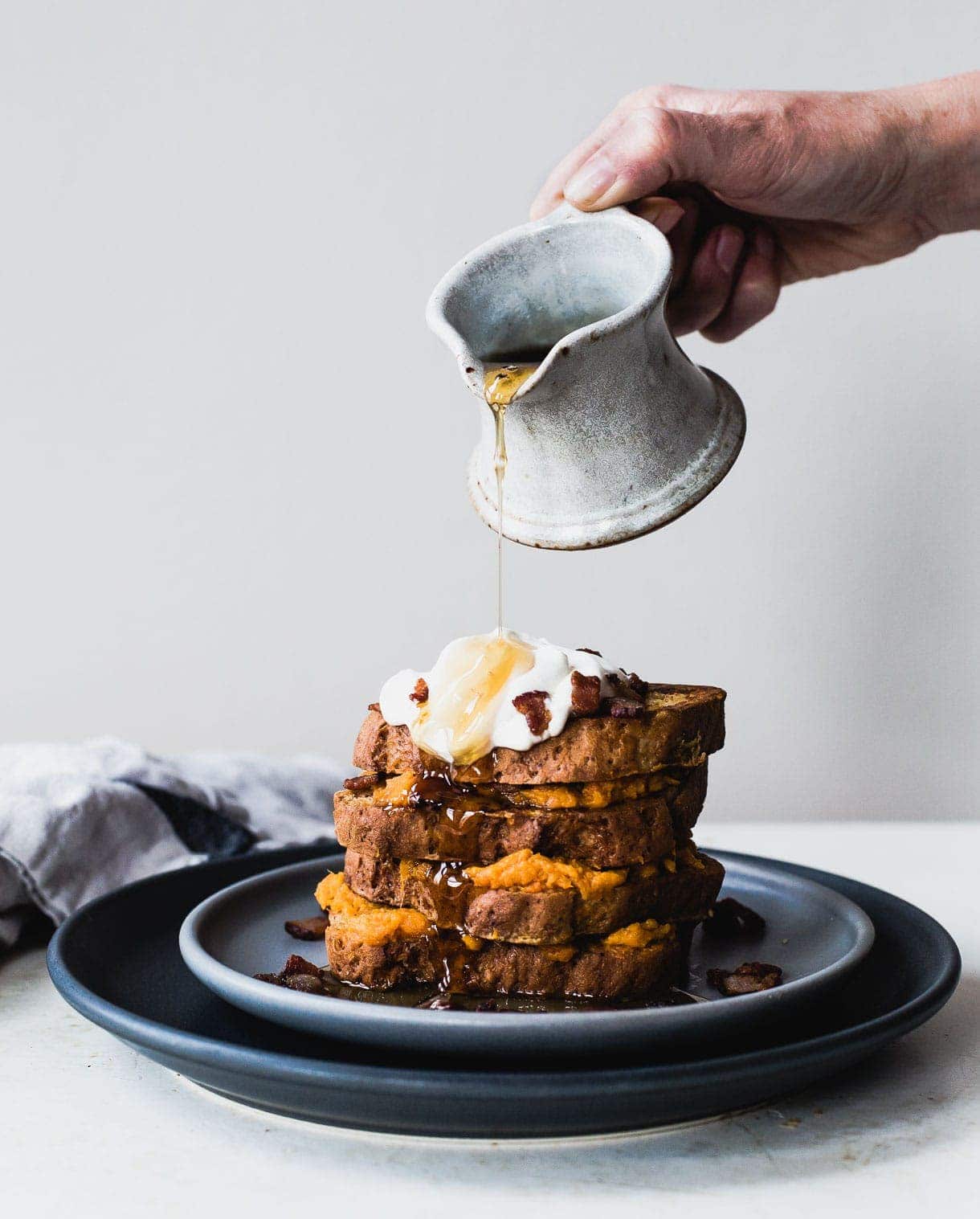 I look forward to the weekends for many reasons, but mostly for longer, slower breakfasts, making things a little more decadent and special than what we're used to on the weekdays. Often it's such version of seasonal waffles, or pancakes, but as of late, I'm hooked on this Gluten Free French Toast with Bacon. With maple syrup. With a dollop of mashed sweet potatoes, and creme fraiche (or whipped cream). Sounds out of the ordinary, but is SO good.
A few well-chosen ingredients go a long way in this simple but gratifying recipe. Cinnamon, vanilla, and roasted sweet potato are added to the egg and milk. Udi's Gluten Free Whole Grain Bread goes for a swim in the custard, and the rest is up to the griddle.
And that deep-brown, lacy appearance on its exterior? A sign it's been properly cooked.
In addition to sweet potato in the batter, I spread a thin coating on each piece before finishing the stack, giving it extra moisture and flavor.
And stopping there, this Sweet Potato Potato French Toast was really good. But adding the bacon — incredible. Adding the bacon — a must. Because in my world, saltiness is key to making something sweet worth more than one bite.
Now, some notes about making really excellent gluten free french toast:
Get out a pie pan — it's the best soaking vessel for your bread.
Speaking of bread, I dry mine out on the counter for about an hour before I make. Not essential, but makes sure the bread doesn't soak up too much of the batter.
You can use dairy or non-dairy milk, but I find whole milk coats makes a better coating.
Let your butter melt and start to sizzle and bubble, opting for medium heat, which keeps the butter from burning, but is aggressive enough for pan-frying.
Enjoy! xo, Amanda
Step by Step Video: How to Make Gluten Free French Toast
2

large eggs

1

cup

milk

1

teaspoon

cinnamon

1

teaspoon

vanilla extract

pinch

of salt

1

cup

roasted

mashed sweet potato, divided

2

tablespoons

butter

one loaf Udi's Gluten-Free Whole Grain Bread

1

tablespoon

maple syrup + more for serving

2

slices

cooked bacon

chopped

yogurt

whipped cream, or creme fraiche for serving
Whisk eggs, milk, cinnamon, vanilla, and salt together in large bowl. Then whisk in 1/2 cup sweet potato until combined. Pour batter into a pie pan. Dunk each piece of bread into the batter, coating well. Place on sheet of parchment paper.

Melt butter on a griddle or in a large pan, spreading to cover the surface over medium heat. Add bread, pressing down lightly. Cook for 4 minutes until starting to brown, then flip and repeat. Cook until both sides are browned.

Mix 1 tablespoon of maple syrup with remaining half cup sweet potato. Spread thin coating on each slice of bread and stack. Top with bacon, maple syrup, and dollop of whipped cream, yogurt, or creme fraiche.