Make this homemade pimento cheese recipe comes together in 10 minutes and is the appetizer always requested for parties! Sharp cheddar and mild pimento peppers are the star. Can be made several days ahead. Serve with crackers and fresh veggies, or use as a sandwich spread.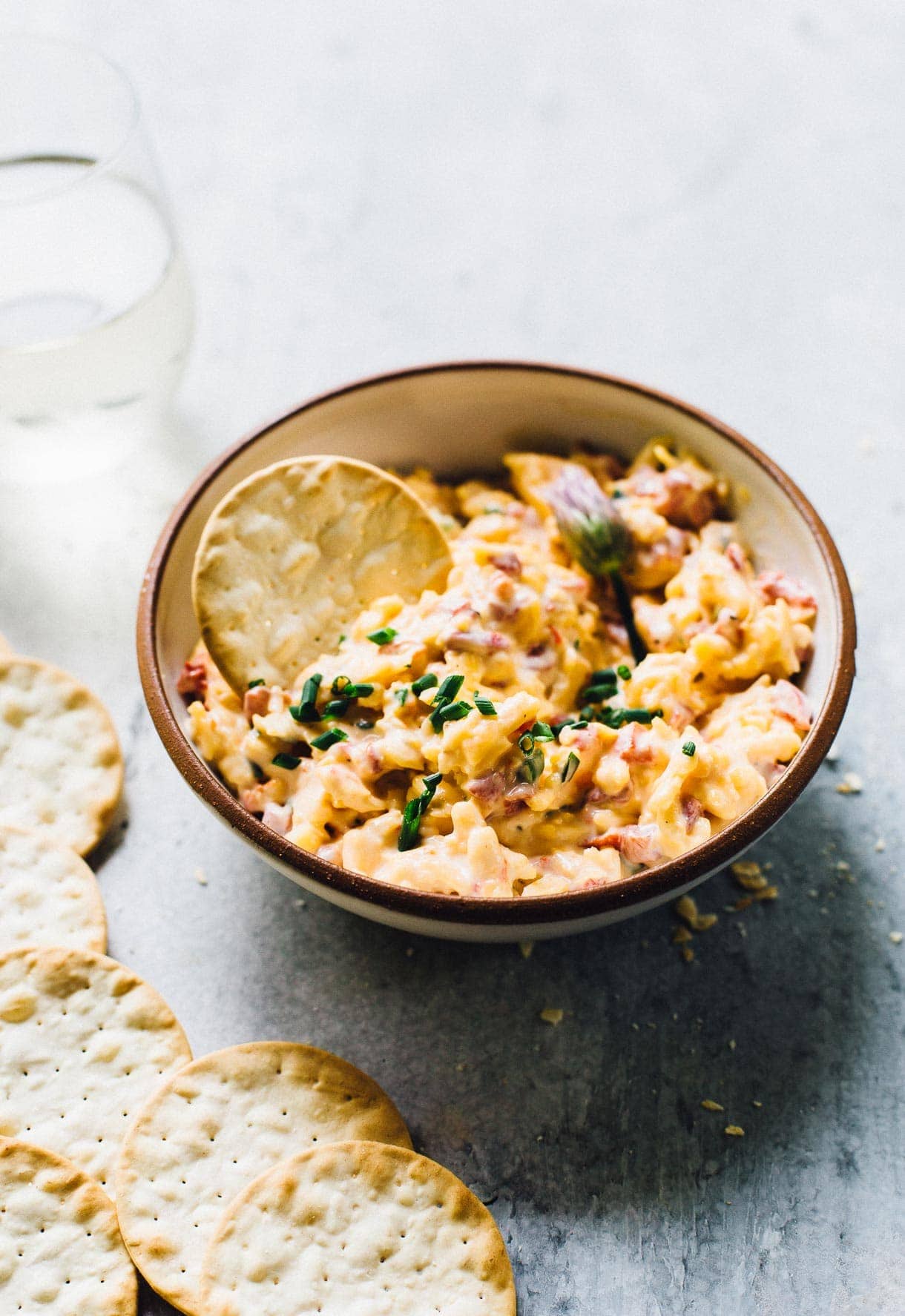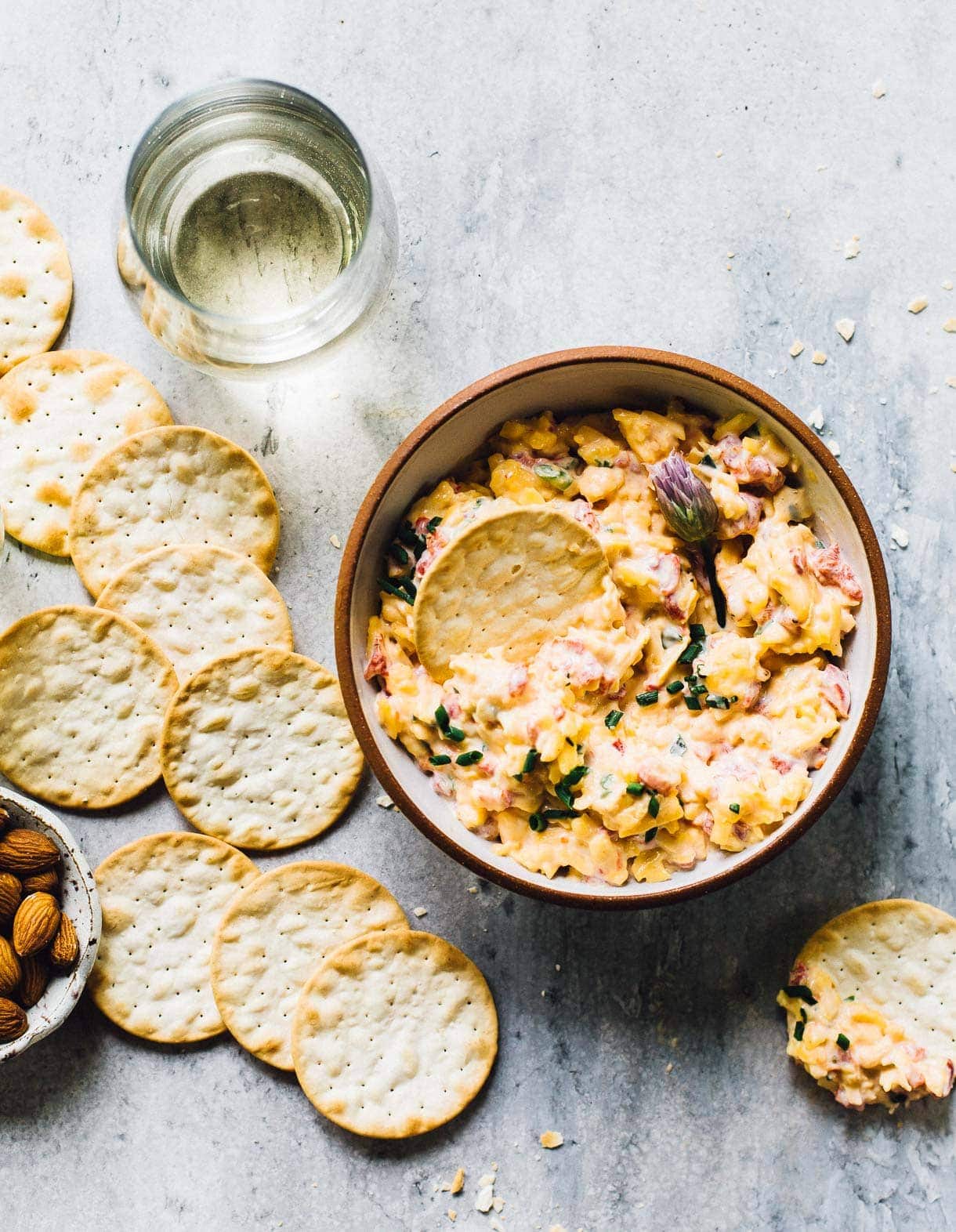 I find it so disappointing that I never experienced homemade pimento cheese dip until my mid 20's.
Shortly after Brian and I began dating, we went on a boating trip with his Mom, who came well prepared with wine and snacks. Her signature Chex mix, chocolate chip cookies with walnuts, and my first introduction to pimento cheese dip.
What is pimento cheese?
Creamy, cheesy, with a peppery zip. I couldn't stop eating this magic.
Pimento cheese, at its core, is nothing but tufts of sharp cheddar cheese, a cushion of mayonnaise, a bit of cream cheese, and chopped pimentos. You know, those little red pieces that are stuffed inside green olives? Yep, those.
Stir together a batch to keep it in the fridge all week — for grilled cheese, on your favorite crackers, on pasta…. it's good with everything!
Homemade pimento cheese dip has long been associated with the southern states United States, their favorite spread, often dubbed as the caviar of the South. It's a staple of all parties and get-togethers below the Mason-Dixon line.
So it seems fitting that "The Only Pimento Cheese Recipe You'll Ever Need" comes from the Smoke, Roots, Mountain, Harvest cookbook by Lauren McDuffie, an ode to her Appalachian roots.
Lauren believes in the power and magic of home cooking, and combined with her beautiful food photography on Instagram, brought us together a few years ago. Her cookbook and is very personal, a memoir written with stories throughout, while cooking seasonally with flavors from the past and present.
The cookbook highlights a culture that isn't typically in the spotlight, and that admittedly, I know/knew little about. So I've really enjoyed cooking from the book, while being taken into the heart and soul of America. Every chapter opens with storytelling that echoes the folklore and tall tales of the region, while more than to recipes and 80 beautiful photographs capture mouthwatering dishes for all occasions—from morning beverages to a show-stopping berry buckle—as well as the tools, fruits, flowers, and scenery of life in the Mountain South.
I barely modified Lauren's recipe,
swapping in chives from my garden for the shallot that was called for,
a splash of white wine vinegar for acid,
and a little less cheese/more mayonnaise ratio for creaminess.
It really is just SO good. And as she dubbed it, the only pimento cheese recipe you'll ever need.
More Cheese Appetizer Recipes: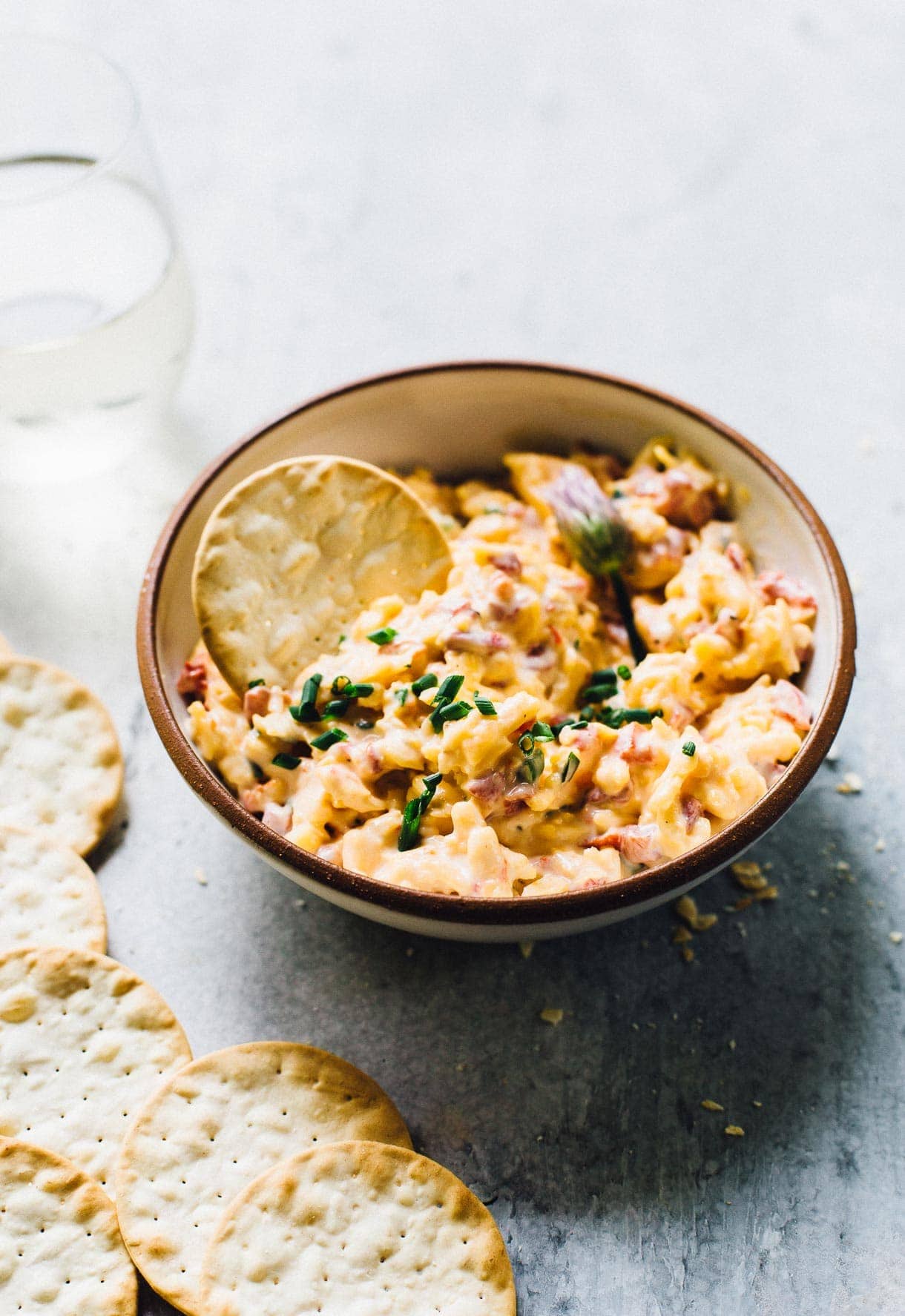 Shred cheddar cheese using a grater or food processor, into medium shreds.

Add cheddar and remaining ingredients to a bowl and stir to coat and combine. Cover and refrigerate 30 minutes prior to serving, up to two days.
This recipe is adapted from the Smoke, Roots, Mountain, Harvest cookbook, by Lauren McDuffie.