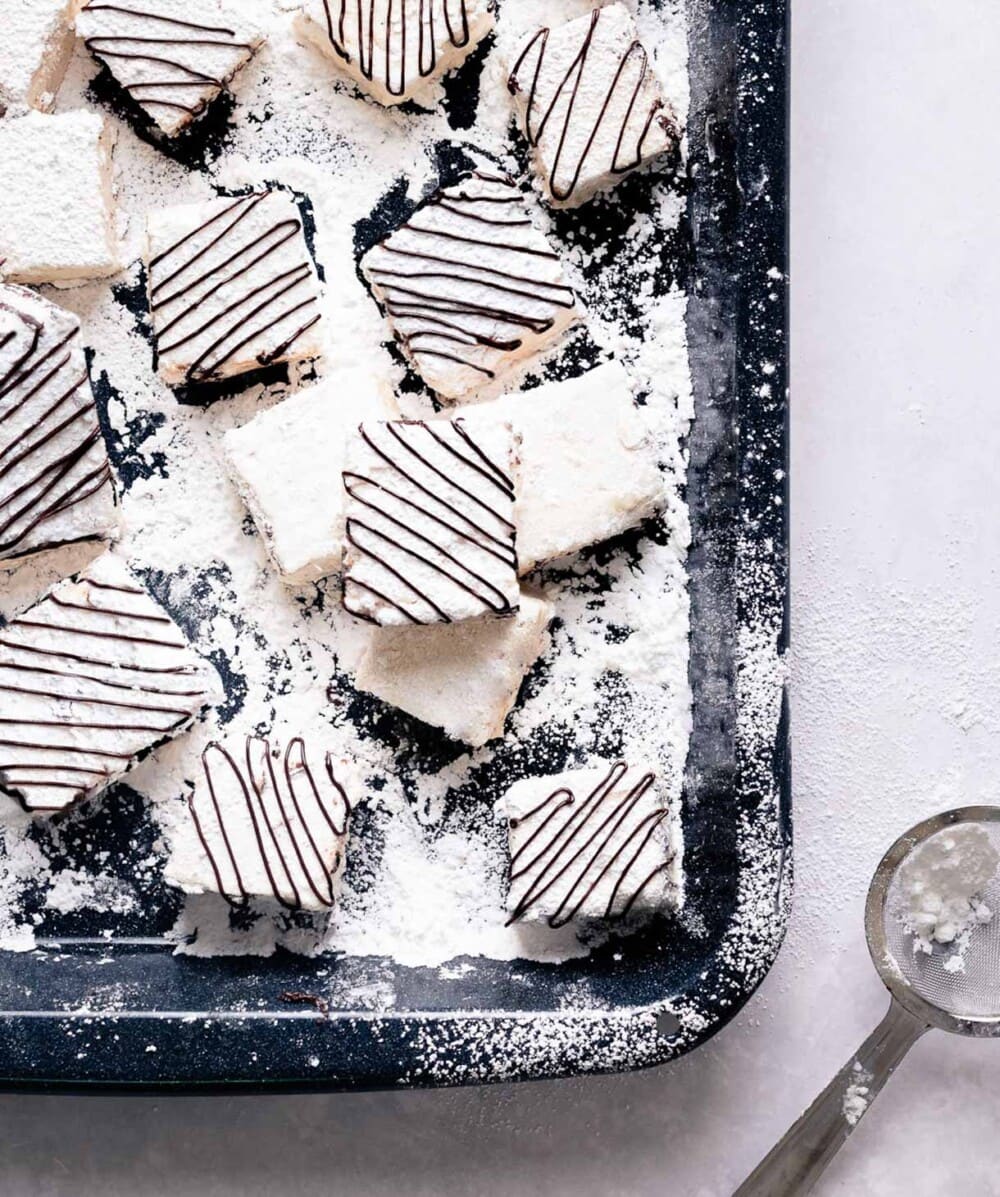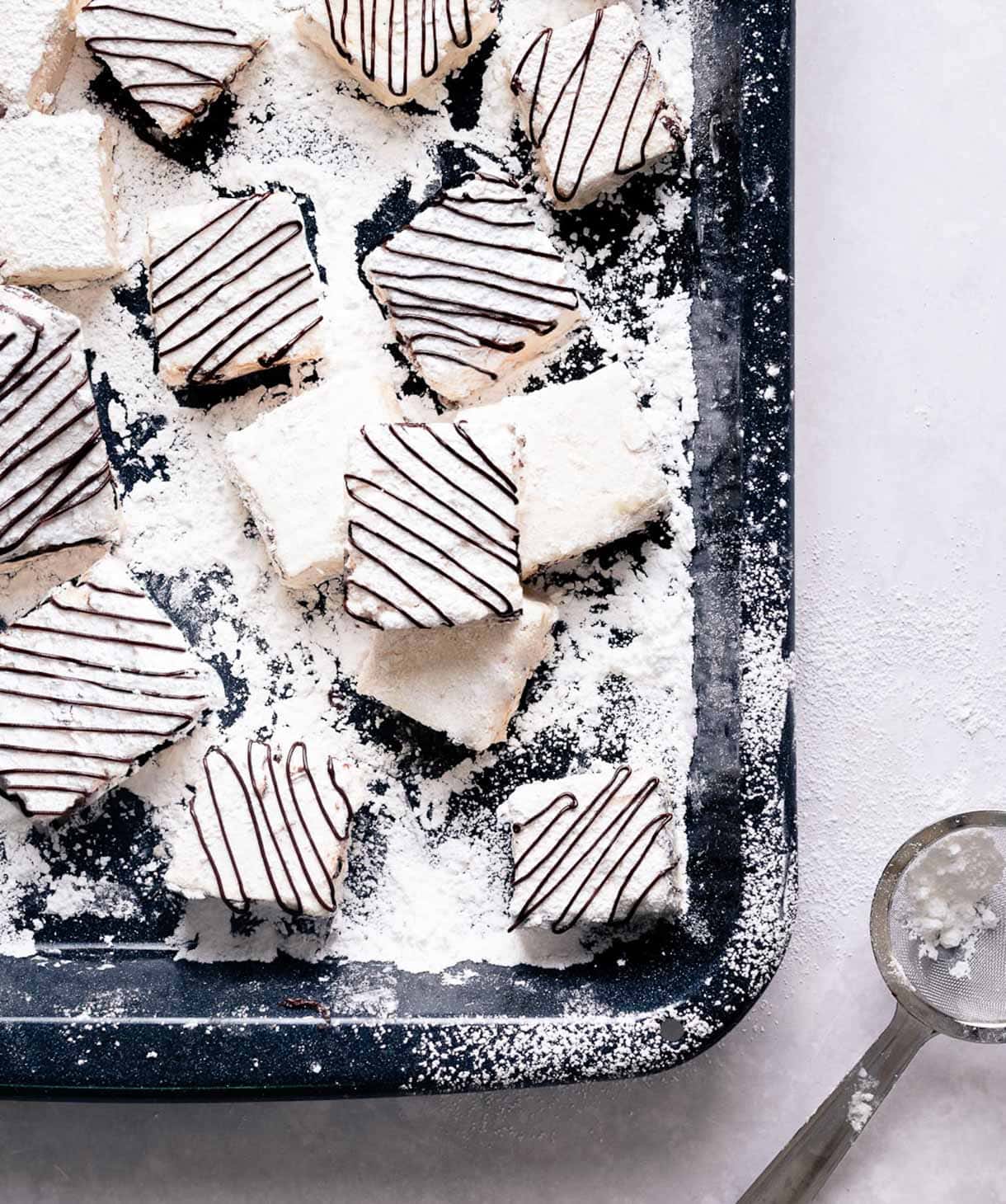 Raise your hand if you're scared of the candy thermometer….. Hand raised HIGH here.
The vanilla bean caramels I tried to make once? Fail.
But Homemade Espresso Marshmallows? Major win. So much easier to make than I thought.
I really wanted to try making my own fluffy, homemade marshmallows. Besides my fear of the candy thermometer, an internal battle about using corn syrup (one of the essential ingredients) was weighing on me.
But the more I thought about it, I bought a bottle of Karo Syrup knowing that a once a year treat is not going to kill me.
A java junkie at heart (I drink this Cold Brew Iced Mocha all the time!), my sights were set on making fluffy Coffee Marshmallows drizzled with dark chocolate. They're kind of like espresso and hot chocolate giving each other a hug. Or those chocolate covered beans you beg the Starbucks barista for "just one more" as she hands you your mocha.
When I bit into the first one, it was as if I was nibbling on a cloud. They're so fluffy and soft! Springy and lightweight, I giggled as I watched them bounce off one another as I tossed them in the powdered sugar.
A store bought bag of marshmallows could sit in my cupboards untouched for months, but these…. man, pure edible bliss. Laced with espresso powder and a touch of vanilla, they have just the faint complexity you'd want from a perfect cup of coffee.
The process was easier than I had imagined, and I even used a hand mixer because that's all I have. Besides the detailed recipe (which don't be scared when you see how long it is – that's only because I wanted to give you good directions!)
Tips for Making Homemade Marshmallows
1. Make sure you have a good candy thermometer – this is the one I use and it's sturdy, reliable, and easy to read. Be sure that the tip of the thermometer is submerged in the sugar syrup while it's boiling for an accurate measurement.

2. One way to know your marshmallows will set properly is that that the batter will hold a soft peak before falling back on itself when you lift up the whisk.

3. Let the marshmallows sit in the pan for at least 6 hours, even better if you can wait overnight.
I was pretty proud of my marshmallow triumph so I packaged them up in gift bags for friends and family who I saw on Sunday. Seeing their eyes smile with joy and exclaim "Homemade Marshmallows?!" like little children was such a treat.
Drizzled in dark chocolate, these little pillows of magic will certainly bring you happiness!
More Coffee Recipes: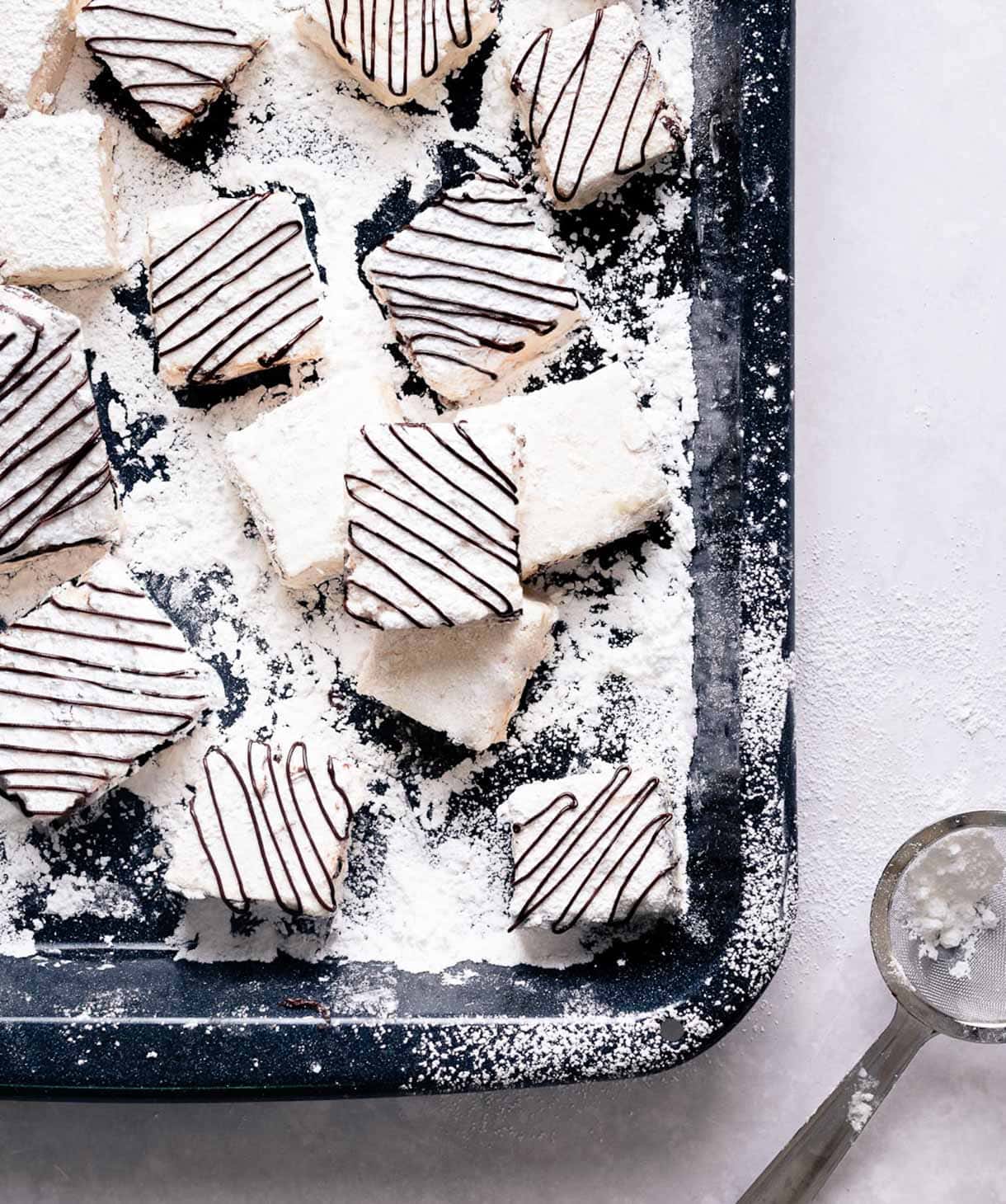 2

packets

0.25 ounces each + 1 1/2 teaspoons unflavored gelatin

3/4

cup

water

divided

3/4

c

light corn syrup

1 1/2

cups

granulated sugar

2

Tablespoons

espresso powder

2

teaspoons

pure vanilla extract

Powdered sugar for dusting

2

ounces

of 65% dark chocolate

melted
Before you begin, grease a 9″ x 9″ pan with nonstick spray. Add two teaspoons of powdered sugar and shake it around to coat the bottom.

Combine 1/2 cup warm water and espresso powder, whisking until dissolved. Transfer the mixture to the refrigerator to cool. Pour the cooled coffee into the bowl of a stand-up mixer (or you can use a large bowl and a hand-mixer). Sprinkle the gelatin atop the cooled coffee mixture and allow to sit for 10 minutes.

Meanwhile, in a medium saucepan with a

candy thermometer

attached to the side, combine the granulated sugar, corn syrup, and remaining 1/4 cup of water. Heat the mixture over medium heat until the sugar has dissolved, barely stirring. Turn the heat up to moderately high heat and bring the mixture to a hard boil until the candy thermometer reaches 238 degrees F, as it will creep up 2 more degrees to soft ball stage of 240 once off the heat.

Lower the whisk attachment or your hand mixer and turn it on low. Carefully add the boiling liquid to the gelatin mixture. Turn the mixer to medium and beat for 6 minutes, then turn up to high and beat for another 4-5 minutes, until mixture has doubled in volume and is thick and fluffy. Pour in the vanilla extract and beat for an additional 1-2 minutes.

Pour into the prepared pan, smoothing out the top with a spatula dipped in water until evenly disbursed. It's okay if it's not totally smooth! Dust the top with a few tablespoons of powdered sugar and cover with foil or plastic wrap to let them set, about 6 hours or overnight.

To release the marshmallows from the pan, run a knife around the edges and invert onto a large cutting board. Using a greased pizza cutter, cut the marshmallows into 1 1/2-inch to 2-inch cubes, then coat them in the powdered sugar to keep them from being sticky. Pat off the excess or place marshmallows in a strainer and shake. Place them on wax paper, drizzle with the chocolate and let set.
*all degrees are in Fahrenheit