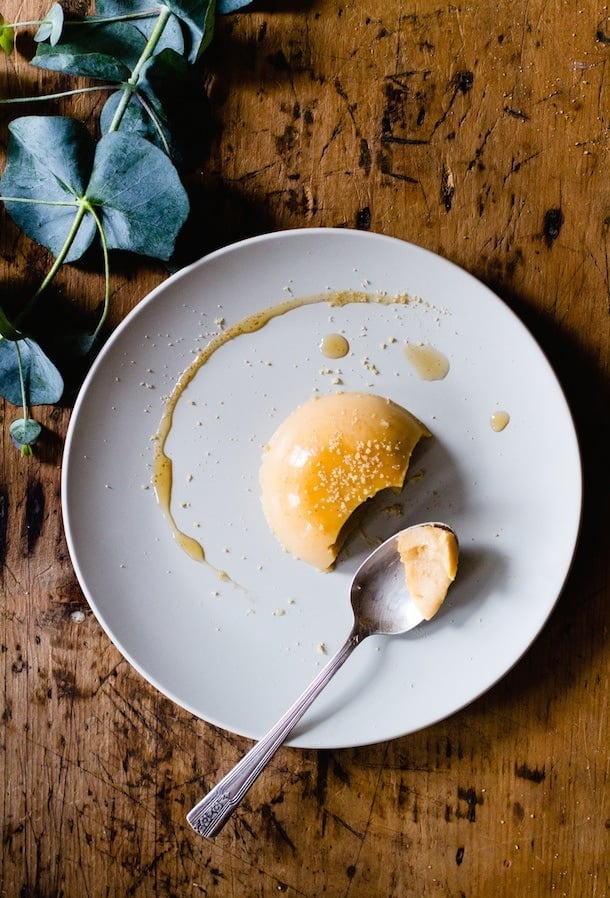 Whether it's flan, custard, a budino, or panna cotta, one thing I know is true…… the first spoonful is always the dreamiest.
Now that fall is here, you probably know that squash is on my mind – all the time. I prefer it over pumpkin for sweet applications, with a denser texture, and deeper flavor when roasted.
For the last few days, this Maple Butternut Squash Panna Cotta has been my indulgence as I detach myself from a big project that is coming to an end. Playing around with countless ways to serve and decorate these little pots of cream, letting my mind work in a different direction, was just what I needed.
Panna cotta is the perfect after-dinner delight in my mind – light, silky and decadent all at the same time. But I'll be the first to admit that the whole "setting with gelatin" thing has always made me a little nervous. Yet in all honesty, it's easier than any cake or pie I've ever made. You can do it, trust!
Most base recipes use cream, sugar (which I traded for maple syrup) and gelatin, creating a blank canvas for whatever addition or flavor you fancy. It's silky smooth and just firm, with a gentle wobble. Grassfed heavy cream and buttermilk are simmered with pure maple syrup and roasted butternut squash (kabocha would be great too).
A dash of pumpkin pie spice brings warmth, and gluten-free ginger cookies crumbled on top give the perfect contrast to the lush custard.
It's beautiful food that sings with the season. Almost too pretty to eat, but not quite.
Left in their tiny cups, they'll snuggle into one hand quite nicely as you sit and savor. I like to layer some of the mashed squash and cookie crumbs alongside each other on top, giving them brightness, texture and curiosity. If you think the squash "evidence" might give a red flag to the vegetable adverse, it's certainly not required.
Or you can unmold the panna cotta on individual plates and shower each with cookie dust and a drizzle of maple syrup. Their simple elegance is an eye catcher too….
They can chill in the fridge all day (and overnight, and the next night too), taste amazing, and lend themselves to endless variations. Is that reason enough to try them? Please say yes….. :) xo
1 1/2

cups

heavy cream

1

cup

buttermilk

1/3

cup

pure maple syrup

3/4

teaspoon

pumpkin pie spice

1

teaspoon

pure vanilla extract

3/4

cup

roasted butternut squash puree*

1

tablespoon

gelatin

5

tablespoons

cold water

crushed cinnamon cookies

like gingersnaps, for crumbling on top
Put the cold water in a wide, shallow bowl and sprinkle the gelatin over it. Set aside for 8 minutes to let the gelatin to soften and absorb the water.

In a blender, combine heavy cream, buttermilk, maple syrup, pumpkin pie spice, vanilla and squash puree. Lightly blend just so that it combines and is smooth. Pour into a medium sized saucepan and stir in softened gelatin. Gently bring to medium heat, so the steam rolls off of it, but it does NOT boil, and whisking so that the gelatin dissolves. Cook at this temperature for 3 minutes, then remove from heat and strain through a colander into a liquid measuring cup.

Then pour and divide the mixture among 6 ounce, or 4 ounce ramekins/pots/bowls. Let pots cool to room temperature, then cover and refrigerate for at least 4 hours, up to 3 days.

When ready to serve, top with crushed cinnamon cookies and swirl of maple syrup. If you've reserved some of the squash, you can add that to the top as well.
*To roast the squash, cut it horizontally at the "neck", where the bulb meets the stem. Then cut the two pieces in half vertically, and roast at 375 degrees, cut side down with a bit of olive oil rubbed all over their skin. Bake for 30-40 minutes depending on the size, until flesh is fork tender and very soft. *If you want to un-mold the panna cottas, dip them in a small amount of warm water so that it hits the outside edges, for 30 seconds. Then run a smooth knife around the inside edges and turn them over onto your plate, tapping the top if needed to get the panna cotta to release.