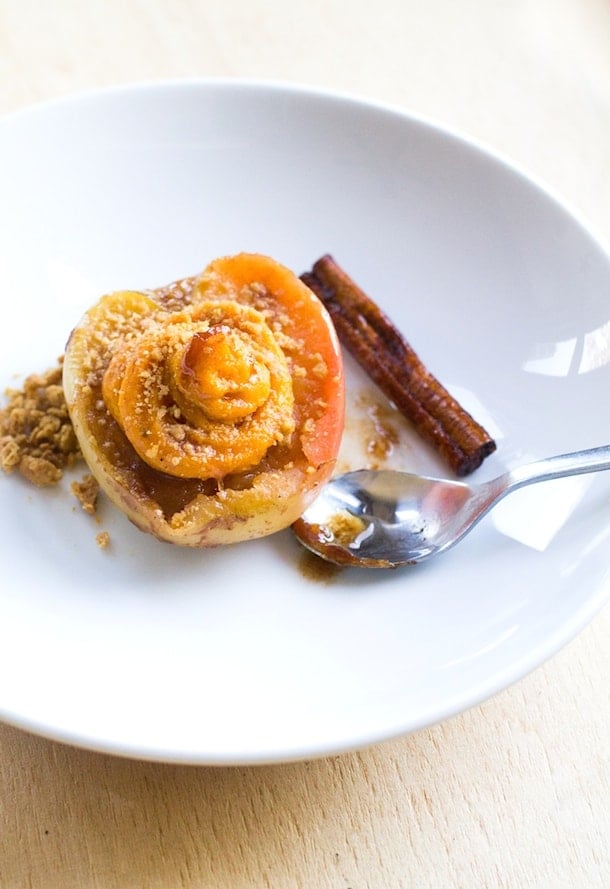 The way I see it, fall should really be called baking season. There's no other time of the year that compares in terms of all the delicious, in-season eats that can be turned into comforting desserts. Warm apple crisp, creamy pumpkin pie, spice cookies ….. it's hard to choose which to make first.
I said yes to all of them this year by making these caramelized baked apples, stuffed with silky, spiced butternut squash. To give them the crunch and spice that fall sweets deserve, Annie's Gluten-Free Gingersnap Cookies were the perfect finishing touch. And could their bunny be any cuter?
Most years, the apple tree in the backyard of my childhood house would be so full that we couldn't even give them all away. Besides her famous apple pie, my mom would often bake them, stuffed with brown sugar and oats. I liked this treat, but like any child, I would have always voted for the more decadent pie. Now that I'm older, I appreciate these "mature" desserts much more. It satisfies a weeknight craving for something warm and sweet, and makes a very special breakfast too.
You'll want to start with crisp apples like ones that you would use for pie or a cobbler. I used Sweet Sixteen's, but Haroldson or Honeycrisp would be great too. Some recipes keep the apple whole and dig out the center core for your filling, but cutting them in half (with some of the inner apple removed) and adding them to a cast iron skillet is the secret to caramelized, cinnamon infused edges.
For the filling, I couldn't turn my back on squash and for good reason. Not that you couldn't make pumpkin work, but squash has less water content and therefore makes a stiffer puree, holding its shape perfectly when you pipe it into the apples. Plus the roasted squash (which you can do at the same time the apples are baking) has a sweeter, nuttier flavor that pumpkin from a can doesn't have. If you were to use pumpkin, you would need to add a thickener like full fat greek yogurt or cream cheese to ensure it doesn't collapse.
I love using Annie's products beyond just snacking because they're such an easy way to adapt recipes that may traditionally have gluten. The gluten-free gingersnaps are perfect for things like this crumble or what I often use in recipes to replace graham cracker crumbs. Most importantly I can feel good about eating their snacks because Annie's is dedicated to using real ingredients. And that bunny? Their founder made him the official "rabbit of approval," representing the simplicity, care, and goodness of the products. Love it.
Baked Apples Stuffed with Spiced Butternut Squash & a Gingersnap Crumble
serves 6
for squash:
3 1/2 cups cubed butternut squash (a medium sized squash)
2 tablespoons olive oil
1/4 teaspoon ground nutmeg
1/4 teaspoon salt
2 tablespoons maple syrup
2 to 3 tablespoons water
for apples:
3 large apples, cut in half
2 tablespoons butter
1/2 teaspoon cinnamon
2 tablespoons packed brown sugar
2 whole cinnamon sticks
1 cup Annie's gluten-free Gingersnap Bunny Cookies, crushed
Preheat oven to 375 degrees. Toss squash with olive oil, nutmeg and salt. Spread onto a large baking sheet. Roast for 25-30 minutes, stirring squash until it can be easily pierced with a fork and is soft.
Meanwhile, prepare apples by removing the seeds and creating a hole about 1 inch deep in the middle of each half with a melon baller. Add butter to a 1o inch cast iron skillet (or heavy baking dish) and place it in the oven for about 1 minute to melt it. Remove and stir in cinnamon, brown sugar and cinnamon sticks. Place apples cut side down in the skillet so they are not touching. Move the squash if not quite cooked through to the bottom rack and put the skillet on the middle rack of the oven. Bake for 12-15 minutes, until apples are softened, but not completely mushy. (You want them to still be able to stand up when you flip them over.) Remove apples and squash from the oven when both are done. Using a spatula, flip apples up to stop them from cooking.
Add squash to a food processor or blender with the maple syrup and process until smooth, adding a few tablespoons of water if necessary. Pipe squash into holes of the apple with a decorating gun or just spooning it in. Finish with crushed gingersnap cookies and drizzle some of the juices left in the cast iron skillet over the top. Can be made one day ahead of time (without the crumble added to the top), just reheat it warm oven for 7 minutes, then add topping.
#spon: Thanks to Annie's for sponsoring this post! I'm required to disclose a relationship between my blog and Annie's Homegrown. This could include Annie's providing me w/ content, product, access or other forms of payment.