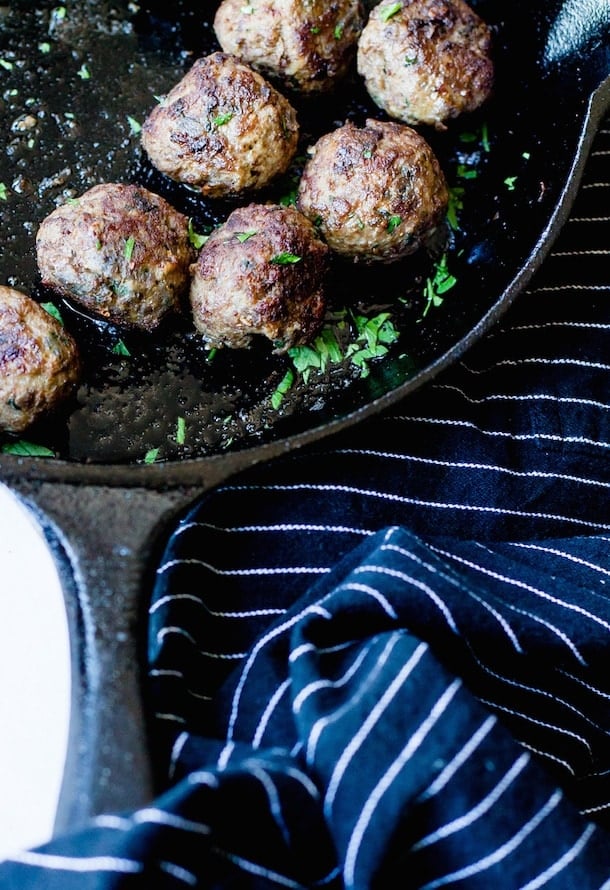 How do you define a great meatball?
In my mind, they're a lot of things. Seared and browned on the outside, giving way to a juicy, fluffy interior. They aren't laden with tomato sauce because you miss the robust flavors, in this case cumin that is freshly ground with your mortar and pestle and a smattering of cilantro. Good meatballs are salted from the inside out, not an afterthought.
And the quality that gives a perfectionist like me fits – a round shape instead of domed, with a flat bottom.
That's a lot of requirements, and I had yet to discover a way to make them like this at home. It was time to turn up my meatball game.
With a blank canvas of grassfed beef, my meat of choice, I got started. I feel it's juicier than grainfed animals, with less saturated fat, but on average 3x more omega-3 fats (and vitamin E, beta-carotene, vitamin C). This is because omega-3s are formed in the green leaves (specifically the chloroplasts) of plants, which also results in natural flavors of fresh herbs from their pasture diet. And most importantly, they're happy cows, who are getting to live a life dotting green hillsides instead of corralled in crowded feedlots.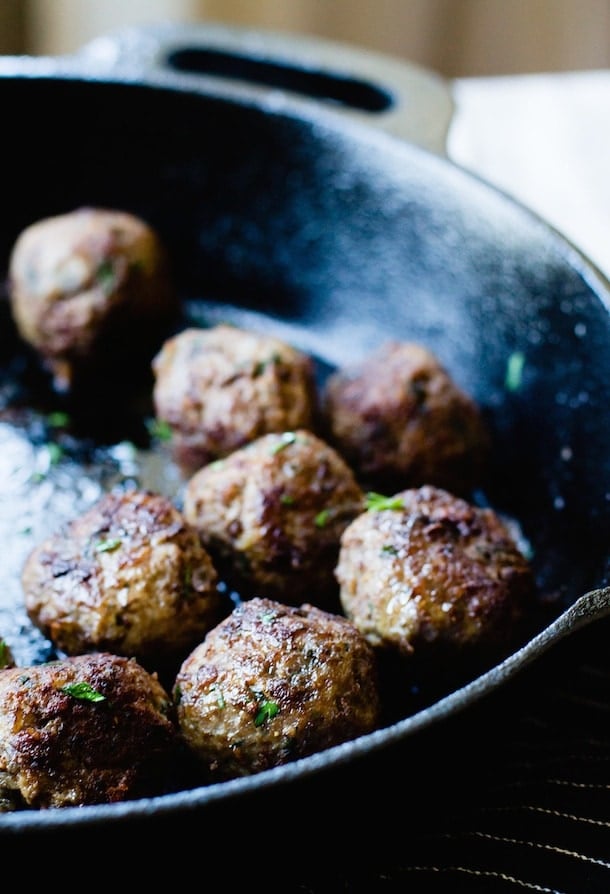 Perhaps the thing I've struggled with the most in perfecting the meatball was finding a gluten-free binder that didn't make them too dense. Too many eggs and they were chewy, gluten-free bread instead of breadcrumbs and they were soggy, and tapioca starch made them gummy. Taking a tip from Chef Dan" Tobias-Kotyk, I turned to crushed tortilla chips. Not noticeable to the eye, the Jackson's Honest organic blue corn tortilla chips disappeared into these cumin-spiced flavor bombs, giving them just the soft bite I was looking for.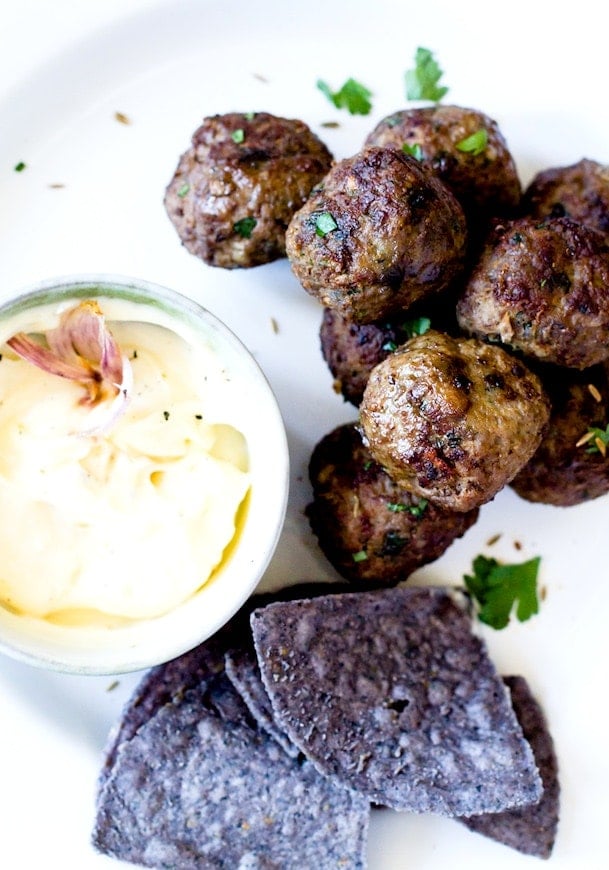 I tried several ways to get them to stay round — boiling then baking, pan searing then baking, but in the end, the winning combination was this: freezing, then pan-searing in a smoking hot skillet and a quick 5 minute bake to finish. You can finish them on the stove too, but I found it more difficult to get them to cook through evenly.
A few other tips:
You can avoid over-mixing and tough, rubbery meatballs by gently kneading the raw meat with your hands, then forming then forming with a cookie dough scoop + a light roll in between your palms.
Taste test! Fry half a meatball before you form them all to make sure you've got enough salt. The flavors should sing in your mouth.
And because I think everything is better with a dipping sauce, I whipped up a semi-homemade roasted garlic aioli. I used this real food mayonaise, then blended in lemon juice, and sweet, roasted cloves of garlic.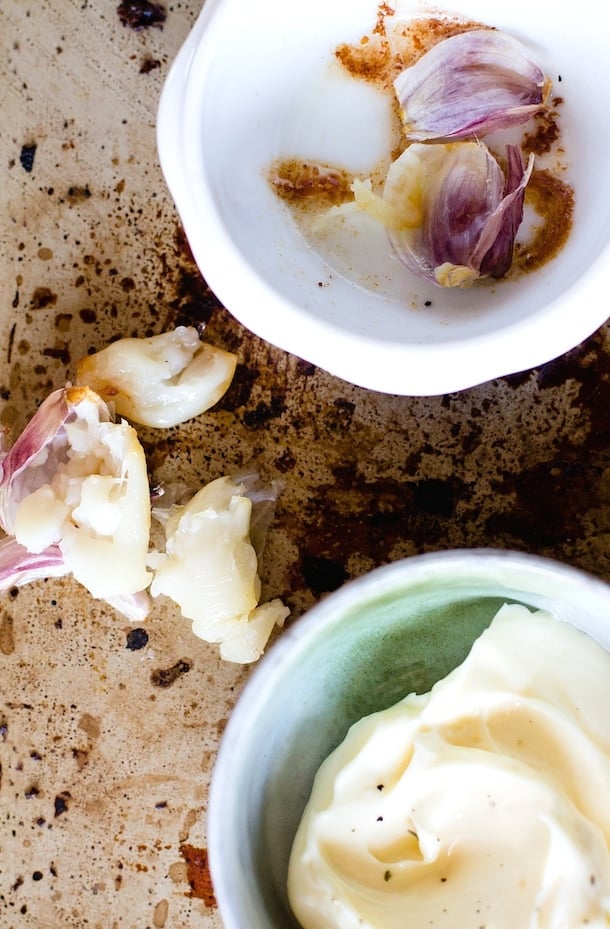 They're well-seasoned, juicy and tender, ready for a party or snuggled up against roasted spaghetti squash for a full meal. I think I've found my meatball groove, and hoping these little guys make it to your table too. xo!
Many thanks to Jackson's Honest for sponsoring this post, a company I regularly use in my kitchen and am so happy to partner with. And thank you for understanding that I carefully choose the brands I work with that help make this site possible. All opinions are 100% my own. This post contains affiliate links, which I make a small amount of money from should you purchase something.
Cumin Spiced Meatballs with Roasted Garlic Aioli
serves 8 people as an appetizer, 5 people for a meal
Meatballs:
1/4 cup finely crushed Jackson's Honest Blue Corn tortilla chips (30 grams)
1 large egg, beaten
3/4 teaspoon teaspoon cumin seeds
1/2 teaspoon coriander seeds
1 pound ground grassfed beef, 85/15 fat percentage (don't go with 90/10, you need the fat!)
2 cloves garlic, minced
1 teaspoon salt
2 tablespoons minced fresh parsley
1 1/2 tablespoons olive oil
For the Aioli:
4 cloves garlic + 1 tablespoon olive oil, placed in a small dish and roasted in a 375 degree oven for 35 minutes)
1 1/2 tablespoons fresh lemon juice
1/4 teaspoon black pepper
1/3 cup mayo
In a small bowl, mix together egg & tortilla chips. In a mortar and pestle or spice grinder, crush the cumin and coriander into a powder. (You could also use pre-ground spices, just use 1/2 teaspoon cumin and 1/2 teaspoon coriander.) Set aside.
Line a rimmed baking sheet with parchment paper. To a large bowl, add the meat and garlic. Sprinkle salt and ground spices evenly oven mixture, as well as fresh parsley. Gently knead about 5 times with your hands, then stir in egg/tortilla chip mixture. Use your hands to knead through about 6-7 times.
Heat a skillet and fry a small portion to test if you need to add more salt and adjust if needed. When happy, using a 1 1/4 inch cookie dough scoop to make portions, then roll lightly in your palms to make them round. Do this with 5 meatballs and set pan in freezer. Continue with remaining meat, putting on the sheet pan each time you are done with 5 meatballs. Let them freeze for 30 minutes.
Preheat oven to 375 degrees. When ready, heat olive oil in a 10 inch cast iron skillet over medium high heat. Add meatballs, cook, shaking pan, for about 6 and sear on all sides. Then slide into oven to finish for about 5-8 minutes. The meatballs should still be a little pink on the inside. Continue this process to finish all meatballs.
For aioli, squeeze garlic out of their papery shells. Then add all ingredients to a small food processor and blend. Taste and adjust salt/pepper as needed.