What's better than a melty blanket of cheese underneath golden brown tater tots… combined with zesty Mexican flavors like cumin and chili powder…. are you with me?! This cheesy tater tot hotdish recipe is one of my favorite gluten-free comfort meals.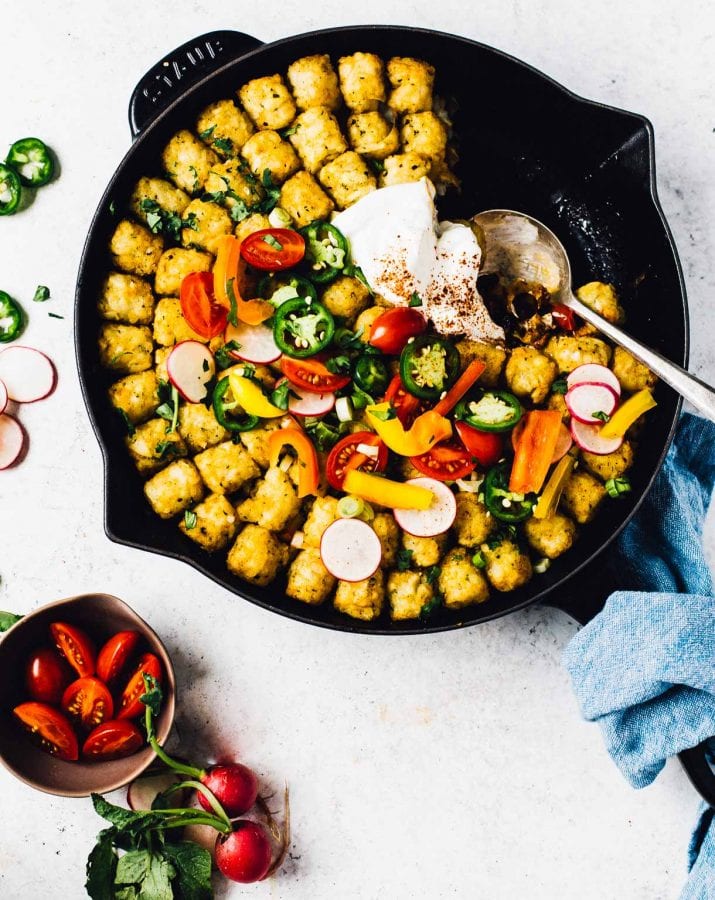 What is hotdish?
Well, you might call it "casserole". However as a born and raised Minnesotan, the only word in my vocabulary that describes several thrifty ingredients mixed together, put in a pan, and baked — is "HOTDISH" (our unofficial state cuisine). They originated in Lutheran church basements, and have graced probably every family table of the folks that grew up here.
It's the ultimate, "anything goes" comfort food, a nod to nostalgia at its best.
We grew up eating tater tot hotdish the classic way, with a base of ground beef, cream of mushroom soup, peas, corn, then topped with crispy tater tots. I like to think of it as a lazy cook's rendition of shepherd's pie. Despite a completely beige aesthetic, it always filled our tummies with delicious nourishment.
To match the modern ways we eat now, yet still hold onto the ease and practicality of the one pan meal, I created this Cheesy Taco Tater Tot Hotdish recipe and a Spinach Gruyere Tater Tot Hotdish hat have become one of our favorites in our gluten-free dinner rotation.
This version a mouthwatering combination of taco flavors with crispy potatoes, and as many toppings as you can pile on. Yet it's not overly heavy – there's actually equal parts black beans and grassfed beef! It takes less than an hour to make, and the symmetry of the tots gets me every time!
How To Make Taco Tater Tot Casserole
Saute ground beef, garlic, and onion in an oven safe skillet.
Add seasonings (this Whole 30 Taco Seasoning works great), salsa, and black beans. Cook through until warm.
Cover the top of mixture with cheese, and assemble tater tots in fun pattern. Your choice!
Bake! And eat.
A few additional notes:
Can I freeze tater tot hotdish?
Yes! All leftovers will freeze well, or you can assemble and stop at the point where you'd bake. Seal the dish, and freeze until you're ready to make it. Then pop it in the oven for 20 minutes longer that the recipes calls for!
Can I use ground turkey or chicken instead of beef?
Yes! Just know that the hotdish will be a little less flavorful. If you do this, I would add two tablespoons of olive oil to the pan when cooking the meat and onion/garlic, to add moisture. And use a homemade taco seasoning for extra spice.
No, you can use any oven safe dish – if that would be rectangle, I'd say a 7×10 inch pan would work best.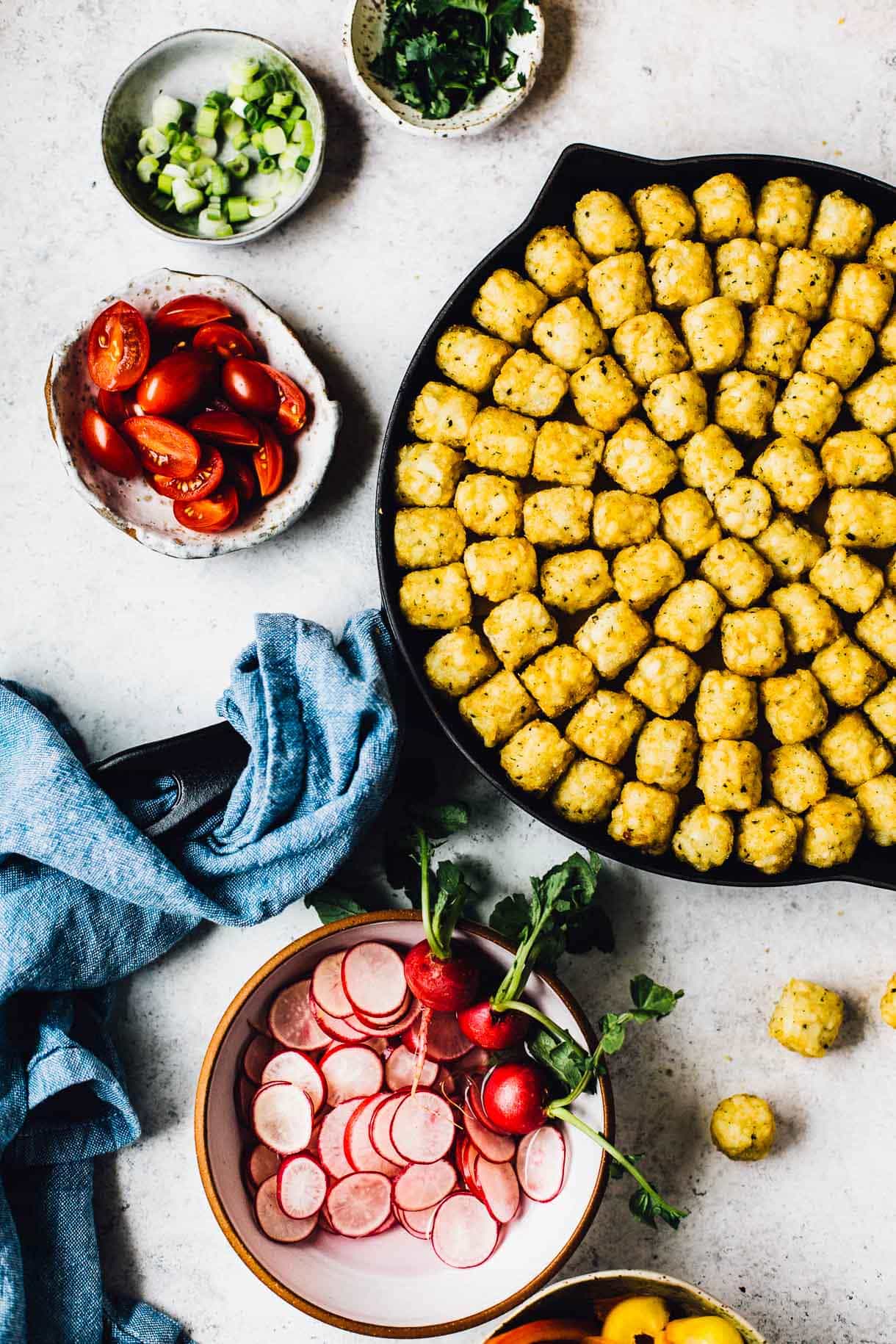 What kind of cheese is best for tater tot hotdish?
While I was recipe testing, and really yearning for that perfect circle of tater tots, I was having trouble with the layer of shredded cheese being flat enough to arrange the potatoes. So I grabbed the Tillamook Medium Cheddar Sliced Cheese that we used for burgers earlier in the week, and just like that – a flat, even layer of the best tasting cheddar that's perfect for tater tot art. ☺️
Tillamook's Medium Cheddar Sliced Cheese is far from anything you remember about those singles wrapped in plastic. Aged for over 60 days, with no preservatives or caking agents added, this cheddar cheese is made with 4 simple ingredients in the time-honored method.
I mean, is their anything better than a melty, blanket of cheese underneath golden brown tater tots… combined with zesty Mexican flavors like cumin and chili powder…. are you with me?!
More Gluten-Free Dinner Recipes: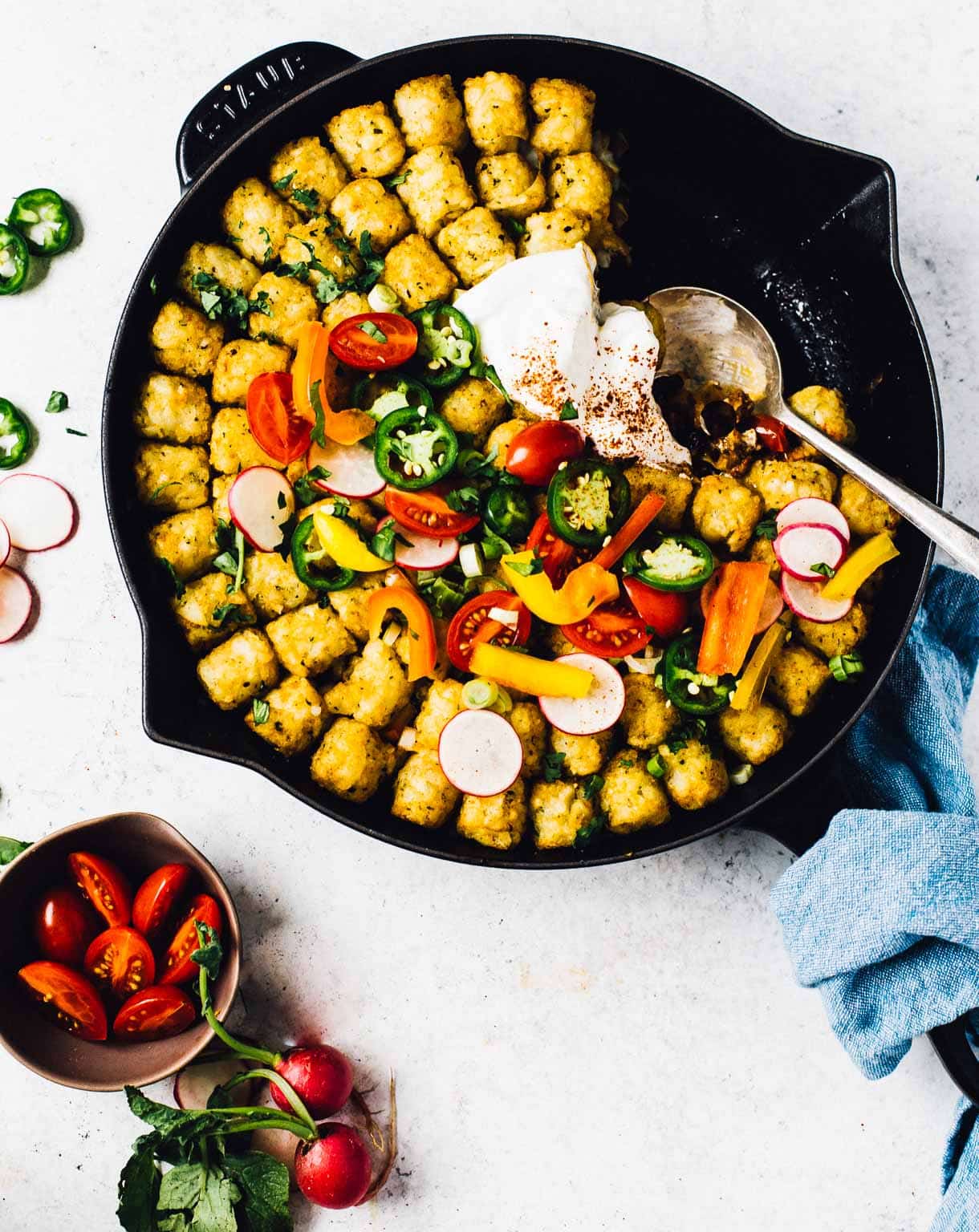 3/4

pound

grass-fed ground beef

80/20 fat percentage

1

onion

diced

3/4

teaspoon

sea salt

divided

3

cloves

garlic

minced

2

teaspoons

cumin powder

2

teaspoons

chili powder

3/4

cup

salsa ( I like to use hot salsa)

9

slices

Tillamook Farmstyle Thick Cut Medium Cheddar Sliced

1

bag frozen tater tots

toppings: sour cream

cilantro, tomatoes, radishes, bell peppers, green onions
Preheat oven to 375 degrees F.

Heat 10 inch

cast iron skillet

over medium high heat. Add ground beef, and use a wooden spoon to break up into tiny crumbles. Cook for 2 minutes, stirring. Add 1/2 teaspoon salt and chopped onion and garlic. Continue to cook until beef is no longer pink and onion is translucent.

Add cumin, chili powder, remaining 1/4 teaspoon salt, salsa, and black beans. Cook for 5 minutes, then remove from heat. Smooth out mixture, then in a circular pattern, layer cheese slices, then tater tots on top.

Bake for 30 minutes, until tater tots are crispy and cheese is melted and bubbly. Remove from oven, and add all the toppings you'd like. Serve.

Leftovers will keep in the refrigerator for up to 3 days. Freezes well too!