This modern twist on tater tot hotdish is easy to make and absolutely delicious, with peppery ground beef, spinach, and flavorful gruyere cheese. A homemade cream sauce comes together quickly instead of using canned soup! The casserole is topped with tater tots, and baked until golden brown and bubbling. Includes gluten-free directions.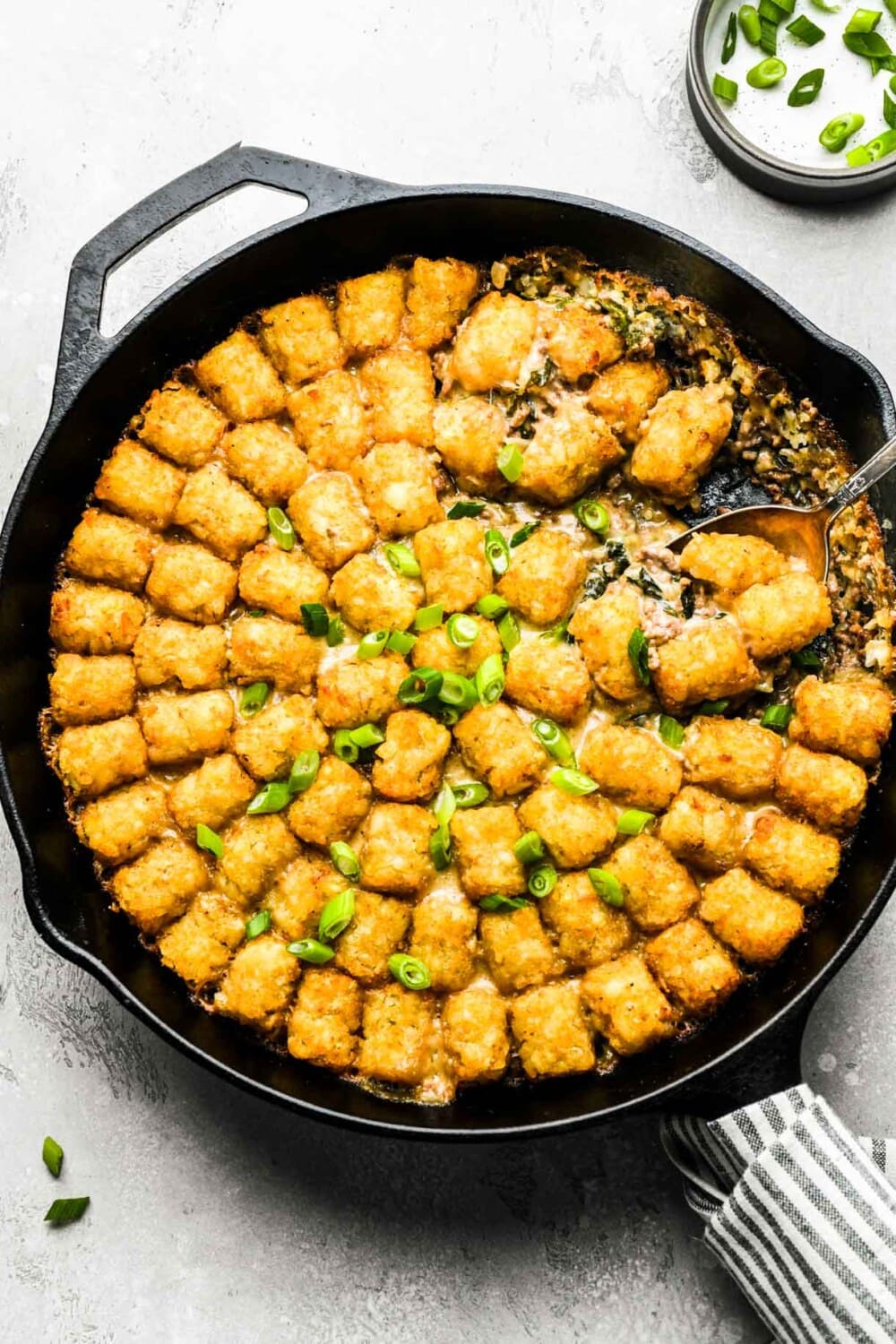 Hotdish is a Midwest thing! Specifically a Minnesota thing.
I grew up in the land of 10,000 lakes and HOTDISH. Yes, Minnesota is just as well known for it's multitude of "anything goes one-dish meals" as it is for its clear blue waters. And yes, I'm going there, in a delicious modern way, like I did with this Taco Tater Tot Hotdish. But this time with greens, a homemade cream sauce (no condensed soup), and gruyere cheese!
The base layer is composed of peppery, browned ground beef, onion, and a boatload of spinach that wilts down. In the same pan, an easy cream sauce is made before being mixed into the ground beef mixture with nutty, flavorful gruyere cheese. All in anticipation of the blanket of tater tots that will cover the surface and bake into golden brown puffs of goodness. It is quintessential comfort food.
What is the difference between hotdish and casserole?
At its core, a creamy sauce binds three essential hotdish components together: starch, protein, and vegetable. The history of hotdish goes back to when "budget-minded farm wives needed to feed their own families, as well as congregations in the basements of Minnesota Lutheran churches. Assembled in one large casserole dish, they were easy to make, filling, and convenient. My Mom made the classic tater tot hotdish often, complete with ground beef, carrots, and peas, a condensed cream of mushroom soup sauce and topped with tater tots.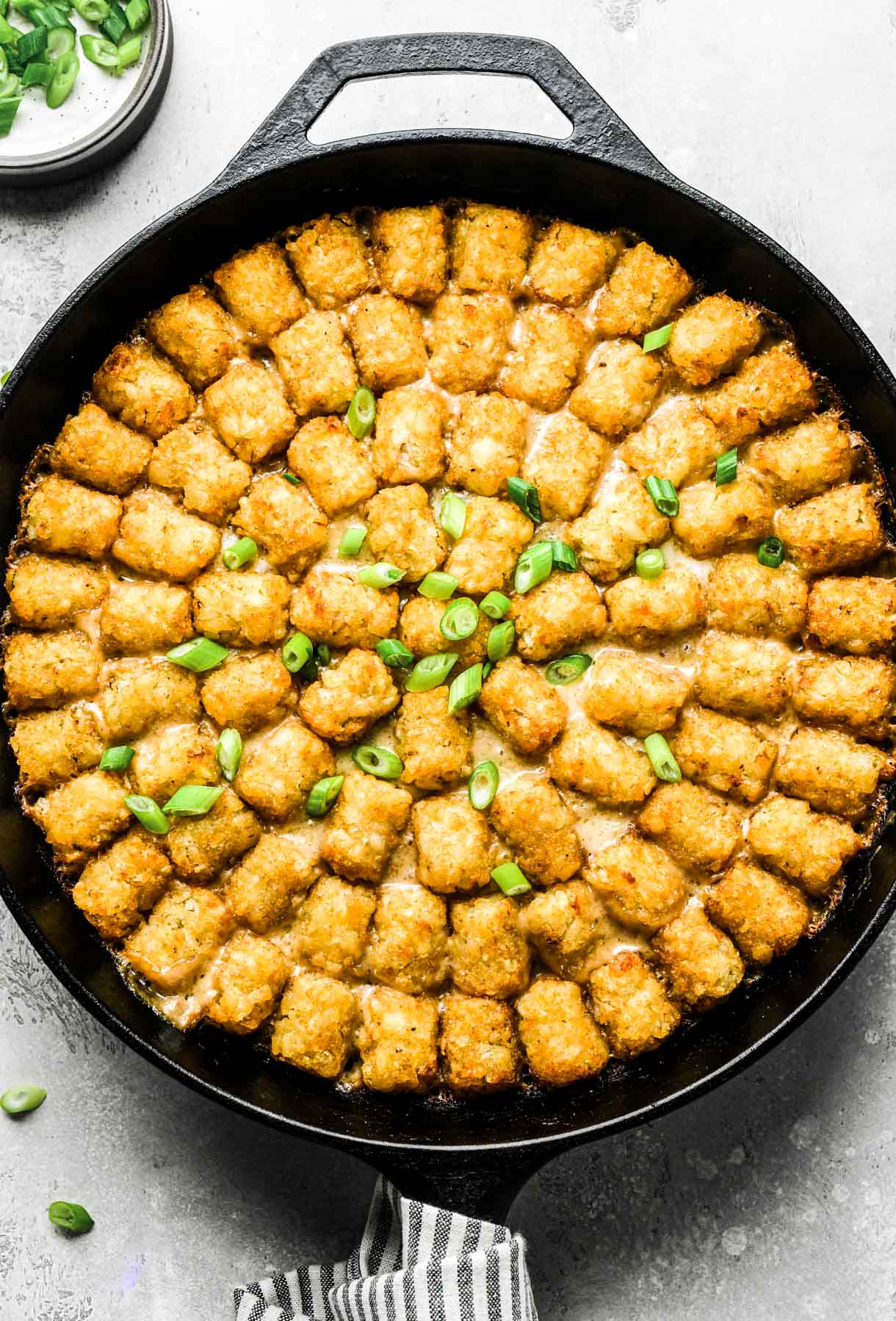 How to Make Tater Tot Hotdish:
Using a cast iron skillet, saute the onion. Push to the side, then add the ground beef and saute until fully cooked through.
Add the spinach (it will look like a lot, but it cooks down!). Stir into continuously over medium heat so that the spinach fully wilts. This mixture will be removed from pan and set aside.
Use the same pan and melt the butter, then whisk in the flour. You want to cook the rawness out of the flour, which will take just a few minutes. Then whisk in milk and bring to a light simmer for a few minutes, until it starts to thicken.
Remove from heat and whisk in sour cream until smooth. Add ground beef mixture back and half of cheese to pan and stir to fully coat. Smooth top. Add a layer of cheese, then a circular layer of tater tots.
Bake until bubbling and tots are golden brown. Enjoy!
Freezing Tater Tot Hotdish
You can make this recipe and freeze leftovers with great results. I use these glass containers. Or if you want to make the whole thing, then split into 4 containers and freeze, it would work great for meal prep.
To reheat, I find it works best to thaw the hotdish first. Then you can microwave on high, or you can reheat in the oven to get the tots crispy again, at 350 degrees F for 20ish minutes.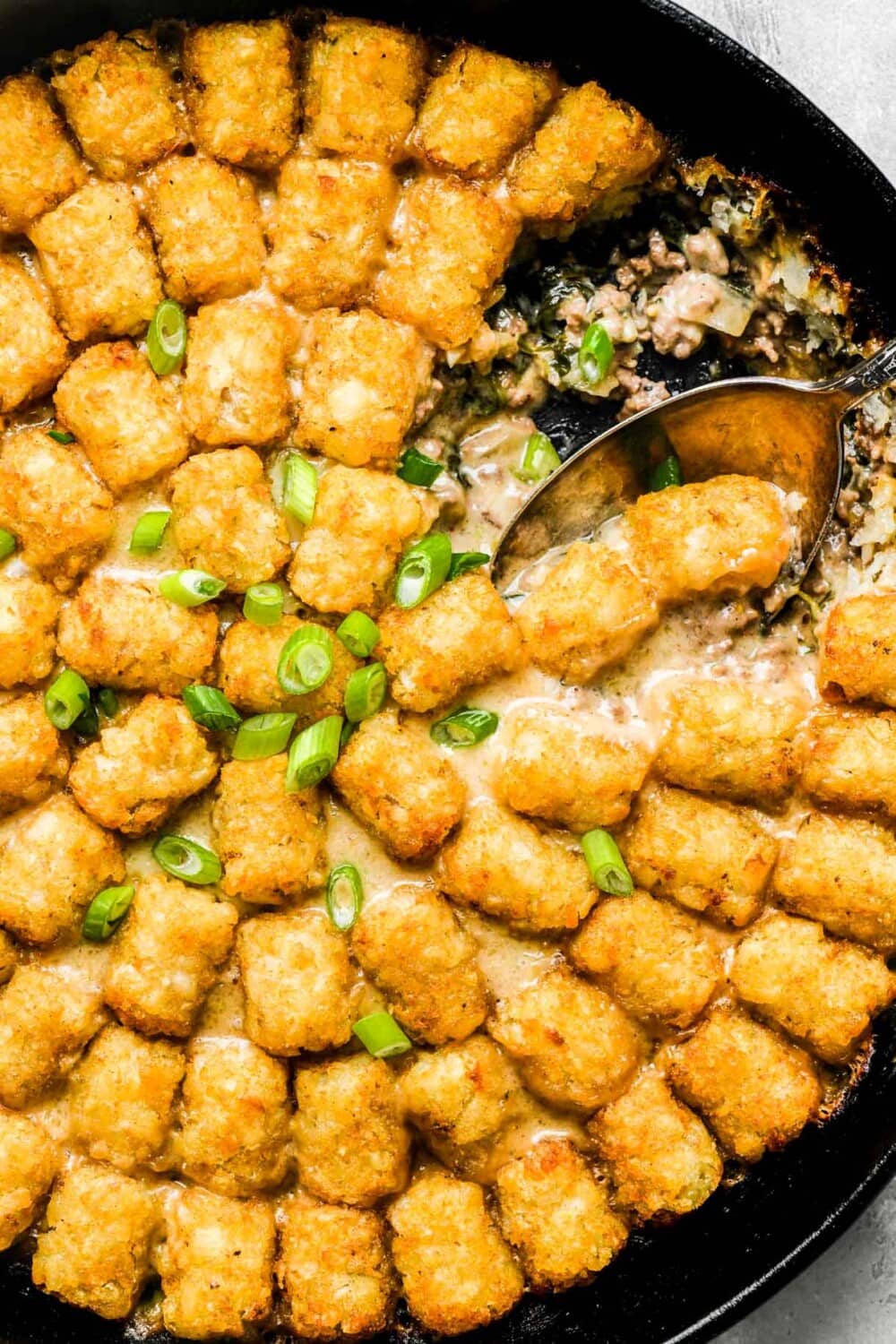 More Gluten-Free Dinner Recipes:
1

tablespoon

olive oil

1

onion,

finely chopped

3

cloves

garlic,

minced

1

pound

ground beef

(80/20 fat percentage)

1

teaspoon

kosher salt

1/2

teaspoon

cracked black pepper

4

ounces

fresh baby spinach

2

tablespoons

unsalted butter

2

tablespoons

sweet rice flour

(or all-purpose flour if you don't need this to be gluten-free)

1

cup

milk

(whole or 2%)

1/3

cup

sour cream

(full fat)

1

teaspoon

dijon mustard

1

teaspoon

white wine vinegar

1

teaspoon

Worcestershire sauce

5

ounces

gruyere cheese,

divided

1

package tater tots

sliced green onions for topping
Preheat oven to 375 degrees F.

Heat olive oil in a 9 or 10 inch cast iron skillet over medium heat on the stove. When warm, add onion and cook for 6-7 minutes, until onion is translucent and softened. Add garlic and cook for another minute, until garlic is fragrant. Push to once side of pan, and add beef, salt, and black pepper. Cook, stirring and breaking beef apart into small pieces with a wooden spoon, until meat is no longer pink. (You can mix the onion in as you do this) When no longer pink, add spinach and stir into the ground beef and continuing to cook until spinach is wilted down. It will seem like a lot of spinach, but it will shrink.

Scrape mixture into a bowl and set aside. Return skillet to stovetop and bring to medium heat. Add butter, then sweet rice flour. Whisk flour into butter and cook for 2-3 minutes, until flour is a paste and no longer raw. Whisk in milk and stir continuously, cooking for 3ish minutes until sauce starts to thicken and small bubbles are forming on sides of pan, but not boiling.

Remove from heat. Whisk in sour cream, mustard, white wine vinegar, and worchestire sauce until you have a smooth sauce. Add beef mixture back to skillet and stir to completely coat all ingredients. Add 3 ounces of gruyere cheese and stir to combine. Smooth top of mixture. Then add remaining 2 ounces of cheese to the top, and then place tater tots next to each other in a circular fashion, covering the skillet with tater tots.

Bake for 20 minutes at 375 degrees F. Then increase heat to 400 degrees F, and cook for another 10-12 minutes to brown the tater tots. You'll see their crispness, and some of the cheese bubbling throughout the pan.

Remove from oven, top with sliced green onions, and serve. (Leftovers keep well for 4 days in the refrigerator.)