Making delicious chicken fajitas couldn't be easier than this sheet-pan recipe! A quick citrus garlic marinade gives the chicken, peppers, and onions the best flavor, while also tenderizing the meat. The fajitas are baked on one pan, making things super easy. There's also a secret to ensuring the chicken turns out juicy and the veggies aren't undercooked.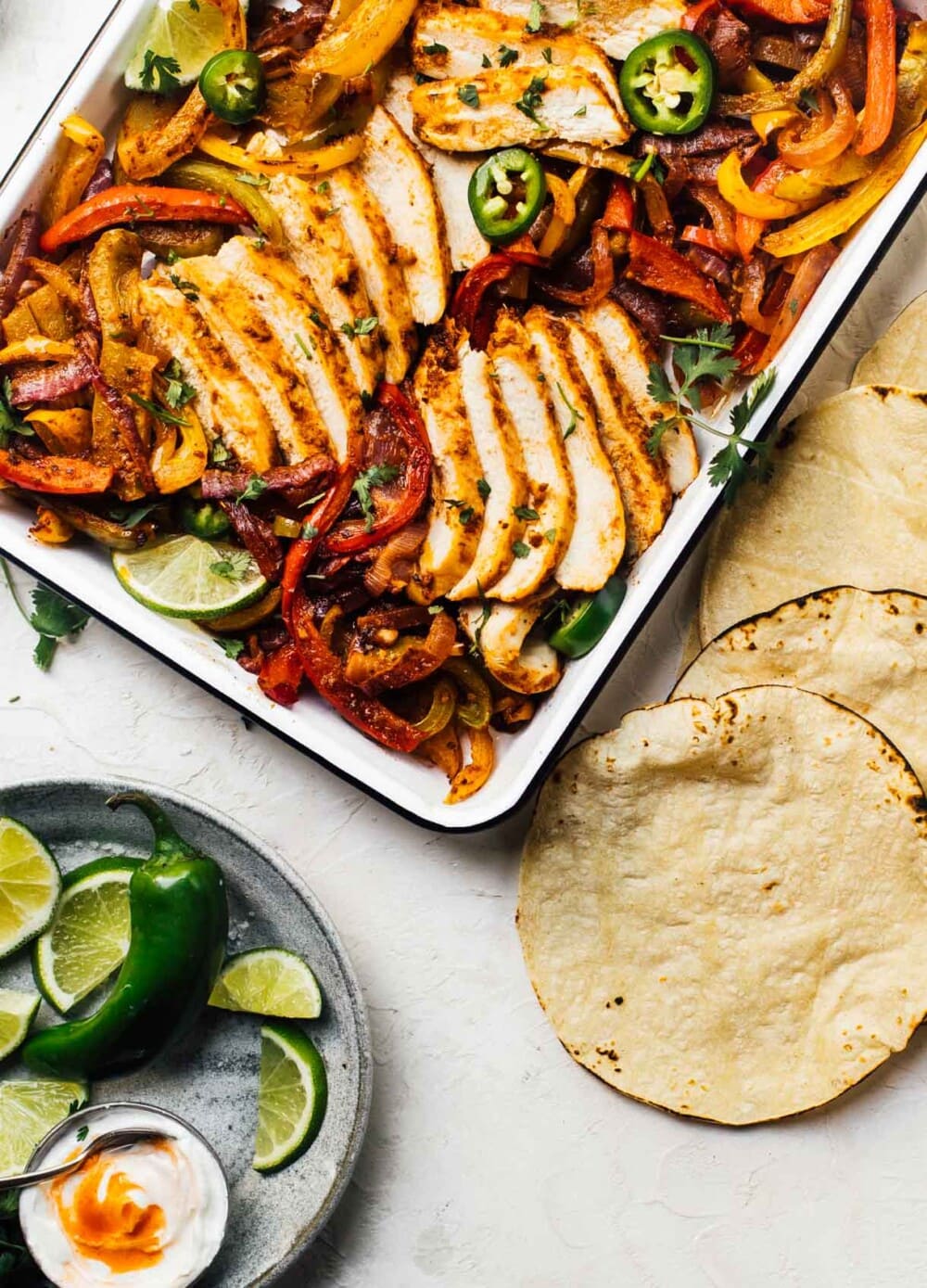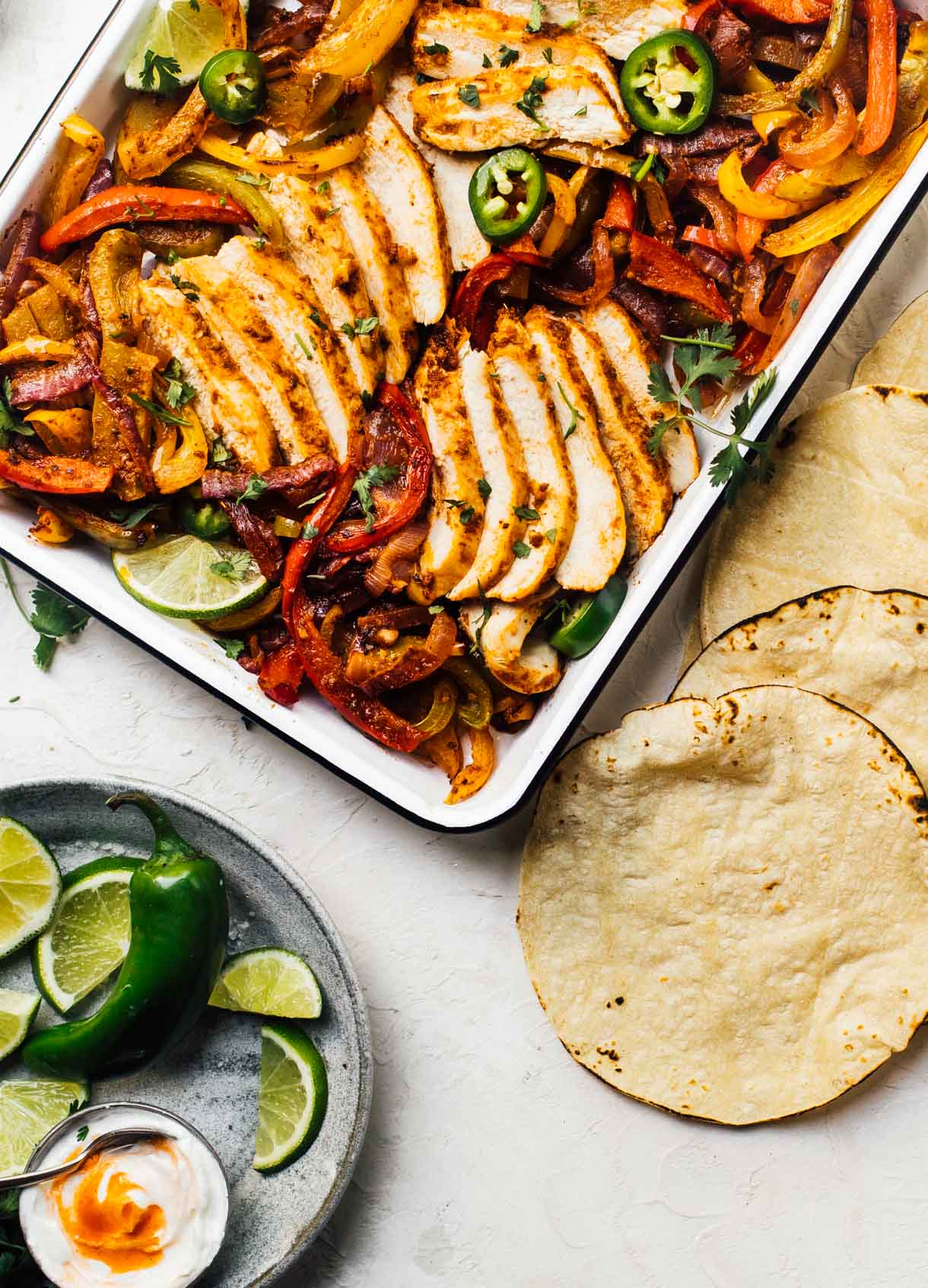 Sheet-pan 👏🏻 FAJITAS. 👏🏻 Lots of color, lots of flavor! An awesome gluten-free dinner recipe for weeknights that satisfies. And I'm sharing a secret you won't find in most sheet-pan recipes that keeps the meat from overcooking, while the veggies roast to perfection.
Tips for Making Great Fajitas in the Oven
Problems occur with sheet-pan meals because not all the ingredients cook at the same rate, often leaving you with undercooked veggies and a dry, overcooked protein. But this recipe solves that issue!
The big difference in this recipe: instead of slicing the chicken breasts and marinating the pieces, you're going to keep the chicken breasts whole for both marinating AND COOKING, until each piece reach 160 degrees F.
Your vegetables won't quite be done at that time, which is just fine because chicken needs resting time to retain it's juiciness! So while the chicken rests, the veggies stay on the sheet-pan to continue cooking and caramelizing.
For maximum flavor, you're going to use a chili powder based marinade with lots of citrus and garlic for heavily coating the ingredients, then giving them a 20 minute rest.
Ingredients for Baked Chicken Fajitas
chicken breasts
bell peppers (I like to use a mix of red, yellow, and green)
red onion
spices
juice of an orange and a lime
garlic
olive oil
Easy Chicken Fajita Marinade
This flavor packed fajita marinade is bright and delicious, combining citrus juice, garlic, and bold spices. Smoked paprika really sets this one apart, and pairs well with chili powder and cumin. I use the juice of an orange and a lime (similar to the marinade in this Cuban Pulled Pork) which helps tenderize the chicken, in addition to adding great flavor.
You can make the marinade up to 3 days ahead of time to make prep even easier!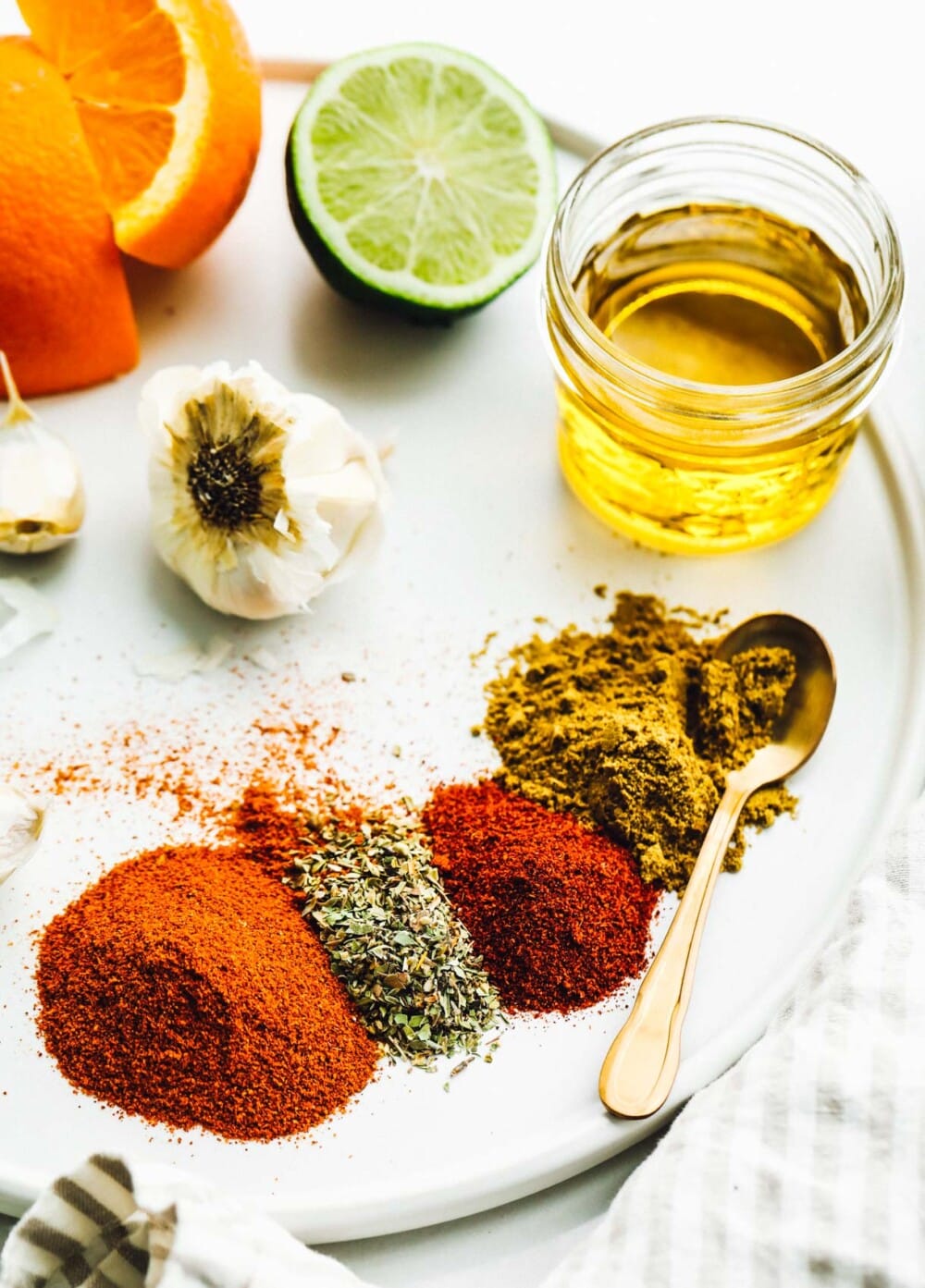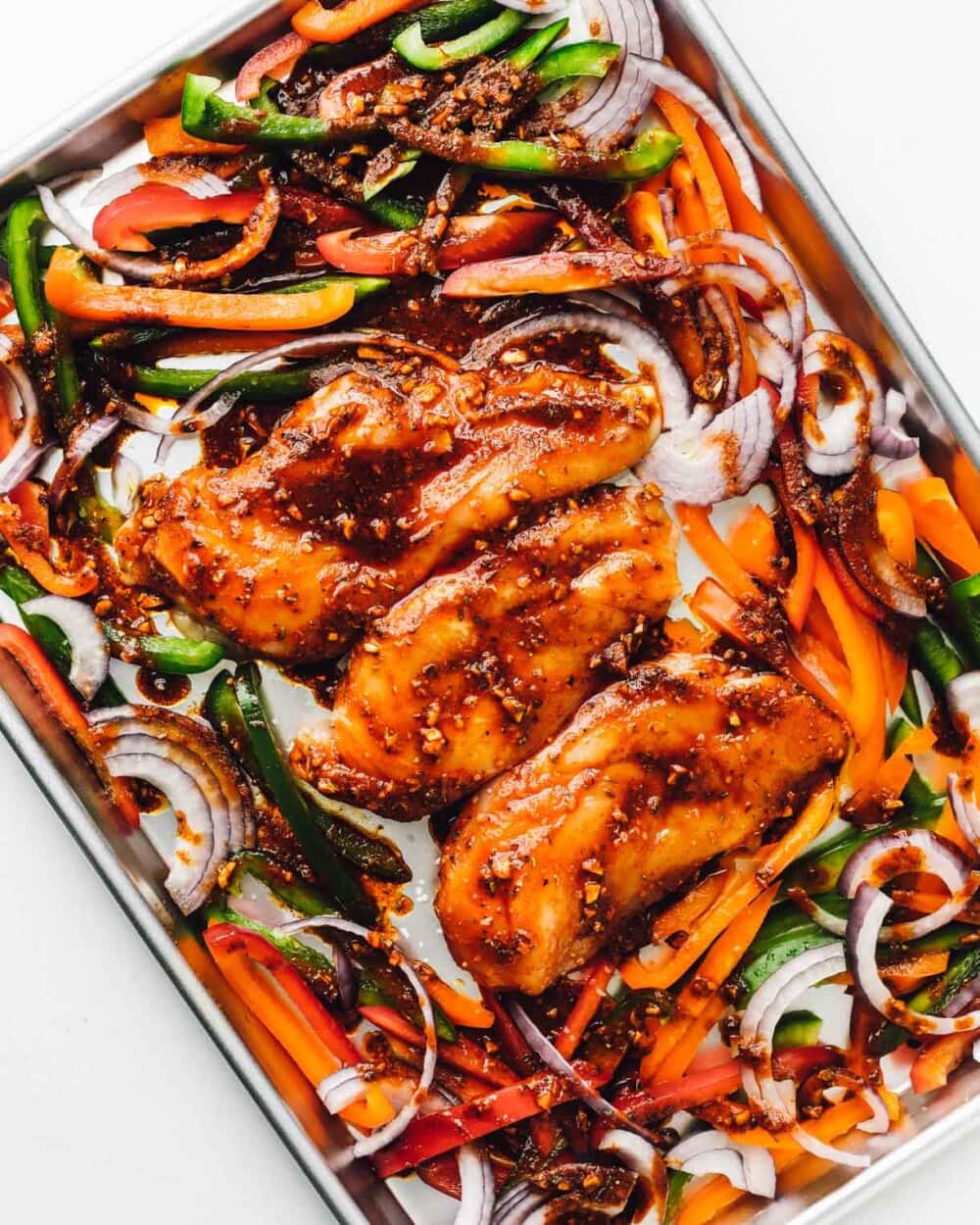 What to make with chicken fajita leftovers:
When I make this recipe for 2 people, we're able to get a few meals out of it. I like to use leftovers to make a rice bowl, adding avocado and sour cream to make it the perfect lunch. The chicken fajita mix is also a great filling for quesadillas!
Can I Freeze Chicken Fajitas?
Yes! Once you've made the recipe and sliced the chicken, you can freeze any leftovers once they have cooled. I like to use 2 glass containers, and divide the mixture between them. To reheat, thaw the container and reheat over medium heat on the stovetop. You can add a few tablespoons of water to add some moisture.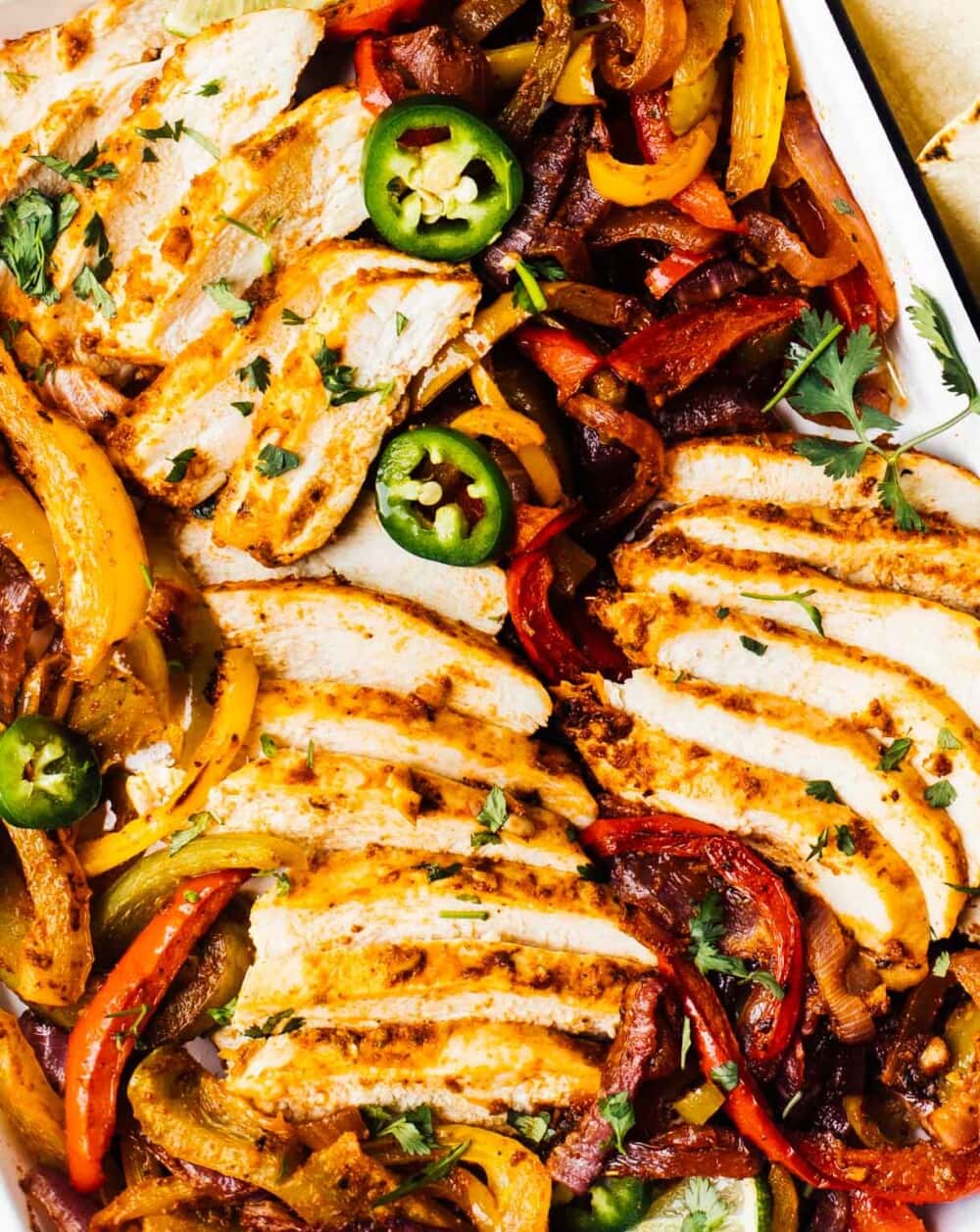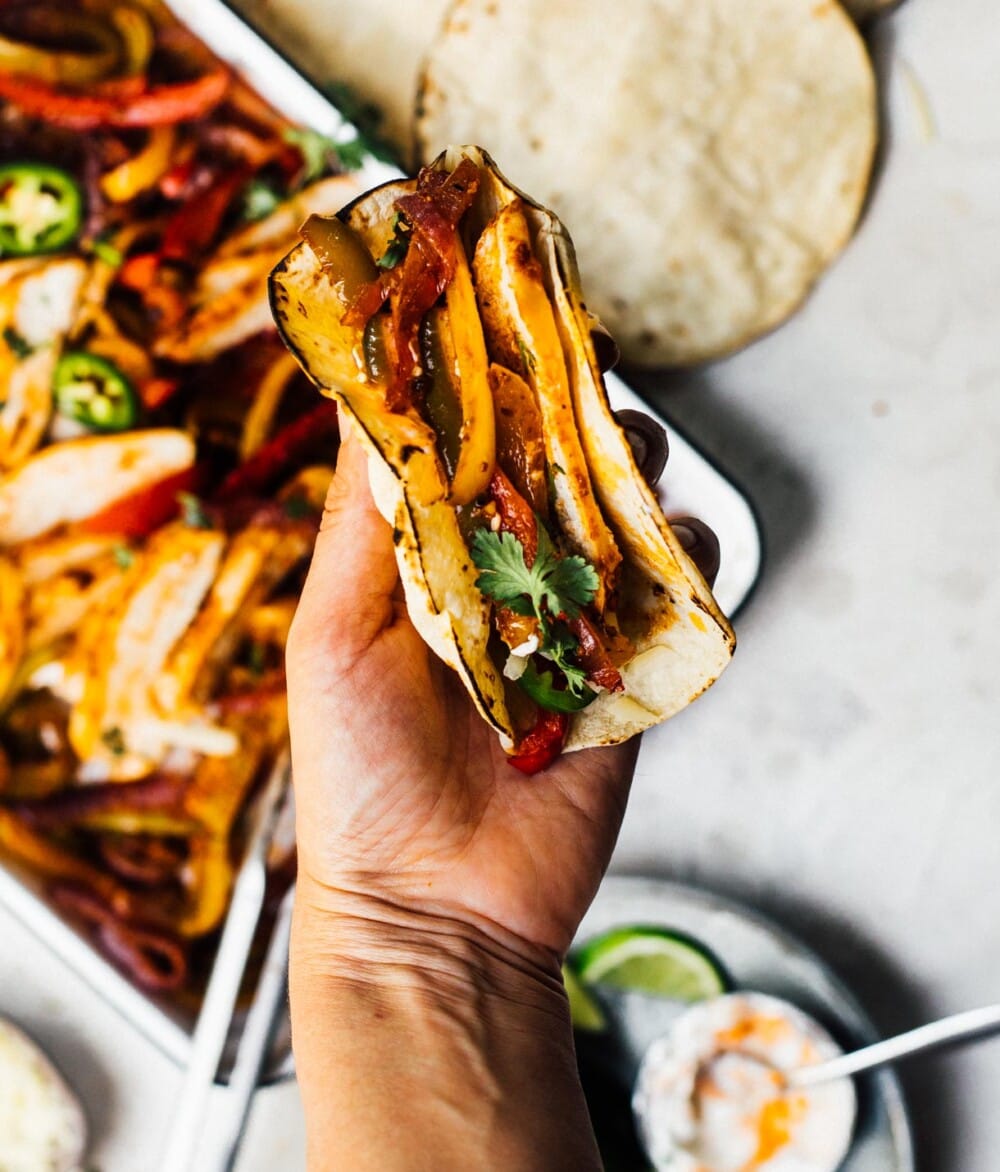 More Chicken Recipes: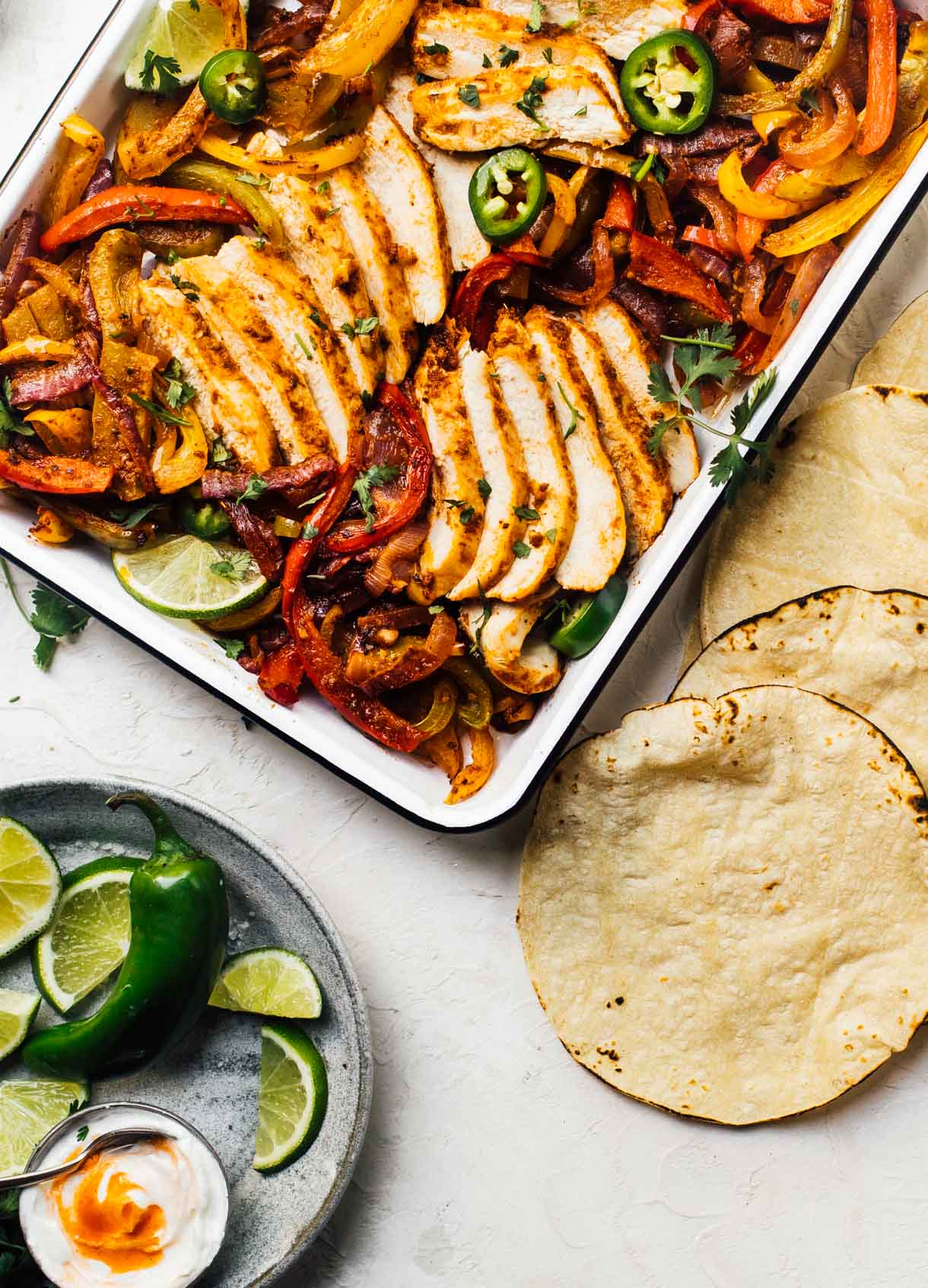 Chicken Fajita Marinade
1 1/2

tablespoons

chili powder

1 1/2

teaspoons

smoked paprika

1 1/2

teaspoons

dried oregano

2

teaspoons

ground cumin

1

teaspoon

fine sea salt

1/4

teaspoon

black pepper

juice of 1 orange

juice of 1 lime

4

cloves

garlic

minced

1/4

cup

olive oil
Whisk all marinade ingredients in a bowl, except for olive oil. Then slowly stream in olive oil while whisking to combine.

On a large sheet pan, place chicken breasts in the middle of the pan (my pound of chicken came out to 3 chicken breasts). Then scatter all vegetables around the chicken, all the way out to the edges of the pan. Pour marinade equally over chicken and vegetables. Then use your hands to rub the marinade into both sides of the chicken breasts, and into the vegetables. Let sit for 20 to 30 minutes (or up to overnight).

Meanwhile, preheat the oven to 400 degrees F. After chicken has marinated for set time, place into oven. Bake until thickest part of chicken breasts reach internal temperature of 160 degrees F. (Mine took about 22 minutes but it will depend on the size.)

Remove chicken from sheet pan and set on a cutting board to rest. Use a spatula to stir the veggies and disperse amongst the sheet pan so they have more room to caramelize. Return sheet pan with veggies to the oven and continue baking for 10-15 more minutes until soft and caramelized. Remove from oven.

Slice chicken in about 1/4 inch pieces, on the diagonal, once veggies come out of oven. Sprinkle chicken with a bit of flaky salt, then add to pan of veggies and stir well. Serve with tortillas, sour cream, jalapeños, fresh cilantro, and lime slices.