These loaded buffalo tater tots embody everything you love about buffalo sauce, with crispy golden potatoes as the canvas! Simply use store-bought tater tots baked per package directions, then back to the oven for a few minutes to really crisp up. Top with the classic combination of diced celery and blue cheese or ranch, and anything else you desire!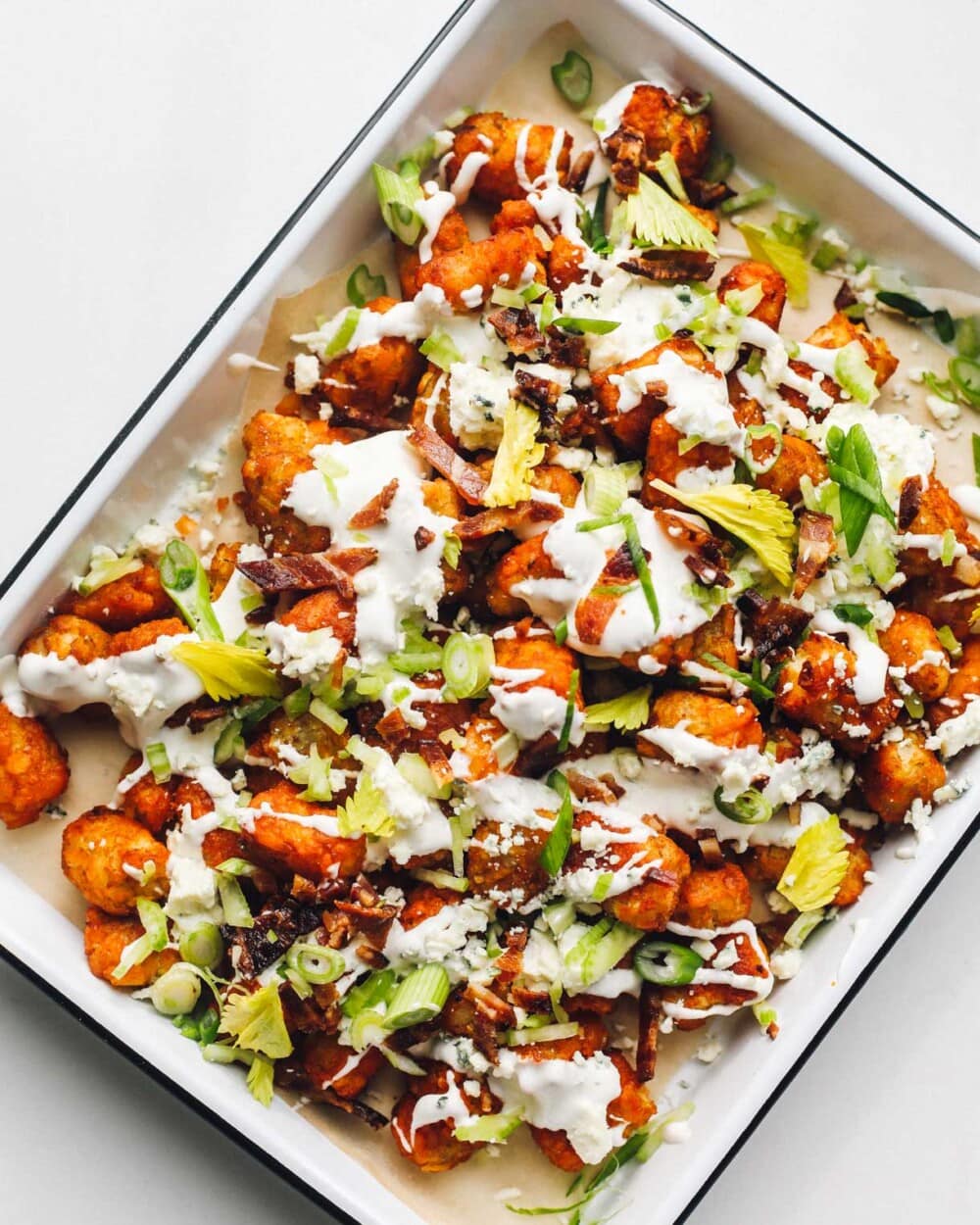 Okay, think crispy, golden potatoes tossed in spicy buffalo sauce, blue cheese, bacon, celery bits, green onions, and drizzles of sour cream. 😋 They are FAB! And so easy to make.
I like to make these loaded tots as an appetizer for game day or a low effort gluten-free dinner. We love the spicy, saucy, creamy, cool vibes of each bite! And anything buffalo goes in this house – such as buffalo chicken drumsticks, and this hot buffalo cauliflower dip. It's obviously a favorite flavor combination in this house.
How to make crisp tater tots:
When making tater tots at home, there are a few important tips to ensure they crisp nicely for the best texture. Of course it would be ideal to use a deep fryer, but I don't like messing with spattering oil so I go the oven route.
Make sure your oven is fully preheated before sliding in your pan of tater tots. You want them to hit the hot heat rather than slowly cooking through the rise in temperature.
Spread your tater tots out on the pan so that they are not touching. When they're too crowded, they steam. Steam = soggy. Giving them space ensures that air is able to fully circulate around them for maximum crispiness.
Whatever the cook time on the bag says, add 5 minutes. I find they can always use a little bit more time to get close to what the texture of fried tots would be.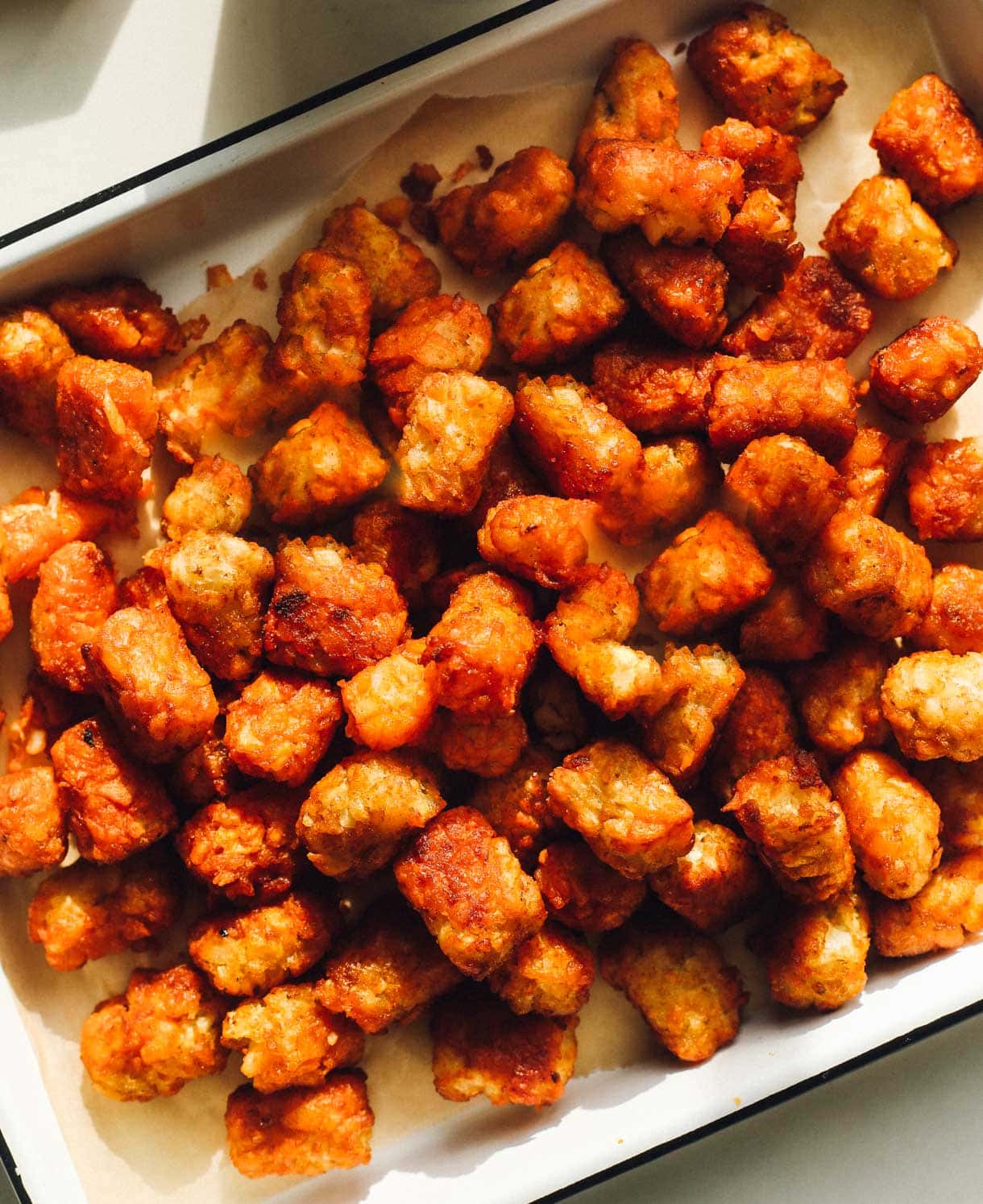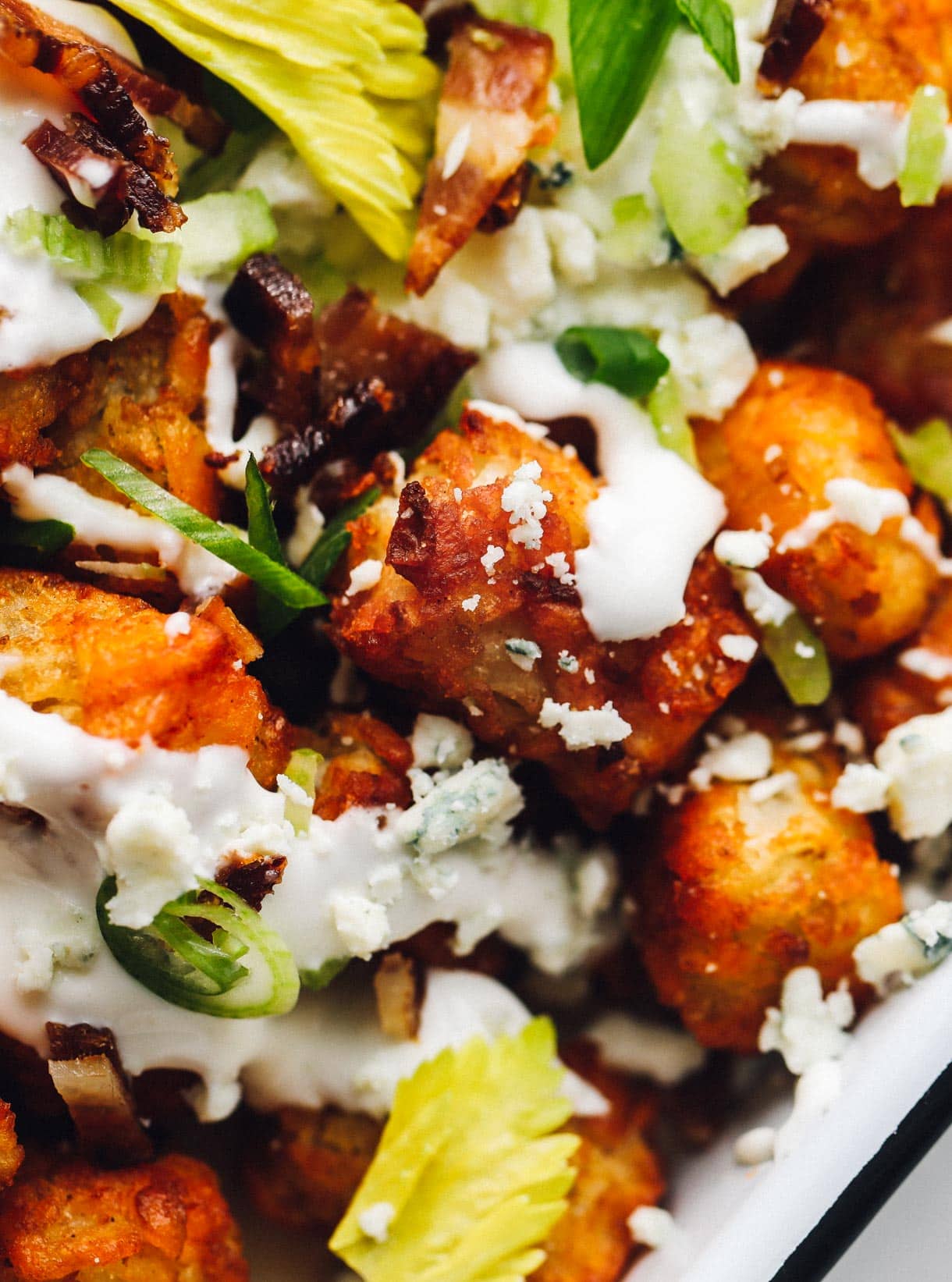 What are the best tater tots to buy?
Tater tots are basically shredded hashbrowns in crispy, barrel shaped form. Bite size deliciousness. I cook with them a lot when we're craving a bit of comfort food, like this Spinach Gruyere Tater Tot Hotdish. Ore-Ida makes a quality tot that crisps up super well, and is available at almost every grocery store. If you're looking for an organic version, my go-to is these Alexia Potato Puffs.
Buffalo Tot Variations
You can really make these tots your own depending on how you choose to top them! Here's a few ideas for you:
replace the sour cream with ranch and the bacon with shredded chicken for a buffalo chicken situation
add black beans or pinto peans for protein when making it for dinner
for a vegetarian version: diced red onions, blue cheese dressing, halved cherry tomatoes, celery, avocado, and cilantro
add cheddar cheese to the 2nd bake of the tots for a melty cheese option, then add your toppings
More Tater Tot Recipes:
16 to 20

ounces

tater tots⁣⁣⁣

2

tablespoons

melted butter⁣⁣⁣

1/2

cup

hot sauce⁣⁣⁣

1/4

teaspoon

garlic powder⁣⁣⁣

sour cream

blue cheese crumbles⁣⁣⁣

tiny diced celery

sliced green onions

bacon bits⁣⁣⁣

optional
Bake tater tots according to package, but add 5 minutes to the time, on a lightly greased baking sheet (or line with parchment paper). For example, when I use Ore-Ida tater tots, it instructs to cook for 28-32 minutes, but I go to 33-37 minutes. This ensures they're crispy!

Make sauce in a large bowl by whisking together melted butter, hot sauce, and garlic powder. When tots are golden and crispy, remove from oven and add to bowl, tossing gently to coat. Return tots back to pan and bake for 7-9ish more minutes. You want to get them nice and crispy again.

Remove from oven and put on serving tray. Drizzle with sour cream. Then top with blue cheese crumbles, celery, green onions, and bacon bits. Serve and enjoy!⁣⁣⁣