Pork shoulder (or uncured ham steak) is rubbed with garlic and herbs, then marinated in citrus juice to create this incredible Cuban Pulled Pork. Whether you make this pulled pork in the oven or slow-cooker, the meat just shreds apart after cooking, making it perfect for tacos, burrito bowls, or sandwiches.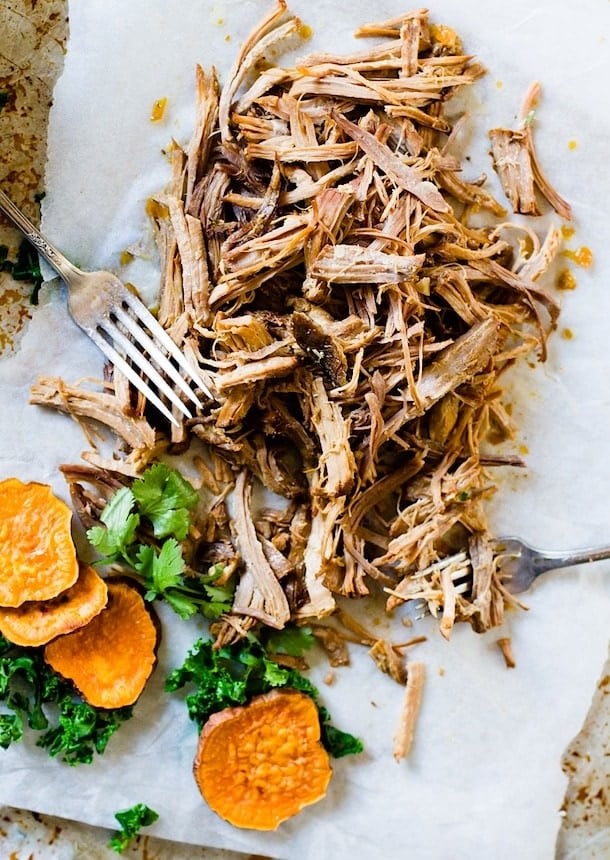 Take-out dinners are rare in our house, but we do love Chipotle bowls for a quick and healthy meal when life gets in the way. In fact, the servings are so big that we often are able to order once, eat twice.
I knew last week was going to be busy, so I thought I'd make lentils, rice and roasted vegetables, then buy a couple pounds of carnitas (braised pork) from Chipotle to make our own bowls as needed. A quick call was met with a voice that said, "No miss, we don't sell any of our meats separately".
I took that as a sign — it was time for me to learn how to my own juicy, tender, pulled pork.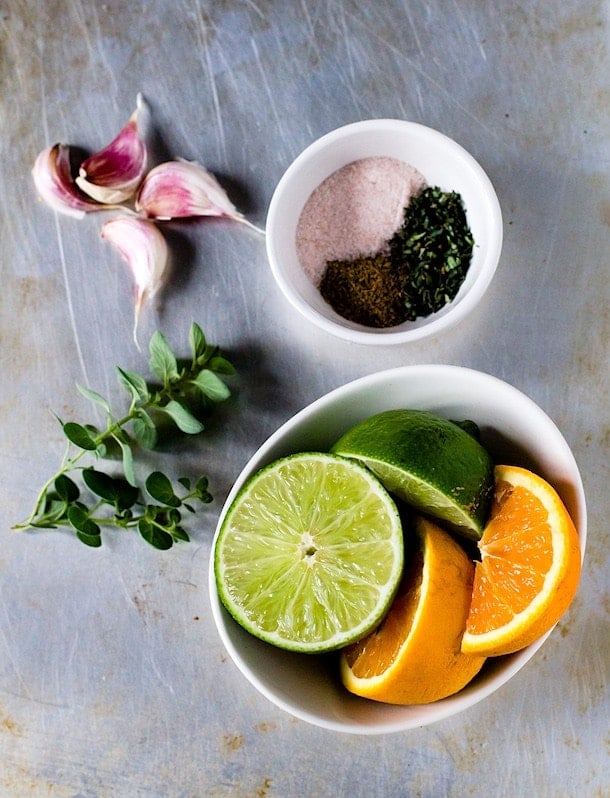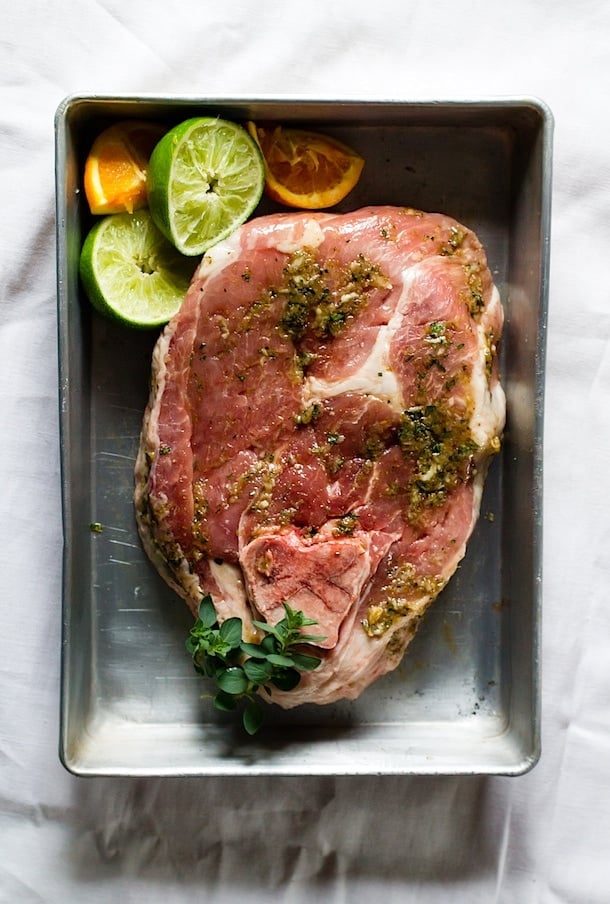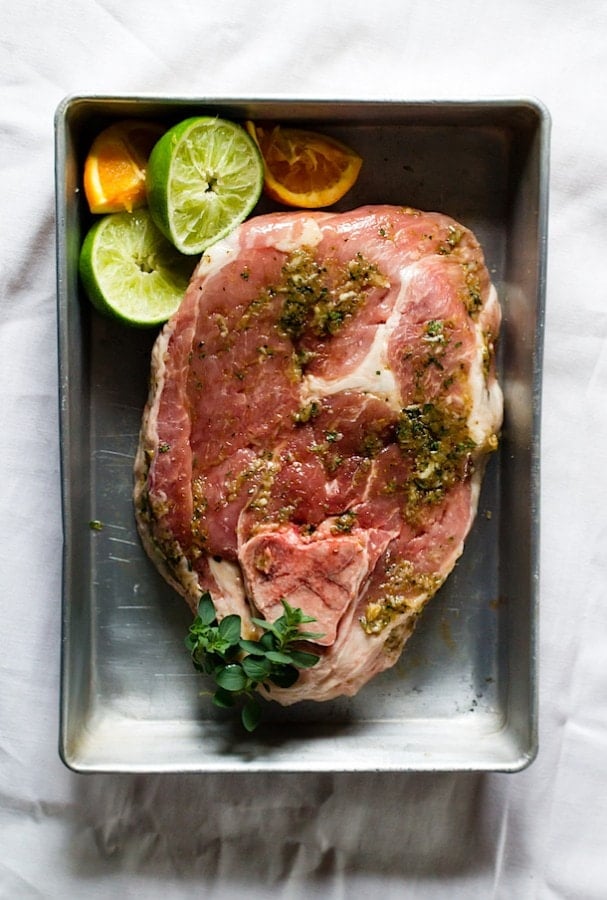 A little internet scouring on pork recipes, cut of meat, and marinade versus rub helped me create a plan, but in the end, I owe my success to the farmer once again.
Many of the recipes I researched used a pork shoulder roast, so I turned to my favorite farmers at the St. Paul Market. They take so much pride in pasture-raising all of their animals (chickens, cows, and pork), a very important quality to me when buying meat products. I make this juicy and tender pork chop recipe with their pasture-raised pork too.
As I reached into the cooler to grab the pork shoulder I sheepishly asked, "This is the best cut for shredded pork, right? The kind so good, the juices spill out when you bite into tacos made with it?"
And at that moment I was given a lesson in the slow-braised, juicy wonder that comes from using what butchers refer to as uncured, fresh ham steak, fresh picnic ham or a leg steak (as if all the names aren't confusing enough).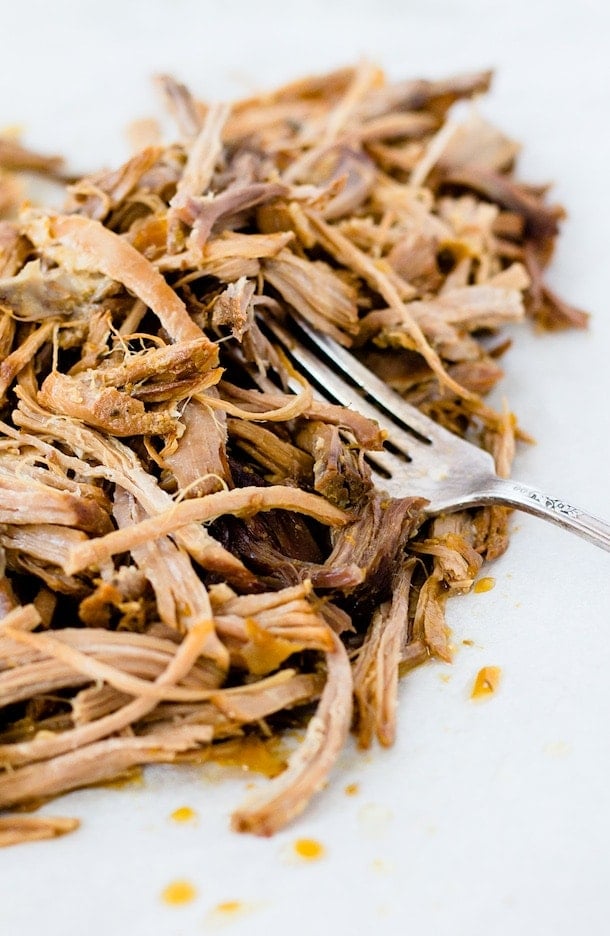 Not that you can't use a pork shoulder, but here are the three main reasons to use a fresh ham steak:
1. A fresh picnic ham always has the bone-in, imparting a treasure trove of flavor as it roasts, whereas a pork shoulder is often bought boneless.
2. Often you'll buy a 5 pound pork shoulder and when you get it home you realize it's got a 3 pound fat cap and just 2 pounds meat. That definitely keeps it juicy, but you're not left with a lot of end product. The uncured ham steak has a nice piece of fat on the outer edge and great marbling throughout, giving you juicy meat and a lot of it.
3. A fresh picnic ham will give you large, evenly sized "shreds" of pulled pork because it has fewer sections of meat running throughout the cut. A pork shoulder has more webs of fat and muscles because it's cut from a different part of the animal, so the shreds will sometimes be large, sometimes small. Not a huge deal, but I like consistency.
Cuban Pulled Pork Inspiration
Armed with the right cut, I set out to make a Cuban inspired version of pulled pork, traditionally called Lechon Asado. This is a slow-roasted pork shoulder marinated in mojo, a marinade made from orange, garlic, onion, oil, and herbs. Lechon is particularly popular in the Spanish-speaking world, which consists of Spain and its former colonies.
Taking that inspiration, I covered the fresh ham steak with a rub of smashed garlic, oregano, cumin and sea salt, then marinated it overnight with fresh orange and lime juice.
Why Sear Pork Before Roasting It
Searing the ham steak is preferred because it creates browned edges that keep some of the moisture in, but if you're strapped for time, you can go without. I did this in a large dutch oven, then put it straight into the big oven to roast away for 6 hours – a one dish win. (Alternatively, a slow-cooker will work too!)
The aroma will mesmerize you as this pork slow-roasts. And after 6 hours, you barely even have to use a fork. Maybe I should have titled the recipe, "Self-Shredding Pork".
It just falls apart, so juicy and packed with zing. Eat as is, or in whatever way you fancy, like tacos, atop polenta, a gluten-free pizza, or one of my favorites, these Wholesome Lentil Protein Bowls.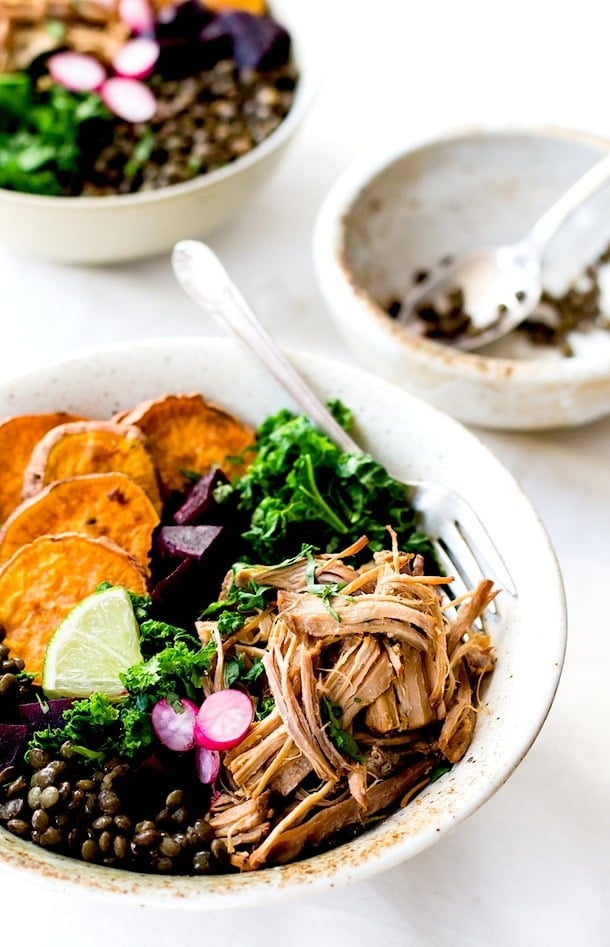 More Pork Recipes: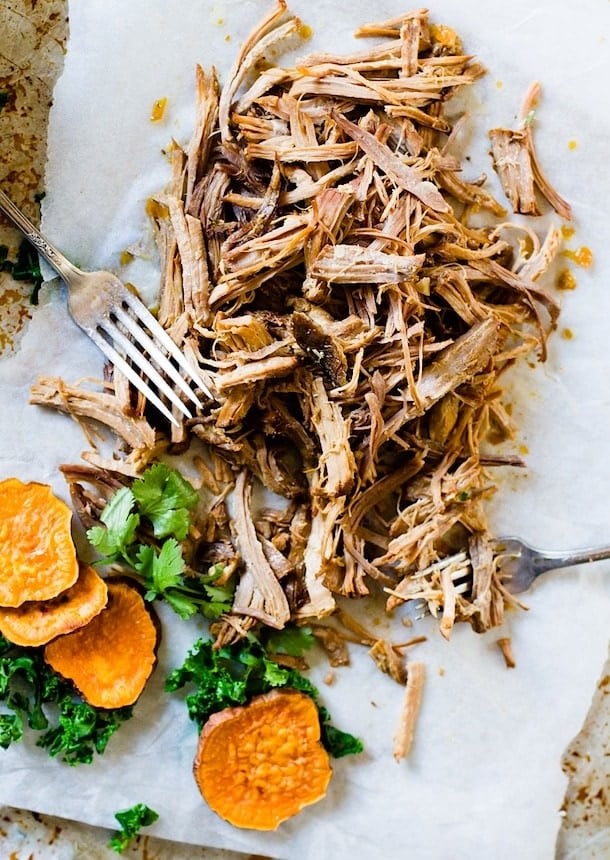 1

teaspoon

cumin seeds

3-4

cloves

garlic,

cut in half

1

tablespoon

minced fresh oregano

1/2

teaspoon

ground oregano

1 1/2

teaspoons

fine sea salt

1

tablespoon

+ 2 teaspoons olive oil

divided

3/4

cup

fresh squeezed citrus juice,

half from oranges and half from limes

3 1/2

pound

fresh

uncured ham steak (also referred to as fresh picnic ham or leg steak), or you can use a pork shoulder roast if that's all you can get your hands on
Using a mortar and pestle, crush cumin seeds until finely ground. Add garlic to the mortar and pestle, then pound until the garlic and cumin have made a paste (Alternatively you could use 3/4 teaspoon ground cumin and 3 minced cloves garlic if you do not have access to mortar and pestle. The flavor will not be as strong, but still very good.) Stir in the oregano, ground oregano, sea salt and 2 teaspoons olive oil. Rub this mixture into the pork shoulder really well using your hands.

Place pork into a large ziploc bag and pour in citrus juice. Seal, then massage a bit to work the juice throughout the pork. Place bag in the refrigerator and let marinate for at least 6 hours, best if overnight.

After it has marinated, preheat oven to 225 degrees F or turn on slow-cooker to low. Then heat remaining 1 tablespoon olive oil in a large dutch oven to medium high (something big enough so that the meat can lay flat inside it). Sear pork shoulder on both sides for 4 minutes, until slightly browned.

Add leftover citrus juice from the bag to the dutch oven, then place in oven, covered, and roast for 6-8 hours, basting with its own juices every 2 hours. OR you can add the seared pork and remaining citrus juice from bag into the slow-cooker and roast on low for 6-8 hours, basting with its own juices every 2 hours. When done roasting, shred the pork in its own juices and transfer to a container.
Searing the ham steak is preferred because it makes nice browned edges that keep some of the moisture in, but if you're strapped for time, you can go without. Just be sure to braise the meat with the juices as you go.