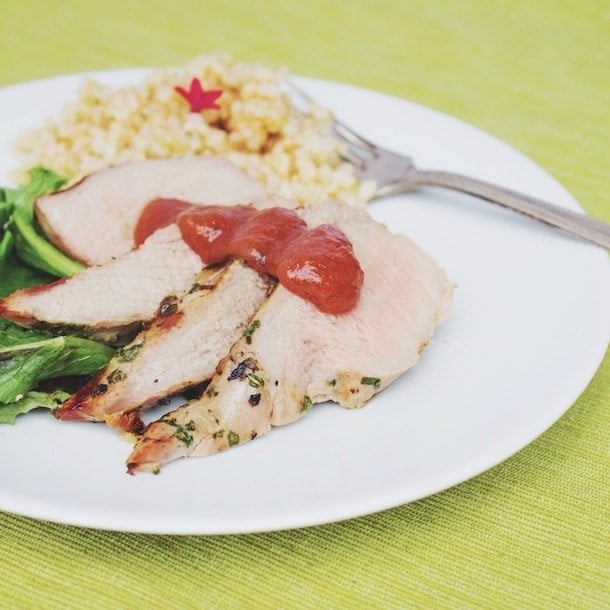 With the abundance of rhubarb I have growing in my backyard, I vowed to use it in more savory applications this year. If you're new to rhubarb, making a berrylicious cake or oozing crumble pie is a great introduction, but eventually you'll begin to appreciate its tartness. I can still remember the first time I picked rhubarb from my great-grandmother's farm, thinking it would be just as sweet as the strawberries she had growing next to it. One bite in and the pucker power hit me, my mouth salivating like I had just eaten one of those sourballs that were so popular at the time.
But that vegetable that parades around like a fruit grew on me, starting with strawberry rhubarb jam. Now I can't get enough of it, even stockpiling it in the freezer to utilize throughout the winter.
The inspiration for this Grilled Basil Pork and Rhubarb Rosé Sauce actually came from a picture I stumbled on of my mom and I a few years back at the Minnesota State Fair. Always one of my favorite events, I remembered her and I people watching on a bench as we ate hot, fresh-cut french fries and the best roasted turkey sandwich (mine w/out the bun) from the Turkey-to-Go Stand.
It doesn't sound very glamorous, but it had this tart, savory cranberry sauce that had hints of cardamom and cinnamon that complimented the rotisserie style meat just perfectly.
Rhubarb is definitely more vegetal in flavor, however it has that same tart, yet can be tamed, profile of cranberries. So I set out to make a similar sauce by simmering the slender pink stalks with matching dry rosé wine, cardamom, cinnamon and a touch of honey. A little green onion and black pepper to balance its pucker, and the wine (if you know me, you know there's always a bottle of rosé in the fridge) to give it the acidity that all good sauces need.
What resulted was one of my favorite sauces I've made to date. In fact, I think the simple basil and garlic pork tenderloin that I grilled felt like a queen getting such special treatment. The light sourness was splendid with the meat, and I love the little crunch that comes from the herbed crust.
Salty, sweet, tangy and pretty, this recipe is a winner. Now go fire up that grill!
Basil Pork Tenderloin with Rhubarb R
osé Sauce
serves 2
Pork:
1 pound pork tenderloin
1 1/2 tablespoons olive oil
7 fresh basil leaves, minced
1 clove garlic, minced
1/2 teaspoon kosher salt (reduce to 1/4 teaspoon if you are using table salt)
1/8 teaspoon black pepper
Sauce (can be made two days ahead of time):
8 ounces of rhubarb, about 2 cups chopped
1/3 cup dry rose wine (or a dry white wine)
3 tablespoons honey (or more depending on how sweet you would like it)
2 tablespoons minced green onion
1/4 teaspoon black pepper
pinch of salt & pepper
2 cardamom pods, crushed
1 cinnamon stick, broke in half
To make the sauce: Combine all ingredients in a small saucepan over medium high heat. Bring to a boil, then reduce to a simmer. Cook for 25-30 minutes until rhubarb has broken down and sauce has began to thicken. Remove from heat and take out the cardamom pods and cinnamon stick. Carefully pour into a blender and blend on low until mostly smooth. Return to saucepan and simmer for another 15 minutes to thicken and reduce it even more until it is saucelike. Taste and add more honey if you prefer. If making ahead, let cool and store in glass jar in refrigerator.
To make the pork: Combine basil, garlic, salt and pepper to form a coarse paste. Rub pork with olive oil, then massage paste all over the meat. Let sit for 40 minutes, covered, at room temperature. After 30 minutes, preheat your grill to high, making sure it gets to about 5oo degrees for the initial sear.
When pork is done marinating, place it on the grill and turn grill down to medium-high heat. Then cook for about 8 minutes per side, until it reaches 140 degrees at its thickest part. Remove from grill and let rest for 8-10 minutes. The resting stage is very important because the residual heat in the pork will further cook it to approximately 160 degrees F, and the juices will be allowed to redistribute. Slice the pork and serve with rhubarb sauce.