If you live around the Midwest, you know how seriously amazing that sun, breeze and fresh air has felt the last few days. You also know how badly we've deserved it after the winter we went through. I've been soaking up all the rays I can get before my new job starts on Monday — eek!
A little freelance work has given me the opportunity to scope out a few of the hip new places in Minneapolis – some of the coffee type, some of the watering hole type. Let's be honest, getting paid while sipping a luxurious iced coffee at Spyhouse, or a zesty rhubarb shrub/margarita on the patio at the latin hot spot, Hola Arepa, is pretty dreamy. It's definitely made me ponder what it would be like to be my own boss, choose my own hours, schedule and lifestyle. But I also know I'm seeing through rose colored glasses, or in the case of this dip, I'm seeing all green.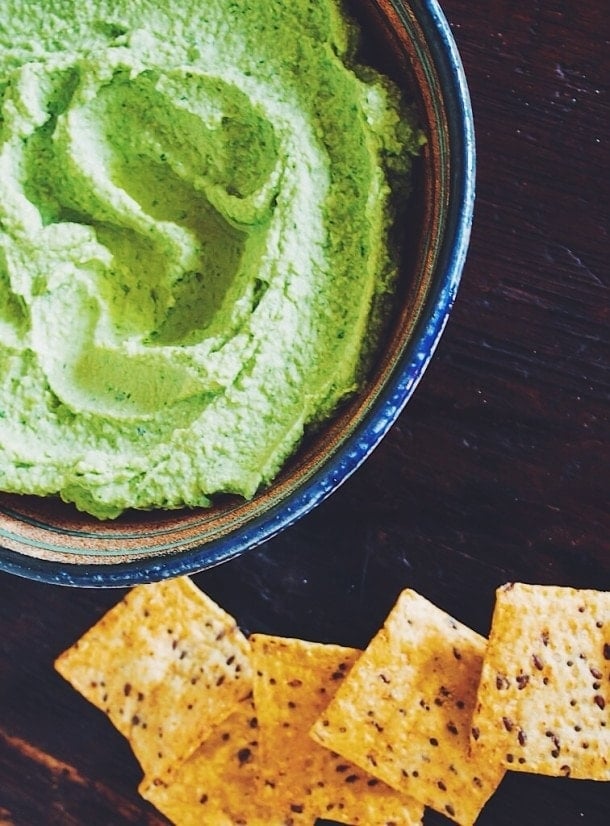 Thankfully, I was also able to squeeze in a barbecue with friends and catch up before the busy summer begins. My Bacon Wrapped Jicama and these Pizza Stuffed Mushrooms area always a hit, but I also wanted a lighter addition, something to utilize all of the green goodies occupying my refrigerator.
Enter my new favorite chip sidekick – this bright and creamy Hip Green Dip. I thought about naming the recipe Avocado Edamame Dip, but it needed a name that echoed its vibrance.
It's full of healthy bliss – avocado, edamame, cilantro, and lime. And although not green, creamy white beans make this dip a cross between hummus and guacamole. It's the best of both worlds!
Appetizers with short prep time are always at the top of my list too. This smooth green goddess is ready within 15 minutes. There's no chopping or peeling required. Just a quick dip in boiling water for the edamame (if you use frozen) and after that, all it takes is a quick whirl in the food processor.
The cilantro, garlic and cumin give it some extra kick and freshness. Feel free to add more if you'd like, and even some hot chili flakes. I like to serve it with tortilla chips, but it would make a great spread for a veggie sandwich as well.
And don't be afraid change up the flavors to your liking: use basil or parsley instead of cilantro, lemon juice instead of lime, or tahini or miso instead instead of olive oil. Enjoy, and happy weekend!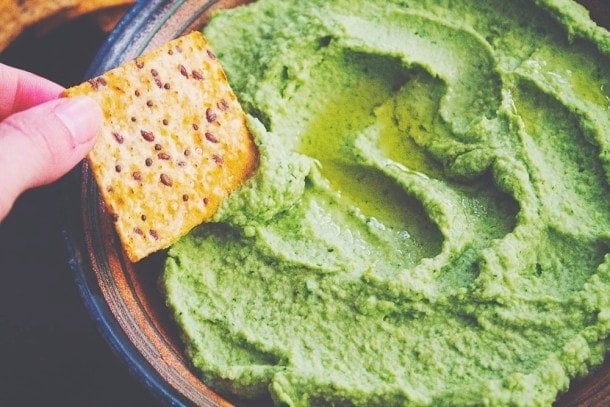 Hip Green Dip
serves 8
1 (15 ounce) can cannellini beans
1/2 cup shelled frozen edamame, blanched in boiling water for 2 minutes
1 avocado
2 cloves garlic, cut in half
3/4 cup lightly packed cilantro leaves
1 teaspoon cumin powder
3/4 teaspoon salt
juice of one lime
3 tablespoons olive oil
1/4 cup warm water
Add beans, edamame, avocado and garlic to a food processor. Process for 20 seconds. Add cilantro, salt, cumin, and lime juice and turn the processor back on. Drizzle in olive oil and water, blend at least one minute until completely smooth. Adjust salt and cumin as needed. You can add a little more water if you want it to be thinner in consistency as well.