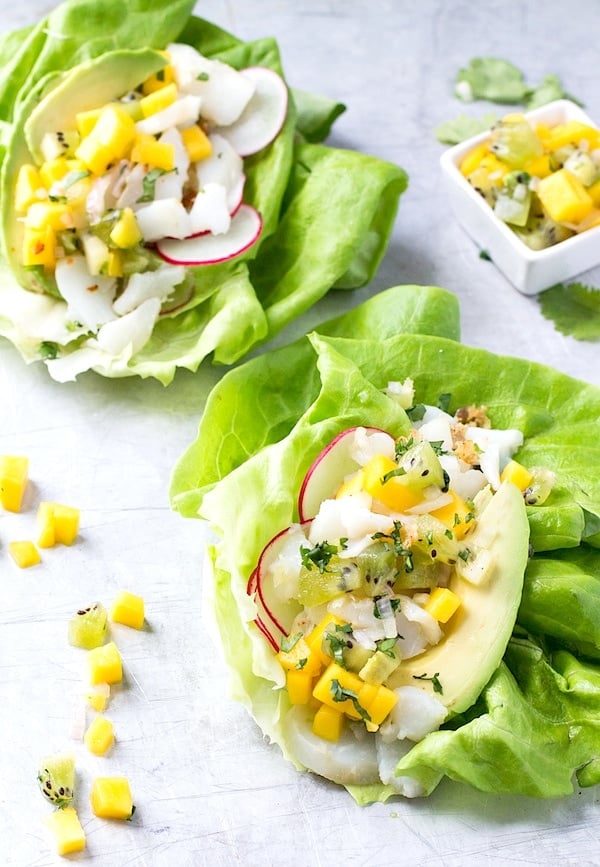 As Brian was vacationing in Belize the last few days, I was happy he was enjoying warmer weather & the waves, but I won't lie – I was a little jealous. The timing just didn't work out quite right, as I needed to be in Washington D.C. for a food writing conference, which I'm so glad I went to.
I imagined he was soaking up the sun and eating fresh seafood, along with a few margaritas. So I decided the next best thing I could do was create that scene here with fresh and vibrant Fish Taco Lettuce Wraps. Spring rays were shining into my kitchen, and I was happy with lemon & lime sparkling water instead of a margarita. And with the smell of chopped mangos & kiwi, I was as close to the Caribbean as I could get.
Growing up I didn't each much fish/seafood besides the occasional walleye dinner or the winter Fish Fry at the local American legion – both small town Minnesota staples. As I grew older, I certainly started ordering more fish when dining out and came to enjoy salmon, sea bass and scallops.
For some reason I still hesitated to cook it myself though, for fear of not knowing how to cook it without completely ruining it. Wouldn't it stick to the pan? How do I know when it's done?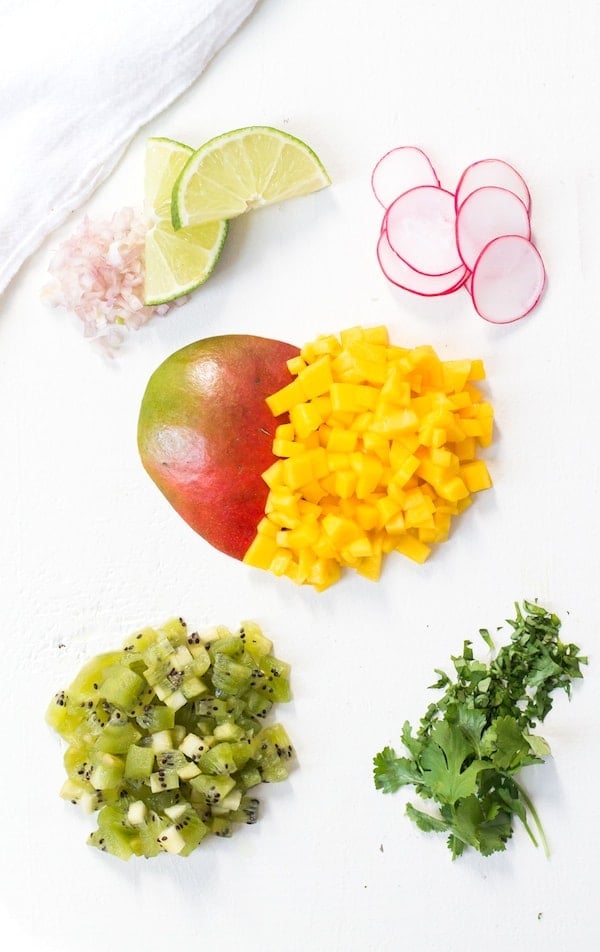 Since starting AIP that has changed, and seafood has become an important part of my weekly menu. And honestly, I'm kicking myself. It's so quick and easy to make – this recipe takes just 20 minutes.
I discovered the key to getting it to not stick to the pan was using a high heat oil, coconut (which also adds great flavor) and not letting the pan get too hot. It only takes about 3 or 4 minutes per side and when it flakes, it's done. I'm also excited to try air fryer cod.
One thing I really like about wild Alaskan cod is it's texture & flavor, particularly when thinking about fish tacos. It's firm, yet flakes nicely without falling apart. You get that perfect bite of fish, mango salsa and avocado all at once!
Also, if you tend to shy away from "fishy" fish, cod is the fish for you – it's mild and delicate in flavor.
Or you could try Sesame Crusted Ahi Tuna instead.
As for our nutrients, our bodies can absorb and use the Omega 3's and 6's from fish at a much higher rate than that from meat. It's a great source of protein and has many minerals and essential oils that we need, yet are difficult to get from other sources.
I've noticed it's much easier to find sustainable, wild caught seafood at most grocery stores compared to pastured and grassfed meat (sad but true) – both scenarios a must for the Autoimmune Protocol because if the fish are farmed or animals are vegetarian fed, that means they are eating grains. Which then means you are eating grains – no bueno for healing leaky gut.
I know I said a lot about the fish, but the Mango Kiwi Salsa, radishes and avocado really round these out! So fresh and bursting with flavor, that salty sweet combo I love. Whether you're looking for a new condiment or you've been missing salsa because you can't tolerate nightshades, it's a great addition to your refrigerator. Enjoy!
More Seafood Recipes:
2

heads of butter lettuce

(romaine would work too, but i prefer this type)

1 – 1 1/2

pounds

of wild caught alaskan cod,

fresh or dethawed if frozen

2 1/2

tablespoons

melted coconut oil

divided (I use Nutiva)

3/4

teaspoons

fine salt

for serving: sliced radishes and smashed avocado
[b]Salsa:[/b]
1

mango,

diced

1

kiwi,

diced

1 1/2

tablespoons

minced shallots

2

tablespoons

minced fresh cilantro

2

tablespoons

fresh lime juice

salt to taste
Combine all salsa ingredients and add salt to taste. Set aside.

Rub cod with 1 tablespoon melted coconut oil and salt. Heat a large skillet with the remaining coconut oil in it to medium high heat. Once pan is hot, lay fish fillets into it and cook for 3-4 minutes, then flip and repeat with the other side until meat flakes away and it is seared.

Place fish into lettuce leaves, lay avocado slices up against it, and add salsa and radishes.
I discovered the key to getting the fish to not stick to the pan was using a high heat oil, coconut (which also adds great flavor) and not letting the pan get too hot. It only takes about 3 or 4 minutes per side and when it flakes, it's done.