If you miss bread, this 4 Ingredient AIP paleo Flatbread recipe is for you! It's crisp on the edges and sturdy for toppings, with a bit of chew in each bite. Just roll out the dough between parchment paper, then transfer to baking sheet and put in the oven. The flatbread can be used as pizza crust, or crackers too. Recipe is also vegan and coconut-free.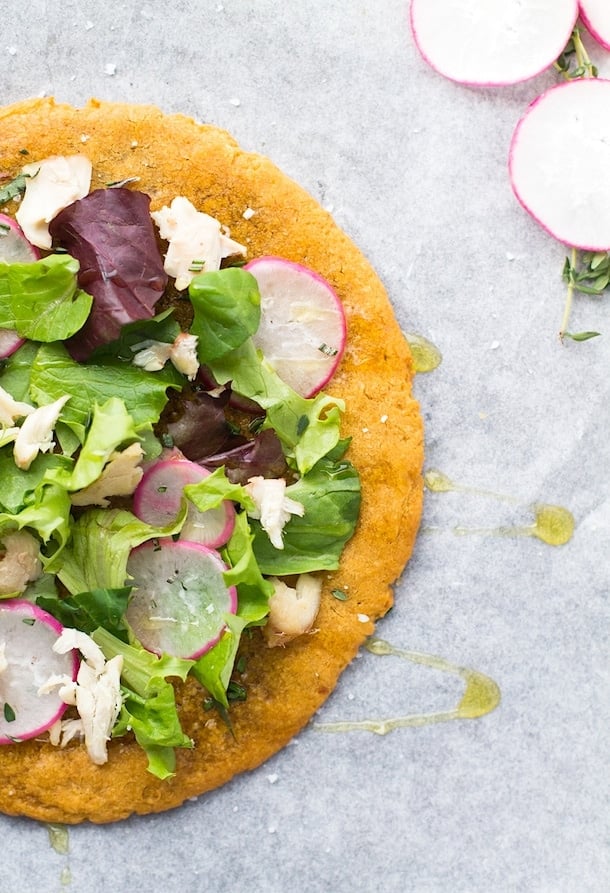 As soon as a package of Butternut Squash flour landed on my doorstep, my love for this vegetable grew even deeper. Another flour that could be used while healing on the Autoimmune Protocol, but beyond that, the silkiest texture of any gluten-free or grain-free flour I've used. And after tasting this 4 Ingredient AIP Paleo Flatbread, the flavor and depth it adds has me smitten. Again.
I had tackled a baked AIP treat, this yummy Carrot Cake, but my craving for something savory hadn't been solved yet. I was looking for something versatile that could be used as a flatbread, cracker, or pizza crust.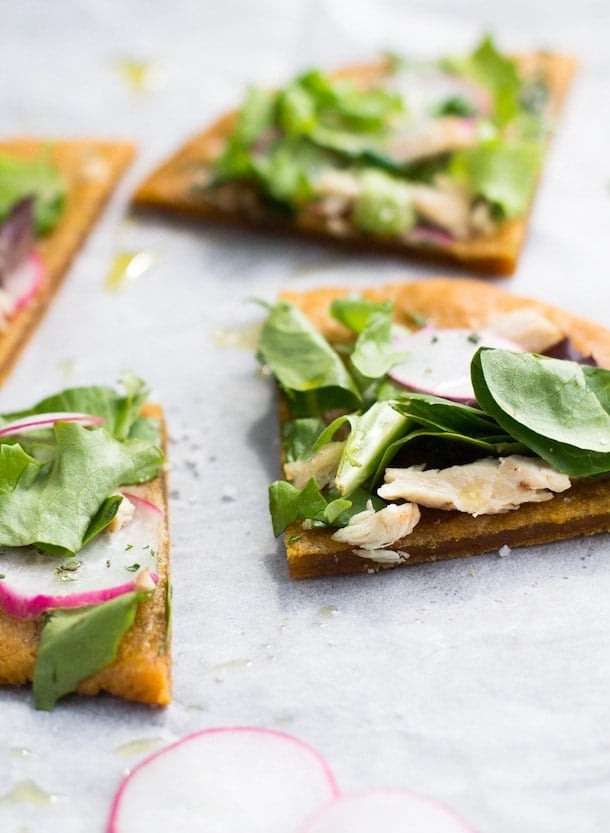 Ingredients for AIP Flatbread:
Butternut squash flour is a game changer, for AIP and paleo baking because many people can't tolerate nut based options. I prefer it over tigernut flour, and imagine it working extremely well in cookies and cakes but just haven't got to that yet.
Simplicity at its best: just butternut squash flour, tapioca/arrowroot starch, olive oil, water and salt (yes, technically that's five but recipe gurus tell me that doesn't count in list of ingredients).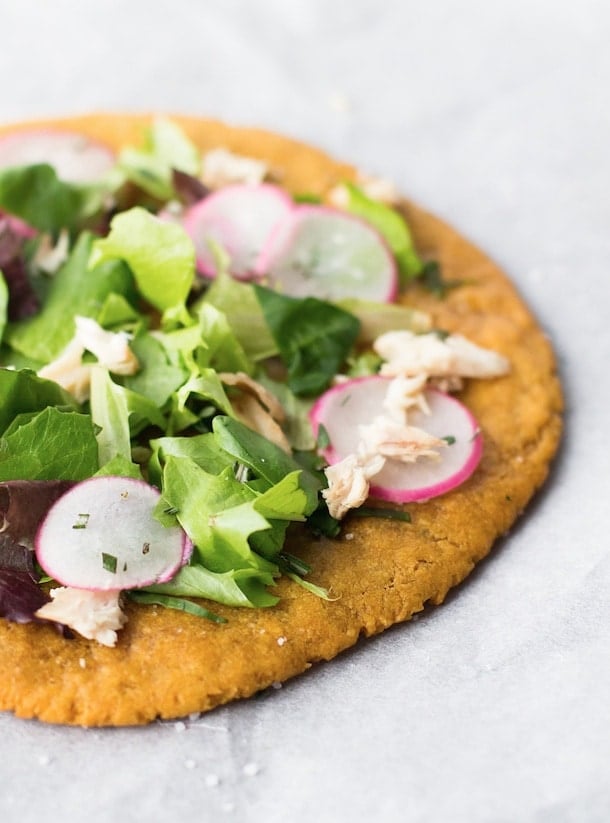 What makes a great AIP flatbread:
There's a few characteristics I require in a flatbread. Sturdy enough to hold toppings, but a soft bite with a little bit of chew. Not quite cracker thin, but not too thick either. And it has to have flavor, which emerges from the nutty squash and fruity olive oil.
This base recipe is perfect on it's own drizzled with olive oil and fresh herbs alongside a salad. Or top it with whatever seasonal eats you picked up at the market. I fully loaded mine with the freshness of spring: organic greens, rotisserie chicken, radishes and my Shallot Herb Sauce.
It's a great soup "dipper" too…. The options are truly endless.
As always, I tested several versions.
To my surprise, this AIP flatbread didn't need coconut flour, gelatin, or coconut milk! Those trials turned out too gummy and moist. And when I thought it needed more oil, it actually needed less to get it to firm up and have a crisp edge.
While you are working with the dough at first, it will be a bit sticky, but that's okay! Simply put the flatbread dough between parchment paper to roll out, with a dusting of flour. You'll find that the finished flatbread is quite perfect, crispy with a bit of chew. It easily doubles, too.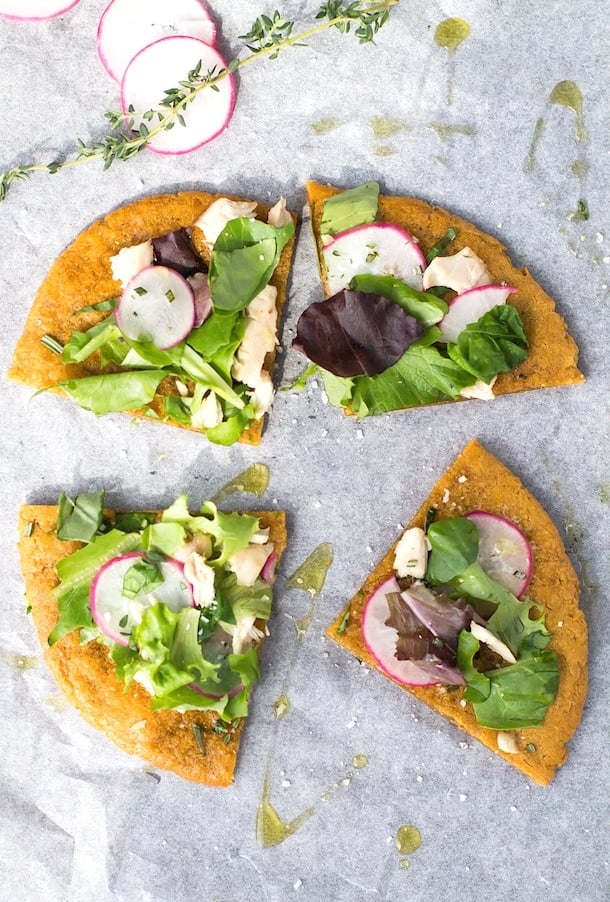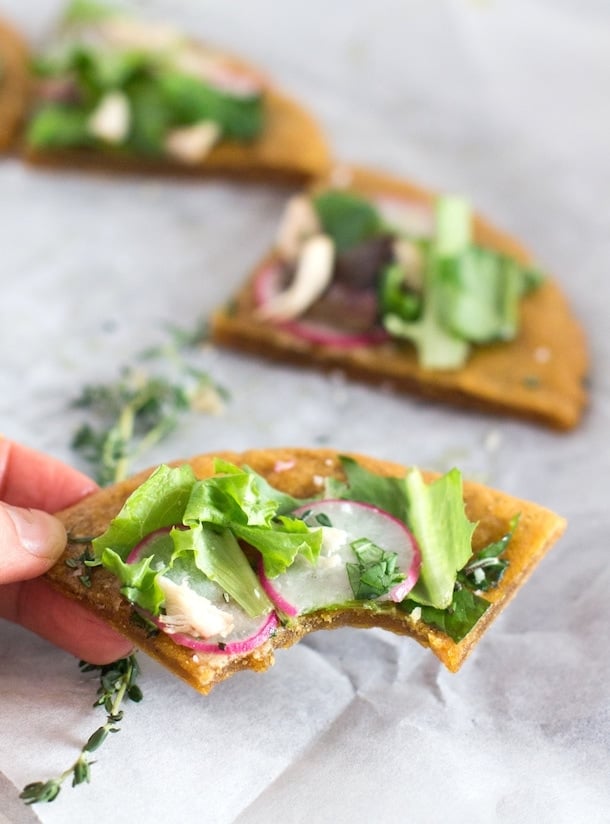 More AIP Paleo Recipes: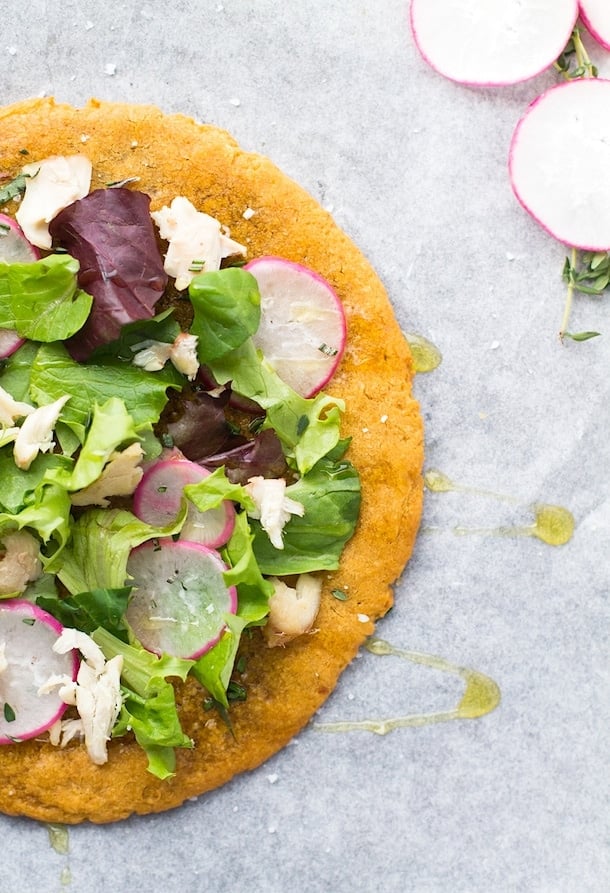 1/4

cup

butternut squash flour

(24 grams)

1/4

cup

+ 2 1/2 tablespoons tapioca starch

(50 grams)

1 1/2

tablespoons

olive oil

1/4

cup

room temp water

1/4

teaspoon

fine salt

extra tapioca starch for dusting
Preheat oven to 350 degrees and pizza stone in it. (If you don't have one, that's okay too, you'll just place the parchment paper & dough onto a cooking sheet.)

Pour all ingredients into a blender and process until completely smooth. The dough will be quite sticky, even more so than play-dough. Scoop it out of blender, then dump an additional tablespoon of tapioca starch on top of it.

Lightly work it into a ball, then flatten into a disc on a piece of parchment paper, using your fingers to pat it down and make a rough circle.

Put another piece of parchment paper on top, dust a rolling pin with a little tapioca starch and roll the dough into a circle that is 1/4 inch thick, about 5 inches in diameter.

Slide parchment paper with dough on it onto the baking stone and bake for 10 minutes. The dough will turn a little darker orange-brown and will have a nice crisp edge. The flatbread will be soft and sturdy when you cut through it.