These au gratin potatoes with gruyere cheese are easy to make because you don't have to make a cheese sauce! Just thinly slice the potatoes, toss with cheese, and pour half and half over the top. Then bake into a pan of bubbling, golden brown potatoes. Perfect for any holiday or dinner at home!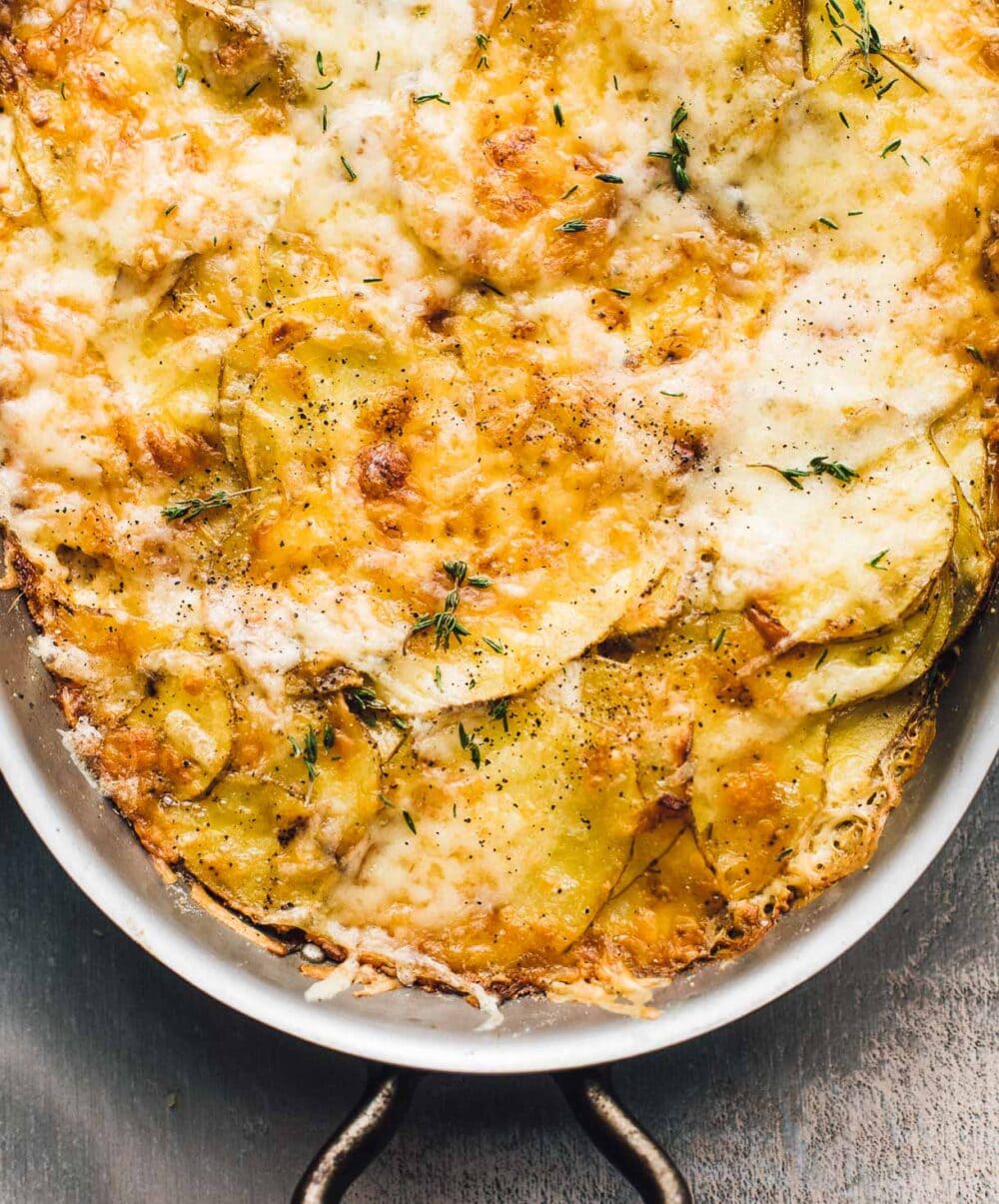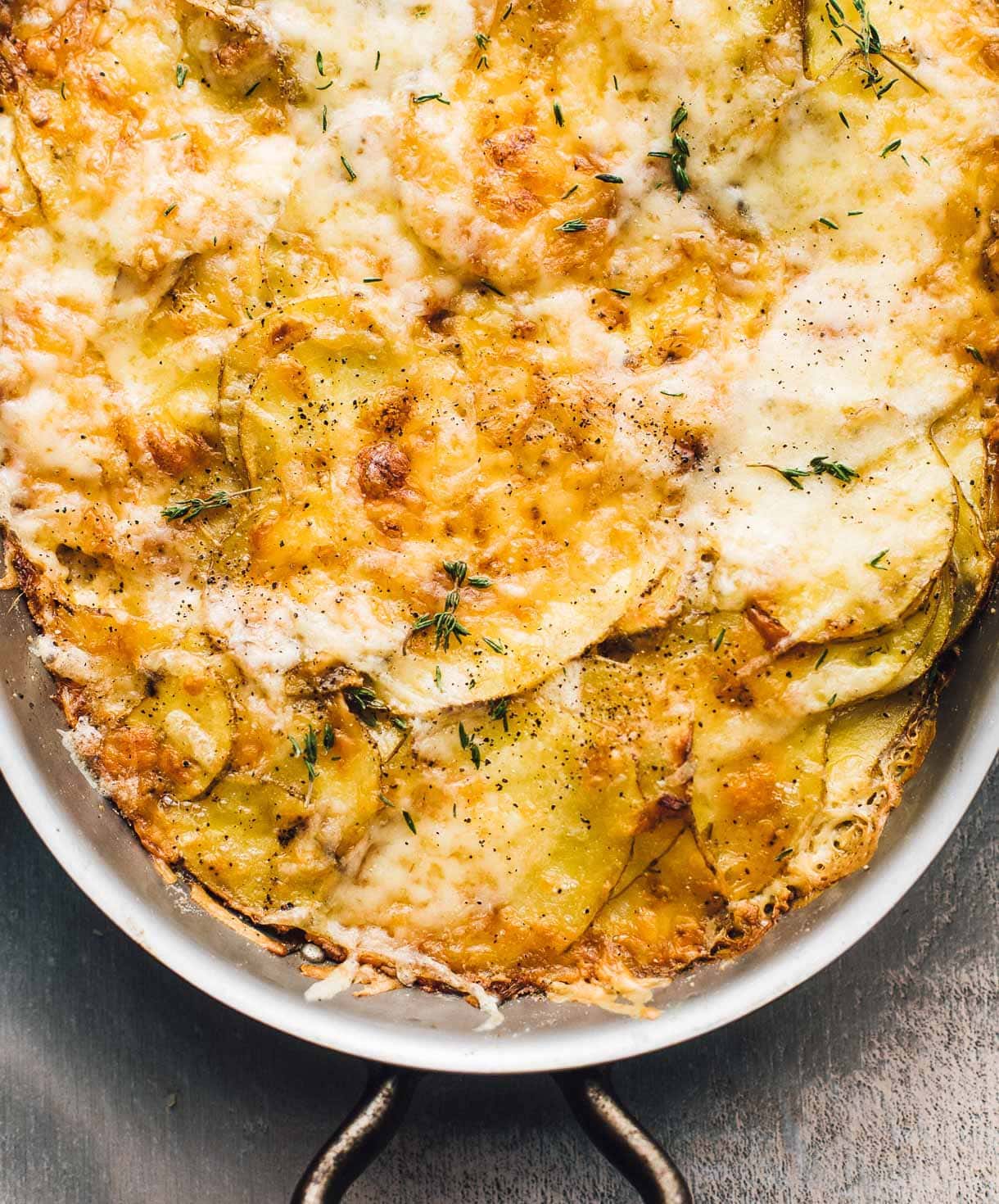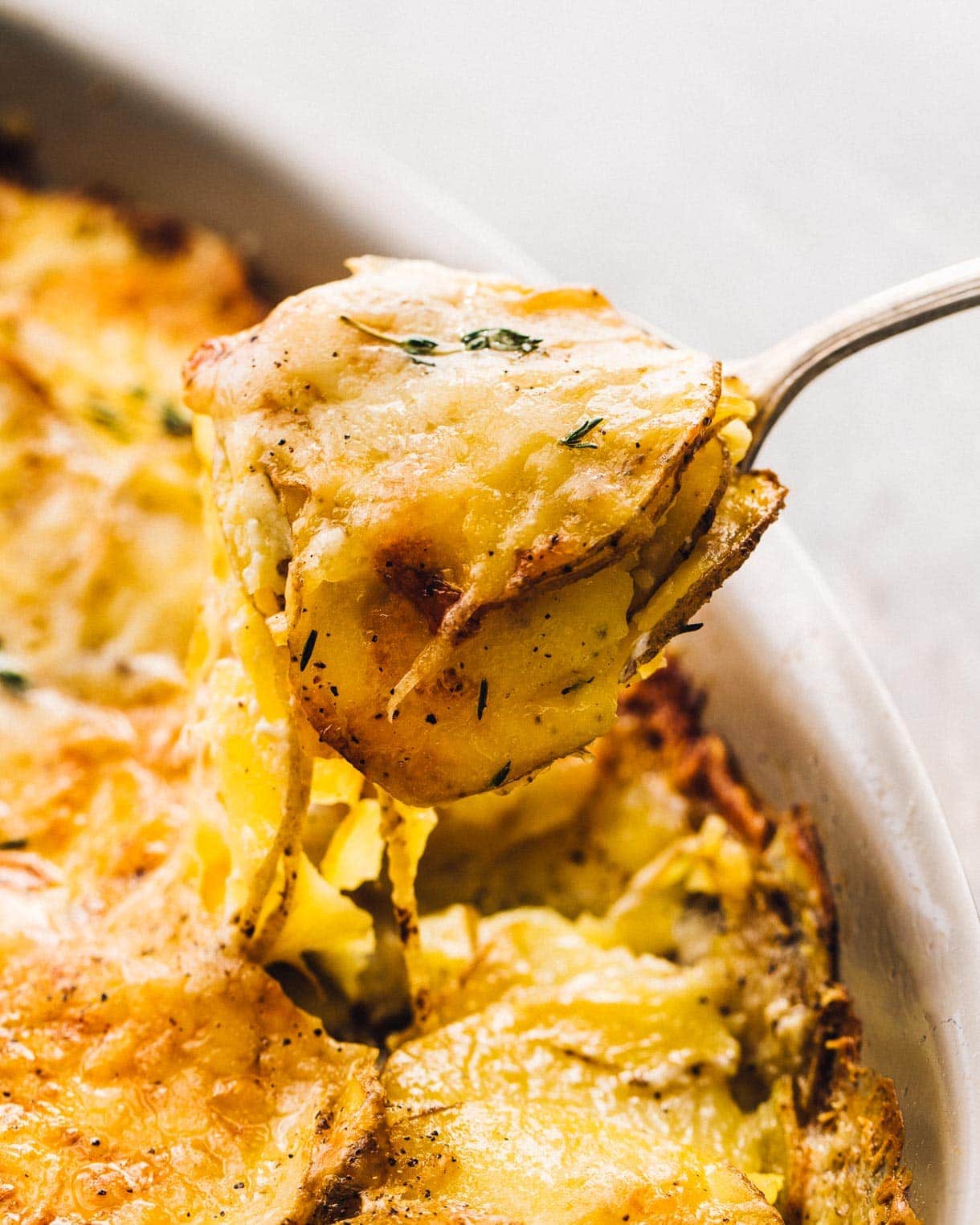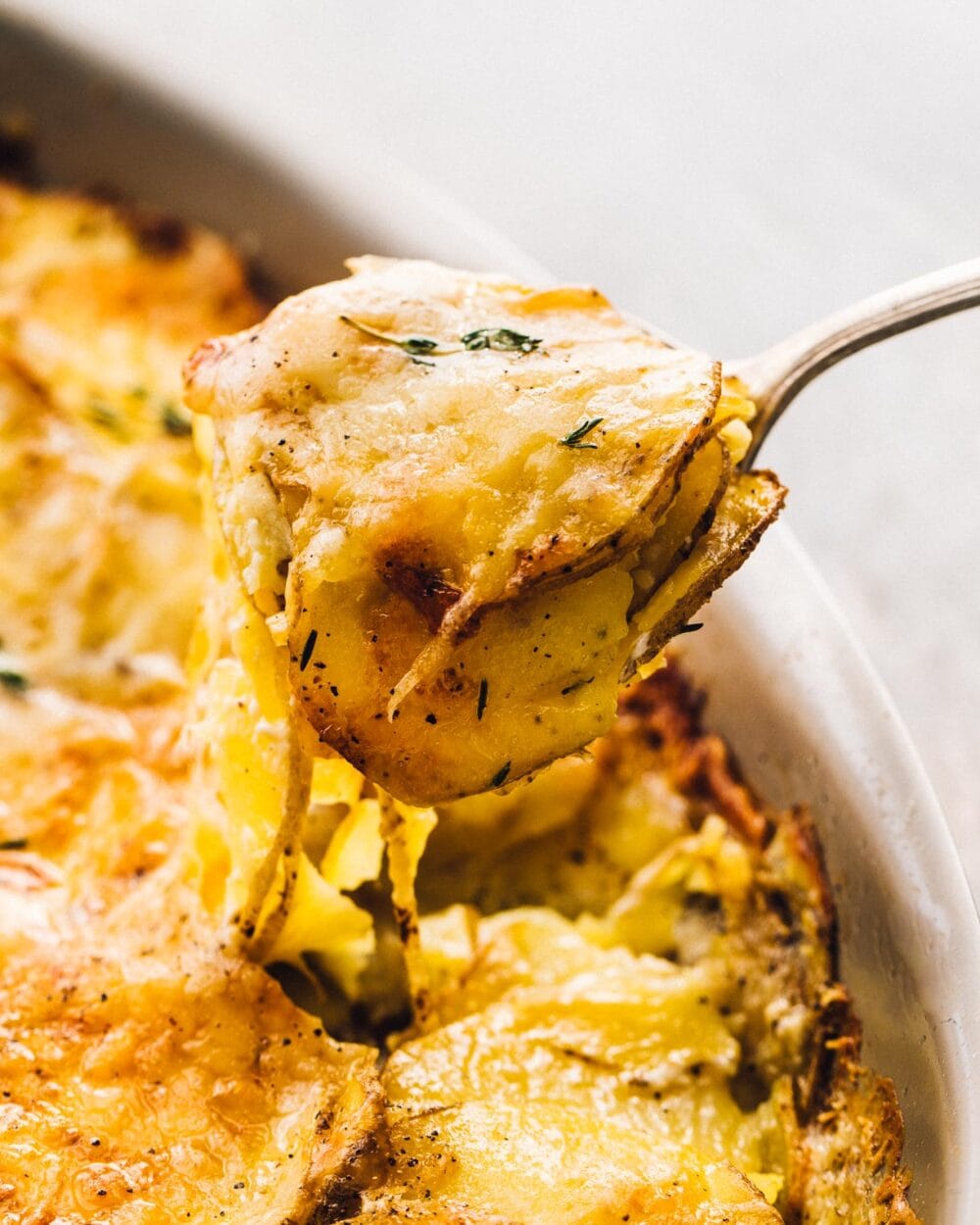 Nothing reminds me of my grandmothers more than au gratin and scalloped potatoes. One made Betty Crocker au gratin potatoes from the box, and the other made creamy, homemade scalloped potatoes.
I loved both versions, mostly because I loved the women who made them.
This easy, cheesy, bronzed pan of potatoes au gratin was inspired by those memories, and is my ideal side dish for holidays like Easter and Thanksgiving. Thinly sliced potatoes soak up the garlic and cream and rich flavors are layered upon each other – a fancy without the fuss kind of dish!
The 4 main ingredients for simple Au Gratin Potatoes are:
yukon gold potatoes
heavy cream
gruyere cheese
garlic powder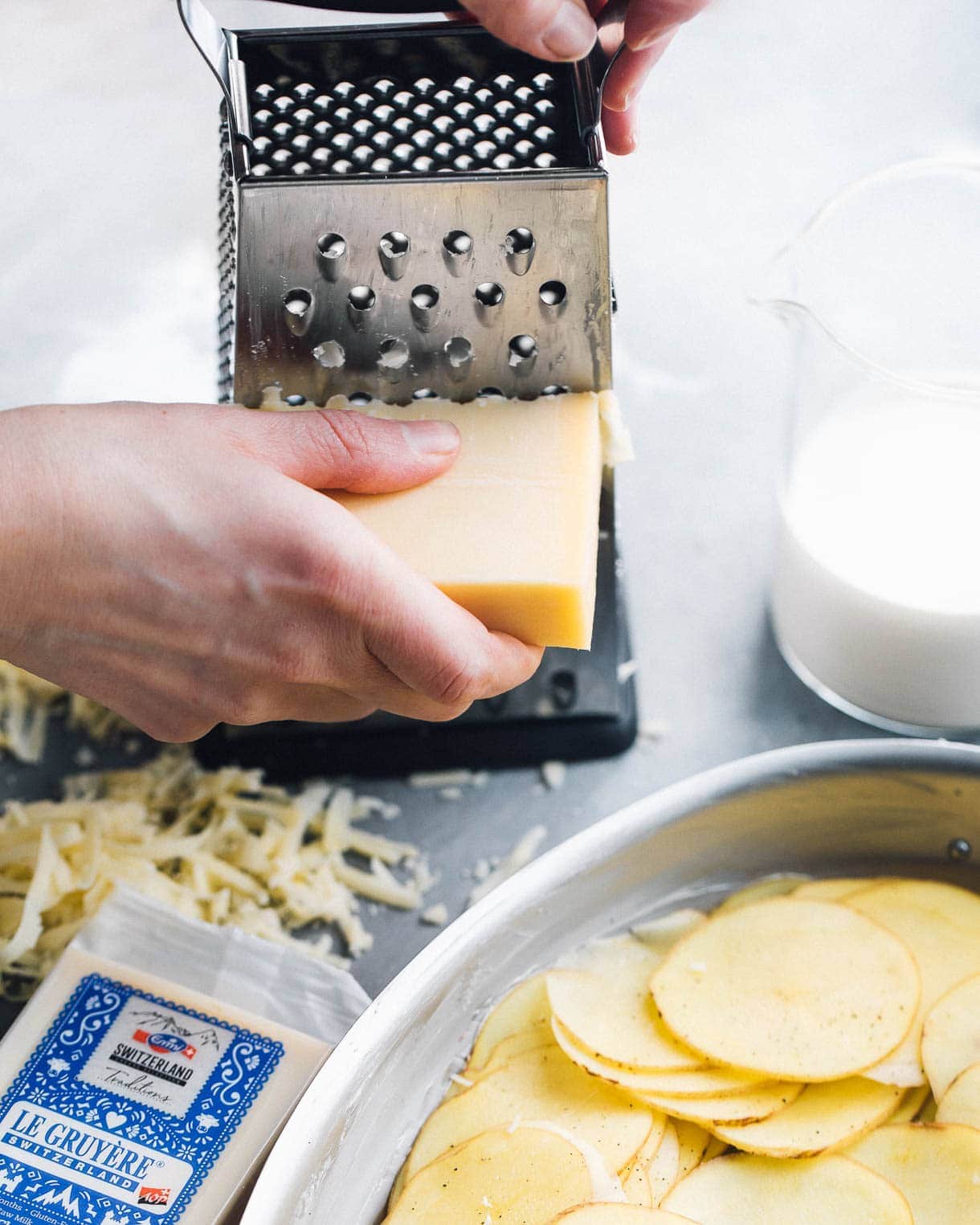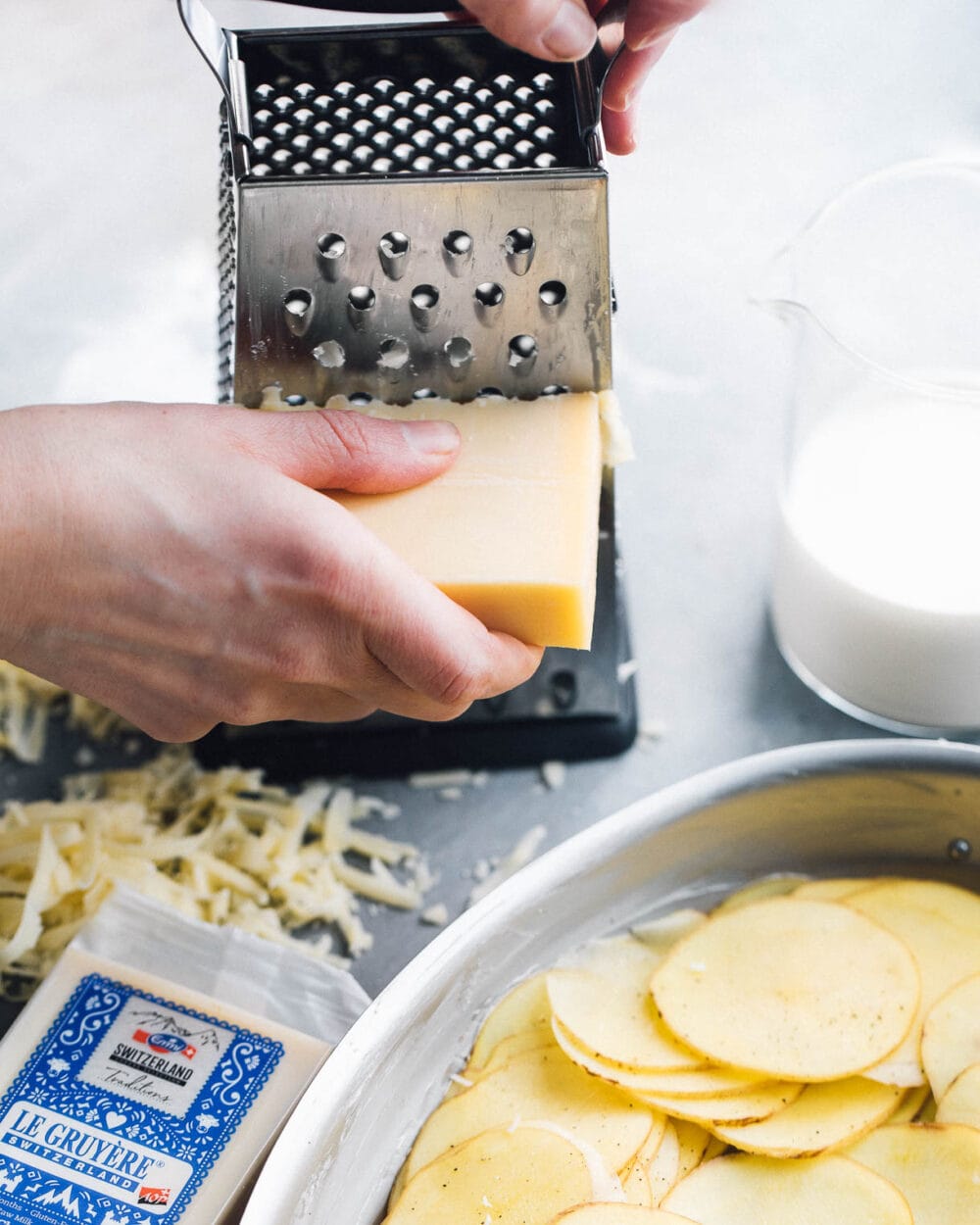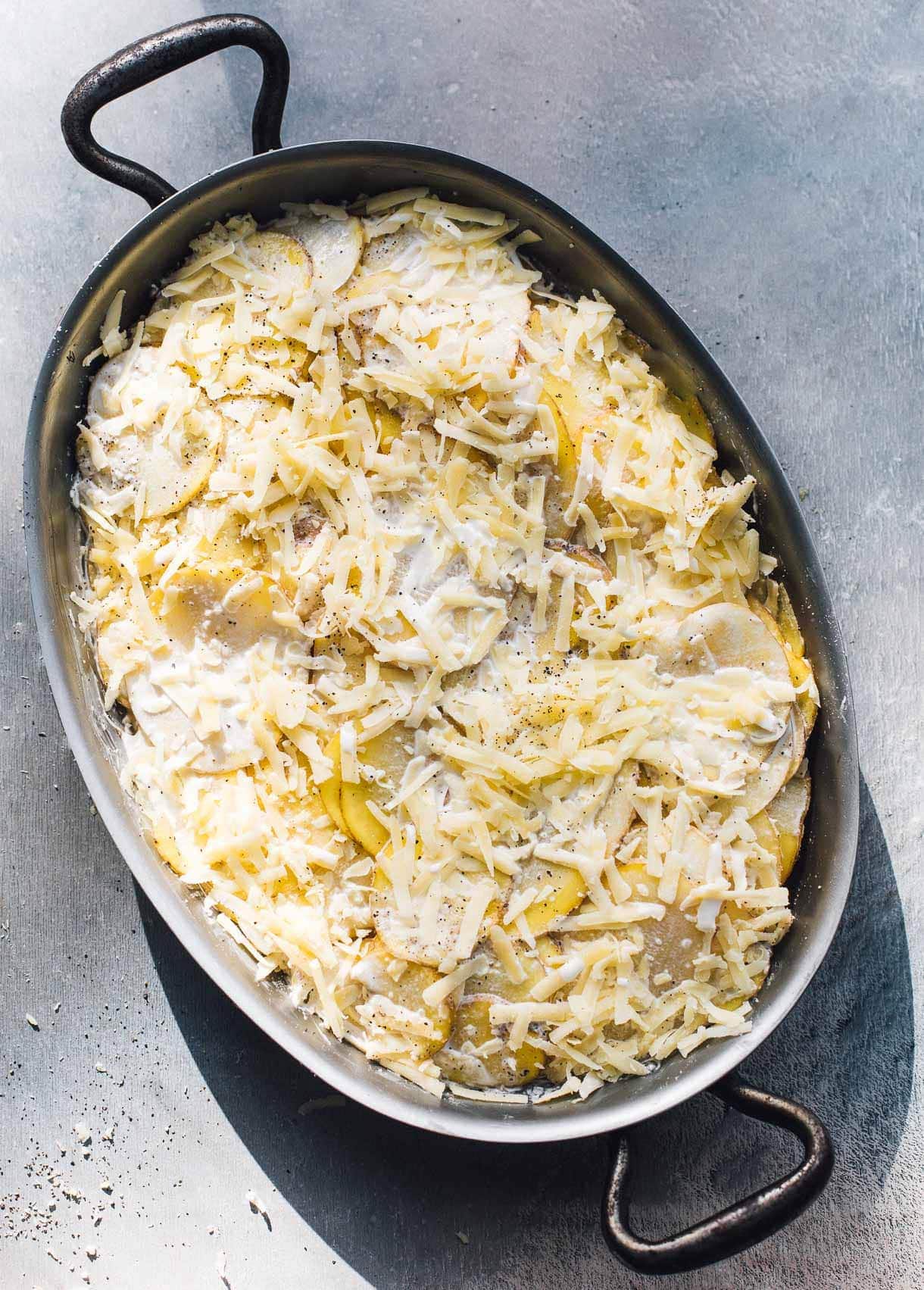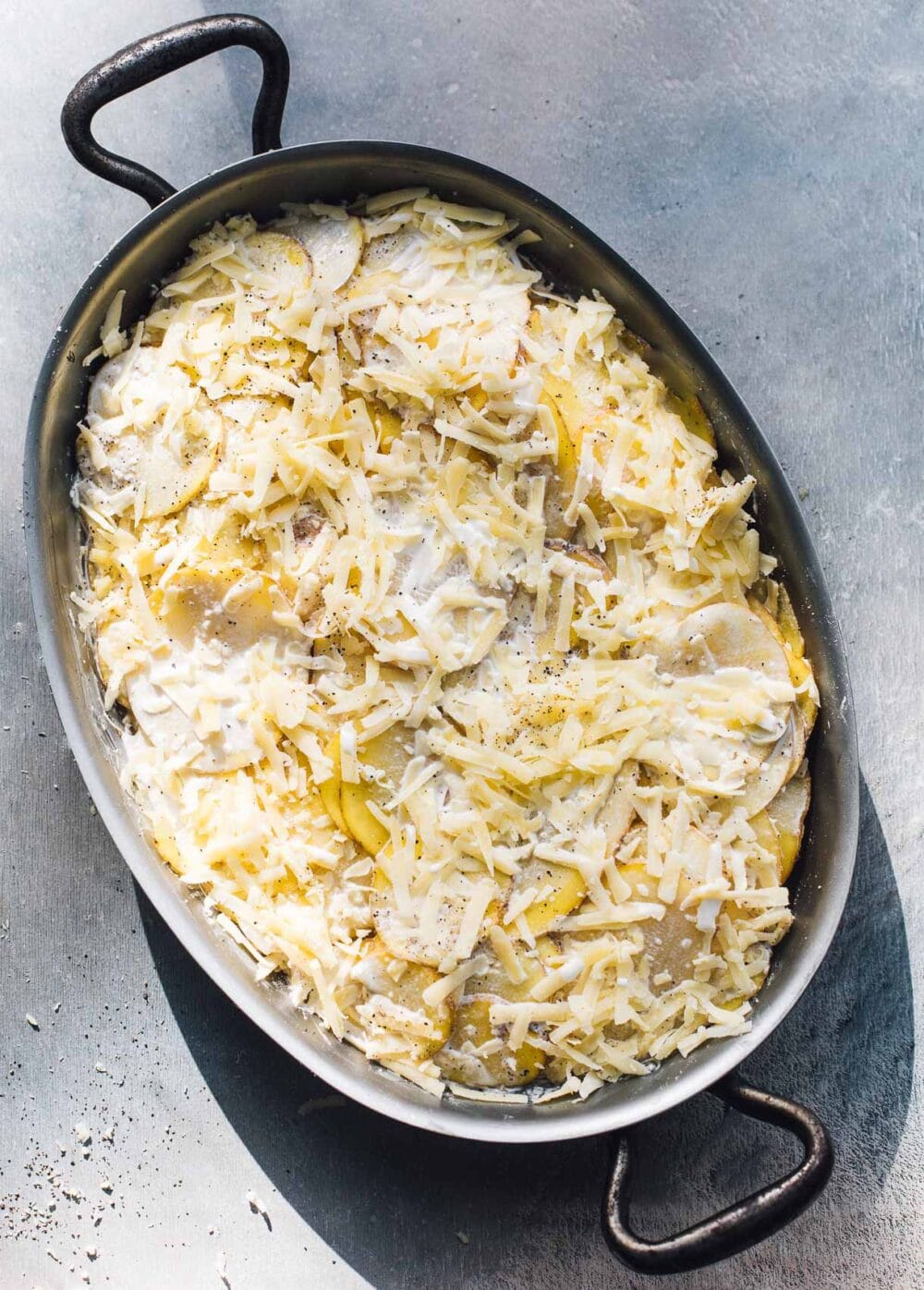 How to Make Potatoes Au Gratin Gruyere:
Butter your baking dish.
Use a mandoline to thinly slice your potatoes.
Toss the potatoes with flour (or sweet rice flour to make gluten-free), salt, and garlic powder.
Distribute half of the potatoes into the bottom of the pan.
Pour half of liquid over potatoes, then sprinkle half the cheese.
Follow up with remaining potatoes and remaining cheese. Pour liquid evenly over all of the potatoes.
Cover with aluminum foil and bake!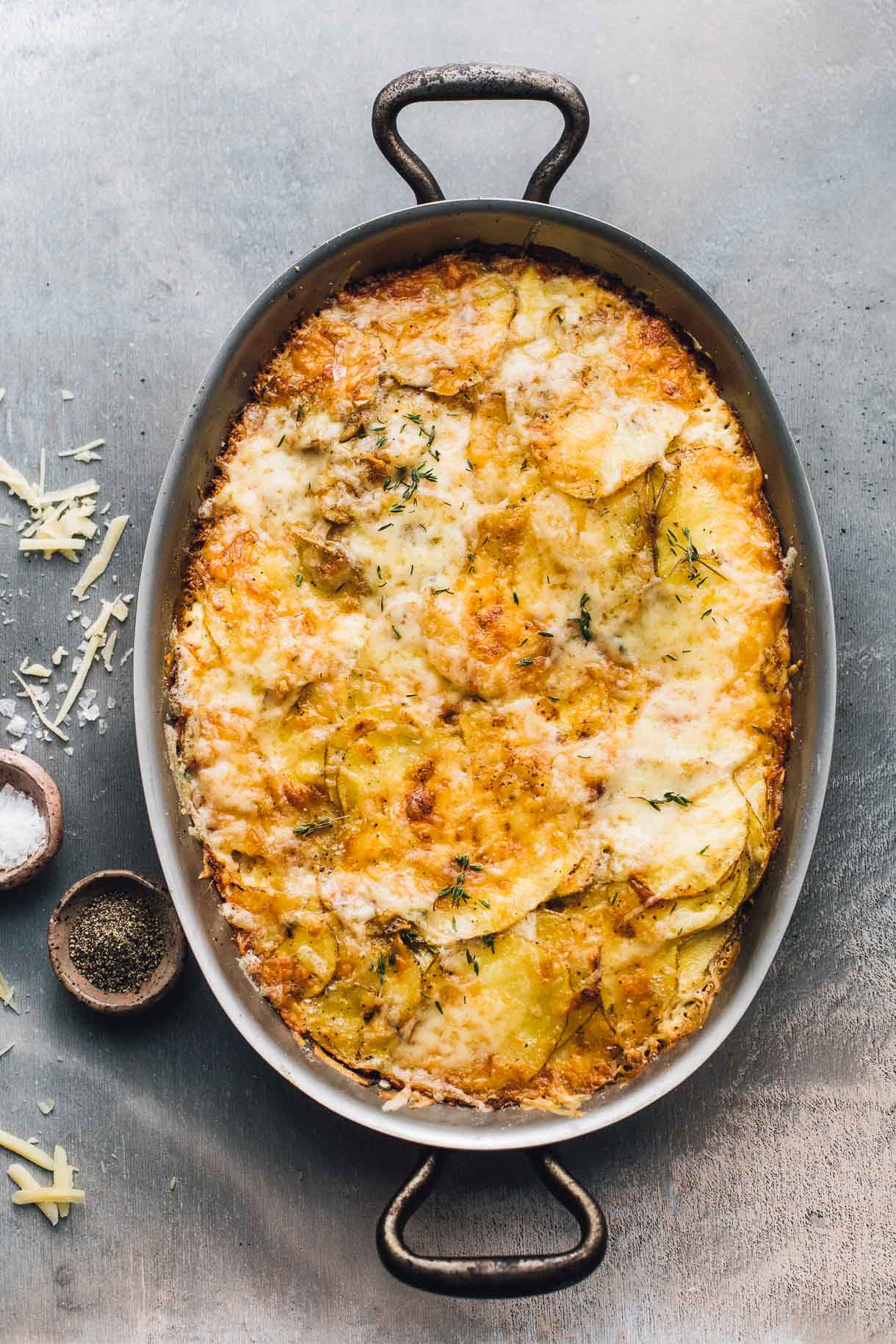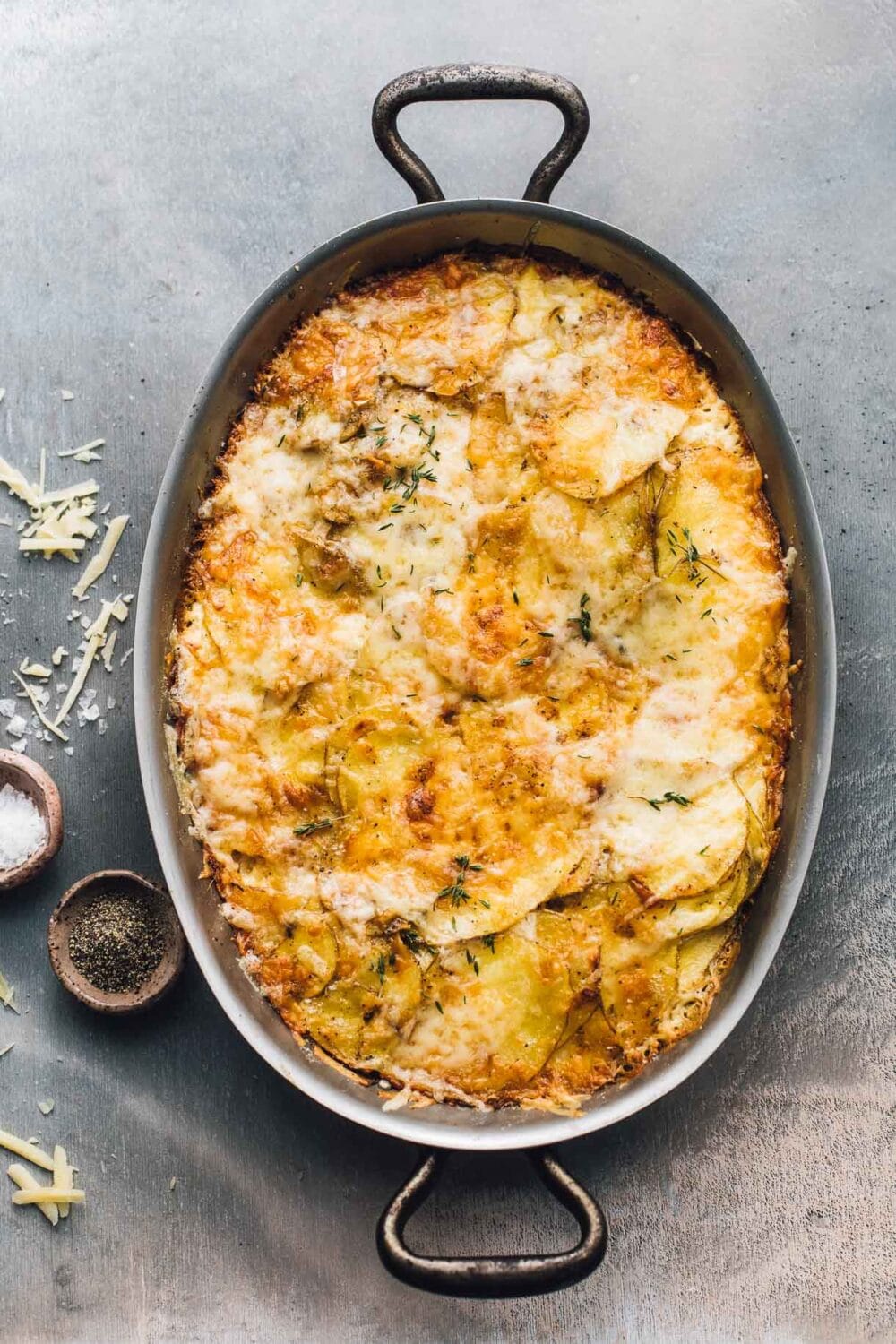 What You'll Love About This Recipe:
Potatoes are comfort food at its finest. When combined with gruyere cheese, a nutty and delicious melting cheese, you've got the perfect side dish. (I also love this Hot Gruyere Chicken Dip!) When you pull this bubbling, cheesy pan of goodness out of the oven, you'll win over everyone.
More Potato Recipes:
Pumpkin Swirled Mashed Potatoes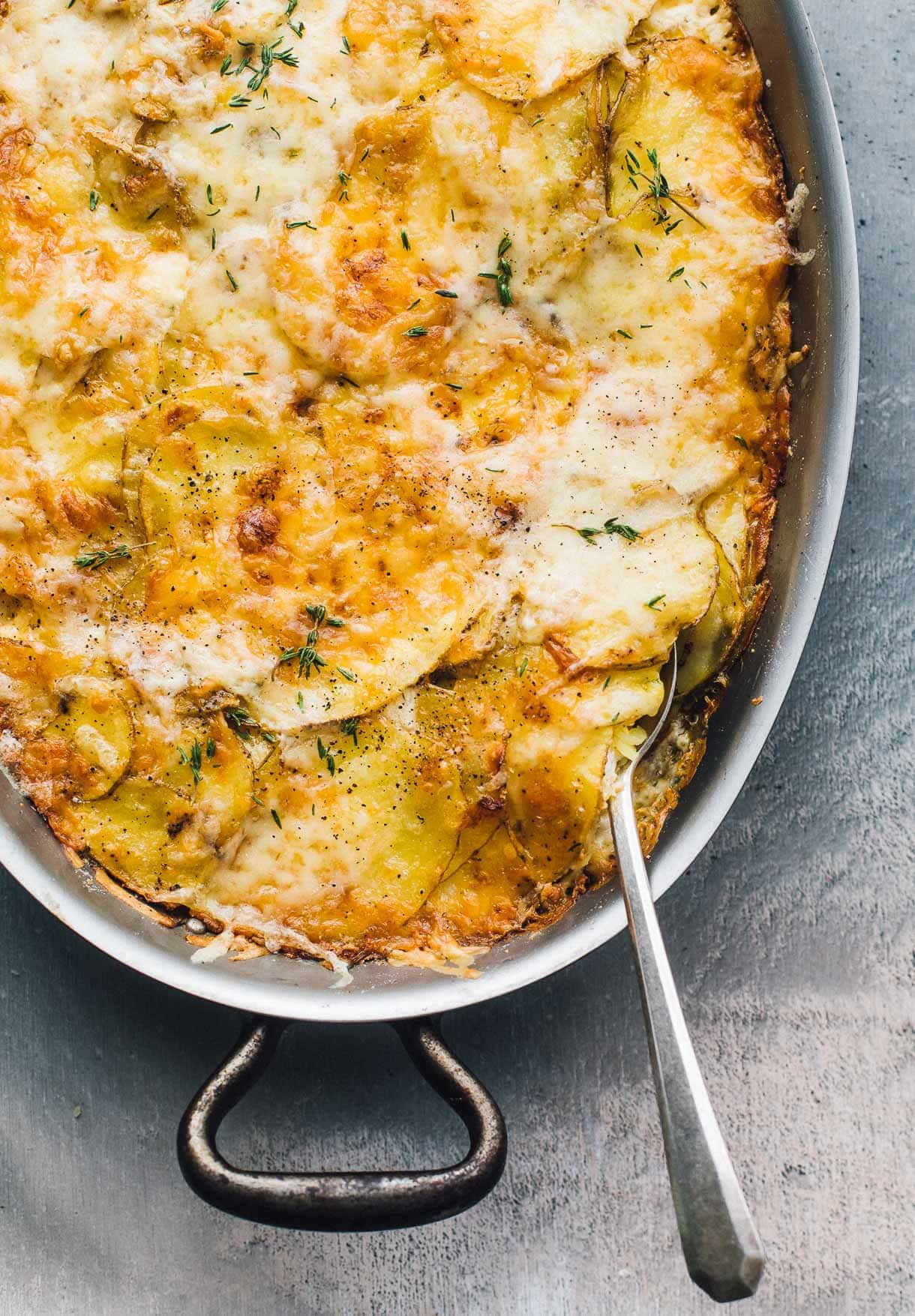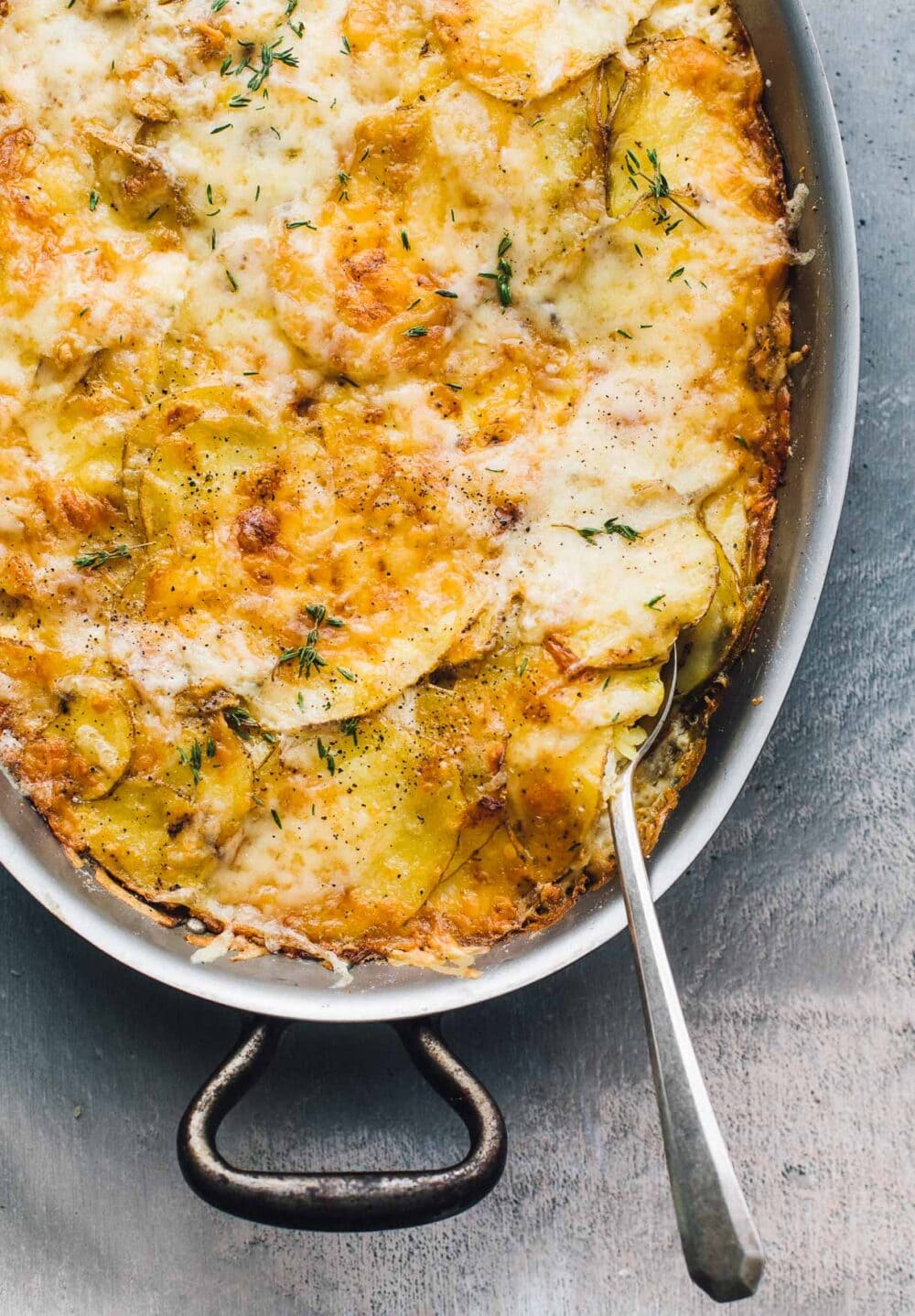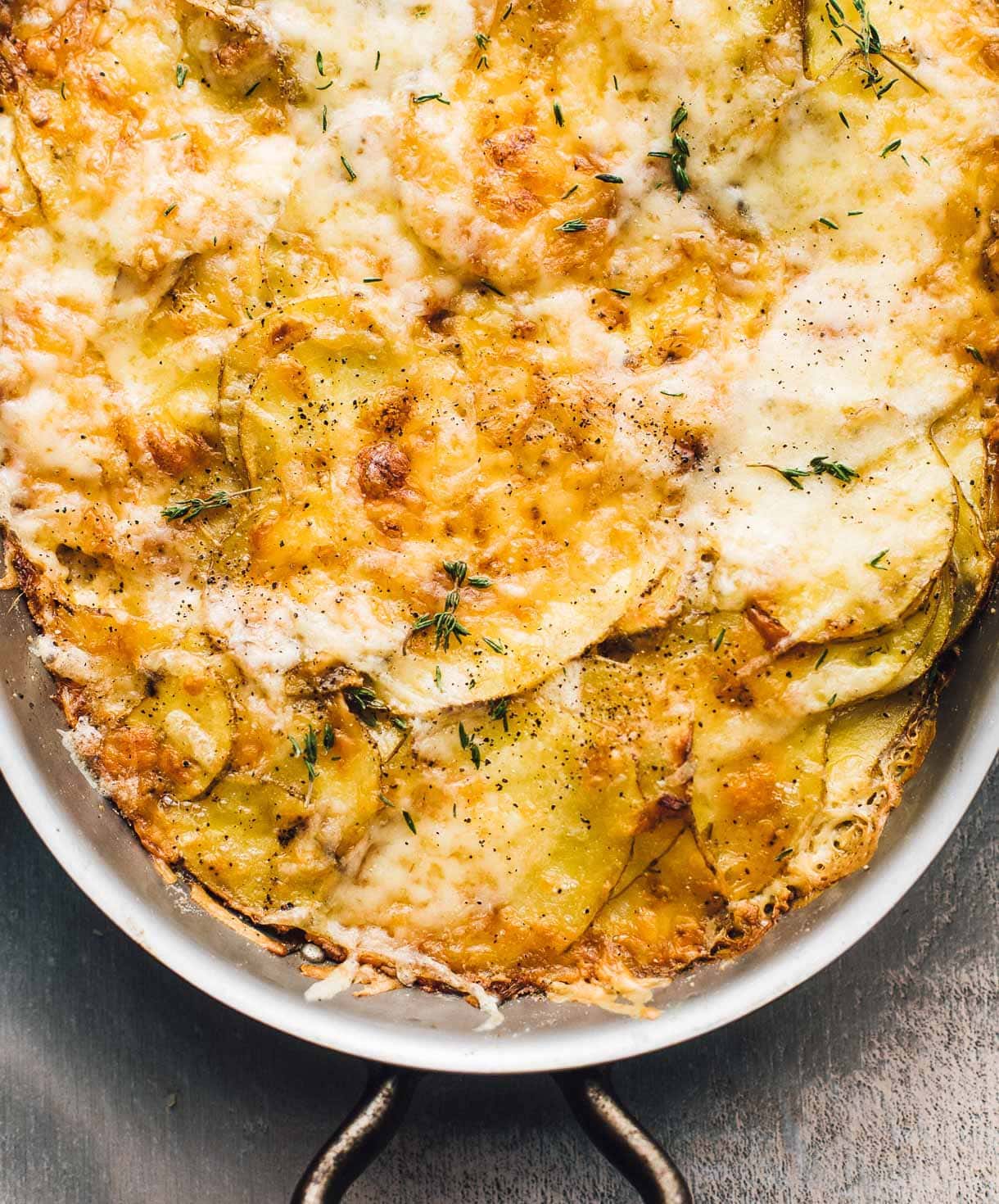 2

pounds

yukon gold potatoes

(you do not have to peel them)

5

ounces

gruyere cheese

1

teaspoon

kosher salt

1/2

teaspoon

ground black pepper

3

tablespoons

all purpose flour

or sweet rice flour to make gluten-free

1/2

teaspoon

garlic powder

or 3 cloves garlic, minced

1/2

teaspoon

thyme,

fresh or dried

1

cup

half and half
Preheat oven to 375 degrees F.

Use a mandoline to thinly slice potatoes to 1/8 inch thick. Put into large bowl. Then grate gruyere cheese and set aside.

Add salt, black pepper to bowl and toss to coat as evenly as possible. Then add flour, thyme, garlic powder to the potatoes and toss again to distribute. Add 1/2 of cheese to potatoes and toss.

Butter a 7×10 baking dish and put half of potatoes into the dish, laying them flat. Add a little bit more cheese over the top of them. Then place remaining potatoes on top of the others, in a flat and organized manner. Sprinkle with remaining cheese.

Pour half and half over the potatoes, distributing evenly. Cover the top of the pan with aluminum foil and secure it tightly.

Bake for 30 minutes covered, then remove foil and increase temperature to 385 degrees F. Bake for 20-30 more minutes, until potatoes are cooked through, and can be pierced easily with a fork.

Remove from oven and serve warm.