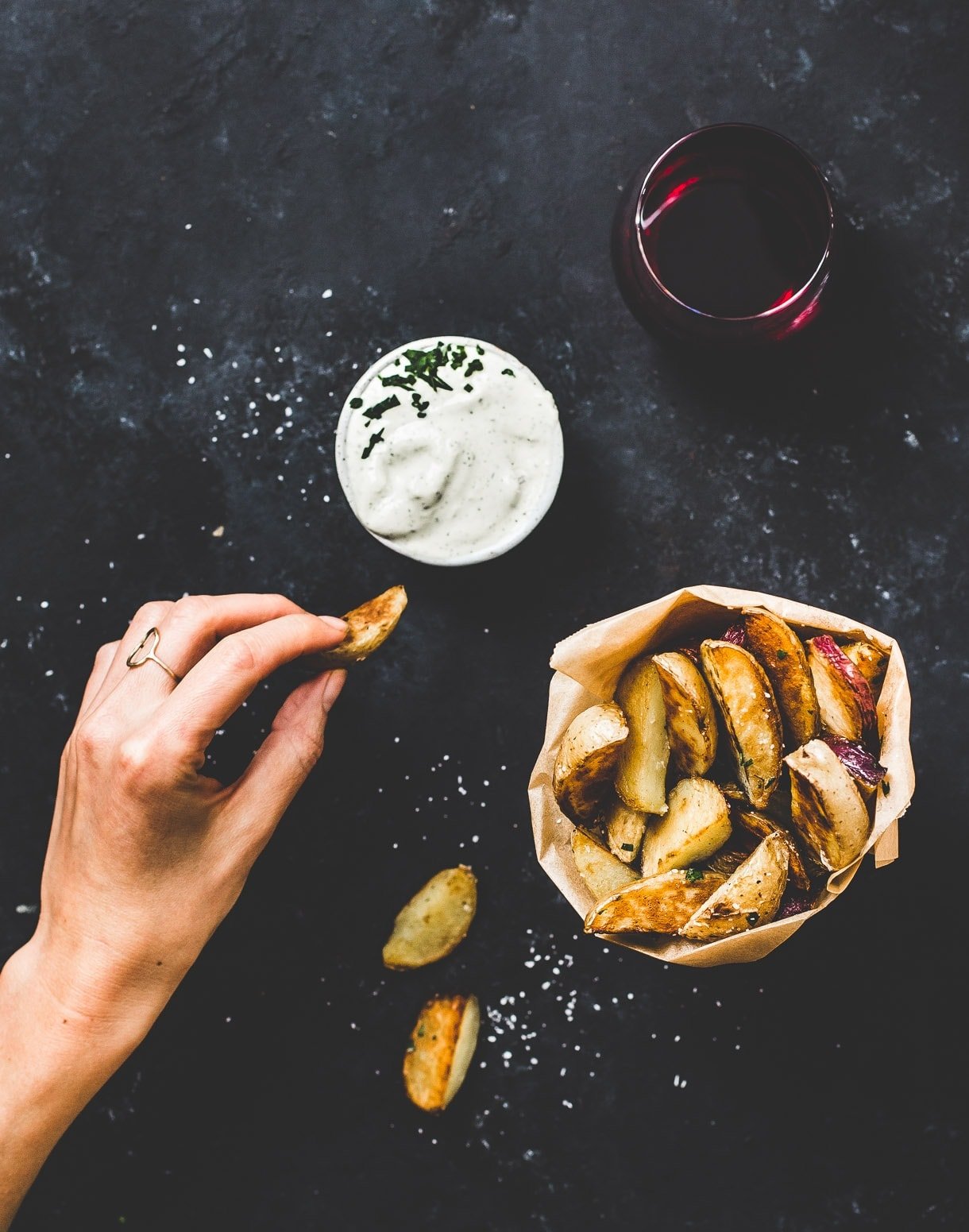 Ideal date with myself: seat at the bar, glass of wine, and some sort of hot, salty, fried potato situation.
It's not unusual for me to dine alone, whether Brian is out of town or I just need some solo time. I enjoy the people watching, not having to think about a conversation, and feasting on something a little indulgent.
But my wallet said I should maybe think about recreating this wine and dine experience at home. Mission: recreate a foolproof recipe that didn't require a deep fryer, yet would still satisfy my crispy potato craving.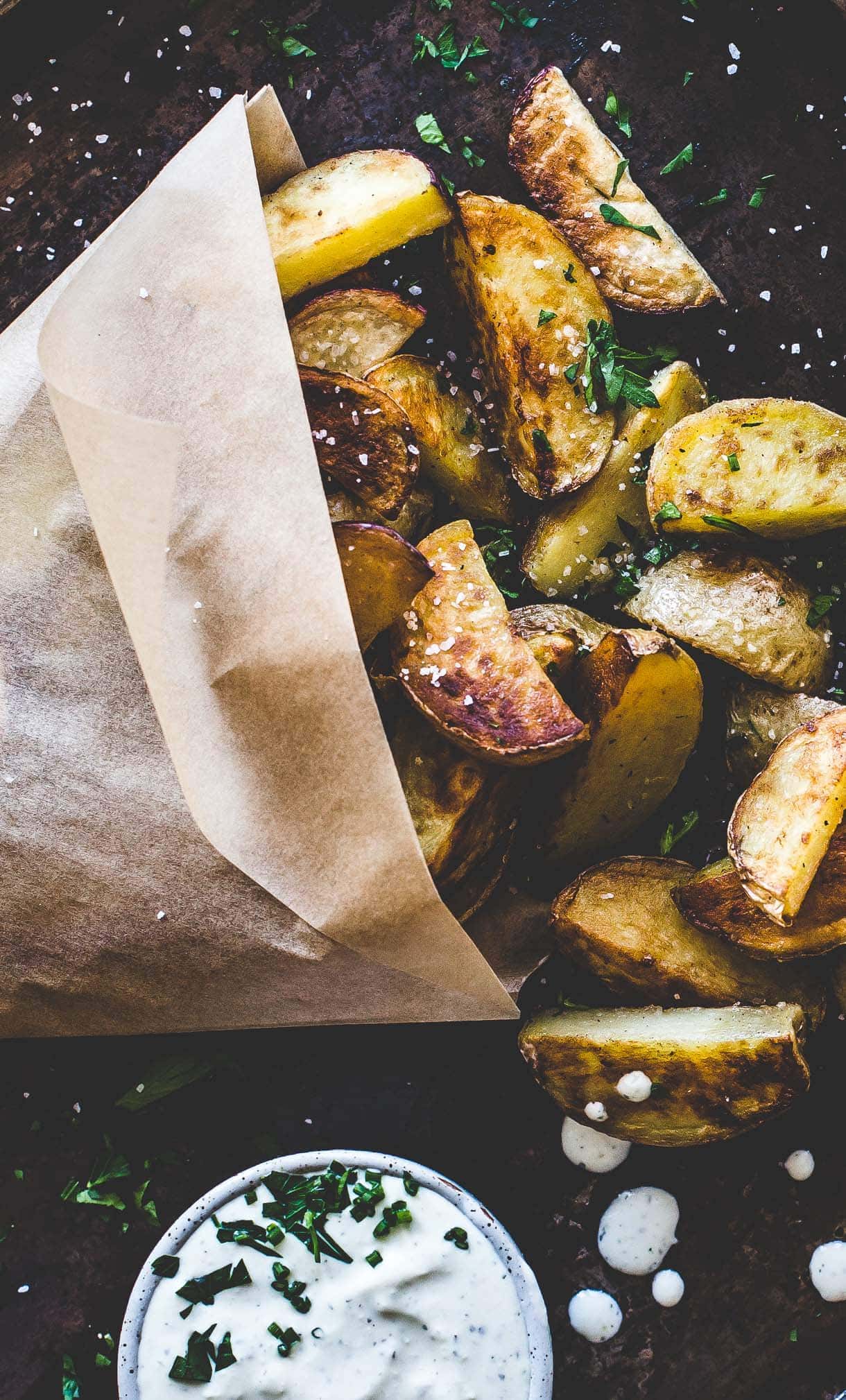 The secret lies in a two-step process.
I know, you wanted it to be a one-step process (so did I.)
But the results just weren't as good! Failed experiments resulted in a few different outcomes: too oily, soggy, crisp on the outside but half raw inside, and under salted.
How to Make Crispy Potato Wedges
You'll boil the potatoes to cook them slightly, from the inside out. Then you'll pat them dry before they go into the oven at high heat. And then they roast! Thats it.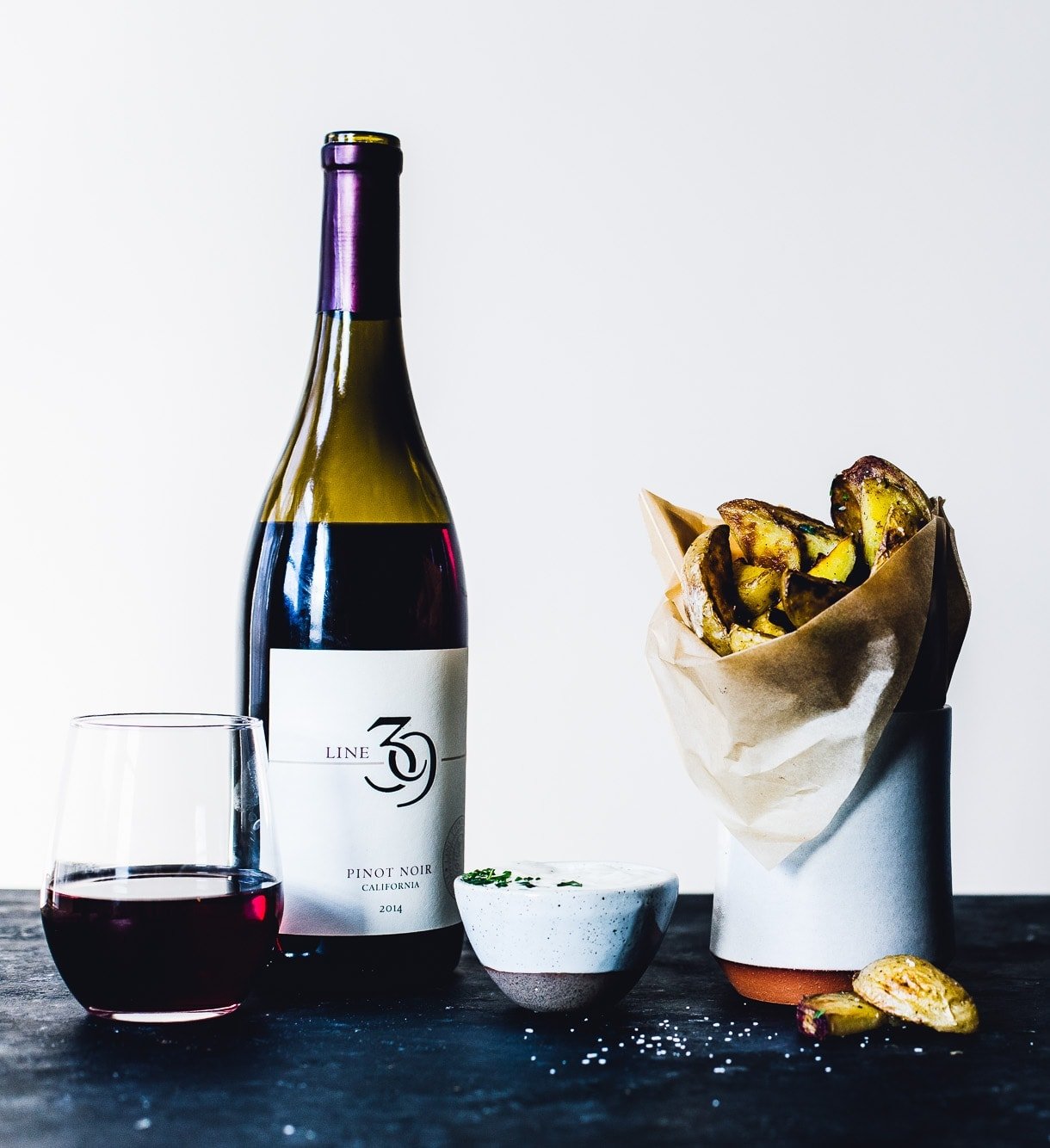 These potato wedges are extra crispy on the outside, extra fluffy inside, and totally made for dipping. Best eaten straight off the pan, or in a parchment cone if you're feeling fancy. They'd be a perfect side dish for these Instant Pot Turkey Meatballs.
And I've included a recipe for homemade sour cream & chive dip, a must! (It reminds of "Top the Tater", which I think we went through a tub of every week in college.)
Easy drinking, easy dipping. I like that match. xo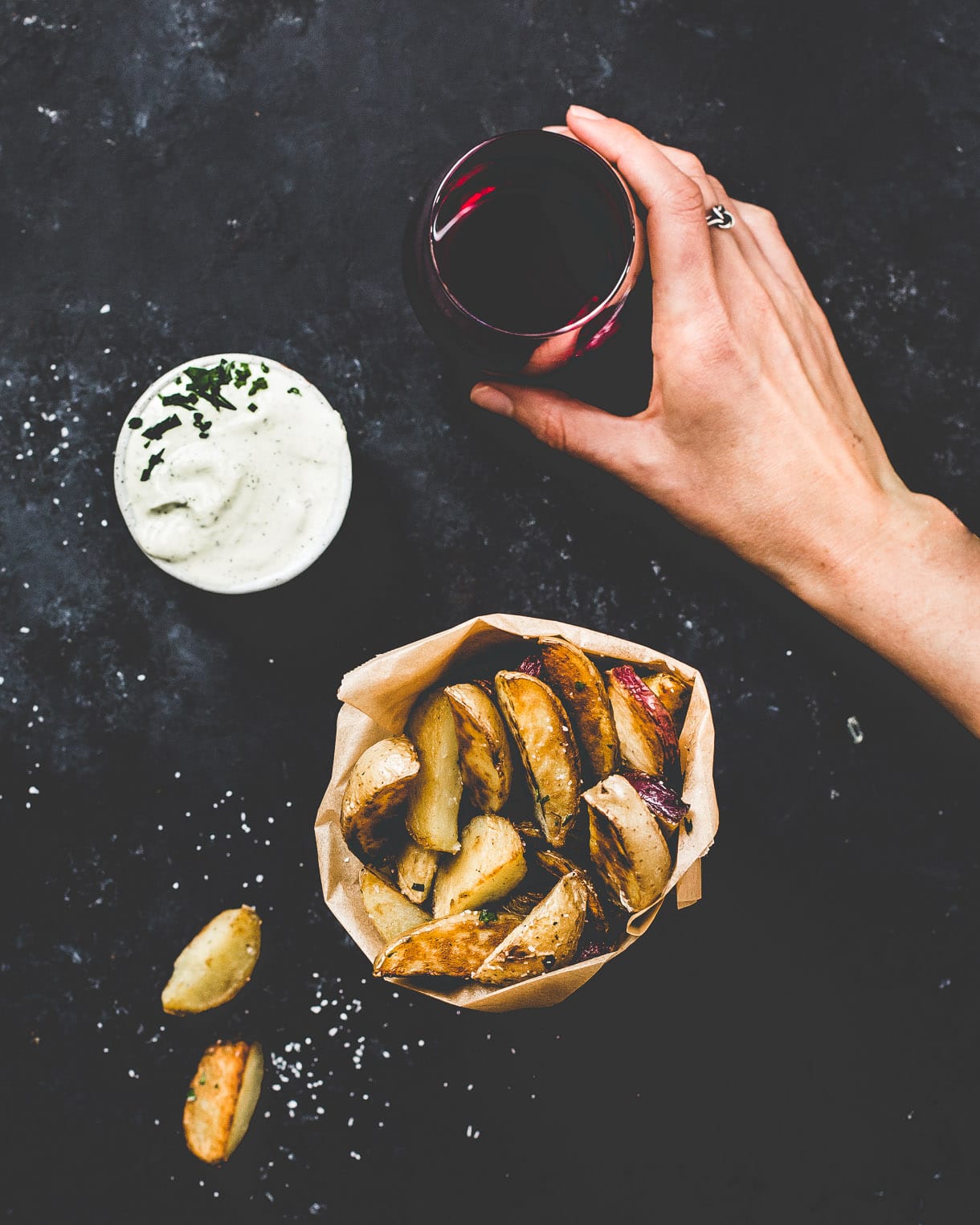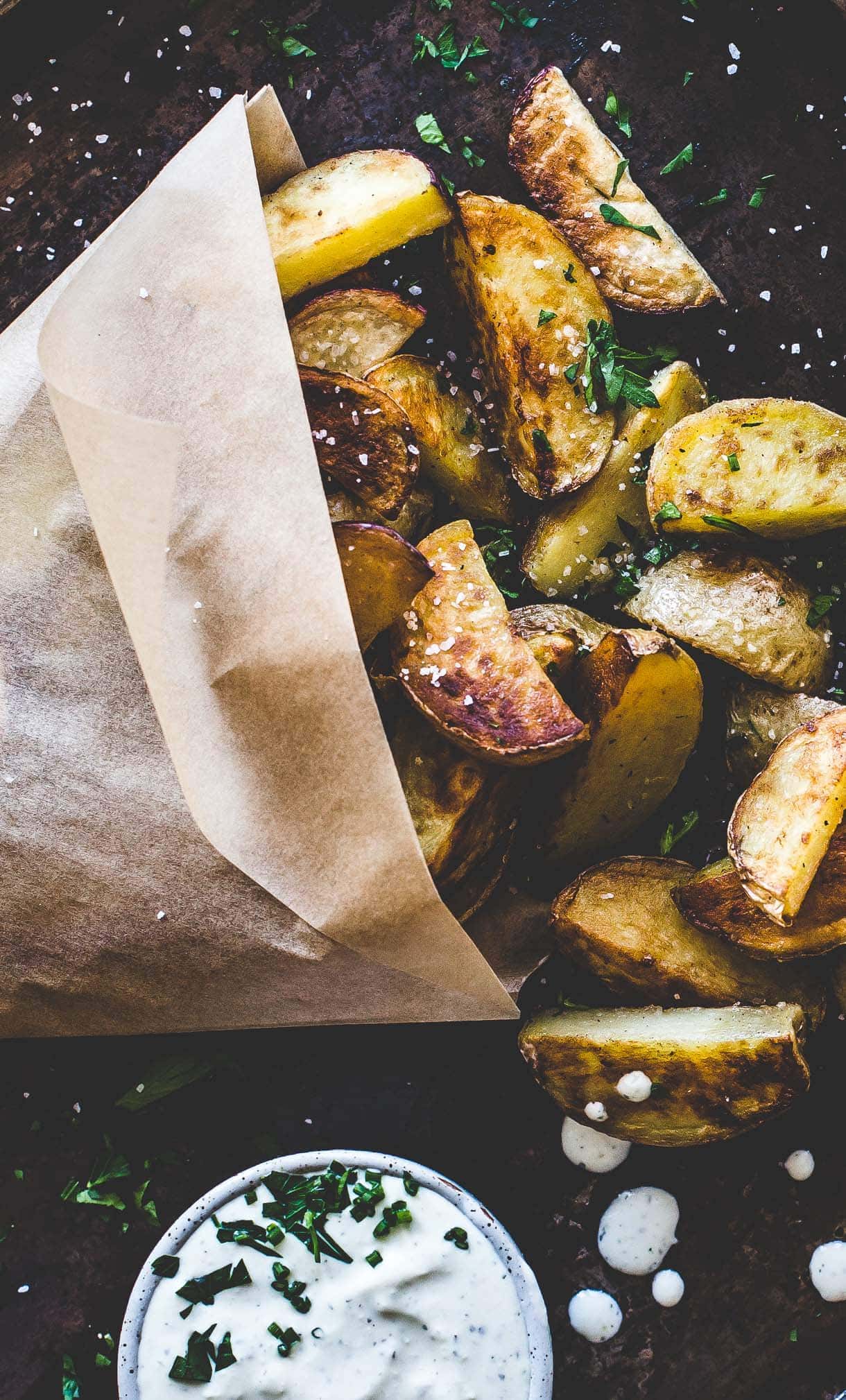 To make dip, blend all ingredients in a high speed blender or food processor until smooth. Set in refrigerator until ready to use.

Preheat oven to 450 degrees F.

Fill a large pot with water, about 6-8 cups (or enough to cover potatoes by 2 inches), and bring to a boil. Add 1 teaspoon salt, then potatoes.

Simmer for 10 minutes, until potatoes are just fork tender. Turn off stove, and drain potatoes very well. Add potatoes back to the pot and set over the hot burner to dry off any remaining water.

Toss potatoes with olive oil, remaining 1/2 teaspoon salt and pepper. Spread out on baking sheet so they are not touching. Bake for 10 minutes, stir and flip. Then bake for 12 minutes longer, until potatoes are golden brown and crispy. Serve immediately with dip.