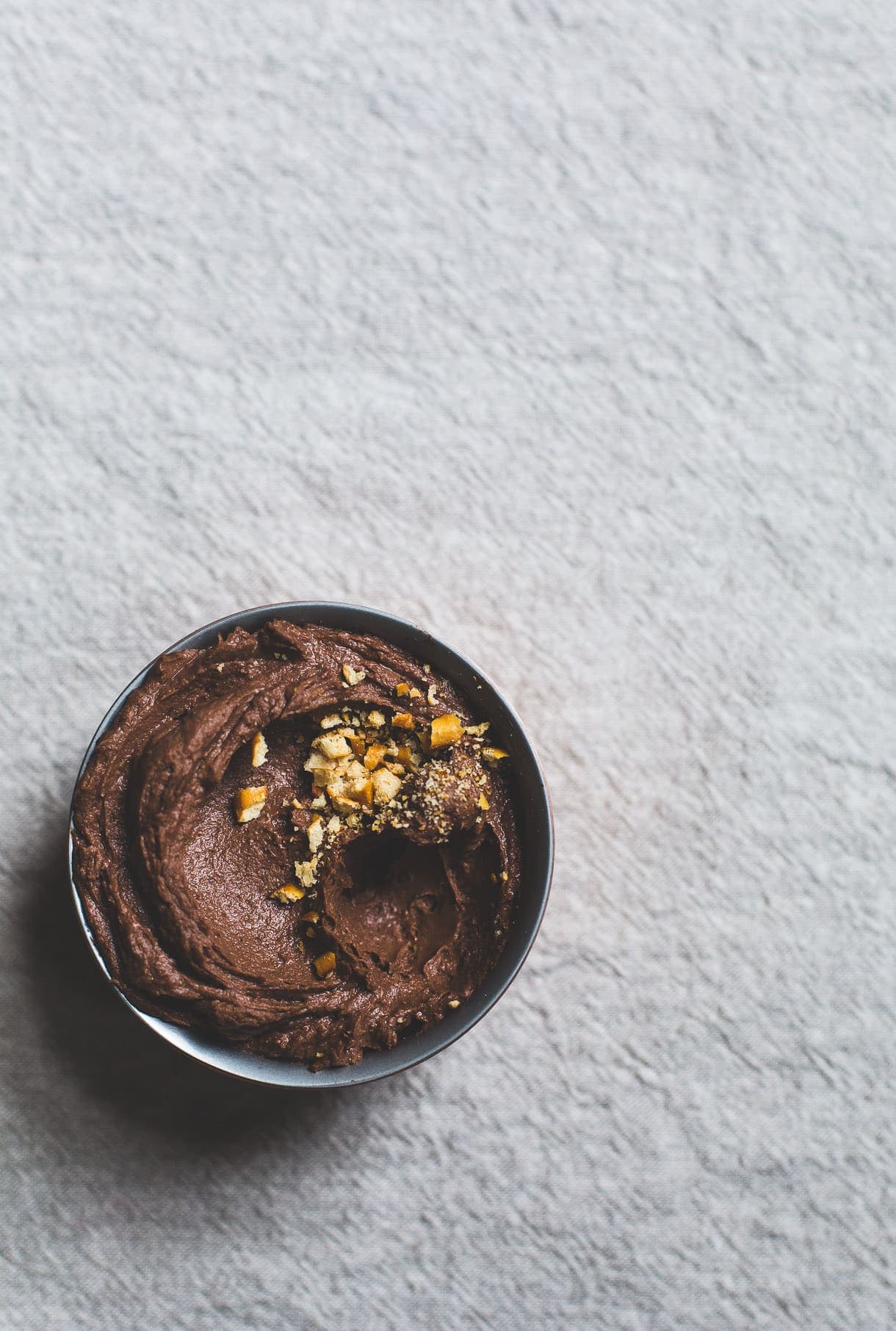 This is a sponsored conversation written by me on behalf of Burt's Bees. The opinions and text are all mine.
There are several things I haven't mastered in the kitchen yet. Which is one of the reasons I love cooking. It can be easy, or it can be a challenge, no matter how long you've been doing it. You choose the adventure depending on your mood, time, motivation, ingredients, etc.
The perfectly baked cheesecake with a glossy, crack-free top, and thick, yet fluffy texture is one of those things I still haven't gotten right. Mine end up coming out with an earthquake like bolt through the middle, or little bubbles that push up on the surface, like a little gopher trying to bump its head through.
Which is why I've thrown in the towel (maybe not forever) and gone the no-bake, dark chocolate cheesecake, salty pretzel crumb way. They're a cross between rich chocolate mousse, traditional cheesecake, and pots de crème. All good things….
Softly sweet and creamy, rich and lush. And more proof that salt makes any dessert taste better. These little pots have just 8 ingredients, and take less than 10 minutes to make.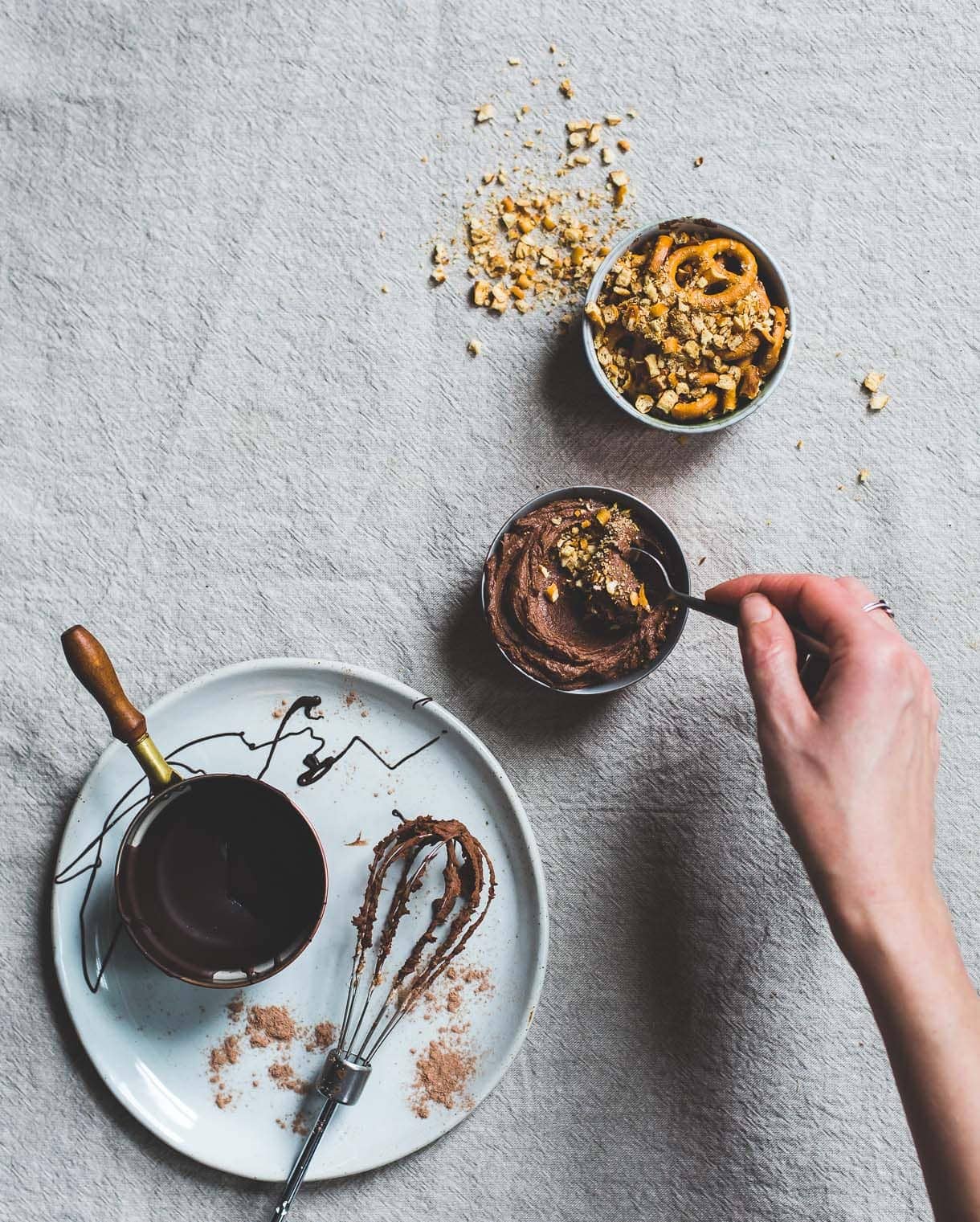 There's also a little secret blended into each whipped spoonful… one of my favorite skincare companies (their colored lip balms and hand salve is always in my purse), Burt's Bees, just launched a new protein powder collection that just happens to give the best boost to anything from your morning shake to these chocolate cheesecake pots. Their formulas are made with plant-based, non-GMO and 70% organic ingredients, and support the balance of nature and many important efforts to protect our environment. I actually have never seen a powder with this combination of Pea, Rice, Oat, Flax Seed, and Sunflower Seed protein sources. I used the chocolate Healthy Radiance, which has vitamin extracts made from real fruits and vegetables for extra nutrition. It's also dairy-free, soy-free (which SO many protein powders have soy), and gluten-free.
So maybe I should have named these "Glow Cheesecake Pots" with the extra boost, and antioxidant rich dark chocolate. I mean, enough feel-good-things for me to warrant an extra serving. Hope you love them as much as I do, xo.
No-Bake Dark Chocolate Cheesecake Pots with Pretzel Crunch
Author:
Prep time:
Cook time:
Total time:
4 ounces cold, heavy cream
4 ounces cream cheese, at room temperature
1/2 cup dark chocolate, melted and cooled (still liquid, but not hot)
1 tablespoon pure maple syrup
3 tablespoons strong coffee
1 scoop [url href="http://amzn.to/2lzdyFj" target="_blank" rel="nofollow"]Burt's BeesTM Protein + Healthy Radiance – Chocolate[/url]
pinch of salt
crushed gluten-free pretzels for topping
In a medium bowl, whip cold cream until it holds firm peaks with a hand mixer. In a seperate bowl, whip cream cheese until smooth. Add cream cheese to whipped cream, and mix on low to combine until smooth.
Add melted dark chocolate, maple syrup, coffee and fold in by hand with a spatula.
Sprinkle protein powder and salt over the top, stirring to combine. Spoon into cups and top with crushed pretzels. They are ready to eat now, with a mousse texture, or you can refrigerate to make them stiff like cheesecake.