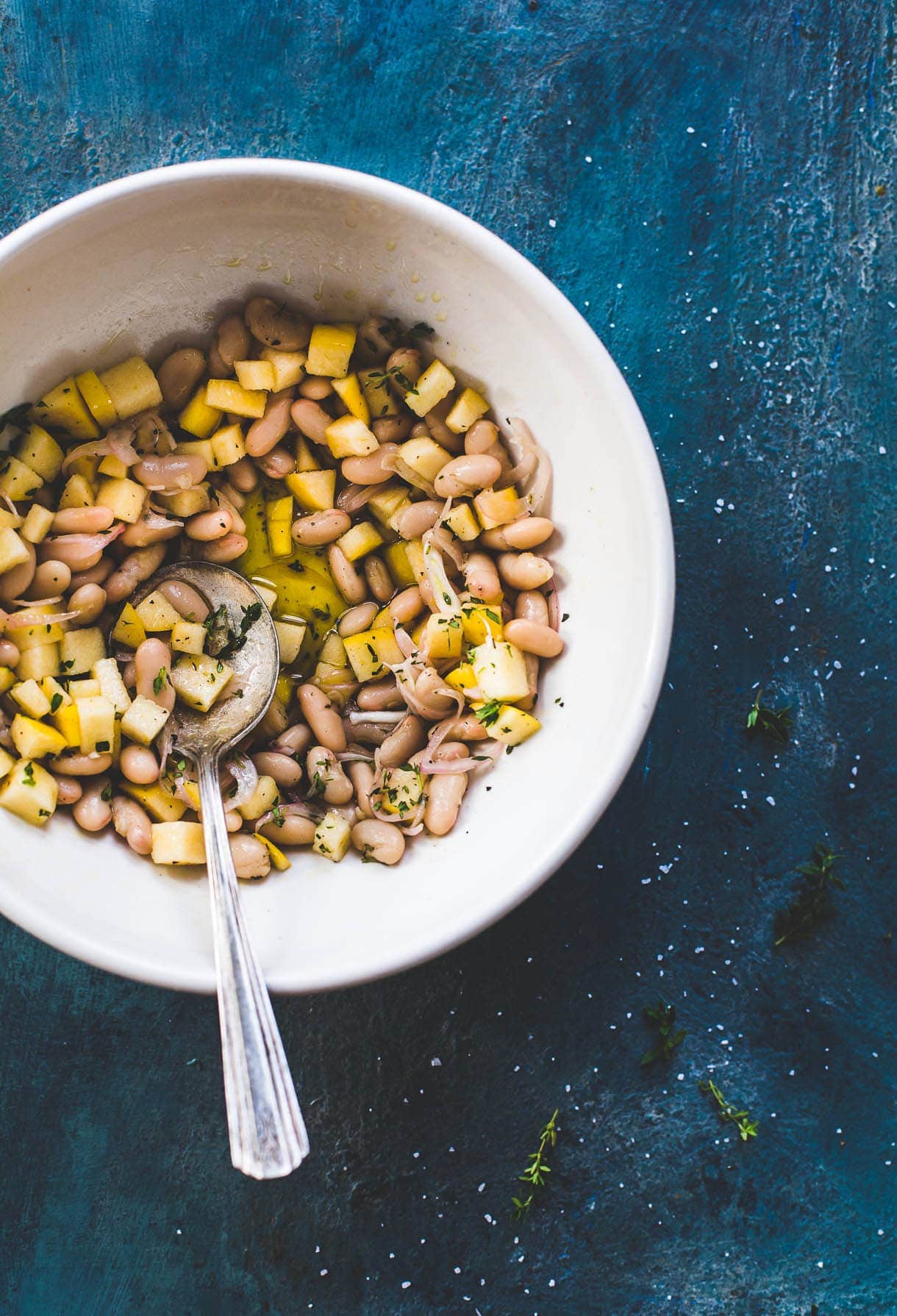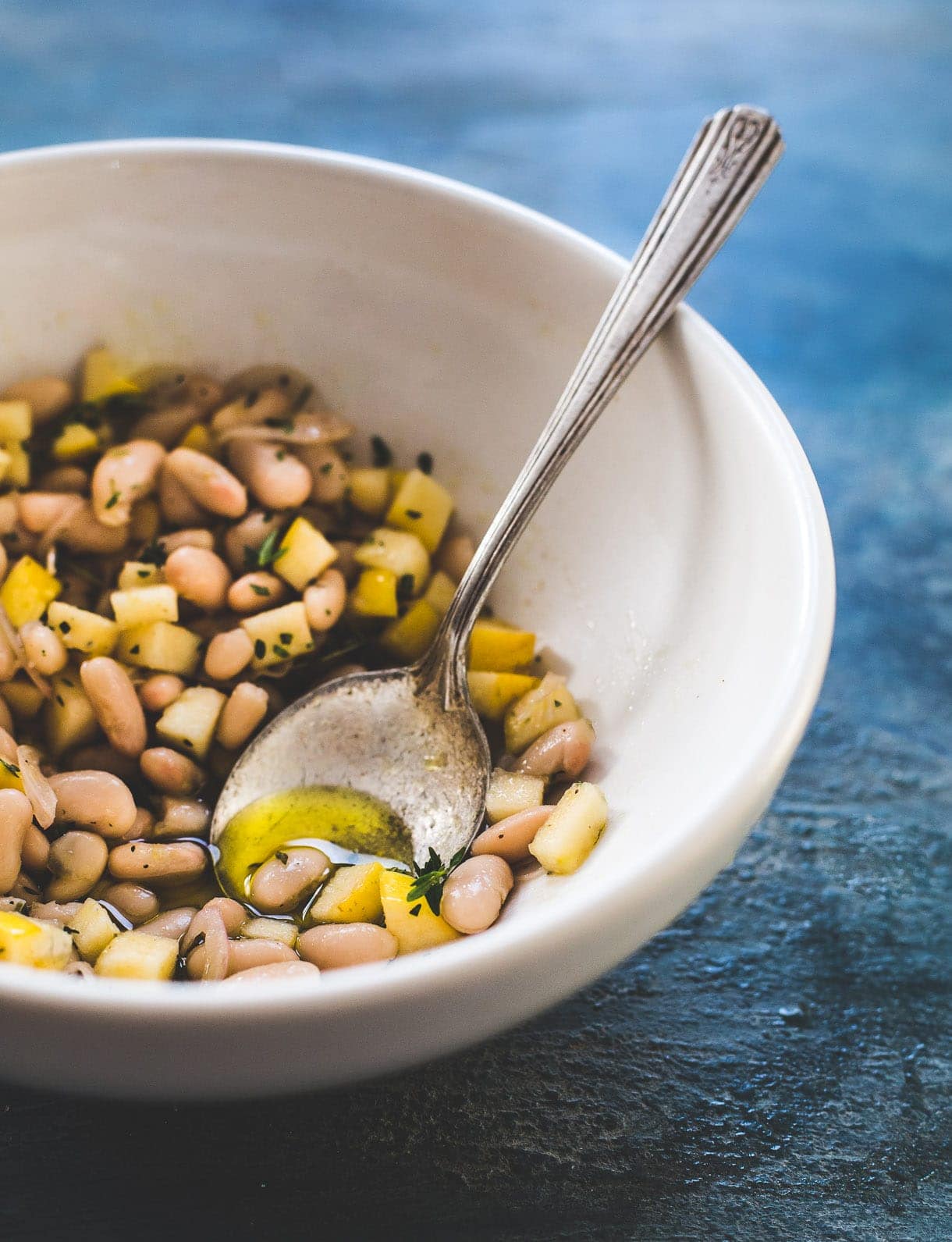 *This vegan bean salad recipe was created in partnership with non-gmo Opal apples. Last month I created these honey lemon poppyseed fruit jars with them as well.
As a food photographer and stylist, the fleeting "beauty" moments of warm gooey cookies, the bright green avocado, or tall, fluffy dutch baby are the clocks by which I delicately rush. There is little forgiveness, and more work on the other side if I'm not in my groove (I don't believe in "food magic tricks" that are used in many commercial studios, because I want what you see here to resemble what it will look like when you make it in). Oddly enough, it's the competitor in me that's fueled by a little bit of pressure. Challenge feels good.
But so does having more time once in awhile.
Time that equals red wine, olive oil, shallots, and thyme infusing diced apples and soft white beans. No rushing to photograph because it will look the same as it did the minute you stir it together, and for the next three days. Yes, even the apples! THEY DON'T BROWN.
And the beauty of this vegan bean salad recipe – the longer it sits, the better it tastes.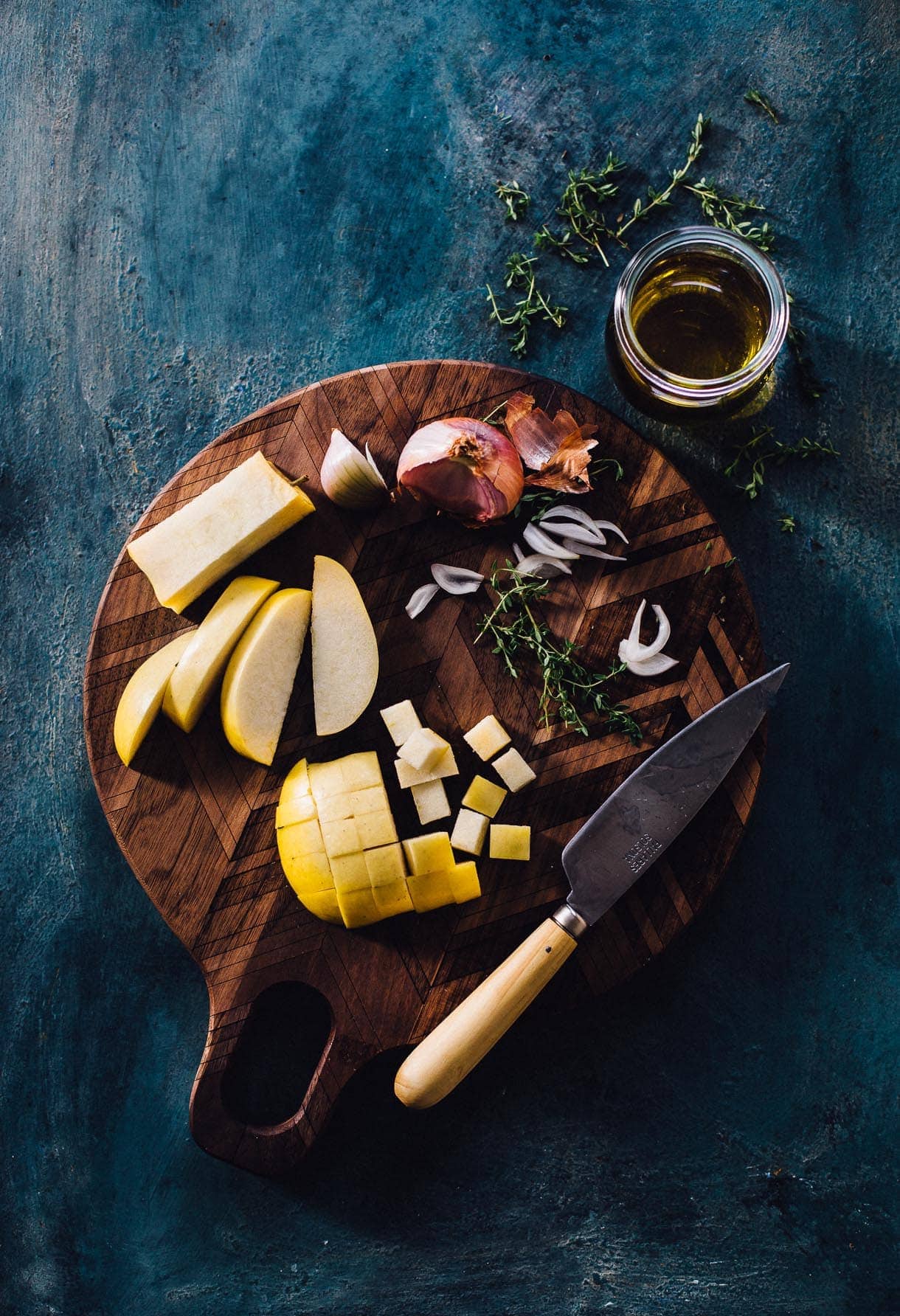 I love this salad for a number of reasons, both in taste and versatility. Soaking the shallots in punchy, red wine vinegar softens their bite (too harsh when left raw) and olive oil adds a lovely richness. The oil, which is infused with thyme, is also the necessary fat that carries flavor into the apples and white beans. Salty sweet, and several twists of freshly ground pepper to finish. Each bite having a little crunch next to the plump legumes.
As I mentioned, the apples don't brown, not even a speck! And this isn't because of something strange done to them while growing. The Opal variety, which I used here, naturally resists oxidation, and is the first U.S. apple to be verified by the Non-GMO Project. Distinctively crunchy, floral, and and a sweet, tangy flavor. They're in season November-March, and you can find them at Trader Joe's and Whole Foods nationwide.
Prep this salad early in the week when you've got a million things to do before a party, and you need options that need no work on the day of. Also, you can pack in mason jars for on-the-go lunching, and since it's best served at room temperature, it actually benefits from the "wait" time in your purse.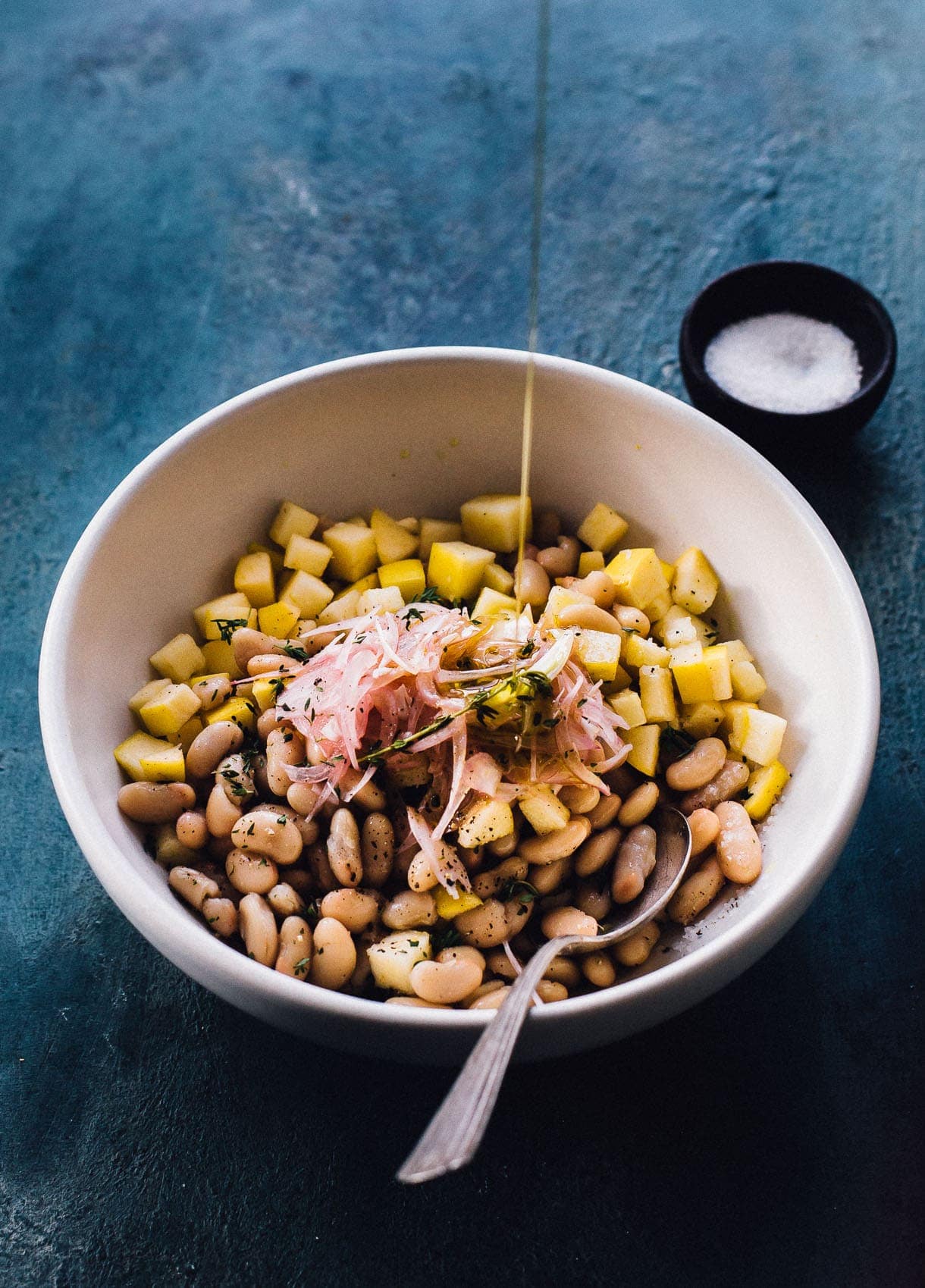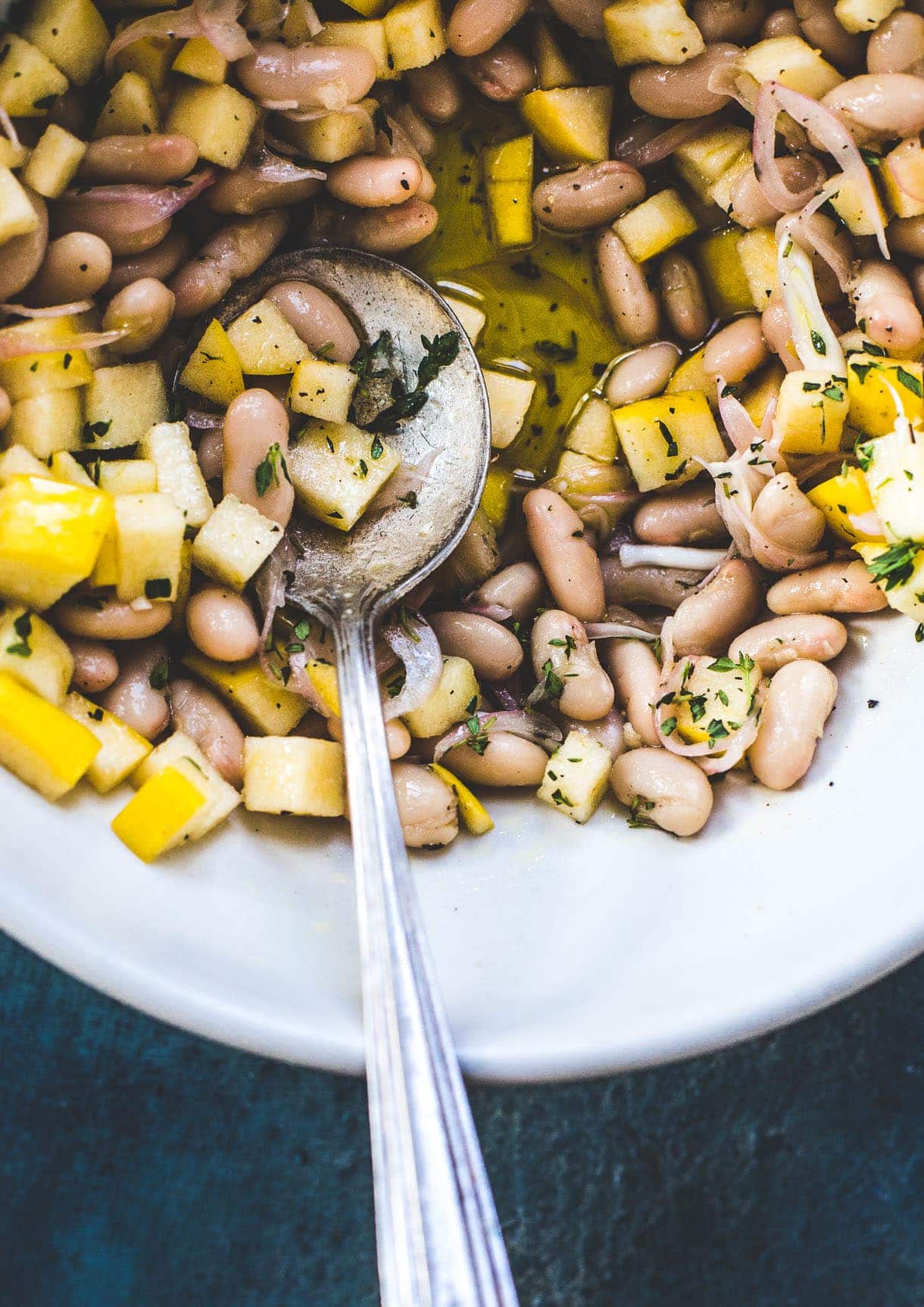 More White Bean Recipes:
6

sprigs of fresh thyme

divided

1/2

teaspoon

fine salt

1/4

cup

very

very thinly sliced shallots

3 1/2

tablespoons

red wine vinegar

1/4 to 1/2

teaspoon

freshly ground black pepper

1

14.5 ounce can white beans, drained and rinsed

1 1/2

cups

diced Opal apples (or Gala apples are a good substitute, as they don't brown as quickly as other apples)
In a small saucepan, warm olive oil, 4 thyme sprigs, and salt on low heat(it should not simmer or bubble), for 10 minutes. Remove from heat and set aside. Meanwhile, add shallots to a glass jar with lid, and pour vinegar over the top. Let sit while olive oil is warming, about 10-15 minutes.

In a large bowl combine black pepper, white beans, and apples.

When shallots are done marinating, remove thyme from olive oil, and pour this over the top of shallots. Then remove leaves from remaining two sprigs of thyme, mince, and add to jar. Shake with top on jar, to combine. Pour over apples and beans, and stir thoroughly to combine. Let sit at room temperature for a minimum of twenty minutes, and serve, or you can refrigerate, and eat whenever you're ready, giving it time for the flavors to mingle.

Once refrigerated, it will need about 10 minutes at room temperature before you eat it, for the olive oil to warm into liquid again. (If your olive oil does not harden in the refrigerator, that is a sign you are using a fake olive oil.) Can be made 2 days ahead, and will last for 4 days in refrigerator.