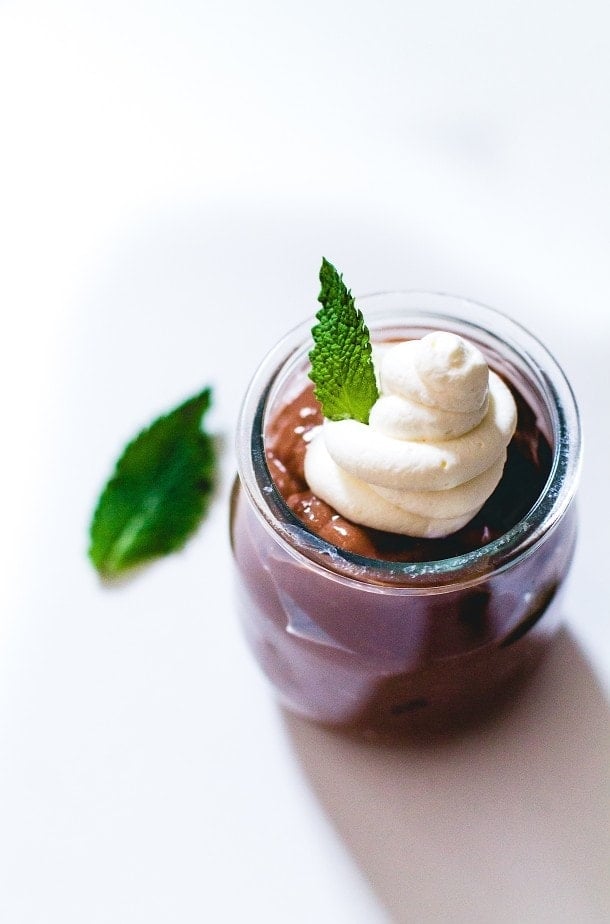 One taste of this mint chocolate pudding dessert and you'll be in heaven! Served in pretty glasses, I love serving these for a dinner party because I can make them ahead, and they are just the right amount of sweet to end with.
___________________________________
I'm not much for New Year's resolutions, but I am a reflector, a ponderer. And as I sat down to write this last post of 2015, I wondered what it would be like if there were no such thing as the passing of years.
What would be our cue to pause? Would we get too involved in the mundane of the every day, and never make time to reflect? Would we skip over the celebration of the joys, and the things that maybe threw a wrench into our plans?
So although it may seem cliché to reminisce about what filled the last 365 days of our lives, it makes me happy to do so. I'm feeling bittersweet about it, hence these creamy, mint chocolate pots de creme that I felt were the perfect thing to share with you as we chatted today – an ode to my love for both a little something sweet to cap off a great meal, and my constant love of developing allergy-friendly recipes that never skip a beat in the delicious category.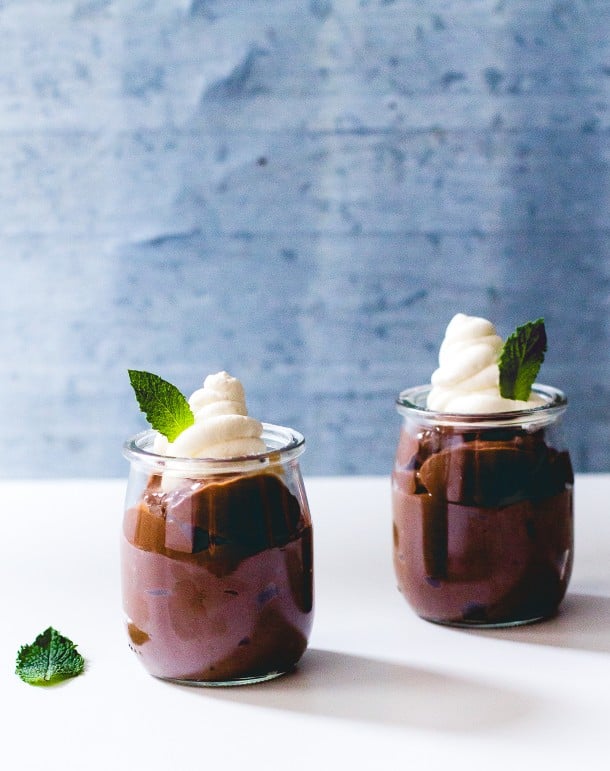 I've grown more this year than ever before, and although it came with some rough spots, it feels good. I made probably the biggest decision of my life since deciding where to go to college, and that meant flying the nest of corporate life and letting my wings take me into the freelance world. Now my days are filled with recipe development, hanging out with you, project management, food photography, and copywriting projects.
Not that I ever disliked what I was doing, but maybe you can relate to knowing your passion lies somewhere else. Where that constant tug at your heart actually affects your state of well-being in mental and physical health, and ultimately, your happiness.
But you also know that taking that leap, moving away from the constants in your life is scary. For me, I think that was what had the biggest stronghold on me. It's been part of my character ever since I can remember, what I related to controlling my own destiny. Yet because I wanted to control everything, my life had become a routine in just about every area – relationships, daily activities, sleeping patterns, what I was eating, and exercise.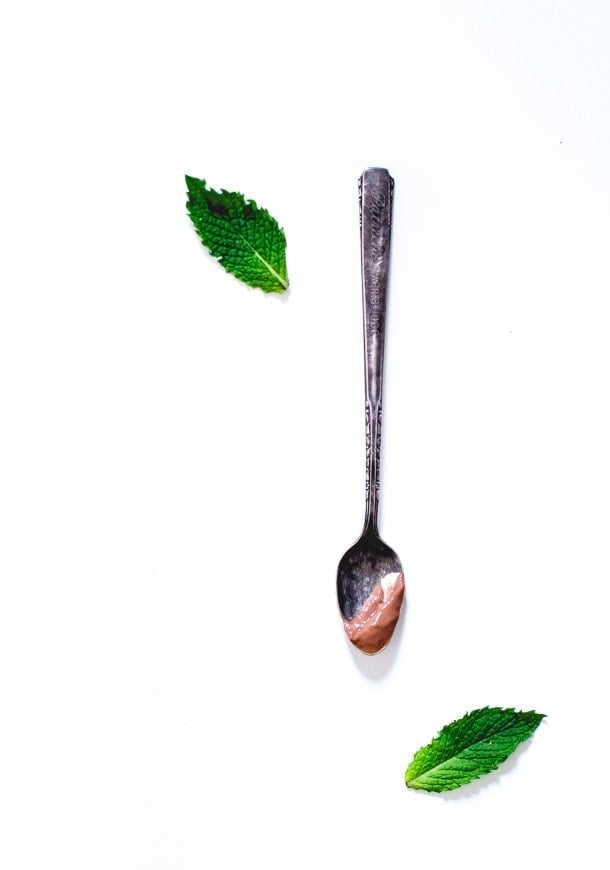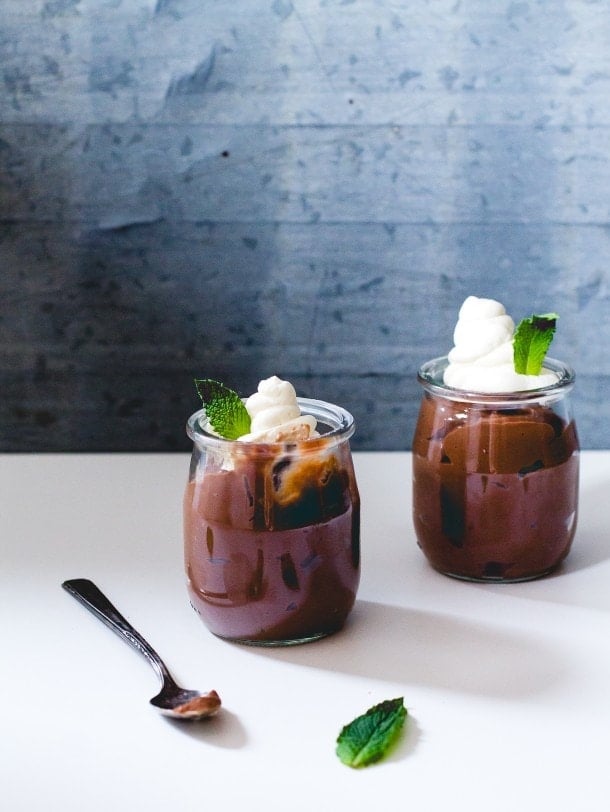 Eventually I hit rock bottom, and honestly, it was the absolute best thing that could have happened. And without that, I know that my happiness, restored health, and fulfilling relationships would not be possible.
There's more to that topic that I plan on opening up about in the next year. But for today, let's celebrate with dessert and champagne, as that's exactly how I would have it if you were coming over to watch the ball drop. These individual mint chocolate pudding desserts couldn't be easier, no eggs needed thanks to the magic of grassfed, Vital Proteins gelatin making it thick and custard-like (plus health benefits).
I used both dark chocolate and unsweetened cocoa powder to give it more depth, and the best organic milk/cream I could get my hands on. The mint is in the homemade whipped cream, making for the perfect contrast in flavors.
Thank you for your never-ending encouragement, for reading, for leaving comments, for sharing how you relate, and for being the reason I'm able to do what I love every, single day.
Hugs, happiness, and health to all of you. xo
And a few of my favorites….
If you make this Mint Chocolate Pudding Dessert, be sure to tag me on instagram with hashtag #Heartbeetkitchen or @heartbeetkitchen!
In a medium bowl, sprinkle the gelatin over the 1/4 cup milk in a medium bowl. Let stand for 2 minutes, then whisk with a fork to ensure no lumps remain.

In a small pot, combine the cocoa, dark chocolate, 1 1/2 cups milk, maple syrup, salt, over medium low heat. Whisk constantly until smooth and the mixture beings to bubble around the edges, about five minutes.

Pour the hot dairy mixture through the sieve and into the bowl of gelatin. Whisk the gelatin into the chocolate mixture. Stir in the vanilla.

Set the bowl, uncovered, in the refrigerator. After fifteen minutes cover the pudding with a sheet of plastic wrap pressed against the surface and refrigerate until fully thickened, about 8 hours, up to 2 days.

To serve: Whip the thickened pudding with a hand or stand mixer for 30 seconds to restore a creamy texture. Spoon the whipped pudding into four serving dishes. Then whip the cream and mint extract with a hand mixer in a very cold bowl until soft peaks form. Taste, and stir in more mint extract if desired. Top the pudding with the whipped cream.
This post contains Amazon affiliate links, which I make a small commission on to pay for my giant grocery bill if you happen to purchase something.