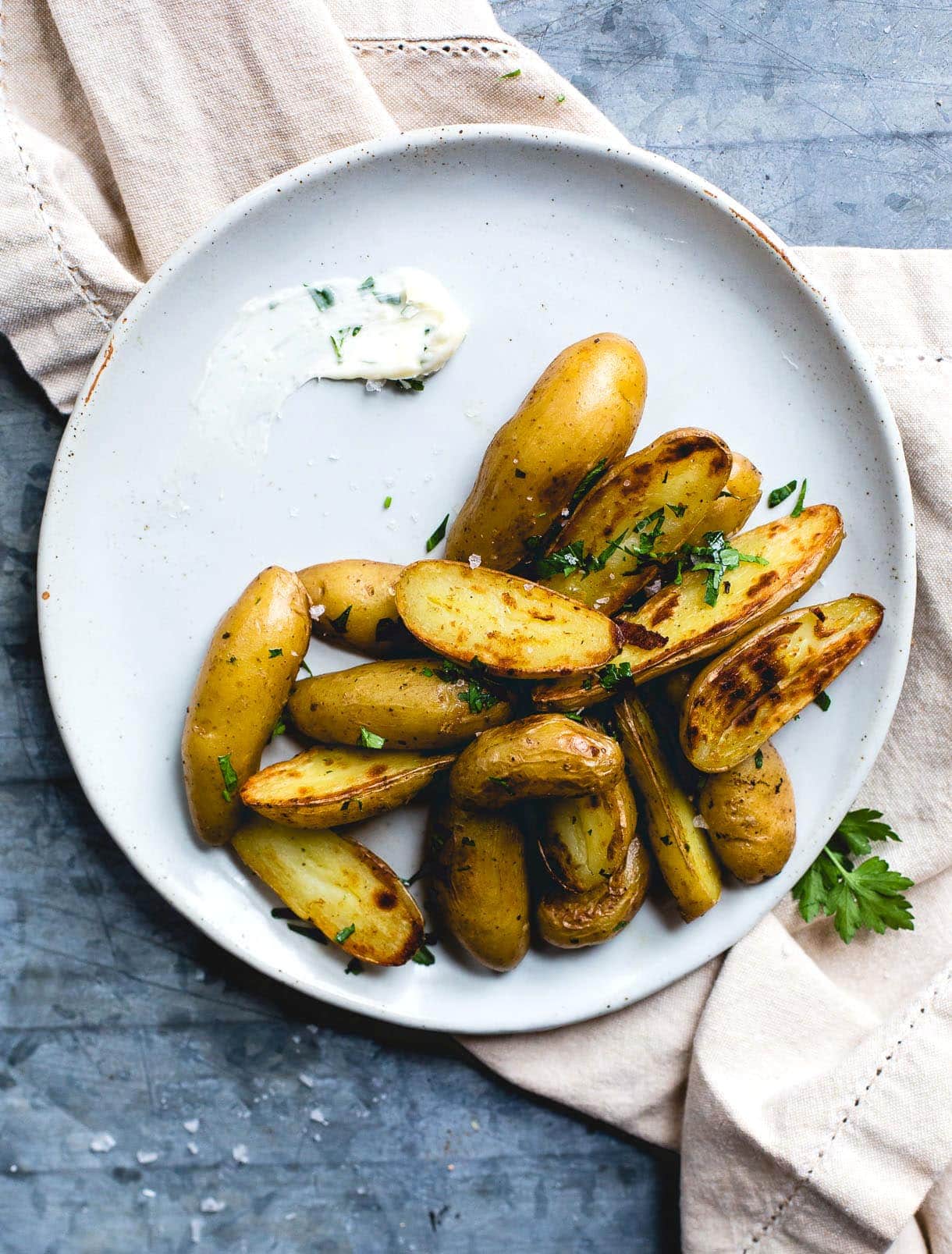 History says that potatoes are a poor man's food, but even in their simplest form, I believe they're the true definition of comfort – regardless of how much is in your bank account . They can be made a thousand different ways, across hundreds of cultures, and with slight twists that turn them into luxury.
As I've been cooking my way through The Clever Cookbook, written by my talented friend Emilie, I've fallen in love with her genius way of making flavorful fingerling potatoes, using an almost magical garlic-herb compound butter (which now resides in my refrigerator at all times, just waiting to turn pantry staples into something incredible). I love to make them as a side dish to these Sweet and Spicy Ribs.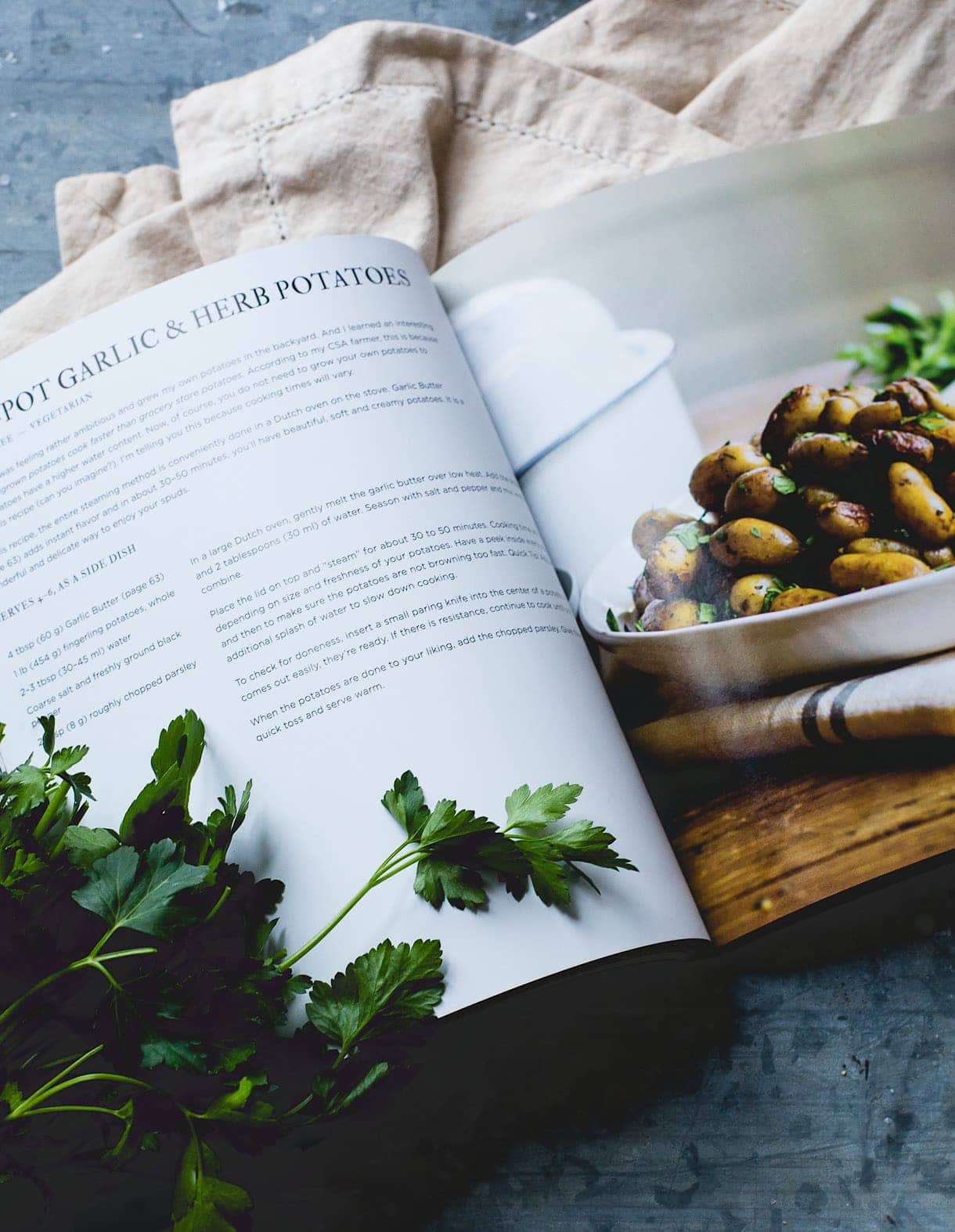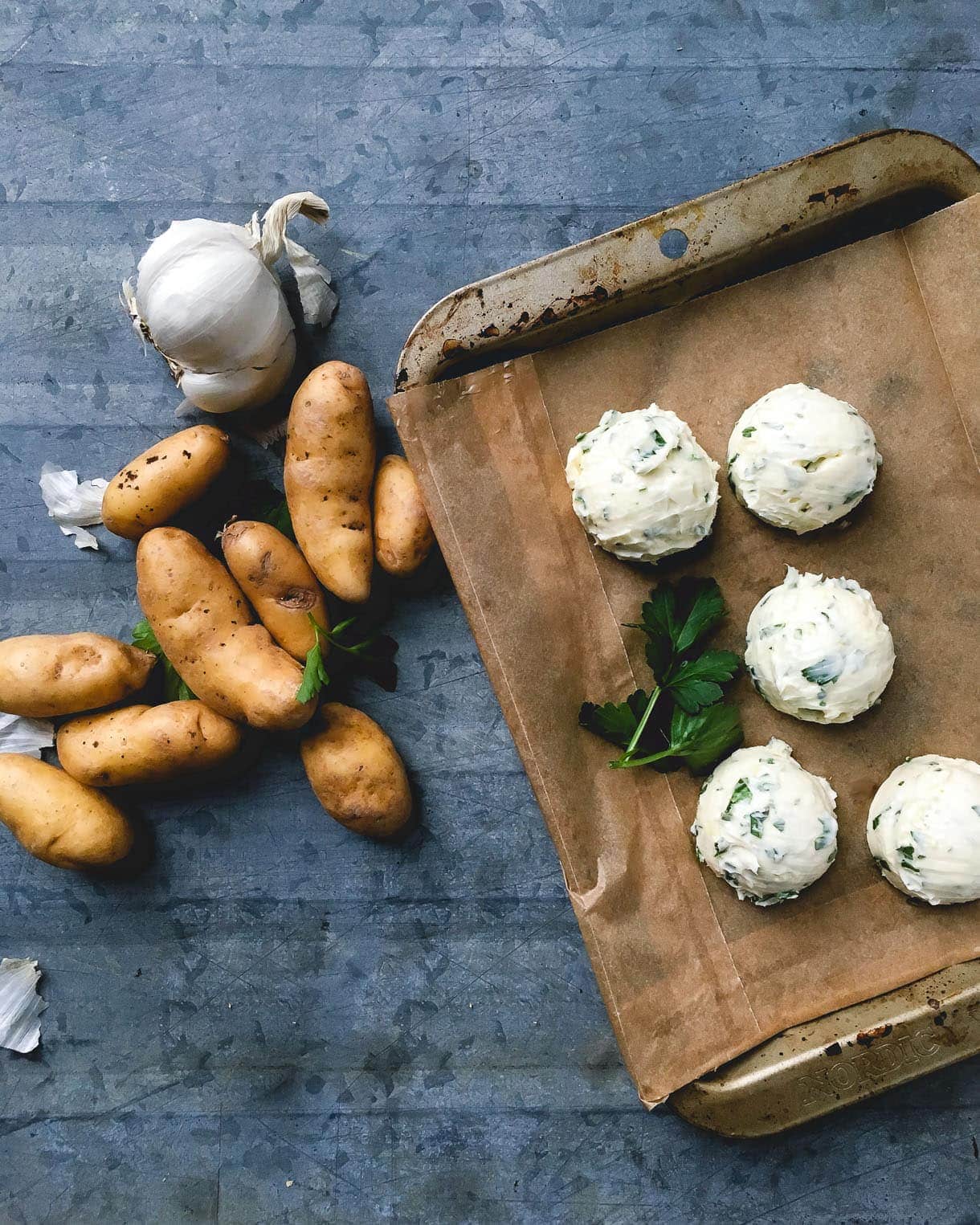 Emilie's beautiful blog, The Clever Carrot, captured me several years ago. Her recipes are wholesome and tasteful, with a nod towards health and importance of sharing meals with her family. I love her approach to cooking, mixing seasonal ingredients and fresh flavors with tips and strategies that give you the ability to fit homemade meals into a busy life. I appreciate that so much, because even though I don't have kids, my days can get a bit chaotic. And to tell you the truth, after cooking and photographing for much of the day, sometimes the last thing I want to do is have to reinvent the wheel for dinner, or a snack.
In the book you'll find basics that you can make ahead of time, then use them to turn simple ingredients into weeknight masterpieces. Take for instance her Triple Duty Chicken Stock becoming One Pot Creamy Orzo with Asparagus, Basic Tomato Sauce leading the way to 20 minute Skillet Baked Shrimp & Feta, and a Crumble Topping that can be used for fruits of all seasons.
And infused butter – also known as compound butter, like this Garlic-Herb version that transforms fingerling potatoes into the ultimate comfort dish. It's a brilliant shortcut.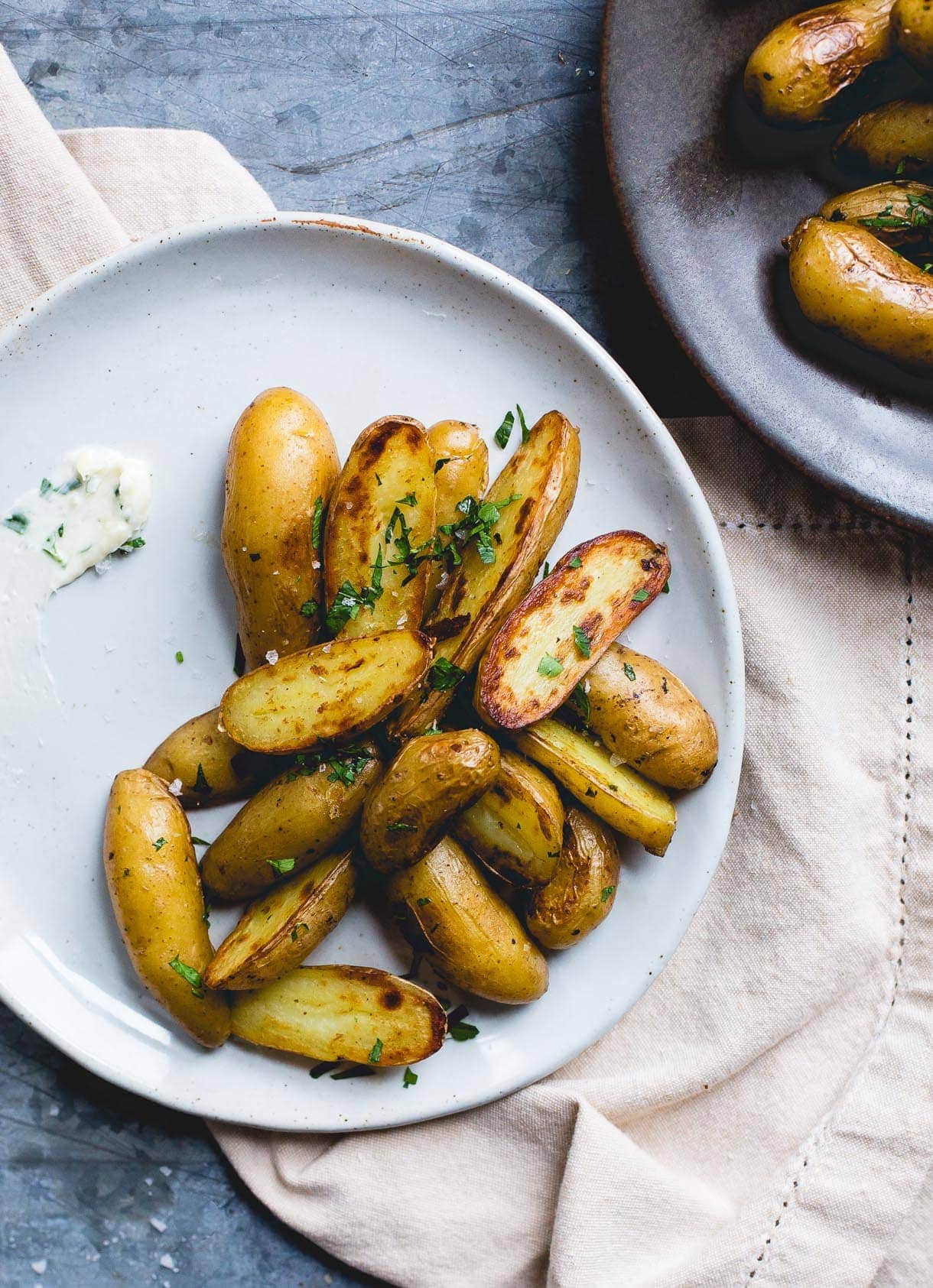 Emilie instructs you to "steam" the potatoes on the stovetop with the butter and a bit of water (also known as braising), which works incredibly well to infuse them while their insides cook until perfectly tender and creamy. (Don't roast the potatoes even if you're tempted!) I altered the recipe just a bit in terms of technique, cutting the potatoes in half and steaming them, then searing in a cast-iron skillet when they were cooked through to get that tempting golden brown crust. If you're pressed for time and don't want to bother with cutting & searing, you can certainly leave them whole and cook them in the butter until you can pierce with a fork. Just know that this will take a bit longer for them to cook, but it will be "hands off" time.
After making this dish a few times, I've put it into my "crowd-pleasing recipe" arsenal because literally, as soon as I mention the word garlic butter & potatoes in the same sentence, ears quickly perk up. They're incredible, the perfect side dish, and you can even turn them into a lovely vegetarian breakfast with a soft-boiled egg.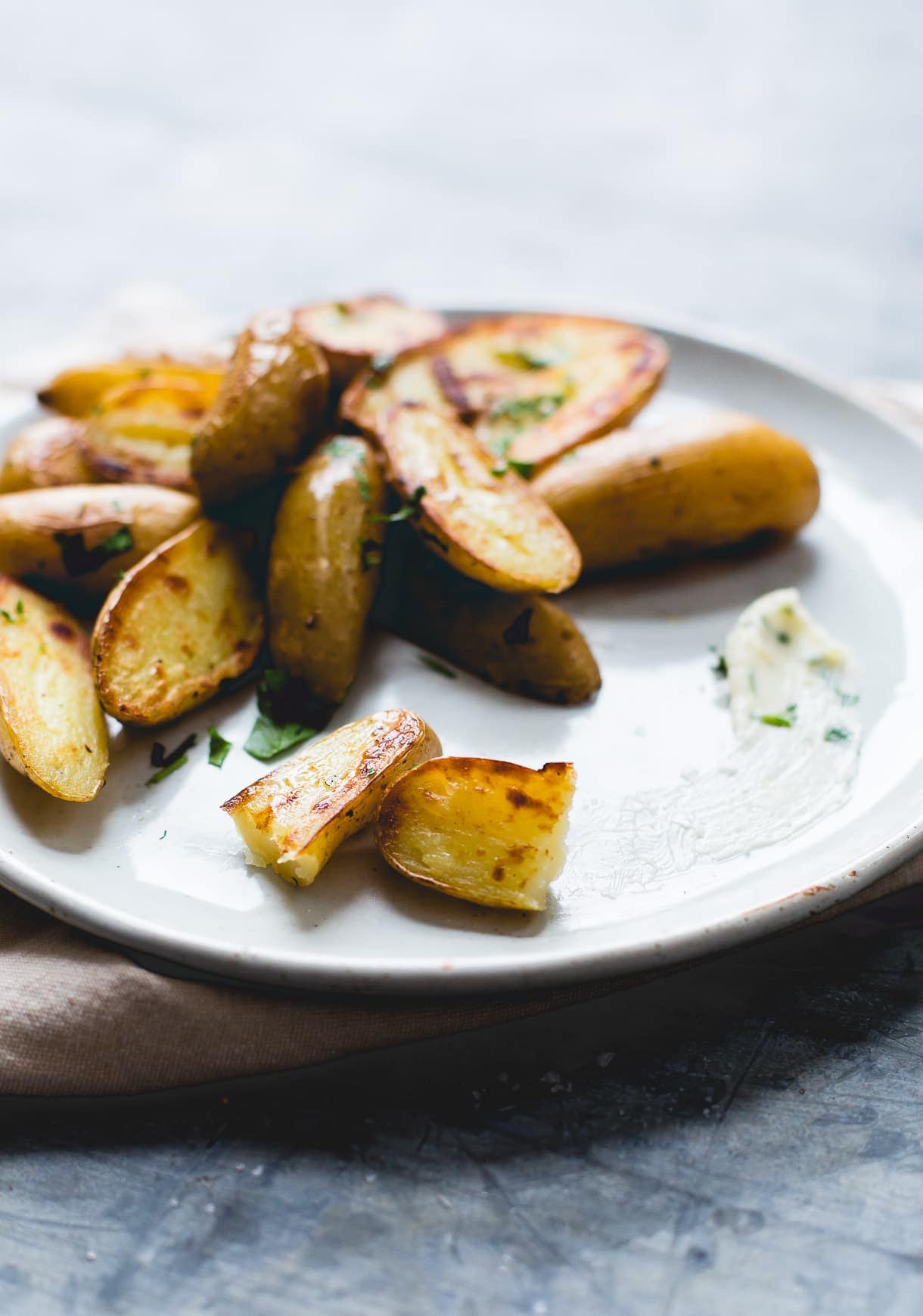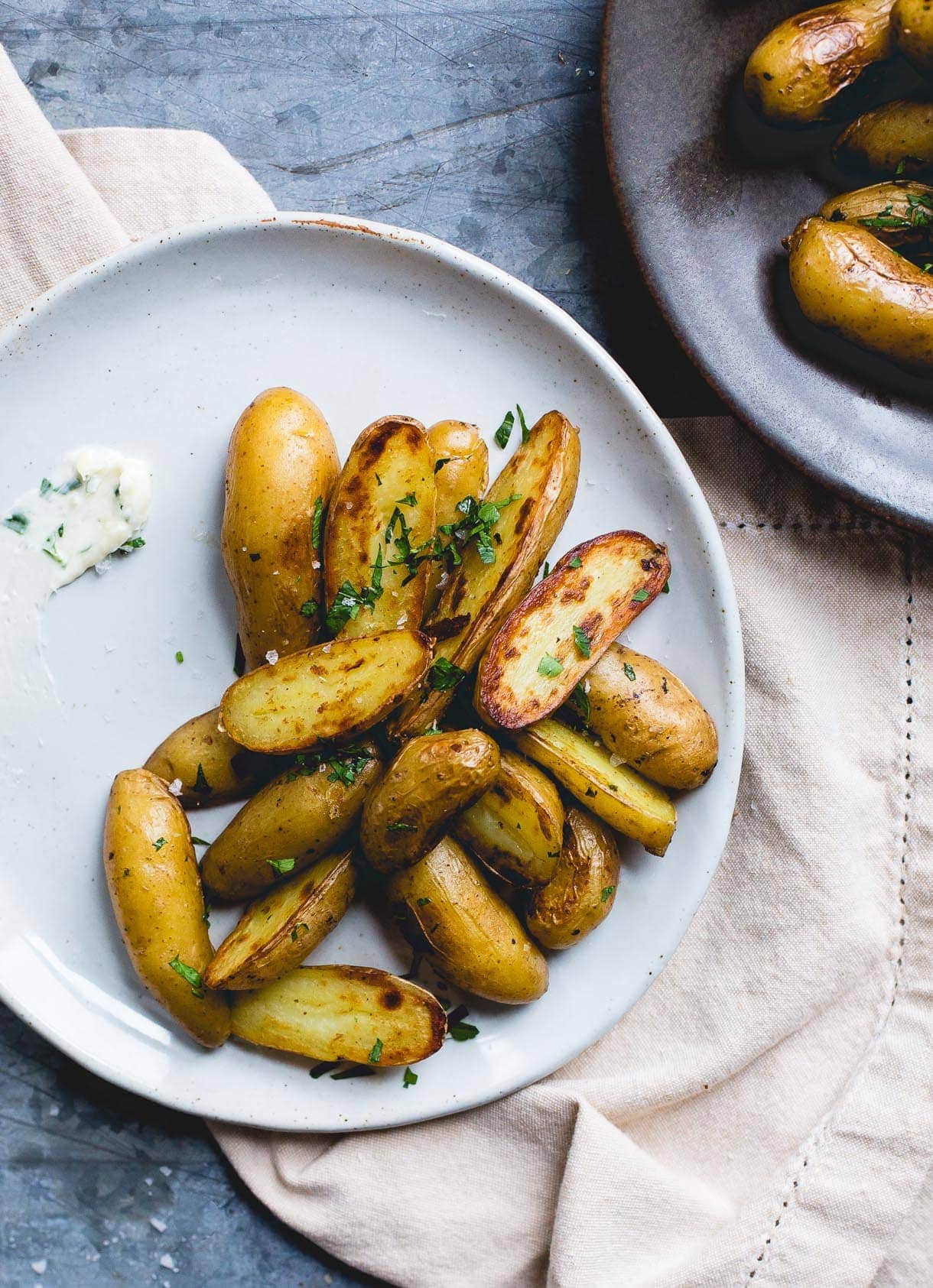 Fingerling Potatoes
4

tablespoons

of the garlic herb compound butter

divided

1

pound

fingerling potatoes

all similar in size, sliced lengthwise in half

3

tablespoons

water

Coarse salt and black pepper

2

tablespoons

fresh parsley

or basil
For the butter:
Add butter, garlic and salt to a food processor. Process until smooth. Use a spatula to add the butter to a bowl, then stir in the parsley.

To make tablespoon sized portions, using a mini ice cream or cookie dough scoop and portion the butter onto a parchment lined tray. Freeze until solid, about 15 minutes and then transfer to airtight container. You can freeze for up to 3 months and use as needed.
To make potatoes:
Melt 3 tablespoons of the garlic butter over low heat in a large dutch oven. Add potatoes and water. Season with about 1/4 teaspoon salt and a pinch of pepper, stirring to coat.

Place the lid on top and steam for about 30-40 minutes, then check with a fork. Have a peek inside every 10 or so minutes, and stir, checking to make sure potatoes aren't browning too fast. Time needed to cook until tender will vary depending on size.

When potatoes are just tender, and when inserting a paring knife into the center of a potato it comes out easily, they're ready. Take them off the heat.

Add the remaining tablespoon of garlic butter to a large cast-iron skillet and bring to medium high heat. Sear potatoes in batches, until golden brown and crispy. Season with extra salt and pepper, then top with fresh parsley.