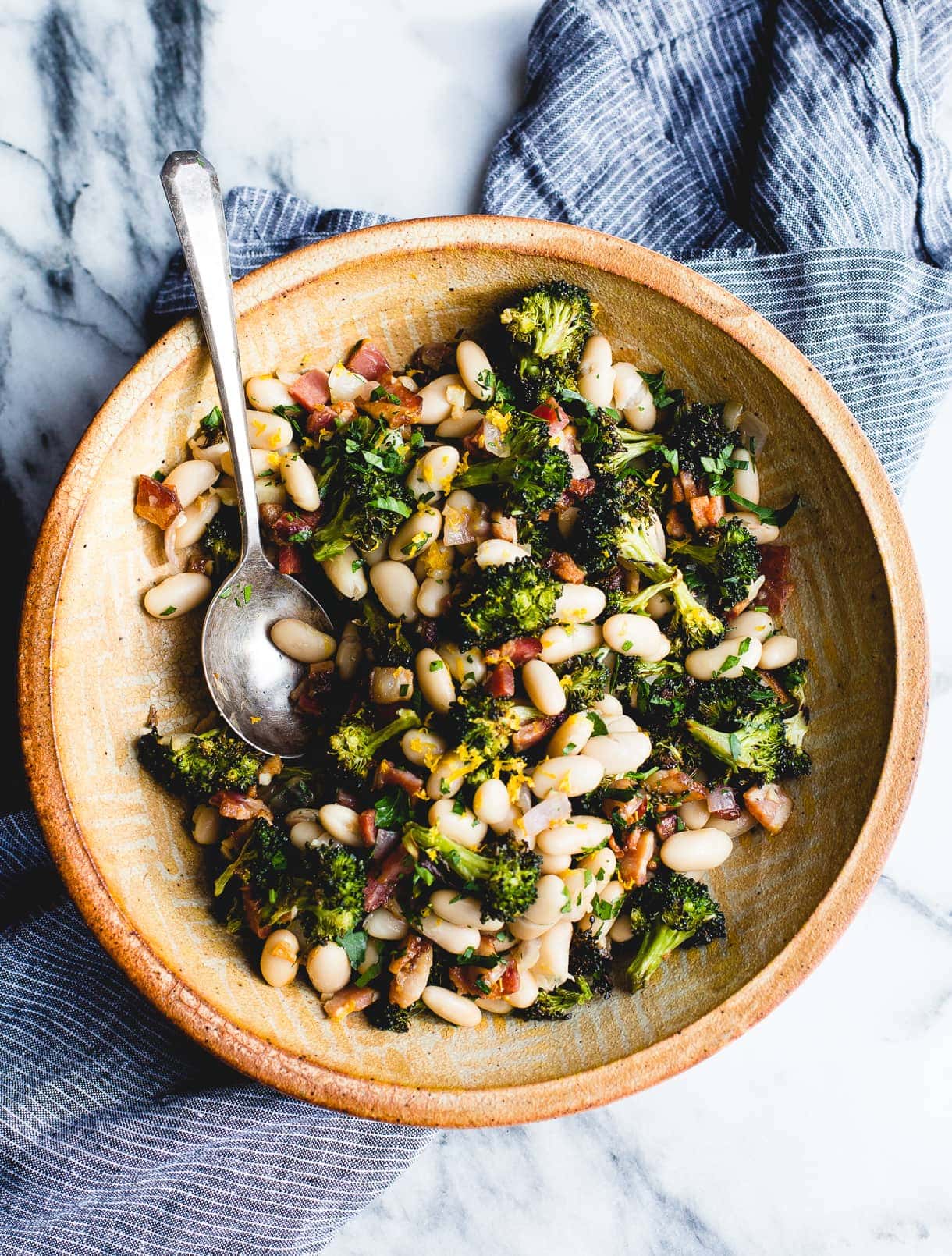 When a Minnesotan schedules something in winter, they know it comes with the risk of snow impeding plans. I had been looking forward to spending a day cooking and gabbing (a Midwest term for a mix of talking and laughing) with my sweet friend Brenda of A Farmgirl's Dabble.
Our largest snowfall came down boldly the night before, but having lived in these parts all my life, I wasn't too worried about "skating" out to the cozy little town of Lake Elmo, where she and her family live. In fact, I was super excited to see the countryside in all its fluffy, white glory and spend a snow day with my best friend, similar to the joy I had felt about situations like this when I was younger.Brenda is a gem. True and kind, always supportive, and even though we have differences, I've always felt close to her since meeting 5 years ago…. Connection, shared sensibilities, honest opinions and a love for wholesome food that has heart.
We had talked a little about what we were going to make beforehand, our main ingredients being roasted broccoli and great northern beans, fresh lemon and herbs. It sounded comforting and flavorful, yet fresh and bright – a perfect match for an easy winter meal. Upon arriving, Brenda's big smile greeted me and as we walked into the kitchen she said, "I think I have one more ingredient that we should add".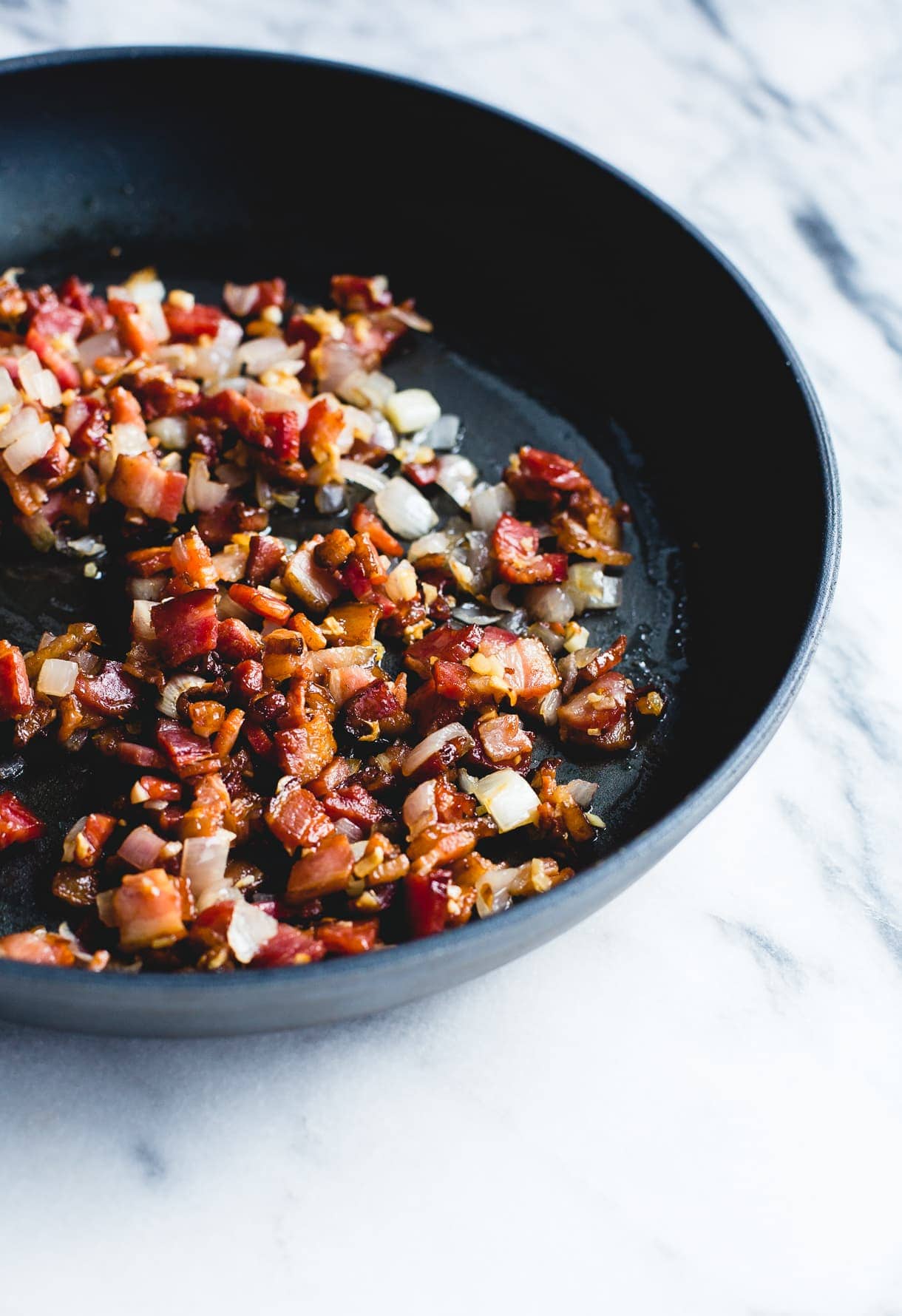 She reached for a brown parchment paper covered slab, and opened it to reveal thick, double smoked bacon from the local butcher that she knew was my favorite – my weakness actually.
It didn't take us long to fire up the oven, pour a cup of coffee, and pretend like what we were doing was work. We tasted and tweaked, stood on ledges to shoot pictures, and fell in love with this "off the cuff" great northern beans recipe we had developed.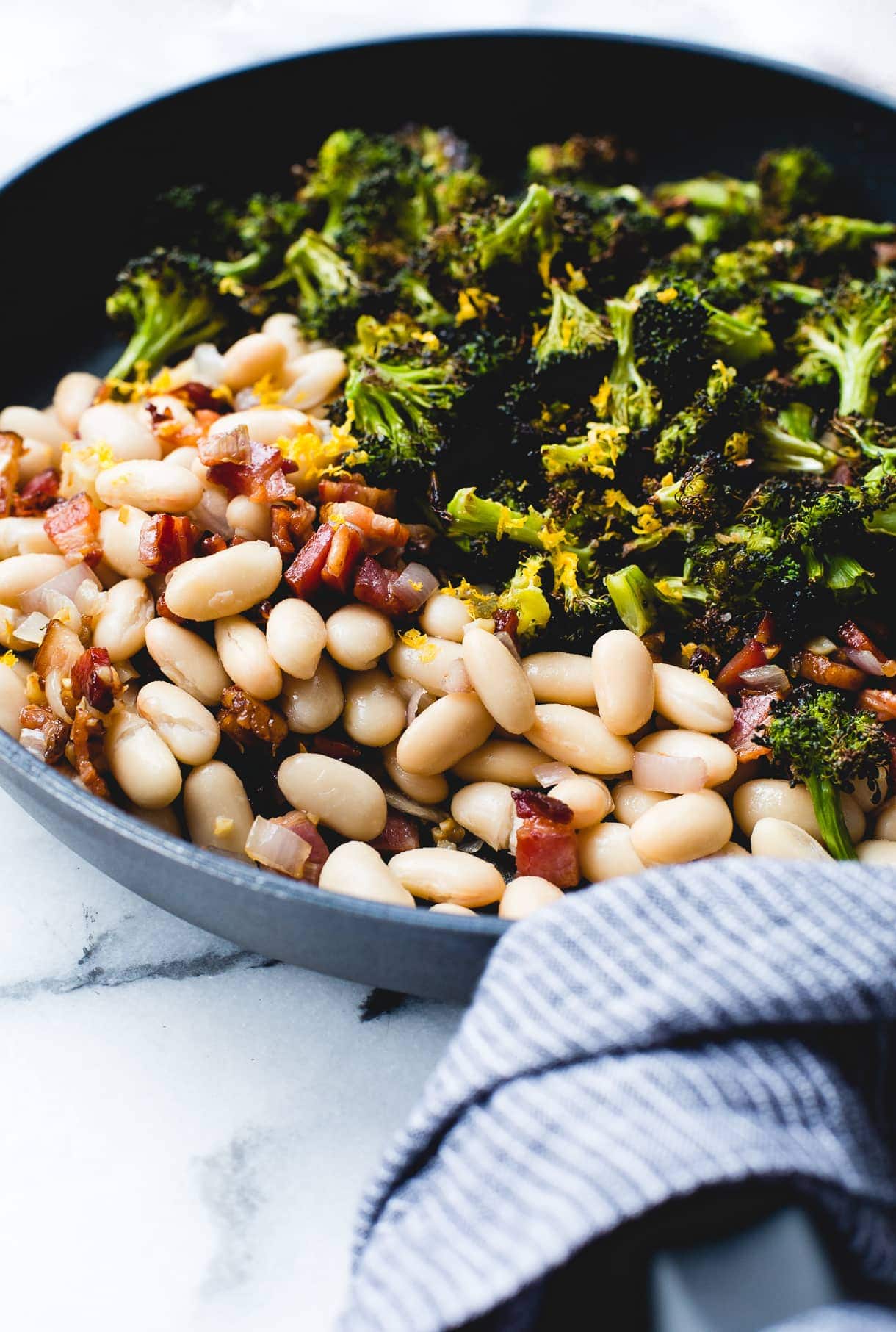 From the charred broccoli, to the soft and silky white beans, to the garlic and shallots that get sautéed in the salty bacon drippings….. At the end, a splash of lemon, crack of black pepper, and fresh parsley brightening every element.
It's a dish you'll be able to make from memory, and can be on the table in less than 45 minutes.
Serve it hot or room temperature, as a side dish or a main, change it up with roasted cauliflower, or basil instead of parsley.
Just be sure you don't skip the bacon, and a girlfriend to share it with. They feed our souls in a way that other relationships can't. Enjoy this recipe, and also a little glimpse into Brenda's kitchen. xo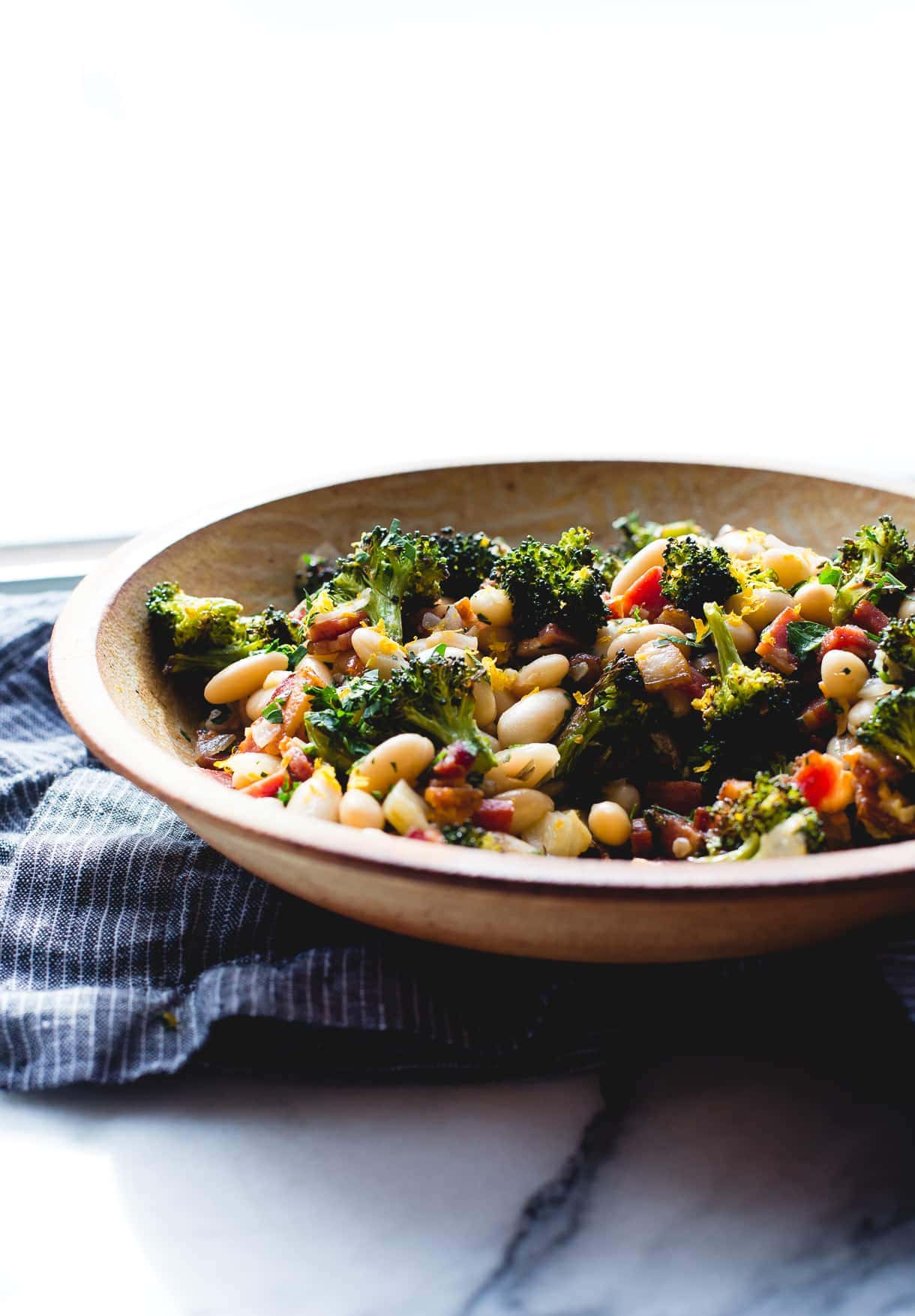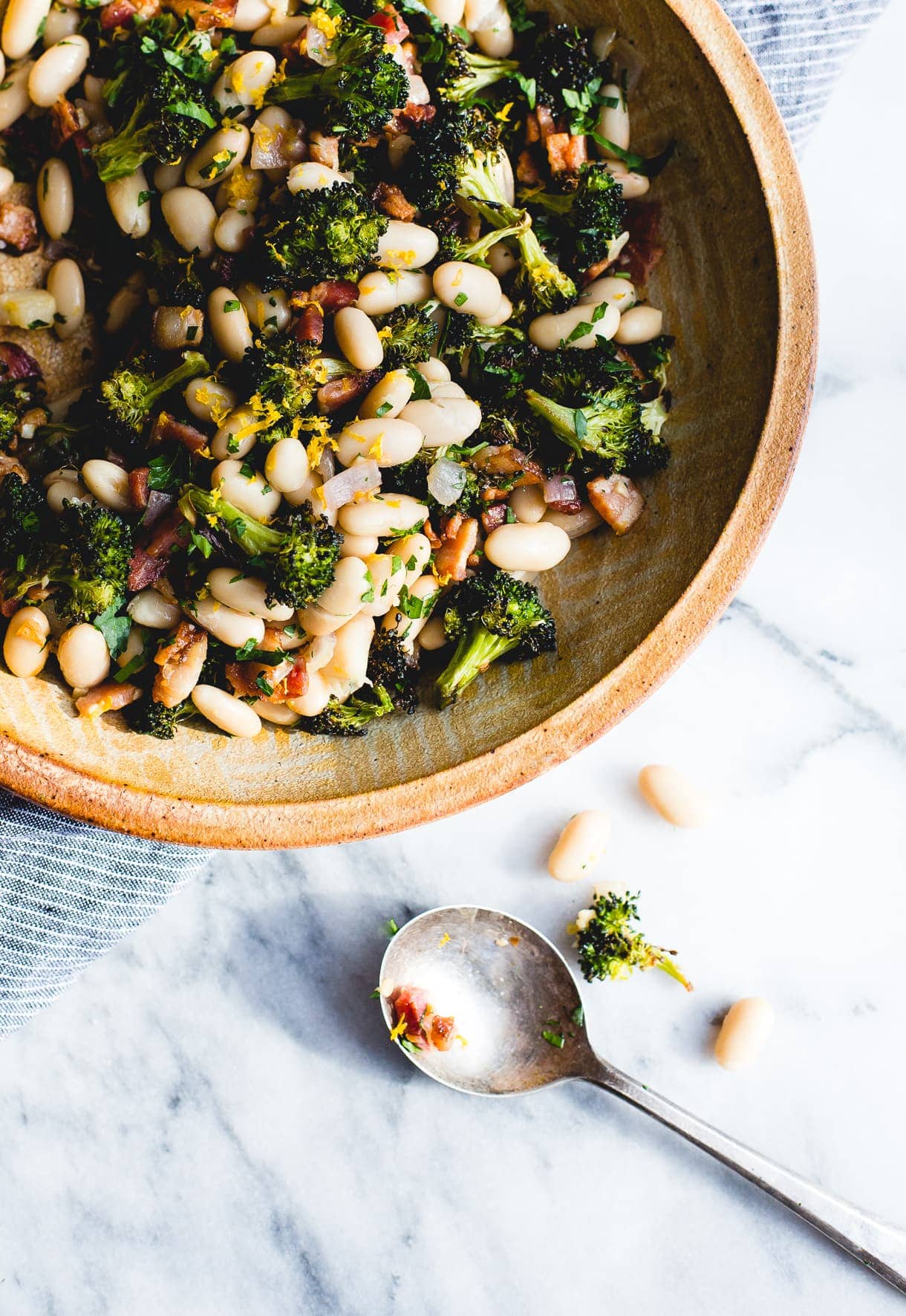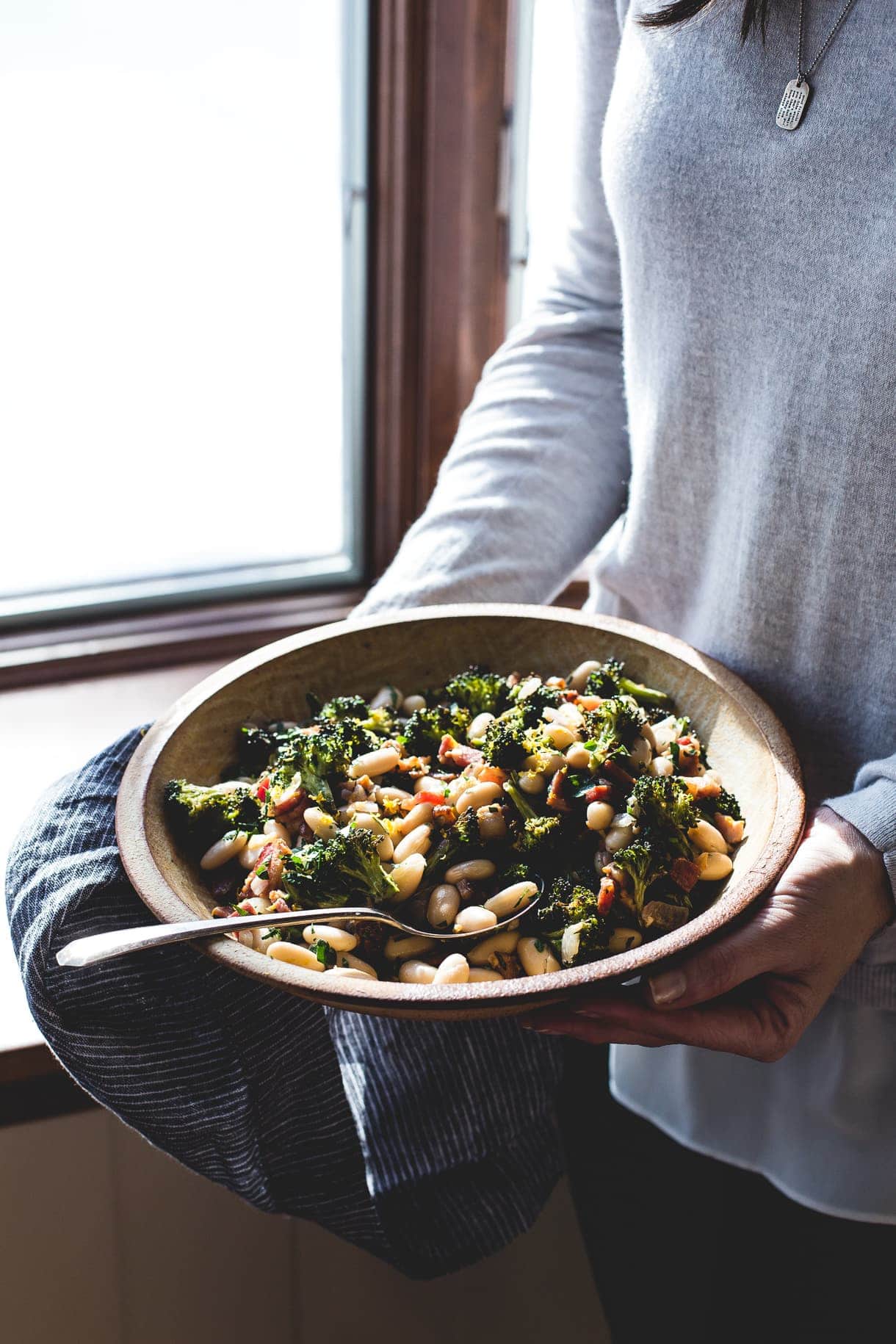 If you make this Great Northern Beans recipe, be sure to tag me on instagram with hashtag #heartbeetkitchen or @heartbeetkitchen!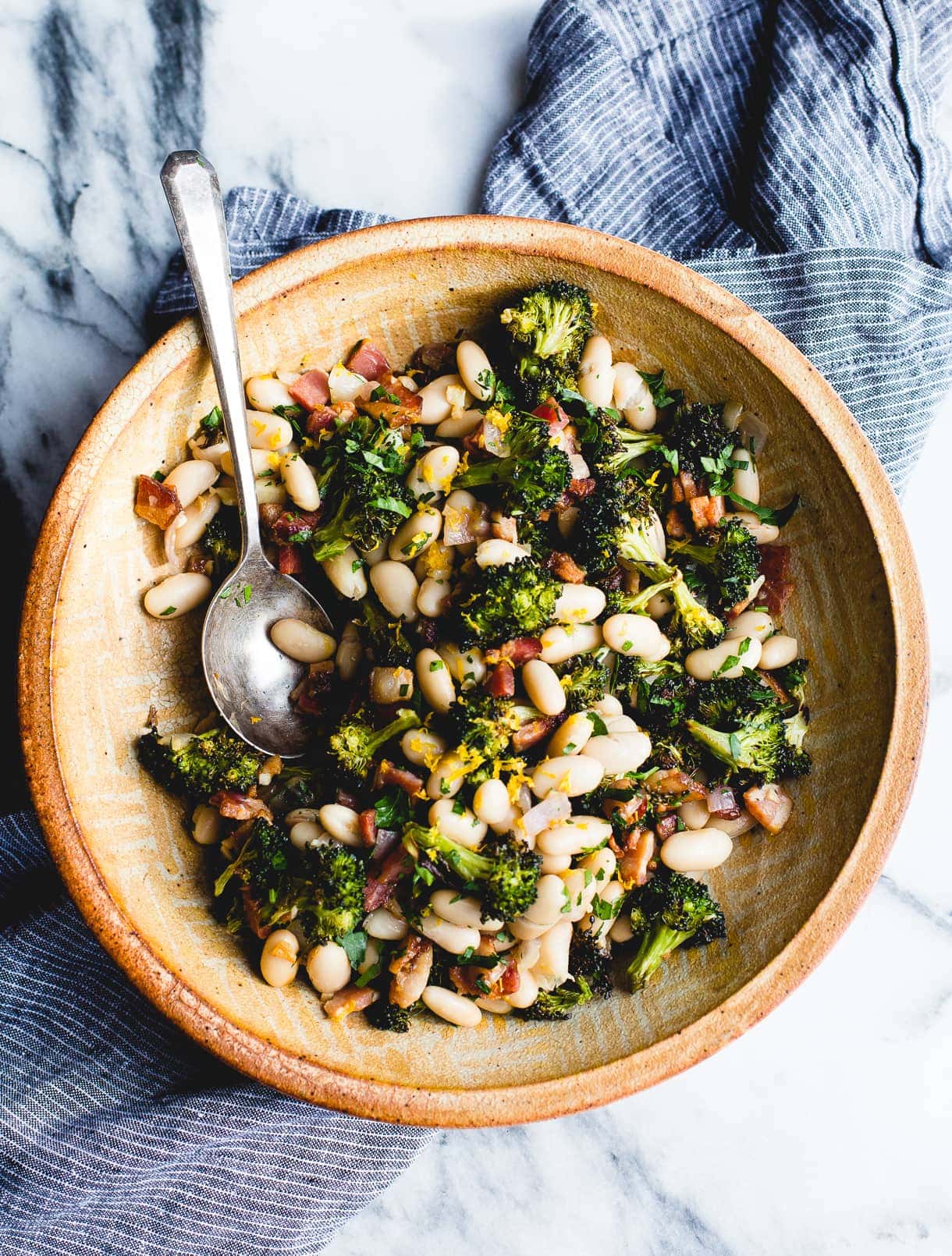 1

small head of broccoli

cut into florets (3/4 pound)

1 1/2

tablespoons

olive oil

1/4

teaspoon

salt

1/2

pound

thick cut bacon

5 slices, cut into small matchsticks

1

15 ounce can white beans, drained

1

medium shallot

chopped

2

large cloves of garlic

minced

1/2

medium lemon

2

tablespoons

fresh minced parsley

1/4

teaspoon

black pepper
Place a large roasting pan in the lower half of the oven and preheat the oven to 375°F. Once the oven is preheated, remove the heated pan and spread the broccoli florets out on it. Then drizzle the broccoli with olive oil. Sprinkle with salt and toss just a bit to combine.

Return the pan to the oven and roast the broccoli for 15 minutes. Toss the broccoli and roast for another 15 to 20 minutes, or until broccoli is just softened and nicely caramelized and charred. Remove pan from oven and set aside.

While broccoli is roasting, heat a medium-large skillet over medium to medium-high heat. Fry the bacon pieces, stirring occasionally, until bacon is crispy on the edges but still mostly chewy. Once most of the fat has rendered from the bacon, drain all but 2 tablespoons of the fat from the skillet.

Then add the shallot and cook for another 4 to 5 minutes, until shallot has softened. Add the garlic and cook for 1 to 2 minutes, until garlic is softened and fragrant. Add the roasted broccoli and beans, folding to combine.

Transfer to a serving dish and sprinkle the fresh lemon juice over the top, followed by the lemon zest, parsley, and a bit of freshly ground black pepper. Serve hot or at room temperature