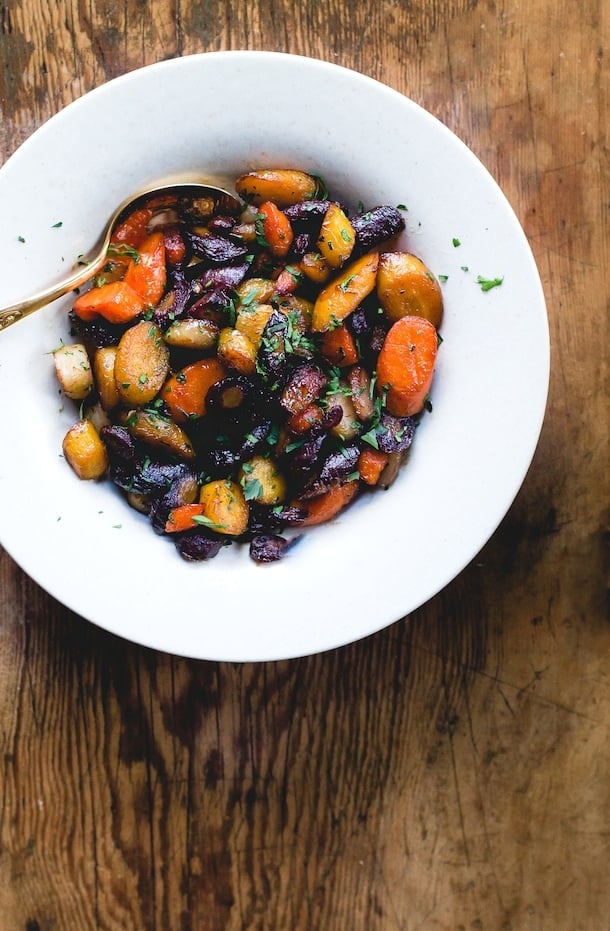 As humans we're definitely creatures of habit. Sticking with a routine feels good, and particularly when we've mastered something, it takes a lot for us to stray from that method.
I've become accustomed to roasting every vegetable I can get my hands on. It's hard to resist their toasted edges, and sweeter flavor. But after my friend Laurie's new cookbook, Simply Scratch, landed in my hands, I started rethinking my approach, reading through her caramelized, honey garlic carrots recipe — first connecting with her story about her dislike of carrots as a child, just as I did.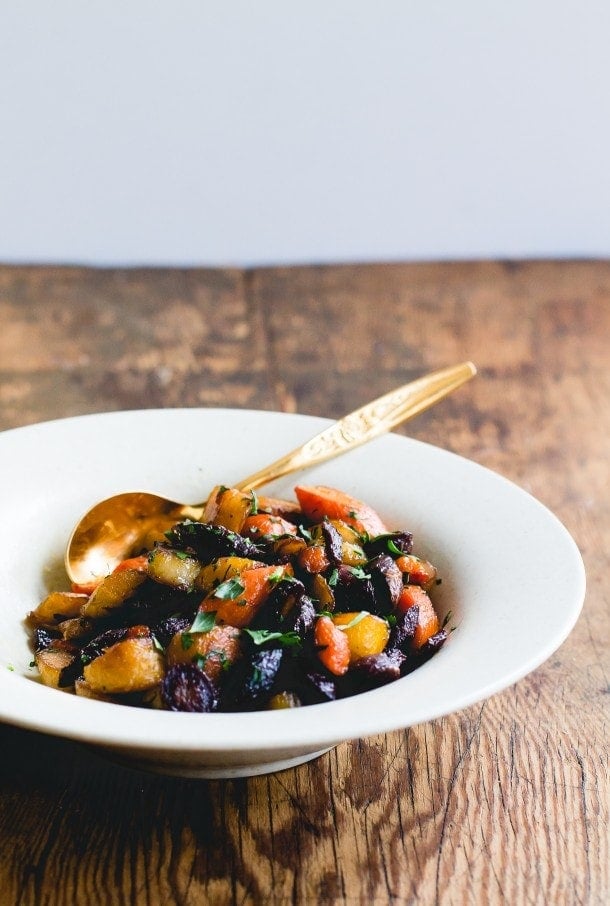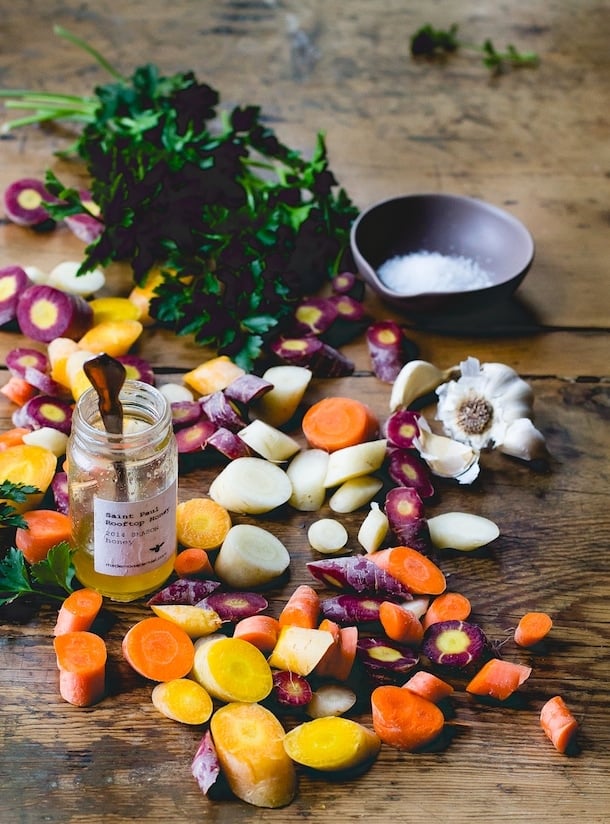 Laurie's stories are just one of the reasons I love her cookbook, and also why I've been following her blog for years. Growing up on a farm in Michigan, she learned to cook with her mother, who made everything from scratch, and helped tend the garden rows of fruits, vegetables, and flowers.
Her home-cooking know how is second to none, but more so, her down-to-earth approach could make anyone want to get in the kitchen.
Much like myself, she believes in using real food, everyday ingredients, and creating little twists to make them shine.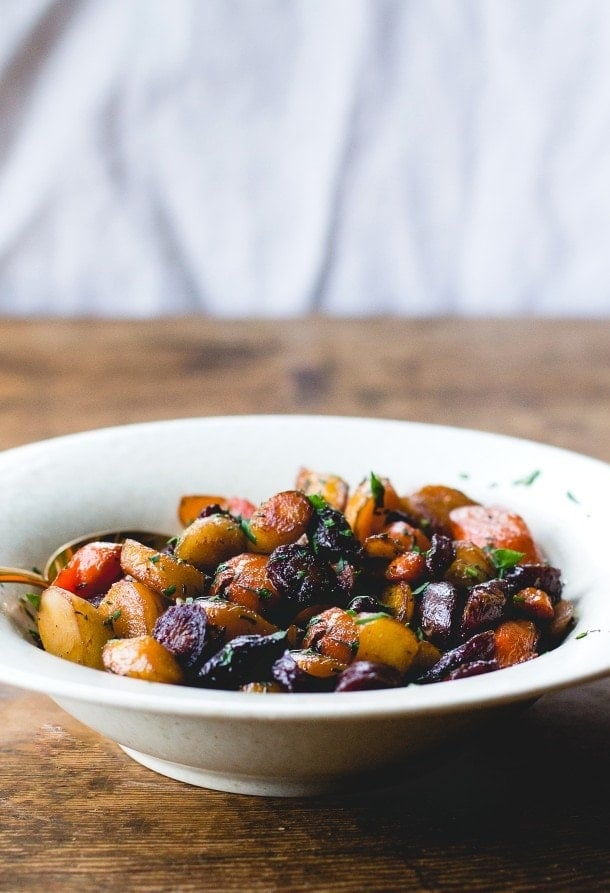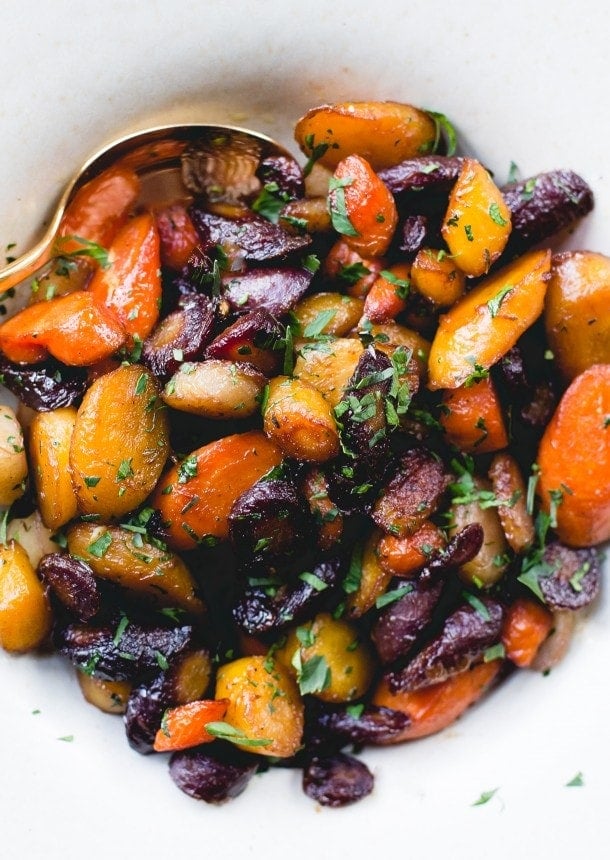 Like these humble carrots, that suddenly turned into the favorite dish on our Thanksgiving table. Made on the stovetop, cooking their way to browned edges amongst butter, honey, and garlic, they're absolutely divine.
The caramelization brings out their natural sweetness, the quality I love about roasting, but their texture is perfectly different.
And there's no doubt in my mind that carrots were meant to be paired with butter, then brightened with a showering of fresh parsley.
I adapted the recipe just a bit, adding an extra clove of garlic and slicing it instead of mincing so it would be mild. Instead of adding it at the end, I stirred the garlic in after 10 minutes, so it had some time to infuse the carrots as they cooked.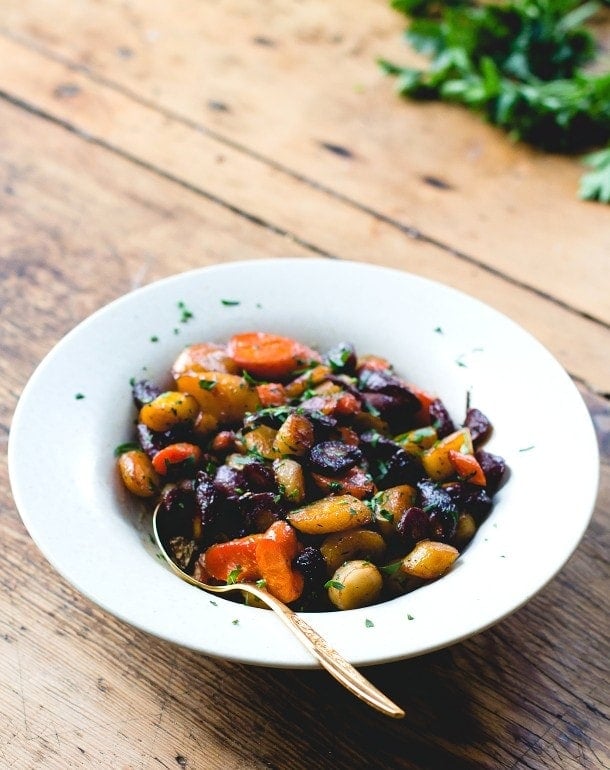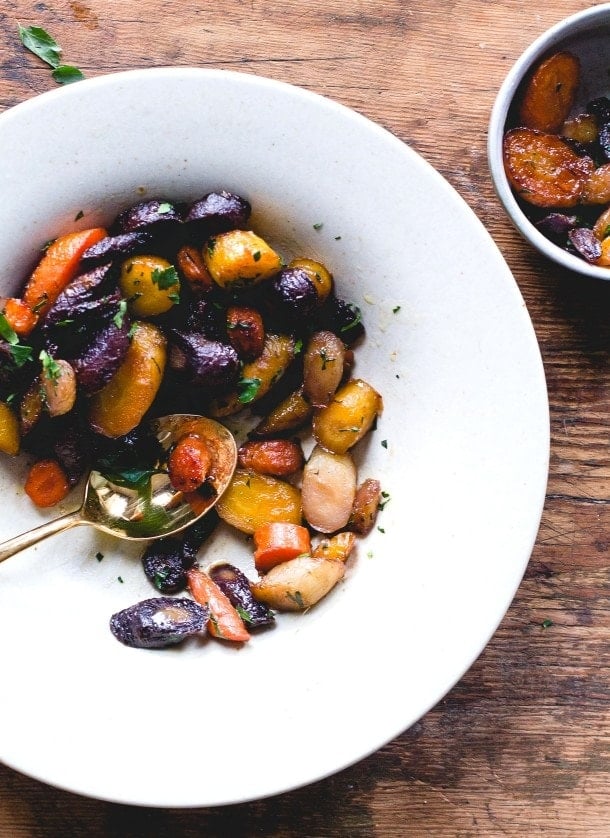 With lots of holiday gatherings coming up, I can't think of a better side dish to bring, something that everyone will love. And there's so many other recipes I have bookmarked, like the Bacon Braised Greens, Vegetarian Potpie, and definitely the Winter Apple + Pear Shortcakes. If you're looking for something to bring as a hostess gift or to give your favorite cook, Simply Scratch would be perfect.
Enjoy!
Watch Video: How to Make Honey Garlic Carrots
video collaboration with Annie D'Souza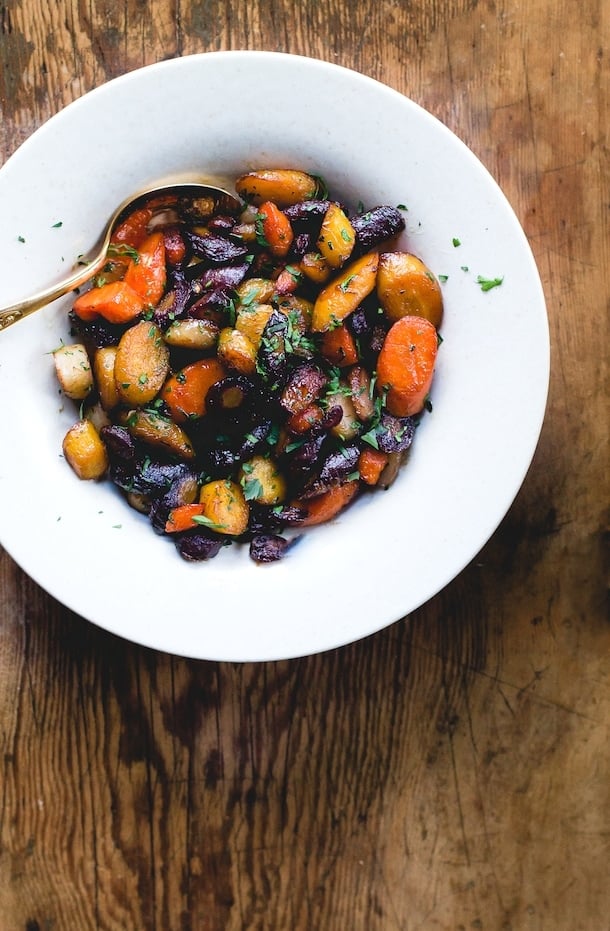 3

tablespoons

unsalted butter

divided

1

pound

carrots

cut into 1/2 inch slices on the diagonal (you don't want them to thick or they will take forever to cook)

1/2

teaspoon

kosher salt

2

cloves

garlic

thinly sliced

1 1/2

tablespoons

raw honey

1

tablespoon

minced fresh flat-leaf parsley
In a 10 inch skillet (preferably cast-iron), heat 2 tablespoons butter over medium heat. Add carrots and salt once melted, stirring to coat.

Place cover on skillet and cook for 15 minutes, then remove and stir in the garlic. Cook uncovered, stirring occasionally, until tender, about 10-15 minutes, until fork tender.

Then stir in remaining 1 tablespoon butter, honey, and parsley, cooking 2 minutes to combine. Taste, adjusting salt as needed. Serve warm.
I was given this book by Laurie's publisher, Avery Books, but not compensated for this post. This post is supported by Amazon affiliate links, which I may received a small commission from if you purchase something.