Made on the stovetop, these honey garlic caramelized carrots are absolutely divine, a side dish that everyone will love! They're tender and buttery with browned edges, and you only need 5 ingredients to make. Honey is used for these carrots, rather than a brown sugar glaze, as a natural sweetener.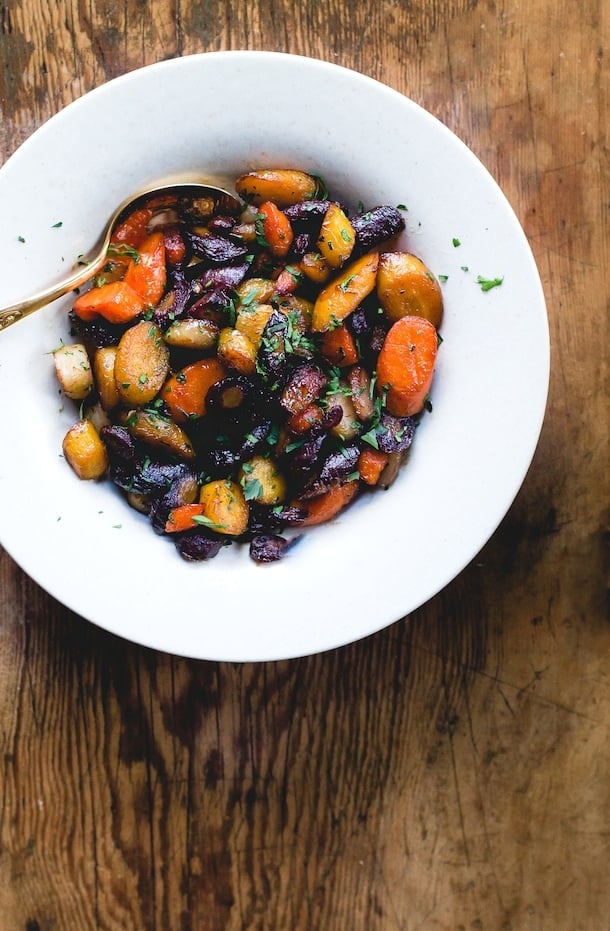 As humans, we're creatures of habit, because sticking with a routine feels good, particularly when we've mastered something.
I've become accustomed to roasting every vegetable I can get my hands on. You'll see that reflected in some of these delicious side dish recipes.
But you can also achieve incredible caramelization and flavor on the stovetop! These caramelized carrots with honey and garlic, made in a skillet, quickly became a house favorite side after discovering them in my friend Laurie's cookbook, Simply Scratch.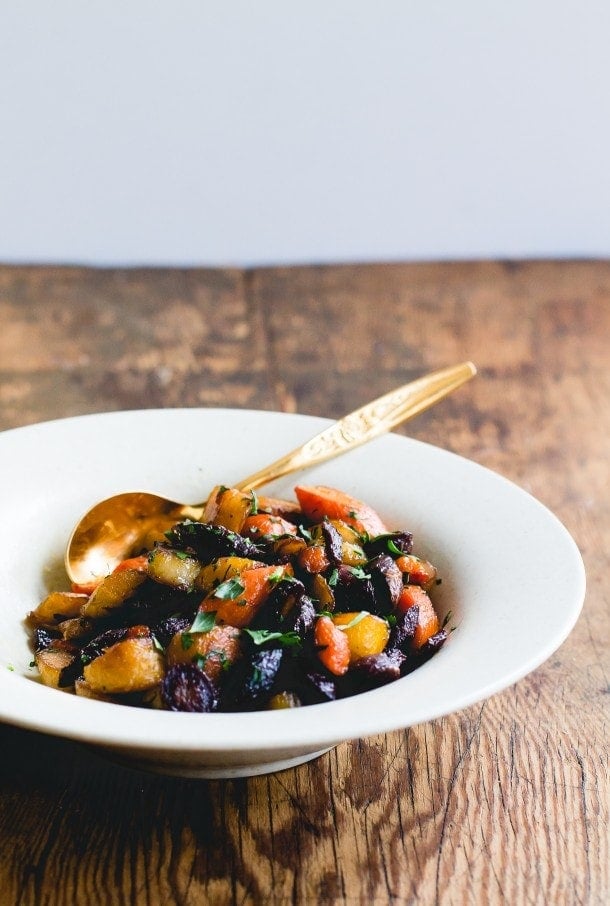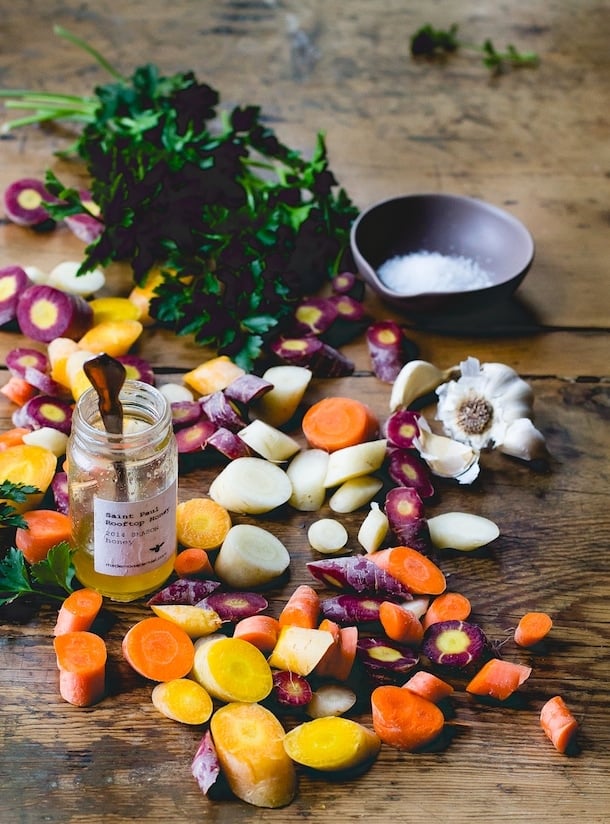 How to Cook Carrots on the Stovetop:
Using the heat of the stovetop, carrots cook their way their way to browned edges amongst butter, honey, and garlic.
First you'll want to cut the carrots into thin coins on the diagonal, so they have more surface area.
Then you'll melt butter in a cast iron skillet and add the carrots, stirring to coat.
Next, you'll cover the pan and let the carrots cook for 15 minutes, until they're starting to get tender. This helps steam them in a hot environment.
Remove the lid and stir in the garlic, then cooking for another 10 minutes, until carrots are fork tender.
Finally, stir in honey, remaining butter, and fresh parsley to finish.
They're absolutely divine! The caramelization brings out their natural sweetness, and the texture is perfect. They're the perfect side dish, alongside my Easy Potatoes Au Gratin and Red Kuri Squash with Tahini Sauce.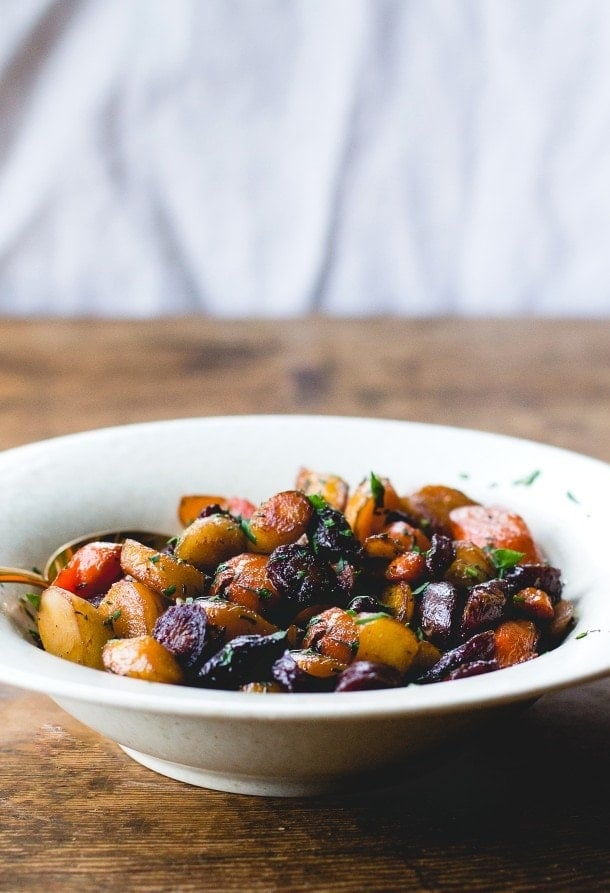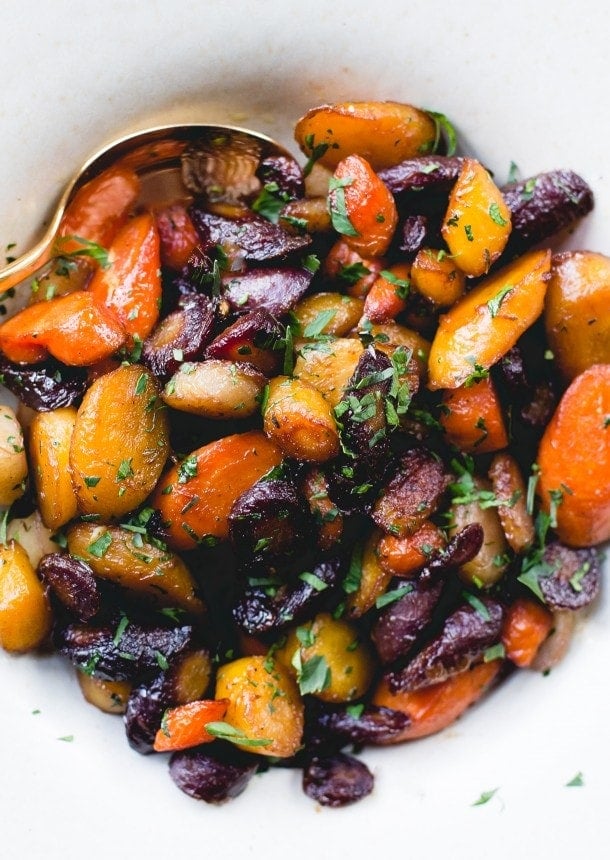 Carrots were meant to be paired with butter, and are finished with a showering of fresh brightening from parsley. And flaky salt!
I adapted the recipe just a bit, adding an extra clove of garlic and slicing it instead of mincing so it would be mild. Instead of adding it at the end, I stirred the garlic in after 10 minutes, so it had some time to infuse the carrots as they cooked.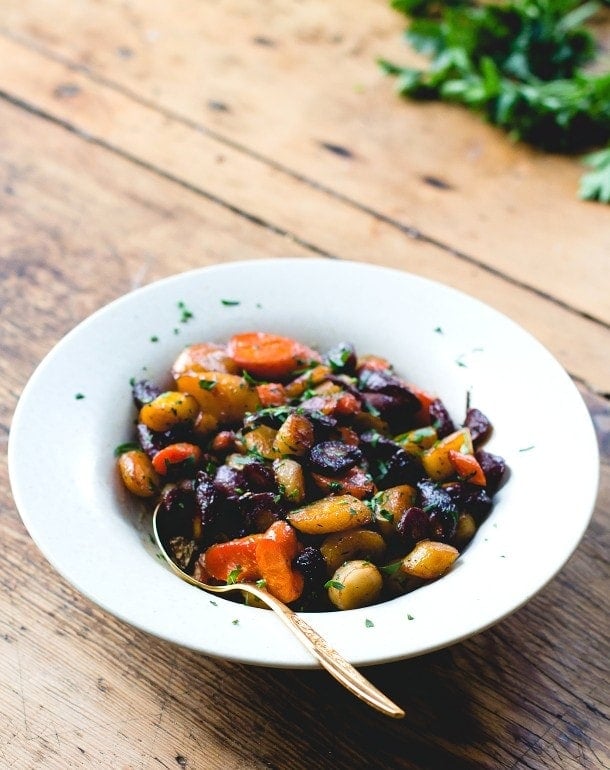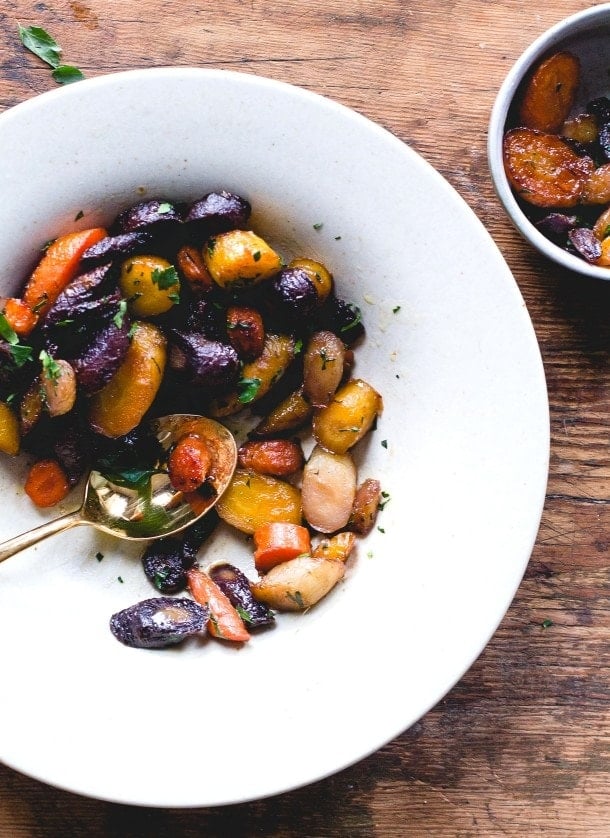 More Carrot Recipes: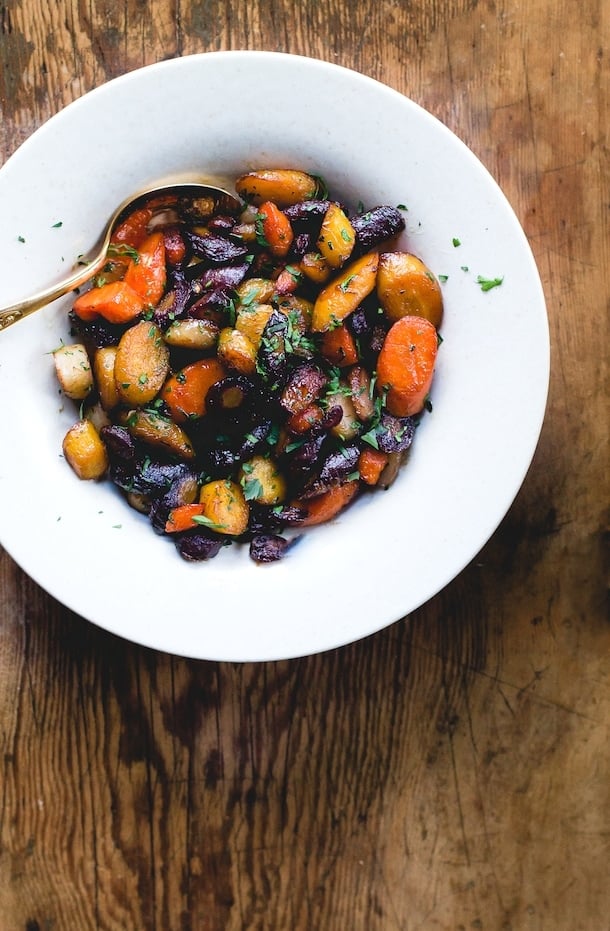 3 1/2

tablespoons

unsalted butter,

divided

1

pound

carrots, peeled and

cut into 1/4 to 1/2 inch slices on the diagonal (you don't want them too thick or they will take forever to cook)

1/2

teaspoon

kosher salt

3

cloves

garlic,

thinly sliced (2 cloves if exceptionally large)

1 1/2

tablespoons

raw honey

1

tablespoon

minced fresh flat-leaf parsley
In a 10 inch skillet (preferably cast-iron), heat 2 tablespoons butter over medium heat. Add carrots and salt once melted, stirring to coat.

Place cover on skillet and cook for 15 minutes over medium heat. Then remove and stir in the garlic. Cook uncovered, stirring occasionally, until tender, about 10-15 minutes, until fork tender.

Stir in remaining 1 1/2 tablespoons butter, honey, and parsley, cooking 2 minutes to combine. Taste, adjusting salt as needed. Serve warm.