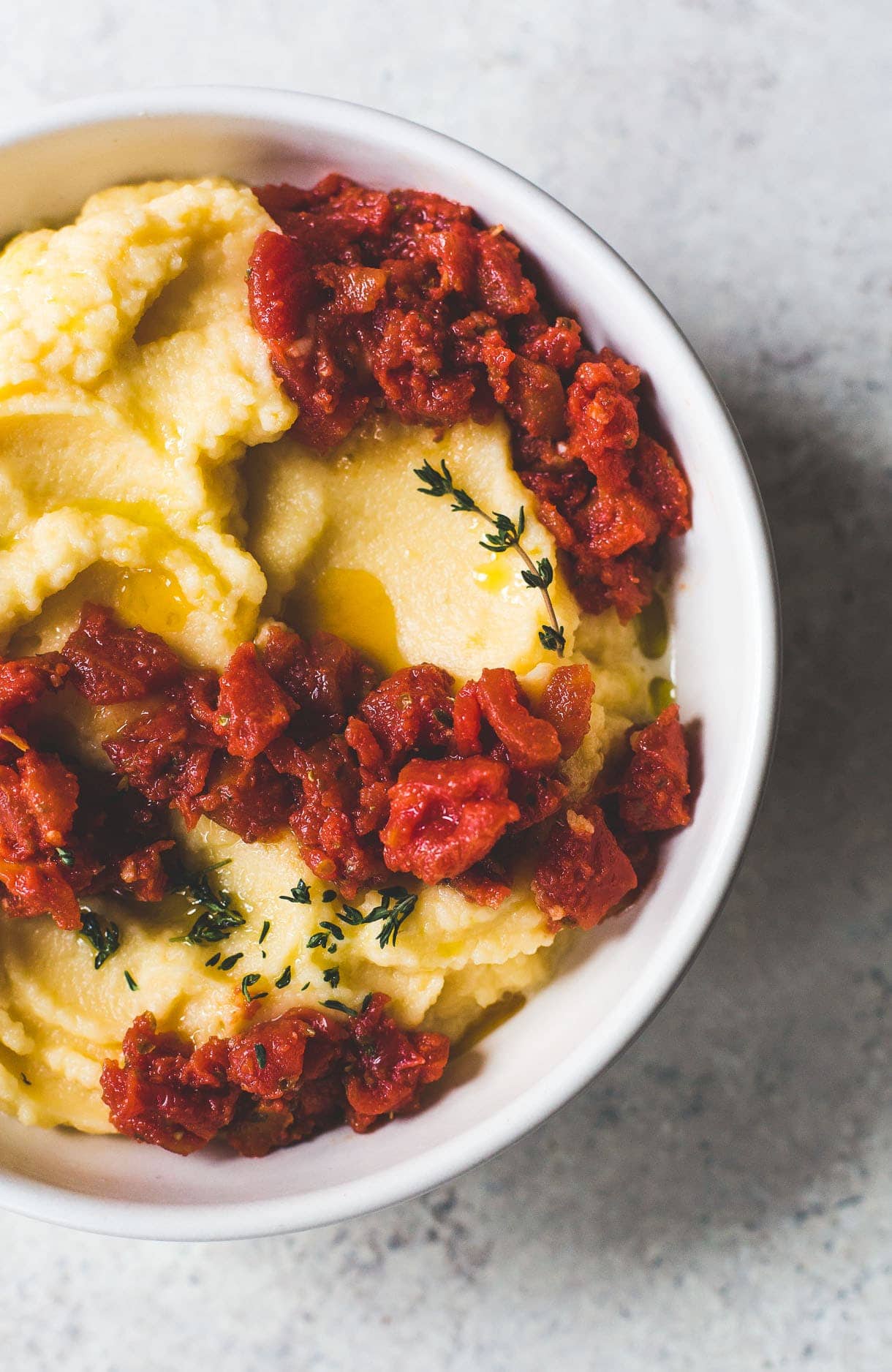 def: Humble.
not proud or haughty : not arrogant or assertive
ranking low in a hierarchy or scale : insignificant, unpretentious
not costly or luxurious
Nothing describes rutabaga better. I think I was 25 before I tasted one, the name alone sounded strange enough for me to write off as "weird", and looks… well, they won't win a beauty contest. Rutabaga was something I'd only heard my grandmother speak of. Growing up on a farm, they'd eat them in soups or in a creamy gratin, along with turnips and squash all winter long.
Mashed rutabaga deserves a chance in your kitchen because I'm going to say it – they might just be better than mashed potatoes. A touch sweet, yet savory — like the richest golden potato you can imagine. But because they have less starch, they'll never get gluey or pasty like spuds can.
Part of the brassica family, a rutabaga is a cross between a cabbage and a turnip (you'll smell this when you peel away their purplish skin). They mash up beautifully with a golden color (quite bold compared to the bland white of potatoes), and have a soft, delicate flavor that goes strikingly well with a quick tomato confit nestled in the fluffy swoops.
Confit typically refers to meat, but it simply means slowly cooked in fat at a low temperature for a long time (up to two days), historically used as a way to preserve food. You can do the same thing with vegetables too, using Muir Glen organic diced tomatoes, letting them barely cook in olive oil, with garlic and oregano on the stovetop for thirty minutes.
I love how this turns a pantry staple (they're the best canned tomatoes you can buy, going into the can just eight hours after being picked on California family farms and always in my cupboard) into a unique, gourmet addition to just about anything savory, but especially this mashed rutabaga.
I've become a rutabaga believer because of this dish, and it sure makes me want to discover more "humble" ingredients. Are there any that come to your mind? Let me know in the comments and I'll see what I can do. Xo
This post is sponsored by Muir Glen, a partner I am so grateful to work with this year in our continued partnership, spreading the love for all things tomatoes.
If you make this mashed rutabaga, be sure to tag me on instagram with hashtag #heartbeetkitchen or @heartbeetkitchen!
2

pounds

rutabaga

peeled and cut into one-inch chunks

1

teaspoon

salt

2 1/2

tablespoons

butter

2

tablespoons

cooking water

1/3

cup

heavy cream or whole milk
Add rutabaga and salt to a large pot of boiling water. Simmer for 25 minutes until rutabaga is fork tender and soft. Drain, reserving 2 tablespoons cooking liquid.

Add to a high speed blender or food processor, with butter, cooking water, and cream. Blend for 30-40 seconds, scraping down sides halfway through, and blend until as smooth or as chunky as you'd like.

For tomatoes, heat olive oil to medium in a sauté pan. Once warm, add garlic, stirring to sauté, for 1 minute. Then add tomatoes, parsley, and salt. Cook on low, barely seeing bubbles coming to the surface, for 30 minutes. Add to warm rutabaga and serve with fresh herbs if you desire.
If you're avoiding dairy, you can substitute more cooking water in place of the butter, and unsweetened, plain nut milk for the cream. But if you can have it, do it. It's so incredibly good.