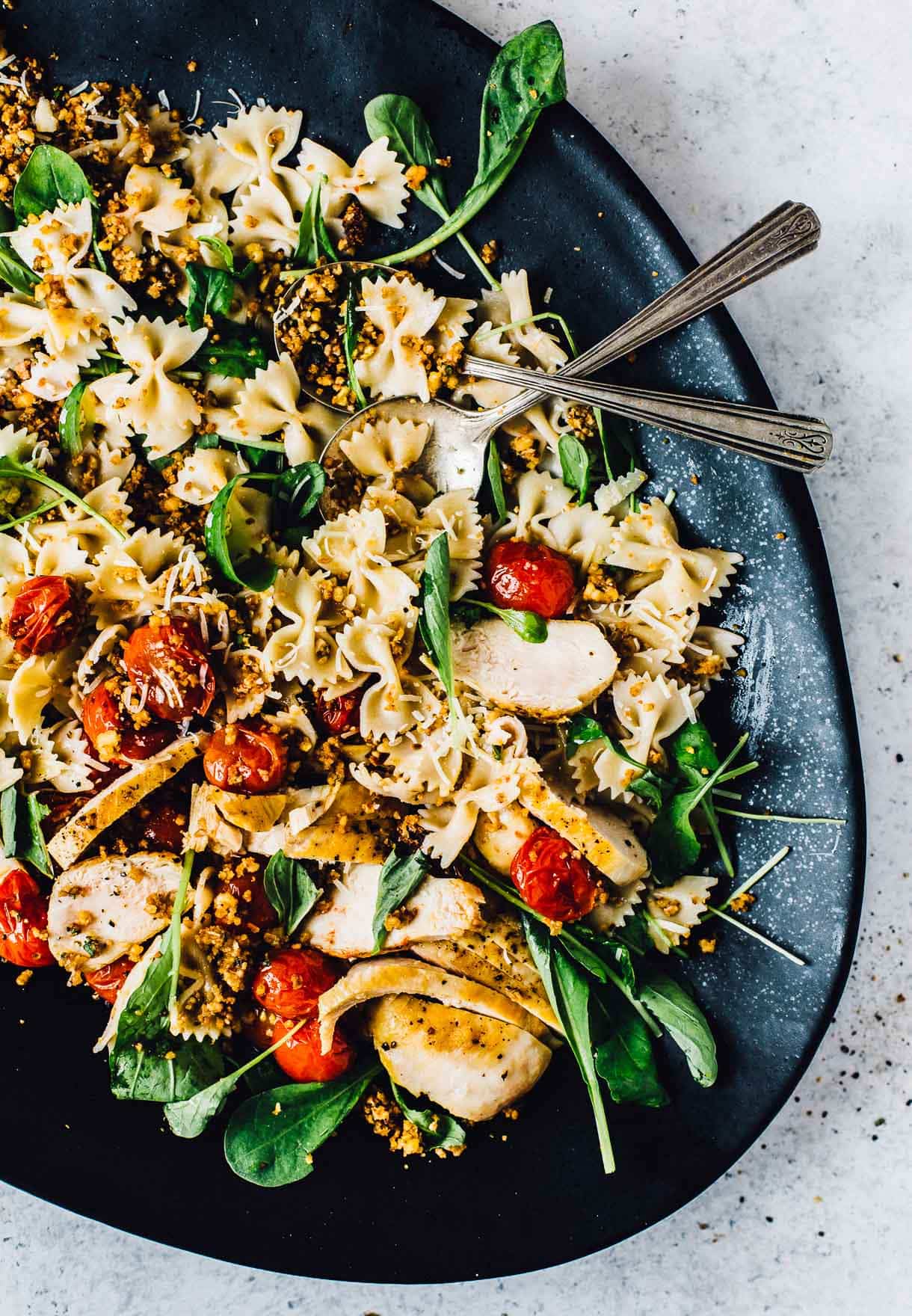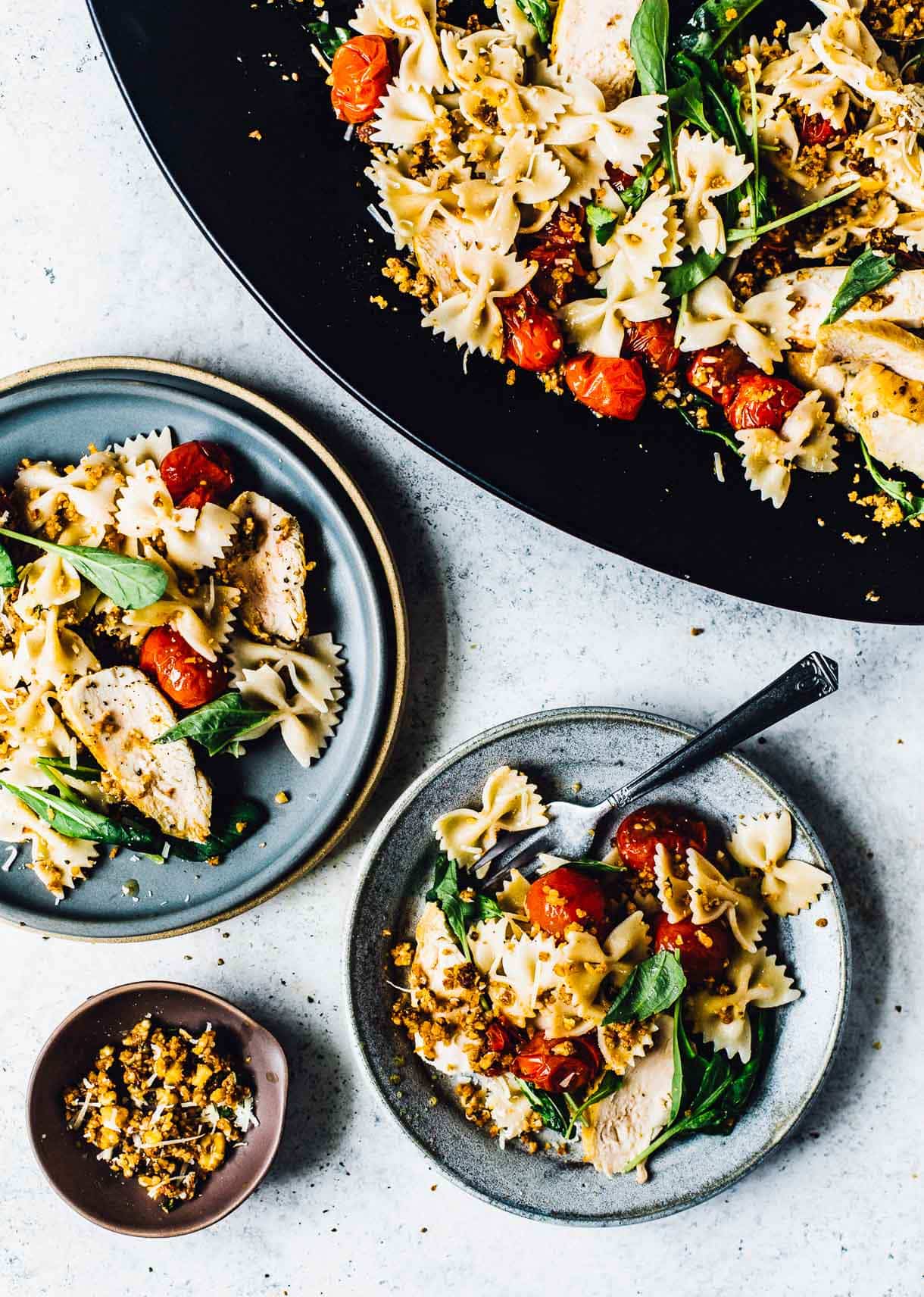 I know I'm not alone in saying that many weeks, at least one of my lunches is eaten on-the-go. Over the years, I've tried to get better at packing something for those situations, instead of skipping the opportunity to fill my belly with nourishment.
Grain and pasta based salads have been a large part of my lunchtime revival. And they're a far cry from the too creamy, overly dressed, mushy salads you might be thinking of. We're talking modern ingredients and flavors, and a list of attributes that are hard to beat.
They're make-ahead friendly
Portable
Best at room temperature
Non-wilty!
Thoroughly-filling
And versatile, depending on which ingredients you have on hand, or the season. I particularly love this Bruschetta Chicken Pasta Salad for the warmer months.
Simply put, pasta salads are rockstars.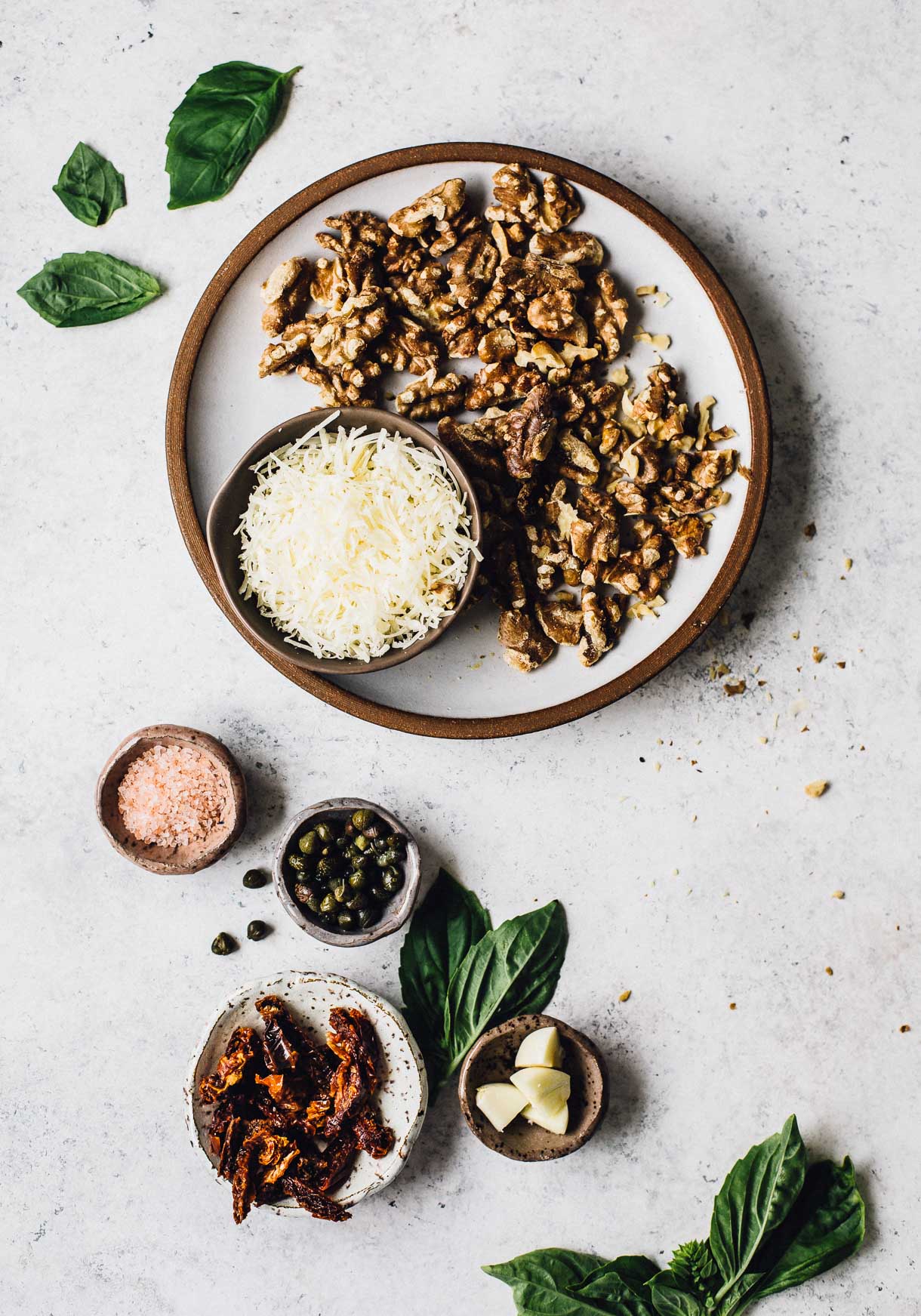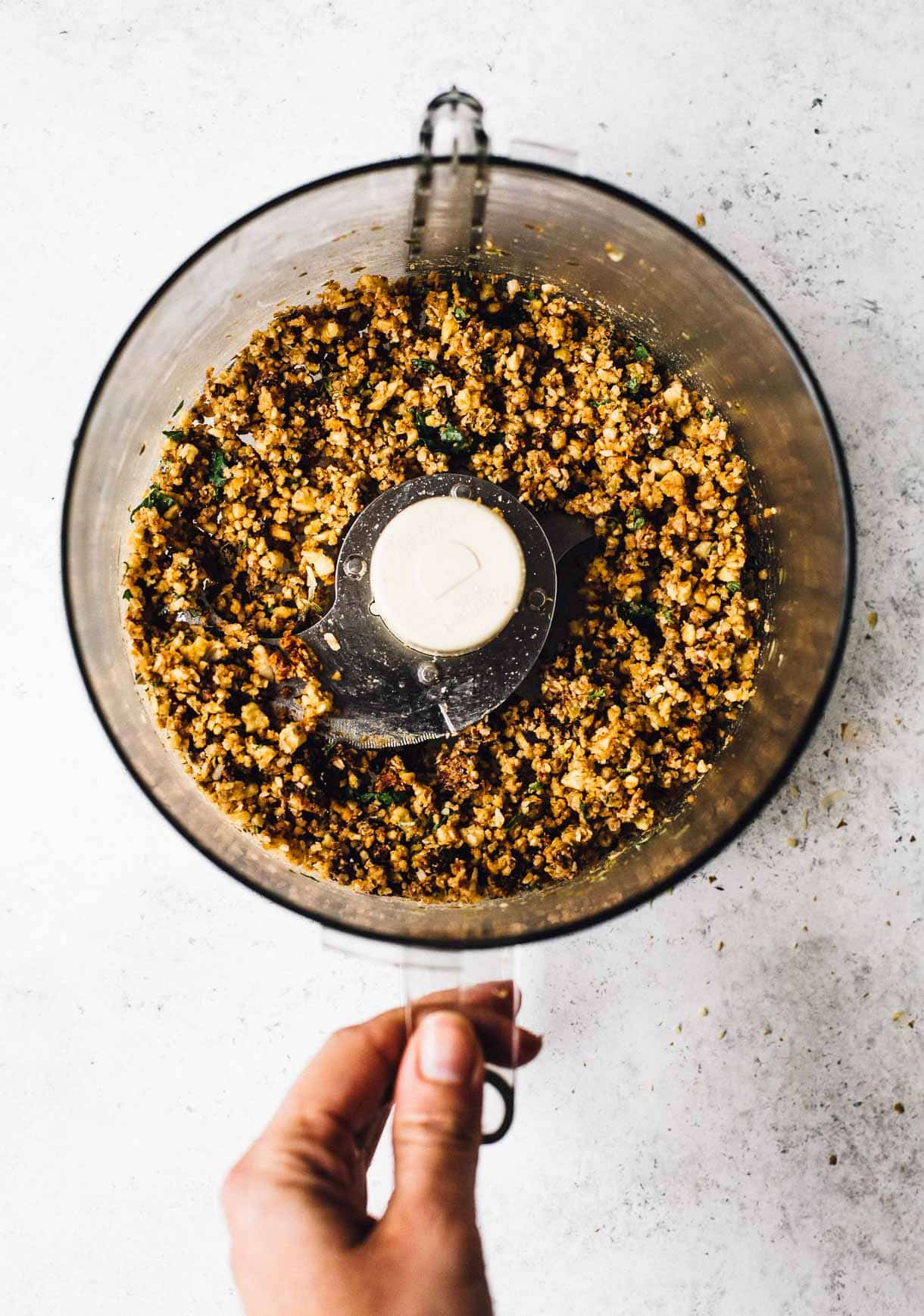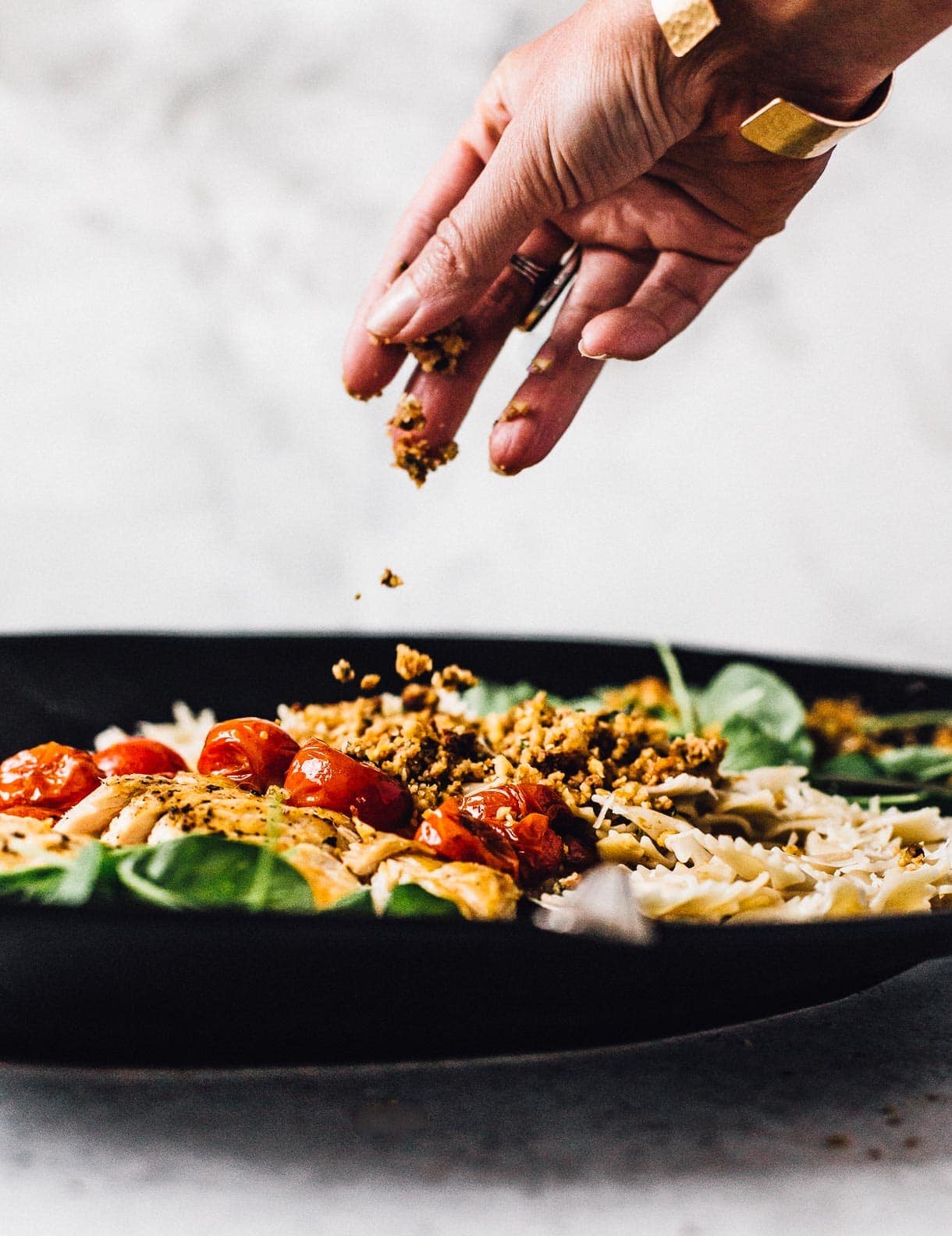 This post is sponsored by California Walnuts, a year long partner of Heartbeet Kitchen (all opinions are my own.
I've been so excited to share this recipe with you because I'm addicted to the walnut parmesan crumble, which is actually a recipe in itself. I've been throwing it on green salads, pasta, casseroles, savory oatmeal, you name it.
Made in the food processor, the walnut mixture has just right amount of moisture from the oils released, and a texture similar to toasted, buttery breadcrumbs.
The crumble was actually inspired by a cauliflower pesto I made from the Smitten Kitchen cookbook last month, for cookbook club. The pesto was basically riced cauliflower, pulsed with toasted walnuts, sun-dried tomatoes, capers, parmesan, and basil. And although it was good, I decided I'd like it better sans the raw cauliflower and with a few changes.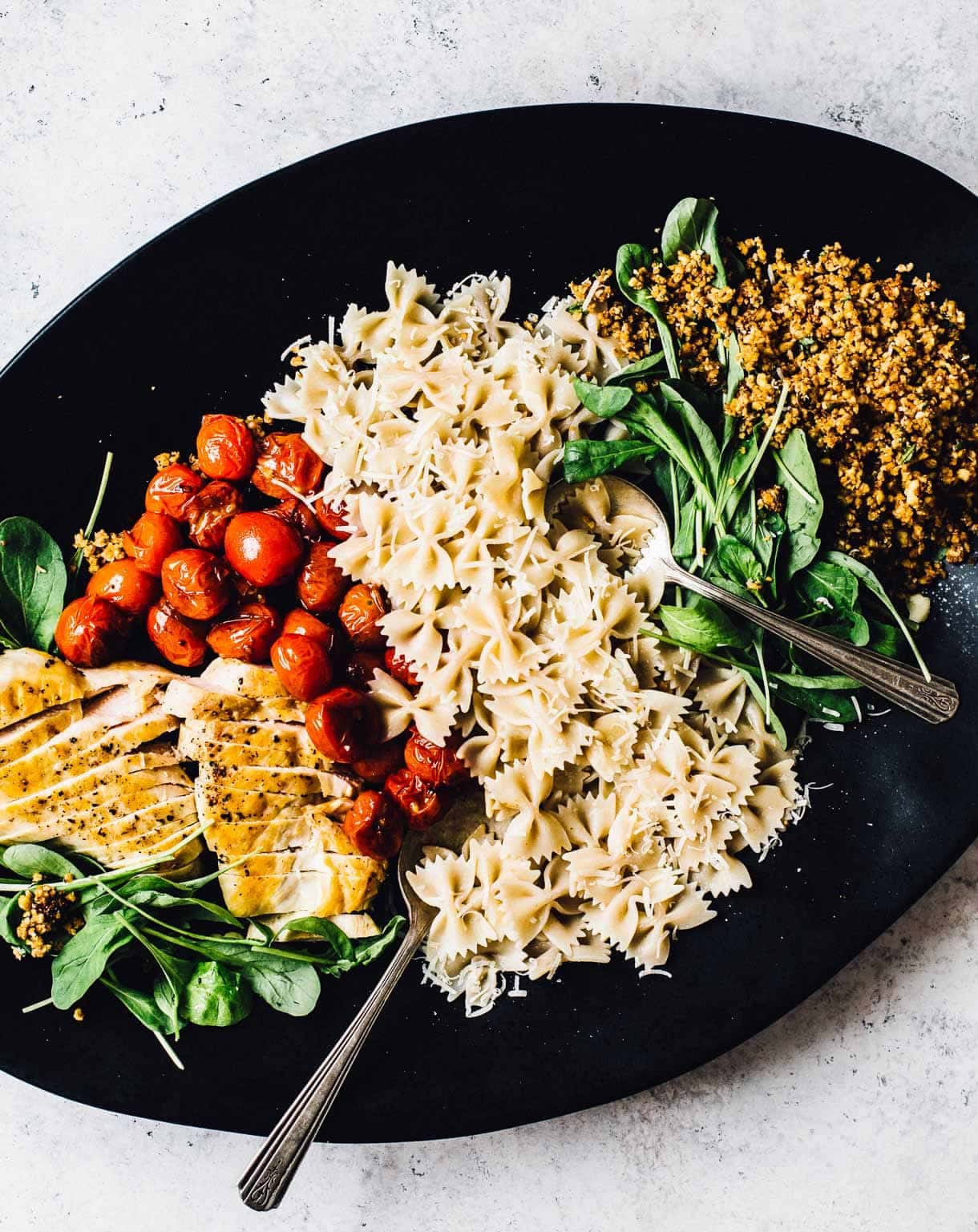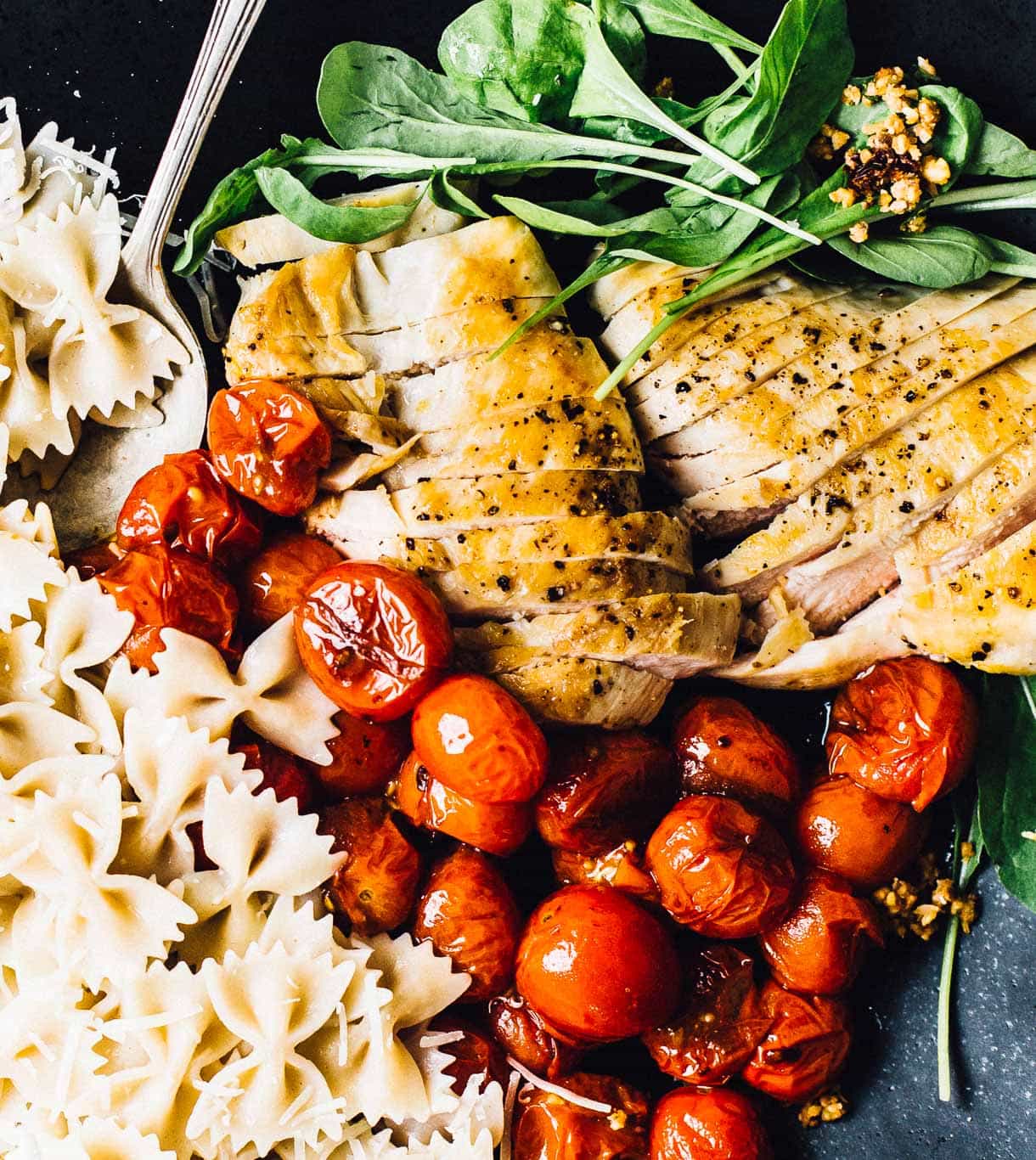 So with some recipe testing, I landed on this walnut crumble, packed with umami from briny capers, sun-dried tomatoes, and parmesan cheese. A little lemon juice and salt perk up the flavors, and from there it's all about the savory walnuts. They offer key nutrients like fiber (2g/oz) and are an excellent source of omega-3 fatty acids, making them a simple, yet powerful addition to any lunch.
As for the rest of this rockstar pasta salad, I added seared chicken breasts to make it a full meal, and loved how it played nice with the other ingredients, rather than being the star. Blistered tomatoes are a must! And the arugula adds pop of peppery bite.
If you make this Bruschetta Chicken Pasta Salad with Walnut Crumble, be sure to tag me on instagram with hashtag #heartbeetkitchen or @heartbeetkitchen!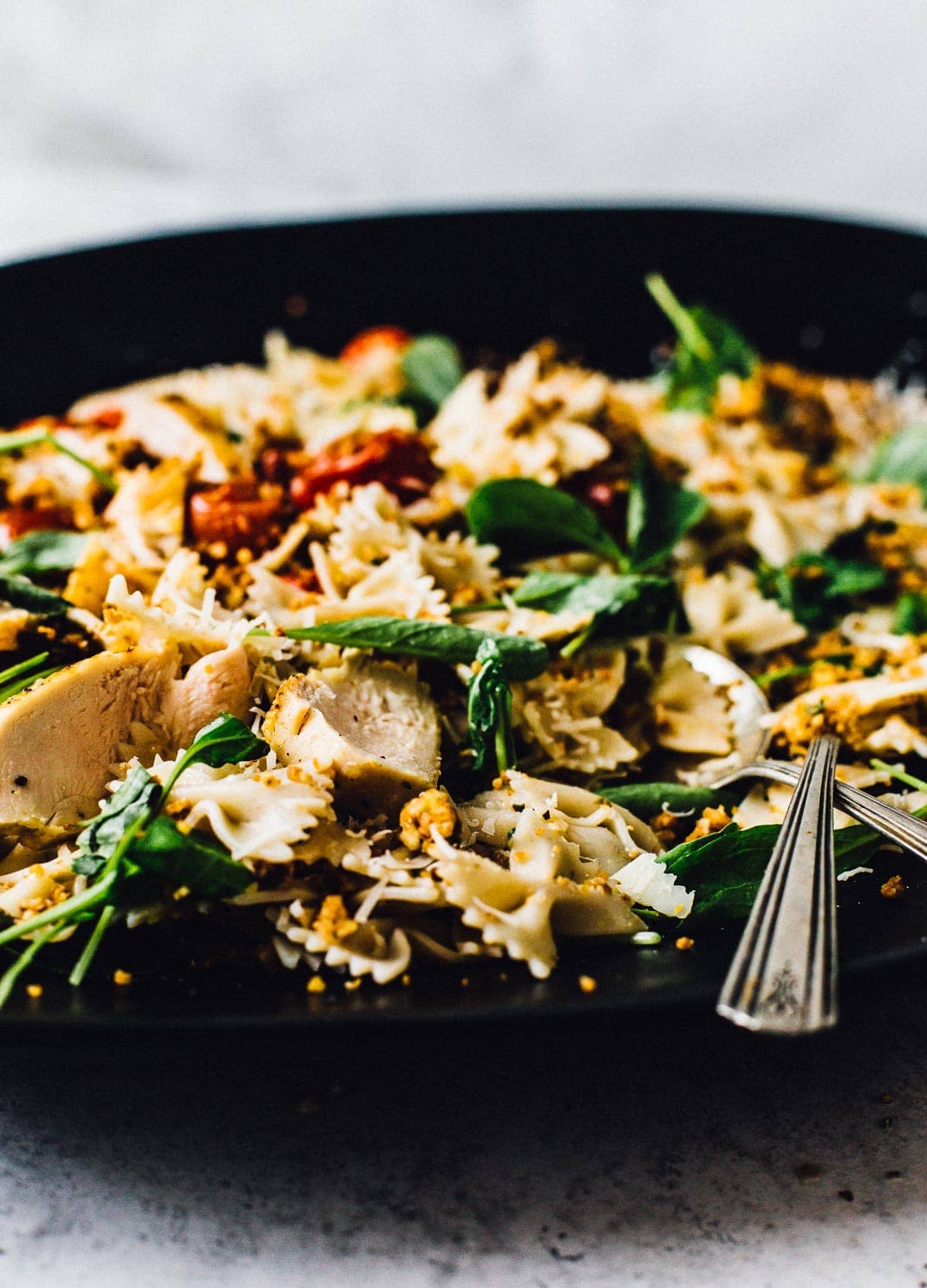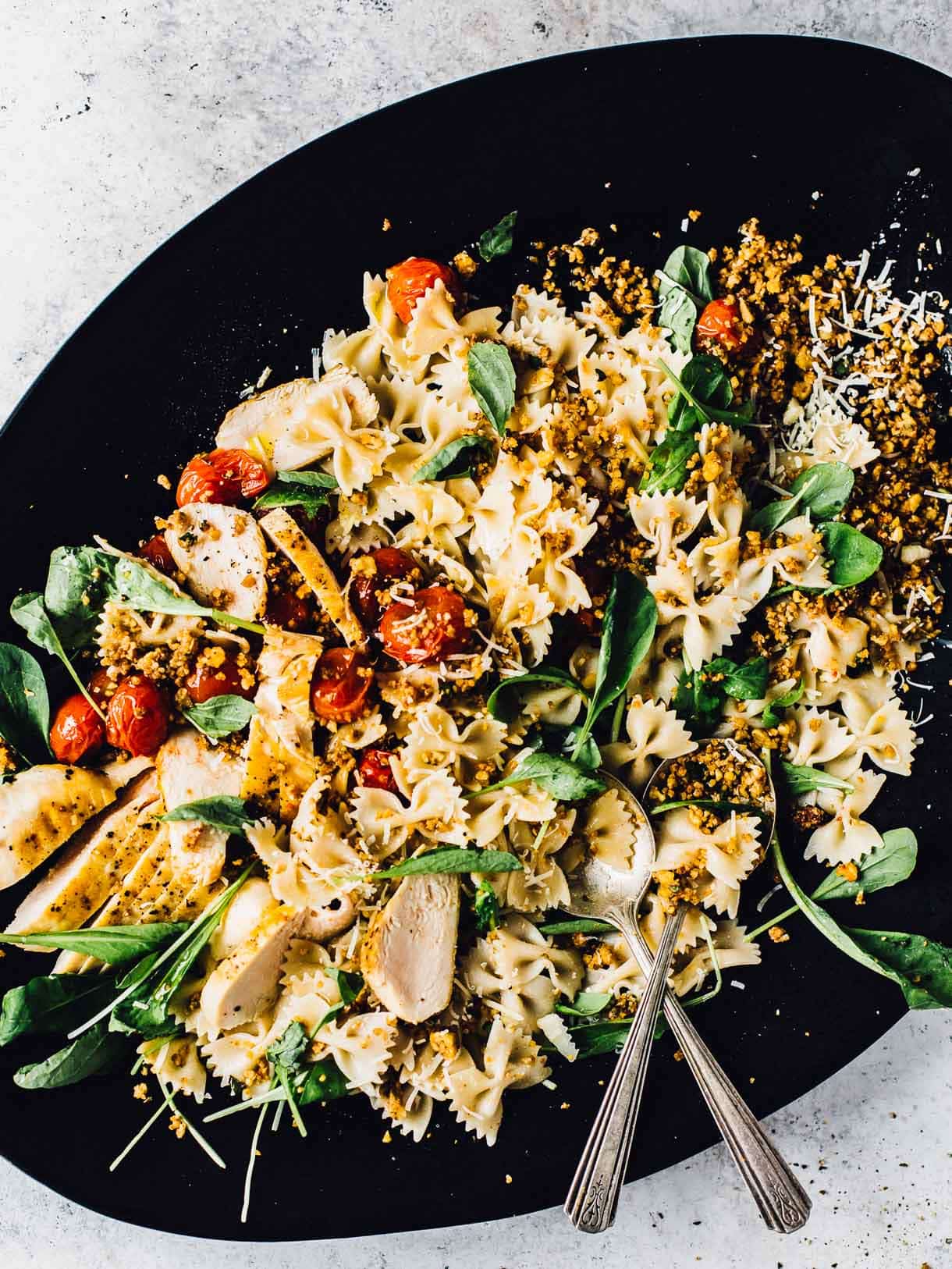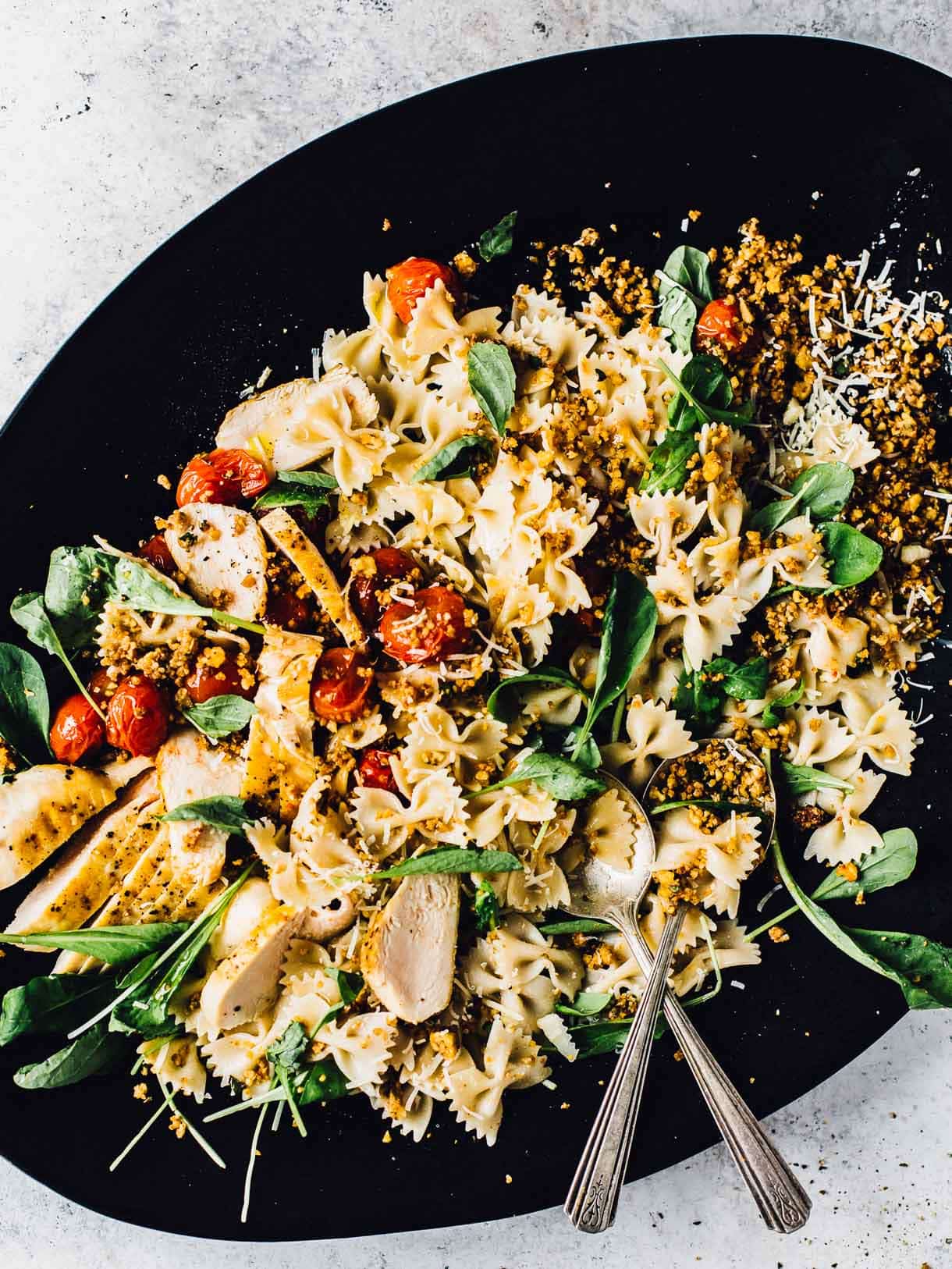 Cook pasta according to package directions, with 1/2 teaspoon sea salt dissolved in the water.

Drain and rinse with cool water. Toss with 1 tablespoon olive oil. Set aside.

Rub chicken breasts with 1 1/2 tablespoons olive oil, salt, and pepper. Add another tablespoon of olive into a pan over medium high heat. When hot, add chicken breasts, and let cook for 5 minutes before flipping. Cook for another 5-7 minutes, until juices are running clear and no pink remains. Remove chicken and let rest on a plate.

In the same pan, add 1 1/2 tablespoons olive oil and bring pan to medium heat. Add tomatoes and stir to coat, with 1/4 teaspoon sea salt. Cook for 8-10 minutes, until tomatoes are blistered and burst. Remove and set aside.

To make walnut parmesan crumble, add walnuts to food processor and pulse 8 times. Add all other ingredients, except olive oil, and pulse 10 times. Scrape down sides. Slowly stream in olive oil as you continue to pulse. Stop when the resemble in the size of gravel.

Put pasta in a large bowl, then add 1 tablespoon olive oil, the lemon juice, arugula, and tomatoes. Toss. Then top with sliced chicken breasts and walnut parmesan crumble. Enjoy at room temperature. Will last for 3 days in refrigerator.
If you are going to eat this as leftovers, be sure to let it come to room temperature before eating otherwise noodles will be hard. You can also heat leftovers on the stove if you want something warm.