Pull up a chair at any Lutheran church luncheon in Minnesota and you'll find creamy chicken salad sandwiches served on soft milk buns, a pickle plate, and multiple pans of "bars" for dessert. Friendly conversation and laughter fills the room, and even though you're in a place of worship, you'll probably hear a little small town gossip.
The base of most chicken salads are pretty much the same, but you'll find that each lady makes hers with a twist. Both of my grandmothers had excellent recipes, but both so different it's hard to say which I enjoyed most. Grandma Paa's included juicy green grapes, cashews or slivered almonds, and mayonnaise – always served on buttery croissants. Grandma Hopp made hers in a very old fashioned way, using a meat grinder to make the chicken almost smooth, combined with heavy cream, mayonnaise, celery and a good dose of black pepper. For parties she would spread it between two pieces of bread, then cut them into fun shapes to make tea sandwiches.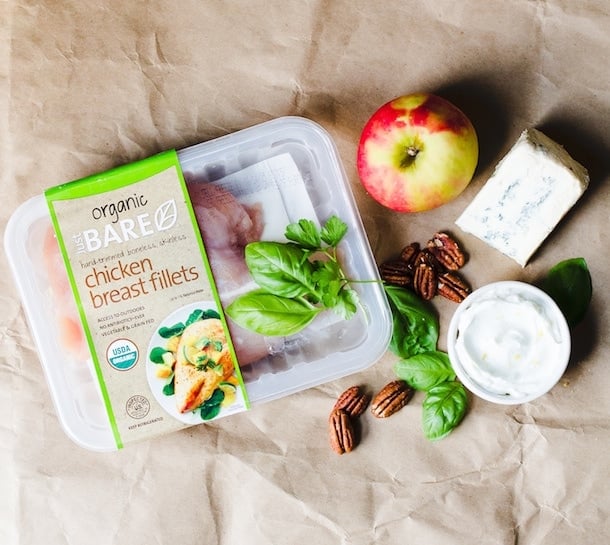 Not that I don't love these classic ways, but I thought it was time I created my own version, with inspiration from the past and seasonal ingredients of today.
Fall here is beautiful – still warm enough to grill, yet the crisp air signals the beginning of apple season and richer food. I like to prep several chicken breasts over the hot flames, then use them throughout the week for several quick meal ideas, like this Creamy Autumn Chicken Salad.
Toasty pecans and crunchy apples bring a different flavor to each bite. And instead of mayonnaise, I blended a creamy blue cheese, Greek yogurt, and garlic together– the perfect thick sauce for the chicken to essentially marinate in.
One big difference in this chunky chicken salad is that it's grilled! Definitely one of my favorite ways to keep it juicy, but I've had a few friends lately mention that they struggle with finding that happy medium – cooked through, yet moist and flavorful throughout.
About two years ago I took a grilling class that really helped me perfect the technique and I thought I'd share a few tips I've learned along the way:
Crank up the heat!

Your grill should register at a minimum of 500 degrees before you lay the chicken on the grates. This ensures that the outside of the breast will sear and work as a barrier to keep the juices from escaping.

Does your chicken always stick to the grates and you end up leaving half of the meat to burn?

This is caused by too low of a starting temperature. So again, crank up the heat!
And patience my friends – don't flip the chicken over until you nudge it with your spatula and it moves without resistance. Usually this takes 3-4 minutes.

If the piece of chicken has one larger end to it (like most chicken breasts), cover it with a piece of saran wrap on a cutting board, then use a mallet to pound it until an even thickness. This will help it cook through evenly, and ensure that it is juicy throughout, instead of dried out on the thin end.
I typically cook my chicken breasts to 160 degrees, then let them rest for 5 minutes (they'll continue to cook and reach 165 degrees) so that the juices can sink into the meat and not escape the minute you cut into them.
Then you're all set to make this modern, ladies luncheon chicken salad. And feel free to put your own little twist on it. Have pears instead of apples? Go for it. Prefer almonds over pecans? Some days I do too. That's the beauty of simple recipes like this one.
If you have any other questions about grilling, or have your own special chicken salad that I should check out, let me know in the comments below! Cheers to the next lunch with your lady friends.
Creamy Autumn Chicken Salad with Apples & Pecans
serves 4
1-2 organic chicken breasts, weighing about 1/2 pound total (thawed if frozen) – (you will need 1 1/4 cups diced chicken)
about 3/4 teaspoon salt, divided
1 1/2 tablespoons olive oil
1/3 cup plain greek yogurt
1/3 cup creamy blue cheese
2 cloves garlic, minced
2 1/2 tablespoons lemon juice, divided
1 cup diced apples tossed with additional 1/2 tablespoon lemon juice (Pink Lady or Honeycrisp work well)
1/4 cup chopped fresh basil
1/3 cup coarsely chopped roasted pecans (or pepita seeds if you are allergic to nuts)
Preheat grill to 500 degrees. Rub chicken breasts with 1/4 to 1/2 teaspoon salt, and olive oil depending on the size of your chicken breasts. Place chicken onto grill and sear for 3 minutes, waiting until you can use a spatula to nudge the chicken and it moves without resistance. Flip chicken and sear other side for 3 minutes, using the same process. Then flip once more and cook until chicken reaches 160 degrees in the thickest part (usually about 10 minutes after the flip). Remove from heat and let rest and cool to room temperature.
Meanwhile, stir together Greek yogurt, cheese, garlic, 1/4 teaspoon salt, and lemon juice in a large bowl.
Dice the cooled chicken and measure out 1 1/4 cups. Then add to the bowl, along with the apples, basil and pecans. Stir thoroughly so that all the ingredients are coated. Taste and adjust salt as needed. Store in refrigerator for up to 4 days.