If you asked me what meal I hated most as a child, that even ended up with me getting a little swat to the behind, it was my mom's slow cooker braised beef roast and carrots. Both of my parents worked hard, had full-time jobs and coached youth sports before I started to play. I'd tag along with one of them to practice, or hold down the home front with the other. When my mom wasn't able to be there for dinner, she always made sure my dad and I were well fed.
She'd make it easy for us, whether that be portioned out leftovers or something in the crockpot like wild rice soup or a beef roast similar to this. Even though it was a great meal, there was something about the smell, as well as the mushy texture of the carrots that I turned my nose up at.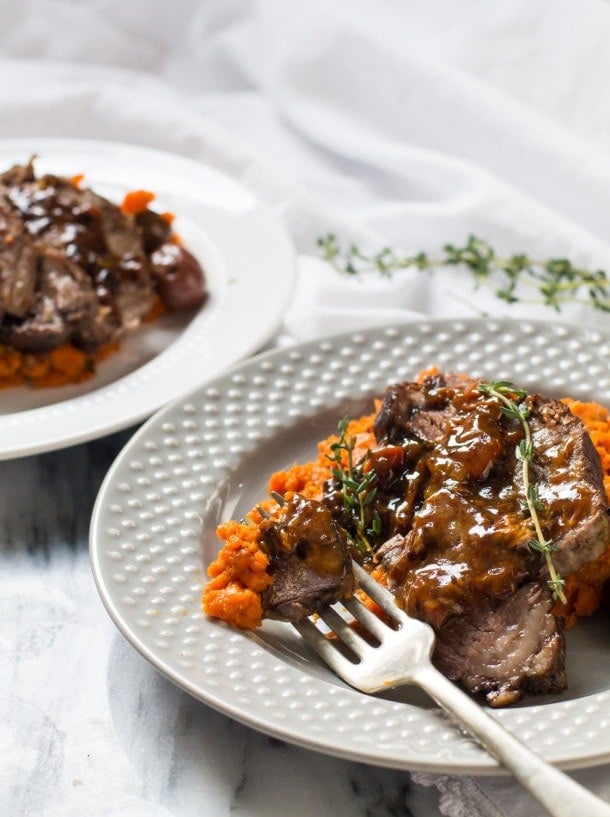 One day I decided to try and pull a fast one on my dad instead of hating every bite. As he was finishing up a phone call, I quickly headed to the bathroom and dumped the carrots and most of the beef into the wastebasket. Clearly at 5 years old I didn't quite understand that the smell wasn't going to be absorbed by the tissues I threw on top of it.
Unfortunately for me he went to the bathroom after getting off the phone, and my heart sank. I heard him mumble "What is that smell?"….. I knew I was in trouble. A quick swat to my behind and no bedtime snack was the price I paid.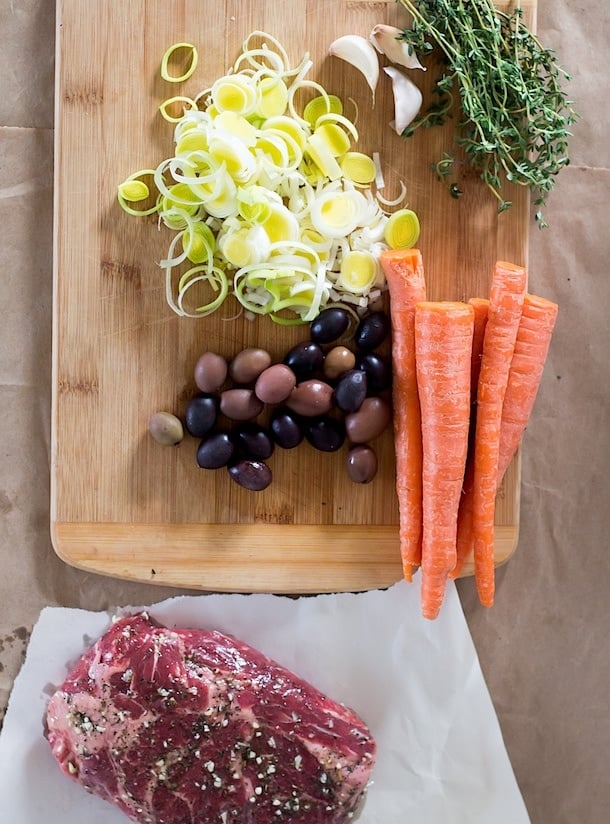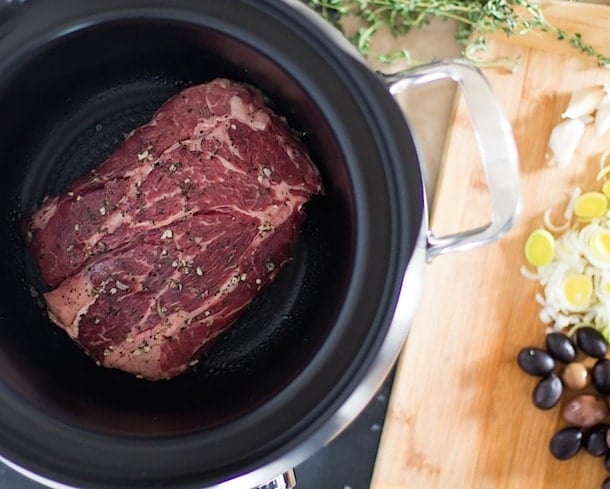 And then there I was last week, taking my first bite of this slow-braised beef with carrot mash, feeling like I had just hit the comfort food jackpot. It had cooked for about 6 hours, the meat so tender, practically falling apart as I pulled the chuck roast out (which tends to be a tougher cut if you don't let it cook super slowly).
Another reason why for the most part, I haven't felt deprived as I go along this autoimmune protocol journey. Real food is just damn delicious food.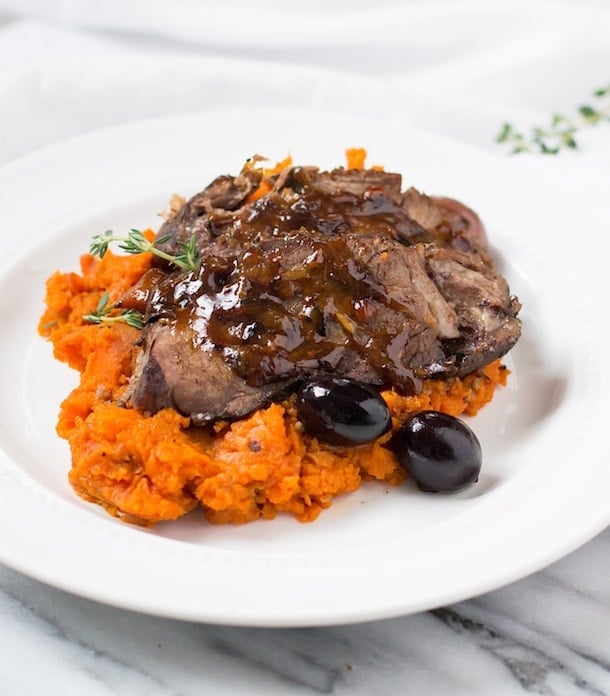 Part of the success lies in searing the garlic-rubbed meat to hold all the juices in, which I was able to do all in one-pot because I used my new KitchenAid Multi-Cooker. You can also do something similar with beef brisket in the Instant Pot.
Leeks, thyme and olives impart so much flavor into this beef dish, and the carrots as they roast. Quick tip: woody herbs like rosemary like thyme are great for slow cooker meals because they can withstand the heat, and also have more savory notes than let's say dill which adds brightness.
Instead of leaving the carrots in the withered segments they had "melted" into, I simply mashed them, no extra fat needed because they soak up that of the beef.
I couldn't help but make a simple sauce/gravy out of those extra bits of leeks, garlic and juices that had collected at the bottom pan either. All I did was add a little tapioca starch to thicken it.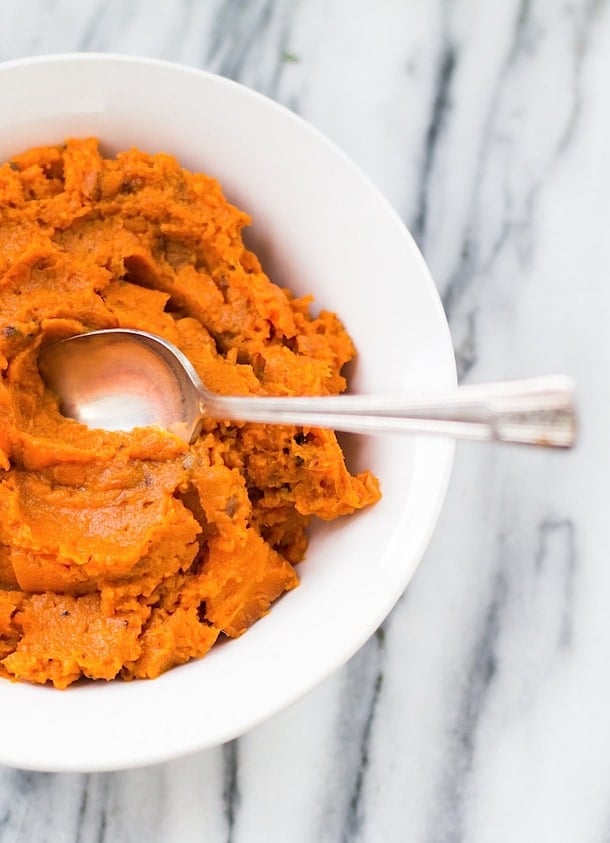 This one-pot meal makes great leftovers too, something that I'm coming to rely on so much more with AIP because you can't just grab some crackers, cheese, nuts & wine.
You know I've talked about those single lady dinners before. And although I do miss the convenience of that and some of my favorite things, I relish the way I feel after I nourish myself with all the nutrient-dense food I'm eating.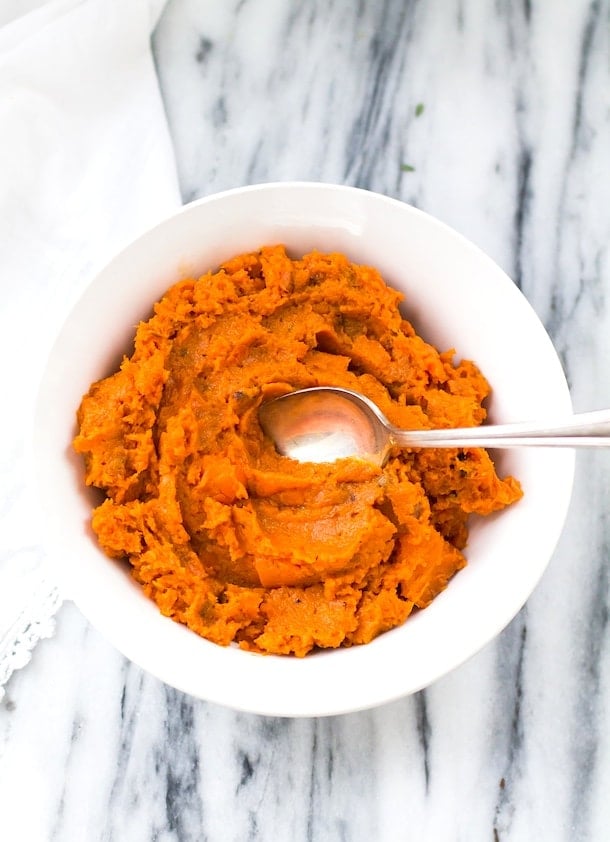 And big thanks to KitchenAid for letting me try out their new Multi-Cooker (image below) – whoa, talk about blown away. It does EVERYTHING. But better yet, its one of the easiest appliances to run that I've owned despite all of the bells and whistles. I would compare it to a Mac computer – looks super fancy, yet so intuitive and easy to get started with, no hour long manual reading needed.
It has settings like saute, sear, soup, yogurt, risotto, rice, boil/steam, simmer, slow cook low and high and you can also just set it at a certain temperature to cook at. It even has an arm that you can attach to it to periodically stir your soup, casserole or whatever deliciousness you're cooking up. Seriously genius. I made rice for Brian in it and it turned out perfect. Now I can get rid of our rice cooker and free up precious kitchen space. And I'm making coconut yogurt later this week!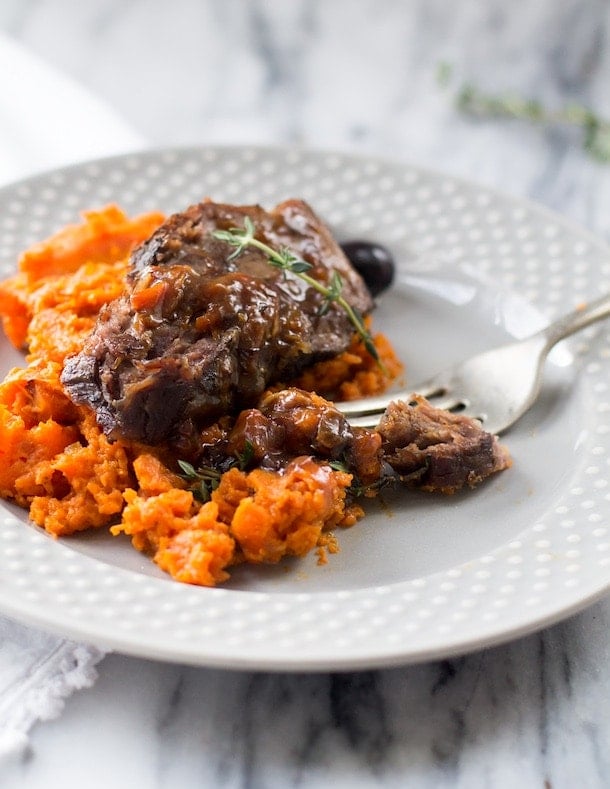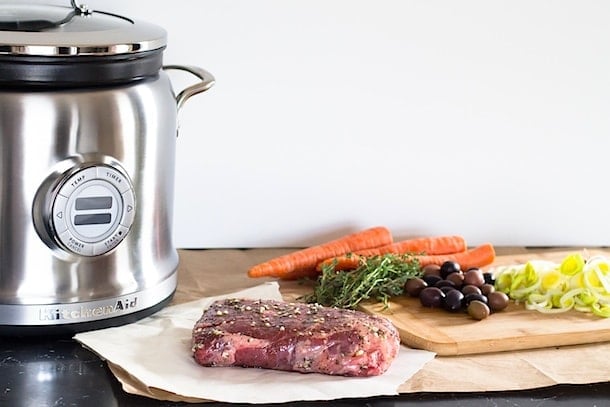 More Beef Recipes: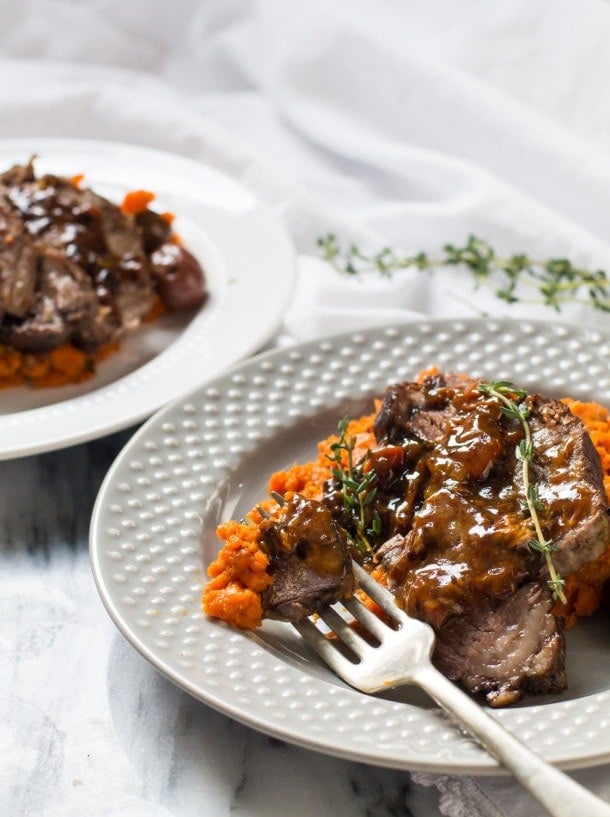 1 1/2 to 2

pound

grassfed beef chuck roast

3

cloves

garlic

divided

2

tablespoons

olive oil

divided

1/2

teaspoon

dried basil

1 1/4

teaspoons

salt

divided

1/2

cup

chopped leeks

4

sprigs of fresh thyme

15

olives

your choice of what kind

1

pound

carrots

halved lengthwise, then cut into 3 inch pieces

1/4

cup

water

1/2

tablespoon

arrowroot or tapioca starch

also labeled as tapioca flour
Bring your meat to room temperature and in a small bowl mix together 2 cloves of minced garlic, 1 tablespoon olive oil, basil and 1 teaspoon salt. Rub all over the beef roast to coat, working it into the meat.

Preheat your Kitchenaid Multi-Cooker to the sear setting. If you are using a regular slow cooker, preheat a cast iron skillet to high. Add 1 tablespoon oil to the bottom of the cooker/pan and sear the meat for 5 minutes on each side, so that there is a browned appearance.

Remove beef, then stir in leeks and remaining one clove garlic, cook for 4 minutes until softened. Then add in carrots, remaining salt, olives, water and thyme. Nestle beef roast into carrots, but not touching the bottom of the cooker. Cook on low for 5-6 hours.

When roast is done, remove and set aside. Then take carrots out and mash in a bowl with a fork or potato masher. To the drippings in the pan, add the tapioca starch and stir until thickened. You can add a little water as needed, and adjust salt as needed.

Serve, cutting beef against the grain on top of carrot mash and with olives alongside.