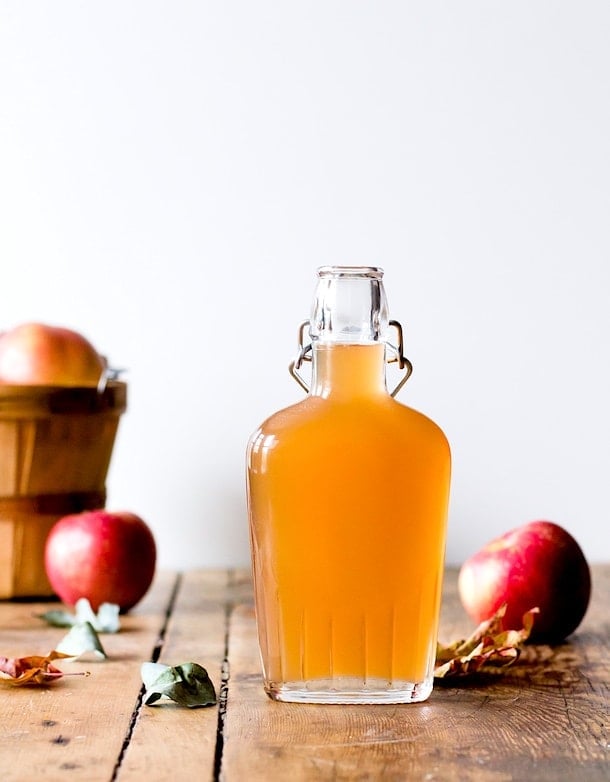 Not only did I fall in love with salmon while I was in Alaska, but their vast assortment of wild berries too, far from the raspberries and strawberries you buy in stores. These berries are foraged and have varying names, from crowberries to blue huckleberries, to the real prize – nagoonberries. They're all relatively tiny, with their own flavor profiles, but generally they have a tart/sweet balance.
As I talked to the locals, each would give a general area where you could stumble upon a few patches, but their own personal "gold mine" was kept a secret. It almost seemed like a faux pas to ask, right up there with talking politics, religion or asking a woman her age.
Like anything wild, they are meant to be savored rather than taken for granted. Just as one has their favorite berry picking spot, they usually have their favorite way to preserve them as well.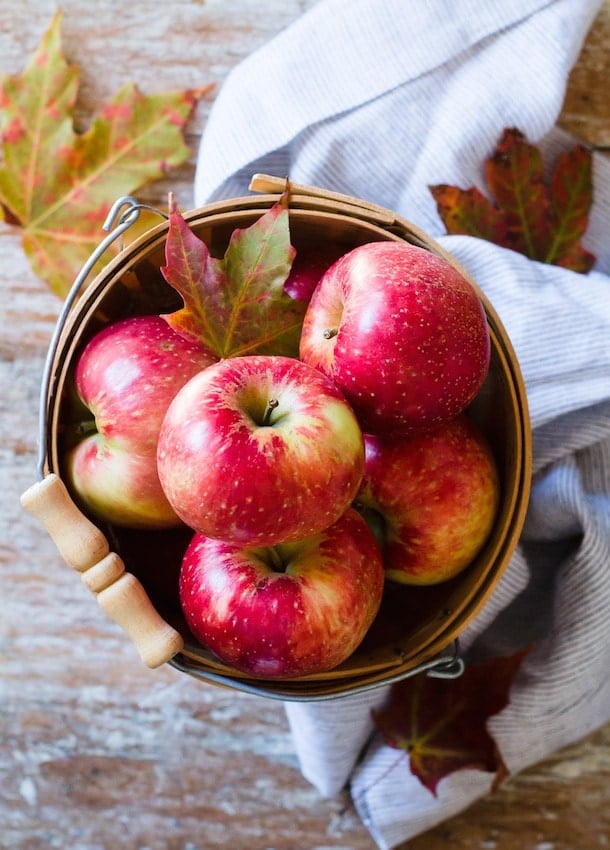 As I sat amongst several members of the community waiting for the Wild Harvest Feast to begin, one of the gals reached under the table and pulled out a tall glass bottle with filled with specialty – bright pink, Nagoonberry Shrub syrup. Next from from under the table came a brown bottle with gin.
I felt as if I was one of them, while we passed around the goods, poured ourselves a drink, and chatted about the beauty of the area.
I hadn't thought of making a shrub syrup from our local fruit until then. I only wish I'd have known how easy it is, this apple shrub recipe needing just 3 ingredients and a little waiting time.
What is shrub syrup?
They're made the same way as they were in the colonial days, when lack of refrigeration required creativity to enjoy ripe fruit even during the cold winters. Maybe you've noticed them on upscale restaurant menus in the forms of cocktails and non-alcoholic drinks with flair, alongside kombucha and switchel.
Shrubs are truly delicious, adding a layered complexity to whatever they're mixed with. Simply grate the fruit, mix it with a vinegar/sugar solution, and let it sit for a few days.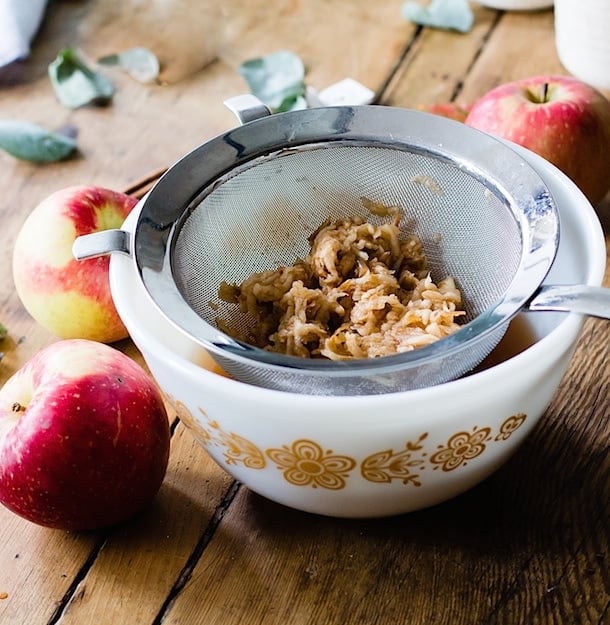 I headed to the market when I got back and picked up a bushel of local SweeTango apples from my favorite orchard (a juicy cross between a Zestar and Honeycrisp), then began the process.
After 3 days hidden in the refrigerator, it turned into this sweet and tangy simple syrup, with the brightest apple flavor ever.
What does shrub syrup taste like?
I'd compare it to a funky rendition of classic apple cider. With the juicy, crisp flavor of the sweetango's, and subtle tartness from the cider vinegar, it's fantastic in a bourbon or whiskey cocktail. And when you're looking for something to warm up you by the fire, there are plenty of hot toddy's that could be made.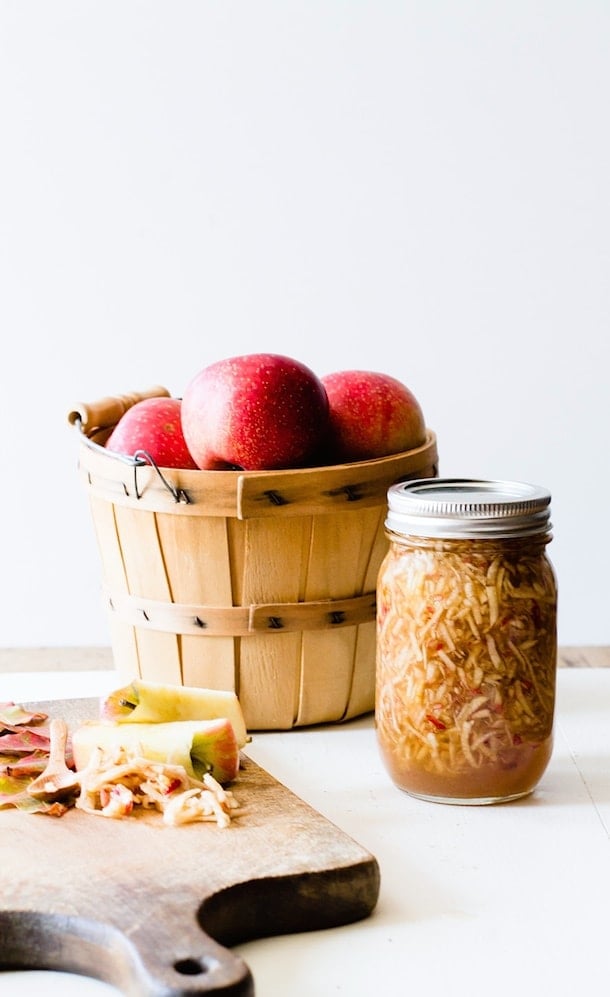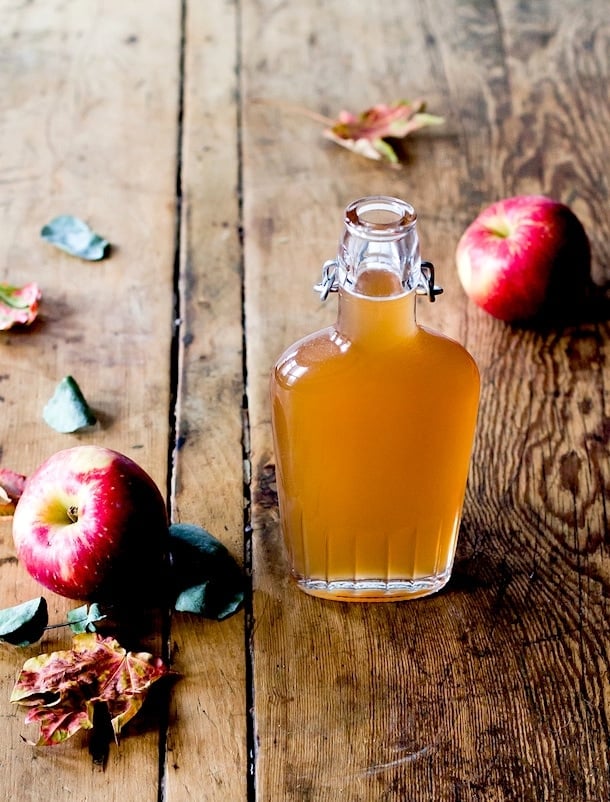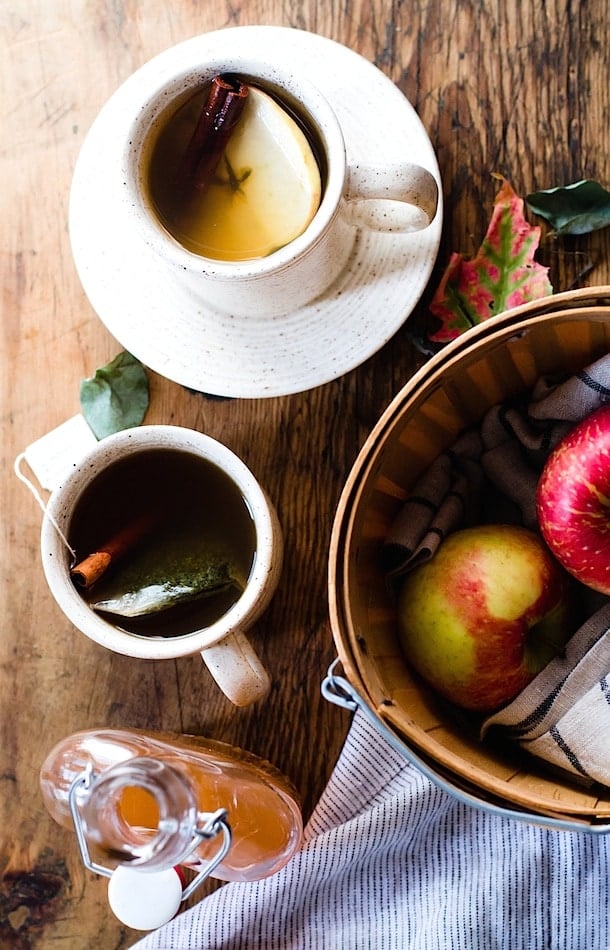 Add apples, sugar, and apple cider vinegar to a glass mason jar. Attach jar cover tightly and shake liberally.

Refrigerate and let sit for 2-3 days.

Remove from refrigerator and strain juice into a large bowl, then squeeze remaining juice out of apples using a colander.

Pour juice into a glass container and keep refrigerated. Will stay good for up to 6 months if stored properly in refrigerator.
Typically the fruit/sugar ration in shrubs is 1:1, but
because the apples were so naturally sweet, I went lighter on the sugar.
This post contains affiliate links, which I make a small amount of money from should you purchase something.