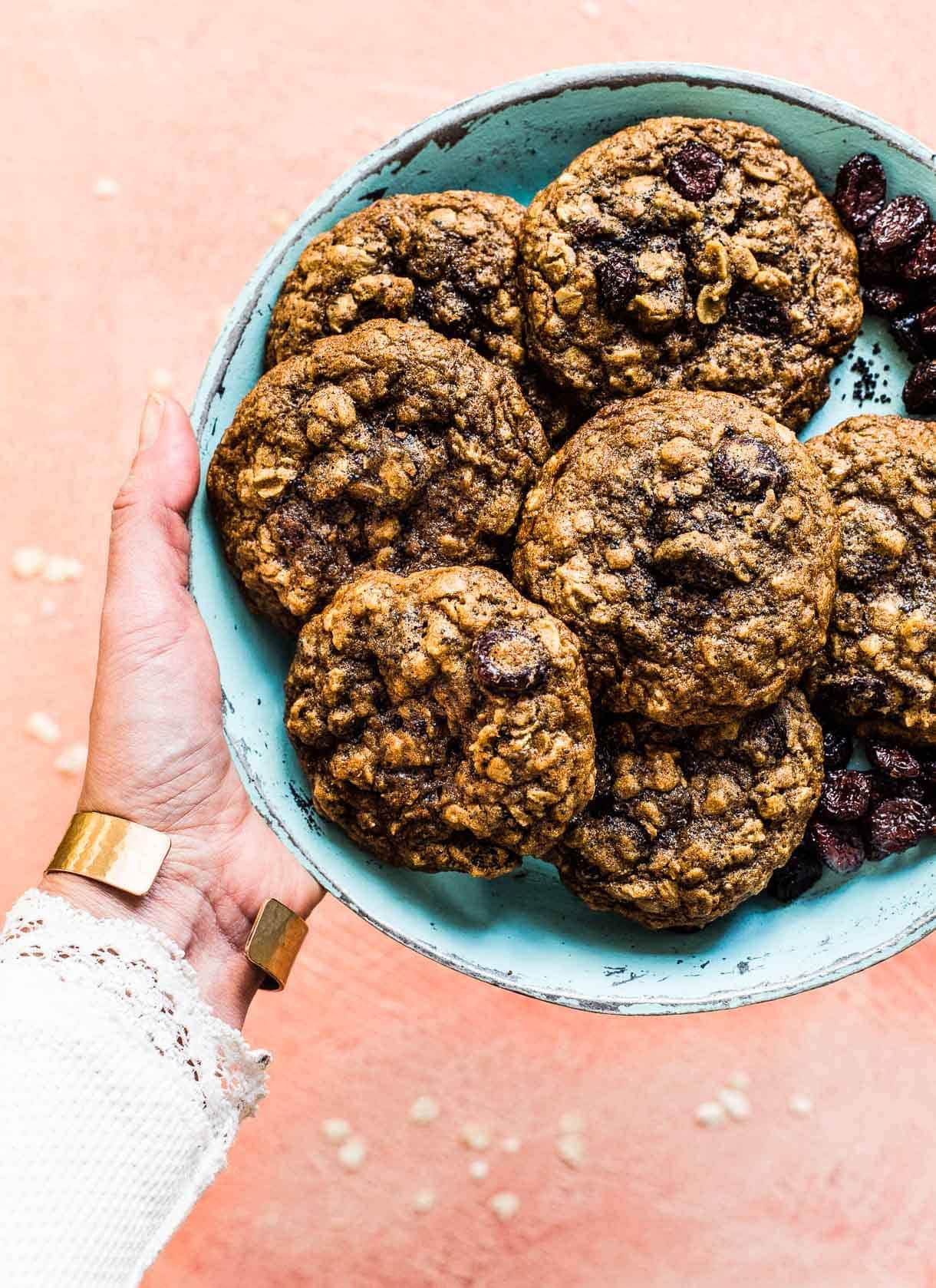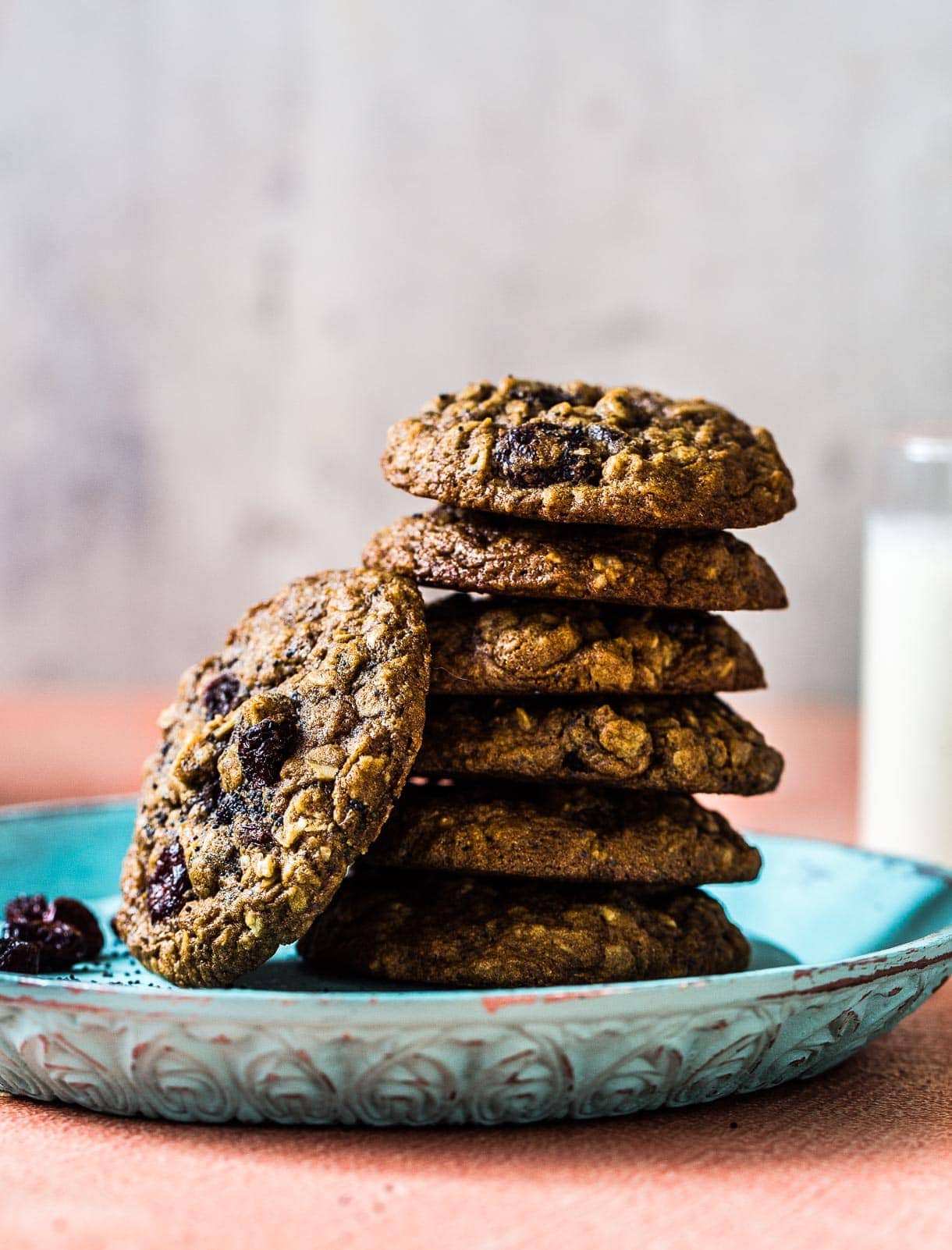 How do you define a good oatmeal cookie?
Mine must be soft, and chewy. The edges buttery and crinkly. A little sticky from the fruit. And a definite cinnamon flavor throughout.
And all of those requirements go for a gluten free oatmeal cookie too.
It's tough to find a recipe that strikes the right chewy/crispy balance and doesn't taste like a health biscuit. Or crumble like the crispy oatmeal raisin cookies that I swear after grandmother has in their cookie jar.
After lots of hunting and tweaking (adapting a recipe from "The Alternative Baker" cookbook, and inspired by this recipe too) this is my formula for success, every time.
Making Gluten-Free Oatmeal Cookies
These gluten free oatmeal cookies are a little grown up, with dried cranberries that give a much needed tartness to balance the sweetness. And hear me out on the addition of poppy seeds. Maybe me being a little extra, but also me testing this with different nuts and thinking they were too chunky. So I settled on poppy seeds, which have a tiny bit of crunch, and add to the texture of the cookie without over taking it.
And as I mentioned, these brown beauties are gluten-free made with whole grain teff flour that give them a fabulous malty flavor. They're rounded out with sweet rice flour + tapioca starch for binding and chew.
You'll use brown sugar and a little molasses for the brilliantly soft texture.
Now let's talk dried cranberries for a hot minute. The ones I used in this recipe are from Patience Fruit & Co. They're whole organic cranberries, sweetened with apple juice.
And they're the juiciest cranberry I've ever tasted. Dried to a minimum to keep their softness, they provide an incomparable experience in the mouth.
Patience Fruit & Co makes healthy snacks from Quebec berries, cultivating them with the utmost care.
They practice organic farming, and do not use any genetically modified ingredients, synthetic fertilizers or chemical pesticides. And deeply believe that it is better to do well than to hurry, living at the rhythm of nature. "We do not ask more than what it can give naturally, and we press our berries just enough to make them more tasty and juicy."
And did you know polyphenols are naturally present in cranberries and apples, 150 mg of polyphenols per 40 g serving to be exact! (You may have heard people talk about the polyphenols in olive oil, which are micronutrients that we get through certain plant-based foods. They're packed with antioxidants and potential health benefits related to digestion issues, diabetes, neurodegenerative disease, and cardiovascular diseases).
The end result gives you the ultimate oatmeal cookie fix: This cookie is chewy, warmly spiced, and my new standard against which all other oatmeal cookies will be judged. Even my own. ;)
More Gluten-Free Cookie Recipes: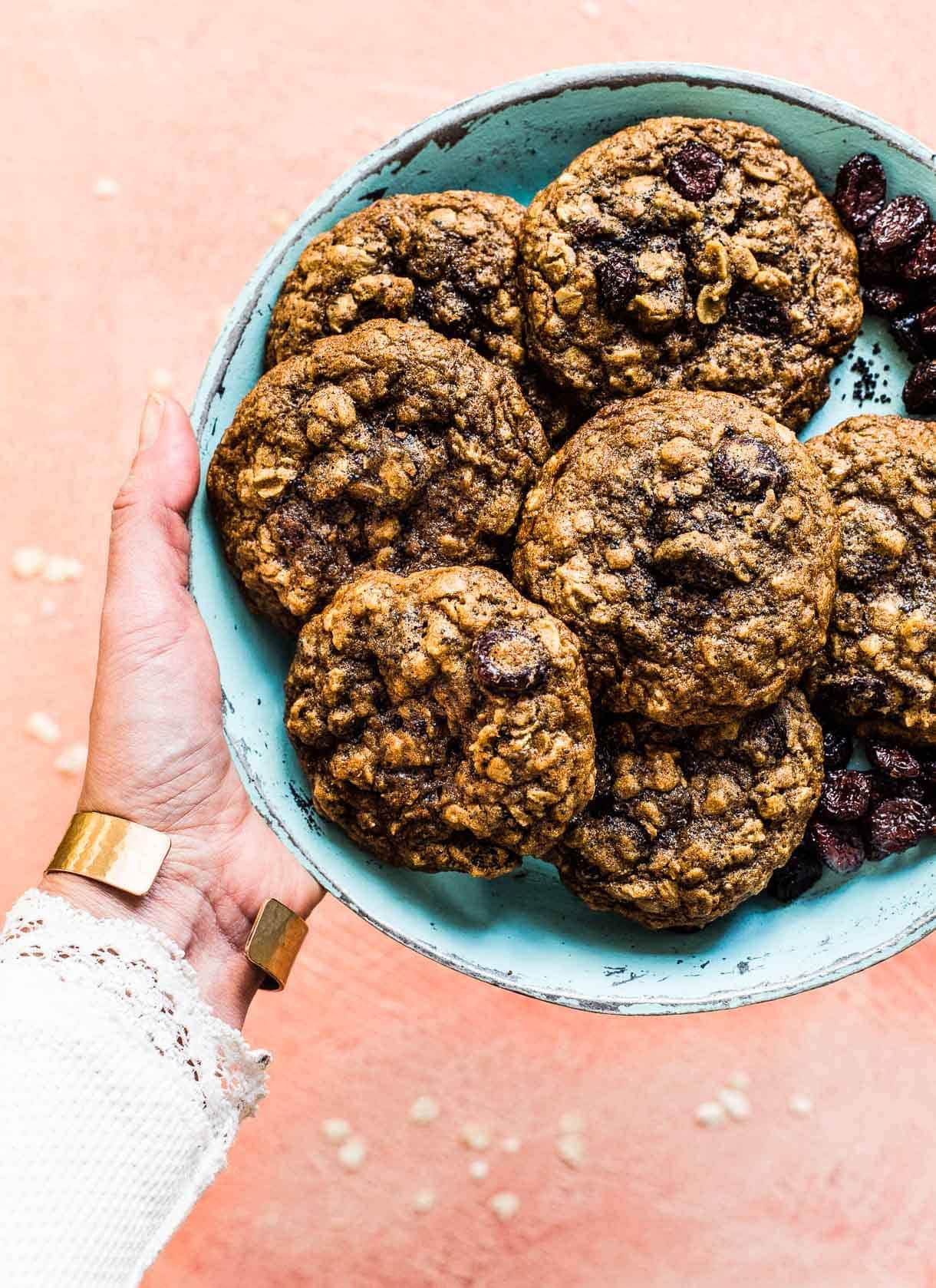 80

grams

teff flour

25

grams

sweet rice flour

40

grams

tapioca starch

1/2

teaspoon

baking soda

1 1/4

teaspoons

cinnamon

1/2

teaspoon

fine sea salt

8

tablespoons

butter

1/2 cup, melted and cooled

1

large egg

room temperature

95

grams

brown sugar

35

grams

cane sugar

1/2

tablespoon

molasses

1 1/4

teaspoons

vanilla

1

cup

+ 2 tablespoons old fashioned oats

1

package

4 ounces Patience Fruit & Co dried cranberries sweetened with apple juice

1 1/2

tablespoons

poppy seeds
Whisk together the teff flour, sweet rice flour, tapioca starch, baking soda, cinnamon, and salt in a large mixing bowl.


In a separate bowl whisk together the butter and egg, until smooth. Add sugars, molasses, and vanilla. Whisk until combined. Pour into dry ingredients, and stir until no streaks remain. Fold in oats, cranberries, and poppy seeds. Cover, and freeze for a minimum of 30 minutes.


Preheat oven to 350 degrees F.

Scoop 1 1/2 ounce doughballs onto a parchment lined baking sheet. I bake 8 per pan, so that cookies have room to spread.

Bake for 13-14 minutes, until cookies are golden brown and have just a slight shimmer to the middle of each cookie. Let cool on pan for five minutes – this is important. Then transfer to cooling rack.
Dough can be frozen for 30 minutes, and then baked, or wrapped and stored up to two days in the refrigerator, then baked.
*recipe adapted from The Alternative Baker.