Made with just 5 ingredients, these flourless almond butter cookies are chewy and packed with nutty vanilla, goodness. It's a one-bowl cookie recipe that everyone loves. They get a sprinkle of sea salt on the top, and are a delicious gluten free cookie!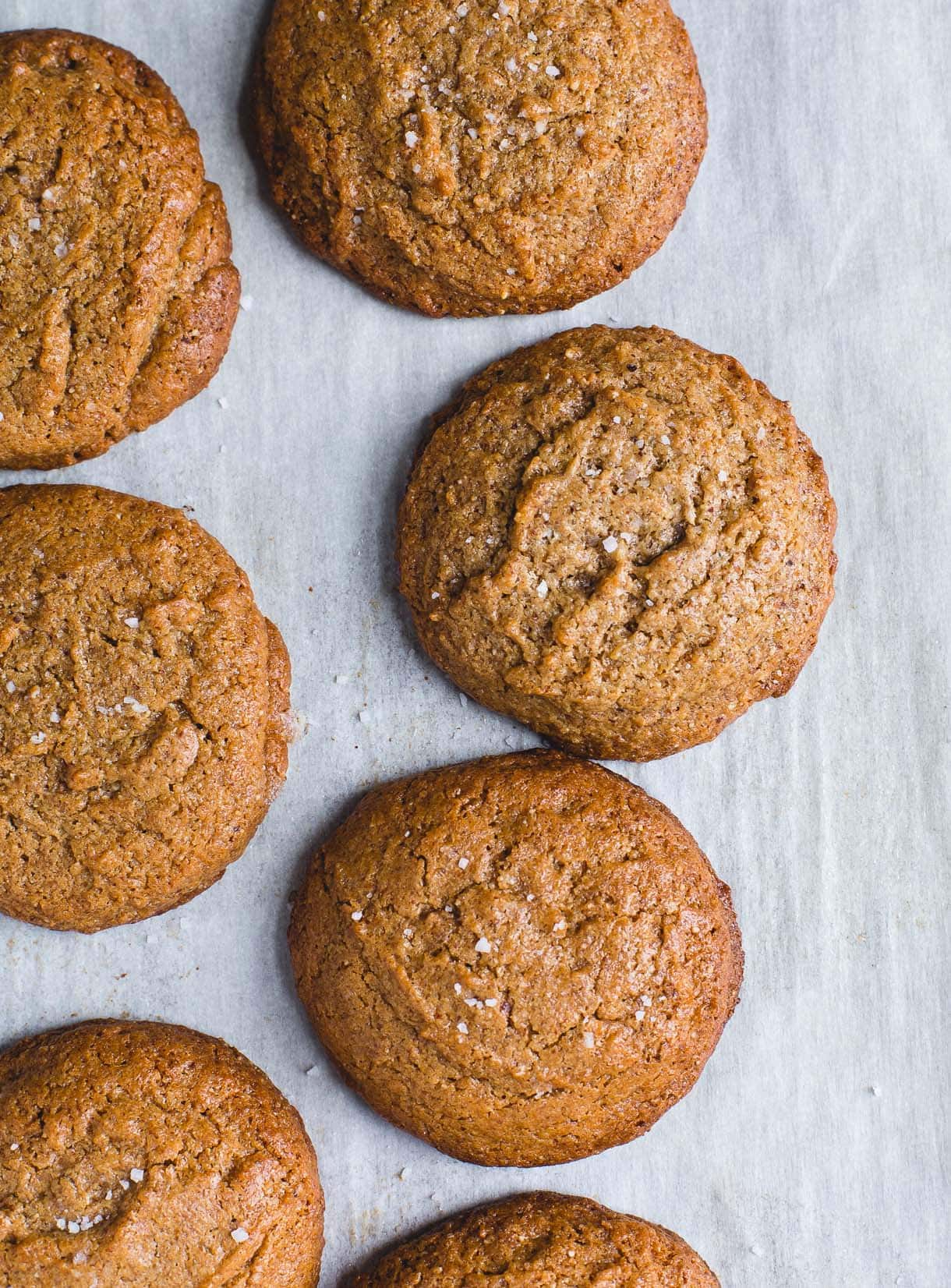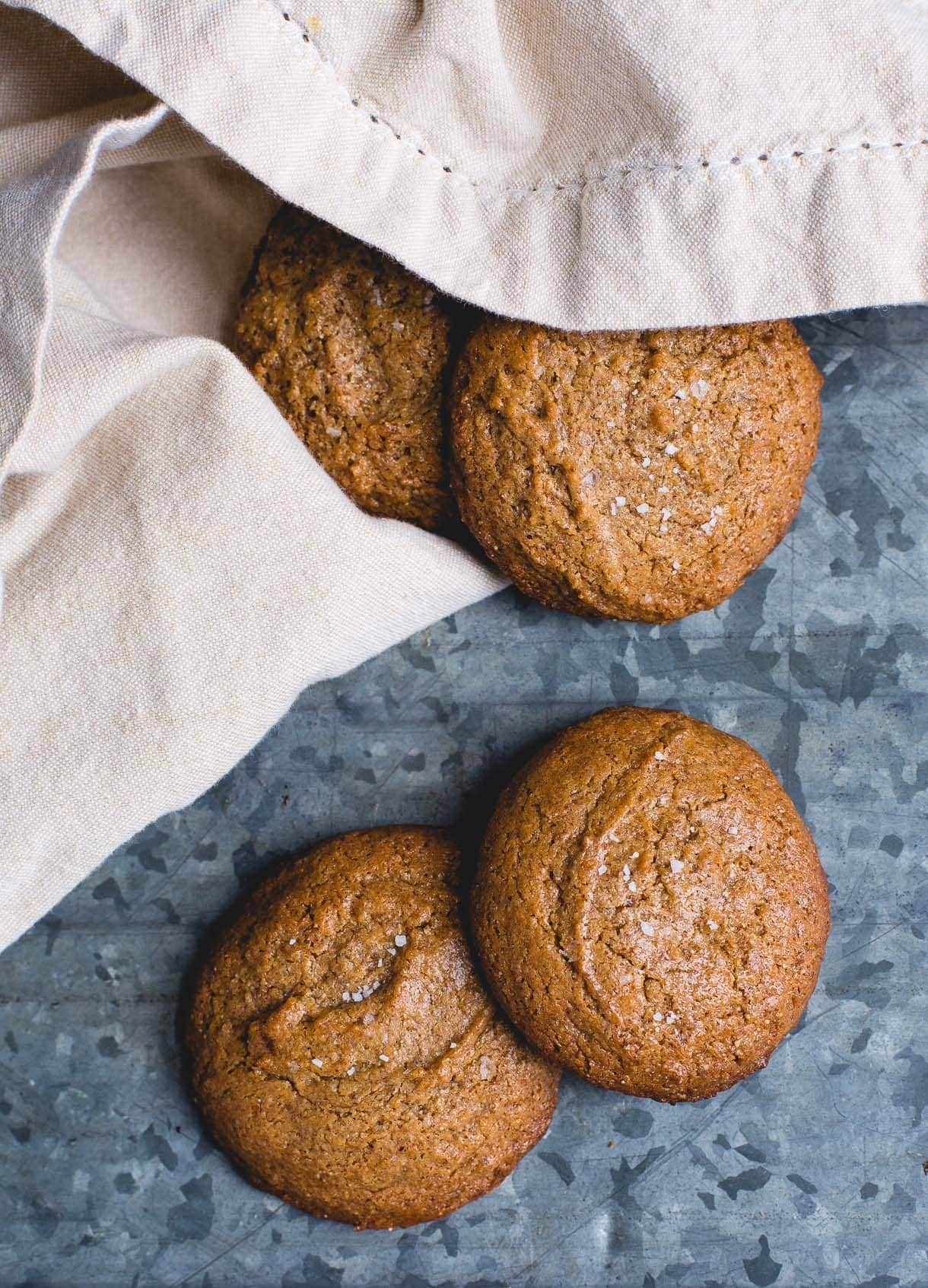 I know what you're thinking, these are probably just like the standard flourless peanut butter cookies (1 egg, 1 cup pb, 1 cup sugar). I've tried those – they're good, but not great. Average. And I'm not here for average when it comes to baked goods.
They always seem a bit dry and lacked a toothsome bite. Pushing down on them with a fork to make a criss-crossed pattern would cause the edges to crack (like this), which causes anxiety for a slight perfectionist.
One-Bowl Almond Butter Cookies
These almond butter cookies….. well, they're the cookie of my dreams! And I do not say that lightly.
They're soft and chewy, with nutty, vanilla of flavor.
Have a sturdy edge with a tender dome, making the perfect pillow for your teeth to sink into.
A sprinkle of salt to bring out the toasted notes of the almond butter, and beautiful rippled tops.
Even though there are only five ingredients to a recipe like this, little intricacies can make a big difference when there isn't much to work with. I find that frequently with many gluten-free dessert recipes. That doesn't equal difficulty, but more so the science of slightly changing ingredient quantities and technique to drastically change the outcome.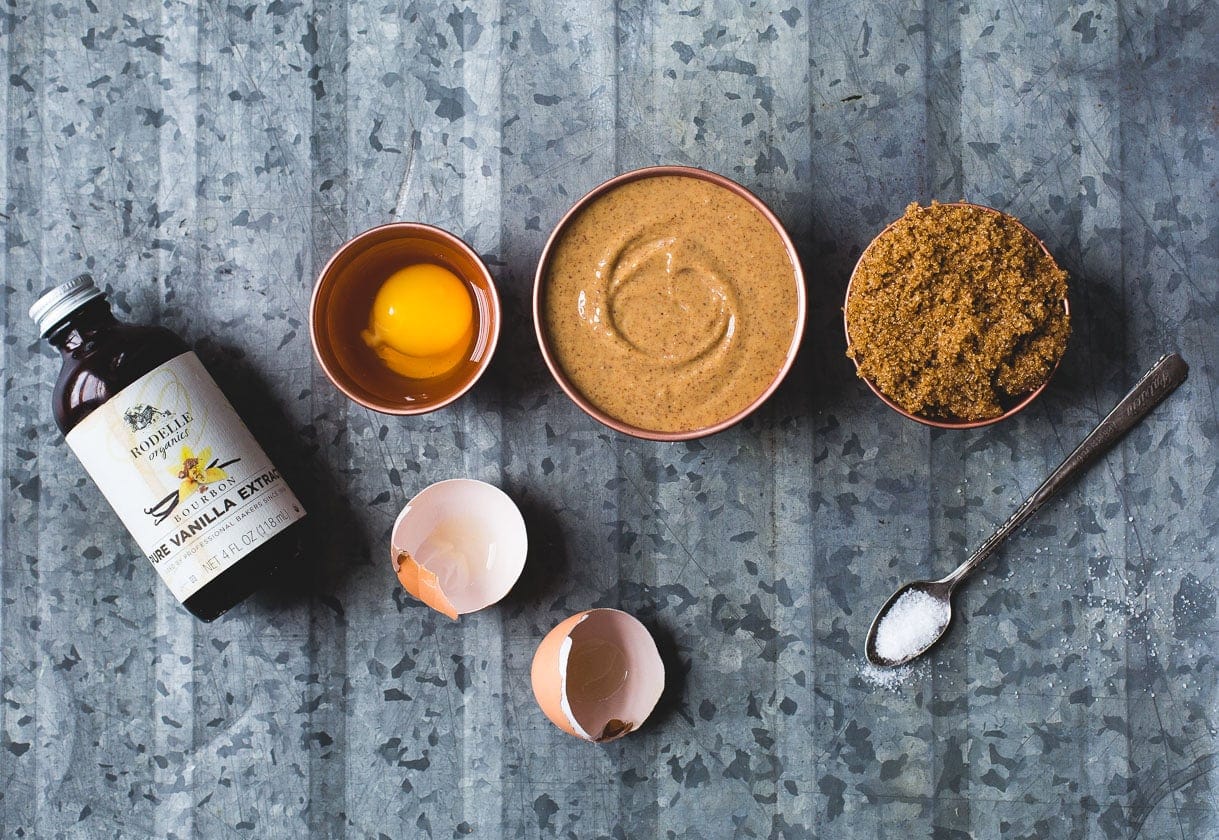 Making Flourless Almond Butter Cookies
Leave it to the Brooklyn bakeshop, Ovenly (as detailed by Smitten Kitchen), whose Salted Peanut Butter Cookies bring people in droves, to figure out the magic equation for an incredible flourless cookie like this.
Less sugar and nut butter per egg, rather than the classic 1:1:1 ratio.
The intense softness comes from using brown sugar (molasses adds moisture) instead of white. It adds a layer of caramel flavor too.
That picture perfect height and pretty layers comes from using a cookie scoop (the one with a lever that pushes the dough out) to create the balls after freezing the dough for 15 minutes.
My adaptations were minimal, scaling down the recipe to make a small batch, one dozen cookies, because it's just two of us, and using almond butter instead of peanut butter. I'm definitely not against peanut butter, in fact these gluten-free peanut butter blossoms are one of my favorites, but I love experimenting with the different textures and flavors of other nut butters.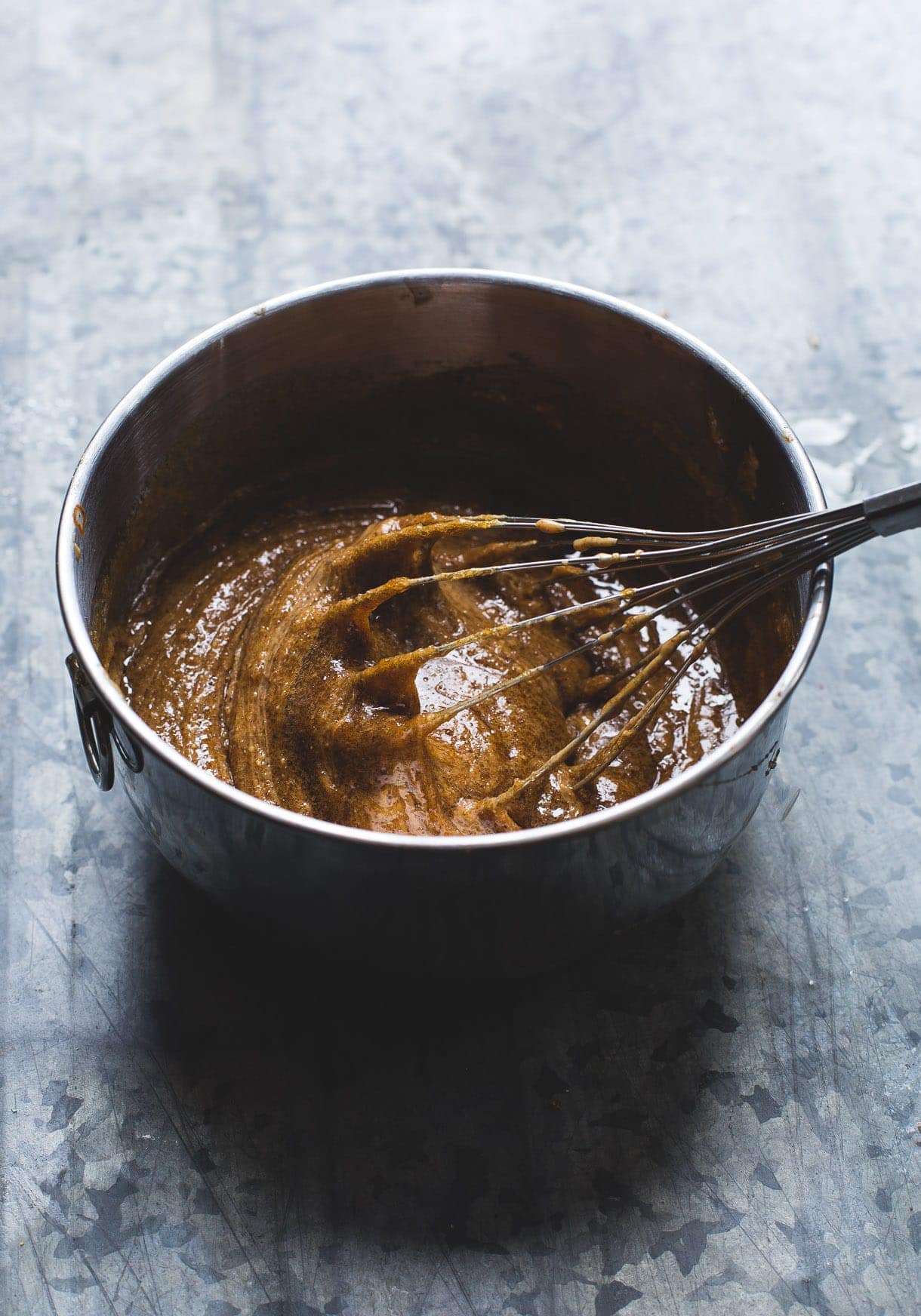 How to Make Chewy Almond Butter Cookies:
You'll mix everything in one bowl, the important thing being the order, which is included in the recipe below. What at first seems like a giant blob, whisks into a sticky ball that slowly peels itself away from the edges and holds it shape.
To get those pretty marks on the top and keep the tall height, pop the bowl of dough in the freezer for 15 minutes, covering lightly with a cloth.
Bake for 18 minutes on middle rack, until lightly browned on the edges and glossy on top (if you use smaller scoop, bake about 15 minutes). When finished, cookies should be golden at edges.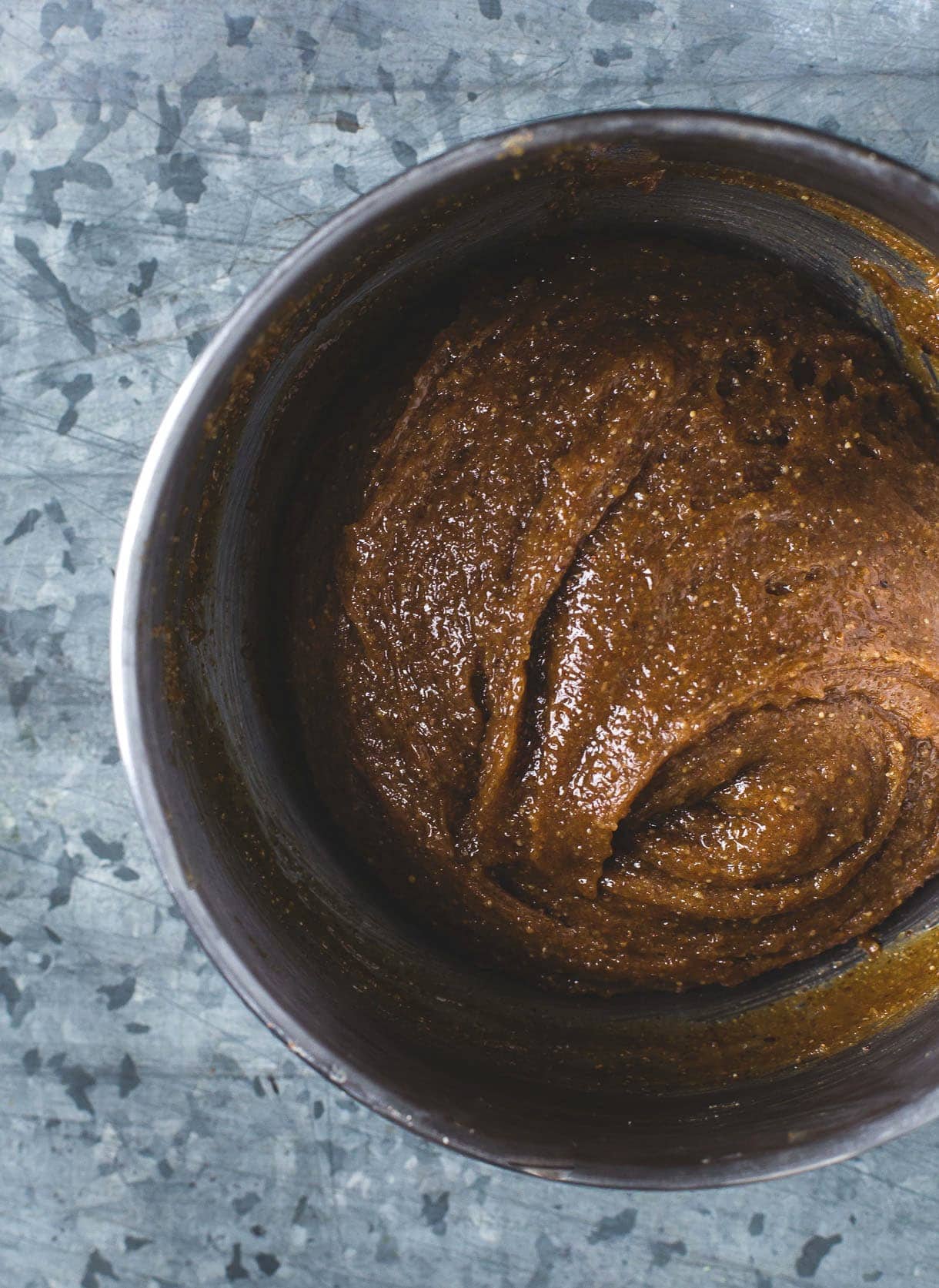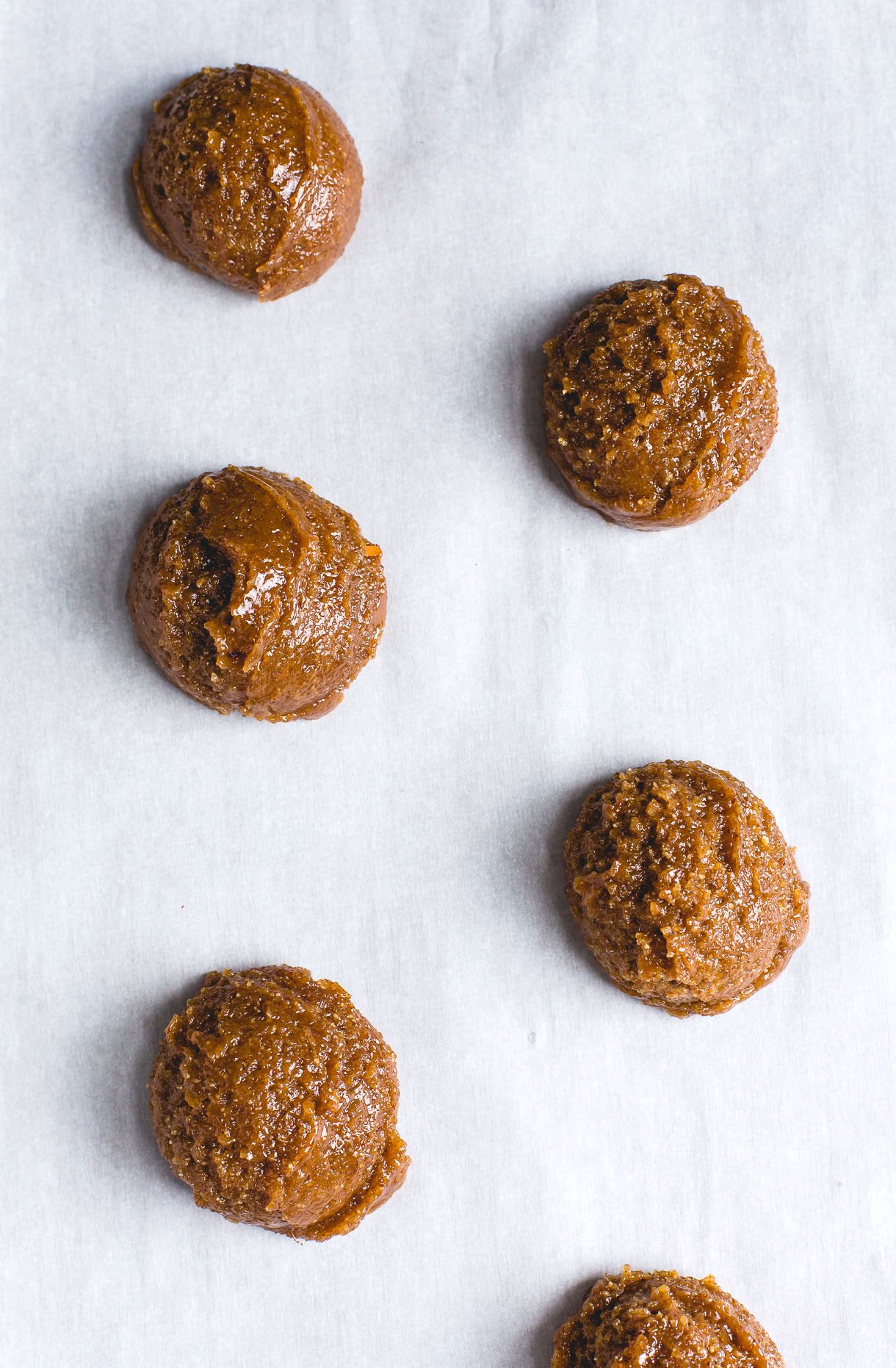 Ingredients for Almond Butter Cookies
Five ingredients – one bowl – one dozen cookies that are nothing like the standard, in the very best of ways.
Brown sugar
Egg
Almond Butter
Vanilla Extract
Salt
The vanilla (quality counts!) and flaky salt are super important, so don't leave them out.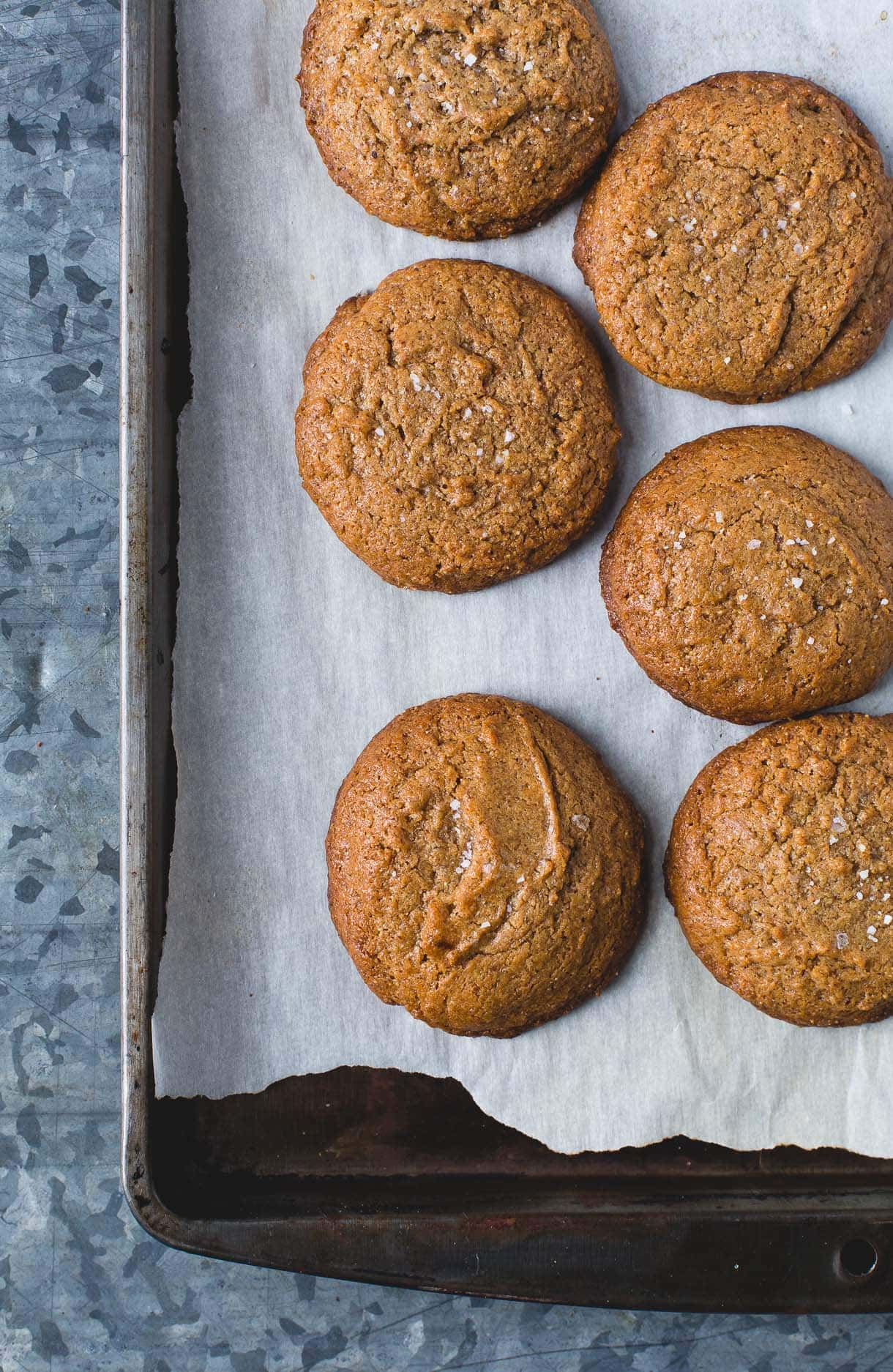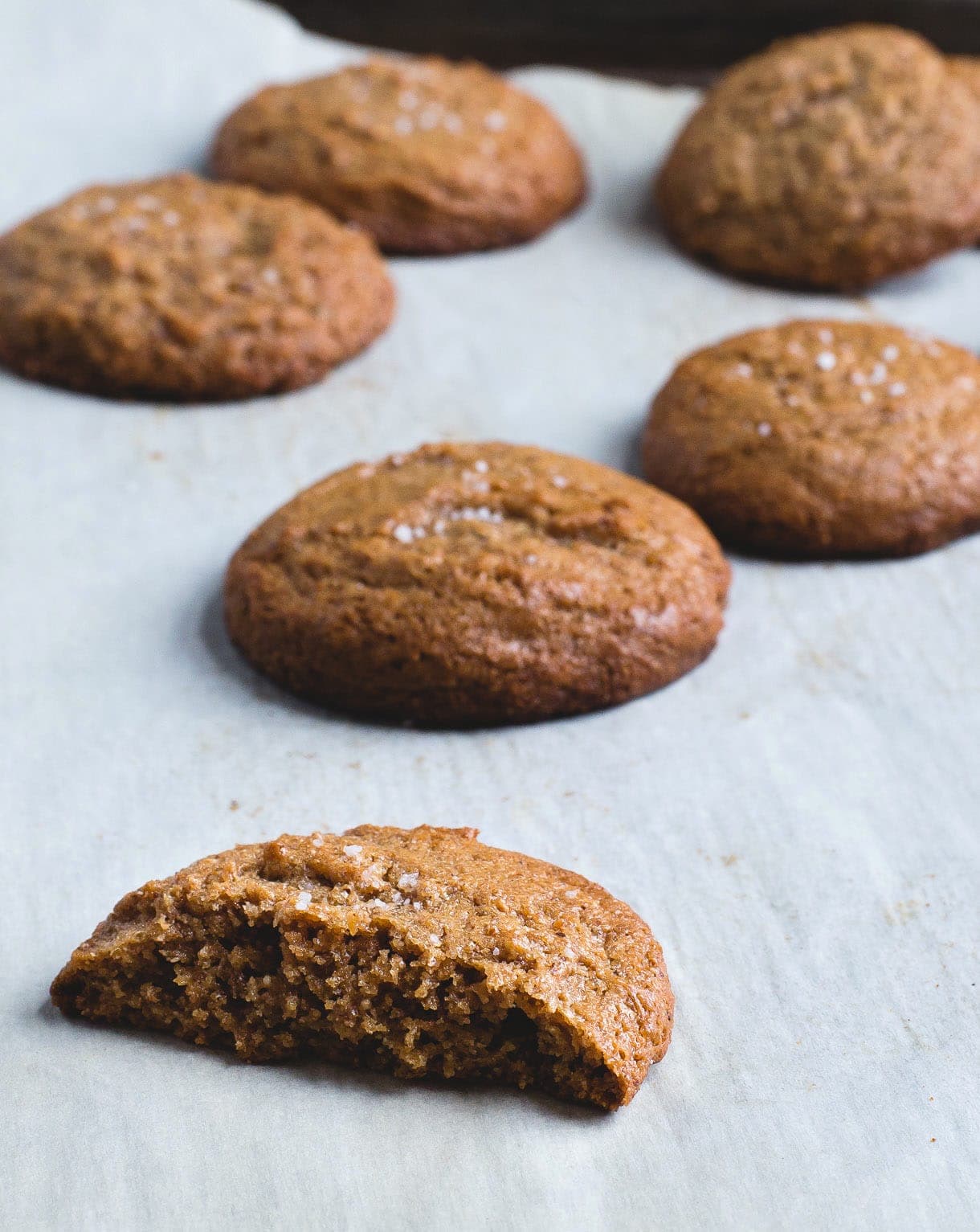 More Gluten-Free Cookie Recipes:
180

grams

brown sugar

1

large egg

room temperature

1 1/2

teaspoons

pure vanilla extract

210

grams

unsweetened almond butter

(I use a brand that has one ingredient, dry roasted almonds.)

1/4

teaspoon

fine salt

+ additional flaky salt for sprinkling
Preheat the oven to 330°F. Line a rimmed baking sheet (make sure it is not a super dark sheet) with parchment paper.

In a medium bowl, whisk together the brown sugar and egg until sugar starts dissolve, it becomes lighter in color, and frothy, about 1 minute.

Whisk in the vanilla extract and salt until combined. Then switch to a spatula and add the almond butter, stirring vigorously for at least one minute, until the dough becomes firmer and shinier, and pulls away from the sides of bowl. It is a scoopable dough.

To get those pretty marks on the top, pop the bowl of dough in the freezer for 15-20 minutes, covering lightly with a cloth. (Make sure it's in a ball so the edges don't freeze way before the middle) After the rest, scoop dough with this cookie scooper (holds 1 1/3 oz) onto baking sheet. Sprinkle the dough balls with flaky salt (if desired) just before baking. (They will all fit on one sheet pan.)

Bake for 17 minutes on middle rack, turning baking sheet halfway through. When you turn the cookie sheet, use a flat spatula to press down on top of the cookies to make them flatter. You're going to think they aren't doing anything, but just trust the bake.

The cookies are done when they just barely start to get a brown edge. (You can press them down once more at this point.) Do not overbake. They will continue to set as they cool. Remove sheet from oven and place sheet on a cooling rack. Let cookies cool for 5 minutes before transferring them a cooling rack. Store in covered container and enjoy!