These gluten-free sugar cookies are so easy to make and the dough doesn't have to be chilled! The cookies do not spread as they bake, holding their cut-out shapes perfectly. Vanilla and almond extracts give the sugar cookies great flavor, and their texture is the perfect balance of soft and sturdy. Frost them with a mango infused buttercream (or your favorite buttercream recipe!) for the ultimate sugar cookie experience.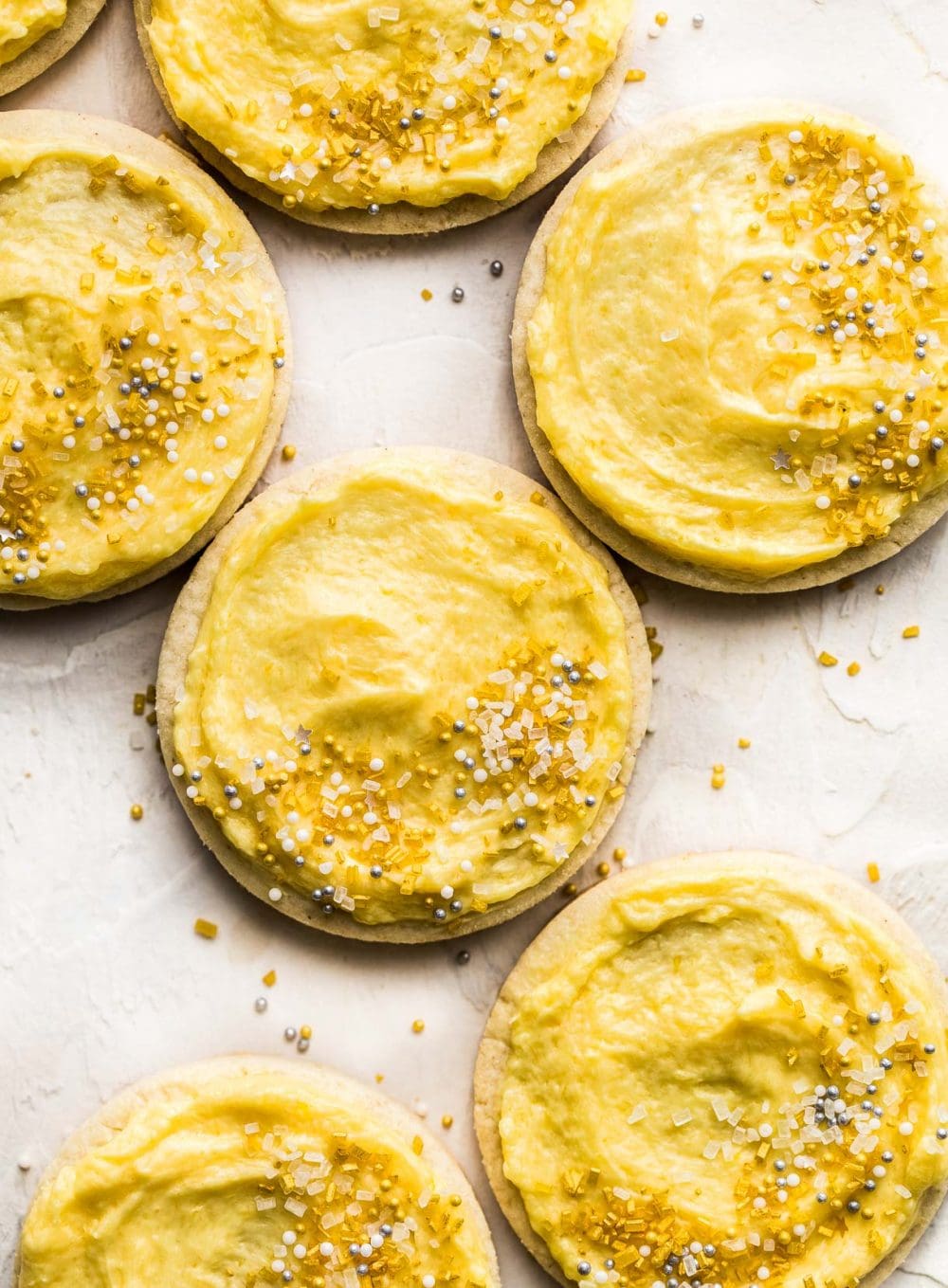 Sugar cookies are simple, oh-so classic, and darn good. With a soft but firm texture, they're the perfect vehicle for a mango laced buttercream that sets them apart from all the rest.
My mom and I would make cut-out sugar cookies for many different holidays when I was young. I was the decorator, she was the baker. Now I'm both, and I've created my own gluten-free sugar cookie recipe, that doesn't require a long refrigeration of the dough, or many ingredients.
They're wonderfully buttery and perfect for a cookie plate, along with my other favorite gluten-free Christmas cookie recipes. The cookies are tender and delicious, but not cakey. Hints of both almond and vanilla extract give them delicious flavor, pairing perfectly with rich butter. And they're equally lovely whether glazed with vibrant colors, or built up with creamy frosting.
How To Make Gluten-Free Sugar Cookies:
Start by adding softened butter that's been softened to room temperature and white sugar to the bowl of an electric mixer, or a large glass bowl if using a hand held mixer.
Cream until pale yellow and fluffy, about 1 minute, then scrape down the sides of the bowl. The add sugar and mix for another 3 minutes.
Add the egg and extracts, stopping to scrape down the bowl a few times as needed. Scrape down the sides of the bowl.
You'll then add the gluten-free flour mix, cornstarch, cream of tartar, and salt in, mixing until fully combined and resembling playdough. Then you're ready to roll out the dough and cut your shapes, to then bake.
I think you'll love especially love the mango buttercream, which turns an otherwise one-note cookie into something irresistible. But you can of course use any buttercream frosting recipe you'd like. To infuse the frosting, you'll puree the flesh of one ripe mango. I used a Haden mango, which has a tropical flavor and has fine fibers, which is great for pureeing.
To ensure your mango is ripe, you can test it by giving it a little squeeze, at which point it should give lightly. It should also give off a slightly sweet smell near the stem. Each mango variety has a slightly different color with spots of green or red, so do not use color as a guide to determine ripeness.
What Gluten-Free Flour Blend is Best To Use For Cut-Out Cookies?
Over the years, I've tested just about every all-purpose gluten-free flour blend on the market and I strongly believe Bob's Red Mill 1-1 gf flour blend (in the blue bag) is the best. I use it in my favorite gluten free chocolate chip cookie recipe, too! It produces consistent results every time, that replicate all-purpose flour in both taste and texture. It's also accessible and affordable. You'll be able to find it at most supermarkets and places like Target and Walmart, for under $10.
Easy Ways to Decorate Sugar Cookies
With this versatile cut-out cookie recipe, the options for decorating are endless. For a timeless and classic look, I covered these cookies in mango buttercream frosting and topped with a combination of gold, clear, and white sprinkles and pearls. That's it! And I love the fluffiness of the buttercream in contrast to the chew of the cookie.
These sugar cookies would be lovely for a baby shower, wedding shower, the holidays, Mother's Day, or graduation!
More Gluten Free Cookie Recipes:
Foolproof Gluten-Free Sugar Cookies with Buttercream Frosting
These gluten-free sugar cookies are so easy to make and the dough doesn't have to be chilled! The cookies hold their shape perfectly as they bake and do not spread, which is important for cut-outs. Finish them with a fluffy buttercream frosting.
1/2

cup

(1 stick) softened unsalted butter

1/2

cup

(100 grams) organic cane sugar

1/4

teaspoon

almond extract

1

teaspoon

pure vanilla extract

1

large egg

room temperature

225

grams

Bob's Red Mill Gluten-Free All-Purpose Flour (in the blue bag

20

grams

cornstarch

1/4

teaspoon

fine sea salt

1/2

teaspoon

cream of tartar
Mango Buttercream Frosting
Cream butter for 1 minute using a stand mixer of hand mixer. Add sugar, and cream for 3 minutes, until light and fluffy.

Add extracts and egg, and mix on low (speed 3 of my Kitchenaid) until combined, scraping the sides down a few times as you go.

In a separate bowl whisk together gf flour, cornstarch, salt, and cream of tartar.

With mixer on low speed, gradually add the flour mixture. Once the flour mixture has been absorbed, turn the speed to medium and beat for 1 minute, until dough comes together and resembles playdough.

Cover bowl and set aside to let dough rest while preheating the oven to 375 degrees F.

Once oven is preheated, place a large piece of parchment paper on your counter and tape it to the counter. Break dough in half and work each half together into a ball. Set in the middle of the parchment. Sprinkle top of dough with gf all purpose flour, and dust your rolling pin with gf flour. Roll dough out to 1/8 to 1/4 inch thick. (Dough may seem like it's breaking a part a bit, but be patient. As you roll more, it will flow together.

Cut out shapes and use a small offset spatula to get under the dough and remove the cut outs. Place on a parchment lined baking sheet. These cookies will not spread so you can put a dozen on a sheet. Bake for 9-10 minutes until set. Remove from oven and let fully cool.

For Mango Buttercream Frosting: Puree mango chunks in a food processor until smooth.

Cream softened butter for 2 minutes in a stand mixer or with a hand mixer, until fluffy and airy. Add powdered sugar and mix for 2 minutes until very creamy. Then add 1/3 cup mango puree, fresh lemon juice, and salt. Beat for 1 minute until fully combined and creamy. Taste and adjust salt if needed.

Frost cookies with buttercream. And enjoy! Store leftover cookies in a closed container in fridge.