Homemade bread is the perfect gift for any time of year. Gift wrapping bread using twine with seasonal herbs or flowers is beautiful and easy! Then create a sourdough bread gift basket by packaging butter, jam, and salt/spice blends together for a food themed present.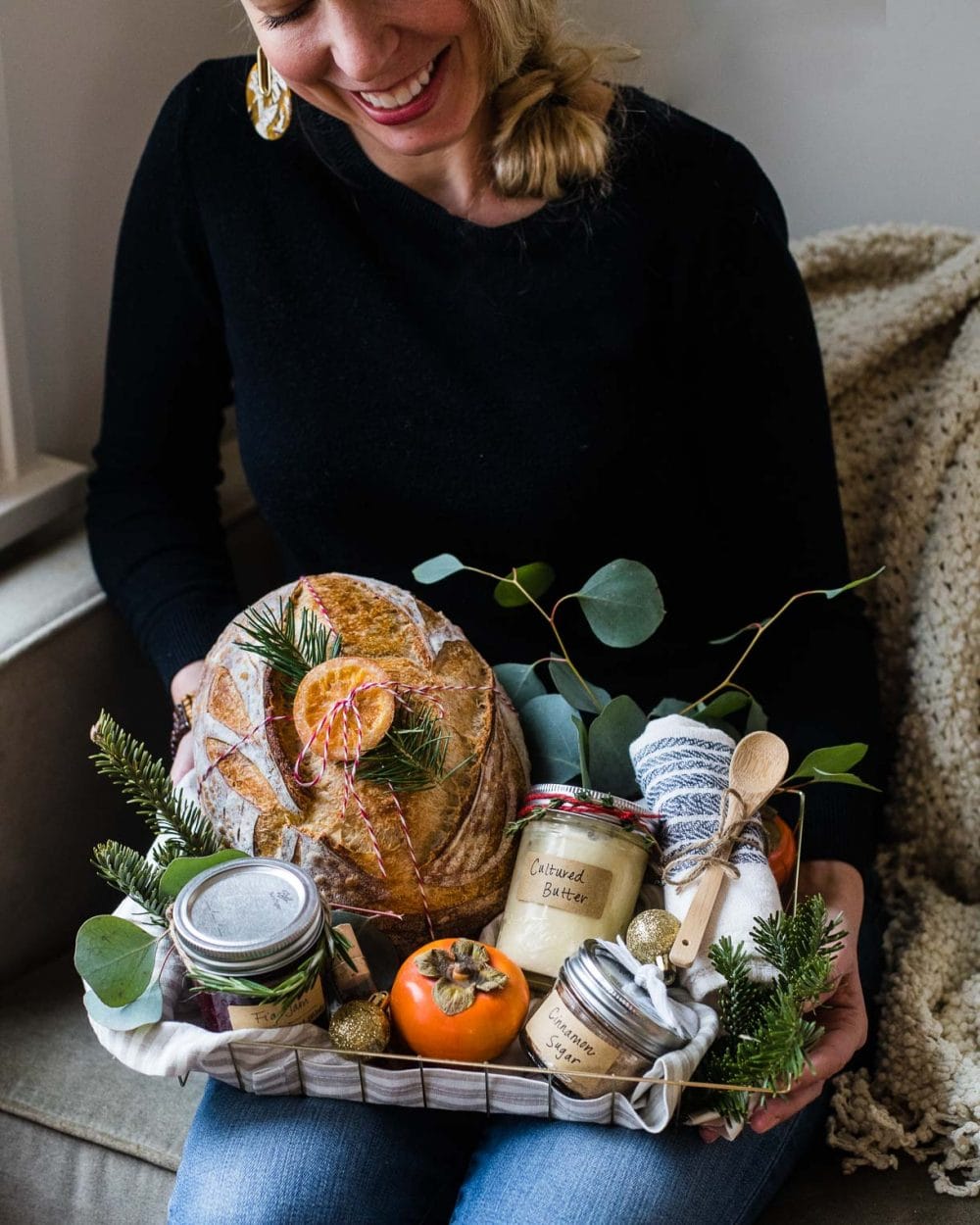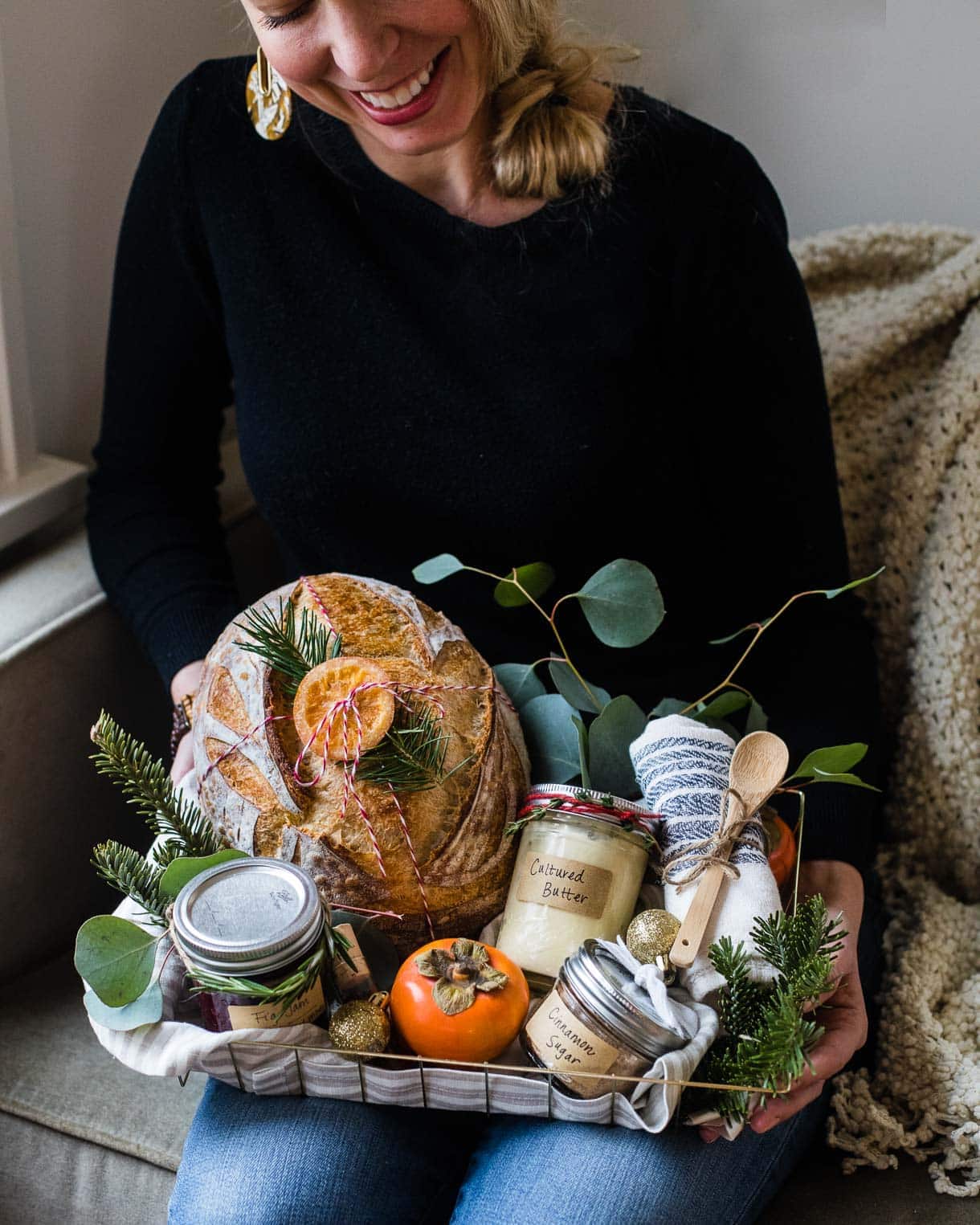 This recipe is part of a sponsored partnership with Ball® Canning. You can find more of my canning and preserving recipes, here.
I've mentioned this in years past, but buying gifts is not one of my strong suits. I'd rather make something with my hands and heart instead, like this homemade bread gift basket filled with fabulous accompaniments, or a holiday cookies and sprinkles package. Even a DIY Cocktail kit would be so fun to give!
What I love about a basket filled with homemade bread and jam is that it's comforting, universally loved, and easy to put together.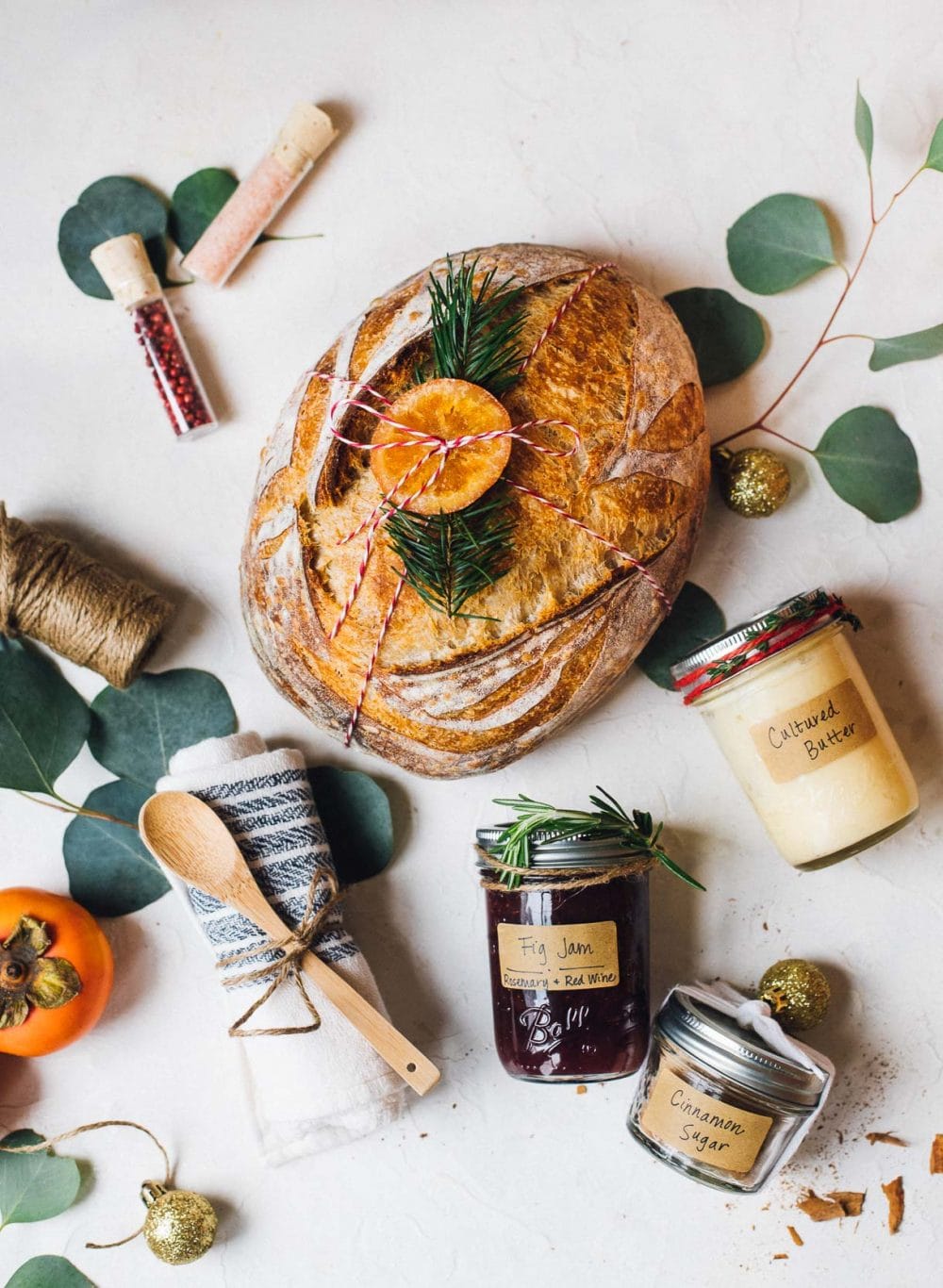 What to put in a homemade bread gift basket:
Sourdough Bread (make your own, or you can buy a loaf from your favorite bakery!)
Cultured Butter (not canned, needs to refrigerated upon giving)
Cinnamon Sugar Blend
Artisan Salt
You could also create a savory version by swapping Hot Pepper Jelly and Everything Bagel Seasoning for the fig jam and cinnamon sugar!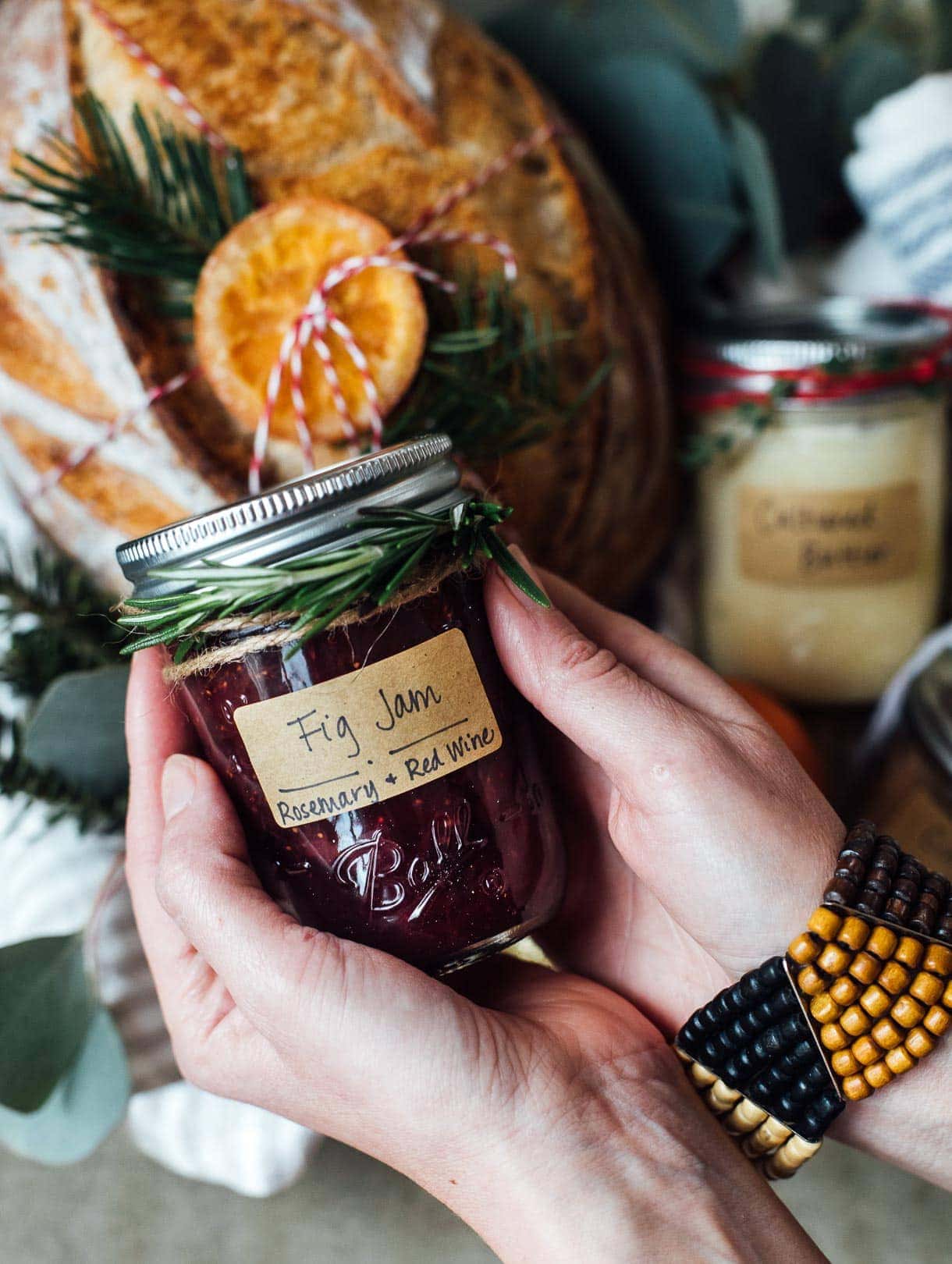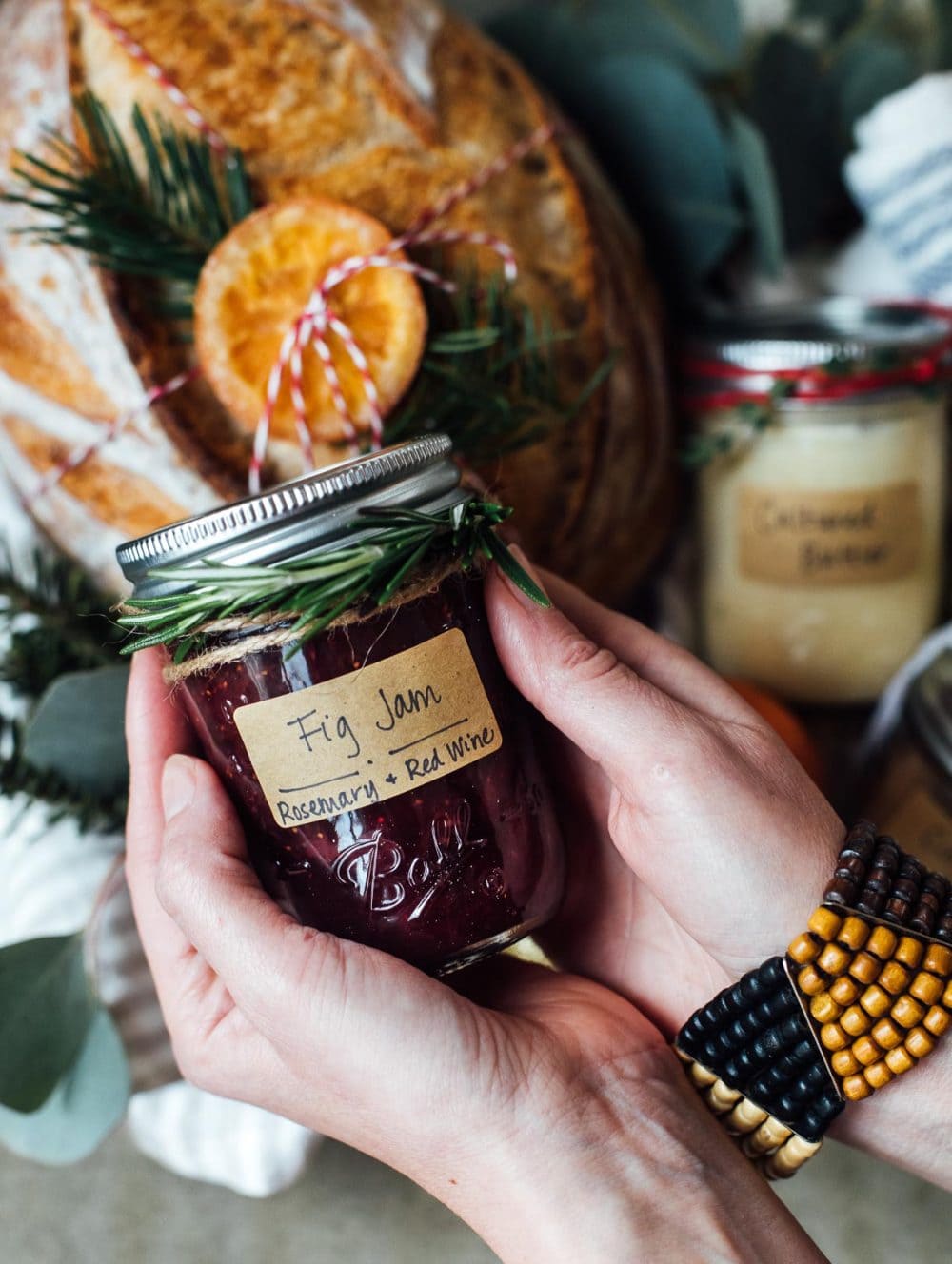 Besides using Ball® Jars for canning, they work great for gifting accompaniments in an elevated way. For example, the cultured butter stored in the 8 ounce jar looks more handcrafted than adding a cardboard container of butter.
To decorate the Ball® Jars, I simply used twine to secure fresh thyme and evergreen sprigs around the tops. And craft paper labels denote what's inside the jars. Such easy additions!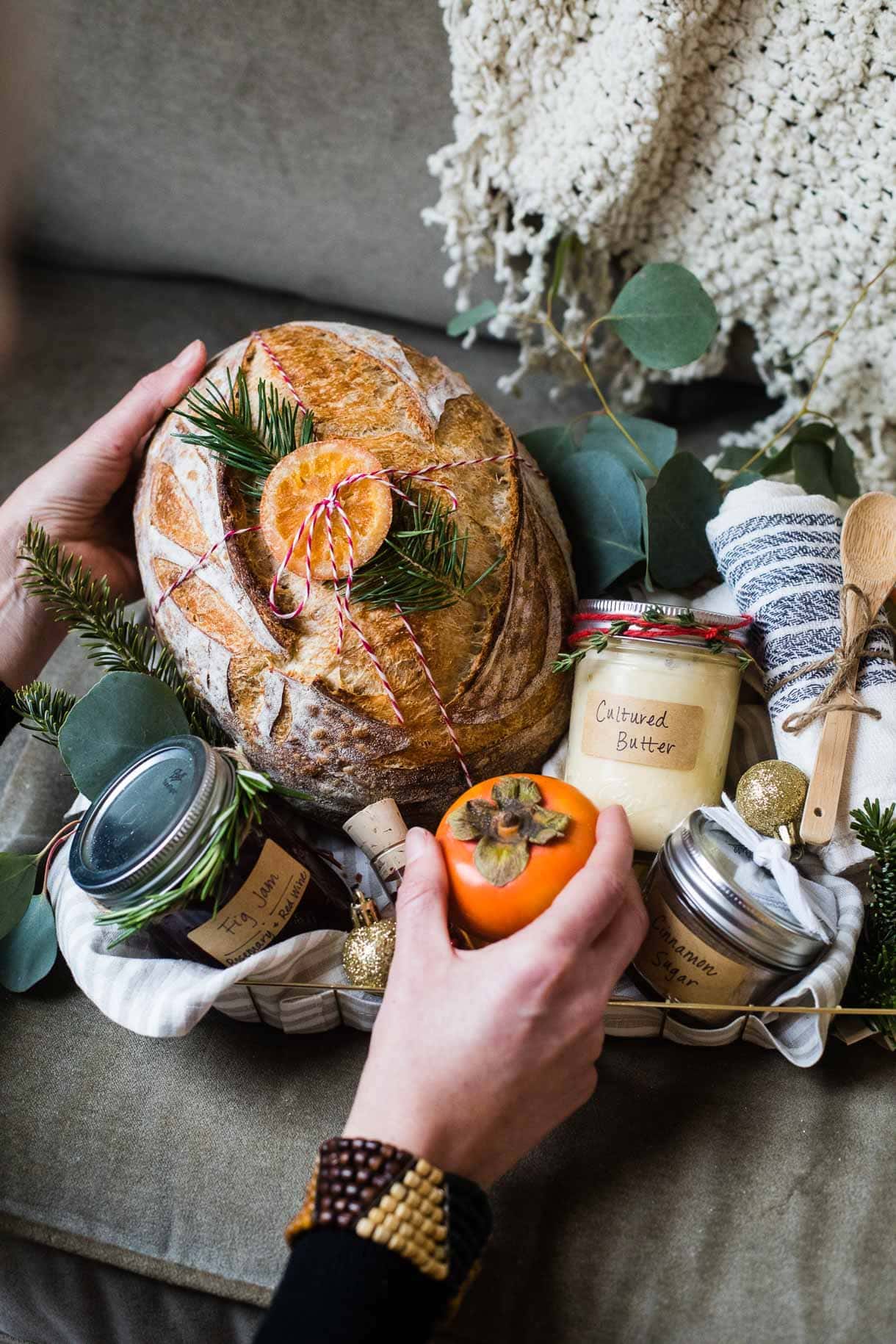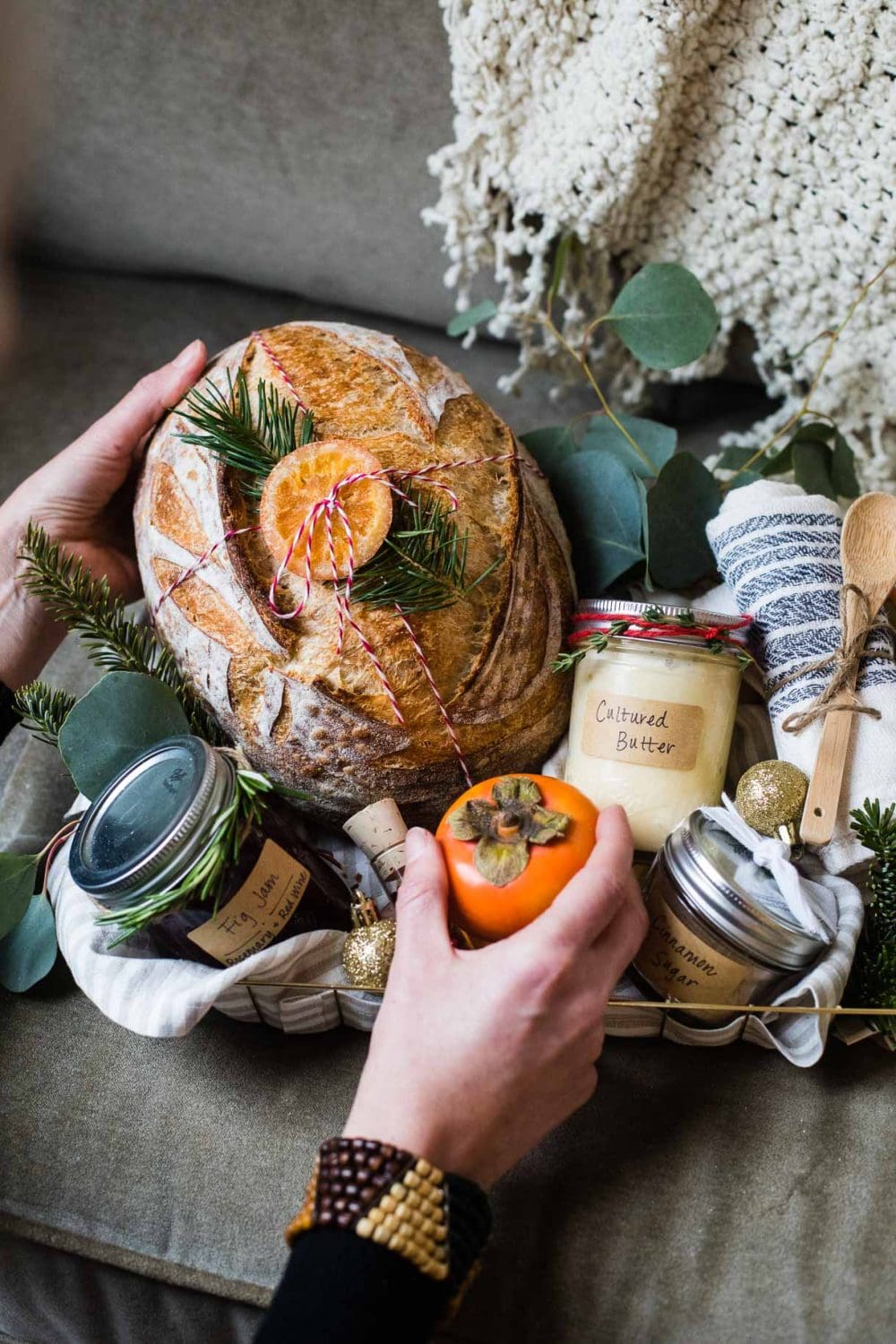 How to Gift Wrap Bread:
Using twine, tie your bread parcel for a little extra flourish. Fresh herbs, flowers, or candied fruits secured with the twine, or candied fruits add a beautiful touch.
You could also wrap sourdough bread in craft paper, wax paper, or parchment for a more rustic loaf, keeping the top of the loaf exposed.
Favorite Sourdough Breads for Gifting: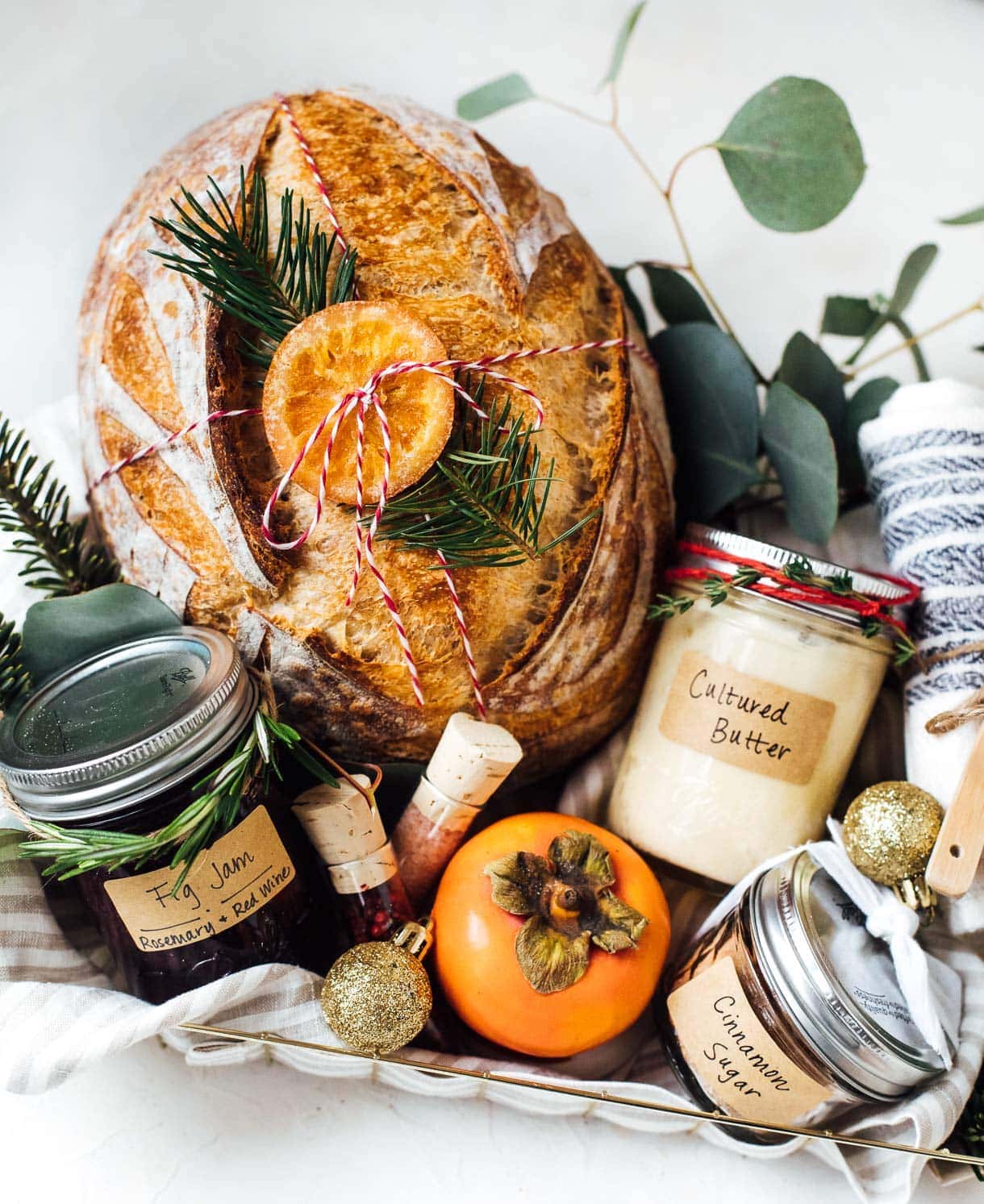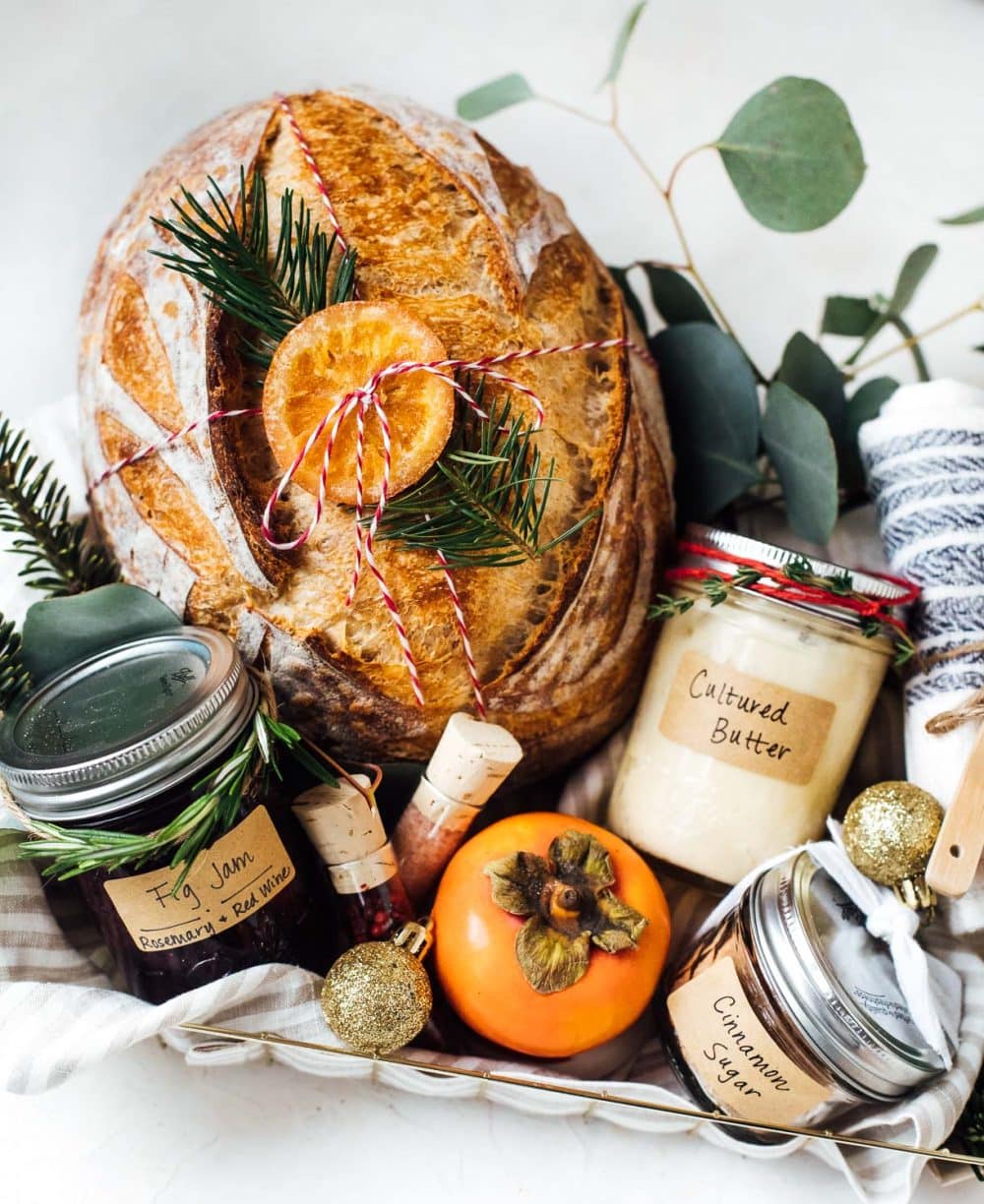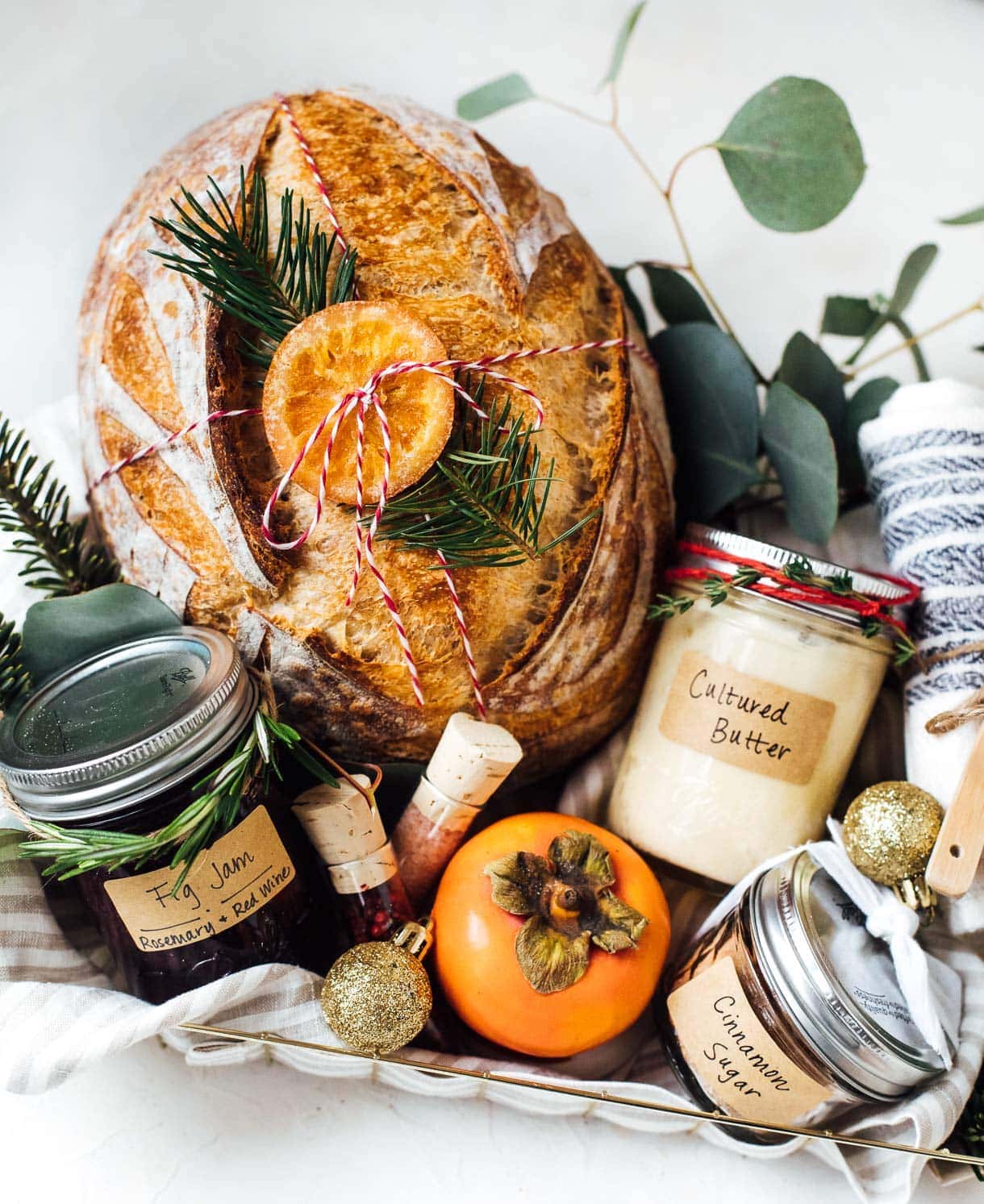 Candied oranges

Seasonal Greens

Fresh herbs

Loaf of Bread

Jellies or Jams
Gather your materials.

Write what is in each jar on craft paper labels, before adhering to jars. Adhere to jars.

Cut 8-10 inch long pieces of twine. Grab a sprig of herbs or flowers. Adhere them to silver top of jar, using twine and tie.

Tie bread with long piece of twine, like you'd do with a ribbon on a christmas gift. Put a candied orange and rosemary, or other florals into the middle of the twine where it is tied.

Add accompaniments to basket, and use linens to nestle everything. Decorate with seasonal items like ornaments, flowers, and greens.