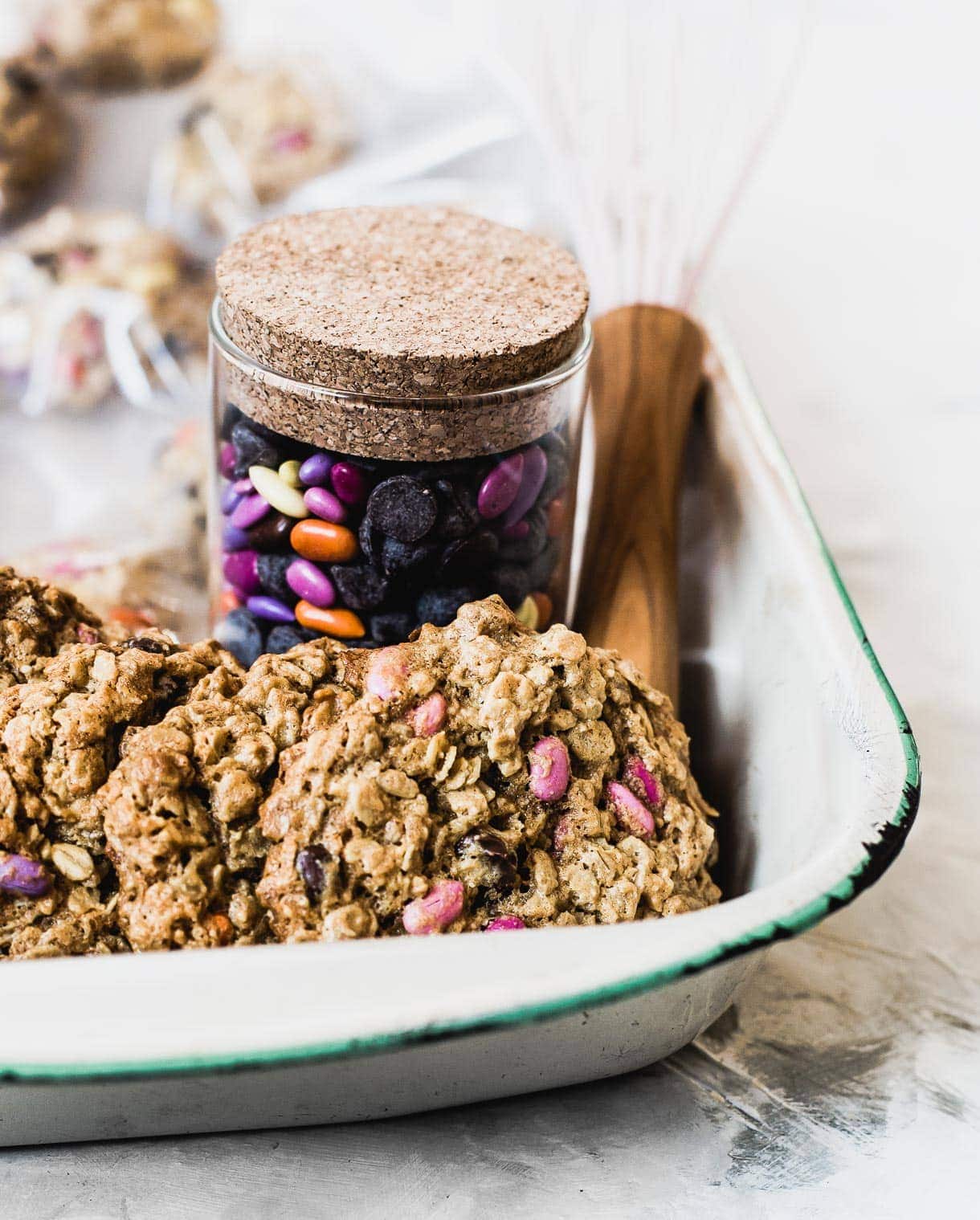 My specialities in gift giving include cats, food, and things for the kitchen. I give things I like, which would probably be frowned upon in a "Dear Abby" column, but that's just the way I roll.
Today I'm sharing with you the best gluten free monster cookies recipe, and how to package them up as a cute gift, with both the freshly baked cookies and the cookie dough using your Foodsaver!
Monster cookies will forever remind of my mom. A talented athlete herself, Mom coached junior high sports while I was growing up. She'd always whip up a huge batch of her monster cookie recipe and bring them to tournaments to feed her hungry players. As the little tag-along, I'd be in charge of carrying the goods, and you can bet I loved my job – mostly because I got first dibs. 😋
So what are monster cookies?
They're as peanut buttery as a cookie comes,
with the toasty notes of old fashioned oats,
chunky chocolate chips,
and typically M&M's. Except I avoided the artificial colors and used chocolate covered sunflower seeds from Trader Joe's that are colored with natural ingredients.
They're extra chewy. With crisp edges. My cookie heaven.
I found that a combination of brown sugar and honey led to this outcome. And they're not cloyingly sweet, as I prefer to taste everything in the cookie rather than just sugar.
And they're 100% a crowd pleaser.
Let's walk through how to give cookie dough as a gift, the very best gift that keeps on giving.
1. When giving cookie dough as a gift, the most important step is to freeze it first. Make your dough, and place it on a cookie sheet as you were going to bake them, then freeze for four hours.
2. The next step is to use your FoodSaver (I have this V3920 model) to vacuum seal the dough. This will protect the dough from freezer burn, and also make it super easy for the person receiving to pull out of the freezer at a later time and have fresh baked cookies in no time.
3. Space your cookie dough out with a good amount of room in your FoodSaver bag. Then use the vacuum + seal function. Make sure to stop the machine when it starts getting tight around the cookie dough, so it doesn't completely flatten it.
4. Label with cookie name and date made, then put in freezer until you're ready to give as a gift with:
fun whisk
wooden spoon
chocolate chips + chocolate covered sunflower seeds
freshly baked cookies
If you make these gluten free monster cookies, be sure to tag me on instagram, @heartbeetkitchen, or with hashtag #heartbeetkitchen!
Preheat oven to 350 degrees F.

Place butter, peanut butter, egg, brown sugar, and honey in a large mixing bowl. Use hand mixer to mix on medium speed for 1 minute 15 seconds. The mixture will be light and creamy.

Add vanilla, baking soda, and salt. Combine.

Add chocolate chips, sunflower seeds, and oats. Stir with a spoon to fully combine and coat all ingredients. The dough will be wet. That's okay! You don't need to add more oats.

Use a cookie scoop or spoon, and place about a tablespoon of dough onto parchment lined cookie sheet. These are more like drop cookies. Do not try and use your hands to make round balls.

Bake for 11 minutes, until cookies are just set in the middle with brown edges.